October, 27, 2011
10/27/11
10:15
AM ET
North Carolina and Wake Forest are the only two teams in the ACC that can become bowl eligible this weekend, and they happen to be playing each other. So one thing to keep an eye on is the six-win mark in Chapel Hill. Beyond that, here are 10 things to keep an eye on this week, starting Thursday night when Miami hosts Virginia:
1. Turnovers at Miami.
Miami's past two opponents have both turned the ball over on their first touch. North Carolina fumbled a kickoff, and Georgia Tech started with an interception. UVa had four turnovers last weekend in the loss to NC State and is No. 107 in the country with 18 turnovers lost this season.
[+] Enlarge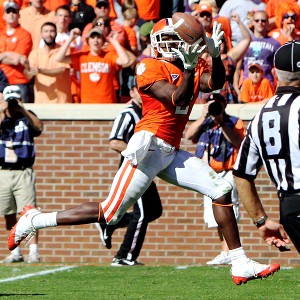 Joshua S. Kelly/US PRESSWIRESammy Watkins can set three ACC freshman records and a Clemson freshman record on Saturday.
2. Special teams at Miami.
In the loss to NC State, Virginia blocked a field goal attempt for the second game in a row and the third time this season. Miami defensive back JoJo Nicolas fell on a muffed punt in the end zone for a touchdown last week, highlighting a strong performance on special teams for the Canes against Georgia Tech. UVa is No. 13 in the country in kickoff return yardage defense, and Miami is No. 15.
3. BC's bowl streak.
The Eagles have already lost six games this season; a loss to Maryland would make them ineligible to compete in a bowl game for the first time since 1998. BC's active streak of 12 consecutive bowl games is tied with Oklahoma as the seventh longest in college football and is the longest in school history, and its streak of non-losing seasons is the longest in the modern era of BC football.
4. Maryland's quarterbacks.
Coach Randy Edsall said his starter will be a game-time decision, as both
Danny O'Brien
and
C.J. Brown
have been competing for the starting job this week. O'Brien played well at Florida State when he relieved the injured Brown, but Brown replaced O'Brien in the starting lineup for the Clemson game two weeks ago.
5. Clemson's record books.
With an average game on Saturday, Clemson wide receiver
Sammy Watkins
could establish four freshman records, three at the ACC level and one school record. Watkins needs just five receptions, 35 receiving yards and one touchdown reception to become the ACC freshman record holder in all three areas. He also has 1,391 all-purpose yards and needs just 25 to break C.J. Spiller's Clemson freshman all-purpose yards record for a season.
6. Long scoring drives in Atlanta.
Clemson's No. 76-ranked rushing defense could be conducive to Georgia Tech hanging on to the ball for some pretty long drives on Saturday. Over the past two weeks, Georgia Tech has produced touchdown drives consisting of 20 plays (last week at Miami) and 19 plays (at Virginia). For the season, the Yellow Jackets have five touchdown drives of 90 yards or longer and four touchdown drives that lasted at least 9 minutes, 15 seconds.
7. NC State CB David Amerson vs. FSU QB EJ Manuel.
Florida State is ranked No. 115 in the nation in turnover margin, and NC State is ranked No. 7. Much of the Wolfpack's success is a credit to Amerson, who leads the nation with eight interceptions. FSU is tied for No. 111 in the country in interceptions with 11.
8. UNC's secondary against Wake Forest WR Chris Givens.
One of the Tar Heels' weaknesses this season has been their pass defense, which ranks No. 101 in the country and is allowing 263.38 yards per game. Givens is fourth in the FBS in receiving yards per game (126.57) and tied for fifth with eight TDs.
9. Tar Heels turnovers.
North Carolina had six turnovers last weekend in the loss to Clemson, and ball security has obviously been stressed at practice this week. Did it work? Wake Forest is ranked No. 21 in the country in turnover margin. UNC is No. 103.
10. Hokies' D vs. the 'Killer V's.'
The best thing Duke has had going for it is its passing game, thanks to the duo of
Conner Vernon
and
Donovan Varner
. They have combined for 334 receptions as teammates, the third-highest total by a duo in ACC history. Virginia Tech's defense has been one of the best in the country, but the Hokies continue to rely on youth and inexperience because of injuries.
August, 30, 2011
8/30/11
8:17
PM ET
Miami can finally move on.
The biggest question of the offseason in the ACC -- who will play for the Hurricanes and who will not when Miami lines up against Maryland on Labor Day --
has been answered
.

The NCAA has mandated that defensive lineman Olivier Vernon will sit out six games, while Ray-Ray Armstrong and tight end
Dyron Dye
will miss four games apiece. Quarterback
Jacory Harris
, Sean Spence,
Travis Benjamin
, Marcus Forston and Adewale Ojomo all must sit out one game.
Cornerbacks Brandon McGee and JoJo Nicolas, defensive tackle Micanor Regis, safety Vaughn Telemaque and linebacker Marcus Robinson have been cleared by the NCAA to play.
There are your 13 players whose eligibility was in question.
Now, not only can Miami prepare for Maryland this week confident in its starting lineup, it can also move forward knowing the majority of its roster will be intact for the most critical games of the season. This could have been a lot worse for the Canes, but they've got a capable starting quarterback in
Stephen Morris
, and the majority of top players will miss no more than the season opener. Maryland is Miami's lone conference opponent in the first four weeks, so the Canes will almost be at full strength when they need to be the most -- for the Oct. 8 game at Virginia Tech.
Miami is still very much in the Coastal Division race.
The Canes' season could have been over before it started, but this is a very manageable punishment for a team loaded with talent. It's not over yet -- the Hurricanes could still face more sanctions as the NCAA continues to investigate. There's no reason to believe this will be fully resolved faster than any of the other NCAA investigations, but as far as the impact will have on the field this season, Labor Day will be the worst of it.
The biggest hits will obviously come against the Terps, but mainly on the defensive side, as the offense will only be missing two starters. Defensively, Andrew Smith steps in for Vernon. It's not NFL talent, but Smith is experienced and more than capable of handling the job. He played in 11 games last season and had three sacks. Marcus Robinson, a senior who played in 10 games last season, is another veteran who fills in at the other end spot. Nicolas moved from corner to safety to take over for Armstrong, but Nicolas has played safety the majority of his career anyway -- including 10 starts at the position last season.
The biggest drop off will be at linebacker, where Jordan Futch replaces Spence, but we're only talking about one game.
No, this is not an ideal way for Al Golden to start his career at Miami, but so far, these suspensions don't look like they'll stand in the way of him making a case to finish his first season strong.
August, 15, 2011
8/15/11
9:00
AM ET
It was a busy weekend in the ACC. Here's a look back at the highlights from the scrimmages, according to the sports information departments of the teams that provided reports:

BOSTON COLLEGE
Coach Frank Spaziani told reporters after the 70-minute scrimmage that there were some good things, but "it's like a jigsaw puzzle with all the pieces in the box; they're not connected yet."
Offensive highlights:
Defensive highlights:
Linebacker Nick Clancy and defensive back Sean Sylvia led the team with four tackles each.
Sophomore linebacker Jake Sinkovec had one interception and one fumble recovery.

CLEMSON
Quarterback
Tajh Boyd
had an impressive performance, as he completed 10 of 12 passes for 168 yards and a touchdown to highlight the new offense in Clemson's 75-play scrimmage in Memorial Stadium on Saturday morning.
Offensive highlights:
Defensive highlights
:
The first-team defense did not allow a scoring drive.
Martin Jenkins led the team with seven tackles, including a tackle for loss.
Corico Hawkins had five tackles and a fumble recovery, while freshman defensive end Corey Crawford had five stops, including a sack.
Special teams highlights:
Clemson's three kickers, Chandler Catanzaro, Ammon Lakip and Brian Symmes were a combined 16-of-16 on the day in field goal attempts and extra points against a live rush.
Notable:
Three Tigers missed the scrimmage because they were going through graduation exercises across the street from Memorial Stadium in Littlejohn Coliseum. Starting offensive tackle Landon Walker, starting safety Rashard Hall and reserve defensive end Kourtnei Brown all graduated from Clemson on Saturday. It was especially noteworthy for Hall, who has been at Clemson just three years. He joins Nick Eason (now in the NFL with the Arizona Cardinals) as the only scholarship football players to graduate with two years of athletic eligibility remaining.
Four players missed the scrimmage due to injury. Those players were defensive back Xavier Brewer (sprained foot), defensive back Garry Peters (bruised calf), Andre Branch (head injury), DeShawn Williams (sprained ankle).

GEORGIA TECH
Georgia Tech coach Paul Johnson had mixed reviews after the Yellow Jackets' first scrimmage, which ran 90 minutes inside Bobby Dodd Stadium on Saturday morning.
"It was like a lot of first scrimmages, there were way too many balls on the ground and way too many penalties," Johnson said. "But we hit some big plays. When you play against each other there's positives and negatives on both sides. It's a starting place and we'll look at it and try to make some improvements."
Offensive highlights:
While no official statistics were kept, quarterback Tevin Washington passed for well over 100 yards, including a 63-yarder to senior A-back Roddy Jones. Redshirt freshman quarterback Synjyn Days threw the only touchdown of the day, to true freshman Jeff Greene.
Greene ran with the first unit Saturday as most of the veterans -- junior Stephen Hill, senior Tyler Melton, sophomore Jeremy Moore and junior Daniel McKayhan -- all sat out with injuries.
Washington scored the only other touchdown Saturday on a 1-yard QB keeper.
Defensive highlights:
Defensive end Emmanuel Dieke had a sack, true freshman Jamal Golden intercepted a Vad Lee pass, and Steven Sylvester and Isaiah Johnson both recovered fumbles.
Special teams highlights:
Sophomore Justin Moore booted a 45-yard field goal on his only attempt.
David Scully's 52-yard attempt was long enough, but just wide left.

MIAMI
The most important news out of Miami's first scrimmage was that quarterbacks
Jacory Harris
and
Stephen Morris
combined for five touchdown passes and only one interception. That sounds like improvement. Miami's quarterbacks combined for 407 passing yards on 38-of-52 passing for six touchdowns and only one interception.
Offensive highlights:
Receiver Tommy Streeter had the best offensive day for the Canes, catching five passes for 71 yards and three touchdowns, two of which came from Harris.
Lamar Miller had runs of 16 and 31 yards on the opening drive.
Defensive highlights:
Senior defensive back JoJo Nicolas led all defenders with eight tackles (six solo), with two tackles for loss.
Ramon Buchanan and freshman Gionni Paul and each had six total tackles, with Paul also recording a tackle for loss.
The defense totaled eight tackles behind the line of scrimmage for a total loss of 29 yards

VIRGINIA TECH
The Hokies' offense was the highlight, but what does that mean for the defense? Coach Frank Beamer pointed out that there were some long plays allowed, as the offense racked up 398 yards of total offense in the 78-play scrimmage at Lane Stadium on Saturday afternoon. The touchdowns came against Tech's second- or third-team defense, though, so the jury is still out.
"I thought it was a good first scrimmage -- better than most," Beamer said, according to the team's scrimmage report. "You take into consideration that you're trying to get everyone some work, people who don't know quite what they're doing, and that makes things a little ragged. I thought overall, though, it was a sharp scrimmage. The quarterbacks made some nice plays and Wilson got a couple of long plays against the defense, and we need to see what's going on there. Overall, the effort was good and the play was good."
Offensive highlights:
Backup quarterback Mark Leal led the quarterbacks with 116 yards passing, completing 6 of 13. He also threw an interception. Beamer said Leal is No. 2 on the depth chart behind Logan Thomas. Ju-Ju Clayton, who has dropped to No. 3 on the depth chart, completed 6 of 10 for 51 yards, while starter Thomas completed 4 of 8 for 79 yards, with an interception, in limited action.
Tailback David Wilson scored against the Hokies' second-team defense on a 22-yard run. Wilson led all rushers with 57 yards on five carries. Freshman Michael Holmes added 54 yards rushing on a game-high 11 carries.
Defensive highlights:
Freshman tackle Luther Maddy led the team with eight tackles, including two for a loss, and a sack. Freshman Michael Cole added six tackles, while Telvion Clark and Jack Tyler each finished with four.
Barquell Rivers had three tackles and an interception.
Jayron Hosley and freshman Ronny Vandyke also had interceptions. Hosley intercepted a Logan Thomas pass, while Vandyke intercepted a Trey Gresh attempt.
Special teams highlights:
The kickers connected on 5-of-6 attempts. Cody Journell hit from 35, 22 and 35 yards, while Justin Myer drilled a 52-yarder and a 28-yarder. "Cody's kicking extremely well," Beamer said. "Myer has a load of potential, and he needs to win some of the kicking contests during the week. That shows consistency, and that's where he is right now. Cody is usually winning it or right in the running at the end."
July, 1, 2011
7/01/11
3:30
PM ET
Moving on to the safeties …
[+] Enlarge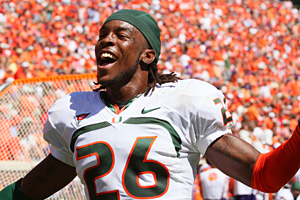 Marvin Gentry/US PresswireRay-Ray Armstrong is among the leaders of a strong Miami secondary.
1. Miami:
Vaughn Telemaque and Ray-Ray Armstrong return, but JoJo Nicolas moved to corner. Even though Armstrong wasn't a starter last year, he still ranked third on the team with 79 tackles and tied for the team lead with three interceptions.
2. Florida State:
The Seminoles return both starters in Nick Moody and Terrance Parks. Moody had 79 tackles last season and Parks had 44 and six deflections. The group was strengthened with the addition of Lamarcus Joyner, who moved from cornerback and proved this spring he's capable of being a safety.
3. NC State:
The Wolfpack has two of the best in Earl Wolff, the team's leading tackler last season with 95, and Brandan Bishop, who had 56 tackles and a team-high four interceptions. Dontae Johnson (22 tackles), also returns.
4. Virginia Tech:
Eddie Whitley is the lone returning starter, but he should be one of the best in the ACC. Antone Exum, who was the No. 2 free safety last season, moved to rover this spring. He played in every game last season and had five starts when Tech went to its nickel defense.
5. Virginia:
The Cavaliers return veteran starters in Rodney McLeod and Corey Mosley, who have combined for 41 career starts. Mosley had 52 tackles and two interceptions last season, and McLeod had 54 tackles and four pass breakups. Safety Dom Joseph (34 tackles) also returns.
6. Duke:
The Blue Devils return both starters in Matt Daniels and Lee Butler. Daniels, a senior, has started 25 career games and is one of the top returning tacklers in the ACC. Butler had 58 tackles and nine passes defended last season.
7. Boston College:
The Eagles return juniors Jim Noel, who had four interceptions in eight starts, and Okechukwu Okoroha, who started the final six games last fall. Noel, Okoroha, and Dominick LeGrande combined for 90 tackles last season.
8. Wake Forest:
Both starters return in Daniel Mack and Cyhl Quarles. Mack had 45 tackles and two interceptions last season. Duran Lowe (30 tackles) could unseat Quarles, who is Wake's leading returning tackler with 71 hits. Redshirt freshman Desmond Cooper is also competing for playing time.
9. Clemson:
Rashard Hall has 19 career starts and made 62 tackles and two interceptions last season. Safety Jonathan Meeks (28 tackles, one start) also returns, along with Carlton Lewis.
10. Maryland:
Just as Kenny Tate's move to linebacker bumped the Terps up in the ranking in that category, his departure from safety drops them a few notches as they now don't have any returning starters there. They do, however, have experience. Eric Franklin played in 11 games, with 23 tackles and three interceptions (tied for second on the team). Matt Robinson played in all 13 games and posted 29 tackles and forced a pair of fumbles. The Terps have plenty of depth with Austin Walker, Titus Till, Anthony Green and Desmond Haynes.
11. North Carolina:
Matt Merletti had five starts and Jonathan Smith, who lettered in 2008 and 2009 but missed all of last season, are the projected starters. They will be pushed by junior Gene Robinson (four starts, 30 tackles, one interception) for playing time.
12. Georgia Tech:
The Jackets had to replace both of their safeties in Mario Edwards and Jerrard Tarrant. Safety Fred Holton (11 tackles) and Isaiah Johnson (46 tackles, one interception) are the two most likely front-runners to start this fall.
August, 20, 2010
8/20/10
10:05
AM ET
When Miami coach Randy Shannon talks about the program's throwback defensive lines -- comprised of former players like defensive tackles Russell Maryland, Cortez Kennedy, Jerome Brown and Warren Sapp -- he points out one common trait: None of them were freshmen when they were at their best.
"People don't realize it took Russell Maryland three years to be Russell Maryland," Shannon said. "Cortez didn't play 'til his senior year. Jerome Brown played a little bit as a freshman. The third year he blossomed. It always takes a defensive lineman until his third or his fourth year really to come out. Sapp was the same way. Whenever you get somebody in his third or fourth year, they should be ready to take that next step."
Consider Miami's defensive line ready.
[+] Enlarge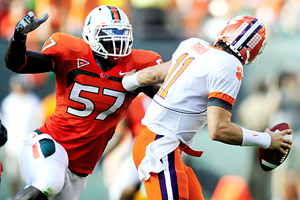 Steve Mitchell/US PresswireSenior Allen Bailey (57) led Miami with seven sacks and 11 tackles for loss last season.
This year's projected starting lineup includes two seniors -- Allen Bailey and Josh Holmes -- and two juniors -- Andrew Smith and Micanor Regis -- but there's so much depth that the competition continues and nothing is set in stone. Even with the dismissal of Steven Wesley, Miami still has 14 defensive linemen to choose from. If all of them play to their potential, it could be reminiscent of some of the program's best defensive lines of the past.
"I really wouldn't want to be on another team that plays against us," Miami quarterback
Jacory Harris
said. "Our defensive line is pretty good this year and I'm sure they're going to open a lot of guys' eyes."
"They're all fast guys, and they also have size on them," Harris said. "That's what makes it worse."
Expectations are highest for Bailey, who at 6-foot-4, 288 pounds led all Miami defensive linemen last year with 34 tackles. He led the team with seven sacks and 11 tackles for loss and should be one of the best players in the conference this fall. Still, he'll draw a lot of attention from opponents, forcing those around him to raise their level of play.
Bailey said that won't be a problem.
"We have the talent, we have the athleticism, we have the numbers," Bailey said. "It's a real good D-line this year. We could be real good. It's not only me. We have 16 or 17 d-linemen. There's like four at each position. It's improved a lot. It raises the competition for playing time. You've got to compete every day, every practice."
Bailey is roommates with defensive backs DeMarcus Van Dyke and JoJo Nicolas, and lineman Adewale Ojomo. To them, he's known as the "house chef."
"He knows how to cook everything -- shrimp pasta, chicken pasta, everything," Van Dyke said. "Man, he can cook."
He can also hit.
"I tell him I feed off him," Van Dyke said. "If he gets three sacks, I get three interceptions. If I get three picks, he'll get three sacks. That's how it goes. It's me and Allen's last year, so we're trying to go out with a bang and make it special."
Miami linebacker Sean Spence said Bailey is "worth every penny" of the preseason hype, but Bailey isn't the only one capable of making plays.
"We've got a lot of depth down there," Spence said. "You could interchange them easily. All of them could play. I'm expecting good things from those guys this year."
So is Shannon.
"Over the years these guys should be ready to take that step now," he said. " … Those guys are mature now. It should be the time for them to take the next step."
August, 14, 2008
8/14/08
8:58
AM ET
Posted by ESPN.com's Heather Dinich
CHAPEL HILL, N.C. -- Morning, ACC fans. Getting ready to roll out to Winston-Salem today, but not before we check out the small disagreement between Joe Tiller and Paul Johnson.
Regarding the transfer of former Tech receiver D.J. Donley, Purdue coach Joe Tiller says the Yellow Jackets are "dragging their feet."
This Yellow Jacket isn't. With Josh Nesbitt listed as day-to-day for a shoulder injury, backup Jaybo Shaw has no time to stand around against the first-team defense.
Boston College coach Jeff Jagodzinski certainly doesn't have to worry about his defense. But can the offense get a first down by the season opener?
Maryland can, if Ralph Friedgen ever decides on a starting quarterback or three.
Randy Shannon needs to name a starter, too. That news could come any time next week, and Friday's scrimmage is a good time for one of them to make a move.
The quarterbacks aren't the only ones working to make an impression, though. Not that Marcus Forston hasn't made one already.
Has sophomore safety JoJo Nicolas already earned the starting nod? Some people think so.
Miami had four players miss practice with "nagging injuries."
NC State receiver Geron James is finally healthy and seems to have everything in order this season, but how much of an impact can he have after missing the first season in Tom O'Brien's system? At this point, maybe he should switch to safety.
Virginia linebacker Denzel Burrell is done with his crutches and in a "dogfight" for the spot opposite Clint Sintim at outside linebacker.
When will Tavares Pressley, Florida State's transfer running back, finally start practicing? It looks like it's still dragging on. Once he finally arrives, how will it affect the position? Not much, other than boosting the competition.
After a bleak outlook early on, Florida State's offensive line is quickly progressing. Not that they didn't have a little motivation.
At Clemson, Mason Cloy appears to be a player who can help out an offensive line trying to replace four starters.
Duke offensive lineman Cameron Goldberg seems ready to make the most of his second chance.
Here's more on the man I'll be visiting today at 2:30 p.m., followed by a scrimmage. Much of Jim Grobe's success has come as a result of his emphasis on defense. Can the Demon Deacons repeat last year's defensive scoring?
I'll let you know later this afternoon.