August, 22, 2012
8/22/12
5:00
PM ET
In the Illinois offensive staff room, there's a board where the coaches list their top five playmakers. The goal is to identify which players need to touch the ball most often, and then to build the offense strategy and scheme around that.
How much has that list changed in the last several months?
"It's changed quite a bit since we got here," co-offensive coordinator Billy Gonzales told ESPN.com, laughing. "It's everchanging."
[+] Enlarge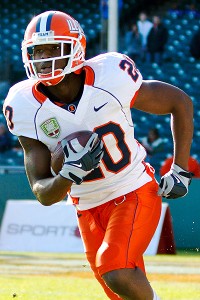 Jason O. Watson/US PresswireThe Illini are looking to Fritz Rock to add depth at receiver.
The Illini want that top five to stay fluid to reflect competition. But there also haven't been as many candidates for that list as the coaching staff would like.
The team is switching to the spread offense this season under new coach Tim Beckman, and that's an attack that usually requires lots of depth at the skill positions. Illinois, though, doesn't have that luxury and continues to look for more playmakers, especially at receiver.
"We are extremely, extremely thin there," said Gonzales, who oversees the receivers. "Depth is a major need for us, and we have to go out and recruit that. Of the guys we have right now, I probably feel comfortable with three of them, and they are the three with experience at the Division I level. After that, it's a dogfight."
Gonzales said a spread offense should ideally be four deep at each of the three receiver spots and added that the Illini "are not even close to that right now." He also said the Illini have "not by any means" identified a true No. 1 receiver among those they are sure will contribute. A big key for the staff, he said, will be to continue to develop young wideouts like sophomore
Fritz Rock
and redshirt freshman
Kenny Knight
.
While the receiver position is a big question mark, there are higher hopes at some of the other skill positions.
Gonzales said the running back group, considered a weakness going into the offseason, is now "one of the strengths of our team." Though it's not particularly deep, the duo of
Josh Ferguson
and
Donovonn Young
has Gonzales excited. He said there are packages where both will be on the field at the same time.
"Donovonn played for us last year, and Josh understands what's expected of him after this spring," he said. "Both of those guys have the ability to run the ball in our offense, and both of them are strong and powerful."
The tight end spot is another area for optimism. Gonzales feels the team is four-deep at that position with
Evan Wilson
,
Jon Davis
,
Matt LaCosse
and
Eddie Viliunas
. The tight ends, he said, "have had a really good football camp," and you could see multiple tight end sets this fall even in a spread offense.
"We've got to put our best 11 players on the field, and if the best 11 players includes tight ends over receivers or running backs over receivers, that's what it is," Gonzales said.
Gonzales also said that quarterback
Nathan Scheelhaase
has had a good preseason and has "really embraced a leadership role." He declined to say whether there was a plan to play backup
Reilly O'Toole
, as the team did last year, and said that the goal is just to get both quarterbacks and
Miles Osei
prepared to lead the No. 1 offense, if necessary.
There are still plenty of questions for the Illinois offense, questions that probably won't be answered until there are more players earning serious consideration for that top five list.
"Some of our guys are starting to step up, and that gives a little more flexibility to our offense," Gonzales said. "If we can get more guys to step up, that will make for a pretty good offense."
May, 22, 2012
5/22/12
1:05
PM ET
When you think Big Ten football, what usually comes to mind is big, corn-fed Midwestern players and bruising offenses. The kind of place that would be perfect for a tight end.
But the 2011 season was a little lackluster for that position in the league, at least as far as the passing game goes. Sure, Northwestern's Drake Dunsmore and Wisconsin's
Jacob Pedersen
were Mackey Award semifinalists, but those two and Michigan State's Brian Linthicum were the only two tight ends in the conference to record more than 25 catches. Some guys we expected to have big years, like Nebraska's
Kyler Reed
, Minnesota's Eric Lair and Indiana's
Ted Bolser
, were nearly invisible on the stat sheet. And there was certainly no one who rose the level of recent Big Ten stars like Dallas Clark, Matt Spaeth, Travis Beckum, Lance Kendricks or Dustin Keller.
[+] Enlarge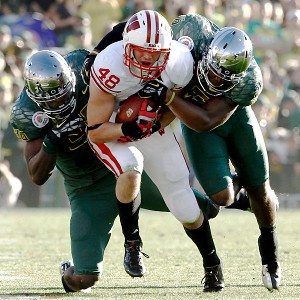 AP Photo/Matt SaylesJacob Pedersen led the Big Ten's tight ends with eight touchdown catches last season.
Dunsmore, who won the league's inaugural Kwalick-Clark tight end of the year award, and Linthicum have both graduated. Yet 2012 is shaping up as a potentially big season for tight ends across the league.
Some of it has to do with changing offenses and playcallers who love utilizing the tight end. Urban Meyer made a star out of Aaron Hernandez at Florida and could do the same with
Jake Stoneburner
, who started off blazing hot last year before the Ohio State offense forgot about him. With the Buckeyes searching for playmakers, expect Stoneburner to be utilized heavily in 2012.
"Seeing Hernandez make all those plays makes someone like me pretty happy," Stoneburner told Adam Rittenberg last month. "It's something I've been waiting for since I graduated high school, being able to go out there knowing you're going to get the opportunity to get the ball more than once or twice a game. "
Bill O'Brien coached Hernandez and Rob Gronkowski as offensive coordinator with the New England Patriots, which featured the tight end as much as anybody in football. Now O'Brien is at Penn State, where tight ends have mostly been an afterthought. That will change quickly.
"That's a very important part of what we're going to do offensively," O'Brien told reporters in March. "Obviously, the last two years in New England taught me a lot about the use of a tight end, multiple tight ends."
At Iowa, new offensive coordinator Greg Davis is raving about sophomore
C.J. Fiedorowicz
, a 6-foot-7, 265-pounder who began to emerge late last season as a weapon. With an uncertain running game and an excellent passer in quarterback
James Vandenberg
, Fiedorowicz could follow in the footsteps of Clark and Tony Moeacki as breakout Hawkeyes tight ends. Coincidentally, Iowa's new offensive line coach is Brian Ferentz, who coached the tight ends with the Patriots last year.
"You'll see the tight ends playing outside sometimes," Davis told the Des Moines Register during spring practice. "Used to seeing them in motion, but there will be motion in wide receiver sets in some situations because they're tough match-ups."
Wisconsin returns one of the best tight ends in the country in Pedersen, who had led Big Ten tight ends with eight touchdown catches a year ago. Bret Bielema is also excited about the depth at the position, with veterans
Brian Wozniak
and
Sam Arneson
, redshirt freshmen
Austin Traylor
and
Austin Maly
and Pittsburgh transfer
Brock DeCicco
. Given the inexperience at receiver outside of
Jared Abbrederis
, the Badgers could look to throw to their tight ends even more this season.
Indiana's Bolser had only 14 catches last year, but he was one of the stars of the spring for the Hoosiers. An improved passing game should help him become more of a factor. Purdue likes the depth it has at tight end, led by
Gabe Holmes
and
Crosby Wright
.
"A year ago it was one of the leanest positions on our football team," Boilers coach Danny Hope told reporters in the spring, "and now I think going into the season that the tight end position is going to be one of our strengths."
Reed's numbers dropped last year, but he still led Nebraska with an average of 17.1 yards per catch. He and fellow senior
Ben Cotton
form a nice tandem of targets for
Taylor Martinez
. Michigan State must replace Linthicum but is optimistic about 6-foot-5, 280-pound
Dion Sims
, who practiced this spring with a cast on his hand. Sims could provide a safety valve for new quarterback
Andrew Maxwell
early on as the Spartans break in some green receivers.
Minnesota's
Moses Alipate
will at least be a curiosity as a former quarterback who grew to 290 pounds. Michigan needs
Brandon Moore
or someone else to step in for
Kevin Koger
, while Illinois'
Jon Davis
could have a different role in the team's new spread offense after a promising freshman campaign. Whoever replaces Dunsmore for Northwestern should get a lot of touches.
Tight ends could play an important part of many Big Ten teams' attacks this fall. Just as it should be.
November, 8, 2011
11/08/11
9:00
AM ET
Illinois offensive coordinator Paul Petrino entered the season brimming with confidence, and for good reason.
His unit had set team records for scoring (423 points) and points per game (32.5) in 2010 and returned most of its key pieces, namely quarterback
Nathan Scheelhaase
. Most of the questions about Illinois rested with a defense that had lost three players to the NFL draft, including first-round pick Corey Liuget.
[+] Enlarge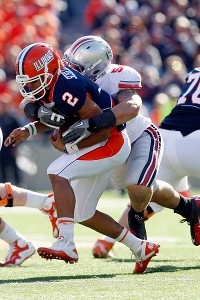 Jerry Lai/US PresswireQB Nathan Scheelhaase, 2, and the Illinois offense have struggled the past three games.
"We're always going to set our expectations high,"
Petrino told ESPN.com in August
. "We set the school record last year, and we're going to break it this year."
Petrino looked prophetic through the first six games, as Illinois averaged 34.7 points and 447.7 yards. The Illini recorded 32 plays of 20 yards or longer. Scheelhaase and wide receiver
A.J. Jenkins
formed the Big Ten's most dangerous passing connection, as Jenkins soared to the top of the national receiving chart with 815 yards and seven touchdowns.
A surprisingly effective defense complemented the offense, and Illinois swept its first six games to get off to its best start since 1951.
But the Illini since have backslid, dropping three straight games. While the defense continues to perform well, the offense has disappeared.
Illinois has scored only 28 points during the losing streak, including none in the first half and only seven before the fourth quarter. Amazingly, the Illini had more yards and more first downs than any of its past three opponents -- Ohio State, Purdue and Penn State -- and dropped all three contests.
What's wrong with the Illini offense? It's not complicated, according to Petrino.
"Blocking, protecting, throwing and catching -- the basics," Petrino told ESPN.com. "You've got to block people. You've got to hit people when they're open. You've got to catch the ball. And then you've got to run through some tackles. Just the basic stuff we've got to do better. We've kind of hurt ourselves from that standpoint in the last three games.
"We've got to do it better."
They need to start Saturday against No. 24 Michigan at Memorial Stadium. Illinois' once-promising season could go down the drain if the offense doesn't resurface.
A potential turnaround for the Illini starts with the offensive line, considered one of the Big Ten's best before the season. Illinois boasts experience up front and continuity, as there has been only one change in the starting lineup all season.
But Illinois' front five has struggled against some of the Big Ten's best defensive linemen, allowing too many negative-yardage plays. Opposing teams have recorded 24 tackles for loss and eight sacks during Illinois' losing streak.
"A lot of times we've been getting beat up front," Petrino said. "That doesn't necessarily mean it's always the O-line. Sometimes it's the tight end or the back, [and the] quarterback a couple times needed to get the ball out of his hands quicker."
Petrino also is looking for more big plays. Jenkins and Scheelhaase provided a bunch of them early in the season, but defenses have done better at limiting Jenkins' effectiveness the past three games.
Illinois has recorded just three plays of 20 yards or longer in the past three games -- all passes from Scheelhaase to Jenkins.
"Some of the other guys have got to do it, too," Petrino said. "
Darius Millines
did it early in the year and he was hurt for a while, but I think he's getting back, being closer to being 100 percent, so that will help.
Jon Davis
, our freshman tight end, has made some plays for us.
Ryan Lankford
has got to start making some plays.
"And then in the running game, we've got to bust through the holes and get some long runs, also."
Senior running back
Jason Ford
has been a bright spot, recording 183 rush yards on 34 carries in the past two games. But Ford's longest run this season is just 18 yards.
"Bottom line, defenses are too good this day and age if you go three, four yards the whole time," Petrino said. "You've got to get some big plays."
Illinois also needs to start games better, especially against a Michigan team that has improved as games go along. The Illini averaged 17.5 points in the first half through the first six games, but they've since limped out of the gate.
"We haven't played worth a darn in the first quarter of the last three games," Petrino said. "It's something we take pride in. We script our opening plays and we work on them all week.
"So we've got to go out and play fast and definitely get going early."
Saturday would be a good time for a better start.
November, 7, 2011
11/07/11
3:55
PM ET
Here are the non-AQ players of the week, as selected by each conference.
C-USA
Offense:
Nick Fanuzzi
, QB, Rice. Fanuzzi had career highs with 405 yards passing, 30 completions and 439 yards of total offense, while throwing three touchdowns and leading Rice to a 41-37 win over UTEP. Fanuzzi helped lead the Owls to the third-highest offensive output in school history with 671 yards.
Defense:
Curnelius Arnick, LB, Tulsa. Arnick had a career-best 19 tackles, including 12 solos and one tackle for loss, as well as one pass breakup in a 24-17 road victory over UCF.
Special teams:
Tracey Lampley, PR, Southern Miss. Lampley returned a punt 60 yards for a touchdown in a win at East Carolina. It was his first punt return for a touchdown since his freshman year in 2009.
MAC
East Division
Offense:
Donte' Harden
, RB, Ohio. Harden had a school-record 322 all-purpose yards (184 rushing, 75 receiving and 63 return yards) and scored a pair of touchdowns in a 35-31 win over Temple.
Defense:
Jerrell Wedge, LB, Miami (Ohio). Wedge had nine tackles and a fumble recovery in a 35-3 victory over Akron.
Special teams:
Rob Hollomon, KR, Kent State. Hollomon averaged 35.7 yards on three kick returns in a 24-21 win over Central Michigan.
West Division
Offense:
Chandler Harnish
, QB, Northern Illinois. Harnish threw six touchdown passes, the second-most in MAC history, to lead Northern Illinois to a 63-60 shootout victory at Toledo. Harnish also rushed 16 times for 133 yards to account for 398 yards of total offense.
Defense:
Dan Molls, LB, Toledo. Molls had 17 tackles and one tackle for loss in a 63-60 loss to Northern Illinois
Special teams:
Tommylee Lewis
, KR, Northern Illinois. Lewis became only the 13th player in NCAA FBS history to return two kickoffs for touchdowns in the same game when he scored on back-to-back kickoff returns for Northern Illinois in a 63-60 win at Toledo. Lewis brought the opening kickoff back 100 yards. After Toledo scored, he returned the ensuing kickoff 95 yards for the score.
Mountain West
Offense:
Waymon James
, RB, TCU. Rushed for a career-high 181 yards on 12 carries in a 31-20 win at Wyoming. James, who had a career-long 74-yard run on the first play of the fourth quarter, had 117 yards on five carries in the final period.
Defense:
Jon Davis, DB, Air Force. Davis tied a career-high with 12 tackles as Air Force captured the Commander-In-Chief Trophy for the second consecutive year with a 24-14 victory over Army.
Special teams:
Parker Herrington, PK, Air Force. Kicked a career-high three field goals in a 24-14 win over Army. Herrington improved to 10-of-10 on the season inside 40 yards.
Sun Belt
Offense:
Ryan Aplin
, QB, Arkansas State. Aplin accounted for five touchdowns in leading Arkansas State to a 39-21 victory at FAU. Aplin rushed for 49 yards and four touchdowns and completed 24 of 37 passes for 244 yards and another score.
Defense:
Devon Lewis-Buchanan, LB, ULL. Lewis-Buchanan had a career-high 12 tackles, including 11 solo, in a 36-35 win over Louisiana-Monroe. He also had three tackles for loss and a pass breakup in the win.
Special teams:
Brett Baer, K, ULL. Baer perfectly executed an onside kick late in the game against ULM, allowing
Ladarius Green
to recover the kick at the ULM 39 to set up the game-winning score.
WAC
Offense:
Colby Cameron
, QB, Louisiana Tech. Cameron completed 19 of 33 passes for 376 yards and four touchdowns with no interceptions in Louisiana Tech's 41-21 win at Fresno State.
Defense:
Travis Johnson, DE, San Jose State. Johnson tied a school record with four sacks in a loss to Idaho. One of his sacks resulted in San Jose State's first safety in seven years. He had a total of 10 tackles and a fumble recovery.
Special teams:
Stanley Morrison
, WR, Utah State. Executed two successful fake punts in a 35-31 comeback win at Hawaii. In the second quarter, he rushed for 8 yards on fourth-and 4 and then in the second half, he threw a 23-yard pass on fourth-and-5 to
Joe Hill
for a first down.
November, 7, 2011
11/07/11
1:00
PM ET
Let's take a look back at Week 10 in the non-AQs.
Records fall.
As expected,
Kellen Moore
and
Case Keenum
set major NCAA records in victories this weekend. Moore helped the Broncos beat UNLV 48-21 for his 46th career win, breaking the record set by Colt McCoy for most career wins. Meanwhile, Keenum threw for 407 yards in a 56-13 win against UAB to become the most prolific passer in NCAA history. Keenum passed the mark held by Timmy Chang and now has 17,212 career passing yards. He is averaging 402.9 yards a game, putting him on pace to potentially get another 2,000 yards this season should the Cougars play in the Conference USA championship game.
[+] Enlarge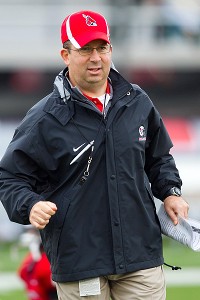 Michael Hickey/US PresswireCoach Pete Lembo has Ball State eligible for a bowl for the first time since 2008.
Bowl eligibility.
Ohio, Northern Illinois, Tulsa, SMU and Ball State all became bowl eligible this weekend. It has been a nice turnaround season for Ball State under first-year coach Pete Lembo, getting the Cardinals to bowl eligibility for the first time since 2008. Teams that have a chance to become bowl eligible this week:
FIU (5-4) vs. FAU
Western Kentucky (5-4) at LSU
Louisiana Tech (5-4) at Ole Miss
Nevada (5-3) vs. Hawaii
Game of the week.
Louisiana-Lafayette 36, Louisiana-Monroe 35. The Ragin' Cajuns overcame an 11-point deficit with 3:08 left, scoring two touchdowns in the span of two minutes to complete the incredible comeback.
Blaine Gautier
threw a 16-yard touchdown pass to
Darryl Surgent
with 2:05 left to close the gap to 35-30. They failed to make the 2-point conversion but did recover the onside kick.
Alonzo Harris
scored on a run from 3 yards with 1:06 remaining.
Greatest turnarounds.
Speaking of the Sun Belt, Louisiana-Lafayette has the best turnaround in the country from last season, winning five more games than 2010. That league has three teams with some of the best turnarounds among the non-AQs.
2010, 2011
ULL 3-9, 8-2
Houston 9-0, 5-7
Ark. St 4-8, 7-2
WKU 2-10, 5-4
E. Mich 2-10, 5-4
Conference race update. Let us check in with all the non-AQ conferences to see who is leading in the race for a championship.
C-USA.
Southern Miss is in control of the East Division after a convincing 48-28 win against East Carolina. The Golden Eagles host defending East Division champs Central Florida on Saturday. They have a one-game lead over the Pirates and Marshall, though their only loss this season came to the Thundering Herd. In the West, Houston and Tulsa are undefeated in league play at 5-0, setting up a huge showdown in the season finale Nov. 25 at Tulsa. Houston has Tulane and SMU before then; Tulsa has Marshall and UTEP. Both teams will be favored to be 7-0 in league play headed into their game.
MAC.
Ohio dealt a huge blow to Temple's chances of winning the East with a 35-31 win in Week 2. The Bobcats and defending East champ Miami (Ohio) are 3-2 in league play. They end the season against each other Nov. 22 at Ohio. In the West, Northern Illinois and Toledo each are 4-1 but the Huskies have a huge head-to-head win against Toledo, 63-60 in a wild game in Week 10. If they both win out, Northern Illinois goes to get another MAC title game.
Mountain West.
As expected, TCU and Boise State are undefeated in league play headed into their huge game Saturday in Boise. The winner will be in the driver's seat to win the conference. Remember, this game was initially set for Forth Worth, but moved to Boise after TCU announced it was leaving the conference.
Sun Belt.
Louisiana-Lafayette (8-2, 6-1) has a huge game at Arkansas State (7-2, 5-0). If Louisiana-Lafayette wins, it would create a three-way tie with Western Kentucky (5-4, 5-1) atop the Sun Belt standings. If all three then win out, they would each be considered co-champs. If Arkansas State wins, then the Red Wolves would remain undefeated in the Sun Belt and control their destiny.
WAC.
Nevada is the only undefeated team in league play at 3-0 and controls its hopes for a second straight league title. Louisiana Tech at 4-1 is in second place. The teams play in Reno on Nov. 19.
Helmet stickers
Ryan Aplin, QB, Arkansas State.
Aplin had five touchdowns in a 39-21 victory at FAU, rushing for 49 yards and four touchdowns and completing 24-of-37 passes for 244 yards and another score. His four rushing touchdowns are the most for any player in the Sun Belt this season, and his five overall touchdowns are tied for the most.
Kama Bailey, RB, Idaho.
Bailey ran for a career-high 163 yards on 19 carries and had two scores as Idaho came back to beat San Jose State 32-29.
Jon Davis, DB, Air Force.
Davis had a game-high 12 tackles and recorded one interception as Air Force retained the Commander-In-Chief's trophy with a 24-21 win against Army. Davis also forced and recovered a fumble.
Nick Fanuzzi, QB, Rice.
Fanuzzi completed 30-of-43 for 405 yards with three touchdowns and no interceptions in a 41-37 win against UTEP. It was his first start of the season, and he is just the third player in school history to pass for more than 400 yards.
Donte Harden, RB, Ohio.
Harden finished with a school-record 322 all-purpose yards (184 rushing, 75 receiving and 63 return yards) and scored a pair of touchdowns in a 35-31 win against Temple.
August, 17, 2011
8/17/11
1:00
PM ET
They are fierce rivals, yes, but everybody who coaches at and plays for a service academy understands the difficulty of making a bowl game. So it should come as little shock that they applauded what happened last season -- when Army, Navy and Air Force all made bowl games for the first time in college football history.
"All three are phenomenal places. Each one has their own niche that our country badly needs," Air Force coach Troy Calhoun said. "We're fortunate to have each one of these academies. When they all have winning seasons, that's pretty cool stuff."
Now the big question -- can they do it again and again?
[+] Enlarge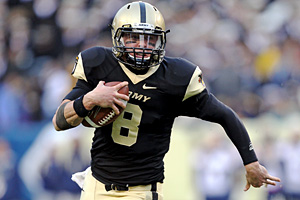 Hunter Martin/Getty ImagesLast season Trent Steelman passed for 995 yards, rushed for 721 yards and led Army to its first bowl game since 1996.
"There are no guarantees in this, but I think that's a realistic outcome when you look at who we are and our schedules and how well we're playing," Army coach Rich Ellerson said. "It's not hard to visualize that."
Navy and Air Force have been playing at high levels in recent years. The Midshipmen have been to eight straight bowl games; Air Force to four straight. It had been Army that lagged behind. But Ellerson has changed the culture at West Point, taking his Black Knights to a bowl game for the first time since 1996.
Is that enough to get the momentum going for Army? On paper, it appears that Army has the longest shot of the three service academies to make it back to a bowl game.
The defense lost six starters, including all-important nose guard Mike Gann and defensive end Josh McNary, who holds the school record for tackles for loss and sacks. The defensive line is more undersized than usual for a service academic, so the team is hoping its quickness and athleticism can make up for that. The Black Knights also lose leading tackler Stephen Anderson, who had 108 stops last season, and both starting safeties.
If you take a look at the Army schedule, you will find very few gimmes. Six of the 12 games feature bowl teams; only four of their FBS teams had losing records last season. The opening stretch is tough, starting with a game at Northern Illinois (11-3 last season), then home to San Diego State (9-4) and Northwestern (7-6). Army plays six straight games before getting a bye.
But if there is a bright spot for Army, it has to be on offense. Quarterback
Trent Steelman
and fullback
Jared Hassin
return, and they should given opposing defenses fits. Hassin ran for 1,013 yards last season and Steelman added 721 on the ground and 995 yards passing. Army does have to replace four starters on the offensive line, but Ellerson has been pleased with their progress.

Navy faces a rebuilding year as well, but the Midshipmen are a team that knows how to win and win consistently. They only return 10 starters -- and just three on defense. Navy lost its top four tacklers from a year ago -- Wyatt Middleton, Tyler Simmons, Aaron McCauley and Jerry Hauburger.
There are some bright spots returning, though. Defensive end Jabaree Tuani, their best defensive lineman, returns. Cornerback Kewsi Mitchell will anchor the defensive backfield, though just exactly where he will play remains up in the air. On the latest depth chart, he is listed as a possibility at rover, right and left cornerback.
Offensively, Ricky Dobbs is gone, but there isn't much concern about
Kriss Proctor
coming in to run the triple-option. Proctor has had extensive experience running the offense as a backup the past two seasons. Plus, he has fullback
Alexander Teich
to help him out. Teich had a breakout year in 2010, running for 863 yards and is in line to be a 1,000-yard rusher this season. Four of five starters on the offensive line return as well.

As for Air Force, the Falcons are the defending Commander-In-Chief Trophy winners after breaking the seven-year Navy streak. Air Force has to be the favorite to repeat as CIC champions because of everybody it has returning. In fact, the Falcons were picked to finish third in the Mountain West in the preseason media poll, and some have called them a darkhorse candidate to win the conference.
Air Force has the best quarterback of the service academies in
Tim Jefferson
, and the best return specalist in
Jonathan Warzeka
. The Falcons also have the most solid defense. Eight starters return on defense, including the team's top three tacklers from a year ago -- Jordan Waiwaiole, Jon Davis and Brady Amack.
All three programs need to get to six wins to be bowl eligible. If that happens again, Navy would head to the Military Bowl presented by Northrop Grumman on Dec. 28 in Washington against a team from the ACC. Army would head to the Kraft Fight Hunger Bowl in San Francisco against a Pac-12 team on Dec. 31. Air Force would go to a Mountain West tie-in.
July, 19, 2011
7/19/11
11:00
AM ET
We are closing in on media day season. The Mountain West is holding its annual media event July 26-27 in Las Vegas, and I will be there to bring you the latest. Down below you will find the student-athletes each school is bringing for interviews. But first, my most pressing questions headed into 2011:
1. How will the reconfigured Mountain West fare and what will that mean for BCS inclusion?
This is the biggest question hanging over the league, one that is certain to be asked of commissioner Craig Thompson. Even though we all want an answer, we will not get one until the season ends. Still, there is no debating that teams such as New Mexico, Wyoming and Colorado State have to be improved for there to be any real shot at becoming an AQ.
2. Along those lines, how will Boise State fare in Year 1?
The Broncos are almost certain to be the preseason favorite to win the Mountain West in their first year in the league. This, of course, is not a new position for Boise State, the preseason favorite every year in the WAC. But how does the team feel about these expectations considering it will be facing a new slate of conference games in what is a more difficult conference than the WAC?
3. How does TCU feel about being in its final MWC season?
This is a similar storyline to last season with Utah and BYU. These three teams essentially put the Mountain West on the map and all are going to be gone in 2012. But TCU was given what it believes is a raw deal, when its game against Boise State was moved to Boise in November. That one could end up determining the league title. You can bet there is nothing the Horned Frogs would enjoy more than leaving the league as champion. There most definitely is a rivalry that has formed between TCU and Boise State. It's too bad we won't see that play out every year.
4. Is Air Force really a dark horse to win the league?
One of the bigger under-the-radar teams that has gotten national attention is Air Force. Some are calling the Falcons a dark horse to win the league. Coach Troy Calhoun is going to do everything he can to avoid talking about or answering that question. But with
Tim Jefferson
,
Asher Clark
and
Jonathan Warzeka
returning on offense, and Jordan Waiwaiole, Jon Davis and Brady Amack returning on defense, the Falcons should have another strong season.
5. Is San Diego State a threat to win the league?
The top four teams in the conference should be pretty strong. That includes San Diego State, which had a breakthrough season last year and returns several of its best players, including
Ryan Lindley
,
Ronnie Hillman
, Miles Burris and Leon McFadden. But there are some questions within this question -- how do the Aztecs do without Vincent Brown and DeMarco Sampson, and can Hillman avoid a sophomore slump?
List of student-athletes attending MWC media days:
Air Force
: WR/KR Jonathan Warzeka, DL Zach Payne
Boise State
: QB
Kellen Moore
, S George Iloka
Colorado State
: OL Paul Madsen, LB Mychal Sisson
New Mexico
: LB Carmen Messina, TE
Lucas Reed
San Diego State
: QB Ryan Lindley, DL Jerome Long
TCU
: WR
Josh Boyce
, LB Tank Carder
UNLV
: TE
Anthony Vidal
, DB Quinton Pointer
Wyoming
: LB Brian Hendricks, DE Josh Biezuns
February, 2, 2011
2/02/11
5:36
PM ET
The Big Ten's largest recruiting class is now official. Illinois has announced a 27-man recruiting class that includes players from 11 different states.
The Illini class includes eight players from within the state and four from Florida. There are 13 offensive players, 10 defensive players, three athletes and one specialist.
Here's the position breakdown:
OL:
5
WR:
3
RB:
2
QB:
1
LB:
2
P:
1
DL:
6
DB:
4
Athlete:
3
A few notes:
Illinois landed several of its top recruits late in the recruiting cycle. ESPNU 150 prospect Jon Davis committed Wednesday, while DE Darrius Caldwell made a verbal commitment in late January
Although not as highly rated, this class seems to resemble those Ron Zook brought in earlier in his Illini tenure. Although Illinois didn't clean up within the state, it landed several good prospects from the Southeast.
February, 2, 2011
2/02/11
3:40
PM ET
The Big Ten signing classes are rolling in, but a few prospects still are announcing their college choices.

Both Illinois and Penn State got some good news Wednesday afternoon as heralded prospects Jon Davis and Adrian Amos put pen to paper.

Davis, an ESPNU 150 selection as an athlete, picked Illinois ahead of both Louisville and Kentucky. He's the highest-rated member of Illinois' massive 2011 class (nation's No. 138 player). Davis played tight end in high school and could be an excellent fit in Paul Petrino's offense. He originally committed to Kentucky but switched to Illinois.

Amos, a three-star safety from Baltimore, adds to Penn State's late recruiting momentum. ESPN Recruiting rates him as the nation's No. 68 safety. Penn State loses both of its starting safeties (Nick Sukay and Drew Astorino) after the 2011 season, so Amos' pledge comes at a good time. Amos originally committed to Connecticut but started looking around after coach Randy Edsall left for Maryland.
February, 2, 2011
2/02/11
2:31
PM ET
The day didn't start very well for Kentucky when linebacker
Lamar Dawson
, one of the state's top prospects, signed with Southern California.
It only got worse later in the afternoon when the Wildcats' top commitment, tight end
Jon Davis
of Louisville, had a change of plans and signed with Illinois. Davis was Kentucky's only ESPNU 150 commitment.
So with Dawson and Davis both choosing to leave the state, the Wildcats missed out on the state's two most highly recruited prospects. They were able to get offensive linemen
Darrian Miller
and
Zach West
, both ranked among the top 25 offensive tackle prospects in the country by ESPN.
Here's a look at
Kentucky's confirmed signees
for the 2011 class.
December, 28, 2010
12/28/10
4:30
PM ET

There is no question that coach Troy Calhoun has rejuvenated the program. Calhoun is the only coach to guide Air Force (9-4, 5-3 MWC) to four straight bowl games and four straight seasons of eight-plus wins. After its 14-7 win over Georgia Tech in the AdvoCare V100 Independence Bowl, Air Force won consecutive bowl games for the first time since the 1990 and 1991 Liberty bowls. Air Force has now won nine games for the second time since Calhoun took over four seasons ago. But better than all of that, the Falcons won the Commander-In-Chief Trophy for the first time since 2002 after beating Army and Navy this season. It was a season full of triumphs. Air Force successfully replaced all five starters on its offensive line.
Tim Jefferson
flourished at quarterback. Rick Ricketts and
Reggie Rembert
finished their careers with outstanding seasons. Players stepped up when injuries knocked down starters
Jared Tew
,
Kevin Fogler
, Ken Lamendola, Patrick Hennessey, and Wylie Wikstrom. And Air Force beat a team from the ACC for the first time since 1998.
Offensive MVP: QB Tim Jefferson.
The junior finished the season with career highs for passing yards (1,342), passing touchdowns (10), rushing yards (769) and rushing touchdowns (15). Jefferson needs two more wins to pass Dee Dowis (1986-89) as the winningest quarterback in Air Force history.
Defensive MVP: CB Reggie Rembert.
The heart of the defense, Rembert was named first-team All-Mountain West Conference for the second straight year. Rembert is the first Falcon to earn first-team honors in back-to-back seasons since offensive lineman James Norman in 1998-99. He was the only Air Force player to win first-team honors this season.
What's next:
A fifth straight bowl appearance should be expected with Jefferson,
Asher Clark
and
Jonathan Warzeka
returning to the offense, along with Jon Davis and Anthony Wright on defense. There are plenty of big shoes to fill, including Rembert, Rickets, Tew and Fogler. The schedule also features Notre Dame, along with the addition of Boise State. But Calhoun has proved to be an effective leader and in complete command of the program.
September, 27, 2010
9/27/10
5:03
PM ET
Time for the non-AQ conference players of the week:
Conference USA
Offense:
UAB QB
Bryan Ellis
. Threw for 373 yards in his first career start, a
32-29
double overtime loss to Tennessee. Ellis has passed for 733 yards and four touchdowns in the past two games and is the first UAB quarterback to throw for more than 350 yards in back-to-back outings.
Defense:
Houston DB Loyce Means. Had interceptions on consecutive defensive drives in a
42-23
win against Tulane. He returned the second 42 yards for a touchdown.
Special teams:
UTEP PK Dakota Warren. Kicked three field goals, including the game-winning 18-yarder as time expired in a
16-13
win against Memphis. Warren also connected made field goals from 57 and 50 yards, becoming the second UTEP player since 1950 to hit two 50-yard field goals in a game.
MAC
East Division
Offense:
Ohio WR
Terrence McCrae
. Had four catches for 118 yards and two touchdowns in a
24-23
loss at Marshall.
Defense:
Temple DB Jaiquawn Jarrett. Led Temple with 11 tackles in a
22-13
loss at No. 23 Penn State. After four games, Jarrett leads the Owls with 28 tackles, including 16 solos.
Special teams:
Ohio P Paul Hershey. Averaged 38.7 yards per kick, and ran for a 6-yard TD on a fake field goal.
West Division
Offense:
Northern Illinois RB
Chad Spann
. Ran for 223 yards on 17 carries in a
34-23
win at Minnesota. He had the first 200-plus yard game at Northern Illinois since Garrett Wolfe had 203 vs. Central Michigan in 2006.
Defense:
Toledo LB Archie Donald. Had a season-high 16 tackles and added a game-clinching interception in a
31-20
win at Purdue.
Special teams:
Northern Illinois DB Jimmie Ward. Had a punt block at the end of the first half that led to a touchdown.
Mountain West
Offense:
Colorado State QB
Pete Thomas
. Led the Rams to their first win of the season, going 29-of-37 pass attempts for 386 yards and three touchdowns. Both are career highs.
Defense:
Air Force S Jon Davis. Had a team-high six tackles, one tackle for loss, an interception and a fumble recovery in Air Force's
20-14
win at Wyoming. The fumble recovery with 3:41 remaining in the fourth quarter sealed the win.
Special teams:
TCU PR/KR
Jeremy Kerley
. Returned five kickoffs for 172 yards, including a career-long 83-yard scamper, to help TCU beat SMU
41-24
victory. In all, he had a career-high 234 all-purpose yards in the game.
Sun Belt
Offense:
Troy WR
Jerrel Jernigan
. Had 10 receptions for a career-high 209 yards and one touchdown in a win against Arkansas State. With his performance, Jernigan is 28 yards shy of the Sun Belt record for receiving yards.
Defense:
Middle Tennessee LB Jamari Lattimore. Set a school record and tied the Sun Belt mark with four sacks against in a win against Louisiana. He had eight tackles and forced a fumble.
Special teams:
Middle Tennessee K Alan Gendreau. Made the second-longest field goal in Sun Belt and school history with a career-long 55-yarder.
WAC
Offense:
Boise State QB
Kellen Moore
. Completed 19-of-27 passes for 288 yards and three touchdowns in a
37-24
win against No. 24 Oregon State. His passing efficiency rating for the game was 196.6.
Defense:
Nevada LB James-Michael Johnson. Had a career-high 10 tackles, including seven solo, in a
27-13
win at Brigham Young.
Special teams:
Louisiana Tech LB Rufus Porter. Blocked a punt in the fourth quarter forcing a safety in the game against Southern Miss. It was Louisiana Tech's first safety in a decade.