August, 8, 2014
Aug 8
5:00
PM ET
GAINESVILLE, Fla. -- The specter of last season's plague of injuries still looms over the Florida football program.
That much was obvious after the team's best player, sophomore cornerback
Vernon Hargreaves III
, was hurt
during Thursday night's practice
, the team's first session that was open to the public.
The news spread like wildfire through the stands and on social media, reminding everyone of the Gators' protracted run of bad luck that started about a year ago. When the 2013 schedule was finished, and Florida's seven-game losing streak culminated in a 4-8 record, an astounding 15 players (10 of them starters) had suffered season-ending injuries.
Before Hargreaves' injury, which head coach Will Muschamp later announced was just a bone bruise, the Gators had been basking in the glow of good health.
Players and coaches were quick to recall how bad the injury situation was in camp a year ago when Florida was without starting quarterback
Jeff Driskel
, starting running back
Matt Jones
and starting guard Jon Halapio before its first practice.
Having just one player unavailable this year (true freshman offensive lineman
Nolan Kelleher
is out after back surgery) offers an extremely sharp contrast. Muschamp called it "drastically different," and players said they were grateful for each healthy day.
"It feels good after every practice that everybody made it through with no injuries," sophomore running back
Kelvin Taylor
said on Wednesday. "That's the great part.
"This year we've just got to practice smart, practice fast and take care of our players. We'll be OK. We'll be fine."
The mood took a sudden turn when Hargreaves was helped off the field on Thursday night, and the rest of the practice was far more subdued on the field and in the stands.
Players crowded around Hargreaves in the medical tent, showing concern and looking for a prognosis before the All-SEC performer was carted off the field.
"A lot of people were definitely surprised," sophomore linebacker
Jarrad Davis
said on Friday. "I was surprised myself. I really didn't know what was going on.
"Coach Muschamp addressed the team at the end of practice and I was kind of shocked to hear that somebody actually got hurt. And then just to hear that it was Vernon kind of sent a shock through everybody because of just what kind of impact he has for our team. It threw a lot of us off."
Ironically, it was a scuffle in practice that knocked Hargreaves out of action. Ironic, because injuries were the biggest factor in Florida's 4-8 record last season, and the team that had been channeling so much of its anger and frustration from 2013 into some very intense practices.
"I feel like fights are definitely a part of it," Davis said. "As football players, we're all trying to be out there and be aggressive and show how dominant we are as a player.
"... But now that Coach Muschamp has addressed it, we've all got that in the back of our head. We've got to take care of our team, got to take care of each other, because we're all we got right now."
Tussles in practice are nothing new, but neither is the injury bug that bit Florida so hard last year. The sight of Hargreaves limping brought back all of the pain and fear.
The drama ended a couple of hours later when Muschamp announced the star cornerback was day-to-day. A shaken fan base heaved a sigh of relief, hoping Thursday night's episode was a sign that the Gators' luck might be changing.
August, 7, 2014
Aug 7
10:30
AM ET
»
More team previews:
ACC
|
Big 12
|
Big Ten
|
Pac-12
|
SEC
Previewing the 2014 season for the
Florida Gators
:
2013 record:
4-8 (3-5 SEC)
Final grade for 2013 season:
Pardon the pun, but there's just no way to give a passing grade to a team that could hardly complete a forward pass. An incomplete grade might be warranted by the Gators' ridiculous number of injuries, but the final judgement for these Gators is inescapable. The team that lost home games to FCS Georgia Southern and Vanderbilt, lost seven games in a row and broke its 22-year bowl streak gets a well-deserved F.
Key losses:
DT Dominique Easley, OG Jon Halapio, C Jonotthan Harrison, WR Solomon Patton, DB Jaylen Watkins, LB Ronald Powell, CB Marcus Roberson, CB Loucheiz Purifoy, QB Tyler Murphy, DB Cody Riggs
Key returnees:
QB
Jeff Driskel
, RB
Kelvin Taylor
, RB
Matt Jones
, WR
Quinton Dunbar
, WR/KR
Andre Debose
, RT
Chaz Green
, LT
D.J. Humphries
, C
Max Garcia
, DE
Dante Fowler Jr.
, DL
Jonathan Bullard
, LB
Antonio Morrison
, CB
Vernon Hargreaves III
[+] Enlarge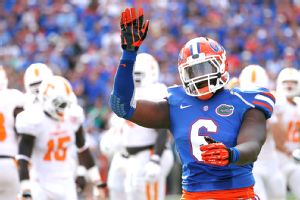 Mark LoMoglio/Icon SMIDante Fowler Jr., a preseason All-SEC first-team player, hopes to lead the Gators back to respectability.
Projected starters:
QB Jeff Driskel, RB Kelvin Taylor, WR Quinton Dunbar, WR
Demarcus Robinson
, WR
Latroy Pittman
, TE
Jake McGee
, LT D.J. Humphries, LG
Tyler Moore
, C Max Garcia, RG
Trenton Brown
, RT Chaz Green, DE Dante Fowler Jr., DT
Leon Orr
, DT
Darious Cummings
, DE Jonathan Bullard, LB
Neiron Ball
, LB Antonio Morrison, LB
Jarrad Davis
, CB Vernon Hargreaves III, CB
Jalen Tabor
, S
Jabari Gorman
, S
Marcus Maye
Instant impact newcomers:
TE Jake McGee (senior transfer from Virginia), CB Jalen Tabor, CB
Duke Dawson
, DL
Gerald Willis
III, OT
David Sharpe
Breakout player:
Florida expects its offense to be improved, but the Gators, under coach Will Muschamp, are still all about defense. Sophomore linebacker Jarrad Davis has drawn raves from coaches and teammates for being a high-motor playmaker with a nose for the ball. One of the quickest learners on the team, Davis surprised everyone when he worked his way into the starting lineup as a true freshman. Big things are expected for his follow-up performance.
Most important game:
For a head coach on a very hot seat and a team champing at the bit to erase the memory of a 4-8 season, every game will be important in 2014. Muschamp and Florida can't afford many losses, but one foe looms above the rest -- Georgia. The Gators dominated this series for years, but Muschamp has lost three in a row to his alma mater. These games are always closely contested, full of emotion and extremely important in the SEC East race. But this year Muschamp and his players ought to have a little something extra: desperation.
Biggest question mark:
There are holes and concerns on defense, but addressing them should be a piece of cake compared to the monumental task of resurrecting Florida's offense, which ranked No. 113 out of 123 FBS teams last season. New coordinator Kurt Roper brought a no-huddle, shotgun, spread offense from Duke with the promise of a better fit for Driskel and several underutilized receivers. Will they find success right away?
Upset special:
Florida visits Tuscaloosa, Alabama for a showcase game against the Crimson Tide in Week 4, but the Gators' best chance for an upset will be a couple of weeks later in the Swamp. LSU, ranked No. 13 in the preseason coaches' poll, is Florida's permanent SEC West opponent. The teams have played every year since 1971, and the rivalry has become hotly contested with both winning seven times in the last 14 meetings. In that span, the road team has won six times, so anything goes when these talent-rich programs clash.
Key stat:
When he was hired, Roper said, "Our whole philosophy on offense is points per game. It's not yards, it's not going up and down the field, it's how many points we can get." Last year, Roper's
Duke Blue Devils
ranked 41st in the FBS with 32.8 points per game. Florida, by contrast, ranked 112th with 18.8 PPG.
Preseason predictions:
ESPN Stats & Info:
7.55 wins
Bovada over-under:
7.5 wins
Our take:
Florida's schedule is as brutal as ever with visits to Florida State and Alabama, the top two teams in the preseason coaches' poll. The SEC East promises to be a minefield as well. But the Gators get to play nine out of 12 games in their home state. As tough as this slate looks, the bye weeks are positioned perfectly. Florida looks to be 3-0 heading into the game against Bama. Then the first bye week offers a chance to recover, reevaluate and prepare for a big test at Tennessee. The Gators return home for two critical games against LSU and Missouri before the second bye precedes the all-important Georgia game. If Florida can make the most of those byes, defeating the Vols and Dawgs might be the difference between seven and eight wins. Beat both East rivals, and the Gators could have a solid chance at nine.
November, 26, 2013
11/26/13
11:00
AM ET
GAINESVILLE, Fla. -- Every year the most storied rivalries in college football add another chapter. On Saturday in the Swamp the steamroller squares off against the spoiler.
This is what it's come down to: The once-mighty Gators are merely a speed bump in the way of the hated Seminoles' ascension to the mountaintop of a BCS championship berth. Florida may lack the firepower to compete with the nation's No. 2 team, but the Gators still insist they have the fire to pull a colossal upset.
[+] Enlarge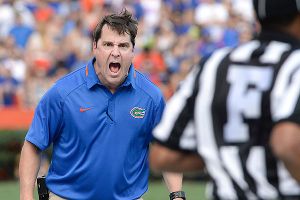 AP Photo/Phil SandlinWill Muschamp hasn't had much to be happy about this season, as the Gators have clinched a losing season for the first time since 1979.
"Our guys understand the importance of this game," UF coach Will Muschamp said. "We'll work hard and we'll have a great crowd just like we did this past Saturday to support our guys. [It's] one of the great rivalries in all of college football. Florida State's got a good football team. They're having a great year. It would help us a lot to go get a win."
What a year it's been for Florida State and Florida. Neither team can wait for the regular season to end on Saturday -- the Noles so they can begin their quest for postseason glory; the Gators so they can begin to wash out the sour taste of one of the worst seasons in school history.
It's hard to fully grasp just how far these archrivals have gone in opposite directions since they played one year ago.
While the Seminoles (11-0, 8-0 in the ACC) have run roughshod over their conference, Florida (4-7, 3-5 SEC) has fallen flat and lost six in a row, including its final five league games.
Both schools have made history this season. Florida State scored a school-record 80 points last week against Idaho and has already broken the school and ACC records for points in a season, while Florida lost to an FCS opponent for the first time ever. With last Saturday's home loss to Georgia Southern, Florida clinched a losing season for the first time since 1979 and will see its 22-year bowl streak come to an end.
One last goal remains for the Gators -- beat their in-state rival.
"We've got to treat this like our bowl game," senior guard
Jon Halapio
said. "It really is our bowl game."
Another Florida senior, cornerback
Jaylen Watkins
, said it would "change the feeling around here" to shock the Noles on Saturday.
"It's motivating for everybody in that locker room," he said. "You want to go win this game and try to duplicate what we did last year, come out with a win and create some short fields for the offense. They're having a really good season, and we can end off on a good [note]."
Looking back at the way Florida defeated Florida State 37-26 in Tallahassee last season, Muschamp might consider it a proof-of-concept performance. The Gators executed their coach's philosophical approach to perfection with suffocating defense and a power running game that piled up yards against what was then the No. 1 rush defense in the nation. Florida was a national-championship contender ranked No. 6 entering that game and went on to play in a BCS bowl.
"Looking at last year's game, we're just going to try to emulate that," Florida quarterback
Skyler Mornhinweg
said. "We had some success against them last year, so we think we can have some success against them this year, too."
Mornhinweg, an inexperienced redshirt freshman who started the season No. 3 on the QB depth chart, could draw his third career start on Saturday against a revenge-minded Seminole defense if junior
Tyler Murphy
(questionable) misses his third straight game with a shoulder injury.
Either way, the quarterback position will be the most glaring difference in the two schools' contrasting seasons.
"They do have a stable quarterback," Watkins said of Heisman Trophy candidate
Jameis Winston
. "We've had both our quarterbacks go down this year."
The injuries for Florida are impossible to ignore. When linebackers
Michael Taylor
and
Alex Anzalone
miss Saturday's game, it will bring the number of players who have missed one game or more this season to a staggering 23, including 15 starters.
"Sometimes they come in bunches, sometimes they don't," FSU coach Jimbo Fisher said on Monday. "Injuries change your football team. That's why I keep talking about our youth development. You don't know when one of those things is going to occur. You have a plan for them, but those plans have to work.
"When you have the number they've had, I can understand it's been very difficult."
Florida's youth development plan will be on full display on Saturday, but for the Gators' 15 seniors there is only the bitterness of ending their careers on such a low note while their biggest rival comes in on such a high note.
"It's pretty frustrating," senior receiver
Solomon Patton
said. "That's our rival, and to see them actually on top right now and doing real good, it's pretty hard to see that."
The way their season has gone has left many a Florida fan sour and inconsolable. The idea of ruining the Noles' unbeaten season, however, offers a sweet consolation.
"This being our last game," Patton said, "we definitely plan on doing that."
November, 25, 2013
11/25/13
11:00
AM ET
GAINESVILLE, Fla. -- Another week, another crushing defeat for Florida, and not even an FCS opponent could remedy what ails these Gators.
An epic losing streak pock-marked with the kind of history no team wants to make has reached six games. The end of the season can't come soon enough, and the negativity and pressure to act are growing as this season of misery threatens to implode.
The questions being asked are damning in and of themselves:
Have the players given up on the season?
Is the offense so debilitating it's affected the rest of the team?
The answers have steadily shown up in recent weeks.
[+] Enlarge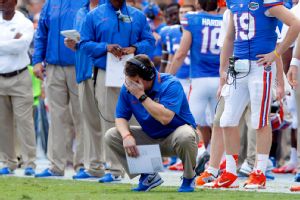 Kim Klement/USA TODAY SportsFrustration has reached an all-time high for Will Muschamp and the Florida Gators after a loss to FCS Georgia Southern on Saturday.
After losing in the Swamp two weeks ago to Vanderbilt on homecoming, Florida's first home defeat against the Commodores since 1945, some of the Gators' upperclassmen acknowledged the need to guard against giving up on the final three games.
"We definitely need to look out for that," senior guard
Jon Halapio
said. "I feel like maybe younger players would have that mentality. I know the older players are trying to keep the team together. That's something we've got to guard against with the younger players. We're trying to keep everybody up and keep everybody together."
Halapio said he's seen it before, because he checked out when he was a fresh-faced Gator. His first season in 2010 was Urban Meyer's last, and UF slogged through a demoralizing four-game losing streak midseason. The following season, the first of Will Muschamp's tenure, saw Florida go 6-6 in the regular season.
Halapio, now a veteran who is expected to lead, says the young players need to follow the older players' example.
"When the older players come around they see you've got that look on your face like you don't want to do anything this week," he said, "an older player comes around and says to pick it up this week and come together. The leadership on this team needs to take over."
Two weeks later, it still hasn't happened.
After losing to Georgia Southern on Saturday, Halapio did the veteran thing and faced the media again. There was nothing to sugar-coat after the program's first loss to an FCS team.
"
Very shocking," he said. "The morale on this team is at an all-time low. We have a lack of leadership. We just really need to tighten up as a team."
Muschamp has obviously seen the same issues and pointed out the lack of leadership. He's no stranger to issuing blunt, public criticism. A year ago he called his offensive line soft. This
season he has decried a lack of mental toughness throughout the team.
But look more closely and you'll see a defensive-minded coach who is past the point of exasperation with an offense that continually puts his defense in no-win situations.
After his quarterback,
Tyler Murphy
, threw three pivotal interceptions in the Vanderbilt game, Muschamp pointed out the ripple effect his offense had.
"We didn't take care of the football. And when those things happen, emotionally it's a killer. It's a killer for your entire organization," he said. "So when you spot them the ball on the 4-yard line, right now we're not strong enough mentally to handle that. A year ago, maybe early in the year, we were. Right now, we're not. It's a 'woe is me' mentality right now. We've got to overcome that. Our leadership needs to step forward."
Even with three games remaining, a .500 record and a 22-year bowl streak still on the line, Muschamp was concerned his offense might submarine the team's attitude.
"You can play with more of an edge than I believe we did," he said after the Vanderbilt loss shook many a Gator's faith. "Not saying we didn't play hard. I think we did play hard. We competed and fought to the end. But at the end of the day, you cannot give them those opportunities. It's just a complete emotional letdown.
"You can't throw it to them. That helps you check out."
The implications of an inept offense were laid out even more bluntly after Florida's offense couldn't keep up with Georgia Southern on the scoreboard this past Saturday.
"You've got to be able to change the scoreboard, and we just struggled scoring points offensively," he said. "It's been a week-in, week-out occurrence, and it's my job to get it fixed, and we will get it fixed. Very disappointed for our program. An embarrassment in this situation. ...
"We're struggling offensively and it has infected our entire team right now."
With another season almost in the books and an offense that continues to rank among the nation's worst, it's obviously not a comfortable time to be an offensive assistant at the University of Florida. After the Vanderbilt loss, offensive coordinator Brent Pease admitted "it's human nature to probably think about" job security.
So what is left to do? Muschamp has promised he will evaluate his staff at the end of the season, as he has done the previous two years.
"What we're doing so far is not working," he said. "Keep doing the same stuff, you're going to get the same results."
Whether it's players or coaches, changes will come. You can bet the same people won't be doing the same stuff much longer at Florida.
November, 23, 2013
11/23/13
8:55
PM ET
GAINESVILLE, Fla. -- Just when it appeared Florida's season of discontent could get no worse, it did.
The Gators lost to an FCS opponent for the first time in school history Saturday, and with that
26-20 loss
to Georgia Southern, UF (4-7, 3-5 in the SEC) has its first losing season since 1979, as well as an end to a 22-year run of bowl games that was the longest active streak in the nation.
And Florida
paid
Georgia Southern $550,000 to schedule Saturday's contest.
Was it the worst loss in school history? The most humiliating? Does it matter at this point?
A season that began with promise and a 4-1 start has spiraled into a free fall with a six-game losing streak of which few inside the program can make sense. Facing the media Saturday and tasked with explaining another numbing low point, head coach Will Muschamp struggled to find new words or explanations for the state of his program.
"Very disappointed for our program," he said. "An embarrassment in this situation."
[+] Enlarge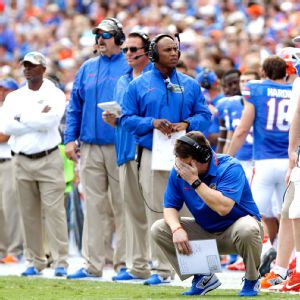 Kim Klement/USA TODAY SportsGators coach Will Muschamp was at a loss to explain the latest in a long string of disappointments.
As usual, the primary culprit was an inept offense that came into the game ranked No. 111 out of 123 FBS teams in total offense and generated 279 yards (4.5 yards per play).
"You've got to be able to change the scoreboard, and we just struggled scoring points offensively," he said. "It's been a week-in, week-out occurrence, and it's my job to get it fixed, and we will get it fixed. ...
"We've just got to keep working at what we're doing. We're struggling offensively, and it has infected our entire team right now."
On Saturday, however, Florida's defense shouldered as much of the blame, if not more, for another staggering loss.
Georgia Southern's 429 yards rushing were the fourth most Florida has allowed in school history. The Eagles also won without completing a pass (0-for-3).
Muschamp said earlier in the week that the Florida coaching staff began working on its defensive game plan for Georgia Southern in the offseason. But long running plays -- one each by GSU's quarterback (45 yards), tailback (66) and fullback (53) -- either scored or set up three of the Eagles' four touchdowns.
"It hurts," junior safety
Cody Riggs
said. "We didn't watch what we were supposed to be watching on certain plays, and those six, seven, eight plays are the ones that got them all of those yards."
It didn't help that Florida was playing without starting middle linebacker
Antonio Morrison
. Or that backup
Michael Taylor
injured the MCL in his right knee in the second quarter and did not return. Or that Taylor's replacement, true freshman
Alex Anzalone
, separated his shoulder during the game.
Injuries handcuffed the Gators' offense, as well. Starting quarterback
Tyler Murphy
, the backup at the start of the season, missed his second straight game with a nagging shoulder injury, forcing the Gators to turn again to redshirt freshman
Skyler Mornhinweg
.
But Florida was facing a team with similar injury problems. Georgia Southern, which plays within the FCS limit of 65 scholarships, has suffered 19 injuries this season, including 13 to starters. As a result, the Eagles have struggled to a 7-4 record (4-4 in the Southern Conference), including losses to Samford, Wofford and Appalachian State.
"I know [the Gators] have had a tough year. They've had a lot of injuries. So have we," GSU coach Jeff Monken said after his team stormed the field at Ben Hill Griffin stadium and lingered to enjoy the biggest win in program history. "We've got a lot of guys playing out there that weren't our starters at the beginning of the year and wouldn't have been starters right now had other guys been healthy. But we've continued to improve, and as those guys said, we've continued to fight."
The same cannot be said of Florida.
The Gators' patchwork offensive line struggled to run and pass block against its FCS foe, forcing a number of direct snaps, jet sweeps and wildcat plays in order to catch the defense off guard, despite the fact that the Eagles' starting defensive linemen averaged just over 6-foot-1 and 270 pounds. Mornhinweg had 6 yards passing at halftime. Florida rushed for 111 yards in the first half but just 46 in the second.
"We came out flat as a team," senior offensive guard
Jon Halapio
said. "We didn't play as a team today. We didn't communicate. We didn't block together. We didn't run the ball as efficient. That's something that we preached early on in the week, to not take this group of men lightly. They came out here and played their tails off. This was their bowl game. They had nothing to lose. We took them lightly, and we got outworked, outplayed, outphysicaled. You call it, it happened."
Now what happens at Florida is a week of preparation for arch-rival Florida State, followed by a merciful end to a painful season.
"As far as not going to a bowl game, I'm not gonna lie, I never would have seen that coming, coming to Florida," Riggs said. "That's very upsetting. A losing season, even though we were plagued by injuries, like I said, there's no excuses."
Without the excuse of injuries, however, the historic losses this season could throw into question the votes of confidence Muschamp received just more than a week ago from athletic director Jeremy Foley and UF president Bernie Machen.
Losing to Georgia Southern could have significant implications if the outcry from Florida fans is heard. Despite the negativity and the demoralizing losing streak, the Gators coaching staff still has the full faith of its players.
"We're not concerned," Riggs said. "I know that a lot of people around here have Coach Muschamp's back. He's a great coach, best coach I ever had. We're not worried about that. I've learned more under him than I have under any coach ever.
"Yeah, it's about winning. But some stuff you just can't control. We've had a lot of hardships this year. Not using that as an excuse again, but it's just a rough year for us."
October, 28, 2013
10/28/13
9:00
AM ET

The SEC has just one unbeaten team remaining, making our top selection a very easy one for this week's Power Rankings:
1. Alabama (8-0, 5-0 SEC; last week: 1):
People laugh at the comical schedule Alabama has had since that thrilling 49-42 win over Texas A&M, but the Crimson Tide can only play the teams assigned to them. And the Tide have been pretty good at it, outscoring the last six opponents 246-26. Alabama is doing exactly what it was asked and is still the No. 1 team in the country for a reason.
2. Auburn (7-1, 3-1 SEC; LW: 3):
The Tigers might have feasted on Florida Atlantic over the weekend, but this team is clearly getting better every week. Auburn, which is No. 11 in the BCS standings, ranks second in the SEC in total offense (511 yards per game), first in rushing (315.4) and fifth in scoring (37). The Tigers had a scare when quarterback
Nick Marshall
went down with a shoulder injury on Saturday, but it appears he'll be fine for this weekend's game against Arkansas.
3. Texas A&M (6-2, 3-2 SEC; LW: 4):
Well, look at that. Texas A&M found some defense against Vanderbilt over the weekend. After giving up a league-high 494 yards and 33 points per game, the Aggies held Vandy to just 329 yards and 24 points. The Commodores averaged just 4.3 yards per play (a season-low against the Aggies) and rushed for 95 yards. Oh, and
Johnny Manziel
threw for 305 yards and four touchdowns.
4. South Carolina (6-2, 4-2 SEC; LW: 6):
And just like that, the SEC Eastern Division is again all shook up, thanks to the Gamecocks' 27-24 overtime win at Missouri. South Carolina overcame a 17-point deficit in the fourth quarter with help from quarterback
Connor Shaw
, who was battling an illness and a sprained knee. I dare you to find a tougher player in the country. The Gamecocks now turn their attention to a Mississippi State team thirsty for an upset.
5. Missouri (7-1, 3-1 SEC; LW: 2):
The Tigers will be thinking about Saturday's letdown for a while. For three quarters, Mizzou was in control, but Shaw ruined the Tigers' shot at an unbeaten season. Still, the Tigers have plenty to play for. Win out, and they are headed to Atlanta for the SEC championship game. Win that, and the Tigers are headed to a BCS bowl game. It's all about regaining focus and getting ready for a scrappy Tennessee team.
6. LSU (7-2, 3-2 SEC; LW: 5):
These Tigers tried to make things interesting during the first half against Furman. But that sloppy, 20-16 halftime lead was a mere afterthought after LSU reeled off 28 consecutive points in the second half. The focus of this team wasn't there to start the game, but when the Tigers regrouped, they looked awfully scary.
Jeremy Hill
had his fifth 100-yard rushing game of the season and is second in the SEC with 922 rushing yards and has a league-high 12 touchdowns.
7. Georgia (4-3, 3-2 SEC; LW: 7):
The Bulldogs were off this week and tried to get healthier heading into this weekend's showdown with Florida. The Dawgs might have a handful of battered players, but it sounds like
Todd Gurley
should be back this weekend, which would certainly give the offense a boost. Georgia can still win the SEC East, but needs help from Missouri's opponents.
8. Ole Miss (5-3, 2-3 SEC; LW: 8):
A week after that thrilling win over LSU, the Rebels didn't miss a beat against a very overmatched Idaho team. You might have seen a Vandals defender show up Ole Miss by doing the Rebels' patented "Land Shark" celebration, but it did little to motivate Idaho, as Ole Miss thrashed the Vandals 59-14. The Rebels rolled up 572 yards of offense and head into their bye week with all sorts of momentum.
9. Florida (4-3, 3-2 SEC; LW: 9):
The Gators had the week off, which
created an Oreo dilemma
for offensive lineman
Jon Halapio
. The other dilemmas for this team include a last-place offense (336.9 yards per game) and a laundry list of injuries. Still, the Gators have a game to play in Jacksonville, Fla., against Georgia. They've dropped two in a row to the Dawgs and their slim SEC East chances would basically disappear with a loss Saturday. There's still a lot on the line for Florida.
10. Tennessee (4-4, 1-3 SEC; LW: 10):
A week after that upset win over South Carolina, the Vols fell flat against top-ranked Alabama. Now, the Vols again have quarterback issues, as
Justin Worley
is nursing a bruised throwing hand. Freshman
Joshua Dobbs
had his redshirt burned against the Tide and could take the snaps as long as Worley is out. The Vols lost their momentum on Saturday; maybe Dobbs can help bring some back.
11. Vanderbilt (4-4, 1-4 SEC; LW: 11):
The Commodores are a great example of how much can change in only a few days. After that upset win over Georgia, Vandy was run out of College Station, Texas. That 56-24 loss to the Aggies came with
Patton Robinette
replacing
Austyn Carta-Samuels
at quarterback. The offense lacked explosion in the second half and the running game averaged just 2.2 yards per carry against a defense that was allowing 6 yards per carry heading into Saturday.
12. Mississippi State (4-3, 1-2 SEC; LW: 12):
Consistency is still an issue for the Bulldogs. After taking a 21-7 lead against Kentucky in the second quarter Thursday, Mississippi State's offense fell silent as the Wildcats scored 15 of the next 22 points. The Bulldogs pulled off the 28-22 win, but in the last three games they've been outscored 50-10 in the second half. While two of those games resulted in wins, that sort of play won't cut it with the gauntlet that November brings.
13. Arkansas (3-5, 0-4 SEC; LW: 13):
The Razorbacks were on a much-needed bye this past week. After losing five in a row, the longest losing streak of coach Bret Bielema's career, the Hogs needed some time to rest and regroup before taking on a red-hot Auburn team. Arkansas' main area of concern right now is the passing game, where the Hogs are last in the SEC, averaging just 146.6 yards per game.
14. Kentucky (1-6, 0-4 SEC; LW: 14):
Give the Wildcats credit: They didn't quit after going down by 14 early to Mississippi State. But this team just doesn't have the horses to keep up right now. The development hasn't been there on offense and the defense is giving up 438.7 yards per game. The defensive performances have to be the most troubling for Mark Stoops. Outside of the 42-7 win over Miami (Ohio), this defense has given up 400-plus yards in every game.
May, 9, 2013
5/09/13
1:50
PM ET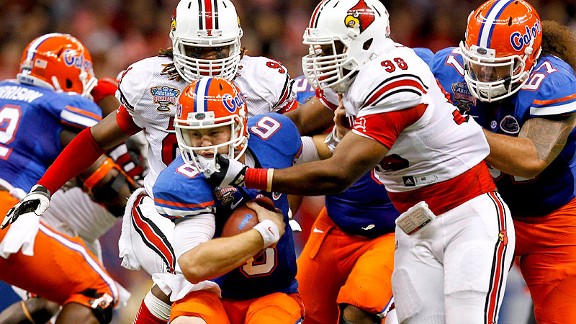 Derick E. Hingle-USA TODAY SportsImproving protection for quarterback Jeff Driskel was one of Florida's top priorities this spring.
GAINESVILLE, Fla. -- Before Florida's offensive line strapped on those shiny orange-and-black knee braces and trotted onto the Gators' practice fields this spring, Tim Davis put them through visual torture.
The Gators' offensive line had a very schizophrenic identity last season, so Florida's second-year offensive line coach decided to show them all the horrors of the up-and-down play in pass protection.
Davis showed his linemen every one of the 39 sacks Florida's line surrendered in 2012. The ugly sack reel was meticulously studied over and over for two or three days, but the torment didn't stop there.
Once the Gators got on the field, Davis had Florida's film crew capture video of each lineman's one-on-one sessions with defenders.
Needless to say, things weren't pretty for Florida's big boys.
"Oh man, it was ugly," left guard
Max Garcia
said with a laugh. "It was ugly in the beginning.
"We understood that we needed to improve in that area."
And if this offense, which had a mediocre passing game, was going to improve this spring, the line had to turn things around.
Now, there were factors working against Florida's line. Seasoned starters Xavier Nixon and
James Wilson
were gone and the line was so banged up that the Gators finished spring with six healthy linemen.
But that didn't stop players from learning and evolving. The education started with the sack reel, where blame wasn't the goal but improvement was. Davis showed all of the mistakes, but instead of singling out players, he discussed what to fix and how to fix it.
The biggest thing linemen took from the film sessions was the lack of communication in pass protection last season. Florida ran the ball so well, averaging 188 rushing yards per game and 4.5 yards per carry, but were last in the SEC in passing (146.3 yards per game).
Talking just wasn't there.
When blocking for the run, communication combinations usually take place with a lineman and another player for a certain defender. In pass block, that communication might have to go through four or more players.
To improve communication, linemen simply talked more in and out of the film room, center
Jonotthan Harrison
said. They also became more vocal with the running backs, tight ends and quarterback
Jeff Driskel
during practice. Having another spring to digest Brent Pease's offense also helped.
"Now that we've developed this communication," Harrison said, "our pass protection is going to be much more successful."
Injuries hurt, but coach Will Muschamp should have 15 scholarship offensive linemen this fall -- eight or nine of which that will be game-ready. And those game-ready bodies have a lot of experience, including new transfer players, like Garcia and tackle
Tyler Moore
, who started for the injured
Chaz Green
at right tackle this spring.
Garcia (Maryland) and Moore (Nebraska) have 16 combined starts. Other potential starters -- Green, Harrison,
Jon Halapio
and
D.J. Humphries
-- have 81 combined starts.
"We're much better up front right now," Muschamp said.
"There are a lot of guys that have had a lot of at-bats. "I really feel comfortable about our depth and talent at the position."
But it isn't just the numbers and physical improvement from the line that have people in Gainesville more excited about this front. This crew is fueled by media criticism hurled their way last year.
"It always eats at us because O-Line is one of those positions that's all work no credit," Harrison said. "So as we do badly, it's pointed out, but when we do the good things they really just underplay the efforts that the offensive line gives.
"We're looking forward to proving everybody wrong, come season time, and prove that we can pass protect and we have worked on it."
Despite low spring numbers, the coaches and teammates were happy with the line's play. Obviously, real improvement won't be made until the games begin, but people seemed convinced that a stronger line will take the field for the Gators this fall.
"They just want to be known as a nasty offensive line that can be able to run and power down your throat and can pass block," Buck defensive end
Dante Fowler Jr.
said. "They want to be an offensive line that when a defensive line has to play against team they're going to be like, 'Well, we're going to have a tough day today.'
"They take pride in that."
November, 7, 2012
11/07/12
1:00
PM ET
After physical games over the weekend, Alabama and Florida are hurting a bit heading into Saturday.
The sixth-ranked Gators (8-1, 7-1 SEC) could be missing a handful of players against Louisiana-Lafayette, while No. 1 Alabama (9-0, 6-0) is hoping running back
Eddie Lacy
and wide receiver
Amari Cooper
are 100 percent for Saturday's showdown with 15th-ranked Texas A&M (7-2, 4-2).
Alabama's injuries aren't too significant. Both Cooper and Lacy suffered ankle injuries in last week's win over LSU, but both practiced on Tuesday.
"Amari seems to be getting better and Eddie's, you know, hopefully he'll be even better today," coach Nick Saban said during Wednesday's SEC coaches call. "He probably took about half the reps yesterday. We're optimistic that both those guys will be ready to go."
Having freshman
T.J. Yeldon
helps take some of the pressure off Lacy, and if he were hobbled this weekend, Yeldon would have no issues taking the bulk of the carries (he's had no issue doing it before), but if Cooper isn't 100 percent the Tide could lose an important part of its passing game. Cooper is Alabama's best deep threat and has been the team's most consistent receiver. He leads Alabama Tide with 32 catches, 472 yards and five touchdowns.
The Gators are hurting a little more. Coach Will Muschamp said on Wednesday that backup running back
Mack Brown
will "probably be out" with an ankle injury and hasn't been able to do anything in practice this week. Wide receiver
Andre Debose
hyperextended his knee last Thursday and could miss his second straight game. Also, defensive tackle
Leon Orr
has been working his way back from an illness and "probably will not play Saturday."
Florida left the Missouri game with a laundry list of battered Gators: K
Caleb Sturgis
(ankle injury suffered in last week's practice), OG
James Wilson
(knee), OT
Xavier Nixon
(knee), LB/DE
Lerentee McCray
(ankle), OG
Jon Halapio
(undisclosed), FB
Hunter Joyer
(knee) and S
Matt Elam
(groin).
On Wednesday, Muschamp said he expects players back from Saturday's injuries. Expect to see a lot more of Florida's younger players this week and next, as the Gators play tune-up games before traveling to Tallahassee, Fla., to take on archrival Florida State.
June, 17, 2011
6/17/11
9:30
AM ET
The big uglies up front on the offensive side are our focus today. There are some quality veterans out there, but teams all across the league are looking to replace some quality linemen in the trenches.
Here's how we see the league stacking up:
[+] Enlarge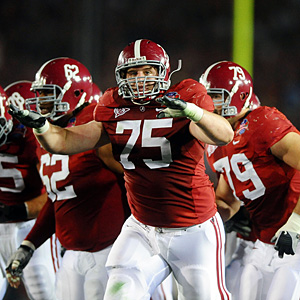 Mark J. Rebilas/US PresswireBarrett Jones has been one of the mainstays of Alabama's offensive line the past two seasons.
1. Alabama:
Four of Alabama's five linemen from a year ago return, making this one of the team's strongest units. The returners have combined for more than 70 starts at Alabama. Barrett Jones is the star of the show. The junior has been the Tide's starting right guard each of the past two seasons, but took reps at left tackle and could be asked to move. William Vlachos is back at center and could be the best at his position in the league. Fellow starters D.J. Flucker and Chance Warmack are back and took reps at left tackle this spring.
2. Ole Miss:
The Rebels' offense isn't getting much respect this offseason, but its offensive line returns All-SEC candidates in tackles Bradley Sowell and Bobby Massie. Seven of Ole Miss' linemen started two or more games each on the offensive line in 2010. Last season, the Rebels were first in the league in sacks allowed, giving up just 14. Alex Washington should stay at left guard after starting eight games there and A.J. Hawkins will likely get the nod at center after playing eight games there as well. Arkansas transfer Matt Hall will compete for time at center.
3. LSU:
Joseph Barksdale might be gone, but the Tigers have a very talented group of linemen returning. Tackle Alex Hurst seems primed to be a star in the league and senior Josh Dworaczky is arguably the Tigers' top lineman with 25 career starts. Patrick Lonergan is solid at center, while T-Bob Hebert is valuable at both center and guard. Sophomore Chris Faulk has the tough assignment of replacing Barksdale, but made quite the impression on his coaches this spring.
4. Kentucky:
The Wildcats return four starters on their line. Right guard Larry Warford headlines the group after gaining second-team All-SEC honors a year ago. Kentucky also returns two-year starter Stuart Hines at left guard and Matt Smith at center, who was solid in his first year there. Left tackle Chandler Burden missed spring practice, but is expected back by fall practice. Finding a suitable right tackle is the next step for Kentucky.
5. Tennessee:
This group could be one of the most impressive units for the Volunteers this season. It's deeper and more experienced in Derek Dooley's second year and he was very pleased with its performance this spring. Junior Dallas Thomas is solid at left tackle, and sophomore Ja'Wuan James really came on strong in his first year and is one of the top linemen in the SEC. James Stone also returns at center. The surprise of the group was true freshman Marcus Jackson, who held down the left guard spot for most of the spring.
6. Mississippi State:
The Bulldogs must replace All-American left tackle Derek Sherrod, but most of the line is somewhat on point. Center Quentin Saulsberry will anchor the line and is versatile enough to play just about every position on the line. Left guard Gabe Jackson and right tackle Addison Lawrence return and the Bulldogs will have junior Tobias Smith lining up at right guard. Blaine Clausell and James Carmon, who moved from defensive tackle, will compete at left tackle.
7. Georgia:
This was supposed to be one of the strongest offensive line units in the league, but the Bulldogs lost tackle Trinton Sturdivant to a season-ending knee injury this spring and fellow tackle A.J. Harmon transferred. Georgia's most-reliable options are Cordy Glenn, who moved from guard to left tackle and Ben Jones at center. Kenarious Gates is at left guard, but he's athletic enough to play tackle if needed. Former defensive lineman Justin Anderson will start off at right tackle. Right guard is the next area of business and the depth all around is a problem.
8. South Carolina:
The Gamecocks have questions here, but there is talent across the line. Rokevious Watkins is one of the most talented guards in the league and he'll be assisted by returning starter at center T.J. Johnson. Senior Kyle Nunn has made strides at left tackle and redshirt freshman A.J. Cann took over duties at left guard this spring. Still, the younger linemen will be counted on to contribute this fall.
9. Arkansas:
The Razorbacks must replace three starters on the offensive line. Center Travis Swanson and left guard Alvin Bailey are the only returning starters. Just a sophomore, Bailey impressed his coaches last season and will be one of the top linemen in the league this fall. After that, the Hogs will have to turn to youth for help. True freshman Brey Cook could be thrust into the starting role at right tackle, while sophomore Anthony Oden could get the job at left tackle.
10. Florida:
Florida's offensive line struggled throughout the 2010 season -- and that was with a senior-laden group. This fall, the Gators will start over with a ton of inexperience. Right guard Jon Halapio and right tackle Xavier Nixon are the only returning starters. Halapio struggled at times last season and Nixon battled injuries. Florida's line spent most of the spring in the infirmary, so little is known about the overall talent. Freshman Chaz Green left spring as the starter at left tackle, Jonotthan Harrison will battle former Notre Dame lineman Dan Wenger at center. He transferred in after spring, but has health concerns.
11. Auburn:
The Tigers will go from having one of the top offensive line groups in the country to having a major work in progress in 2011. Senior Brandon Mosley is the lone returning starter, and while he was solid on Auburn's line last season, he came from junior college as a defensive end/tight end. The good news is that tackle A.J. Greene should be fine this fall after sustaining a season-ending leg injury last year. The rest of Auburn's linemen are very young and inexperienced. Don't expect many redshirts from this group.
12. Vanderbilt:
The Commodores might return all five starters, but this unit had trouble keeping things together last year. The offense needs this group to improve mightily. Wesley Johnson is Vanderbilt's best option, despite only being a sophomore at left tackle. There will be size on the right side, with 300-plus pounders Kyle Fischer and Ryan Seymour over there. Simply put, this unit has the experience, but it requires a lot of improvement.