August, 16, 2010
8/16/10
6:46
PM ET
TEMPE, Ariz. -- Two years ago, Adam Tello was a big reason to doubt Arizona State. When he briefly became the starting right offense tackle as redshirt freshman, his ascension revealed just how down the talent on the Sun Devils line was.
Tello didn't pass the sight test. Whatever he was listed at, he looked like he carried about 270 pounds on his 6-foot-3 frame. The sight test, of course, isn't always right, but it proved prescient in Tello's case as he struggled mightily in losses to UNLV and Georgia.
"I remember mentally just not being in the right spot," Tello said. "Mentally, I just fell apart. Everything I got thrown into and I just fell apart. It carried over to playing on the field."
[+] Enlarge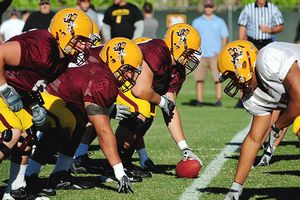 Matt Kartozian/US PresswireGarth Gerhart (snapping the ball) is Arizona State's most experienced offensive lineman with 10 starts.
His confidence evaporated in the desert heat. He was a non-factor in 2009 -- back problems didn't exactly help, either.
This preseason, however, Tello might be a reason for hope. While he's again ascended to the starting lineup because of roster attrition -- the retirement due to knee injuries of guards Zach Schlink and Matt Hustad and the absence of Jon Hargis due to another knee injury -- he no longer does badly with the site test.
He's a solid 290 pounds. He bench presses over 400 pounds. He looks like a Pac-10 offensive lineman.
"This year I'm ready," he said. "I'm healthy. I got stronger. I got bigger in the weight room."
It all comes down to the offensive line for the Sun Devils. Sure, the quarterback competition is grabbing the spotlight, but
Brock Osweiler
,
Steven Threet
and
Samson Szakacsy
each appear capable of giving the offense at least competent play at the position. Perhaps even more than that. But the line's competency will determine the ultimate trajectory of the season -- either a third-straight losing one or a run to a bowl game.
Make no mistake: There are legitimate reasons to question the line. With four career starts, Tello will be the Sun Devils second most experienced lineman behind center Garth Gerhart (10 starts). Left tackle
Dan Knapp
is a converted tight end. Right tackle Evan Finkenberg is a redshirt freshman. Right guard Brice Schwab is a JC transfer.
There isn't anyone on the team who hasn't heard the doubts about the line. While many players and coaches feign ignorance when asked about preseason rankings and skeptical media reports, Gerhart admits he reads just about everything. No, he doesn't like it or agree with it.
"It's real frustrating," he said. "You always see this stuff, 'Oh the offensive line is terrible! They're struggling!' It kills you because you know that you're that person they're talking about. But I think we might change people's minds about what they think of the offensive line at Arizona State."
Both Tello and Gerhart know there's an easy way to find out what their chances are this season: Block their own defense. The Sun Devils front seven should be one of the best in the Pac-10. That's been hit or miss thus far, but a new spread offense, which features a quick-hit passing attack, and better (read: faster) depth at the skill positions, should make life easier up front.
Gerhart also knows how fast teams can turn things around (in either direction). He and brother -- you may have heard of a former Stanford running back named Toby Gerhart -- used to talk on the phone in 2007. The Sun Devils were headed to a 10-win season. Stanford finished 4-8 after going 1-11 the year before.
"He used to tell me how it sucked, how he hated it and how happy he was that baseball season was coming around," the younger Gerhart recalled. "But [last year] he started telling me they were going to surprise people, and sure enough, they surprised everybody."
Will the Sun Devils surprise folks in 2010? Only if Tello, Gerhart and their linemates dramatically improve over the past two seasons.
The good news is they at least
look
like they could do it.
September, 29, 2009
9/29/09
8:14
PM ET

Posted by ESPN.com's Ted Miller
Arizona State went
looking for itself
at Georgia last weekend and it found half a team.
Actually, the Sun Devils might have found more than that after losing a 20-17 heartbreaker on a last-second field goal, but coach Dennis Erickson still isn't sure what he's got this season.
| | |
| --- | --- |
| | |
| | Matt Kartozian/US Presswire |
| | Danny Sullivan, who's completed less than 50 percent of his passes, has had his share of criticism. |
The defense, now ranked third in the nation, proved itself a salty crew. The offense hinted at a run game. The passing game was
thisclose
to making enough plays to win.
But, in the end, the offense only managed to produce 204 yards and score 10 points -- the other touchdown came on an interception return -- against a defense that would be
below average
in the Pac-10.
"I've got to see how this thing carries out -- we've got nine games left in the Pac-10," coach Dennis Erickson said. "It's really hard to tell where we're at, to be honest."
Erickson said that in response to a question about whether talented true freshman quarterback
Brock Osweiler
is pushing for playing time behind senior starter
Danny Sullivan
. He said it immediately after defending Sullivan from some grumbles of criticism among Sun Devils fans.
"He's playing decent," Erickson said of Sullivan.
Sullivan completed 10 of 32 passes for 116 yards with a touchdown and an interception against the Bulldogs. He missed some open receivers. And some good passes were dropped.
The struggles in the passing game -- the opportunities were there, just not converted -- certainly covered the long road trip with a what-could-have-been blanket.
"We dropped some [against Georgia], but we made some good catches, too," Erickson said. "We're not throwing like we want to, but up until then we've been throwing it pretty well. We just have to become accountable."
Quarterback may not be the chief concern as the Sun Devils prepare for a visit from Oregon State. The offensive line, which had taken some baby steps forward, has been ravaged by injuries. Guard Matt Hustad won't play against the Beavers because of a knee injury and the top two centers, Garth Gerhart (toe) and Thomas Altieri (knee), are questionable. Guard Jon Hargis is fine as long as he can withstand having his shoulder forced back into joint a few times a game, as was done at Georgia.
Oregon State's defense has struggled against the pass. It's yielded 272 yards per game and eight touchdown passes and has recorded just two sacks. But it's been fairly stout against the run (92 yards per game).
So if the Beavers crowd the line to stop the Sun Devils' running game, which only ranks seventh in the conference in any event, then Sullivan is going to have to make plays.
Or face more criticism.
Erickson doesn't think Sullivan will start pressing because of fan gripes.
"I don't think that will bother him because he knows that I don't worry about it," he said. "You can't play that position and worry about what people say. If you do, you've got a problem.
Erickson might not ask his offense to do too much, considering how well his defense is playing. The Sun Devils also get back suspended end James Brooks, which will allow Dexter Davis to move back to the weak side, where he's a better pass-rushing threat -- no tight end to double-team him. While the defense has been strong overall, it's only recorded two sacks so far.
The ASU D has earned a few admirers.
"They have a great-looking defense," Beavers coach Mike Riley said. "They gave Georgia fits in every way. Running the ball, short-yardage situations, many times they just stuffed them."
But that's only half a team.
The Sun Devils will face much better defenses than they've seen thus far in the weeks ahead. If they want to push into the top-half of the wide-open conference race, the offense must improve.
September, 22, 2009
9/22/09
2:26
PM ET

Posted by ESPN.com's Ted Miller
TEMPE, Ariz. -- Arizona State has been utterly dominant while winning its first two games. The Sun Devils' defense is ranked No. 1 in the nation. The offense ranks ninth with 44 points a game.
Now, take that information, crumple it up and throw it out the window. Coach Dennis Erickson knows that pounding on Idaho State and Louisiana-Monroe means little.
| | |
| --- | --- |
| | |
| | Matt Kartozian/US Presswire |
| | Saturday's game at Sanford Stadium will be Danny Sullivan's first start on the road. |
A trip to No. 17 Georgia on Saturday? That's a bit of an upgrade in competition.
"We'll find out a little bit more about what we are as a team, that's the bottom line," Erickson said. "It doesn't matter who they are or what their rank is. We're [asking] right now, 'where are we at as a football team?'"
Erickson repeated variations of those sentiments to a variety of questions: Georgia will be a measuring stick for the Sun Devils.
If they manage to win, or least keep things competitive into the fourth quarter, they might become a top-half of the Pac-10 team, though the Bulldogs probably aren't in the class of California or USC this season.
If they can't keep up, then Arizona State likely falls in with the gaggle of teams scrapping for six wins and bowl eligibility in the lower-middle, bottom-third of the conference.
Of course, one game, win or lose, doesn't a season make. It's possible the Sun Devils in Athens, Ga., won't be anything like the Sun Devils in November. Still, this is the first chance to evaluate Arizona State against a first-rate BCS conference team.
Georgia opened a can of whup butt on the Sun Devils last year, the 27-10 count not doing justice to the Bulldogs dominance.
Georgia took a 21-3 lead into halftime and mostly coasted home. They outrushed the Sun Devils 176 yards to 4 and outgained them overall 461-212.
"They pretty much dominated us," Erickson said. "We didn't play very well and they played well."
The first question is how Arizona State quarterback
Danny Sullivan
will handle his first start on the road in one of the nation's tougher venues -- "Between the Hedges" at Sanford Stadium.
That's impossible to say. Sullivan is a senior, but the last time he faced a fast, elite defense, he crumbled after coming off the bench in 2008 against USC. And that was at home.
While the Georgia defense doesn't compare to USC -- it's given up 34 points per game -- two of those games were on the road, so the home crowd should help.
"Until you go in there and experience it, you just don't know," Erickson said.
On the other hand, this is a different group of Sun Devils. The defense is deeper and faster than last year's and, while there's lots of experience, a youth movement led by tackles Lawrence Guy, a sophomore, and William Sutton and
Corey Adams
as well as linebacker Vontaze Burfict -- all true freshmen -- is most intriguing.
Yet the biggest difference might be on the offensive line.
In 2008, the Sun Devils started converted defensive lineman Jon Hargis at left tackle and 289-pound redshirt freshman Adam Tello at right tackle. Things didn't go well for either.
A far more experienced Hargis is now the left guard, while Tello is his backup. NFL prospect Shawn Lauvao moved out to left tackle, while guard Matt Hustad and tackle Tom Njunge give the Sun Devils far more athleticism on the right side. Neither was healthy last year.
Is it a great offensive line? No. But last year's unit didn't have a chance -- the Sun Devils ranked 113th in the nation in rushing and surrendered 34 sacks (109th in the nation). This time around, it might.
"We're much more solid, we have more depth," Erickson said. "We're playing a little bit better, technique-wise and so forth. We made some moves to get our best players in the right positions. As we go through the next 10 weeks, if we lose a guy or two, we'll put people out there who play pretty well. I like where we're at. Are we a great offensive line? No, but we're getting better all the time and we're better now than we were at this time last year."
Georgia, meanwhile, entered the season having to replace running back Knowshon Moreno and quarterback Matt Stafford, NFL first-round picks who dominated the action in last year's game. The Bulldogs seem to be getting their legs under them after opening with a loss at Oklahoma State. They had just 257 total yards against the Cowboys but piled up 530 yards Saturday in their win over Arkansas.
"
Joe Cox
is playing extremely well at quarterback," Erickson said. "The last two weeks, I didn't see any drop-off."
A key matchup will be Bulldogs sophomore receiver
A.J. Green
against the Sun Devils secondary, particularly cornerback Omar Bolden. Last year, Green dominated Bolden, catching eight passes for 159 yards and a touchdown.
Erickson's advice to his team on handling the frenzy of a road game in an SEC stadium? Have fun.
"You talk to our players about it and they're excited to go down there and experience [that]," he said. "It's going to be fun; they're looking forward to it."
Sounds like the Sun Devils are eager to find out who they really are in 2009.
August, 20, 2008
8/20/08
11:24
AM ET
Posted by ESPN.com's Ted Miller
It just wouldn't feel like a Wednesday without Pac-10 links.