April, 17, 2013
4/17/13
9:00
AM ET
ANN ARBOR, Mich. -- All players who walk through the door to Schembechler Hall understand what Michigan once was. They merely have to keep their eyes and ears open.
Many college coaches, even those at traditional power programs, concern themselves only with the present and the future. Michigan's Brady Hoke puts the past on a pedestal.
Hoke's players know what the numbers 134 and 42 mean -- Michigan enters its 134th year of football and boasts 42 Big Ten championships. They know about the program's national titles and award winners. They see the Bo Schembechler quotes, the
Big Ten banners
and the
legends lockers
dedicated to program greats.
Many of the current Wolverines hadn't put on a helmet and pads in their lives the last time Michigan won a national title in 1997, but they know what the program was like because coaches like Hoke and defensive coordinator Greg Mattison, both Michigan assistants during the mid-1990s, tell them about it all the time. Offensive line coach Darrell Funk, who had no ties to Michigan before arriving with Hoke in 2011, often shows his players tape of former Wolverines stars Steve Hutchinson, Jake Long and Jon Jansen.
[+] Enlarge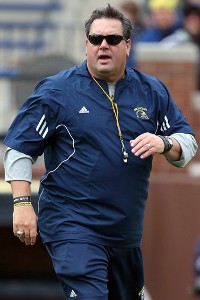 Leon Halip/Getty ImagesBrady Hoke and the Wolverines are working to get the program back to where it once was.
"There's a tremendous sense of pride that Brady instills," Mattison told ESPN.com, "and our entire football organization feels that 'Let's get Michigan back to the way we remember it,' where when Michigan gets on that field, everybody goes, 'Whoa, here they come.' That's what I envision. I want to do anything that I can do to help us get there, to get Michigan back to the football level it was when I remember it."
Senior linebacker
Cam Gordon
was 6 years old when Michigan won the national championship and 13 when the Wolverines claimed their last Big Ten title (2004, co-championship). But he hears about the glory days from coaches like Mattison and new outside linebackers coach Roy Manning, who played for Big Ten championship teams in 2003 and 2004.
"I do remember the stories about Michigan," Gordon said. "Before they even stepped on the field, the game was won."
The constant history lessons taught inside Schembechler Hall don't stem from an unhealthy state of nostalgia. Hoke wants his players to understand the standard at Michigan. He's also extremely blunt about the fact that the Wolverines have yet to meet it.
Hoke guided Michigan to 11 wins in his first season and ended the seven-year losing streak against archrival Ohio State. He has yet to lose a game at Michigan Stadium. He has pulled Michigan out of the fog of the Rich Rodriguez era. Recruiting is undoubtedly on the upswing, and Michigan looks more like its old self on both sides of the ball.
But Hoke's tenure to this point, by his own barometer, has been a failure.
"We didn't get it done," he said of the 2012 season, when Michigan went 8-5. "We were still in a second year of changing a culture and changing a philosophy to some degree, offensively and defensively and the whole scope of what we try and do as a team. But still, at the end of the day, this is about winning Big Ten championships. We have 42 of them, and we need to start on our 43rd."
Hoke's message is heard loud and clear from the team's best player on down.
"The standard at Michigan is a Big Ten championship every single year," All-American left tackle
Taylor Lewan
said. "That's the minimum. Everything else is a failure. The Sugar Bowl, the BCS game, that was awesome. It was such a great experience, Bourbon Street was cool, New Orleans was cool -- failure. Outback Bowl, close game, lost in the last 20 seconds -- failure.
"Those are all games that are failures. The only way this team would be happy, would be satisfied with one season, is if we win a Big Ten championship."
Things weren't that way when Lewan arrived in 2009.
"The main goal was to make it to a bowl game," he said. "I don't know if that's how it's supposed to be at Michigan. I don't know how much my opinion counts, but I think it should be a Big Ten championship every single year. These coaches have done a great job of preaching that.
"We're not going to settle."
It has been nearly a decade since the Wolverines could call themselves league champions, their longest drought since a lull between 1950 and 1964. Every year that passes without a title means Michigan moves a little further away from the great times, a little further away from regaining the mystique Mattison and others preach about.
Talking about a winning culture in the past only goes so far without establishing a winning culture in the present. It's why much of Michigan's offseason work has been from the neck up.
"There were times where we were down in games and we came back and won the game based off our mental toughness," wide receiver
Jeremy Gallon
said. "And there were times in games where we didn't come back, and it was our lack of mental toughness."
Defensive tackle
Quinton Washington
said Michigan worked on breaking "mental barriers" this spring, one of which is playing better away from the Big House. The Wolverines dropped three road games (Notre Dame, Nebraska and Ohio State) and two neutral-site contests (Alabama, South Carolina) last fall.
[+] Enlarge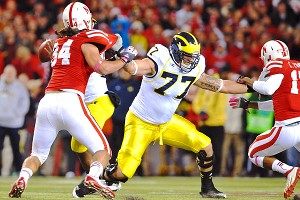 AP Photo/Dave WeaverTaylor Lewan (77) knows expectations are high for every player who wears a Michigan uniform.
Michigan is just 5-7 in road or neutral-site games under Hoke.
"We didn't play well on the road," Hoke said. "We didn't play with the toughness that it takes. We learned a lot in the bowl game about us as people, especially the guys coming back, good and bad."
Hoke has a
Sun Tzu quote
displayed in the weight room that reads:
Victorious warriors win first and then go to war, while defeated warriors go to war first and then seek to win.
The goal is for the Wolverines to enter games with the same mindset as their predecessors.
Many think the Michigan mystique is dead, but Hoke's players are driven to revive it.
"If they don't fear Michigan," Gordon said, "then obviously that's something that we're going to have to change."
Beginning this fall.
"Anywhere you go in the world, everyone knows Michigan," defensive end
Frank Clark
said. "Anywhere in the nation, as far as college football, everyone knows Michigan. For the last couple years, we haven't lived up to those expectations. This next season, we have to.
"It's time. There aren't anymore excuses."
April, 12, 2013
4/12/13
9:00
AM ET
ANN ARBOR, Mich. -- The Michigan Man label carries a price tag. Those who earn it invest their bodies and their minds.
Some pay with deferred income.
For
Taylor Lewan
, becoming a Michigan Man carries a very hefty price tag, one with two commas. Lewan, the Wolverines' All-America left tackle, passed up millions in January when he announced
he would return to Michigan
for his senior season. After an excellent junior season and a solid performance against South Carolina in the Outback Bowl, Lewan had, in the view of most analysts, locked up a spot in the first round of the NFL draft. Some projected him as a top-10 pick.
"Everybody knew what Taylor could have been worth," Michigan defensive end
Frank Clark
said. "The type of season Taylor had -- All-American, All-Big Ten, he won the [Big Ten] offensive lineman of the year award -- I knew he was gone.
"I mean, who wouldn't be?"
So why did it take Lewan all of 3½ hours to decide he'd be back at Michigan in 2013? Two words meant more to him than three letters and two commas.
He wants a title that, in his own blunt assessment, he doesn't deserve yet.
"I can't call myself a Michigan Man," Lewan told ESPN.com, "but that's what I want to become."
Lewan's decision to return served as an acknowledgement that his journey at Michigan isn't complete. He hasn't helped the Wolverines to their 43rd Big Ten championship (and first since 2004). He hasn't put himself among the greats -- Jake Long, Dan Dierdorf, Jumbo Elliott, Jon Jansen -- to play tackle for the Maize and Blue. He hasn't restored Michigan to the standard that coach Brady Hoke talks about on a daily basis.
But the decision also acknowledged how far Lewan had come at Michigan and how his view on the school had changed. Because when he arrived, the thought of leaving millions on the table for another year in school was laughable.
"When I came here, I didn't know anything," Lewan said. "All my friends are Ohio State fans, so I was always like, 'Ohio State's badass.' That's all I thought. I didn't know. I was getting away from Arizona for a couple years. I had no idea what I was getting myself into. The first couple years I was here, I still didn't know any of the tradition. I was playing for myself, I was playing for the opportunity to go to the NFL as soon as possible. That was my focus."
"

I enjoy the pain of it. Maybe I'm a little messed up in the head, I don't know, but I enjoy hitting my face on another man's face and trying to put him in the dirt and make him feel every single inch of it. Something about that, it puts me on cloud nine.

"

-- Taylor Lewan
Things began to shift when Hoke arrived and started his push to restore Michigan to glory.
"Coming into a room and expecting excellence, talking about a Big Ten championship every single day, knowing we have 42 championships and there needs to be a 43rd, that repetition, talking about it, talking about it, it makes you think," Lewan said. "Now I know more about the tradition here. I know more about the winged helmet, 115,000 people at the game, the largest stadium in the country. There's a
tractor or something under the stadium
because it fell in while they were building.
"The little things, it becomes a part of you."
Hoke calls it "an education," and Lewan will continue his on the field and in the classroom and outside of it at Michigan. Winning a Big Ten title and completing his degree factored into his decision, but Lewan also wants more out of his college experience.
He hopes another year at Michigan allows him to do what few college football players can -- engage in campus life.
"As a football player, the biggest thing you do is hang out with the football people," he said. "Maybe some hockey guys, maybe some baseball guys here and there. I don't really know what Michigan has out there. If you play college football, your college experience is officially different from everybody else's and that's how it's going to be. I think it would be cool to see the different societies going on at Michigan, meet different people, all the things they do to contribute to the University of Michigan.
"I contribute in such a little way compared to some other people. I'm a source of entertainment. The things other people do are much bigger than what I do."
Lewan's perspective is refreshing, but don't tell anyone around Schembechler Hall that the things he does are small.
Michigan quarterback
Devin Gardner
knows his blind side will be sealed this fall. Wolverines offensive line coach Darrell Funk knows he'll have arguably the nation's best offensive lineman anchoring the front five and helping lead a group that must replace starters at all three interior positions. Clark knows he'll have the best possible preparation for opposing offenses by battling the 6-foot-8, 308-pound Lewan every day in practice.
"When Taylor announced [his return], that was pretty much at the peak of recruiting," Funk said. "All the arguments around the country were who has the No. 1 player? Who has the No. 1 recruit?
"I know when I went home that night, thinking of who got the No. 1 player in the country; I know I did."
Lewan often says the decision to return to Michigan is his and his alone. Like many high-level NFL prospects staying in school, he'll take out an insurance policy to guard against a career-threatening injury.
But there was no doubt in his mind when he made the announcement. If there had been, he'd be meeting with NFL teams right now and likely planning a trip to New York on April 25. Instead, he's preparing for Michigan's spring game Saturday at the Big House.
"People are going to absolutely think, 'He's crazy, he left all this money,'" said Lewan, whose decision drew skepticism from
ESPN's Mel Kiper

and others. "It doesn't matter. If I don't do what I'm supposed to do now, I shouldn't be in the NFL anyway.
"It wouldn't be fair to Michigan for me to hold anything back. There's no foot-out-the-door attitude."
Lewan thinks he can improve every part of his game in his final season, from pass protection to double-teams to base blocks to the screen game. He's "nowhere near perfect" despite having a unique blend of size and athleticism that allows him to defeat pass-rushers in one-on-one matchups.
Funk notes that while Lewan certainly could have made the jump -- "Everyone that I talked to knew he was in that elite status" -- he also has areas to upgrade, such as certain run-blocking techniques.
"The scary thing about him," Funk said, "and I know it and he knows it, when we really break him down on tape, he's got two to three things that when he improves on those, his stock's going to rise even further."
Funk has coached talented offensive linemen who need to be prodded to finish blocks. Lewan is the opposite, playing to the whistle and sometimes beyond it.
He earned a
reputation for being "nasty"
even before he made his debut as a redshirt freshman in 2010. In 2011, Lewan and Michigan State defensive end
William Gholston
exchanged unpleasantries during a game in East Lansing. Gholston received two personal-foul penalties and a
one-game suspension for punching Lewan
, but Lewan wasn't exactly a saint in the game.
[+] Enlarge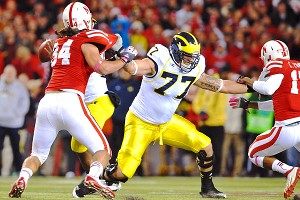 AP Photo/Dave WeaverTaylor Lewan and his coaches agree that the offensive lineman has things to work on his senior year.
Funk has seen Lewan rein things in a bit, but Lewan's desire to dominate opponents still burns.
"If I do my job and do it 100 percent between the whistles and just try to physically dominate someone every single play and make them hurt at the end of the game, that's enough for me to go home happy every Saturday," he said. "I enjoy the pain of it. Maybe I'm a little messed up in the head, I don't know, but I enjoy hitting my face on another man's face and trying to put him in the dirt and make him feel every single inch of it.
"Something about that, it puts me on cloud nine."
Lewan wasn't always this way. A future in contact sports seemed unlikely after his career as a young hockey player ended very early.
"I played for a team called the Tarantulas," Lewan recalled. "It was a mite league, so there was no checking allowed. I was good. I would wield the stick. I was money at hockey. And then they had tryouts for a team and it was pee-wee, so you could check all of a sudden. Some guy laid me out. This guy hit me so damn hard.
"I got up and just skated off. I was done."
Despite a love for baseball, Lewan eventually warmed to football and the contact it brought. He started nine games at left tackle as a redshirt freshman and has remained a fixture there ever since. Lewan earned second-team All-Big Ten honors in 2011 before making numerous All-America teams last fall.
Lewan will hold his own draft party of sorts later this month. He'll watch the first-round selections, rooting on top linemen such as Texas A&M's
Luke Joeckel
, Central Michigan's
Eric Fisher
and Oklahoma's
Lane Johnson
, as well as USC quarterback
Matt Barkley
, with whom he played in a high school all-star game.
"Watching them fulfill their dreams and knowing that someday I'll hopefully be there, it's just so cool to see," he said. "There's no jealousy or anything. If I'd wanted to leave, I would have left."
He's too busy enjoying himself at Michigan, whether he's growing an incredibly weak mustache as part of the line's "Muzzy Maulers" campaign, competing daily against Clark on the field and in the weight room, or tormenting Gardner in every way possible ("He's a bully, a big bully," Gardner said. "He picks on me, and he's so large I really can't do much about it. And he protects my blind side, so it's a lose-lose").
Michigan could have managed without Lewan, but his return "lifted a weight off our shoulders," Clark said.
"It brought joy back to the team," Clark continued. "He's one of the characters on the team, one of the motivators, one of the leaders. When I found out he's coming back, that's when it really clicked for me that it's bigger than the NFL for him. It's bigger than the money."
Lewan used to be a football player who happened to play for Michigan. He has become something more.
"The statement he made when he was asked why he came back and he said, 'You've never played football at Michigan,' that speaks volumes," Hoke said. "His goal is to help mold a young offensive line. His goal is to win a Big Ten championship. His goal is to become a better football player in all aspects. All those things are why he came back, but he wouldn't have come back if he didn't play football at Michigan."
Lewan isn't sure how a Big Ten championship in 2012 would have affected his decision. He'd like to think he would have stayed. Maybe he would have bolted. The bottom line, he said, is it didn't happen.
His career is incomplete. He wants to be a champion. He wants to be a Michigan Man.
"I don't think there's any doubt about it," Hoke said. "The way he's carried himself, the way he's led, how he approaches every day, he's put himself in that position."