April, 18, 2012
4/18/12
11:44
AM ET
Want to see many of the names that will be featured on Colorado's defensive depth chart next fall?
Go here
.
The Buffaloes are going to be young next fall on both sides of the ball, but particularly on defense. Lots of freshmen will play -- guaranteed. And that is by design. Defensive coordinator Greg Brown and head coach Jon Embree made something clear during spring practices to the returning players: "Impress us now, or get replaced by incoming freshmen."
[+] Enlarge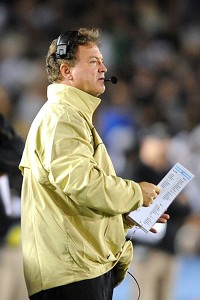 Chris Williams/Icon SMIDefensive coordinator Greg Brown will be working with a lot of freshmen this fall, including eight on the defensive line.
There's a reason for the likely youth movement: The Buffs were lousy on defense in 2011, ranking last in the Pac-12 in scoring (36.5 points per game) and 10th in total defense (439.3 yards per game). Further, Pac-12 quarterbacks feasted on the secondary, which yielded not only the most touchdown passes (34) -- six more than anyone else -- but also grabbed the fewest interceptions (seven) in the conference.
If Colorado is going to move up in the South Division pecking order during the program's second year in the conference, those numbers need to improve.
Colorado finished spring drills last weekend, so it seemed like a good time to check in with Brown to look back and look ahead to the fall.
First off, last year your official depth chart was a 3-4 scheme. This spring, you guys started out with a 4-3. Can you give me a Cliffs Notes version of your base scheme?
Greg Brown
: It's really still the same. We're like last year but like most teams can play either, kind of multiple up front.
When you went over film from last year, what stood out to you as issues with the defense?
GB
: Too many big plays were given up. Too many points were scored. We had a laundry list of a lot of things. Too many injuries. The roster was thin. It was one of those years we'd like to see not repeated.
The Big 12 is hardly an offense-poor conference. You've coached there and the Pac-12. Were there any adjustments for your players moving from the Big 12 to Pac-12?
GB
: Absolutely. Not to take anything away from the Big 12. That's a terrific league that stands on its own merits, that's for sure. But you just have some unique offensive minds in the Pac-12, different styles of attack that we had not seen in the Big 12. There's nobody in the Big 12 that plays the same style as Oregon. Nobody plays the same style as Stanford or Washington. They are all unique and were tough styles to contend with. We've got a lot of offensive-minded head coaches and very innovated offensive coordinators.
You guys were heavy on D-linemen in the recruiting class. How many first-year players do you anticipate playing next fall?
GB
: We brought eight (defensive linemen) in. We're thinking at least half that amount, probably higher. Between the defensive line, which is eight-slash-nine because we've got a guy who could go either way, and we've got five cornerbacks, and the great majority of those guys are going to play. They won't redshirt. We're not counting on anybody redshirting. We'll see if they can't do it yet, then they'll have to. But other than that, we have no numbers. Spring ball was a feat to get accomplished. Because of our lack of numbers, we ended up doing so much seven-on-seven because we didn't have the D-line to do it [full scrimmage]. We really didn't have the secondary to do much seven-on-seven,either. It was largely a battle of walk-ons this spring at Colorado. We're welcoming with open arms all the incoming troops because they are going to play.
Give me a couple of names of standouts this spring? Who impressed you?
[+] Enlarge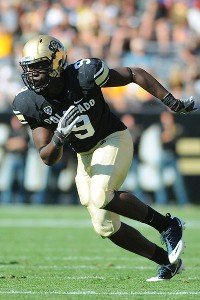 Dustin Bradford/Icon SMI Defensive end Chidera Uzo-Diribe has made an impression on coaches this spring.
GB
: [Defensive end]
Chidera Uzo-Diribe
, he had a very good spring. He's got skill. He's got speed. He's got size. And he's tenacious. He's a good player. He played last year for us and was fine but he stepped up this spring and filled a void -- we had two defensive ends graduate. He stepped up and really became a guy. He would be the top dog in the D-line. If there is one other defensive lineman who can play, it's
Will Pericak
. He's a good player -- steady, consistent. He's been around the block. Has size. He's played for a long time here. Good player. You've got those two up front. After that, there's really nobody to write about [on the defensive line]. We're just waiting on the young kids to get here.
How about linebacker?
GB
: Linebacker-wise, our best player is
Doug Rippy
. He's our captain, a team leader. He ended up missing, from the Washington game on last year, missing the season. He tore his ACL in that game and he was held out of spring ball and can't do anything yet. But we're looking to get him back.
Jon Major
is another 'backer who is back, has a lot of experience. He's a jack of all trades for us, can do a lot of things. Smart, can rush the passer, cover. He makes plays. He's good. Linebacker is where the most numbers are back. After that, you've got some guys who have played.
Derrick Webb
has played. He can run and hit. Then there's a smattering of younger kids who have some ability. They just haven't proven anything yet. They're up and coming.
And then the secondary?
GB
: We've got one returning guy. That's
Ray Polk
; he's a safety. Good player. Big kid who can run and hit. Been starting here a long time. Good future in front of him. Ray's issue was he could only do non-contact stuff during spring. He had surgery on a torn ligament in his wrist. So he did seven-on-seven and that was probably it. The next one to talk about back there would be [cornerback]
Greg Henderson
. He came in as a true freshman and won a starting job. He took advantage of the opportunity and won a job and he kept it all year. He continually progressed every week. This spring, he got better as you'd expect. They come in as freshmen and just look to survive, which he did more than ably. But we're looking for improvement this year and looking for him to be a guy. He's athletic. He can run, he's smart. And he's tough. And as much as anything, he stayed healthy. After him, a guy who is a good player for us, is
Parker Orms
. He plays nickel, safety and corner. He plays all three. Good athlete, tough kid. He missed quite a bit of the year. He only played five games for us. And he got hurt this spring, which is unfortunate. He tore his hamstring. He played three days of spring then tore that thing. In the five games he played for us last year, we either won or had a chance to win because he allowed us to do things on defense we could not do when he was not in there.
So the freshmen will be in the mix pretty quickly in the secondary, too?
GB
: Oh, no question. We told all the kids on defense this spring, particularly on the D-line and in the secondary, "OK, all you guys, here is your chance. This is your chance. We don't want to hear anything in the fall about, 'Hey, I'm not getting any reps.' Here is your chance now! Because believe it or not, in the fall with those kids coming in, they are going to get all those reps. We'll see what you guys can do now.' And here come the new kids. We know who has helped us in the past. For the rest of the spots? Hey, we're plugging in brand new kids and let's go.
How much can this defense improve in 2012?
GB
: You can. All these 15 defensive players who are coming in that we're looking to help us, you wish you could snap your fingers and be two years in the future, matured and bigger, strong, faster, eating on the training table, learning how to play. That would be nice. But the reality of it is there are going to be growing pains. These guys have some talent, but they also are going to be true freshmen and will make their share of mistakes. But, sure, we can improve. We have to manage what we're doing. We have an outstanding coaching staff on that side of the ball with Kanavis McGhee and Mike Tuiasosopo. They are great tacticians. As is linebackers coach Brian Cabral. We're looking for improvement.
February, 23, 2012
2/23/12
10:00
AM ET
Pac-12 spring preview: South Division
Spring practice is almost here. Here's a snapshot at what to expect from the Pac-12 South in the coming weeks.

ARIZONA
Spring practice starts
: March 4
Spring game
: April 14
What to watch
:
Hello, my name is ... Like the other two teams in the South Division with new head coaches (Arizona State and UCLA) much of Arizona's first few weeks will be Rich Rodriguez evaluating his personnel and getting to know what he has to work with. Likewise, the players are going to have to figure out what this new coaching staff is about. Everything from how they do pre-practice stretches to how they call the cadence is going to change.
New scheme and a new scheme: A spread option on offense and a 3-3-5 on defense. That's a lot of new material to digest on both sides of the ball. Until Rodriguez can recruit the players he likes into his scheme, he's going to have to make it work with the players he has. Fortunately on the defensive side of the ball, Arizona has good depth in the secondary with Cortez Johnson, Marquis Flowers, Shaquille Richardson, Jourdon Grandon and Tra'Mayne Bondurant. The Wildcats should also get a boost with the return of injured players Jake Fischer (LB), Jonathan McKnight (CB) and Adam Hall (S).
Perfect fit? Former starter Matt Scott, who was beaten out by Nick Folesin 2009, is expected to reprise his starting role under Rodriguez. He redshirted the 2011 season and -- magically -- Foles never got hurt last year despite taking 23 sacks and countless hits. Scott is considered the more versatile quarterback and should fit nicely into the new run-based spread attack.

ARIZONA STATE
Spring practice starts
: March 13
Spring game
: April 21
What to watch
:
QB competition: We know what kind of offense new coach Todd Graham is going to run; now it's a matter of figuring out who is going to run it. Graham has his choice of three players -- Mike Bercovici, Taylor Kelly or Michael Eubank -- to replace NFL-bound Brock Osweiler. Graham said earlier this month that there are no favorites heading into the competition and each one brings his own skill set to the table. Eubank has the size (6-foot-5, 235 pounds), Bercovici (6-1, 205) is a mechanic and Kelly (6-1, 202) is a little bit of everything.
Get the locker room: By the end of the 2011 season, ASU's locker room wasn't just divided, it was completely splintered. Graham's task -- and that of his new coaching staff -- is to pick up the pieces, mend internal fences and find some chemistry on both sides of the ball. Linebacker Brandon Magee, long considered a great locker room leader, should help get the Sun Devils back on track as he returns from a season-ending Achilles injury.
Hands competition: The Sun Devils lose three of their top four wide receivers from last season -- Gerell Robinson, Aaron Pflugrad and Mike Willie. Jamal Miles returns after finishing second on the team last season with 60 catches and six touchdowns. Rashad Ross figures to be the No. 2 guy, but establishing depth in that corps -- especially if Graham wants to be up-tempo -- is key.

COLORADO
Spring practice starts
: March 10
Spring game
: April 14
What to watch:
Momentum, maybe? For as rough as 2011 was for the Buffs, they ended the year on a high note, winning two-of-three down the stretch -- including a 17-14 win over Utah in the season finale. But there is also the possibility that things might get worse before they get better. With just four returning starters on offense, spring in Boulder will likely be more about teaching and less about refining.
Where to start (offense)? Well, quarterback might be a good place. In the court of public opinion, Connor Wood, a transfer from Texas, seems to be the favorite. Nick Hirschman appeared in five games last season, mostly in mop-up time when the game was already out of hand. It's also possible a starter could be named by the end of spring ball. Finding offensive weapons to surround the new quarterback will also be a challenge. Wide receiver Paul Richardson caught 39 balls last season, and running back Tony Jones showed a flare for catching the ball out of the backfield. He'll likely step in as the new workhorse back for the departed Rodney Stewart.
Where to start (defense)? Last in this. Last in that. Last in almost every team statistic the Pac-12 has to offer. But there are some intriguing youngsters on the roster. Cornerback Greg Henderson was all-conference honorable mention as a freshman with a team-high nine passes broken up. Jered Bell also returns from injury after blowing out a knee last preseason. If healthy, he's expected to be a big contributor in the secondary. Linebacker Jon Majorreturns as the team's leading tackler, and if Doug Rippy is fully recovered from his knee injury, he'll look to build on what was a pretty good season last year before getting hurt.

UCLA
Spring practice starts
: April 3
Spring game
: May 5
What to watch
:
QB up for grabs: Like the majority of the conference, UCLA enters spring with a quarterback competition. New offensive coordinator Noel Mazzone said he doesn't care how much experience (or lack thereof) a player has -- if he can play, he wins the job. So don't be surprised if Brett Hundley passes Kevin Prince and Richard Brehautas the new man leading the Bruins. Fans have been clamoring for a change. Hundley might be it.
Attitude adjustment: One of the first things new head coach Jim Mora did was slam the team for its tradition of going "over the wall," a time-honored senior ditch day, saying if they want to jump the wall, they should just keep on going. How's that for sending a message? UCLA has earned a reputation for being soft and underachieving despite good talent. Attitude and toughness is needed -- and so far, Mora appears to be hammering that point home.
Speaking of toughness ... The defense has to get tougher. No two ways about it. It was weak against the run last season, allowing more than 190 yards per game on the ground; couldn't get to the quarterback; and couldn't get off the field almost 50 percent of the time on third down. It's time for potential all-conference players such as defensive end Datone Jones to start living up to the hype and the defense as a whole to stop getting pushed up and down the field. At 6-5, 275 pounds, Jones has the physical makeup to be a major force in the conference and catapult himself into the elite class of collegiate defensive players.

USC
Spring practice starts
: March 6
Spring game
: April 14
What to watch
:
Ignore the hype: Few teams ended last season hotter than USC and returning quarterback Matt Barkley. The Heisman talk has already started, the way-too-early rankings already have the Trojans as national championship contenders, and the public perception is that the offense is unstoppable. Nice to hear, but hype is a double-edged sword. Head coach Lane Kiffin has a knack for deflecting hype. This season will be his toughest test to date.
Insurance? The Trojans are loaded on both sides of the ball with returning players. But after the starting 22, things start to get dicey. Developing depth and keeping the starters healthy is a top priority -- particularly on the offensive and defensive lines and at running back, where experience is thin outside of the starters. The entire back seven returns on defense -- headlined by hard-hitting safety T.J. McDonald. Stopping the pass has been a major priority for Kiffin, and if this group stays healthy it should see the pass-efficiency numbers improve even more.
Other options: Along those same lines, wide receivers Robert Woods and Marqise Lee make up the most feared receiving duo in the conference -- maybe the country. But who are the Nos. 3 and 4 receivers behind them? George Farmer? Victor Blackwell? De'Von Flournoy? Don't overlook the tight end duo of Xavier Grimble and Randall Telfer, which should rival Stanford's Zach Ertz and Levine Toilolo as the best tight end tandem in the conference.

UTAH
Spring practice starts
: March 20
Spring game
: April 21
What to watch
:
Youthful approach: Head coach Kyle Whittingham turned some heads by naming former Utah quarterback Brian Johnson as his offensive coordinator. Johnson, who recently turned 25, said he's not looking to make wholesale changes to the offense, though he wants to put his stamp on it and continue to build around running back John White IV, who had a breakout season in his first year of major college football. Having quarterback Jordan Wynn back healthy should also help as the team transitions to Johnson running the offense.
Fixing the line: Who is going to protect Wynn (if he does indeed win back the starting job) and make holes for White? That's a major concern heading into spring as the Utes have to replace a pair of all-conference linemen in Tony Bergstrom and John Cullen. The Utes should be set at the interior but have to adjust to a new position coach, with Tim Davis leaving for Florida after just one season and Dan Finn -- a former Utah graduate assistant who was brought on to help Davis -- taking over the whole line following a one-year stint at San Diego State.
Work the experience: The defensive line should be one of the best in the conference, especially with the return of Star Lotulelei, who won the Morris Trophy last season as the conference's best defensive lineman. With the Kruger brothers returning to the line -- Joe at defensive end and Dave at tackle -- Derrick Shelby is the lone starter who has to be replaced. There's also some pretty good depth in the secondary that was tops in the conference last season in pass-efficiency defense.
April, 6, 2011
4/06/11
11:00
AM ET
Defensive coordinator Greg Brown thinks Colorado is in for an "eye-opening" experience when the Buffaloes begin Pac-12 play. Or he might be playing a little possum.
Brown, who's beginning his third stint in Boulder after spending the 2010 season as Arizona's co-defensive coordinator, said this when asked about the Buffaloes move into the new conference.
[+] Enlarge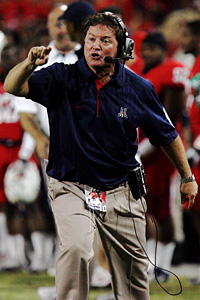 Liam Foley/Icon SMIAfter a season in Arizona, Greg Brown is back in Boulder and will be the Buffs defensive coordinator.
"It's going to be an eye-opener," he said. "Colorado had a small taste of it playing one team: Cal-Berkeley, up there [a 52-7 California win]. Everybody saw the final score from that one. The thing that was just striking going into the Pac-10 that I had no idea of, was just how good the league is. Two things hit you between the eyes in the Pac-10 as a defensive coach. No. 1 is how innovated the offensive coaches are, how innovative those schemes are. Coming from the Big 12, I thought in the Big 12 we had all those quarterbacks that one year, with great teams across the board. So I said, 'OK, what else can the Pac-10 show you that I haven't seen in the Big 12?' Believe me: It was a lot. It was an eye-opener because the schemes and the quarterbacks. The second part would be how fast it is. There is a lot of speed in that league."
For example, Brown said this about the Wildcats 48-29 loss at Oregon, which came after both teams had a bye week.
"They did more with their bye week and came up with more innovative schemes that we had not seen," he said. "My hat is off to Chip Kelly and Mark Helfrich, their offensive coordinator. They put in things we hadn't seen. It was a hard go playing those guys up there."
This seems to be a common rhetorical path among the Colorado folks -- coaches and players -- by the way: Lots of praise for the new conference, sometimes at the expense of the old one. As linebacker Jon Major said, the Pac-12 has no "cupcakes." This may be tweaking the Big 12 on the way out or celebrating the Pac-12 on the way in. Perhaps a bit of both.
As for Brown's decision to bolt Tucson after only one season, his answer is fairly straight-forward.
This is is home. He was born in Denver and his father, Irv, a long-time Denver radio personality, is a a former baseball coach and football coach at Colorado. Being back in Boulder means his two young daughters get to see their grandparents regularly. He loves the town and knows new coach Jon Embree well.
"I knew what he would bring to the table as a head coach and I wanted to be a part of it," Brown said.
Oh, and there's no "co" at Colorado. This will be his defense. At Arizona, he not only shared the job with Tim Kish but he coached the secondary, which is coach Mike Stoops' specialty. And Stoops, you may know, is not a laid-back, hands-off head coach.
Considering Brown was the Buffaloes' secondary coach from 2006-09 under Dan Hawkins, he's fairly familiar with his talent. While he uses terms like "hungry" to describe his players, it's clear that there are some areas that concern him, starting with the departure of cornerbacks Jimmy Smith and Jalil Brown, who will be early-round NFL draft picks.
"That's going to be tough to replace," Brown said. "There is nobody on the horizon that looks like they are going to be able to step into those shoes immediately. We've got young guys who need to develop. It's going to take some time to do that."
And Brown suspects his defense is going to have to take some chances to pressure opposing quarterbacks, which often means a high-risk, high-reward scheme.
"If you don't have the automatic four guys who can rush the passer without help, then you obviously need to be creative and bring some extra guys and pick and choose your poison," he said. "Because the more guys you bring, the more you're exposed out there. And as I just stated, we've got a lot of young guys back there feeling their way."
Or to be more succinct, Brown said: "Somebody's band is going to play, either their band or our band."
Still, don't see this as Brown fretting about his players ability to compete. While he acknowledges that Oregon and Stanford have separated from the conference a bit -- at least based on 2010 and the 2011 preseason perception -- he sees 10 other teams with legitimate hopes to move up the pecking order.
Said Brown, "After the those two, the rest of the league is so balanced. Anybody can beat anybody."
March, 28, 2011
3/28/11
9:00
AM ET
On Friday, we looked at offensive three-headed monsters --
the best quarterback, running back, wide receiver troikas
-- so it also makes sense to also look at their defensive counterparts, the best threesomes from each of the three levels of defense: defensive line, linebacker and defensive back.
Here's the
tally from last season
, if you are interested.

1.
Arizona State
DE Junior Onyeali, LB Vontaze Burfict, CB Omar Bolden
The Skinny:
No question on No. 1 here. Onyeali was the Pac-10 Defensive Freshman of the Year. Burfict is the nation's best inside linebacker. Bolden was unanimous first-team All-Pac-10.

2.
Stanford
DE Matt Masifilo, LB Shayne Skov, SS Delano Howell
The Skinny:
Masifilo, the lone returning starter on the Cardinal defensive line, was honorable mention All-Pac-10, as was Skov, who was playing as well as any linebacker in the conference over the final third of the season. Howell was second-team All-Pac-10.

3.
California
DE Trevor Guyton, LB Mychal Kendricks, S Sean Cattouse
The Skinny:
Guyton had 8.5 tackles for a loss and 4.5 sacks despite being a part-time starter. Kendricks was second-team All-Pac-10. Cattouse earned honorable mention.

4.
Oregon
DE Terrell Turner, LB Josh Kaddu, CB Cliff Harris
The Skinny:
Two solid returning starters and a second-team All-Pac-10 cornerback who figures to be a preseason All-American after earning second-team honors from the Associated Press and Walter Camp Football Foundation in 2010.

5.
Washington
:
DT Alameda Ta'amu, LB Cort Dennison, FS Nate Fellner
The Skinny:
Ta'amu earned honorable mention All-Conference honors and seemed to find himself over the latter half of the season. Dennison had 93 tackles, 8.5 tackles for a loss and two interceptions. Fellner tied for second in the conference with five interceptions.

6.
Arizona
DT Justin Washington, LB Paul Vassallo, CB Trevin Wade
The Skinny:
Washington's numbers fell off when he got banged up, but he still had 11.5 tackles for a loss and six sacks as a redshirt freshman. Vassallo was honorable mention All-Conference. Wade had an off year last fall, but was second-team All-Pac-10 in 2009.

7.
USC
DE Armond Armstead, LB Chris Galippo, FS T.J. McDonald
The Skinny:
This actually could be one of the best threesomes in the conference, but Armstead and Galippo have injury issues and only put up middling numbers last fall. McDonald was second-team All-Pac-10 in 2010.

8.
Washington State
DE Travis Long, LB Alex Hoffman-Ellis, SS Deone Bucannon
The Skinny:
Long was honorable mention All-Conference, Bucannon, who started as a true freshman, and Hoffman-Ellis were the Cougars' top two tackles in 2010.

9.
UCLA
DE Datone Jones, LB Patrick Larimore, SS Tony Dye
The Skinny:
A solid threesome that is down here more because it gets an "incomplete." Jones missed all of last season with a foot injury, but, if healthy, he's an All-Conference sort. Larimore was solid in seven games before suffering a shoulder injury. Dye led the Bruins in tackles and earned honorable mention All-Pac-10.

10.
Colorado
NG Will Pericak, LB Jon Major, FS Ray Polk
The Skinny:
Pericak earned honorable mention All-Big 12. Major was the Buffaloes leading tackler before he blew out his knee in Game 7 (a knee injury also killed the junior's true freshman season). Polk was the second-leading tackler.

11.
Utah
DE Derrick Shelby, LB Chaz Walker, CB Conroy Black
The Skinny:
Honestly don't know how to rank the Utes here. Shelby and Walker are returning starters -- Walker earned second-team All-Mountain West honors. Black was the top backup cornerback last season.
But
Star Lotulelei might be the Utes' best defensive lineman, and Brian Blechen has moved from strong safety, where he was very good, to linebacker. How highly do the Utes think of him? They list him as an All-American candidate.

12.
Oregon State
DE Dominic Glover, LB Rueben Robinson, S Lance Mitchell
The Skinny:
Three returning starters, but none of them even earned honorable mention All-Pac-10 honors. Mitchell was the Beavers' third-leading tackler, Glover had 2.5 sacks, and Robinson split time with Tony Wilson.
February, 17, 2010
2/17/10
2:00
PM ET
Here's a breakdown of three issues facing each program heading into the spring:

Baylor Bears
Spring practice starts
: March 16
Spring game
: April 10
1. Quarterback Robert Griffin III's surgically repaired right knee
. Griffin hasn't played since tearing the ACL in his right knee in the third game of the '09 season. He recently said he's ahead of schedule in rehabilitation, but probably won't do much during spring practice. He'll wear a heavy knee brace and won't participate in contact drills.
2. New linebackers
. The Bears lost strongside linebacker Antonio Jones and middle linebacker Joe Pawelek, who combined to make 190 tackles last season. Senior Earl Patin, who also has played some defensive end during his career, is poised to replace Pawelek in the middle. But Patin will have to hold off highly regarded youngsters Chris McAllister and LeQuince McCall, who redshirted in '09. Senior Chris Francis is probably the top candidate to replace Jones on the strong side.
3. Safety
. The Bears must replace both of their starting safeties, including All-Big 12 performer Jordan Lake, who started 36 games in a row. Junior college transfer Byron Landor and sophomore Mike Hicks will get the first looks in the spring. But they'll have to hold off incoming freshman
Ahmad Dixon
, one of the top prospects to ever sign with Baylor, after he arrives for fall camp.

Colorado Buffaloes
Spring practice starts
: March 6
Spring game
: April 10
1. Michigan transfer Toney Clemons
. Buffaloes coach Dan Hawkins called Clemons his team's most exciting receiver while he sat out the '09 season under NCAA transfer rules. The cousin of Arizona Cardinals receiver Steve Breaston, Clemons could bring an interesting dynamic to the CU offense. His arrival couldn't come at a better time, either, after
Markques Simas
was suspended indefinitely for violating team rules.
2. Linebacker
. The Buffaloes must replace their two most productive linebackers after losing Marcus Burton and Jeff Smart. The departed seniors combined to make 105 solo tackles and 6.5 sacks last season. Senior Michael Sipili is the top candidate to replace Burton in the middle, and sophomore Jon Major might get the first crack at replacing Smart on the weak side.
3. Offensive line
. The unit's inconsistency has dogged Hawkins' offense in each of his first four seasons. Eight offensive linemen had significant playing time in '09, so the Buffs are looking for more stability up front. The return of sophomore guard Maxwell Tuioti-Mariner from a pair of knee injuries, and early arrival of junior college transfer Eric Richter might shore up the interior line.

Iowa State Cyclones
Spring practice starts
: March 23
Spring game
: April 17
1. Linebackers
. The Cyclones lost each of their starting three linebackers: Josh Raven, Jesse Smith and Fred Garrin. Junior Jacob Lattimer is in line to replace Raven on the strong side, and two highly regarded sophomores are in line to fill the other spots. A.J. Klein, who had 17 tackles in 13 games as a freshman, might get the unenviable task of replacing Smith, who led the Big 12 in tackles in '09. Jake Knott, who had 23 tackles as a freshman, is the top candidate to start on the weak side.
2. Wide receiver
. Iowa State lost leading receiver
Marquis Hamilton
, who had 50 catches for 606 yards with four touchdowns in '09. Tight end
Derrick Catlett
, another top receiving threat, also is gone. The good news: Junior
Darius Reynolds
returns from a broken leg that caused him to miss all but four games last season. Reynolds, who earned the moniker "Money" for his big-play potential, had 13 catches for 72 yards before he was hurt in practice in late September. Junior college tight end Ricky Howard enrolled in classes in January and will participate in spring practice.
3. Defensive line
. Two starters will have to be replaced after ISU lost right end Christopher Lyle and tackle Nate Frere. Lyle led the team with five sacks in '09; Frere was a pretty good run-stopper. Sophomores Cleyon Laing and Roosevelt Maggitt will get strong looks at end, and senior Austin Alburtis and sophomore Jake McDonough will move into the tackle rotation.

Kansas Jayhawks
Spring practice starts
: March 27
Spring game
: April 24
1. Quarterback
. New Kansas coach Turner Gill might have one heck of a competition on his hands. Sophomore
Kale Pick
is a mobile option, after averaging 11.9 yards per rushing attempt in 2009. Junior college transfer Quinn Mecham, who enrolled in classes at Kansas in January, threw for 3,091 yards with 40 touchdowns and 11 interceptions at Snow College in Utah last season.
2. Wide receiver
. The Jayhawks have to replace departed stars
Kerry Meier
and
Dezmon Briscoe
, which will be no easy task. The duo combined to catch 186 passes for 2,322 yards with 17 touchdowns last season.
Bradley McDougald
and
Johnathan Wilson
were proven targets last season, but younger players such as
Chris Omigie
and incoming freshman
Keeston Terry
will have to help this fall.
3. Secondary
. The Kansas defense gave up too many big passing plays and didn't create enough turnovers last season. The Jayhawks will have to replace strong safety Darrell Stuckey, who led them with 93 tackles in '09. Senior Phillip Strozier will get the first crack at replacing the heart and soul of the Kansas defense.

Kansas State Wildcats
Spring practice starts
: March 21
Spring game
: April 24
1. Oregon transfer Chris Harper
. In 2008, Harper played wide receiver and quarterback for the Ducks as a freshman. He became the first Oregon player in eight years to run, pass and catch a touchdown in the same season. Harper, a native of Wichita, Kan., might figure into Kansas State's quarterback or wide receiver plans after sitting out the '09 season under NCAA transfer rules.
2. Quarterback battle
. Harper and two other players will probably battle to replace departed senior
Grant Gregory
. Senior
Carson Coffman
, who started the '09 season at quarterback, figures to be back in the mix, along with junior college transfer
Sammuel Lamur
.
3. Defensive line
. The Wildcats have a couple of gaping holes to fill up front defensively. End Jeff Fitzgerald, who had 40 tackles and 10 tackles for loss in '09, has to be replaced, along with tackles Daniel Calvin and Chidubamu Abana. Junior college transfer Javonta Boyd, who has already enrolled in classes, could help in the interior line.

Missouri Tigers
Spring practice starts
: March 9
Spring game
: April 17
1. Wide receiver
. The Tigers have to replace
Danario Alexander
, who led the country with 1,781 receiving yards in 2009. Juniors
Jerrell Jackson
and
Wes Kemp
both caught more than 20 passes last season, but younger players like
T.J. Moe
and
Rolandis Woodland
are going to have to contribute more. Incoming freshman
Marcus Lucas
could help in the fall.
2. Linebacker
. The Tigers bring back two of their starting three linebackers, but three-time All-Big 12 selection Sean Weatherspoon is the one who left. Sophomore Donovan Bonner heads into spring camp as the top candidate to replace Weatherspoon on the weak side, and Will Ebner and Andrew Gachkar are back at the other linebacker spots.
3. Defensive line
. Two starters are gone on the defensive front: end Brian Coulter and nose tackle Jaron Baston. At least the Tigers know they're set at one side, with end Aldon Smith coming back after totaling 19 tackles for loss and 11.5 sacks in '09. Marcus Malbrough and Jacquies Smith will battle for starting end, and Terrell Resonno could move into the vacant tackle spot.

Nebraska Cornhuskers
Spring practice starts
: March 24
Spring game
: April 17
What to watch:
1. Will quarterback Zac Lee keep his starting job?
After Lee was plagued by inconsistency throughout the '09 season, offensive coordinator Shawn Watson is expected to open the competition during spring practice. Sophomore
Cody Green
, senior
Latravis Washington
and freshman
Taylor Martinez
will all be given a fair chance to win the job.
2. Defensive tackle
. Nebraska fans won't see All-American Ndamukong Suh commanding double-team blocks along the line of scrimmage. Even after losing one of the most decorated players in school history, the Cornhuskers figure to be pretty good up front. Jared Crick and Baker Steinkuhler will man the middle, with Pierre Allen and Cameron Meredith entering spring camp as the favorites at ends.
3. Rex Burkhead
. The sophomore burst onto the scene after Roy Helu Jr. was hurt early in the Huskers' 33-0 rout of Arizona in the Pacific Life Holiday Bowl, rushing for 89 yards with one touchdown. Burkhead was very explosive running out of the Wildcat package, so look for Watson to try and utilize him even more to make the Nebraska attack less predictable.

Oklahoma Sooners
Spring practice starts
: March 8
Spring game
: April 17
1. Offensive line
. The Sooners have a lot of questions up front on offense, after left tackle Trent Williams and right guard Brian Simmons departed. Will junior Donald Stephenson finally be ready to contribute at left tackle after being suspended for all of the '09 season? Will center Ben Habern be ready after breaking his leg late in the '09 season? When will Jarvis Jones return from a broken heel?
2. Linebacker Ronnell Lewis
. The sophomore had a break-out game in the Sooners' 31-27 victory over Stanford in the Sun Bowl, finishing with six tackles and a forced fumble. With starting linebackers Keenan Clayton and Ryan Reynolds departing, Lewis will assume a starting role on the strong side. Redshirt freshman Tom Wort is projected to start in the middle, with junior Travis Lewis starting on the weak side.
3. Secondary
. The Sooners have shuffled their defensive backs after losing cornerbacks Dominique Franks and Brian Jackson. Sophomore Demontre Hurst is in line to replace Franks at field cornerback, and senior Jonathan Nelson has moved from strong safety to boundary cornerback. Junior Sam Proctor is expected to replace Nelson at strong safety, and senior Quinton Carter is back at free safety.

Oklahoma State Cowboys
Spring practice starts
: March 8
Spring game
: April 17
1. Quarterback Brandon Weeden
. The 26-year-old junior is the top candidate to replace
Zac Robinson
, who broke nearly every OSU passing record. Weeden was a second-round choice of the New York Yankees in the 2002 amateur baseball draft. If he can grasp new offensive coordinator Dana Holgorson's spread offense quickly, the Pokes' passing game should again be potent in 2010.
2. Defense
. Defensive coordinator Bill Young will have his hands full this spring trying to replace nine starters. The only returning starters are defensive end Ugo Chinasa and strong safety Markelle Martin. The Pokes have to replace three starters on the defensive line, three linebackers and three defensive backs. Three newcomers -- linebacker
Caleb Lavey
and defensive backs
Devin Hedgepeth
and Malcolm Murray -- will get early looks in spring camp.
3. Offensive line
. The Cowboys will have to replace star left tackle Russell Okung, left guard Noah Franklin, center Andrew Lewis and right tackle Brady Bond. Juniors Nick Martinez, Casey LaBrue and Grant Garner will be the top candidates to fill open starting spots.

Texas Longhorns
Spring practice starts
: Feb. 26
Spring game
: April 4
1. Quarterback Garrett Gilbert
. The sophomore was thrust into action after
Colt McCoy
injured his shoulder against Alabama in the Citi BCS National Championship Game and played admirably well in tough circumstances. The Longhorns might change their identity on offense with a young quarterback under center, so developing a running game to take pressure off Gilbert might be a top priority.
2. Defense
. The unit is in good hands with coordinator Will Muschamp, but he'll have to replace many of the star players from 2009. End Sergio Kindle, tackle Lamarr Houston, linebacker Roddrick Muckelroy and safety Earl Thomas are all gone. Younger players such as end Alex Okafor and tackle Tyrell Higgins will have to turn it up a notch during spring practice.
3. Wide receiver
.
Jordan Shipley
, who was McCoy's favorite target, also departed. Seniors
James Kirkendoll
and
John Chiles
, junior
Malcolm Williams
and sophomore
Marquise Goodwin
will have to be more consistent in their route running and pass catching. Other receivers such as
D.J. Monroe
and
DeSean Hales
will be trying to crack the receiver rotation during the spring, before talented freshmen like
Darius White
,
Mike Davis
and
Demarco Cobbs
arrive on campus.

Texas A&M Aggies
Spring practice starts
: March 23
Spring game
: April 17
1. New defensive coordinator Tim DeRuyter
, who built one of the country's best units at Air Force last season. He inherits an A&M defense that was woefully porous last season and will switch to a 3-4 scheme. Nine starters are coming back on defense, including pass-rushing specialist Von Miller. DeRuyter will spend the spring trying to install his system and getting his players comfortable with it.
2. Offensive line
. The Aggies must replace three starting offensive linemen: left tackle Michael Shumard, center Kevin Matthews and right tackle Lee Grimes. Juniors Joe Villavisencio and Danny Baker and sophomore Stephen Barrera have to be ready to step up this spring.
3. Special teams
. The Aggies' special teams weren't so special last season, as they ranked 104th in net punting, 91st in kickoff return defense and 49th in kickoff returns among FBS teams. Aggies coach Mike Sherman is putting a new emphasis on special teams, which cost his team dearly in its 44-20 loss to Georgia in the Independence Bowl.

Texas Tech Red Raiders
Spring practice starts
: March 7
Spring game
: April 17
1. Quarterbacks
. With former Auburn coach Tommy Tuberville replacing Mike Leach at Texas Tech, senior quarterbacks
Taylor Potts
and
Steven Sheffield
figure to start spring camp on a level playing field. Potts started 10 games last season, throwing for 3,440 yards with 22 touchdowns and 13 interceptions. Sheffield started two games and threw for 1,219 yards with 14 touchdowns and four picks. New offensive coordinator Neal Brown, who was hired from Troy, runs a version of the spread offense, but Tuberville will probably incorporate more of a traditional running game into the offense.
2. Defensive line
. New defensive coordinator James Willis has to replace three starters on his defensive front: ends Brandon Sharpe and Daniel Howard and tackle Richard Jones. Making matters worse, the top two reserve ends in 2009 were seniors, along with the backup nose tackle.
3. Offensive line
. O-line coach Matt Moore, who was retained from Leach's staff, has to replace three starters: center Shawn Byrnes, right guard Brandon Carter and right tackle Marlon Winn. Juniors Justin Keown and Mickey Okafor and sophomore LaAdrian Waddle will probably be given first crack at replacing them. Incoming junior college transfer Scott Smith could play stand-up end in Tech's 3-4 scheme, and junior college defensive tackle Donald Langley might also have an impact in spring practice.
August, 14, 2008
8/14/08
9:18
AM ET
Posted by ESPN.com's Tim Griffin
New Nebraska coach Bo Pelini's attitude is all about swagger. But it's hard to build that kind of confidence playing some of the weak sisters that will dot his future nonconference schedules.

It seems that Pelini isn't exactly excited about the schedule he inherited from former athletic director Steve Pederson and former coach Bill Callahan.
Nebraska assistant athletic director for football Jeff Jamrog told the Omaha World-Herald that he's actively seeking upcoming games -- and only against Division I opponents.
The Cornhuskers will be playing Florida Atlantic, Louisiana-Lafayette and Arkansas State next season, and Western Kentucky, Idaho and Football Championship Subdivision power South Dakota State in 2010.
"It looks like they wanted to schedule a bunch of wins," Jamrog said. "We can't do anything about it. We can't do anything about the guarantees that were set, unless you want to cancel the contracts. But we aren't interested in doing that."
Pelini is in favor of taking on all comers in the future.
"That's what the fans want to see," Pelini said. "That's the shame of the BCS. Fans aren't seeing the games they used to see in September. We want to play those games. I don't want to shy away from anyone."
Assuredly, this is very refreshing attitude for a new football coaching staff to have. But something tells me that Pelini will prefer his schedule of Western Michigan, New Mexico State and San Jose State this season before facing Virginia Tech than if he had switched to a tougher one.
Hope that Pelini is up to the challenge of tackling a few morning links, too.