October, 18, 2011
10/18/11
1:16
PM ET
Michigan State is conducting an internal review of a possible sportslike conduct violation by defensive end William Gholston in Saturday's win against Michigan.
Athletic director Mark Hollis released a statement Tuesday saying the Big Ten has notified Michigan State of a possible violation. The school is in the process of conducting its own review, which, according to the Big Ten Handbook, but be completed by Wednesday.
"We are thoroughly reviewing the entire game and utilizing all of the available resources: coaches' video from midfield and end zone cameras, TV copy as well as still photographs," Hollis' statement reads. "Once the internal review is completed, we will forward a written report on to the Big Ten."
If Big Ten commissioner Jim Delany doesn't agree with Michigan State's findings or potential penalties, he has three business days to reply to the school with a decision. While the process could go beyond Saturday's game between Michigan State-Wisconsin, it would be very surprising if Delany doesn't act quickly.
The Big Ten in 2009 imposed three one-game suspensions for sportslike conduct violations, typically on the Friday before games. Two of these suspensions -- Michigan LB Jonas Mouton and Purdue OL Zach Reckman -- stemmed from incidents after a play, while the other was imposed for a helmet-to-helmet hit by Ohio State S Kurt Coleman.
Earlier this month, Illinois suspended LB Jonathan Brown for a game for striking a Northwestern player in the groin. The Big Ten supported the decision.
Gholston is listed as a starter on Michigan State's depth chart for the Wisconsin game. Coach Mark Dantonio declined to comment on Gholston, citing the ongoing review by the school and the Big Ten. Dantonio said his team doesn't play dirty football.
Although Hollis didn't name Gholston in his statement or indicate how Michigan State will act, he did state, "This is an isolated incident and Coach D and his staff will continue to emphasize the importance of maintaining one's composure during the heat of the moment."
Rarely do these incidents result in no discipline, so it's likely there will be some action taken by Michigan State or the Big Ten. While the process could carry on for a few more days, we'll probably have a resolution before the Wisconsin game.
One thing for MSU to consider: while the Wisconsin game is big, next week's game at Nebraska is arguably bigger as it takes place within the Legends division and on the road. You can make a case that if Gholston is to be suspended, Michigan State would benefit more from having him against the Huskers.
September, 13, 2010
9/13/10
5:44
PM ET
As Michigan players celebrated early Saturday evening at Notre Dame Stadium, two thoughts came to mind for many folks.
1.
We've seen this movie before.
2.
It doesn't end well.
The script goes like this ...
[+] Enlarge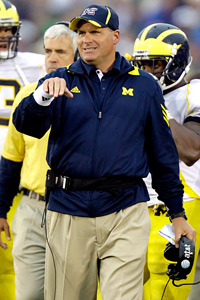 AP Photo/Michael ConroyThe hot start by coach Rich Rodriguez's Michigan team this season feels familiar.
Michigan enters the season under intense scrutiny. ... The offseason hasn't brought much joy. ... Coach Rich Rodriguez is under fire. ... The Wolverines open against an opponent believed to be pretty decent and projected, at least by some, to win the game. ... Michigan handles the opponent easily behind the magic of a young quarterback. ... The Wolverines then face rival Notre Dame and provide one of the season's best games to date. ... The young quarterback leads the game-winning touchdown drive and Michigan beats the Irish by four points. ... The young quarterback receives national acclaim ... The Wolverines enter the AP Poll for the first time that season.
There's only a handful of differences between Michigan's start to 2009 and 2010.
First opponent: Western Michigan (2009), Connecticut (2010)

Young quarterback: Tate Forcier (2009), Denard Robinson (2010)

Notre Dame score: 38-34 (2009), 28-24 (2010)

First AP Poll rank: No. 25 (2009), No. 20 (2010)
In 2009, the Wolverines fizzled after their fast start, dropping seven of their final eight games to miss a bowl game, an unthinkable result after the Notre Dame win. Forcier had his ups and downs, though he got no help from a defense that melted down faster than a Popsicle in Tucson.
As Michigan left the field after its sixth consecutive loss to archrival Ohio State, destined for another winter at home, the fast start felt like years away.
What's to say it won't happen again this year?
Connecticut and Notre Dame both could be overrated, as Western Michigan and Notre Dame were in 2009. Michigan's defense is still prone to major breakdowns, like letting a tight end get behind everyone for a 95-yard touchdown late in the fourth quarter, as Notre Dame's
Kyle Rudolph
did Saturday. In the coming weeks, the Wolverines will face better defenses from Wisconsin, Iowa, Penn State and Ohio State, units unlikely to get embarrassed by Robinson. And how long can Robinson last after carrying the ball 57 times in the first two games?
These are all valid concerns, and they could come to fruition.
The similarities between 2010 and 2009 certainly are present, but so are several key differences that should translate into a better end result.
Here are three of them.
1. Robinson:
His numbers are simply mind-boggling, as ESPN Stats & Information
details here
. You rarely see players set records like these in their first two career starts. But it's more than the numbers. Robinson is working his magic within the confines of Rich Rodriguez's spread offense. It isn't just a gifted player making plays; it's how Rodriguez's offense is supposed to look when in rhythm. Forcier also dazzled us last season, but he did his best work as an innovator, outside the pocket and, in many cases, outside the structure of the offense. Once defenses forced him to stay in the pocket, he made mistakes. This isn't a knock against Forcier, who showed a ton of guts as a freshman, but in some ways, he was a better improviser than quarterback in 2009. Robinson's passing ability provides another element, and I've been really impressed with his throws and decision-making in clutch situations, particularly on third down. If defenses have to respect his arm, he'll be even more dangerous.
2. The offensive line:
Pegged as one of the team's strengths entering the fall, the line has met the challenge. Center David Molk provides a huge lift in the interior, and Michigan has better depth throughout the group. Robinson clearly doesn't need much room to gash defenses, and the line is providing enough. Michigan has allowed only two sacks throughout the first two games after allowing 28 last season. The Wolverines need to get their other running backs going, but so far, the line looks solid. Perhaps most important, there's a greater familiarity throughout the offense of what is expected.
3. Defense:
Will this be a top-30 defense? No. But it won't be as bad as last season's unit, either. The front seven has some solid pieces, including Mike Martin, Craig Roh and Jonas Mouton, who is stepping up nicely at linebacker after some struggles in 2009. A young secondary remains a major concern and breakdowns like the one against Rudolph simply can't happen, but the upcoming schedule (Massachusetts, Bowling Green, Indiana) should give the group time to mature.
We could end up seeing a 2009 re-run, which likely would spell the end for Rodriguez. Robinson's health is a HUGE concern going forward. And if Michigan falls apart, I'll be the first to say I was wrong.
But this team looks different.
Will Michigan win 10 games? Probably not. But I don't see another collapse, either.
It's easier to buy in this time around.
July, 12, 2010
7/12/10
3:51
PM ET
If you can't tell, our theme today is hot matchups for the 2010 season, the games that are already stoking the fires on college campuses around the country.
The
Michigan-Michigan State game in Ann Arbor
fits the description, and I'd rather be nowhere but the Big House on Oct 9. But there are other grudge matches in the league this fall, and colleague Mark Schlabach mentions three of them in his
top 10 national rundown
.
The Michigan-Purdue game on Nov. 13 at Ross-Ade Stadium comes in at No. 5.
The Big Ten matchup might seem like the most unlikely of rivalries, but there's plenty of bad blood boiling between the Boilermakers and Wolverines. Former Purdue coach Joe Tiller referred to Michigan coach Rich Rodriguez as a "guy in a wizard hat selling snake oil," and then new Boilermakers coach Danny Hope handed Rich Rod a 38-36 loss in the Big House in '09. The head coaches exchanged words at midfield after Purdue's first victory in Ann Arbor since 1966.
My take:
The Tiller-Rodriguez and Hope-Rodriguez spats are totally unrelated, but it's interesting how this particular matchup has created some controversy between the coaches. After Purdue's historic win last year at Michigan, Hope met Rodriguez at midfield and motioned for offensive lineman Zach Reckman to join them. According to Rodriguez, Hope said, "Thanks, coach. Really appreciate what you did," referring to Rodriguez calling for the Big Ten to assess all potential unsportsmanlike incidents equally. Michigan had seen its starting linebacker Jonas Mouton suspended for throwing a punch against Notre Dame, and Rodriguez identified Reckman's late hit against Northern Illinois as another potential violation for the Big Ten to review. The league concurred and suspended Reckman for a game, a decision that didn't sit well with Hope. No one is going to place Purdue among Michigan's top rivals, but last year's incident might add some fuel to a mid-November matchup that could have huge implications for both teams and especially Rodriguez, whose job might be on the line.
Schlabach ranks the Miami-Ohio State game at No. 8.
The teams haven't played since the unforgettable 2003 Fiesta Bowl, which ended with the Buckeyes' winning their first national championship since 1968. Since Ohio State's 31-24 victory in double overtime, fans of both schools have tried to forget about former Buckeyes running back Maurice Clarett, who produced a game-changing strip of the ball and an embarrassing string of off-field incidents.
My take:
I tend to think enough time has passed to turn down the heat on any potential Canes-Bucks rivalry, but maybe not. I still get plenty of e-mails about the pass interference call that helped Ohio State win the title. Ohio State seems to have more bad blood with the SEC in general, but it should get a little rowdy in The Shoe on Sept. 11. I look at this as a great matchup, but not really a heated one.
Schlabach lists the Iowa-Northwestern game at No. 9.
The Wildcats handed the Hawkeyes their first loss of the '09 season with a 17-10 upset in Iowa City. Iowa quarterback Ricky Stanzi missed most of the game with an ankle injury, and the Hawkeyes' 13-game winning streak -- and BCS national championship hopes -- came to a screeching halt.
My take:
The more I think about it, Iowa-Northwestern easily could have been my pick for the Big Ten's hottest game in 2010. Iowa fans will never publicly list Northwestern among their top rivals, but they can't stand losing to the Wildcats. Injuries and turnovers certainly have played major roles in the recent matchups, but that's football. Both teams have developed strong reputations for player development in the last decade, taking average or overlooked recruits and transforming them into All-Big Ten players. There's a lot of bad blood between the fan bases, and I know from covering Northwestern that the players always felt Iowa was a rival. Iowa gets a chance to exact revenge this fall in Evanston, while Northwestern can continue to torture the Hawkeyes with a win.
November, 21, 2009
11/21/09
2:10
PM ET
ANN ARBOR, Mich. -- Jim Tressel hates turnovers, and the Ohio State head coach just got another reminder of how damaging they can be.
Tressel, who many have said takes the ball out of
Terrelle Pryor
's hands too much, watched Pryor throw his first interception since Oct. 24. Michigan capitalized with some magic from quarterback
Tate Forcier
, and the Wolverines cut their deficit to
14-10
.
Pryor telegraphed his throw to
DeVier Posey
on third-and-4, and Michigan linebacker Jonas Mouton intercepted the ball after a deflection. I'm still puzzled why Pryor doesn't just run the ball more often, as Michigan hasn't been able to consistently stop him.
Forcier, meanwhile, showed why he's one of the Big Ten's most exciting players. He kept a third-down play alive with his feet, found an open area and then made an unbelievable throw across the field to
Vincent Smith
for an 18-yard touchdown. The freshman is definitely a gamer, and he's trying to lead Michigan back.
Michigan wideouts
Roy Roundtree
and
Greg Mathews
both are turning in big performances today.
September, 28, 2009
9/28/09
5:33
PM ET

Posted by ESPN.com's Adam Rittenberg
The Big Ten might lack a top 5 team, but the league leads the nation in suspending its own players.
Ohio State star safety Kurt Coleman on Monday became the third Big Ten player in as many weeks to be issued a
one-game suspension
from the conference office.
Coleman will sit out this week's game at Indiana because of a helmet-to-helmet hit on Illinois quarterback
Eddie McGee
in the final minutes of Saturday's 30-0 Ohio State victory. Officials flagged Coleman for a personal foul, and though he wasn't ejected, he left the field and did not return.
In issuing Coleman's suspension, the Big Ten cited a new NCAA rule requiring conference to review flagrant personal fouls, especially those involving helmet-to-helmet contact and "targeting an opponent."
From the Big Ten's news release:
In the 2009-10 NCAA Football Rules and Interpretations, Rule 9-6, Article 2, states: "When there is a foul called for initiating contact/targeting an opponent [Rule 9-1-3] that does not result in a player disqualification, there shall automatically be a video review by the conference for possible additional sanctions before the next scheduled game." Rule 9-1, Article 3.a., states in part that "no player shall initiate contact and target an opponent with the crown [top] of his helmet." Rule 9-1, Article 3.b., states in part that "no player shall initiate contact and target a defenseless opponent above the shoulders."
The Big Ten reviewed the play and consulted with NCAA National Coordinator of Officials Dave Parry before imposing the one-game suspension for Coleman.
Ohio State athletic director Gene Smith and head football coach Jim Tressel issued a joint statement Monday disagreeing with the league's decision.
"Obviously, we will abide by the one-game suspension from the Big Ten Conference, but we feel as if there was poor judgment throughout," Ohio State's statement reads. "We concur that Kurt's hit was late and a result of poor judgment; he was thus penalized and removed from the game by his coaches. We do not agree that it was 'premeditated' or that he was 'targeting a defenseless' player. The decision to suspend points to the conference office's feeling as if there was poor judgment by the game officials for their decision not to eject at the time. In our estimation, the final 'poor judgment' is in levying a one-game suspension in this particular case. We will abide by the decision, learn from it, and move forward."
Wow. It doesn't seem like the Big Ten's recent string of suspensions is sitting well with its members.
The league
suspended Michigan linebacker Jonas Mouton
for punching Notre Dame's Eric Olsen in a Sept. 12 game, while Purdue offensive lineman Zach Reckman was
suspended for Saturday's game
against Notre Dame after a late hit at the end of the Northern Illinois loss.
The difference here is neither Mouton nor Reckman drew penalties for their actions. Michigan wouldn't have suspended Mouton had the league not intervened, while Purdue planned a one-quarter suspension for Reckman.
Coleman is a co-captain at Ohio State and by all accounts a fabulous representative for the team and the university. Ohio State understandably hates to see a guy like Coleman cast in a negative light.
The league, by the way, had no comment on Ohio State's response when I checked in this afternoon.
By suspending a prominent player like Coleman, the Big Ten reiterated the message that on-field conduct will be closely examined and severely punished, if necessary. It'll be interesting to see if other conferences follow suit or not.
May, 21, 2009
5/21/09
10:00
AM ET
Posted by ESPN.com's Adam Rittenberg
We've already looked at players to watch and spring surprises. Now it's time to look at the guys who didn't do much during spring practice but will play vital roles for Big Ten teams this season.
Who needs to step up for each team?
Donsay Hardeman, S, Illinois -- Neck surgery sounds pretty scary, but Hardeman likely will return to the field this fall after undergoing the procedure during the offseason. He can provide experience at the all-important safety spot after recording 44 tackles, an interception, a forced fumble and a fumble recovery last fall.
Deonte Mack, DT, Indiana -- Any number of players could fit in this spot for the injury-plagued Hoosiers, but Mack, who missed spring ball following hip surgery, must provide leadership at an extremely thin position. Pass-rushers Greg Middleton and Jammie Kirlew will only be effective if opponents have to worry about the interior line.
Tony Moeaki, TE, Iowa -- It's hard not to pull for Moeaki, a heralded prospect who has endured injury after injury with the Hawkeyes and was on crutches during spring ball. He's expected to return this summer and possibly fill a key role after Iowa lost first-team All-Big Ten tight end Brandon Myers.
Jonas Mouton, LB, Michigan -- Michigan's improvement on defense must start with the linebackers, and Mouton returns to the mix after shoulder surgery kept him off the field this spring. Mouton finished second on the team in tackles last fall (76) and could form a solid linebacker tandem with Obi Ezeh.
Jeremy Ware, CB, Michigan State -- One of several contributors in the Spartans' secondary to miss spring ball with injuries, Ware will be a key name to monitor during the summer. He emerged nicely last season, recording an interception and six pass breakups.
Eric Decker, WR, Minnesota -- Decker wasn't hurt this spring, but he spent the time playing center field for the Gophers' baseball team. There's little doubt he's one of the nation's best receivers, but he must absorb a new offensive system installed this spring and re-establish rhythm with quarterbacks Adam Weber and MarQueis Gray.
Corey Wootton, DE, Northwestern -- How Wootton recovers from ACL surgery could shape Northwestern's defense this fall. The All-Big Ten selection missed spring ball but is ahead of schedule on his recovery and expects to practice this summer. With questions on offense, the Wildcats need Wootton to return to top form.
Dane Sanzenbacher ,WR, Ohio State -- A projected starter in the slot, Sanzenbacher missed the latter part of spring practice with a high ankle sprain. He might be Terrelle Pryor's most dependable target heading into the fall, so a strong summer will be vital for the junior.
A.J. Wallace, CB, Penn State -- The secondary remains the biggest question mark for Penn State, and Wallace can ease some of head coach Joe Paterno's concerns with a strong preseason camp performance. Hamstring problems once again slowed Wallace this spring, but the Lions sorely need his speed in pass coverage.
Jaycen Taylor, RB, Purdue -- Taylor has by far the most experience of any Boilermakers running back, so his return this summer from a torn ACL looms large. Ralph Bolden put himself in the mix for the starting job with a stellar spring, but Taylor gives new head coach Danny Hope with a proven ball-carrying option.
Louis Nzegwu, DE, Wisconsin -- Unlike a year ago, the Badgers avoided many major injuries this spring, but they'll certainly be watching Nzegwu during the coming months. The immensely gifted sophomore improved his body and impressed the coaches early on during spring ball until sustaining a torn MCL on March 31.
September, 27, 2008
9/27/08
5:27
PM ET
Posted by ESPN.com's Adam Rittenberg
ANN ARBOR, Mich. -- A bye week clearly didn't teach Michigan how to respect the football.
After giving away the Notre Dame game with seven turnovers, the Wolverines have fumbled six times in the first half today, losing three. Redshirt freshman quarterback Steven Threet topped off the turnover spree by tossing two interceptions within the final two minutes. That's absolutely pathetic, especially after a two-week break in which I'm sure Rich Rodriguez and his staff stressed the importance of limiting turnovers. And it's not just young players. Senior Morgan Trent fumbled a kickoff return.
How bad has it gotten for the Maize-and-Blue faithful? They sarcastically cheered kickoff returner Martavious Odoms for simply hanging onto the ball on a short runback with five minutes left in the half. I just walked by several "Old Blues" in the press box who are saying this is the worst they've ever seen Michigan play at the Big House, and it's the 500th game.
Can Michael Phelps start taking snaps for Michigan?
And it's not like the Wolverines are doing anything when they keep the ball. Michigan finished the half with 21 total yards and minus-7 passing yards. Can you say Notre Dame of 2007?
Barring a dramatic turnaround after halftime, Michigan will find itself at the bottom of the Big Ten power rankings on Monday.
Wisconsin is doing what Wisconsin does best: dominating the line of scrimmage and capitalizing on an opponent's mistakes. The Badgers don't get much respect nationally because they aren't flashy, they don't run a spread offense and their quarterbacks are fairly anonymous. But this defense should start generating some buzz. They're laying the wood to Michigan right now on almost every play. LinebackersJonathan Casillas and DeAndre Levy have been fabulous. Sam McGuffie has no room to run, and Threet is constantly under duress.
John Clay is healthy, by the way. The Badgers' third-string running back sat out several practices with back spasms but looked just fine on a 46-yard scamper that set up a P.J. Hill touchdown. Clay could be Wisconsin's most talented back, but Hill is the established starter and has another year of eligibility left. It will be interesting to see how Wisconsin uses the two backs as Clay gains more experience. Nice problem to have.
Credit the Michigan defense for hanging in there. Linebacker Jonas Mouton is having a solid game, and the veteran-laden line had done its best. But when the offense gives the defense no chance, there's only so much you can expect.
All-American tight end Travis Beckum remains on the sideline, his helmet now no longer on his head. The Badgers don't need Beckum the way they're dominating this game. Save him for Ohio State next week. This one looks like it's over.