NCF Nation:

Jonathan Allen
September, 19, 2014
Sep 19
12:00
PM ET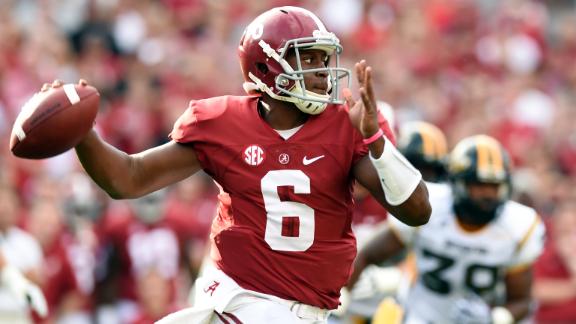 Finally, the game is almost here.
For both Alabama and Florida, it's been a long time coming. The Crimson Tide breezed through the nonconference portion of their schedule to get here. The Gators missed their season-opener, gassed Eastern Michigan and survived Kentucky to reach its trip to Tuscaloosa undefeated and eager to prove that last season was a fluke.
What do we know about both teams so far? Not a lot. But that's what Saturday is for.
To get you prepared, we had SEC writers Jeff Barlis and Alex Scarborough assess the matchup.
Scarborough:
Let's start with the pretty boys.
I could tell you
Blake Sims
is a changed man. I could tell you he's transformed overnight into a quarterback capable of carrying an offense against a good defense like Florida's. But I might be stretching the truth.
[+] Enlarge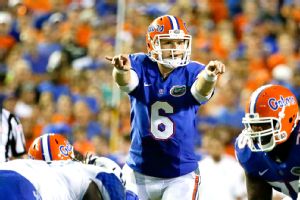 AP Photo/John RaouxThe challenge for Florida will be to keep Alabama's defensive line off Jeff Driskel.
Sims' numbers are impeccable -- 75 percent completion percentage, 215 passing yards per game, six total touchdowns, one interception -- but that's just the top layer. Dig deeper and you'll see that of Sims' 646 total yards passing, 454 of which has gone to one receiver. And that one receiver,
Amari Cooper
, has racked up 245 of those yards after the catch.
So what happens when Vernon Hargreaves III takes away those quick passes that have been so effective? What happens when Dante Fowler rushes off the edge? What happens when Sims gets in the weeds?
Frankly, I don't know.
But I do know this: I trust him more than I do
Jeff Driskel
.
Barlis:
There's no doubt Driskel's performance against Kentucky undermined some of the optimism that had grown for him and for the Gators. He failed to recognize obvious blitzers, didn't run the ball when he needed to, didn't give his receivers a chance at catching the deep ball, and hesitated to hit an open
Demarcus Robinson
for a touchdown on what could have been a crushing mistake in overtime.
Driskel's numbers -- 25-of-43 passing for 295 yards, three touchdowns and an interception -- weren't bad, though, and he deserves credit for some key plays that helped Florida stave off a colossal upset.
I don't think anyone is expecting Driskel to brilliantly engineer an upset of his own this Saturday, but he can't afford the kind of big mistakes that have plagued him in the past. He just needs to be efficient, manage the game and give his team a chance.
It's not all on Driskel's shoulders. I think one of the biggest matchups of this game will be in the trenches when Florida has the ball. The Gators' offensive line has been a sore spot, particularly in pass protection, for the last couple of years.
Starting left tackle
D.J. Humphries
(ankle) is out, and while senior right tackle
Chaz Green
is a capable fill-in, his understudy is
Roderick Johnson
, a redshirt freshman making his second start in the third game of his career. He's never seen anything like the No. 3 Tide and it's stable of defensive linemen.
Scarborough:
That's an interesting point. Alabama's D-line has been solid so far, but hasn't lived up to the preseason hype yet.
A'Shawn Robinson
, the All-SEC tackle/end, has no sacks and only half a tackle for loss. He's got help rushing the passer with
Ryan Anderson
, Xavier Dickson and
Jonathan Allen
, but that group can't allow Driskel time in the pocket.
If that happens, watch out for Alabama's secondary.
Nick Perry
will miss the first half after being ejected for targeting, and
Jarrick Williams
isn't likely to play after fracturing his foot a few weeks ago. Those are two of the Tide's most veteran DBs.
Landon Collins
is as solid as they come at safety, but he'll need help.
Eddie Jackson
's return has been a boon, but pay attention to rookie
Tony Brown
, whom Nick Saban said will play a lot on Saturday.
Still, my biggest question mark for Alabama isn't on defense. Setting aside Sims' play at quarterback, who is going to step up besides Cooper?
O.J. Howard
hasn't caught a pass all season and
Christion Jones
has dropped a few passes himself.
While there are a lot of talented tailbacks to turn to, I'll be interested to see how Alabama's receivers and Florida's defensive backs match up.
Barlis:
I will, too. These are two of the best run defenses in the SEC if not the country. Although both teams are inexperienced in the defensive backfield, neither passing game has more than one scary playmaker -- Cooper for the Tide, and Robinson for the Gators.
It appears both defenses will be in a similar situation -- apply consistent pressure on the quarterback or else a vulnerable secondary could be exposed. Florida's D-line was strong in the first half against UK but fatigued in the second when
Patrick Towles
went off. That made the mistakes by young DBs even more glaring.
I say the matchup the matters most on Saturday is Florida's defensive line against Alabama's offensive line. The Gators desperately need someone other than Dante Fowler Jr. to emerge, but I'm not sure this is the game for that to happen. Bama has an outstanding line that has keyed a deadly efficient offense. The Tide have just two three-and-outs in 32 possessions this season.
The bottom line in what could very well be a defensive struggle is that both teams prefer to run the ball but probably won't be able to dominate the game that way. It'll be up to the passing attacks.
I'm not sure Florida is quite ready to play with enough tempo to affect Alabama's defense. So whichever line keeps its quarterback the cleanest will win this game, and it will be closer than many folks think.
August, 28, 2014
Aug 28
2:00
PM ET
TUSCALOOSA, Ala. -- Nick Saban opened fall camp with a lofty bit of rhetoric. Speaking with reporters for the first time since spring practice ended, he said how important it was for players to understand that, "The time is now." Everything they'd done during the offseason -- "from conditioning to running the stadium steps" -- had led to this.
How the season would play out, he said, was up to them.
"The challenge is to sort of resurrect our identity, in terms of what we want Alabama football to be," he said.
[+] Enlarge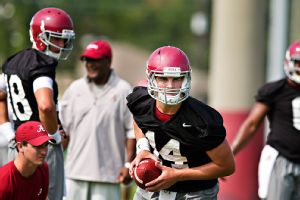 AP Photo/Brynn Anderson
The morbid imagery was interesting -- and intentional. A few days later, Saban reiterated the theme in his opening comments, saying that, "The message really doesn't change. The time is now to resurrect the identity of the Alabama football program." There was even more conviction the second go-round: Alabama flatlined last season. Losing in the last second to Auburn was the knock-out punch. Getting blown out by Oklahoma was the death knell and the eulogy.
Only in Tuscaloosa would a 10-2 record and a berth in the Sugar Bowl be considered an abject failure. Only a coach like Saban would insist that resuscitation and rebirth was required.
"With a program like Alabama if you don't win national championships people think that's a failure," said safety
Nick Perry
.
But resurrection? Isn't that a little over the top?
At the very least, it's ambiguous. How exactly does one resurrect themselves? It's not as defined as becoming a better zone-blocking team or mastering the two-minute offense.
"I think he just means that we need to be one," said offensive tackle
Austin Shepherd
. "We don't need to be little pods of people in groups. When he talks about it to us, he just says that we need to be a group, get out there, play together, and then once you're off the field you guys need to hang out because that means you guys are going to click better on the field."
Jonathan Allen
, a promising young defensive end, agreed. He said the team wasn't as connected as it should have been. The chemistry wasn't there.
"We lost it toward the end of last year," he said.
"We want to be a team," Saban said, "and we want the identity of our team to include 'we,' which means all players are together, take care of each other and take responsibility."
That's fine and all, but how will that ultimately be measured? How will we know if Alabama dusted off the ashes and began anew?
The problem is we won't know for quite some time. In fact, it might not be clear until the games are over and the history of the season is written.
After all, who outside the program noticed trouble brewing before the Iron Bowl debacle? Anyone claiming to have heard forlorn whispers when Alabama was still No. 1 might be stretching the truth. Even after the loss at Auburn, many expected the Tide to pick back up and wipe the floor with Oklahoma.
Complacency? Please. That wasn't an issue, we were told time and time again. That is, until back-to-back losses put Alabama on its back. Then the explanations came in waves, most notably from AJ McCarron, who said how "success was our killer" and that there was a sense of entitlement that permeated the locker room.
To keep those demons away, Saban wants a fresh start. He wants the focus on togetherness and chemistry and all the intangible things we're told make a champion.
But the truth is winning cures all. Winning makes for good teammates and happy coaches. Winning means not having to say you're sorry.
It's why
Blake Sims
and
Jake Coker
are currently entangled in a quarterback battle. Coker has the arm. Sims has the locker room. And, in the end, it's not who has the most friends in the huddle, it's who can throw the ball down the field best.
If you want to know the identity Alabama is trying to resurrect, all you have to do is look up as you enter the Mal Moore Athletic Facility from the players' parking lot. There, in full view on the second floor, are three crystal footballs. Once inside, you'll see the number 15 everywhere. That number -- Alabama's total number of national championships -- is the only thing that matters.
If Alabama wants No. 16, it will take a quarterback coming into his own, a freshman left tackle learning in a hurry, and a defense returning to form.
Call it resurrection if you want. How it's done -- whether it be with a festive locker room or a business-like sense of purpose -- is only window dressing.
August, 7, 2014
Aug 7
7:05
PM ET
TUSCALOOSA, Ala. -- University of Alabama defensive lineman
A'Shawn Robinson
sprained his knee on Sunday and is "day to day," according to coach Nick Saban.
"It's not surgical," Saban said. "It's probably going to take a few days before we get him back out there, maybe a week or so."
Robinson played in every game and started two contests as a true freshman last season, racking up 38 tackles, eight tackles for loss and 5 1/2 sacks. The 6-foot-4, 320-pound former four-star prospect was a first-team All-SEC selection by the media in July.
"We're going to be pretty cautious with this kind of thing, especially with his position because it's not easy to function as an inside player if you have a sprained knee," Saban said.
On Thursday, Alabama welcomed defensive tackles
Brandon Ivory
and
Jarran Reed
back into the fold. The two were suspended at the start of camp for violation of team rules. Ivory, a senior who started every game last season, was seen practicing without pads on Thursday.
The good news for Alabama is that if there is any position where it can absorb personnel loss, it's the defensive line.
Jonathan Allen
,
Korren Kirven
,
Darren Lake
and
Dee Liner
all saw the field last season, with Allen playing in all 13 games as a true freshman.
Dalvin Tomlinson
, who would have been Alabama's third defensive end last season had he not had surgery on his knee, is back. Then there's the 2014 class that includes five-star
Da'Shawn Hand
, former Freshman All-SEC selection
D.J. Pettway
and 330-pound rookie
Joshua Frazier
.
"We thought that the defensive line was an area where we had pretty good depth coming in with the guys we recruited," Saban said. "But it's provided an opportunity to create more reps for some of the younger players. Dalvin Tomlinson, Jonathan Allen, D.J. Pettway; those guys have gotten a ton of reps. It's allowed
Josh Frazier
to get a ton of reps, who is just a freshman, as an inside player. Darren Lake, Korren Kirven, a lot of guys.
"We obviously need to get some of these bigger guys back so we can be a little more solid inside. But I think it's always good that young players get a lot of reps."
April, 3, 2014
Apr 3
9:00
AM ET
TUSCALOOSA, Ala. -- It started out innocently enough as Alabama coach Nick Saban ribbed the media on Monday about returning from spring break. He acted surprised when one reporter said she didn't take the time off, noting sarcastically how, "You really appreciate them when you work hard."
The jab was obvious as he gave a sly look around the room as if to say that hard work was a foreign concept to the press. One writer quipped, "Why are you looking down here?"
A smirk from Saban: "I don't know. I'm wondering."
The playful mood lasted a hiccup longer and then it was back to business as Saban said how his players were starting to worry too much about the depth chart, followed by a news flash: "We really don't have a depth chart."
[+] Enlarge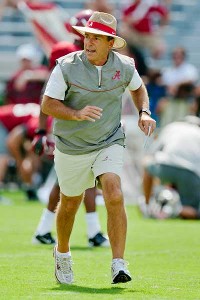 Kevin Liles/USA TODAY SportsFighting expectations and speculation during spring practice is nothing new to Nick Saban.
Later on came the question that really set him off.
Saban can talk about X's and O's all day. The problem is there's hardly anything concrete about spring practice. There's no game film, no stat book, no players of the week. Without a depth chart, there's only who's getting better and who's getting worse. And without results, that's a matter of opinion.
But Saban isn't fond of conjecture. He's even less fond of appearances, apparently.
"What does appear mean?" Saban said, responding to a question about the perceived depth of his defensive line. "It just means you've dreamed about it and it's there?"
A quick clarification before he fired back: "What it looks like on paper? We've never seen these guys play or seen them take on an SEC lineman. But it appears."
He continued, putting a point on the matter: "That's how we form public opinion because something appears to be that way and everyone believes it."
Such was a sneak peek into the mind of Saban. There's no room in there for what could be. There's a standard he's trying to uphold and anything that takes him away from that -- say, speculation -- isn't tolerated.
It's an odd conundrum to have a program that loathes appearances while at the same time being such an object of speculation. It's like a celebrity shunning the paparazzi. You want to avoid them but they're always there.
Alabama is nonetheless wrought with pressure from the outside. Inside the bubble of the football offices it's all business, but everywhere around there's immense expectations and boundless conjecture about wins, losses, championships and future stars.
Saban might claim to not have a depth chart, but every day is a constant battle for fans to determine who the starters will be on a team that loses two starting offensive linemen, two veteran receivers, two high-profile linebackers and three key contributors in the secondary. Oh, and there's also the small matter of
AJ McCarron
leaving a vacancy at starting quarterback -- just don't ask Saban about that race because he'll tell you to hold your horses and be patient.
Take for instance the question about the defensive line. Saban might not see his group in a good light today, but when you look at the depth Alabama has up front on defense, it's scary.
A'Shawn Robinson
was one of the most impressive rookies in the SEC last season. He's joined by
Jonathan Allen
, another true freshman who was promising off the bench.
Brandon Ivory
is back at nose guard,
Darren Lake
returns as his backup and there are a number of options to bring in the rotation around them.
Dalvin Tomlinson
, when healthy, has the potential to be a game changer. And we haven't even mentioned the return of former Freshman All-SEC choice
D.J. Pettway
and the eventual arrival of five-star
Da'Shawn Hand
.
List those names all you want, just don't expect Saban to sing their praise. It's simply not his way to buy into the hype.
"I'm not satisfied with the way any of them are playing, if you want to know the truth about it," Saban said of his D-line. "They've got to be more aggressive, physical, play with better leverage, hold the point better, rush the passer better. I didn't think that last year was one of our best years up front, and even though we have a couple new players competing and Dalvin Tomlinson back, I think all of them have a ways to go. A'Shawn Robinson has a lot of ability, but I think we need to get him in shape and he's got to play with better focus and intensity down in and down out to be more consistent.
"So defensively we have a ways to go to improve to get back to the level and our standard of what we like to play here."
Though sometimes it feels like Saban is constantly fighting with reporters, he's not. The speculation extends far beyond the walls of the media room and the pages of newspapers. It's all the talk that drives Saban nuts because it has a way of reaching his players, inflating their egos long before they've earned their stripes. Remember Saban's comment about the depth chart? That came unsolicited, a direct shot at his team one floor below in the locker room.
What Saban is fighting is the standard. While others are taking time off, he's busy worrying about the next move, not the next question about how things appear.
How it looks on paper? He'd rather see how it looks with his eyes, and then he'll get back to you.
January, 9, 2014
Jan 9
6:50
PM ET
TUSCALOOSA, Ala. -- It happens every year now, so don't act surprised. If you're an Alabama fan, deal with it. If you're not, don't weep for the Crimson Tide, either. Coach Nick Saban has lost multiple underclassmen to the NFL before, so
Thursday's news
that safety
Ha Ha Clinton-Dix
, offensive tackle
Cyrus Kouandjio
, linebacker
Adrian Hubbard
and defensive end
Jeoffrey Pagan
will all leave school early is no insurmountable thing. This is just the reason why Saban and his staff recruit so hard.
[+] Enlarge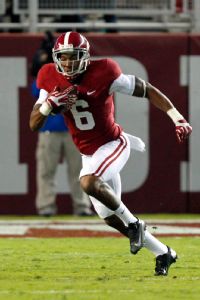 AP Photo/Butch DillSafety Ha Ha Clinton-Dix is one of four Alabama players who are leaving school early to enter the 2014 NFL draft.
Their leadership and experience will be missed -- along with seniors
AJ McCarron
,
C.J. Mosley
and
Anthony Steen
-- but their talent can be replaced. When you're the only school in the country to finish in the top three of ESPN's class rankings every year since 2008, you have that luxury of plug-and-play. Blue-chip prospects overflow from Alabama's football offices, rattling out its pockets every once in a while like loose change.
"Our twos and threes could do what I did out there," Clinton-Dix said of the team moving forward. "I'm not worried about any of those guys stepping up."
Alabama will be fine without Pagan, Hubbard, Kouandjio and Clinton-Dix. Many of their replacements are already on board:
Landon Collins
at safety,
Leon Brown
at tackle,
Dillon Lee
at strongside linebacker,
Jonathan Allen
at defensive end. Those who will challenge them for playing time are either just now arriving or just now finishing their first seasons in Tuscaloosa: defensive backs
ArDarius Stewart
and
Laurence 'Hootie' Jones
, tackles
Grant Hill
and Cam Robinson, linebackers
Tim Williams
and
Da'Shawn Hand
, and defensive ends
Dee Liner
and
D.J. Pettway
-- all excellent prospects.
It's easy to look at the loss of stars and say, "Oh no!" but that's not how it works at Alabama. It wasn't that long ago that safety
Mark Barron
left school and Clinton-Dix entered the fold.
D.J. Fluker
went to the NFL a year early and
Austin Shepherd
had little trouble at right tackle in his absence.
Eddie Lacy
torched Notre Dame in last year's BCS title game, announced he was turning pro and Alabama never missed a beat. Not only is
T.J. Yeldon
back for his junior season, a fella by the name of
Derrick Henry
appears ready to be his new sidekick.
This is the program that Saban has built. This is what his "Process" has borne. And it's embraced around campus. Just look at
this
,
this
and
this
from Alabama's director of player personnel Tyler Siskey. As Saban told reporters, "We've had 13 guys go out early for the NFL draft, 11 of those guys have been first-round draft picks."
Often when other schools lose key players to the NFL, there's a mad scramble to find their replacements. At Alabama, coaches turn to a stocked cupboard. Take the safety position, for instance: Cinton-Dix goes out with off-field drama and Collins enters the fold at free safety, followed by
Vinnie Sunseri
blowing out his knee and Collins then shifting over to strong safety. Collins, a former five-star prospect in his own right, immediately found success. A year after playing primarily on special teams, he finished second on the team in tackles, tied for first in interceptions and tops in passes defended.
Sure, Saban would love to see Pagan, Hubbard, Kouandjio and Clinton-Dix back for another year. Just don't expect him to openly weep about it. He's probably more than thrilled that
Trey DePriest
and
DeAndrew White
should be sticking around for their senior seasons.
You know, two out of six isn't bad. Three championships in five years seems to be going over quite well in Tuscaloosa.
Alabama will survive and new stars will emerge next season. Sometimes you hate to see athletes like Clinton-Dix leave early, but their departure only clears the way for who's next.
May, 23, 2013
5/23/13
1:15
PM ET
ESPN's Tom Luginbill has selected
five freshmen who are enrolling this summer
that he thinks will make an immediate impact in the fall.
Two of the players on his list will be playing in the SEC -- Ole Miss defensive end Robert Nkemdiche and Auburn defensive end Carl Lawson.
Nkemdiche was ESPN's No. 1 prospect nationally in the 2013 class. He was also the No. 1 defensive end. Lawson was the No. 2 defensive end nationally.
Ole Miss and Auburn were both in the bottom half of the league last season in pass efficiency defense, so adding a couple of dynamic pass-rushers should help both the Rebels and Tigers.
Here's a glance at a few other freshmen to watch in 2013 who will be enrolling this summer:
Jonathan Allen, OLB, Alabama:
Ranked No. 28 in the 2013 ESPN 150, the 6-foot-3, 245-pound Allen is a hybrid defensive end/outside linebacker who should be a perfect fit in the Tide's 3-4 defense and add some pop to their pass rush.
Kendell Beckwith, LB, LSU:
Ranked No. 41 in the 2013 ESPN 150, the 6-foot-3, 225-pound Beckwith is a tackling machine, and the Tigers will be looking for a couple of young guys to come in and play at defensive end and linebacker next season.
Alex Collins, RB, Arkansas:
Ranked No. 57 in the 2013 ESPN 150, the 5-foot-11, 207-pound Collins was a huge get for Bret Bielema out of South Florida and has the tools and physical makeup to be one of the Hogs' rushing leaders as a freshman.
LaQuivionte Gonzalez, WR, Texas A&M:
Ranked No. 111 in the 2013 ESPN 150, the 5-foot-10, 160-pound Gonzalez is a blur in the open field and should excel as the Aggies' slot receiver. He's also electrifying in the return game.
Vernon Hargreaves III, CB, Florida:
Ranked No. 3 in the 2013 ESPN 150, the 5-foot-11, 185-pound Hargreaves is the kind of talent who could walk onto campus and be in the starting rotation from Day 1.
Chris Jones, DE, Mississippi State:
Ranked No. 46 in the 2013 ESPN 150, the 6-foot-6, 260-pound Jones specializes in getting to the quarterback, which was a problem for the Bulldogs last season.
MarQuez North, WR, Tennessee:
Ranked No. 133 in the 2013 ESPN 150, the 6-foot-4, 214-pound North is somebody the Vols are counting on to come in and play right away. They were depleted at receiver last season.
Shag Wiggins, CB, Georgia:
Ranked No. 39 in the 2013 ESPN 150, the 5-foot-10, 170-pound Wiggins could join fellow freshman Tray Matthews in the Bulldogs' starting secondary. He'll be in the mix at both cornerback and nickel.