NCF Nation:

Jonotthan Harrison
May, 9, 2013
May 9
1:50
PM ET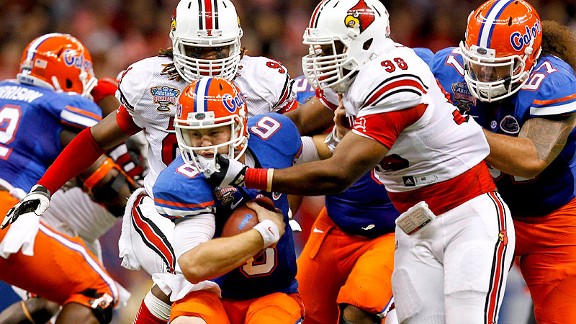 Derick E. Hingle-USA TODAY SportsImproving protection for quarterback Jeff Driskel was one of Florida's top priorities this spring.
GAINESVILLE, Fla. -- Before Florida's offensive line strapped on those shiny orange-and-black knee braces and trotted onto the Gators' practice fields this spring, Tim Davis put them through visual torture.
The Gators' offensive line had a very schizophrenic identity last season, so Florida's second-year offensive line coach decided to show them all the horrors of the up-and-down play in pass protection.
Davis showed his linemen every one of the 39 sacks Florida's line surrendered in 2012. The ugly sack reel was meticulously studied over and over for two or three days, but the torment didn't stop there.
Once the Gators got on the field, Davis had Florida's film crew capture video of each lineman's one-on-one sessions with defenders.
Needless to say, things weren't pretty for Florida's big boys.
"Oh man, it was ugly," left guard
Max Garcia
said with a laugh. "It was ugly in the beginning.
"We understood that we needed to improve in that area."
And if this offense, which had a mediocre passing game, was going to improve this spring, the line had to turn things around.
Now, there were factors working against Florida's line. Seasoned starters Xavier Nixon and
James Wilson
were gone and the line was so banged up that the Gators finished spring with six healthy linemen.
But that didn't stop players from learning and evolving. The education started with the sack reel, where blame wasn't the goal but improvement was. Davis showed all of the mistakes, but instead of singling out players, he discussed what to fix and how to fix it.
The biggest thing linemen took from the film sessions was the lack of communication in pass protection last season. Florida ran the ball so well, averaging 188 rushing yards per game and 4.5 yards per carry, but were last in the SEC in passing (146.3 yards per game).
Talking just wasn't there.
When blocking for the run, communication combinations usually take place with a lineman and another player for a certain defender. In pass block, that communication might have to go through four or more players.
To improve communication, linemen simply talked more in and out of the film room, center
Jonotthan Harrison
said. They also became more vocal with the running backs, tight ends and quarterback
Jeff Driskel
during practice. Having another spring to digest Brent Pease's offense also helped.
"Now that we've developed this communication," Harrison said, "our pass protection is going to be much more successful."
Injuries hurt, but coach Will Muschamp should have 15 scholarship offensive linemen this fall -- eight or nine of which that will be game-ready. And those game-ready bodies have a lot of experience, including new transfer players, like Garcia and tackle
Tyler Moore
, who started for the injured
Chaz Green
at right tackle this spring.
Garcia (Maryland) and Moore (Nebraska) have 16 combined starts. Other potential starters -- Green, Harrison,
Jon Halapio
and
D.J. Humphries
-- have 81 combined starts.
"We're much better up front right now," Muschamp said.
"There are a lot of guys that have had a lot of at-bats. "I really feel comfortable about our depth and talent at the position."
But it isn't just the numbers and physical improvement from the line that have people in Gainesville more excited about this front. This crew is fueled by media criticism hurled their way last year.
"It always eats at us because O-Line is one of those positions that's all work no credit," Harrison said. "So as we do badly, it's pointed out, but when we do the good things they really just underplay the efforts that the offensive line gives.
"We're looking forward to proving everybody wrong, come season time, and prove that we can pass protect and we have worked on it."
Despite low spring numbers, the coaches and teammates were happy with the line's play. Obviously, real improvement won't be made until the games begin, but people seemed convinced that a stronger line will take the field for the Gators this fall.
"They just want to be known as a nasty offensive line that can be able to run and power down your throat and can pass block," Buck defensive end
Dante Fowler Jr.
said. "They want to be an offensive line that when a defensive line has to play against team they're going to be like, 'Well, we're going to have a tough day today.'
"They take pride in that."
December, 31, 2012
12/31/12
11:20
AM ET
The off-field life of Florida running back
Mike Gillislee
is far from glamorous.
While the senior had a legitimate MVP-like year with the best season by a Gators running back since 2004, away from the field he's your typical boring college student -- go to class, eat, sleep, play video games.
The 5-foot-11, 209-pound bruiser would rather keep to himself before talking with his pads on Saturdays.
[+] Enlarge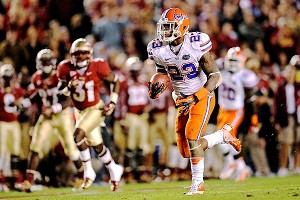 Kevin Liles/US PresswireMike Gillislee became the first Gators running back to top 1,000 yards in a season since Ciatrick Fason.
"It's not that much to do," said Gillislee, who became the first Florida running back to rush for 1,000 yards since Ciatrick Fason did so in 2004. "It's a lot of trouble, but that ain't for me. I like to do positive things."
According to redshirt junior center
Jonotthan Harrison
, who was a part of Florida's 2009 recruiting class with Gillislee, Gillislee is a homebody who prefers eating on campus rather than going out in public. He'd rather play "Madden" or "NCAA Football" with his teammates or in the comfort of his own home instead of hitting the bar. The most excitement in his life usually takes place on either the practice field or on game day.
"He doesn't do much outside of that," Harrison said.
And while it might seem like Gillislee is wasting prime social time with his peers, his teammates and coaches couldn't be happier with his uneventful social life.
He truly has taken on the nature of second-year coach Will Muschamp. His cliché mantra of actions speaking louder than words really took hold for Gillislee, who spent his first three years playing backup to Chris Rainey and Jeff Demps. And Muschamp loves that about Gillislee.
He's quiet, but speaks volumes with his play. His hushed demeanor, coupled with an extremely unselfish attitude and an unquestioned thrust for yardage are main reasons he rushed for 1,104 yards and 10 touchdowns this fall, after he accumulated just 920 rushing yard and 10 touchdowns in the three previous seasons combined.
"I think any time in our society we suffer from the disease of me," Muschamp said. "How does it affect me? And most people suffer from that. And Mike doesn't. He's a team guy. He's a consummate team guy. He's one of my favorites of all-time. He's a guy that's a great example."
Harrison said he really admires Gillislee's game and, while he's known more for bullying his way to extra yards, his vision and intellect are two often-overlooked qualities in Gillislee's arsenal. Harrison said there were numerous times when linemen would be blocking zone to the right and out of nowhere they'd see linebackers chasing Gillislee left because he'd found another hole.
Harrison said it's a pleasure blocking for Gillislee because he understands how to read blocks and he'll make a hole by lowering his shoulders and punching his way through when needed.
"It's a real good deal this season that we have such a determined back in the backfield," Harrison said.
That determination paved the way to 1,000 yards, but Gillislee had much more in mind before the season. He stunned media members during July's SEC media days when he confidently stated that he wanted 1,500 yards and 24 touchdowns.
While he fell short, Gillislee will gladly take the season he had.
"It's a great feeling [to rush for 1,000 yards]," he said. "It's something that I always wanted to do. I always wanted to be remembered and getting 1,000 yards I think I'm going to be remembered."
He'll be remembered for a lot of things. He'll be remembered for the 148-yard opener that had fans buzzing about his potential. He'll be remembered for the 12-yard, game-winning touchdown run against Texas A&M in Week 2, a play on which he was clearly injured. No one will forget him churning out 146 yards and two touchdowns on 34 demanding carries in Florida's 14-6 win over LSU in October.
(No wonder he wore that "Damn I'm Good" T-shirt afterward.)
And his 140-yard, two-score performance in the win over archrival Florida State in Tallahassee won't escape Gators fans' minds for years.
It's been a heck of a season for Gillislee, who went from quiet reserve to ranking fourth in the SEC in rushing yards and helping Florida ascend to No. 3 in the BCS standings, but he isn't done.
Gillislee will walk into the Mercedes-Benz Superdome with the usual restrained look on his face ready for business against No. 21 Louisville in the Allstate Sugar Bowl on Wednesday. That look will galvanize his teammates, especially his offensive line, as they look to send him out with one last unforgettable performance.
"When the whole offense works together, it's really difficult to stop him," Harrison said.
"He's great at what he does."
October, 13, 2012
10/13/12
9:57
PM ET
NASHVILLE, Tenn. -- No. 4 Florida had to overcome injuries, double-digit penalties, and giving up its first fourth-quarter points of the season to
extend its winning streak
over Vanderbilt.


How the game was won:
After Vanderbilt closed Florida's lead to 24-17 late in the fourth quarter, the Gators took over on their own 30-yard line after a Commodores squib kick. UF needed just one play to seal its 22nd consecutive victory over Vanderbilt. QB
Jeff Driskel
kept the ball on the option to the right and went 70 yards for a touchdown.
Turning point:
Florida turned the game permanently in its favor with two special-teams plays in the third quarter. DE
Earl Okine
blocked
Richard Kent
's 44-yard field-goal attempt, which gave the Gators the ball on their own 38-yard line with 6:17 remaining. Four plays later, the Gators lined up to punt on their own 43, but instead ran a fake. Up back
Trey Burton
took a direct snap and handed the ball off to WR
Solomon Patton
, who was streaking across the formation. Patton went 54 yards down the left sideline before getting pushed out of bounds at the Vandy 3. That set up Driskel's touchdown run with 4:31 remaining to put the Gators ahead 18-7. Vandy also gave up a 61-yard kickoff return to
Andre Debose
that set up
Caleb Sturgis
' 26-yard field goal with 5:22 remaining.
Stat of the game:
Florida won the game despite going 2-for-11 on third down. The Gators didn't convert a third down in the second half (0-for-4).
Player of the game:
Driskel rushed for 177 yards, which is a UF record for rushing yards by a quarterback. He ran the ball only 11 times, but two of those carries went for touchdowns. One was a 37-yarder and the other was a 70-yarder that clinched the victory. Driskel also went 11-for-20 for 77 yards.
Second guessing:
Vanderbilt hit a big play to quickly get down to Florida's 22-yard line with a little less than five minutes remaining and the Gators leading 24-14. But instead of going hurry-up, the Commodores huddled and ran four consecutive plays and wasted about 90 seconds of clock time. Vandy also had all three timeouts remaining but coach James Franklin chose to keep them for defense. Turns out the Commodores didn't need them because Driskel went 70 yards for a touchdown on the Gators' ensuing possession to seal the victory.
What Florida learned:
All the talk about the Gators being a deeper team in 2012 was proven true on Saturday, as they were able to overcome a slew of injuries. Florida was without three starters (G
James Wilson
, DT
Dominique Easley
and LB
Jelani Jenkins
) and lost two more on the offensive line (LT
Xavier Nixon
, C
Jonotthan Harrison
) and starting TE
Jordan Reed
in the first half. Reed eventually returned in the second half, but the Gators had several other players leave the game for periods of time before returning. UF would not have been able to overcome those losses last season.
What Vanderbilt learned:
Franklin may have found something effective with a hurry-up offense late in the second half, but the Commodores still only managed to throw a scare into one of the SEC's traditional powers. Vanderbilt is still searching for that breakthrough victory.
What it means:
Florida (6-0, 5-0 SEC) already has as many regular-season victories this season as it did in 2011. The Gators will play host to South Carolina in a key Eastern Division game next Saturday and then plays against Georgia in Jacksonville, Fla. UF could make that game in Jacksonville the division championship game if it beats South Carolina.
August, 29, 2011
8/29/11
4:38
PM ET
Things will look a lot different for the Gators this season.
There will be a new coaching staff, which will feature the coordinators alongside the head coach on the ground instead of the booth, and there are a ton of new faces out there.
Monday, Florida released its depth chart for Saturday's opener against Florida Atlantic and there were a few surprises.
The first thing that stands out is that the Gators could line up with two true freshmen starters in the secondary. If that were to happen, it would be first time in school history that two true freshmen started in the secondary for the Gators during the season opener.
Coach Will Muschamp currently has De'Ante Saunders penciled in as the starter at free safety and Marcus Roberson at one of the corner positions. If Saunders starts, he would be the first true freshman to start for the Gators at safety on opening day. Saunders is also listed as the starter at the nickel.
Junior cornerback Jeremy Brown is questionable with a knee injury, so Moses Jenkins or Cody Riggs could start opposite Roberson.
Sophomore Sharrif Floyd is listed as a starting defensive end. Floyd began his career as a defensive tackle, but Muschamp wants to get the best players on the field and Floyd is versatile and strong enough to play outside. Senior William Green is behind him on the depth chart.
Sophomore Dominique Easley is set to start next to Jaye Howard inside.
On offense, Matt Patchan is listed as the starting right tackle. He's dealt with a handful of injuries through the years, but if he's healthy, he could be the Gators' top lineman.
Notre Dame transfer Dan Wenger, who had his Irish career cut short by concussions, came in as a center, but is listed as the starting left guard. Former guard Jonotthan Harrison is the starting center.
Quinton Dunbar
is listed as the starting receiver at the X position. Dunbar has been one of the coaches' favorite players to watch this year and the thought is he could be a big-time deep threat this fall.
One other interesting note is that tight end
Jordan Reed
is also listed as the backup punt returner behind
Chris Rainey
. Reed isn't the shiftiest player, but he's very athletic and tough to bring down. Still, you'd think Florida would want to get one of its faster, more elusive players in the open space.
June, 17, 2011
6/17/11
9:30
AM ET
The big uglies up front on the offensive side are our focus today. There are some quality veterans out there, but teams all across the league are looking to replace some quality linemen in the trenches.
Here's how we see the league stacking up:
[+] Enlarge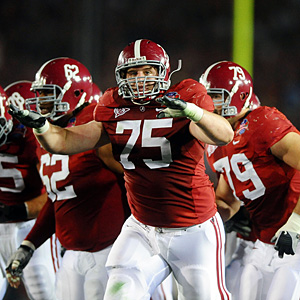 Mark J. Rebilas/US PresswireBarrett Jones has been one of the mainstays of Alabama's offensive line the past two seasons.
1. Alabama:
Four of Alabama's five linemen from a year ago return, making this one of the team's strongest units. The returners have combined for more than 70 starts at Alabama. Barrett Jones is the star of the show. The junior has been the Tide's starting right guard each of the past two seasons, but took reps at left tackle and could be asked to move. William Vlachos is back at center and could be the best at his position in the league. Fellow starters D.J. Flucker and Chance Warmack are back and took reps at left tackle this spring.
2. Ole Miss:
The Rebels' offense isn't getting much respect this offseason, but its offensive line returns All-SEC candidates in tackles Bradley Sowell and Bobby Massie. Seven of Ole Miss' linemen started two or more games each on the offensive line in 2010. Last season, the Rebels were first in the league in sacks allowed, giving up just 14. Alex Washington should stay at left guard after starting eight games there and A.J. Hawkins will likely get the nod at center after playing eight games there as well. Arkansas transfer Matt Hall will compete for time at center.
3. LSU:
Joseph Barksdale might be gone, but the Tigers have a very talented group of linemen returning. Tackle Alex Hurst seems primed to be a star in the league and senior Josh Dworaczky is arguably the Tigers' top lineman with 25 career starts. Patrick Lonergan is solid at center, while T-Bob Hebert is valuable at both center and guard. Sophomore Chris Faulk has the tough assignment of replacing Barksdale, but made quite the impression on his coaches this spring.
4. Kentucky:
The Wildcats return four starters on their line. Right guard Larry Warford headlines the group after gaining second-team All-SEC honors a year ago. Kentucky also returns two-year starter Stuart Hines at left guard and Matt Smith at center, who was solid in his first year there. Left tackle Chandler Burden missed spring practice, but is expected back by fall practice. Finding a suitable right tackle is the next step for Kentucky.
5. Tennessee:
This group could be one of the most impressive units for the Volunteers this season. It's deeper and more experienced in Derek Dooley's second year and he was very pleased with its performance this spring. Junior Dallas Thomas is solid at left tackle, and sophomore Ja'Wuan James really came on strong in his first year and is one of the top linemen in the SEC. James Stone also returns at center. The surprise of the group was true freshman Marcus Jackson, who held down the left guard spot for most of the spring.
6. Mississippi State:
The Bulldogs must replace All-American left tackle Derek Sherrod, but most of the line is somewhat on point. Center Quentin Saulsberry will anchor the line and is versatile enough to play just about every position on the line. Left guard Gabe Jackson and right tackle Addison Lawrence return and the Bulldogs will have junior Tobias Smith lining up at right guard. Blaine Clausell and James Carmon, who moved from defensive tackle, will compete at left tackle.
7. Georgia:
This was supposed to be one of the strongest offensive line units in the league, but the Bulldogs lost tackle Trinton Sturdivant to a season-ending knee injury this spring and fellow tackle A.J. Harmon transferred. Georgia's most-reliable options are Cordy Glenn, who moved from guard to left tackle and Ben Jones at center. Kenarious Gates is at left guard, but he's athletic enough to play tackle if needed. Former defensive lineman Justin Anderson will start off at right tackle. Right guard is the next area of business and the depth all around is a problem.
8. South Carolina:
The Gamecocks have questions here, but there is talent across the line. Rokevious Watkins is one of the most talented guards in the league and he'll be assisted by returning starter at center T.J. Johnson. Senior Kyle Nunn has made strides at left tackle and redshirt freshman A.J. Cann took over duties at left guard this spring. Still, the younger linemen will be counted on to contribute this fall.
9. Arkansas:
The Razorbacks must replace three starters on the offensive line. Center Travis Swanson and left guard Alvin Bailey are the only returning starters. Just a sophomore, Bailey impressed his coaches last season and will be one of the top linemen in the league this fall. After that, the Hogs will have to turn to youth for help. True freshman Brey Cook could be thrust into the starting role at right tackle, while sophomore Anthony Oden could get the job at left tackle.
10. Florida:
Florida's offensive line struggled throughout the 2010 season -- and that was with a senior-laden group. This fall, the Gators will start over with a ton of inexperience. Right guard Jon Halapio and right tackle Xavier Nixon are the only returning starters. Halapio struggled at times last season and Nixon battled injuries. Florida's line spent most of the spring in the infirmary, so little is known about the overall talent. Freshman Chaz Green left spring as the starter at left tackle, Jonotthan Harrison will battle former Notre Dame lineman Dan Wenger at center. He transferred in after spring, but has health concerns.
11. Auburn:
The Tigers will go from having one of the top offensive line groups in the country to having a major work in progress in 2011. Senior Brandon Mosley is the lone returning starter, and while he was solid on Auburn's line last season, he came from junior college as a defensive end/tight end. The good news is that tackle A.J. Greene should be fine this fall after sustaining a season-ending leg injury last year. The rest of Auburn's linemen are very young and inexperienced. Don't expect many redshirts from this group.
12. Vanderbilt:
The Commodores might return all five starters, but this unit had trouble keeping things together last year. The offense needs this group to improve mightily. Wesley Johnson is Vanderbilt's best option, despite only being a sophomore at left tackle. There will be size on the right side, with 300-plus pounders Kyle Fischer and Ryan Seymour over there. Simply put, this unit has the experience, but it requires a lot of improvement.
TOP 25 SCOREBOARD
Saturday, 12/7
Thursday, 12/5
Friday, 12/6
TOP PERFORMERS