NCF Nation:

Jordan Bishop
March, 20, 2012
3/20/12
8:44
PM ET
Oregon State coach Mike Riley believes he has talent and depth at running back. He just doesn't know how much and from whom. He has "viable" bodies for every position on the offensive line. But he's pretty sure the starting five coming out of spring won't be the same at the start of the season.
These are a few of the concerns Riley is pondering as the Beavers set to open spring practice on April 3.
[+] Enlarge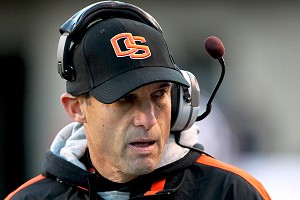 AP Photo/Colin E. BraleyThere are a lot of questions surrounding Mike Riley's running game this spring.
Tailback
Jovan Stevenson
will be limited with a foot injury, which means lots of reps for
Jordan Jenkins
,
Malcolm Agnew
,
Storm Woods
and
Terron Ward
.
"I think we have good depth," Riley said in a conference call with media on Tuesday. " ... It's definitely the biggest question mark, but it's a good group. I feel good about it. Sorting it out will be very important for us."
Which leads to another issue. The backs will be getting lots of work -- but who is going to do all of the blocking? With
Grant Enger
(shoulder) out for spring and
Colin Kelly
(ankle) expected to miss most or all of spring, the Beavers have very limited depth to work with over the next month.
"The hardest part about spring ball is that we're very thin on the offensive line," Riley confirmed. "We have the starters that are out rehabbing ... we have some good young talent that will get a lot of good work to see if they can play. We're looking -- not necessarily how it will look as a whole in the fall -- but as an individual development of those guys at that position. We'll just have to be careful how we practice."
Riley went on to say that as a result, there won't be much chemistry with whatever starting five opens the year Sept. 1 against Nicholls State in Corvallis.
"I think we'll develop toward that line that we'll have in the fall," he said. "The hard part is we won't have a whole synchronized group. I doubt the starting lineup coming out of spring ball will be the starting lineup necessarily in the fall. But there is a viable guy at each position this spring so let's see what they can do with it and we'll put up some better depth in the fall and we'll see who wins the job then.
"I think we have good candidates. That's good enough for right now."
Riley has said in previous interviews that restoring the ground game is a top priority in the upcoming year. Oregon State ranked last in the Pac-12 last season, averaging just 86.9 yards per game while managing just 12 touchdowns on the ground -- second worst behind Colorado (10).
Other roster notes:
April, 25, 2011
4/25/11
1:18
PM ET
The first thing you look at when evaluating a college football team is experience at quarterback. Here's an interesting factoid about the Pac-12: All 12 teams welcome back at least one quarterback with starting experience.
Of course, not all starting experience is equal. Washington's
Keith Price
has one start on the road at Oregon, which doesn't match the 20-plus starts of passers such as Arizona's
Nick Foles
, Stanford's
Andrew Luck
or USC's
Matt Barkley
. Nor do Cal and UCLA fans likely take much comfort from the starting experience of their returning quarterbacks.
So who welcomes back a "quality" starter? Well, we were going to rate that at passing for 2,500 yards* in 2010, but then saw Oregon State's
Ryan Katz
threw for 2,401 in 12 games. Had the Beavers earned a bowl berth instead of finishing 5-7, Katz would have hit the benchmark. And then we noticed that Utah's
Jordan Wynn
passed for 2,334 yards in just 10 starts.
The Pac-12 blog, perhaps even more than the Pac-10 blog, values flexibility.
The general gist to be taken from this list is this: In 2002, six Pac-10 quarterbacks eclipsed the 3,000-yard mark. Don't be shocked if that many do it again in 2011.
Here's the list. And then we look at a few expected starters who almost certainly will reach the 2,500, er, 2,300 mark in 2011.
[+] Enlarge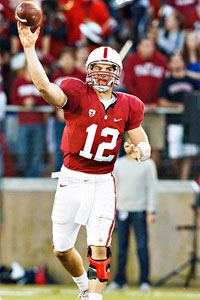 Jason O. Watson/US PresswireStanford's Andrew Luck is the leading returning passer in the Pac-12.
1. Andrew Luck, Stanford (3,338 yards):
Luck likely would have been the No. 1 overall pick in the NFL draft on Thursday, so the Heisman Trophy runner-up is pretty darn good. Does he throw for more yards in 2011? Maybe. His receiving corps took a hit, as did his O-line. Still, the over-under for Luck has to be around 3,500 yards.
2. Nick Foles, Arizona (3,191):
Foles is the Pac-12 quarterback most likely to eclipse the 4,000-yard mark for three reasons: 1. He's good; 2. His receivers are good; 3. There's little indication with five new starting O-linemen the Wildcats will be consistent in the running game.
3. Darron Thomas, Oregon (2,881):
Would you bet against Thomas putting up better numbers in his second year as the starter under coach Chip Kelly? Neither would I, even though the Ducks' offensive line has been shaky enough this spring to raise some eyebrows. Thomas is going to need, however, some young receivers to step up.
4
. Matt Barkley, USC (2,791):
The guess here is Barkley dusts the 3,000-yard mark this fall. His offensive line struggled this spring, but the young receivers are talented and Barkley seems due for a breakthrough.
5.
Jeff Tuel, Washington State (2,780):
Tuel also seems like a sure-thing to eclipse the 3,000-yard mark. He's a third-year starter with a strong crew of receivers. If his protection is just a little better this fall than last -- and it should be -- he and the Cougs will scare folks with their passing attack.
6. Ryan Katz, Oregon State (2,401
): Katz might have the strongest arm in the conference, and with a year of experience under his belt he figures to take a step forward in 2011. But his corps of receivers has health issues, starting with
James Rodgers
' knee injury. But if Rodgers,
Markus Wheaton
and
Jordan Bishop
are 100 percent, Katz should thrive.
7. Jordan Wynn, Utah (2,334):
Considering Wynn averaged 230 yards passing per game in his 10 games, he was on his way to 3,000 yards passing. Further, if you recall his MVP effort in the Poinsettia Bowl versus California in 2009 -- 26 of 36 for 338 yards and three TDs -- you know he can toss the rock around. But he sat out spring practices due to a shoulder injury and we don't yet know how he will adjust to Norm Chow's pro-style offense.
As for the other five teams, three have not yet decided on a starter: California, UCLA and Washington, though the (slight) favorites at this point this spring are Zach Maynard for Cal,
Kevin Prince
for UCLA and Keith Price for Washington.
1. Brock Osweiler, Arizona State
: Osweiler had 797 of the 3,437 yards the Sun Devils passed for in 2010. He looked good in relief of
Steven Threet
over the last two games of the season. Considering the strong, experienced supporting cast working in year two of Noel Mazzone's spread offense, you'd expect Osweiler to reach the 3,000-yard mark.
2. Tyler Hansen, Colorado
: Hansen, a senior, has played in a lot of games but he's yet to put a full season together for whatever reason. The expectation shouldn't be for huge numbers in Eric Bieniemy's offense -- you'd expect the Buffaloes to be run-first with running back
Rodney Stewart
. Still, if Hansen plays 13 games, the guess here is he'll throw for at least 2,500 yards.
March, 24, 2011
3/24/11
6:54
PM ET
How galling was Oregon State's first losing season since 2005 for coach Mike Riley? Well, Riley underwent surgical procedures to remove gallstones and then his gallbladder March 12 and 13, so apparently pretty galling.
Snare roll, cymbal crash! (But seriously, folks, I just flew in from Scottsdale and, boy, my arms sure are tired!).
While Riley is the sort who can remain good-natured through most things (even a horrific pun), losing is not really one of them. His seriousness about reversing the Beavers 2010 downturn was perhaps best manifested by a surprising staff change: the dispatch of long-time linebackers coach Greg Newhouse.
The Beavers head into spring practices, which begin Monday, with plenty of questions, but it stands to reason the veteran players are motivated by a disappointing 5-7 finish that was further aggravated by watching state rival Oregon play for the national championship.
[+] Enlarge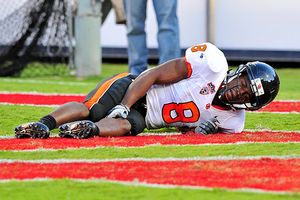 Chris Morrison/US PresswireJames Rodgers is still recovering from an injury to his knee.
"You certainly hope it does," Riley said. "You'd like to think it's made everybody take it up a notch."
The biggest questions surround the Rodgers brothers. How will Oregon replace running back
Jacquizz Rodgers
and how healthy will receiver
James Rodgers
be after two knee surgeries?
The competition at running back includes senior
Ryan McCants
, junior
Jordan Jenkins
, sophomore
Jovan Stevenson
, redshirt freshman Malcolm Marabel and greyshirt freshman Terron Ward. Riley said he'd like to establish a pecking order as soon as possible and then figure out a rotation based on what skills each offer to the offense.
"It's probably very important to distinguish between No. 1 and No. 2 [this spring]," Riley said.
As for James Rodgers, things are fluid. He was granted a medical hardship year, but there have been complications with his recovery -- starting with the need for a second procedure -- and it's unclear if he'll be ready for preseason practices, or how long it will take him to get back to full-speed.
"We'll just have to see where that goes," Riley said.
Receiver is an interesting position for the Beavers. With Rodgers, it looks like a definite strength. Rodgers at flanker and junior
Markus Wheaton
at split end, with
Jordan Bishop
,
Geno Munoz
and
Darrell Catchings
providing depth, not to mention intriguing big target
Obum Gwacham
and H-back
Joe Halahuni
; that's a strong lineup of targets for QB
Ryan Katz
.
But Rodgers is a question, and the inconsistent Bishop is sitting out spring with a foot injury. Catchings and Gwacham aren't sure things, either.
And in terms of delivering the ball, Katz is coming back from a wrist injury, and Riley likely will be cautious with overworking him. That means more opportunities for
Cody Vaz
,
Sean Mannion
and
Jack Lomax
to compete for the backup job.
Some further notes:
Injuries and departures
: Rodgers, Bishop, DT Castro Masaniai (shoulder) are sitting out. Fullback
Will Darkins
opted not to return for his senior year.
Additions and changes
: Five greyshirts have been added to the roster. K Trevor Romaine, LB Will Storey, DT Fred Thompson, RB Terron Ward and LB D.J. Welch, as well as a true-freshmen in offensive lineman Darryl Jackson. Two JC transfer defensive ends will participate in spring practices: Rusty Fernando and Blake Harrah. Munoz has switched from split end to slot receiver. Tyler Anderson has moved from cornerback to fulback. Expected starting CB Jordan Poyer will practice football on Mondays and Wednesdays and play baseball on Fridays.
Coaching changes
: Brent Brennan is the new receivers coach and Chris Brasfield will coach running backs. With the departure of Newhouse, defensive coordinator Mark Banker will coach linebackers. Banker oversaw safeties last season. Keith Heyward is now in charge of the entire secondary.
Offensive line reshuffle
: The Beavers offensive line was a disappointment in 2010, so it's probably not a surprise that there are some changes, even with four starters returning. Sophomore Josh Andrews has been moved from center, where he was expected to replace Alex Linnenkohl, to left guard. Grant Johnson has moved from LG to C. Michael Philipp is the RT and Mike Remmers is the LT. Last fall, they were reversed. Remmers is a better pass blocker, which means he's better suited to protect Katz's blindside.
Filling in on
D
: The Beavers must replace six defensive starters, including a DE, a DT, two OLBs and a CB and a S. Poyer and Anthony Watkins are expected to fill the secondary voids, while Taylor Henry, Andrew Seumalo, John Braun and Fernando and Harrah are competing for the end spot opposite Dominic Glover. With Masaniai out, Kevin Frahm, Mana Tuivailala and Ben Motter are the top tackles, though Thompson is an intriguing talent. Cameron Collins and Michael Doctor are the top two candidates at OLB, though Riley is high on Shaydon Akuna and Michael Bibbee, a pair of redshirt freshmen.
Spread
? Katz is a good all-around athlete, so Riley said there will be some experiments with the spread-option this spring. "We are going to mess with the zone read like we did with the fly sweep," he said.
March, 9, 2011
3/09/11
5:45
PM ET
Oregon State seems to have a lot of lingering questions before spring practices begin on March 28 -- a "dark cloud" even -- but Beavers coach Mike Riley
told The Oregonian
that he's feeling "energized."
Still, Paul "Sunshine" Buker pointed out that the Beavers have significant issues. From his story:
1. Jacquizz Rodgers opted to skip his senior year and come out for the NFL draft, and this team has no featured running back at the moment.

2. Starting quarterback Ryan Katz is still rehabbing a broken bone in his throwing hand -- a slow-healing broken bone at that -- and could miss spring football.

3. Slotback Jordan Bishop, who figures to be one of the team's top receivers next fall, is still having problems with an ankle he sprained in January.

4. The status of star wide receiver/kick returner James Rodgers, who has been out since suffering a serious knee injury last Oct. 9 at Arizona, remains in question with Rodgers currently in full rehab mode at home in Texas after a second procedure on his knee.
[+] Enlarge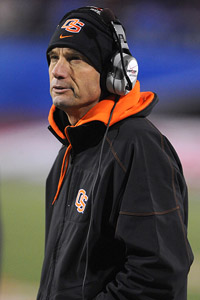 Kirby Lee/US PresswireMike Riley said he feels 'energized' by the challenges facing the Beavers.
That seems like a unhappy handful of hits to an offense that's trying to rediscover its mojo: The starting quarterback, two best skill players and a likely starting receiver.
Still, there is an optimistic counter.
Jacquizz Rodgers made the right decision. He's not going to improve his NFL stock with another year of college ball, and running backs have a short shelf life. It was smart to enter the draft.

Katz's injury might limit him for all or some of spring football -- and that's not good -- but the most urgent issue is improving the running game and the offensive line in general. One of the priorities of spring is a establishing pecking order at tailback because of Rodgers departure. And, by the way, getting backup quarterback Cody Vaz some quality work isn't a bad thing either.

Jordan will be a redshirt junior this fall, so he's mostly a known quantity (though it's time his athletic ability spawned greater production). A key this spring for the Beavers as far as the passing game goes is taking a measure of its young receivers, which will be even more important if James Rodgers isn't ready to go this fall.

There's no way to spin the potential loss of James Rodgers: He's a playmaker as a runner and receiver and return guy. Everybody's crossed their fingers, hoping for a full recovery.
The story provides the most complete picture so far on where Rodgers stands in his rehabilitation after a second surgical procedure.
[Riley] re-iterated that it's true the Beavers can't be 100 percent certain Rodgers will come back as the same player.

But Riley said speculation that Rodgers is done, that he isn't coming back to school, "is absolutely false. … there's (speculation) going on out there that isn't true.''

Said Riley, "the second surgery was delayed for a number of weeks, which was disappointing and I think it made James very anxious. … I talked to him last Friday and he sounded great. He was in rehab, he said he's got very little pain, and things are going well. … they cleaned out some scar tissue that was causing the majority of his flexing problems. That was the delay into getting into the second surgery. … and evidently the repair (to the ACL) went fine.''

Riley cautioned, "I don't want to assume anything yet. All I know is, James is trying to be ready for the season. We all know how James will prepare for it.''
And Riley said that he won't play Rodgers unless "he is really, really healthy."
Riley also told Buker that he is close to naming who will replace Reggie Davis as running backs coach.
October, 13, 2010
10/13/10
2:06
PM ET
Mike Riley was forced to address two realities this week that pulled his Oregon State team in different directions.
First reality: Receiver and return man
James Rodgers
, an All-America candidate, was done for the season with a knee injury. That's a huge blow for a team that appeared to be finding itself over the past two weekends, particularly on offense.
"You can't spin the disappointment; I'm not going to try," Riley said.
[+] Enlarge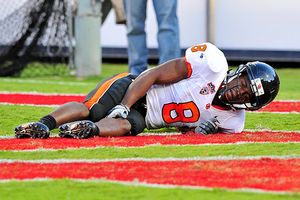 Chris Morrison/US PresswireLosing a player of James Rodgers' caliber would be tough for any team, but the Beavers have shown they can win without him.
Second reality: Injuries are part of the game and seven games remain for a team that believes it can be a factor in the Pac-10 race. The Beavers must not only move on, they've got to move on with even more focus and intensity.
"Nobody is going to blink," Riley said. "Everybody is just going to go forward and get ready to play the Huskies."
Oregon State's visit to Washington is critical for both teams. The Beavers (3-2, 2-0) can't afford a loss to a middling team if they hope to be in the conference race at season's end. Meanwhile, the Huskies (2-3, 1-1) can't afford to lose two in a row at home if they expect to earn bowl eligibility for the first time since 2002.
"We really recognized the fact that the margin for error right now for our football team in the Pac-10 is minimal," Washington coach Steve Sarkisian said.
The Huskies have their own problems: Quarterback
Jake Locker
has missed much of this week due to illness, which nagged him during a poor performance against Arizona State.
The gap between these two teams would seem to close with Rodgers out. How valuable is Rodgers? With quarterback
Ryan Katz
seemingly finding his rhythm, Rodgers was already over 100 yards receiving in the first half at Arizona. You could feel a passing game maturing. Then he blows out his knee on an apparent 56-yard TD pass that was killed by a penalty in the second quarter.
"James is just a huge threat," Katz said.
And now that threat is gone, so some combination of the Beavers' receivers --
Markus Wheaton
,
Jordan Bishop
,
Aaron Nichols
, Geno Muņoz and
Darrell Catchings
-- needs to fill the void.
Nichols will step in for Rodgers at flanker, but count on rapidly improving sophomore Markus Wheaton becoming Katz's first option at split end.
It also would help if the Beavers' running game got going. While
Jacquizz Rodgers
-- James' brother -- has put up solid numbers (96 yards rushing per game with seven touchdowns), the Beavers are only averaging 115.4 yards rushing per game, which ranks ninth in the Pac-10.
"The running game is horrible right now," said Jacquizz Rodgers, opting to not sugarcoat things. "We've got to do better."
The task on all fronts, however, will be challenging. James Rodgers ranked sixth in the nation with 176.8 all-purpose yards per game. That's not easy to replace on offense and special teams.
"It's hard to imagine," Riley admitted. "We've had three years of him all over the place, so the finality of not having him for this season probably is just hitting home to a lot of guys."
That's the first reality. The second is this: The Beavers beat Arizona State without Rodgers (he was out with a concussion) and still won at Arizona with him on the sidelines for the whole second half.
Losing Rodgers was a big blow, but the Beavers have shown they can win without him.
Which reality, ultimately, will prevail?
July, 27, 2010
7/27/10
1:30
PM ET
Receiver is a difficult position to evaluate this year. Just about every team has a solid (or better) lead receiver back and some intriguing, but inexperienced, talent around him. But, other than Washington, no team should feel completely secure.
There is, however, a lot of potential at the position. Many of the names below who appear as secondary options could end up competing for All-Pac-10 spots.
Note: Tight ends and running backs don't count here.
Great shape
Washington: The Huskies entire two-deep is back, topped by second-team All-Pac-10 pick Jermaine Kearse and Devin Aguilar, who ranked seventh in the conference in receiving yards per game in 2009. James Johnson was probably the best freshman receiver in the conference last year.
Good shape
[+] Enlarge

AP Photo/Ben MargotOregon State's James Rodgers caught 91 passes for 1,034 yards and nine TDs last year.
We'll see
California: The Bears only lose No. 2 WR Verran Tucker and the underwhelming Nyan Boateng, but, other than Marvin Jones, they didn't get much production here in 2009.

Arizona State: The Sun Devils lost their top-two WRs, but the cupboard isn't empty, with Oregon transfer Aaron Pflugrad, who would have started for the Ducks in 2009, and JC transfer George Bell, Gerell Robinson, Jamal Miles and Kerry Taylor. Still, it's not a proven group.

Washington State: The Cougars went through spring with just four scholarship receivers, a crew topped by Jared Karstetter and Gino Simone. The incoming recruiting class features five receivers, and at least a couple will get on the field. The Cougars are OK here but they did rank last in the conference in passing in 2009.
April, 16, 2010
4/16/10
2:39
PM ET
CORVALLIS, Ore. -- Oregon State coach Mike Riley is standing beside a dry erase board in his office. He points to his flanker. That's
James Rodgers
. He caught 91 passes for 1,034 yards and nine touchdowns last year. Riley smiles.
He points to his tight end
Joe Halahuni
. He caught 35 passes and became an offensive weapon after the middle of the season. Riley points at his slot receiver,
Jordan Bishop
. The 6-foot-3 sophomore can high jump over seven feet. He points at his split end, where
Darrell Catchings
and
Markus Wheaton
are engaging one of the more spirited competitions this spring.
Then he points at
Jacquizz Rodgers
, who rushed for 1,440 yards, caught 78 passes and scored 22 touchdowns a year after being the Pac-10's Offensive Player of the Year as a true freshman.
Riley agrees with a reporter that Jacquizz should be a top Heisman Trophy candidate.
The main point, however, is the Beavers offense has a lot of guys who can punish a defense.
"Athletically, it's as good as we've ever been," Riley said.
Then Riley circles his quarterback.
"It's our biggest question on offense," he said. "If we can bring our quarterback up to the rest of the offense, then it's going to be good."
That quarterback figures to be sophomore
Ryan Katz
, who's got a big arm but little experience. While Katz officially is competing with Virginia transfer
Peter Lalich
for the starting job, Katz started spring practices with the No. 1 offense and he's yet to yield that perch.
"What stands out about Ryan -- always has -- is he's got really good physical ability. A Great arm," Riley said. "It's one of those deals where you're kind of taken aback by the strength of his arm sometimes. He throws the ball so easily with a lot of velocity. He's got to learn a little bit more about taking something off it every once and a while. I tell him all the time, 'You don't always have to throw a 95 miles per hour ball.'"
The good news is Katz, Riley said, has consistently improved since arriving in Corvallis from Santa Monica (Calif.) High School. But there's a caveat hidden in that positive point, because every recent Oregon State quarterback has improved steadily during his career, from Derek Anderson, to Matt Moore, to
Lyle Moevao
, to
Sean Canfield
.
But each of those guys started his career slowly and, well, unimpressively. Anderson completed just 47 percent of his passes his first year as the Beavers starter under then-coach Dennis Erickson. Moore threw 19 interceptions. Moevao and Canfield combined for 21 interceptions in 2007.
The question is how steep Katz's learning curve will be.
"There is a process with us," Riley said.
By all accounts, Katz has embraced the No. 1 role, though he admits it goes against his type to be a vocal leader. As a personality, Katz is closer to the quieter Canfield than the effusive Moevao.
"More than vocal-wise, I tried to lead by example," Katz said.
The Beavers offense has evolved in recent years as Riley yielded control to coordinator Danny Langsdorf. The Beavers have increased the role of running backs and the flanker in the passing game. They added the fly sweep. Canfield's accuracy but lack of a strong arm had the offense looking West Coast-ish for a while in 2009.
Katz brings back the big arm of say an Anderson or Moore and adds some athleticism. Katz will move around in the pocket and there will be more designed bootlegs. And there's an increased emphasis of screen passes in order to build his confidence through the air.
And Katz needs to find his rhythm quickly. The opener is vs. TCU in Cowboys Stadium -- a top-10 team playing in a friendly stadium that is far bigger than its home field.
"When the time comes, it's definitely going to be eye-opening," Katz said. "But I'm just going to take it and run with it. I can't stand out there and be star struck."
After TCU, the Beavers play host to Louisville, then visit Boise State, a likely top-five team.
So there's no soft schedule that allows Katz to acclimate himself to the speed of the game. He's bound to make mistakes, which means criticism. Katz is aware that is an inescapable part of playing the position.
"That's definitely in the back of your mind, but if I just work day by day and get better that will play it self out," he said. "I know that comes with the job."
But he said he learned a lot from watching Canfield and Moevao weather the storm and come out strong on the back end.
But if Katz plays well from the start and minimized the growing pains, then Beavers should become a major player in the Pac-10 race.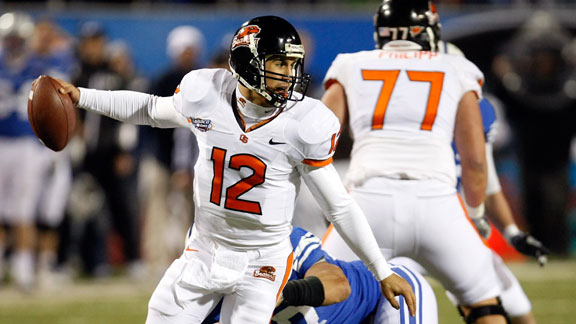 April, 16, 2010
4/16/10
11:15
AM ET
CORVALLIS, Ore. -- Ambition and wealth called Mike Riley on a Saturday in January and asked if he wanted to leave Oregon State and take the scepter of the nation's pre-eminent football power, the
USC Trojans
.
[+] Enlarge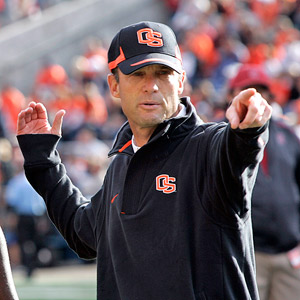 AP Photo/Don RyanMike Riley left Oregon State once before, and he learned that the grass is not always greener in the larger spotlight.
The pitch, one could imagine, included talk of national and Pac-10 championships. There was music ("
Fight on
!" and "
Tribute to Troy
"). And dance (
Song Girls
!). And money (surely more than double the million bucks Riley made annually in Corvallis).
It was a tempting offer. This was an opportunity, perhaps the last, for the 56-year-old to stand on top of the coaching mountain and see what the view looks like.
But he politely said, "No thanks."
"One thing I've learned is that if you are going to teach loyalty, you've got to live it," he said. "I told my wife that I didn't think I could look in the mirror after what I've told our team, how I've recruited here. I don't think I could leave. It wouldn't be a good picture. There was really no way I could leave."
Understand: There's nothing wrong with ambition. This is the United States of America. We like ambition here. The juvenile caterwauling when Lane Kiffin left Tennessee for USC? Yawn. Kiffin got a better job and a raise. End of story.
And yet there's something undeniably charming about a guy like Riley -- perhaps the friendliest, most accommodating guy in big-time football coaching -- saying no to La-La land to stay in the rainy Willamette Valley and continue leading his overachieving program.
Of course, you've read this before. Oregon fans are rolling their eyes. Yes, reporters sometimes get a kick out of a coach who sits down for a 15-minute interview about his football team and a wide-ranging, 45-minute chat about just about anything breaks out.
Riley himself steers the conversation toward the foundation of his loyalty to Oregon State: a hard lesson he had to learn. Ambition and wealth called from Southern California a decade ago and he said yes. Riley jilted the Beavers -- and left the small town where he grew up -- just as he was leading them out of the college football morass and became the San Diego Chargers' head coach in 1999.
He went 14-34 before being fired. I
covered his last game
. He was extremely polite and open with reporters asking him if he was about to be canned.
"I really appreciate Oregon State people who still come up to me and say, 'Thanks for staying.' That means a lot to me because I have left before," Riley said. "I've been around the block. I know who we are and I know the grass is not always greener. I haven't forgotten that Oregon State gave me a renewed opportunity here."
That came in 2003 when Dennis Erickson left Corvallis for an ill-fated "promotion" to the San Francisco 49ers, a decision that Erickson still offers as the worst move of a career that featured many.
Since Riley returned, the Beavers, a program that only broke a streak of 28 seasons without a winning record in 1999, have played in six bowl games and won five. He's become the program's second all-time winningest coach with 64 victories. In 2008, he won Pac-10 Coach of the Year honors after the Beavers handed USC its only loss of the season, an epic 27-21 win in Corvallis that prevented the Trojans from playing for then-coach Pete Carroll's third national title.
After USC called following Carroll's jump to the Seattle Seahawks, Riley signed a three-year contract extension with Oregon State that runs through the 2019 season. It essentially functions as a life-time deal -- "I've always fought for years more than money," he said.
He also fought for raises for his staff, which is widely regarded as one of the best in the Pac-10.
The past two seasons, Riley and his Beavers finished tied for second in the conference. This past year, the Beavers played the annual Civil War against rival Oregon with the Rose Bowl as the winner-takes-all stakes. The Beavers haven't played in a Rose Bowl since 1965.
The Ducks prevailed 37-33.
"I want to show you something," Riley says as he fires up film of that game.
The Beavers, down four, have the ball and are driving. It's a third-and-9 play from Oregon's 21-yard line in the fourth quarter. There's no sound on the video but everyone knows the din at Autzen Stadium. And that din likely is the reason that freshman offensive tackle Michael Philipp is slow out of his stance as the ball is snapped, which results in super-quick Ducks end Kenny Rowe getting a half-second head start that's impossible to overcome. Rowe swallows quarterback
Sean Canfield
for a sack and 6-yard loss.
Riley hits pause. "Look at that!" he says. Beavers receiver
Jordan Bishop
, who lined up in the slot to Canfield's left, is standing alone in the endzone, no Duck anywhere near him.
Riley is smiling, though. It's not easy to get to the Rose Bowl.
USC has been to 33 and won 24, which is 10 more victories than any other Pac-10 team has Rose Bowl appearances.
"We know the vantage point we come from here is never going to be easy," Riley said.
But then Riley starts talking about spring practices and his 2010 team and he gets excited.
He's in his element. He's content. His wealth and ambition just happen to reside in Corvallis.
May, 22, 2009
5/22/09
11:32
AM ET
Posted by ESPN.com's Ted Miller
Every team enters spring practices with at least a couple of personnel questions, even those with their starting lineup returning nearly intact.
Sometimes those questions don't get answered. Other times they do.
Such as ...
Arizona: The Wildcats lost two of their three starting linebackers, but coach Mike Stoops said he believes they will be better at the position in 2009, with junior Vuna Tuihalamaka making a special impression in the middle this spring.
Arizona State: The Sun Devils lost middle linebacker Morris Wooten, but the LB position looks like it could run six-deep in 2009, particularly with the expected arrival of super-recruit Vontaze Burfict in the fall. The return of former starter Gerald Munns, who left the team for personal reasons, helps as does the emergence of young players whose speed upgrades are intriguing.
California: Not to get stuck on a linebacker theme, but most previews of the Bears will raise questions about them losing three longtime starters at linebacker. Hanging around this spring, however, you get the feeling this position will be fine. In fact, a couple of touted incoming JC transfers will make the fall competition intense. Look for Mike Mohamed and Mychal Kendricks to make a play for All-Conference honors.
Oregon: The Ducks lost three of four starting defensive linemen, including end Nick Reed, so this seemed like as big a question mark as the offensive line entering spring. Apparently not, at least according to coach Chip Kelly. Will Tukuafu should emerge from Reed's shadow as one of the conference's best ends, and tackle Brandon Bair and end Kenny Rowe stepped up. There's still competition at one tackle, but the Ducks' recruiting class included six defensive linemen, at least a couple of whom figure to see action.
Oregon State: The Beavers lost receivers Sammie Stroughter and Shane Morales, but by the end of spring that didn't seem like a problem, even with James Rodgers sitting out with a shoulder injury. Junior Darrell Catchings broke through and redshirt freshman Jordan Bishop lived up to high expectations and others flashed potential.
Stanford: The passing game -- on offense and defense -- has been a problem for Stanford. For the offense, redshirt freshman quarterback Andrew Luck was just short of spectacular this spring. For the defense, the insertion of Delano Howell at strong safety and Michael Thomas at cornerback upgrades the secondary's athleticism.
UCLA: The secondary began spring needing two new starters, but a handful of guys stepped up to complement cornerback Alterraun Verner and free safety Rahim Moore. While Aaron Hester and Glenn Love are the favorites to start at corner and strong safety, respectively, sophomores Courtney Viney and Tony Dye and redshirt freshman E.J. Woods will get extended looks in the fall.
USC: Lose three elite linebackers? Find three more. Malcolm Smith, Chris Galippo and Michael Morgan might not have the experience or pedigree of their predecessors, but they are faster and may end up being nearly as good.
Washington: A lot was made of how well quarterback Jake Locker adjusted to a pro-style offense this spring -- and rightfully so -- but that pro-style passing attack needs targets, so perhaps that part of the pass-catch equation is being undersold. D'Andre Goodwin, Jermaine Kearse and Devin Aguilar give the Huskies three respectable receivers, and tight ends Kavario Middleton and Chris Izbicki are solid.
Washington State: One area where the Cougars have quality starters and quality depth is running back, with Dwight Tardy stepping up to the challenge of California transfer James Montgomery this spring, and Logwone Mitz and 220-pound Marcus Richmond adding depth.
February, 26, 2009
2/26/09
10:49
AM ET
Posted by ESPN.com's Ted Miller
Which Pac-10 newcomers might make a name for themselves this spring and put themselves into position to start or see significant action in 2009?
Let's take a look.
Arizona

QB Nick Foles & OT Phillip Garcia: Foles is a sophomore transfer from Michigan State who will compete with Matt Scott and Bryson Beirne to replace Willie Tuitama. Garcia was a JC transfer last January, but the 6-foot-7, 340 pounder hurt his knee and missed the season. He's in the mix at left tackle.
Arizona State

S Keelan Johnson, RB James Morrison, DE Dean DeLeone: Johnson, a redshirt freshman, is the sort of athlete who could end up playing both ways. Morrison was a true freshman walk-on destined to play last year before he broke his ankle. He's back this spring. The 25-year-old DeLeone, a JC transfer, is already drawing raves for his weight room work.
California
WR Marvin Jones & LB Mychal Kendricks: Jones was a touted true freshman last year but hurt his knee and never broke through. Kendricks had 16 tackles and a sack as a true freshman and is a frontrunner to fill one of the three vacancies at linebacker.
Oregon

DE Zac Clark & WR Lavasier Tuinei: Oregon has big-time needs on the D-line and at receiver, and these JC transfers will be given an opportunity to immediately ease those needs. Tuinei, at 6-foot-5, should give the Ducks receiving corps some size, while Clark will be eyeballing the vacancy left by Nick Reed.
Oregon State

WR Jordan Bishop & OT Colin Kelly: Receiver is a need area for the Beavers, and Bishop, a redshirt freshman, impressed on the scout team and during Sun Bowl practices. Kelly, a redshirt freshman, is in the mix on an offensive line that lost both starting tackles.
Stanford

QB Andrew Luck, OG David DeCastro, TE Konrad Reuland: Luck almost lost his redshirt last year while Tavita Pritchard struggled, and he'll have a good chance to win the starting job. DeCastro is presently No. 1 on the depth chart, while Reuland is a transfer from Notre Dame.
UCLA

QB Kevin Price & TE Morrell Presley: Prince, a redshirt freshman, is the most likely candidate to unseat returning starter Kevin Craft. Presley, a true freshman, could make an immediate impact as a hybrid TE/WR.
USC

QB Matt Barkley, DE Nick Perry, RB Curtis McNeal: Barkley, the nation's No. 1 recruit in 2009, could jump over Mitch Mustain and Aaron Corp in the quarterback competition, while Perry, a redshirt freshman, is almost certain to be in the mix at end or perhaps outside linebacker. McNeal, a redshirt freshman, was a late arrival last year but made an impression with his explosiveness.
Washington

LB E.J. Savannah, C Mykenna Ikehara , WR Anthony Boyles: Savannah is not a newcomer -- he was the Huskies leading tackler in 2007 before finding his way into Tyrone Willingham's spacious doghouse and getting kick off the team. Pencil him in as a starter. Ikehara, a redshirt freshman, could replace Juan Garcia at center. Boyles, a redshirt freshman, was a touted recruit who didn't break through last year but is expected to be sharper this spring.

Washington State

DT Bernard Wolfgramm, CB Brandon Jones, RB James Montgomery: It's not unreasonable to go ahead and pencil in all three of these guys in as starters. Wolfgramm is a 2008 JC transfer who redshirted last year, while Jones and Montgomery both transferred from California.
February, 23, 2009
2/23/09
10:20
AM ET
Posted by ESPN.com's Ted Miller
One of the charms of college football is the mostly predictable roster rotation. Young guys break through, become stars and then leave after their third, fourth or fifth year. Then a new cast tries to fill the void.
While there are numerous size 36 EEE shoes to fill -- figuratively speaking, of course -- in the Pac-10 this spring, we'll focus on five here.
| | |
| --- | --- |
| | |
| | Jeff Golden/Getty Images |
| | It's going to be tough for the Trojans to replace Rey Maualuga. |
And because quarterback competitions across the conference are so obvious, we're going to make this a "non-quarterback" category.
Also note that spring is a time for the experimentation. Coaches love to mix-and-match players, so there might be some surprises we didn't anticipate.
Big shoes: USC LB Rey Maualuga
Stepping in: Sophomore Chris Galippo
Out goes everybody's All-American Maualuga, in goes everybody's 2006 prep All-American Galippo, a sure tackler who packs a punch at 255 pounds. He had 12 tackles, two coming for a loss, and an interception last season. He saw action as a true freshman before suffering a herniated disk in his back, an injury that also limited him last season. He seemed healthy the second half of the season, but back injuries are tricky. That might be the biggest issue standing between Galippo and future stardom.
Big shoes: California C Alex Mack
Stepping in: Junior Richard Fisher or junior Chris Guarnero
Fisher is a former walk-on and a vegetarian. For real. He was listed as the backup behind Mack last season. Guarnero started the first three games at left guard before suffering a season-ending toe injury. He is expected back for spring ball. With a new offensive line coach, Steve Marshall, and lots of returning starting experience -- seven players have started at least one game -- there might be lots of experimenting up front this spring.
Big shoes: Oregon DE Nick Reed
Stepping in: Junior Brandon Bair, junior Kenny Rowe, JC transfer Zac Clark
Reed had 20 tackles for a loss and 13 sacks last year (29.5 for his career). His potential replacements had no sacks last season. Some Oregon fans took issue with my suggesting in our "What to watch this spring," that Bair was the frontrunner to replace Reed. I wrote that because Rowe was listed at 215 pounds on last year's depth chart and was almost exclusively a pass-rush specialist. Meanwhile, Clark is an unknown quantity as an incoming JC transfer. On the other hand, Bair is more in the mold of returning big end Will Tukuafu, so perhaps Rowe, who's listed at 230 pounds on the updated roster, and Clark will battle it out. Guessing this one is wide open, to be honest.
Big shoes: Arizona State FS Troy Nolan
Stepping in: Sophomore Clint Floyd leads a pack of possibilities
Nolan had 64 tackles and four interceptions playing center field for the Sun Devils' defense, and he'll be the toughest guy to replace for a unit that should be fairly salty next fall. Floyd will get first crack, but junior Max Tabach, redshirt freshman Keelan Johnson and senior Jarrell Holman could make a move.
Big shoes: Oregon State WR Sammie Stroughter (and WR Shane Morales)
Stepping in: Junior Darrell Catchings and redshirt freshman Jordan Bishop
Stroughter was the Pac-10's only 1,000-yard receiver last year. Morales added 743 yards, while this duo combined for 15 of the Beavers 25 touchdown receptions. Catchings caught only seven passes but was No. 2 on the depth chart. Bishop was impressive while redshirting, particularly during Sun Bowl practices. And slot receiver James Rodgers figures to see more balls downfield this fall after mostly being a fly-sweep specialist the past two seasons.