NCF Nation:

Jordan Cowart
April, 29, 2013
4/29/13
2:00
PM ET
The NFL does not wait for everyone, and so what was an otherwise 10 a.m. ET call out of Baltimore turned into an early-morning wake-up for the latest former Notre Dame player to take his talents to the next level.
Blessed to get a wake up call at 4 am from the Ravens. Got a lot to prove this weekend!! Thank you Lord for this opportunity!

— Robby Toma (@RobJob293) April 29, 2013
Toma will join fellow Irish player
Kapron Lewis-Moore
with the Ravens. The often-overlooked 5-foot-9, 185-pound receiver is now the 13th former Irish player who will get a shot at the NFL in one form or another.
The official Notre Dame football page has a nice graphic of most of the players
here
.
To recap:
March, 30, 2012
3/30/12
9:00
AM ET
The third and final part of our breakdown of Notre Dame's 2012 roster wraps up today with the special teams.
SPECIAL TEAMS
The (key) players
:
Kyle Brindza
,
Ben Turk
,
Jordan Cowart
,
Theo Riddick
,
John Goodman
,
George Atkinson III
,
Amir Carlisle
,
Austin Collinsworth
,
Chris Salvi
,
Nick Tausch
The incoming:
Scott Daly
The breakdown:
New tight ends coach Scott Booker is now in charge of special teams, though the entire staff will take a more hands-on approach following a 2011 campaign in which the Irish averaged 0.3 yards per punt return before the bowl game. In addition to kickoffs, Brindza will likely be the Irish's field goal kicker as well following the loss of
David Ruffer
. Turk improved as the season went on last season and figures to be the starting punter again. Atkinson returned a pair of kickoffs for touchdowns last season and may see more action in the backfield this season, so it remains to be seen if his duties could be extended to the punt return game as well. Same goes for Collinsworth, who was solid on both the kick-return and kick-coverage teams but will likely see extended time at safety following the graduation of
Harrison Smith
. Carlisle is out for the spring with a broken ankle, but he returned kicks for USC at times last season and could possibly be a factor on either return team.
Riddick's struggles returning punts last season are well-documented, but the staff likely isn't ready to give up on the big-play potential of which he is capable. Goodman had the sure hands and was basically back there last season as a safety net to prevent anything bad from happening, and the Irish hope that won't be needed again this year. (Goodman is in line to play a bigger role offensively, too.) Salvi earned a scholarship for being such a force on both kickoff teams, and Daly is the second scholarship long-snapper in school history, likely backing up Cowart this season before taking over the reins in 2013.
October, 8, 2011
10/08/11
3:36
PM ET
SOUTH BEND, Ind. — Notre Dame will be without starting defensive end Ethan Johnson today, as the senior sprained his right ankle in last week's game at Purdue.
Johnson was wearing a big black boot on his right foot and was not in uniform when the Fighting Irish warmed up on the field. Freshman Aaron Lynch was taking first-team snaps and will likely start in his place.
Johnson was immobilized until Thursday of this week after suffering the injury, and Brian Kelly said then that he would be a game-time decision. Notre Dame has a bye week next Saturday, so that may have possibly played into a decision as well.
In other injury news, long-snapper
Jordan Cowart
, who broke his hand in a post-punt scuffle last week at Purdue, was in uniform but only watched as
Braxston Cave
short-snapped and
Ryan Kavanagh
long-snapped in warmups.
Darius Fleming
long-snapped a bit, too, and he will be Cave's backup if Cowart can't go, which looks like that may be the case.
The band is on the field and we're only minutes away from kickoff, so keep it right here for updates and analysis.
October, 2, 2011
10/02/11
10:00
AM ET
1. Protecting the ball makes for smooth sailing:
It seemed like we'd never see the day Notre Dame went 60 minutes without a turnover, but Saturday changed that.
[+] Enlarge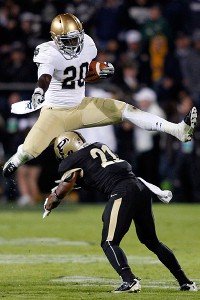 AP Photo/AJ MastNotre Dame's Cierre Wood is 42nd in the nation in rush yards per game at 89.8.
The Fighting Irish eclipsed the 500-yard mark for the third time this season, but won while crossing that plateau for the first time, as they were doomed by five-turnover performances in Weeks 1 and 2. Saturday was huge for the offense, particularly
Tommy Rees
, who eliminated many of the befuddling miscues that had Irish fans calling for a new quarterback after his first three and a half games under center. Now, for the first time all season, we can no longer say Notre Dame leads the nation in turnovers or has the worst turnover margin. (The first honor belongs to East Carolina, with 17. The latter is shared by East Carolina, Iowa State and Western Kentucky, at minus-2.00).
2. The rush defense is for real:
Notre Dame had another dominating performance up front Saturday, limiting the Big Ten's second-ranked rushing offense to 84 yards on 27 carries. This came two weeks after the Irish allowed just 29 rushing yards against Michigan State and one week after holding Pitt's
Ray Graham
to 89 yards, something that looks like more of an accomplishment after Graham exploded for 226 yards Thursday against South Florida.
3. Special teams need to improve. Still:
Brian Kelly said Saturday that he didn't want to sound like sour milk when listing what his team could have done better, but the Irish did leave points on the board. David Ruffer, a 2010 Lou Groza Award finalist, missed two field goals. And the punt return experiment once again looked like just that -- an experiment.
John Goodman
netted minus-3 yards on two returns and, in a real head-scratcher, watched one ball sail over his head and roll for a 61-yard punt in the first quarter.
4. Penalties still need clearing up:
This one gets overshadowed because the Irish didn't turn the ball over, won by 28 points and saw their opponent commit an astounding 13 penalties for 118 yards. But Notre Dame itself committed eight penalties for 85 yards, including an ugly one when long snapper
Jordan Cowart
got tangled up with several Purdue players on a second-quarter punt. Mental lapses such as these are forgivable against the Boilermakers, not so much against USC or Stanford.
August, 20, 2009
8/20/09
1:19
PM ET
Posted by ESPN.com's Brian Bennett
SOUTH BEND, Ind. -- Two years ago, Charlie Weis threw a bunch of true freshmen into the fire because he felt he had no other choice.
With 18 returning starters back and more depth than he's had before at Notre Dame, that's no longer the case.
"The guys who get on the field now as freshmen get on the field because they're really good, or they're playing on special teams," Weis said. "But I'm telling you, on offense and defense right now, to get on the field means you're pretty good."
The Irish brought in a well-regarded recruiting class this offseason, so there are several pretty good true freshmen who might see immediate time. The list begins, to no one's surprise, with linebacker Manti Te'o, who very well might start from Day 1.
"He's definitely in the picture," Weis said. "I expect to see him on the field in the opener. I don't think he'll be on the sidelines."
Running back Cierre Wood was one of the more highly-touted signees, and Weis said both he and classmate Theo Riddick have been impressive so far. He said one or both could play early.
"Both these guys have made it more difficult for the coaching staff to make personnel decisions because neither one has played themselves out of contention," he said. "Cierre is a bigger guy, more bruising guy who can run inside and out. Theo is one of those guys who's got a second and third gear.
"Cierre came in with the hype in the recruiting process, but he's got no leg up on Theo, because Theo has been quite impressive as well."
Weis said both guys could play on the kick return team. Whether they get carries depends on if they can climb past Armando Allen, Robert Hughes and Jonas Gray on the depth chart.
Depth is also the reason why receiver Shaquelle Evans will have to fight for time. He's physically impressive already, and Weis said he runs precise routes and has great hands. The only problem -- and it's a great problem for the Irish -- is that he's behind Golden Tate and Michael Floyd.
"So does he backup Golden, because they have similar speed," Weis said, "or do you put him opposite of Golden and now you've got speed on both sides right there?"
On defense, safety Zeke Motta should play on all four special teams and might work his way into the defensive backfield rotation, Weis said. The coaches like nose tackle Tyler Stockton a lot, but because of depth he might be "a luxury item" that the Irish can redshirt and develop, Weis said. The same goes for offensive linemen Chris Watt, Alex Bullard and Zach Martin, all of whom Weis said would probably be in the two-deep in past years.
Ben Turk (punting) and Nick Tausch (placekicking) are both battling for specialist jobs, and Weis plans to decide on those positions after Sunday's practice. If it's too close to call, like it is now, he said he'd likely go with a veteran option instead. Jordan Cowart will serve as the long-snapper.
Even receiver Roby Toma, who went to the same Hawaii high school as Te'o and was viewed as an enticement to get Te'o, has been impressive, Weis said.
"Everybody thought he was the Punahou [School] throw-in, but that's not the way it's working out," Weis said. "He's competitive and is one of our better blockers at 110 pounds or whatever he is. He's a pain in the butt."
What doesn't bother the Notre Dame staff is that it has a lot of skilled freshmen -- and no real pressing need to play them unless they want to do so.