October, 23, 2014
Oct 23
10:15
AM ET
Join ESPN.com reporters Edward Aschoff, Heather Dinich, Adam Rittenberg and host Chantel Jennings as the discuss who should be in the top four when the College Football Playoff committee's first rankings come out next week. They will also preview Week 9's best games and take your questions.
November, 15, 2011
11/15/11
9:00
AM ET
See ya, high octane.
Welcome back, grind-it-out football.
If the Panthers' 21-14 win against Louisville this past weekend had a familiar look to it, that was not an accident. Coach Todd Graham has decided to slow down the offensive pace. No more rushing to snap the ball. No more rushing to get set. No more rushing players onto the field.
[+] Enlarge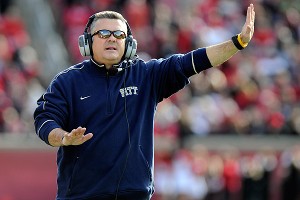 Jamie Rhodes/US PresswireCoach Todd Graham helped get Pittsburgh back on track by changing the tempo of his offense.
Pitt was effective at going at a slower tempo against the Cardinals, racking up 200 yards on the ground. They had no penalties, and
Tino Sunseri
looked more comfortable. Plenty of misdirection plays worked, and the offensive line had perhaps its best performance in a long time. They are going to have to repeat that performance in their final two games against West Virginia and Syracuse to not only get back to a bowl game, but keep their Big East hopes alive.
Graham singled out his line in particular for its play against the Cardinals. The Panthers used their seventh different starting lineup, as guard Lucas Nix was still unavailable. Pitt went with the combination of Greg Gaskins at left tackle, Ryan Schlieper at left guard; Ryan Turnley at center; Cory King at right guard and Jordan Gibbs at right tackle. Turnley is the only player who has started all 10 games at the same position.
"I'm just really proud of them," Graham said. "Greg Gaskins just sticks out to me up front, him and Turnley. We've now had a few weeks with just the same group of guys and they really responded. I thought we run-blocked really well, came off the football. We were able to be balanced in what we were doing. It's just repetition and having the same guys in the lineup helped. It's just reps and those guys being disciplined."
Pitt lost its two best players on the offensive line in Nix (hurt against USF) and Chris Jacobson (out for the season). Guys like Gaskins, King and Schlieper only have a handful of starts and were thrown into the mix to plug holes. As a result of that and an inability to pick up the hurry-up, Pitt has given up 42 sacks this season.
The injuries on offense and all the young players have played a big role in why Graham is scaling back the attack.
But if he gets another performance like the one against Louisville, it will hardly matter.
"The nature of football -- you're going to have injuries," he said. "We're not going to make excuses and whine about that stuff. But what you have to have is guys that have been in backup roles or some of our guys who've been third team. They can't play as replacements. They have to go out there like they're 9 feet tall and compete like they're the best offensive linemen in the country. To get that confidence takes repetition. Having a knowledge of what you're doing allows you to play fast and aggressive. It's been a process, obviously been a challenge with the injuries, but [I'm] really proud of how they responded. It's not how you start, but how you finish."
June, 27, 2011
6/27/11
9:00
AM ET
Now by popular demand, we begin ranking the positions across the Big East. I know I am a little late to the party on this one, but better late than never, right? I asked on Twitter for suggestions on which position to start with today. There was no consensus. But I did like one suggestion: to work our way up from the line.
So first up is the offensive line. To make these rankings, I considered returning starters, accolades for returning starters, position switches and depth. The truth is, this is not an area of strength for the league as a whole. Most teams have depth concerns and questions at one or more positions.
[+] Enlarge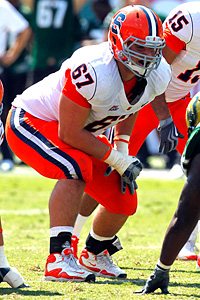 Cliff Welch/Icon SMI Justin Pugh earned all-conference honors last season as a freshman.
1. Syracuse.
The Orange have four returning starters, including two seniors. You have Justin Pugh, who made second-team All-Big East last year as a freshman. You have a more mature and experienced unit than the one last year, which had to replace four starters. There also is depth to have a nice eight-man rotation. The concern is at center, where Macky MacPherson is undersized. Actually, when you look at the entire group, it is undersized. Andrew Tiller is the only one who tips the scales at more than 300 pounds.
2. West Virginia.
The offensive line was an area of strength under Rich Rodriguez, but has struggled the past few years. It was hard to get a gauge on this unit in the spring, with both starting tackles Jeff Braun and Don Barclay out because of injuries. Starting guard Josh Jenkins also got hurt and is still not 100 percent. But the potential is there for this group to be significantly improved.
3. UConn.
The strength of this unit is at tackle and center, where the Huskies return first-team All-Big East selection Mike Ryan (20 career starts) and Adam Masters (18 career starts). Moe Petrus, a second-team all-conference pick, has 39 career starts. Their experience should help along the guards -- nobody on the roster has started a game at the position. The good news is that Gary Bardzak does have starting experience, but it came at center.
4. Pittsburgh.
The Panthers made so many position shifts during the spring that it is hard tell how this unit is going to shape up come fall. Chris Jacobson moving to center was one of the biggest moves, and Pittsburgh hopes it pays off with more stability there. Jacobson and starting tackles Jordan Gibbs and Lucas Nix have a combined 49 career starts, but Pitt has to make up for losing first-team Big East selection Jason Pinkston.
5. USF.
The Bulls are going to be young on the offensive line this season after losing first-team All-Big East center Sampson Genus, along with tackles Jamar Bass and Jake Sims (second team All-Big East). Chaz Hine and Jeremiah Warren are a solid tandem at guard, and Mark Popek at left tackle and Kevin McCaskill at center do have playing experience. But at right tackle, USF plans to go with redshirt freshman Quinterrius Eatmon. He does have loads of potential, but there will be a learning curve. Depth also is an issue, and the Bulls could have true freshmen in the rotation.
6. Cincinnati.
The Bearcats had their share of problems last season, ranking second-to-last in the Big East in sacks allowed (31). This year, they have to replace three starters on the offensive line with unproven players. Senior right tackle Alex Hoffman has taken on some leadership responsibility with the loss of Jason Kelce, but players like Austen Bujnoch, Andre Cureton, Sean Hooey and Evan Davis are going to have to step up. Depth could also be an issue here.
7. Louisville.
The Cardinals return just one starter in center Mario Benavides, who has been hampered with a knee injury. Ryan Kessling and Alex Kupper have playing experience, but most everybody else is pretty unproven, and that makes for one of the biggest question areas on the team headed into the fall.
8. Rutgers.
The Scarlet Knights own the bottom spot until the season starts and we can see how much this unit has improved. It is a well-known fact that they finished last in sacks allowed and were one of the worst rushing teams in the country last season for that reason. They suffered a blow when junior college transfer Dallas Hendrikson went down with a season-ending injury in the spring, but coach Greg Schiano said he saw plenty of improvement from this group. They certainly will have more experience, but how much better will they be?
April, 5, 2011
4/05/11
5:15
PM ET
PITTSBURGH -- A few quick thoughts and observations from what I got to see of Pitt's spring practice on Tuesday:
I was looking forward to seeing just how high-octane this offense was, to use Todd Graham's description. While the usual drills and other periods were held at the same tempo as a lot of practices I've seen, when Pitt went to an 11-on-11 drill it was pedal to the metal. The offense was sprinting to the line of scrimmage and snapping the ball in under 10 seconds. That doesn't mean it was effective. There was a bad shotgun snap from Chris Jacobson and another one mishandled by backup quarterback Anthony Gonzalez. Throw in an incomplete deep ball, and the short team period looked a little disjointed. But fast.
In the past couple of years, Pitt was always what Dick Vitale would call an "All-Airport" team. That is, they looked awfully good in their uniforms. The Panthers don't look quite as physically imposing this spring, but perhaps that's just because guys like Jon Baldwin, Greg Romeus and Jabaal Sheard are not longer around. This team still has plenty of talent, though depth looks like it could be an issue.
Tino Sunseri has pretty clearly established his hold on the starting quarterback job as the incumbent. He had a little trouble hooking up with receivers on deep balls while I was watching, but the coaching staff loves his poise and experience. Remember that Graham has won with quarterbacks who weren't necessarily physical specimens but who were really smart. Sunseri, as a coach's kid and with a year under his belt, fits that bill.
Gonzalez got the first backup QB snaps on Tuesday, though he didn't throw as much as Mark Myers in some other drills. It's hard not to like Myers' skills; he's tall and throws a very tight spiral. Is he the right quarterback for this system? That's a good question, considering he looks like a prototypical pro-style signalcaller, which is one reason why he signed with Pitt.
Receiver Cam Saddler was back on the field after missing some time with a leg injury. The 5-foot-7 speedster has got to love this offensive system after not really getting used much by Dave Wannstedt. He's the kind of waterbug Graham found success with at Tulsa. Devin Street and Mike Shanahan look terrific as the top two wideouts. Pitt just has to find more guys behind them.
The first-string offensive line, for what it's worth, saw Lucas Nix and Jordan Gibbs at tackle, Greg Gaskins and Cory King at guard and Jacobson at center. Gaskins struggled last year when he was first given a chance to start but now he's a senior. After Gaskins made a nice block in a lineman drill, offensive line coach Spencer Leftwich yelled, "If you do that, you can play here."
As usual in these settings, it's hard to tell a whole lot about the defense when there's not much hitting. But Graham raves about his defensive line, saying tackle Chas Alecxih in particular has had a huge spring. He also says cornerback K'Waun Williams "can be special." Some currently injured players like Brandon Lindsey, Antwuan Reed and Todd Thomas will help when they're healthy.
October, 9, 2010
10/09/10
2:21
PM ET
SOUTH BEND, Ind. -- Greetings from Notre Dame Stadium, where the weather is postcard perfect: 80 degrees without a cloud in the sky.


This should be a good matchup between two teams who appear fairly even. I want to see if Pittsburgh's revamped offensive line can handle a step up in competition from last week's win over FIU. In particularly, I'm wondering if new starting right tackle Jordan Gibbs can stave off the pass rush from Kapron Lewis-Moore, Kerry Neal and perhaps Darius Fleming. I bet Notre Dame will test him early.
Obviously,
Tino Sunseri
has to play his best game of the year for Pitt to win. On the flip side,
Dayne Crist
needs to be more consistent for the Irish, and opportunities should be there for
Theo Riddick
and
Kyle Rudolph
against the Panthers linebackers.
For Notre Dame coach Brian Kelly, he needs to get the Irish over the hump against teams from his former league. The Big East has won four straight over the Irish, including Pitt twice, UConn last year and Syracuse two years ago.
Lots and lots of interesting battles today, and I haven't even gotten to the
Dion Lewis
/
Ray Graham
situation and Notre Dame's improved rush defense.
October, 6, 2010
10/06/10
10:36
AM ET
The guy who nearly broke Tony Dorsett's single-game rushing record last week, who leads the Big East with a 9.5 yards-per-carry average and who ranks third nationally in rushing yards per game will likely start this week's game on the bench. And he's not complaining.
[+] Enlarge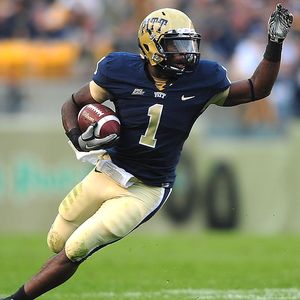 Andrew Weber/US PresswireRay Graham has made a case for more carries in Pittsburgh's crowded backfield.
"I'm cool with that," Pittsburgh tailback Ray Graham said. "Coach made the decision and he's going to stick with it. I'm just going to go out there whenever I get my name called and just play."
Graham has made Dave Wannstedt's running back decision extremely tough, which is not something many people would have predicted at the beginning of the season. The starting job belonged unquestionably to Dion Lewis, who as a freshman won the Big East offensive player of the year award and was the nation's leading returning rusher after a 1,799-yard campaign.
But Lewis has not gotten on track yet this season, failing to break 100 yards in any game and totaling just 143 yards on 47 carries. Graham, on the other hand, has 492 yards on five more attempts and was the team's only real offensive weapon against Miami. When Lewis missed last week's game against Florida International with a banged-up shoulder, Graham erupted for 277 yards and three touchdowns.
Still, Wannstedt said Lewis will start this week at Notre Dame, though Graham has earned the right to get perhaps as many carries as his classmate
"We have a lot of other issues that are a concern to me other than who's going to be carrying the ball," Wannstedt said. "We're fortunate to have both those guys, and we'll continue to play them both."
Graham was the more highly touted recruit in last year's class, but once he arrived in the summer he found himself behind Lewis, who had enrolled in January. Now he feels like he's on more equal footing.
"This year, I've hit the weight room and I'm stronger," he said. "I spent a lot of time in the film room, and now I'm knowing my plays more. I feel more confident out there this year compared to last year. That was the biggest progression."
Other players in Graham's situation last year might have transferred for more playing time. Wannstedt said he was honest with Graham about where he stood and had several conversations last year with Graham's uncle and high school coach, who are both influential in his life.
"Ray showed what kind of person he is with how he handled everything with Dion last year having all the success he had week after week," Wannstedt said. "There's no more humble player on our team."
There doesn't seem to be any problem between Graham and Lewis, even if there might be a growing controversy over who should start. In last week's game, the two could be seen hanging out and laughing together on the sidelines. Graham said the two are great friends.
"When he scores, I'm the first one over there to credit him, and he does the same for me," he said. "We have a little celebration dance we do on the sidelines. We're always helping each other out."
Graham has a little more of a burst than Lewis, and his ability to make people miss has come in handy this season as the Pitt offensive line has struggled to create holes. That line got a makeover last week with Lucas Nix moving inside to guard and Jordan Gibbs taking over at right tackle. That gave the running game a spark, and the Panthers hope that continues in South Bend.
Lewis will get first crack at running behind that remade line this week. And the guy with the huge rushing numbers will support him.
"He's going to get it going in this game and make it happen," Graham said. "Once that happens, we'll have a dangerous tandem with him and me, and it's going to be hard to stop us both."
September, 30, 2010
9/30/10
10:21
AM ET
1. TCB Weekend:
It's a rare week when every Big East team is favored and expected to win, with only UConn's game against Vanderbilt featuring a major-conference opponent. The league has been battered and bruised for its September performance, so this is a time to pick up some wins and confidence -- provided that everybody takes care of business.
[+] Enlarge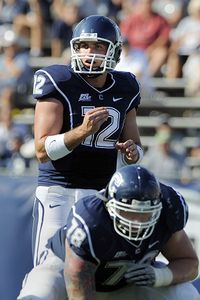 AP Photo/Fred BeckhamCody Endres completed 7 of 11 passes for 139 yards, two touchdowns and no interceptions in relief of Zach Frazer last week.
2. Endres enters:
Cody Endres
looked good in relief of
Zach Frazer
at quarterback for Connecticut last week, and now he gets his first starting assignment since October of last season. Can he keep it up against an SEC defense? And can the Huskies passing game continue to show improvement?
3. UConn's rush to victory:
Notice I called Vanderbilt an SEC defense in the last item, and technically that's true. But the Commodores rank 105th in the FBS in rushing defense, allowing 206 yards per game. We don't know yet if
Jordan Todman
will play after missing last week's game with an arm injury. But clearly there should be some running room for a team that loves to move the ball on the ground.
4. Macho Man Savage?:
Rutgers quarterback
Tom Savage
is dealing with bruised ribs, and if you ever experienced an injury there, you know how painful that can be. It remains to be seen whether Savage, who has gotten off to a rough start while healthy, will play or be able to be effective against Tulane. If he can't go, then true freshman
Chas Dodd
may be forced into action, or
Mohamed Sanu
will see a whole lot of Wildcat time. That could make an already scuffling Rutgers offense even more sketchy.
5. Pitt's new-look line:
Pittsburgh shook things up this week with its offensive line, moving tackle Lucas Nix inside and installing Jordan Gibbs at right tackle. The Panthers are desperately trying to get the line right and open up room for their running game, which is key to everything they want to do. The reshaped line gets its first challenge against Florida International, which gave Rutgers all it could handle in Week 2. FIU likes to blitz from different angles and has Florida athletes, so this will be a good litmus test for Pitt's makeover.
6. Sunseri in the spotlight:
Pitt quarterback
Tino Sunseri
did not look good against Miami, and when reserve
Pat Bostick
came in during the fourth quarter some fans were ready to make the change permanent. Dave Wannstedt isn't ready to make a switch and still believes in Sunseri. But clearly, the first-year starter needs to get on track, because the Panthers don't have much room for error. And they have a veteran in Bostick waiting in the wings.
7. Bulls on the run or in the air?:
South Florida escaped Western Kentucky last week by running the ball almost exclusively. Now the Bulls play a Florida Atlantic team that ranks last in the country in rushing defense. So expect some more of the power I-formation look, and potentially a big day for
Demetris Murray
and
Mo Plancher
. At the same time, however, receivers
Dontavia Bogan
and
Sterling Griffin
could be back from injury, and both could use some work before next week's Big East opener against Syracuse. So USF needs to air it out a bit, too.
8. New Cardinals catchers:
Louisville has suffered all kinds of injuries at the receiver position, the latest knocking out leading pass catcher
Doug Beaumont
. The Cardinals need to find people to make plays in the passing game this week at Arkansas State, and they could look to junior college transfer
Josh Bellamy
, sophomore
Andrell Smith
or freshmen
Kai Dominguez
and
Jarrett Davis
. None have much experience, and Louisville will likely need to get plays out of them against a Red Wolves team that's averaging 28 points per game.