NCF Nation:

Jordan Holmes
May, 25, 2011
5/25/11
1:30
PM ET
Oregon tailback
LaMichael James
and quarterback
Darron Thomas
are the two most prominent offensive stars in the Pac-12 not named Luck. But one question that the Ducks must answer early in their quest for a third consecutive conference championship is whether the offensive line will provide the time and space for the backfield to do what it has proven it can do.
"We lost three starters, three guys who had over 100 starts," Oregon coach Chip Kelly said. "That's a big concern."
[+] Enlarge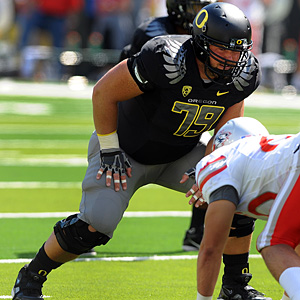 Steve Dykes/Getty ImagesThe Ducks will lean on Mark Asper, who is one of the returning starters along the offensive line.
Center Jordan Holmes and left tackle Bo Thran both made all-conference. Along with right guard C.E. Kaiser, the three fifth-year seniors used their experience together and their maturity to overcome whatever deficiencies they had. That's the trick in college football -- time can trump talent on an offensive line.
"All those guys led by example," Kelly said. "Those kids were great students. Jordan Holmes was a great role model in every aspect. It was easy for Jordan Holmes to stand up and say, 'This is how we do it,' because he did it that way."
That leaves fifth-year senior Mark Asper, a 25-year-old husband and father, fourth-year junior left guard Carson York, and, according to Kelly, a third returning starter in redshirt senior Darrion Weems. He started four games at left tackle and two at right tackle. Kelly pretty much believes that offensive lines, like basketball teams, should have a sixth man.
"Steve [Greatwood, the offensive line coach] would always rotate guys in with our offensive line," Kelly said, "so even though we lost three, we got three starters coming back. Mathematically, people say how do you do that? Because those guys share snaps."
The biggest hole may be at center, where redshirt sophomore Karrington Armstrong and redshirt freshman Hroniss Grasu split time. Grasu "is a kid we really like," Kelly said. However, the 19-year-old, at 6-foot-3, 278 pounds, may be a milkshake or two short of being an every-down player.
At right guard likely will be veteran Ramsen Golpashin, "a fifth-year kid who has worked really hard for us and has put himself in a position where he's going to play a little bit for us," Kelly said. The leader for the sixth man is Ryan Clanton, "a JC kid who has shown up a little bit and is playing hard, doing things that, if we can keep him healthy, will put us in a good situation."
The bottom line, however, is that if Oregon wants an offense as prolific as last year's, the Ducks can't afford early-season injuries up front. Every coach has to deal with replacing players. But Kelly has to replace them at the position that depends the most on experience.
"There are still going to be two or three kids in the offensive line that haven't really played significant snaps for us," he said. "They're going to have to play significant snaps for us this year. We'll see how they do."
January, 11, 2011
1/11/11
2:47
AM ET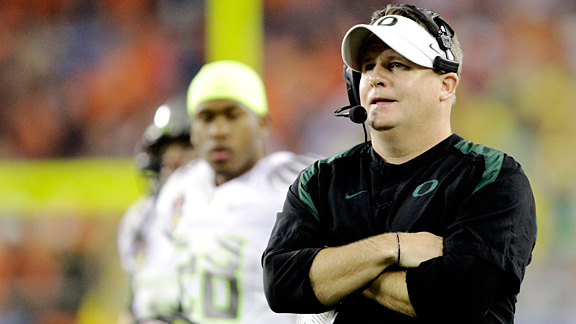 AP Photo/Matt York"The matchup with our offensive line against their defensive line was really the changing point in the football game," Ducks coach Chip Kelly said.
GLENDALE, Ariz. -- Oregon fought like heck. Its defense held Auburn to 21 points below its season average. The Ducks made things interesting with a late touchdown.
But when you cut to the chase of the Tostitos BCS National Championship Game, when you really talk about what matters in football, the reality is this: Oregon's offense got whipped up front by Auburn's defense in a
22-19 loss
.
"The matchup with our offensive line against their defensive line was really the changing point in the football game," Ducks coach Chip Kelly said. "I will give Auburn credit. They've got a great front four. Nick Fairley proved he was the best defensive lineman in the country. It was a tough matchup for us."
Fairley, the Lombardi Award winner, had three tackles for a loss and a sack and was a disruptive force inside. But he wasn't the only one. Auburn had 11 tackles for a loss and held the Ducks to just 75 yards rushing. They entered the game averaging 303.8 yards rushing per game. The Ducks averaged 6.1 yards per rush this season; they gained just 2.3 against the Tigers.
With the running game sputtering, that put the pressure on Oregon quarterback
Darron Thomas
. Sometimes he came through. Other times he didn't. The sophomore did shake off two early interceptions to set career highs with 27 completions on 40 attempts for 363 yards and two touchdowns.
The total yards were fairly close -- Auburn gained 520 yards and the Ducks piled up 455 -- but the Tigers' yards felt more meaningful, in large part because they rushed for 255 yards and converted 9 of 17 third downs, compared to the Ducks' 5-of-15.
[+] Enlarge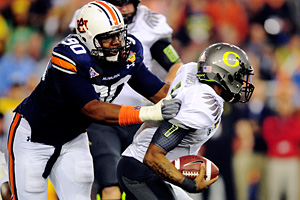 Mark J. Rebilas/US PRESSWIRENick Fairley and the Auburn defense combined for 11 tackles for loss against Darron Thomas and the Oregon offense.
Auburn ran 85 plays, a BCS National Championship Game record. Oregon ran 73.
"Their defensive line is really good," said Ducks running back
LaMichael James
, who was held to a season-low 50 yards rushing. "You know, it was tough to get around those guys. It was a difficult matchup."
A pattern has emerged: When a good defense gets extra time to prepare for the Ducks' offense -- Boise State, Ohio State and now Auburn -- it seems to thrive.
"You could say that," center Jordan Holmes said. "But we're not going to make excuses."
Still, Oregon had a shot. With the Ducks down 19-11 with five minutes left, linebacker Casey Matthews forced a fumble from Auburn quarterback Cam Newton, the Heisman Trophy winner. Oregon then drove 55 yards for a touchdown -- converting on a fourth-and-5 with a 29-yard pass in the process -- and
Jeff Maehl
made a spectacular leaping catch for the 2-point conversion to knot the count.
Only problem: There was 2:33 left on the clock. The Tigers took over and got a huge play from
Michael Dyer
: A 37-yard run deep into Ducks' territory when Dyer appeared down on a tackle from safety Eddie Pleasant, but broke away as defenders fatally relaxed.
The play was reviewed, but referee Bill LeMonnier of the Big Ten explained it like this: "The ruling on the field was there was nothing other than the foot that touched the ground. Replay... could not find any other body part touching the ground. So by rule he was not down."
The Tigers kicked a 19-yard field goal as time expired to earn their first championship since 1957.
And the Ducks were left to wonder about plays that were left on the field. Thomas seemed particularly frustrated by a pair of first-quarter interceptions.
"I came out killing us from the jump," he said of the two picks, one of which came on the Auburn 14-yard line.
Thomas felt it was Ducks miscues that hurt them more than what Auburn did: "I don't think Auburn stopped us from winning the game. We stopped ourselves."
But, really, it was about Auburn beating the Ducks. And it felt not unlike the Ducks' loss in the Rose Bowl to Ohio State last year, a game that Kelly also attributed to superior play by the Buckeyes' defensive line.
Obviously, for Oregon to take that final step up in the college football pecking order, it's going to need to get tougher up front on both sides of the ball.
The future was already on the Ducks' minds. They open against LSU in 2011 in Cowboys Stadium. That means they face another tough defense with lots of time to prepare.
"We have next year," James said. "We are going to play plenty more football games. We are going to win plenty more."
Or as Kelly said when he opened the postgame news conference for the losing team: "We'll be back."
January, 7, 2011
1/07/11
9:00
AM ET
SCOTTSDALE, Ariz. -- Oregon is No. 1 in the nation in scoring and No. 1 in total offense. Auburn is No. 4 in scoring and No. 7 in total offense, so the Tigers aren't so far behind.
But when you talk about the Auburn offense, it starts and finishes with this:
Cam Newton
.
When you talk about the Oregon offense, it starts with running back
LaMichael James
and then it goes on and on and on.
What's toughest about the stopping the Ducks offense?
[+] Enlarge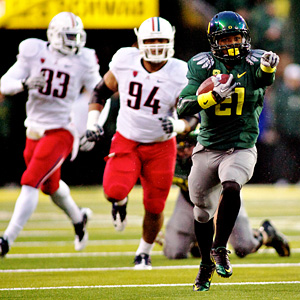 Craig Mitchelldyer/US PRESSWIREYou can point to LaMichael James and his 1,851 yards from scrimmage and 22 total touchdowns as the reason for Oregon's success. But he's not the only thing that makes the Ducks' offense go.
"Probably our tempo," center Jordan Holmes said. "We just keep going and going and going. Even when things aren't going as planned, we just keep doing our thing and eventually the defense gives way."
Agreed Auburn linebacker Craig Stevens, "It's always hard to emulate an offense going that fast." Added Tigers linebacker Josh Bynes, "Their pace is unmatched by anybody in the nation. I haven't seen a pace like that against any opponent this year."
No, it's not the tempo. The tempo is challenging, but Auburn's offense plays with fast tempo, too. So then what is the hardest thing for a defense to deal with?
"The misdirection," Oregon linebacker Spencer Paysinger said. "[QB
Darron Thomas
] is really good at hiding the ball with his fakes and his play-actions."
But that's not really it, either. It's the pressure the Ducks put on a defense to maintain gap discipline while dealing with a fast-tempo offense that uses a lot of misdirection.
"That's where they get people," Auburn defensive coordinator Ted Roof said. "You can see people take their eyes off them, people missing gaps, and it's a touchdown, not a 4-yard gain anymore." Agreed Stevens, "It's their ability to exploit defenses. Anytime a guy mis-fits, it seems like a guy is always able to find that hole and hit it and it turns into a big run or big pass."
Oregon is a dominant running team -- 304 yards per game -- that isn't too shabby throwing the ball -- 29 touchdown passes, No. 16 in the nation in passing efficiency. And it has star players; see James, a Heisman Trophy finalist and the nation's leading rusher.
But when you talk about the Oregon offense in terms of its most potent weapon, it's really about how everything blends together. While even the Ducks can't agree on what makes the offense most difficult to stop, the buy-in is complete under coach Chip Kelly, the mastermind behind the scheme. The players' confidence suggests they see their offensive success as, well, inevitable.
"We are in a situation right now where our guys believe 100 percent in what they are doing," coordinator Mark Helfrich said.
That starts not with James, but with quarterback Darron Thomas. James calls the sophomore, first-year starter the "point guard of the offense."
[+] Enlarge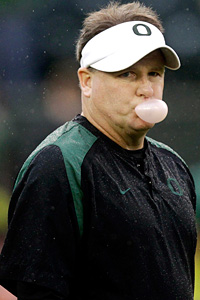 AP Photo/Rick BowmerOregon coach Chip Kelly is the mastermind behind the nation's No. 1 offense.
Thomas was expected to be No. 3 this year behind starter
Jeremiah Masoli
and senior backup
Nate Costa
. But when Masoli was kicked off the team, Thomas was a surprise winner in a close quarterback competition with Costa.
Even as the starter, early in the season he was expected to play the role of caretaker and distributor. He's become much more than that. His passing numbers were significantly better than Masoli's in 2009, and he earned second-team All-Pac-10 honors.
Oregon players thought Thomas was going to be good. Just not this good.
"He's done some things this year that have definitely surprised all of us," Holmes said.
Thomas' top target is
Jeff Maehl
, who doesn't look the part -- his haircut inspired more than a few "
Jeff Spicoli
" references from reporters meeting him for the first time. He caught 12 touchdown passes this year, a number of them fairly spectacular.
But he's one of nine Ducks who've caught TD passes.
Further, the rushing attack isn't only about James. Four other Ducks rushed for more than 200 yards. Thomas and backup running back
Kenjon Barner
combined for more than 1,000 yards and 11 TDs on their own. Seven different Ducks scored rushing TDs.
Then there's the offensive line. Oh, those poor, poor Ducks linemen. They just aren't big enough to get the job done.
"We are probably the smallest offensive line in the Pac-10," Holmes said. "We're outweighed by 10 to 40 pounds on a weekly basis. So [the national championship game] is no new thing."
That itty-bitty line -- average weight: 296 pounds -- led one of the nation's best rushing attacks while yielding only eight sacks, fifth fewest in the nation.
It's fair to say that Auburn's defense is going to win the "eye test" with Oregon's offense. The Tigers look better getting off the bus, as reporters like to say. But Roof thinks the Ducks look pretty good on film.
"On top of being really, really talented, they have a great scheme, they're well coached and they're very disciplined," he said.
That's the Ducks' best offensive weapon: The whole is greater than the sum of its parts.
January, 6, 2011
1/06/11
7:20
PM ET
SCOTTSDALE, Ariz. -- Just who is Chip Kelly?
The Oregon coach, who notoriously doesn't suffer media fools easily, has been even more "Chippish" than usual this week. Heck, he's even hired a private security force to keep reporters at bay. And those guys take themselves really, really, really seriously.
"[Kelly] is a good guy," Ducks center Jordan Holmes said. "I know he's a lot different with you guys than he is with us."
Truth is, Kelly is a funny guy. But he's more competitive than funny, and competitive side is taking over as he prepares his team for the biggest game in program history: the Tostitos BCS National Championship Game against No. 1 Auburn.
"He is intense," running back
LaMichael James
said. "He is always the same. I can say he is very consistent on the things we do."
Ah, but he does have his mischievous side!
Said James, "I think that's probably why we closed practice. He doesn't want you to see that side. He wants you guys to see the tough-guy role."
Part of the shutdown this year -- practices are open during the season -- is due to a belief that the Ducks underperformed in last year's Rose Bowl.
"I think we were physically prepared for that game last year, but I don't know if we were prepared mentally," James said. "I think that's why we lost the game."
Holmes said that Kelly is trying to teach the Ducks "about life as well as football." For one, Kelly is a big believer in making one's bed, and he regularly checks with players to make sure they do so.
Considering the Ducks are 12-0 and playing for a national title, it would seem many of Kelly's lessons are sticking.
"He expects the world out of us," Holmes said. "He trusts us and we trust him. And because of the level of trust and love we have on this team, we want to give him everything we have. That's why we play so hard."
November, 27, 2010
11/27/10
1:35
AM ET
EUGENE, Ore. -- A to-do list hangs in Oregon's locker room. Stuff like "Have fun" and "Eliminate distractions." Whatever. But No. 4 on the list, coach Chip Kelly said, is "Flip the switch."
Hmm. The Ducks' locker room is closed post game, so we do not know exactly where this switch is located. Nor do we know the nature of said switch. Witchcraft? Is it something cosmic? Is Kelly close with Harry Potter. Or perhaps Lord Voldemort? Should the NCAA drop all this agent, pay-for-play stuff and fly to Eugene to investigate this switch? Because it's becoming clear that switch is pretty powerful when it gets flipped.
[+] Enlarge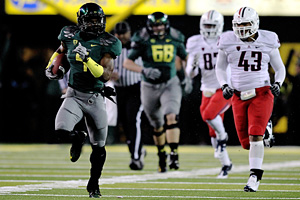 Jonathan Ferrey/Getty ImagesJosh Huff rushed 85 yards for a touchdown on Oregon's second offensive play of the third quarter. It gave Oregon its first lead of the game, and the Ducks would never trail again.
"We're pretty good at flipping the switch," Kelly said cryptically.
You won't have to convince Arizona of that. The No. 21 Wildcats led the No. 1 Ducks at halftime and then -- click -- they got steamrolled
48-29
. It was over early in the fourth quarter after the Ducks scored five touchdowns, a flurry amid which the Wildcats countered with a mere field goal.
"Slowly, but surely, their spirits started to dwindle," Oregon center Jordan Holmes said.
Spirits were high in Autzen Stadium and among the Ducks players. But there sure weren't many roses around for a team that just clinched the Pac-10 championship, which comes with a Rose Bowl berth.
The Ducks haven't won a Rose Bowl since 1917, but they've got bigger prizes within their grasp. Beat rival Oregon State on Dec. 4 and they will bypass the Rose Bowl and go directly to Glendale, Ariz., where they would play for the program's first national title.
Oregon wasn't celebrating much. "I'm giddy," said Kelly, who appeared to be exaggerating his mood a tad.
But back to this switch. It seems to be most frequently used at halftime. Oregon has outscored foes 256-64 in the second half this season. It's yielded just 14 points in the fourth quarter. The Wildcats led 19-14 at the break. Then "flip."
How did it happen?
The Wildcats took the opening kickoff of the second half and went three-and-out. The Ducks took over and, on second down, true freshman receiver
Josh Huff
took a pitch 85 yards for a touchdown. That made it 20-19 when the 2-point conversion failed.
Another defensive stop and the Ducks took over -- on their 1-yard line. A 19-play, 99-yard drive later and it was 27-19. That drive got a big hand when the Wildcats jumped offsides on a 42-yard field goal attempt, which was missed. You can't give Oregon's offense breaks.
The Wildcats answered with a field goal! The Ducks went 75 yards for a TD in 2:10. Another Oregon stop, the Wildcats shank a punt 25 yards, another quick Ducks TD.
[+] Enlarge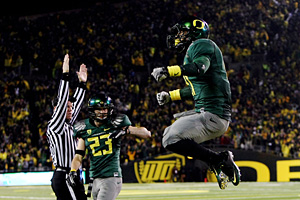 Jonathan Ferrey/Getty ImagesLaMichael James' two rushing TDs in the fourth quarter had he and the Ducks jumping for joy.
And just like that it's 48-22 with 12:15 left in the fourth. A game that was close no longer was. And it was hard not to ask, "What just happened?" even if you watched the whole thing.
Click.
Of course, we've seen this before: Tennessee, Stanford and USC previously thought it had the Ducks figured out before the switch was flipped and they ended up confused by how they ended up losing by three or four touchdowns.
There is this: Why not flip the switch before the game? Do the Ducks take it for granted that they can eventually overwhelm foes in the second half?
"I don't believe our players take it for granted," Kelly said. "Trust me, it's not by design that we are down at halftime."
That approach might not always work, either. You might have noticed that Auburn, a potential opponent in a national title game, seemed
pretty good in the second half at Alabama
.
But that's getting ahead of things. That's a distraction. Oregon won't be perfect until it closes the deal in Corvallis against the rival Beavers. As Kelly has said repeatedly, often drawing titters from media folk: Every game is a Super Bowl.
"We've been that way all year long. It's just about the next game," he said. "This time, you guys will believe me."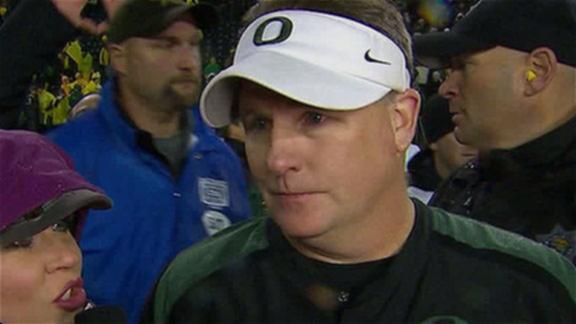 November, 11, 2010
11/11/10
11:33
AM ET
Oregon's offensive linemen are sick of it. They won't be objectified anymore. They want the world to know they are more than just a bunch of big, nameless, sexy guys.
Sure, they
made a calendar
. And, yes,
the photos are hot
. Women everywhere swoon at the thought of Ducks offensive linemen.
But they want to be taken seriously as football players. So there was no beefcake calendar this year.
"Believe it or not, we have a pretty big following," center Jordan Holmes said. "They were very disappointed."
Oh, Jordan, we believe it.
[+] Enlarge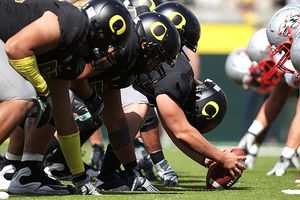 Tom Hauck/Getty ImagesThe Oregon offensive line has helped pave the way for the top-ranked Ducks.
But there is a larger issue here: When folks talk about the high-powered Oregon offense, they start with coach Chip Kelly and tempo and the spread-option, then move on to
LaMichael James
and
Darron Thomas
. Someone chirps in about underrated receivers, such as
Jeff Maehl
. "Underrated!" someone invariably counters. "That's tight end
David Paulson
's middle name!" Then someone says that's an unusual middle name. And another pipes in that they thought his middle name was "Joshua."
You get the point. They rarely talk about the offensive line. Heck, only dedicated Ducks fans know any of their names: Holmes, tackles Bo Thran and Mark Asper and guards Carson York and C.E. Kaiser. Ask Kelly to name his line's standouts and he doesn't -- and not because Kelly gets a kick out of not telling reporters what they want to hear.
"I don't know if there is [a standout]. I think they're all really good," said Kelly, whose top-ranked Ducks visit California on Saturday. "It's not like we have one dominant offensive lineman and then four other guys. I think we've got five pretty good guys -- actually six, actually seven or eight pretty good guys. ... I don't know if there's a standout. And to be honest, maybe that's a good thing."
Seven different guys have started games. And you can't argue with the results. The Ducks rank fifth in the nation in rushing (305.4 yards per game) and have given up just five sacks, which is tied for ninth in the nation.
So why doesn't Oregon get mentioned when folks talk about dominant offensive lines?
"They do a phenomenal job there of turning players into system-fit guys," USC coach Lane Kiffin said. "I don't think you have first-round picks on their line, guys the NFL is jumping all over. They played really, really fast in the system."
Then Kiffin adds a bit of a zinger: "Obviously, it doesn't help very much for the next level, because there's no carryover in what they do."
Hmm. That's debatable. The Ducks are masters of zone blocking, which is popular in the NFL. And three Ducks linemen -- Geoff Schwartz (seventh round), Max Unger (second round) and Fenuki Tupou (fifth round) -- were picked in the 2007 and 2008 drafts. And all five 2009 starters returned this year, so none were eligible this past spring.
What do Oregon linemen do that's so different? Kelly insists that blocking is blocking, and his line coach, Steve Greatwood, is considered one of the top teachers in the nation.
Still, there is some "new school" at work here (though zone blocking isn't terribly new). The Ducks' line doesn't try to knock you back so much as stretch you out and create spaces for playmakers, such as James. It's not about driving; it's about sticking. There isn't a designated "hole," which sometimes takes some getting used to for young linemen.
"There are so many options -- I don't know what else goes on behind my back," Holmes said. "Sometimes it's frustrating not knowing where the ball's going. But as long as we're moving the ball downfield, we're OK with it."
But the real difference is tempo. The Ducks want to play as fast as possible, and plays can't start until Holmes has a spotted ball and can set the line. Suffice it to say, he gets to know the referee better than any other player on the field.
"There are a lot of officials who like to stand over the ball and wait for their buddy officials to get set up before they'll actually spot the ball," Holmes said. "They'll say, 'Don't snap the ball until I'm out of the box.' But we really never listen to them. As soon as he puts it down, we're trying to snap it."
While zone blocking isn't as aggressive as drive blocking, it's hardly patty-cake. When you watch the Ducks' line work, you see plenty of defenders on the ground. There's plenty of mauling going on, particularly at the second level. And physical play at a fast pace wears a defensive front seven down. Even a layman can sense a defense's will getting broken. Just pay close attention late in the third quarter.
"It's usually in the middle of a drive," Holmes said. "You can read body language. They're having a tough time getting their calls in. They kind of start to snap at each other. When that happens, you know they are not feeling too good. Then it's time to attack."
Yes, Holmes admits he and his linemates get tired. They are big dudes running around, after all. But he also noted they usually score a touchdown before exhaustion sets in, so they can go to the bench and relax with a cup of juice and an orange slice.
Their work has earned notice. While James and Thomas are like Brad Pitt and George Clooney starring in the blockbuster that is the Ducks' offense, the line is like William H. Macy, Forest Whitaker and Harry Dean Stanton, playing supporting roles that earn acclaim from educated eyes.
"I think that line is under-appreciated because of the numbers being run up by the individuals involved -- the quarterback's numbers, LaMichael James' numbers -- everybody's got a place to point their attention," UCLA coach Rick Neuheisel said. "But I think that line does a pretty remarkable job in handling everything at the tempo. And as well with as many schemes as they run."
But who should earn, say, All-Pac-10 honors?
"They all stand out," Cal coach Jeff Tedford said. "They are technicians who are able to move in space."
So, please, don't only see the Ducks' linemen as mere zone-blockers playing in a system. Or even as eye candy in alluring poses. See them as technicians. Men who move in space.
But, just FYI: Word is there will be a new Ducks linemen calendar this spring.
October, 4, 2010
10/04/10
8:40
PM ET
With 18 starters coming back from a 10-3 team that won the 2009 Pac-10 title by two games, the only significant question for Oregon entering 2010 was at quarterback.
Of course, that's a big question. Experience at quarterback, traditionally, has been extremely important in the Pac-10. A notable recent exception would be when USC rolled to a second-consecutive conference title -- as well as the national championship -- in 2003 with sophomore Matt Leinart as a first-year starter.
What year is
Darron Thomas
again? For that matter, what year is
LaMichael James
?
No, we're not going there. We're not going to throw out the notion of Oregon stepping into the void left by the crumbling of USC's dynasty. That would be silly.
[+] Enlarge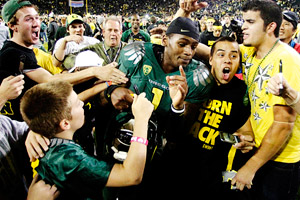 AP Photo/Rick BowmerQuarterback Darron Thomas is giving Oregon fans a reason to celebrate.
Wouldn't it?
Come on! Oregon doesn't have the recruiting base. It doesn't have the history. Its stadium is rowdy, yes, but it doesn't seat 90,000-plus like all the superpowers' stadiums do.
Heck, Oregon first needs to win a Rose Bowl in the modern era before anyone starts thinking about writing epic poetry about it. And in any event coach Chip Kelly is all about the present moment -- "Win the day!" -- which
even has its own crest
. There's nothing in "Thus Spoke Kelly" about building dynasties.
What we do have is this: Oregon was ranked No. 2 and a national title contender in 2007 before quarterback Dennis Dixon blew out his knee. Oregon finished the 2008 season ranked 10th. It finished 11th last season after losing the Rose Bowl to Ohio State. It presently is ranked No. 3.
The Ducks are building toward their best run in modern program history. And they are just a few clicks from becoming one of those
PROGRAMS
.
As we said, the question entering the season was how good could the Ducks be after losing a quarterback,
Jeremiah Masoli
, who was a two-year starter and was considered a short-list Heisman Trophy candidate. At some point in the 52-31 win over Stanford on Saturday, the story moved decisively away from who Thomas wasn't to who he is. And who he could become.
"He's definitely coming along," center Jordan Holmes said after the game. "And I can't wait to see how far he can go because he gets better and better every week. He's just a kid. He's got a lot more football to play. I'm really looking forward to see what he becomes in the future."
With Thomas at present, Oregon might have the best offense in the nation. It ranks No. 1 in scoring (56.6 points per game) and total offense (569 yards per game). It doesn't give up sacks (one in five games). It runs the ball (No. 2 in the nation with 331 yards per game).
But Oregon also plays underrated defense. You've all heard the "one second-half TD surrendered in the first five games" factoid. But the Ducks are 15th in the nation in scoring defense -- 15 ppg -- and fourth in pass efficiency defense.
Have the Ducks given up some yards? Yes. But they surrender only 4.73 yards per play.
Whoops. That's not right. The Ducks surrender only 4.58 yards per play. Alabama's defense gives up 4.73 yards per play. My bad.
Oregon is never going to do well in total defense because opponents get to run a lot of plays against it due to the Ducks' offensive tempo -- see a rank of 98th in time of possession.
Folks say defense wins championships. The Ducks defense is good enough to win a championship.
Obviously, it's premature to contemplate Oregon stepping into the void left by USC's decline. Before USC's ascension, the Pac-10 was the most unpredictable conference in the country: See nine different teams at least earning a share of the Pac-10 title from 1993 to 2001.
And Oregon fans know that seeming juggernauts can fall hard. The 2007 Ducks were rolling with Dixon. Without him, they lost three straight and went to the Sun Bowl.
Still, at this point, the Ducks have looked like the best team in the conference as well as national title contenders. If those midseason perceptions end up being accurate in January, and the Ducks manage to win a Rose Bowl or -- gasp -- play for a national title, then Oregon will no longer just be a nice program.
It will become one of those
PROGRAMS.
October, 3, 2010
10/03/10
2:18
AM ET
EUGENE, Ore. -- He Who Shall Not Be Named can now be named.
Jeremiah Masoli
? Neh. The "oh, what might have been!" is gone. Oregon doesn't need him. Sure, the Ducks offense ran at ludicrous speed with him last year. But their 2010 spread-option offense is running at double-secret ludicrous speed.
Sophomore
Darron Thomas
, the quarterback replacement after Masoli got the boot, is doing just fine, thank you very much, see 626 yards of offense in the fourth-ranked Ducks
52-31 win
over No. 9 Stanford. He's doing so well, in fact, that he might help running back
LaMichael James
win the Heisman Trophy.
[+] Enlarge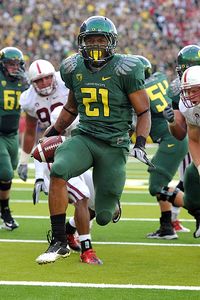 Steve Dykes/Getty ImagesLaMichael James rushed for 257 yards and three touchdowns on 31 carries against Stanford.
That Thomas completed 20 of 29 passes for 238 yards and three touchdowns isn't the big news. He's always been a promising passer. It's that he rushed for a career-high 117 yards and score, too. He rushed for just 102 yards in the previous four games.
"We can put those rumors to bed that he can't run the football," Ducks coach Chip Kelly said. "He's everything you'd want in a quarterback."
Why is Thomas' success running important to James? Because when a defense can't entirely key on James in the spread-option, James is going to kill it. And by that we mean, say, rushing for 257 yards and three touchdowns on 31 carries. Stanford's defense, by the way, was yielding just 256 yards per game. That number is headed north.
Know how many yards James lost with those 31 carries? Zero.
James entered the contest ranked fifth in the nation in rushing with 151.7 yards per game (the NCAA and Pac-10 got the numbers wrong this week, giving James 158.3 per game). A marquee performance on a big stage surely raised his Q-rating. Or H-rating.
"Tonight, I feel like I was running on all cylinders," he said. "I was running physically. I was really aggressive. I played with a lot more energy."
James said that he didn't feel like that was the case earlier in the season.
"I think he was trying to dance in some (early) games," Kelly said. "When he really trusts his speed -- that last touchdown run was a blur."
That last TD run went for 72 yards. It was his third run of 20 or more yards in the game. He has 30 of those over the past two years, more than any other back in the nation.
As for Thomas, he led the offensive onslaught -- the Ducks were down 21-3 before outscoring the Cardinal 49-10 the rest of the way -- after throwing two first-half interceptions. So far this season, he's displayed notable moxie, showing no ill-effects when he makes mistakes. This was the third time this season he's led the Ducks back from double-digit early deficits.
"He's definitely coming along," center Jordan Holmes said. "And I can't wait to see how far he can go because he gets better and better every week. He's just a kid. He's got a lot more football to play. I'm really looking forward to see what he becomes in the future."
Of course, the present looks pretty darn good. The Ducks, who visit Washington State next weekend, are 5-0 and figure to enter the national title discussion. It's possible, in fact, they'll get more than a few votes at No. 2 behind Alabama and ahead of Ohio State.
Such talk doesn't go very far with the Ducks, though, who seemed to have bought in to Kelly's whole "win the day" philosophy. And it's not surprising that James said he "didn't care" about Heisman Trophy buzz.
"I don't want to be sitting at the house with a Heisman Trophy and we're 5-5," he said. "I'd rather be 12-0, 13-0 with no Heisman Trophy."
It's then noted to James that those two events -- undefeated and stiff-arm trophy -- often are intertwined, see last year's winner, Alabama's
Mark Ingram
.
James relents: "If the Heisman Trophy comes with winning games, I'll take it."
If he keeps running like he did against Stanford, he might. And if Thomas continues his rapid evolution into ... wait for it... Dennis Dixon (ha!), the Ducks might be up to some big things, too.
August, 19, 2009
8/19/09
6:15
PM ET
Posted by ESPN.com's Ted Miller
EUGENE, Ore. -- Chip Kelly has to be himself, so he's going to figure out a way to change the job of head Oregon football coach so it fits him, not the other way around.
Administrative tasks bogging him down? He'll spend all summer carefully planning out every detail of the Ducks -- and his -- schedule so that won't be an issue during the season.
"Our schedule is set until after the bowl game, whatever bowl game we go to," he said. "I could tell you what time our meeting is on Oct. 26... I can tell you what day we start spring practice. Our spring game is on May 1. We've got the whole year planned out."
A jones to continue directly coaching players not getting satisfied? Kelly created the "tazer" position, a hybrid running back-receiver, which he now coaches just like any other position coach. Kelly has daily meetings with his tazers, Ed Dickson -- formerly known as one of the nation's best tight ends -- and LaMichael James and Kenjon Barner, who once were backup running backs.
A football practice with a million things going on still missing something? Hey, let's play music during practice, from James Brown to Pearl Jam to Eric Clapton to the new stuff that the kids like.
(Kelly's eclectic tastes get a tip of the cap from the Pac-10 blog. He even likes the Dropkick Murphys, whose version of "I'm Shipping Up To Boston" is the best part of the movie, "The Departed.")
"As long as the songs don't have any profanity," he notes.
In the old days, head coaches climbed towers to lord over practices. Most head coaches these days linger on the periphery, giving only occasional pieces of sage advice or offering bits of intimidation as motivation.
Kelly starts coaching at the first whistle and doesn't stop until the last.
He barks: "Finish!" "Aggressive!" "Where are you supposed to be?"
Five quarterbacks throw the ball into the air at the same time during a drill. One ball hits the ground. Kelly knows exactly who and what went wrong.
At any moment, he could be explaining nuances to a player who catches his eye or debriefing with an assistant.
"That's the fun part. You have to coach the way you know how. Some guys are great at being CEOs," he said. "I want to stay involved."
He's also willing to do some things that seem strange but may soon be better described as "innovative." Quarterbacks wear helmet cams, so coaches can look through their eyes. Stand-ins for defensive linemen strap onto their shoulders what look like large black fans in order to obscure the vision of the quarterback.
If there was any question that Kelly might wait to put his imprint on a program that thrived for 14 years under Mike Bellotti, well, the answer is no. These Ducks are now Kelly-green.
While former backup quarterback Justin Roper's decision to transfer shouldn't be termed "a good thing," it's clear watching practices that Kelly has three capable quarterbacks who perfectly fit into his spread-option system: Jeremiah Masoli, Nate Costa and Darron Thomas. All three are good runners and passers. If Roper had remained with Oregon and had been needed for whatever reason, his skill set -- he's not much of a runner -- would have required some tweaks to the game plan. Said Kelly, "That's what we're looking for -- a quarterback who can really run. Those guys are ideal for what we're looking for. I feel better about our quarterback depth this year than I did last year ... I wouldn't hesitate to play any of those three guys."
Oregon is tall at receiver. At any given time it could split out wide Dickson (6-foot-5), Dion Jordan (6-foot-7), Rory Cavaille (6-foot-3), Lavasier Tuinei (6-foot-5) or Tyrece Gaines (6-foot-3). "That's kind of by design in recruiting," Kelly said.
A flu bug has run through the Ducks. Kelly said that around 15 to 20 players have missed practices -- almost always two days -- including four on Wednesday.
New defensive line coach Jerry Azzinaro isn't a huge guy but my initial impression is you'd want him on your side in a bar fight. "Our defensive line is playing great right now. They really have caused some problems in camp," Kelly said. "I think [Azzinaro] is as good as any D-line coach in the country. I think it's showing."
The Ducks seem close to set on the offensive line with Jordan Holmes at center, Bo Thran at left tackle and C.E. Kaiser opposite him on the right side. Mark Asper is the right guard and Carson York leads at left guard. Kelly said he felt confident with Nick Cody and Darrion Weems in terms of depth.