NCF Nation:

Jordan Mastrogiovanni
October, 17, 2014
Oct 17
11:00
AM ET
COLLEGE STATION, Texas -- Almost two years ago, Texas A&M walked into Alabama's Bryant-Denny Stadium with boundless confidence and impetus to make a statement.
The Aggies possessed college football's best player at the time and a 7-2 start to their debut SEC season but still lacked the signature win that would validate their first-season success in college football's biggest, baddest league.
After 60 intense minutes, the statement was made. The Aggies beat then-No. 1 Alabama 29-24 and officially announced their SEC arrival in Tuscaloosa.
[+] Enlarge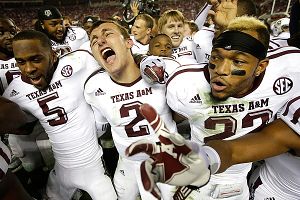 AP Photo/Dave MartinThe Aggies hope for a repeat performance of their 2012 matchup with Alabama, when Johnny Manziel & Co. beat the No. 1 team in the country.
"It just proved a point," said senior receiver
Malcome Kennedy
, who caught the Aggies' final touchdown that day. "It gave us so much confidence as a team and as a unit. We knew what we set out to do could be accomplished."
Saturday, for the first time since that seminal victory, the Aggies return to the scene of the crime. Both teams are vastly different and neither enters with the type of momentum they'd like to have: the Aggies have lost two straight; Alabama squeaked out a 14-13 win at Arkansas after a loss to Ole Miss the week prior.
For Texas A&M, the game is pivotal for reasons much different than 2012. By starting 25-8 in their first two-and-a-half seasons as SEC members, the Aggies no longer need validation. They've produced a Heisman Trophy winner and proved they can hold their own in the league, though they're still trying to move up the ladder to prove they can win at the highest level of this league, or more specifically, the SEC West.
The Aggies (5-2, 2-2 SEC) need this win to help a young team regain full confidence, as two convincing losses to Mississippi State and Ole Miss has provided a wake-up call to this group in the post-
Johnny Manziel
era.
"I think this is very big and important," sophomore linebacker
Jordan Mastrogiovanni
said. "These last couple weeks have been disappointing for us and the fans. We're trying to get back on track and prove to people that we're a really good team and these last couple weeks don't define who we are."
Kennedy, considered the vocal leader of the Aggies' offense, missed each of the losses with a separated shoulder but is expected back Saturday. Prior to Monday's practice, the veteran could sense some uncertainty among his teammates and decided to speak up to the team to help restore any shaken confidence.
"Just trying to stay positive," Kennedy said. "I just told them there will be a lot of outside voices trying to tell you how things go, but nobody knows how this team works best but us. We have to fix the problems we have, look at each other, look at ourselves and figure out what we have to do."
Texas A&M coach Kevin Sumlin isn't concerned about his team losing confidence based on its recent performances.
"Coming into this thing, nobody said this was going to be easy," Sumlin said. "This is a difficult league and there's no doubt, that based on the last two weeks against the type of opponents that we're playing, that we've got to coach better and we've got to play better. That's our expectation within the building, to win games. Confidence is something you don't gather overnight and I don't think you lose it overnight. It's something you build and that's who you are. I don't see that waning."
The team has a handful of veterans that saw significant time and have positive memories of 2012. Kennedy caught the Aggies' final touchdown, senior cornerback
Deshazor Everett
intercepted A.J. McCarron near the goal line to deny Alabama's final scoring chance. Senior safety
Howard Matthews
, junior cornerback
De'Vante Harris
and junior defensive end
Julien Obioha
are also among those who were a part of that program-changing night.
Offensively, tackle
Cedric Ogbuehi
, guard
Jarvis Harrison
and running back
Trey Williams
join Kennedy as players with experience in T-Town.
It's likely impossible for a victory this time around to have the kind of impact the 2012 one did. That one changed the national perception of Texas A&M's program, was a catalyst in Manziel's Heisman Trophy campaign and the Aggies reaped the benefits in recruiting as well. A win would be critical to this season though, to keep the Aggies from going on a three-game losing streak, restoring confidence in young players like sophomore quarterback
Kenny Hill
and perhaps serving as a springboard for a strong finish. The Aggies have an open date coming up followed by a nonconference game and three SEC contests in the final month.
Kennedy feels the veterans will draw on the images from their last time there. If they can recapture some of the magic from that blissful November night, it would be big for the current Aggies.
"Going to Alabama, having those positive memories from two years ago, I think the guys will walk into a more welcoming environment," Kennedy said. "I know there will be a lot of Aggies there. It'll be noisy, loud. I think that's when we play best, when it's loud and noisy."
October, 9, 2014
Oct 9
3:00
PM ET
If we've learned anything from the past few years, it's that SEC teams with one loss are still very capable of reaching the national championship game. There is an even greater chance of that happening this season with the debut of the College Football Playoff. That's good news for teams like Alabama, Georgia, Texas A&M and Missouri.
With that said, all four of those one-loss teams still have deficiencies they need to overcome to get back in the playoff conversation.
Alabama: A compliment to Cooper
Amari Cooper
has been exceptional this season. Through the first five games, he leads the SEC in receptions (52) and yards (746), and is tied for second in the league with five touchdowns. But despite Cooper's best efforts against Ole Miss, nine catches for 91 yards, the Alabama passing game still struggled in last Saturday's loss to Ole Miss.
That is because the Crimson Tide need somebody else to step up.
There is no lack of talent in Tuscaloosa. Tight end
O.J. Howard
is as gifted athletically as you will find at the position, but he is hardly used. Howard finally made a big play last weekend, but he was also responsible for a critical holding penalty on the last drive.
The bigger surprise has been wide receiver
Christion Jones
. The senior was expected to play a bigger role this season, but he is averaging two catches per game, and his season-high in yards is 52 against Southern Miss. To make matters worse, it was his fumble on a kickoff return that led to Ole Miss scoring the game-winning touchdown.
The loss of
Kenyan Drake
didn't help either. Offensive coordinator Lane Kiffin had been using him out wide in certain sets, and no other back on the team provides that type of versatility.
Georgia: Help in the secondary
At this point, do we even know who's playing in Georgia's secondary? The scarier question might be who comes in if one of the starters goes down with injury.
It hasn't been easy for first-year defensive coordinator Jeremy Pruitt. The Bulldogs dismissed two starting defensive backs this offseason, and a third transferred to Louisville. In the past week and a half, the team lost three more defensive backs for various reasons.
Rico Johnson
was given a medical disqualification because of a spinal cord injury,
Sheldon Dawson
is no longer with the team, and Shaquille Jones was dismissed from the team after he was charged with shoplifting. The mass exodus in the secondary leaves Georgia with 10 scholarship defensive backs and very little experience among them.
It didn't hurt them last week in a win against Vanderbilt, but both
Dylan Thompson
and
Justin Worley
have thrown for more than 250 yards and three touchdowns against the Bulldogs already this season. On Saturday, they travel to Missouri to face
Maty Mauk
, one of the SEC's top quarterbacks.
It's too late to add depth at this point, but this UGA secondary is going to have to grow up in a hurry if it wants to reach the playoff.
Missouri: More options for Mauk
Speaking of Mauk, he played his worst game of the season the last time out against South Carolina. At one point in the fourth quarter, he was 9 of 29 for just 52 yards passing. He did lead the Tigers to a stunning come-from-behind victory, but it wasn't pretty.
The biggest reason for Mauk's struggles? He was missing two of his top wide receivers --
Jimmie Hunt
and
Darius White
. The two had combined for more than 400 yards receiving and eight touchdowns in the first four games, but the offense wasn't the same without them. As talented as Mauk is, he still needs playmakers to throw to, and
Bud Sasser
can't do it all by himself.
Both Hunt and White are likely to return this Saturday against Georgia in what has become a critical game in the SEC East. That will certainly help, but can you imagine if Missouri still had
Dorial Green-Beckham
on its roster? It would take an above average position group and make it exceptional.
Instead, the Tigers are going to have to make do with what they have and hope everybody remains healthy the rest of this season.
Texas A&M: Somebody who can tackle
OK, that might seem a bit harsh, but the Aggies' defense looked downright awful last week against Mississippi State. It's not everybody. Freshman
Myles Garrett
is a star in this league, and the defensive line has actually played pretty decent this season. The same can't be said for the linebackers and the secondary, though.
It's typically not a good sign when three of your top four tacklers are defensive backs. That means running backs are getting to the second level and wide receivers are catching their fair share of passes. It also means your linebackers aren't making plays.
Justin Bass
is second on the team in tackles, but he was a walk-on prior to this season.
Jordan Mastrogiovanni
is a solid captain for the defense, but he's missed time because of injury and the jury is still out as to whether he can be a good SEC linebacker.
Texas A&M is missing players like
Darian Claiborne
, who was dismissed from the team in June. He was third on the team last season with 89 tackles. The loss of TCU transfer
A.J. Hilliard
, who dislocated his ankle in the season opener at South Carolina, was another big blow to this defense. The staff had high expectations for him.
With three of the next four games against top-10 opponents, the Aggies need to play better on defense to have any chance of making the playoff.
October, 3, 2014
Oct 3
3:00
PM ET
We're in for quite the clash when No. 12 Mississippi State (4-0, 1-0 SEC) hosts No. 6 Texas A&M (5-0, 2-0) Saturday afternoon. We have two great quarterbacks, two entertaining and productive running games and two defenses that we really don't know what to expect from.
Sounds fun to me! Let's break it down:
[+] Enlarge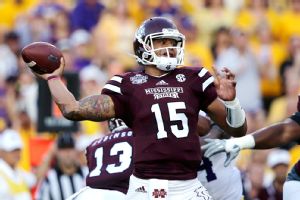 AP Photo/Gerald HerbertMississippi State QB Dak Prescott has the attention of Texas A&M's defense.
Texas A&M's key to victory:
First and foremost, the Aggies have to get a handle on Mississippi State quarterback
Dak Prescott
and limit the Bulldogs' big plays. Prescott is a good decision-maker and runs the Bulldogs' offense -- which is full of read-option, play-action, misdirection and more -- flawlessly. Staying disciplined defensively is critical for A&M. Offensively, this Mississippi State secondary seems ripe for the picking so the Aggies simply need to do what they do -- have
Kenny Hill
sling the ball around to their big, fast receivers and keep the tempo high. One thing to keep an eye on is offensive line play. The Aggies had some hiccups, especially on the right side of the offensive line, against Arkansas. Mississippi State is big on the defensive front. --
Sam Khan
Mississippi State's key to victory:
Like the Aggies, the Bulldogs have to control that guy slinging the ball around for Texas A&M. Hill leads the SEC with 1,745 passing yards and 17 touchdowns. He's coming off a strong comeback performance against Arkansas, and he's challenging Prescott for the title of the SEC's best quarterback. That isn't a good mixture for a Bulldogs' defense that hasn't been great against the pass this year. Mississippi State is last in the SEC in pass defense, allowing teams to throw for 319 yards per game and get 7.6 yards per attempt. Things have to tighten up in the secondary. According to ESPN Stats & Information, Texas A&M leads the SEC in 20-plus-yard receptions, while Mississippi State's defense is tied for 11th in the SEC defending those passes. What's more is that Texas A&M averages an FBS-high 3.9 points per drive this season, and the Aggies have 340 more yards after the catch than any other SEC team. They are averaging 8.0 yards after the catch per reception (fourth in SEC), according to ESPN Stats & Information. --
Edward Aschoff
Texas A&M's X-factor:
Linebacker play. Facing an offense like this means making the right decision, whether it's chasing the quarterback, running back or filling the proper gap. This could be a big game for weakside linebacker
Shaan Washington
, who has been an impact player since returning from a collarbone injury. Middle linebacker
Jordan Mastrogiovanni
will need to have a big game, and communication is key for this group as they decipher what the Bulldogs throw at them.- -
Sam Khan
Mississippi State's X-factor:
While I think the defense has to be able to shut down Hill, if this game gets into a shootout, the Bulldogs have to be able to run the ball and try to get A&M's defense tired. That's where wrecking ball running back
Josh Robinson
comes into play. Robinson has 485 rushing yards on the season and is averaging 7.8 yards per carry. He gashed LSU"s defense for a career-high 197 yards and then got two weeks to recoup for the Aggies, who surrendered 285 yards to Arkansas' running game last week. --
Edward Aschoff
Playoff impact:
The winner will be in a good spot (especially if it's Texas A&M, given its No. 6 ranking). However, there is still a lot of season left. Both of these squads have challenging games left against Alabama, Auburn and Ole Miss, but a win here strengthens the case for either team. On the flip side, this isn't an "elimination game" per se for either team since it's beginning to look like the SEC will have a solid shot at getting two teams in. But considering what's on the schedule, it's best to take care of business, especially the Bulldogs, who are currently outside the top 10. --
Sam Khan
September, 24, 2014
Sep 24
2:00
PM ET
Arkansas' offensive philosophy is no secret. The Razorbacks want to run the ball -- a lot.
Using that power-football identity, the Hogs are showing themselves to be a much-improved team in Bret Bielema's second season in Fayetteville. After the Razorbacks'
obliterated Texas Tech
in Lubbock earlier this month to the tune of 438 rushing yards and 49 points, Bielema described his team thusly:
"This is Arkansas football, hog-ball, hog-strong, whatever you want to say it, this is what we are," Bielema told reporters afterward. "I know at times it ain't that pretty, but it's a heck of a lot of fun."
The Razorbacks are hoping to have more fun at 3:30 p.m. ET Saturday when they meet No. 6 Texas A&M at AT&T Stadium in Arlington, Texas. It will serve as the season's first true test for the Aggies' run defense.
[+] Enlarge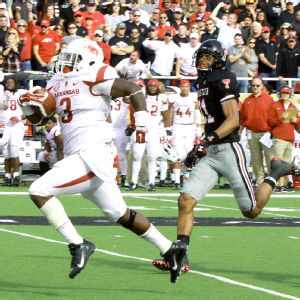 Michael C. Johnson/USA TODAY SportsAlex Collins and the high-powered Arkansas ground game will provide A&M's run defense with its stiffest challenge yet this season.
Yes, Texas A&M played a talented South Carolina team -- one that is known for running the ball well in its own right -- in its season opener. But the Aggies raced out of the gate so quickly that the Gamecocks, whose star running back
Mike Davis
was limited by an injury, were left to play catchup and eventually abandon their running game. South Carolina ran the ball 22 times in the Aug. 28 opener and the Aggies held them to a mere 67 yards.
Arkansas averages 45 rushes per game. Against the Red Raiders, the Razorbacks ran the ball a whopping 68 times. Even in their season-opening loss to Auburn, they averaged 5.3 yards per carry. The Aggies, while having performed admirably in Columbia, South Carolina, still must to prove they can stop what the Razorbacks, who have the No. 1 rushing offense in the SEC (324.5 yards per game), want to do.
"They're going to make you defend the run and try to go over the top and get behind you with the deep balls and keep the chains moving with the intermediate passing game," Texas A&M defensive coordinator Mark Snyder said. "It's no secret what we're going to see Saturday."
When the teams met last season, the Razorbacks ran the ball quite well. They compiled 201 rushing yards on 30 carries, a healthy 6.7 yards-per-carry average. The Aggies were young and thin on defense then, and while they are still relatively young, the difference in their depth and experience on defense this season is night and day thanks to the baptism many of those players received a year ago and the addition of a
top-five nationally ranked 2014 recruiting class
that brought in a host of immediate-impact defensive players.
But in 2013, circumstances led to a disastrous season on defense for A&M, especially against the run. The Aggies were last in the SEC in rushing yards allowed per game (222.3) and 110th in the nation. This season, they're better (124.7 yards per game, sixth in the SEC and 42nd nationally).
Snyder knows what lies ahead. That's why an emphasis was placed on defending this style long ago.
"We've been working on this for quite a while," Snyder said. "We worked on it during spring, through fall camp, obviously we had a couple weeks getting ready for South Carolina. Obviously, some of that recall is going to have to come back for some of our guys. This won't be the first offense we've faced that likes to run the ball. We thought we'd get a good dose of that in the first game this year. But they're awfully good."
Bielema, whose offense returns virtually all of its production from a season ago, expects an improved Texas A&M outfit on defense.
"They're better and they're a more disciplined group," Bielema said Monday. "They're still a multiple front. ... Mark Snyder is a tremendous X's-and-O's guy. Really good football coach. ... Now it's another year with him and that program, doing what he likes to do, and you can definitely see the rewards of it."
The Razorbacks boast a large offensive line: At an average of 328.4 pounds per player, their starting offensive line is bigger than any starting NFL offensive line was in Week 1 of pro football. That group is paired with a two-headed monster at running back in
Alex Collins
(490 rushing yards, 7.5 yards per carry, five touchdowns) and
Jonathan Williams
(391 rushing yards, 8.1 yards per carry, seven scores).
Those two, combined with the play of the Razorbacks' offensive front, have been the core of the Razorbacks' success. The improvement of quarterback
Brandon Allen
has helped the Razorbacks take the next step offensively, and the elevated play helps loosen things up for the running game.
"They don't abandon their run game at all," Texas A&M junior defensive end
Julien Obioha
said. "If they have two straight losses on the run game and it's third-and-18, they might still run the ball. They don't abandon their run game. They have a big, physical offensive line and I know their head coach used to be at Wisconsin. They would run the ball all the way up there; he has a Big Ten mentality, old-school football, 'I might put eight offensive linemen on the line of scrimmage this play.' It's just kind of crazy stuff and they just love their run game."
How Texas A&M handles both of those elements Saturday will determine whether the Aggies truly are an improved defense this season or if there is still much work to be done as the schedule toughens.
"Bret knows what he's doing," Snyder said. "I spent 10 years in the Big Ten going against Coach [Barry] Alvarez, that's where he got it from. So we have to build a wall and stop the run and have great eyes on the back end."
The Aggies sound like they're ready for the test.
"I'm really looking forward to it," sophomore linebacker
Jordan Mastrogiovanni
said. "[Against] South Carolina we were preparing for that kind of a game and they did run it, but we got ahead so we kind of forced them to throw. I don't think we've really seen our fill of running game to this point in the season. I think we're really ready for it."
August, 27, 2014
Aug 27
2:00
PM ET
COLLEGE STATION, Texas -- Perhaps the second-most popular question about this season's edition of Texas A&M -- after the obligatory "What's life without Johnny Manziel going to be like?" -- centers around the Aggies' defense.
Will they be better? And if so, by how much?
After a disastrous 2013, defensive coordinator Mark Snyder is confident that improvement is on the horizon. He might not flatly state it, but witness the bounce in his step at practice, the energy in his voice and it's easy to surmise that Snyder is looking forward to Year 3 in Aggieland.
[+] Enlarge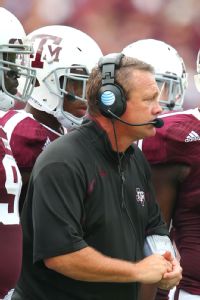 Matthew Emmons/USA TODAY SportsMark Snyder's defense struggled last season, particularly against the run, ranking 110th nationally in rushing yards allowed per game.
"If Coach Snyder's in a good mood, I feel like everyone's in a good mood," middle linebacker
Jordan Mastrogiovanni
said. "He watches [the video], diagnoses it more than anyone else so if he's happy, I feel like we're doing something right."
His unit's first test, which comes against No. 9 South Carolina and a stout running game powered by one of the nation's best running backs,
Mike Davis
, is first on the horizon. Stopping the run was one of the Aggies' biggest challenges last year, as they ranked last in the SEC and 110th nationally in rushing yards allowed per game (222.31).
Snyder isn't interested in talking up expectations or why he might be confident No. 21 Texas A&M can improve in that area.
"Well, we'll see when we get there," Snyder said. "Talk is cheap. We'll all know that night at the end of the game."
Indeed they will.
No matter the measure, the Aggies were bad on defense last year. They were last in the SEC in yards allowed per game (475.8), yards per play (6.36), yards per carry (5.38), first downs allowed per game (23.4) and red zone efficiency (71.4 percent) in addition to the aforementioned run defense. In every one of those categories, they were worse than 100th nationally.
"We weren't playing Snyder defense," senior cornerback
Deshazor Everett
said last month. "He sets us up to make plays. All we have to do is do what he tells us to, and we weren't doing that last year. So if we come back this year and we're doing what we did this spring, we're going to be a good defense."
Youth and inexperience were the heart of the issues for the Aggies. Difficulties the defense had included simply getting lined up correctly, fitting the correct gaps and identifying their correct assignments. Earlier this month linebackers coach Mark Hagen called the difference "night and day" when it comes to the defense's communication and ability to accomplish the basics.
Whether that will translate to the field when the Aggies take on a South Carolina team that averaged 198.4 rushing yards per game last season remains to be seen. The players seem optimistic, though.
"It's been a completely different mentality," junior defensive end
Julien Obioha
said. "Last year was unacceptable. There's just been so much growth in the last year and so much growth in leadership."
Added speed and athleticism are among the sources of optimism for the Aggies. So is increased depth, particularly along the defensive line. The 2014 recruiting class included six defensive linemen, four of whom are on the initial two-deep and will see action early, including highly regarded defensive end recruit
Myles Garrett
, the No. 4 overall player in last year's class.
Snyder is careful not to heap too much praise on Garrett, but the buzz surrounding training camp made it clear that the true freshman will be a factor. Teammates have been more effusive in their praise of Garrett.
"I have never really seen anything like him," Mastrogiovanni said. "In the weight room he's already one of the top three strongest guys as a true freshman. He's fast, he's long, he gets to the quarterback just about every play. I think teams are going to have a very hard time blocking him this year."
There will be plenty of youth on the field this season as well. Snyder estimated that seven true freshmen will see the field on Thursday. Last season the Aggies had a dozen freshman (redshirt or true) in their two deep. But unlike last season, the Aggies are able to be strategic with how and where they are placed.
"We'll try to do our best as we sub and get them in that they're in next to an older guy," Snyder said. "These guys won't go in unless an older guy is beside them. We didn't have that luxury last year, we just had to play them all together."
The questions linger and won't stop until the Aggies take the field. And Snyder's waiting for them to be answered with results instead of words.
September, 16, 2013
9/16/13
1:00
PM ET
COLLEGE STATION, Texas — Coming into the season, there were plenty of questions about Texas A&M's defense.
It didn't seem much different from the circumstances a year ago. Defensive coordinator Mark Snyder even said, on the first day of preseason training camp, that the challenges were "exactly the same."
By the end of 2012 the results were positive, with the Aggies performing much better on defense than many expected. If they're to do the same in 2013, they still have a long way to go. The Aggies statistically are among the worst defenses in the nation after a 49-42 loss to No. 1 Alabama on Saturday at Kyle Field.
"We're going to learn a lot of lessons come Monday when we watch this film," Snyder said. "Lots of lessons."
They had better, because on Saturday, once Alabama got its footing, it seemed able to do whatever it pleased. The Crimson Tide finished with 568 offensive yards -- 334 passing and 234 rushing. After forcing a punt on Alabama's first drive of the game, the Aggies allowed four consecutive touchdown drives, all of which covered 75 yards or more. In the second half, the Tide had three drives of 65 yards or longer, two that turned into touchdowns and another where the Aggies forced a turnover near the goal line.
[+] Enlarge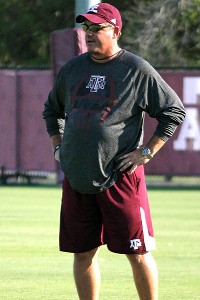 Sam Khan/ESPN.comMark Snyder's Texas A&M defense yielded 568 yards to Alabama on Saturday and gave up too many big plays.
One thing that stuck out to Snyder was how many big plays the Tide hit on. More than half of Alabama's yards (280) came on plays that gained 15 yards or more. Alabama had 11 such plays in the game.
"We knew it was going to be a day of big plays," Snyder said. "And I'm sure when I go back and look at the film, if you count up the number of big plays and subtract that yardage, you have a pretty good day. That's something we're going to have to learn from."
The Aggies generated virtually no pressure against Alabama quarterback
AJ McCarron
. He was never sacked and the Aggies only recorded one quarterback hurry as a team, by defensive tackle
Kirby Ennis
. Pressure was one of the Aggies' strong suits last year behind the efforts of defensive end Damontre Moore, who now plays for the New York Giants.
"You can't let a great quarterback like AJ McCarron not even get hit or pressured at all," sophomore defensive end
Julien Obioha
said. "They ran a lot of play action, which doesn't help the defensive line get any pressure, but we've got to come up with a way to get pressure on the quarterback. He can't sit there all day. He's too good."
Senior defensive back
Toney Hurd Jr
. detailed the struggles of the secondary, which allowed a 44-yard touchdown pass on a fleaflicker and a 51-yard catch-and-run touchdown in the first half to
Kenny Bell
.
"First and foremost, hat's off to AJ McCarron and their offensive coordinator [Doug Nussmeier]," Hurd said. "They dialed up some great plays. In the back end, I feel like sometimes we had bad eyes. Sometimes we just didn't trust our keys and techniques and they got us on a few big plays. But I'm sure on Monday we'll get back to work and get those things figured out."
Defending the run wasn't much better for the Aggies and that's been a consistent problem through three games. A&M yielded 6.3 yards per rush attempt on Saturday and it marked the third consecutive game that the Aggies have allowed at least 200 rushing yards.
In their first two games, the Aggies were missing starters at defensive end (
Gavin Stansbury
), linebacker (
Steven Jenkins
) and cornerback (
De'Vante Harris
) because of suspensions. All three returned to the lineup against Alabama, but it didn't stem A&M's struggles.
"Give Alabama credit," Snyder said. "They did a nice job; they had some nice wrinkles. It's hard if you haven't been playing and you haven't seen them to kind of adjust to them. But that's no excuse. We have our guys back and we just have to play better, period."
As it stands currently, the Aggies rank 112th nationally in total defense (489 yards allowed per game), 111th in yards allowed per play (6.92), 115th in run defense (260 yards per game) and 81st on allowing third-down conversions (44 percent).
It's worth noting that the Aggies have a lot of youth and inexperience on the field after graduating key players and suffering a key injury (safety
Floyd Raven
). True freshman linebacker
Jordan Mastrogiovanni
made his first start Saturday; junior safety
Clay Honeycutt
was making only his second career start. There are 11 true freshmen on A&M's defensive two-deep roster. Growing pains are a part of the deal.
But they'll have to grow up quickly. A&M players and coaches spoke on Saturday of their lofty goals still being intact despite one loss. But the defense must improve significantly for them to have a chance at fulfilling those goals.
Snyder believes his unit has that opportunity.
"I told the kids, 'I know what it looks like and we've got a chance to be good,' " Snyder said. "I thought last year as the season went on, we learned [how to minimize big plays]. Our big-play numbers came down and we started playing better defense. So for us today, it was a matter of big plays on our side of the ball and allowed them to get into a groove running the ball once they got the lead."
September, 4, 2013
9/04/13
10:00
AM ET
COLLEGE STATION, Texas -- Silence isn't a word typically synonymous with a stadium hosting more than 86,000 rabid fans, particularly at Kyle Field, where Texas A&M is known to hold a tremendous home-field advantage.
But silence is a key word in describing some of the growing pains the Aggies had to go through in their season-opening win against Rice on Saturday, as they played 16 true freshmen, 11 of which were defensive players.
A&M coach Kevin Sumlin illustrated that point thusly:
"We had a couple situations where a couple guys actually froze up out there and wouldn't even open their mouths and couldn't get lined up," Sumlin said after Saturday's 52-31 victory. "The D-line said they couldn't hear and then one of them admitted to me "Coach, I just didn't say anything. I was just standing there.'"
Not exactly what a coach is looking to hear from defensive players, particularly when facing a no-huddle offense. Communication, especially in those situations, is key for a defense.
[+] Enlarge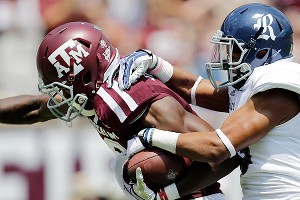 AP Photo/Eric GayFreshman wide receiver Ricky Seals-Jones made an impact in his college debut, hauling in a 71-yard touchdown pass.
But that was the position the Aggies were put in, missing eight players to start the game, six on defense -- including five defensive players who were listed as starters on the week's depth chart -- because of suspensions. There were true freshmen playing in every defensive position group, plus some at receiver. That doesn't include a handful of redshirt freshmen and junior college players who were making their debuts as well.
The Aggies coaches did what they could to prepare their newcomers, but some lessons are only learned the hard way.
"It's like anything else," Sumlin said. "As a coach, you try to prepare guys for all situations, but until the live bullets are flying, you don't know. It'll get better as it goes on, but I think the experience that we gained from today will help us down the road, a bunch. Particularly [in the front seven] because that's where most of the guys are gone."
The struggles were clear. As the defense tried to find its footing, Rice showed the ability to move the ball with ease. The Owls finished the game with 509 total offensive yards, including 306 rushing. The last time they gave up that many offensive yards was in their marathon battle against Louisiana Tech last October (615) and they haven't allowed that many rushing yards since a 66-28 drubbing at the hands of Oklahoma on Nov. 8, 2008.
True freshman played on the defensive line (
Jay Arnold
,
Isaiah Golden
,
Daeshon Hall
and
Hardreck Walker
), at linebacker (
Darian Claiborne
,
Jordan Mastrogiovanni
,
Shaan Washington
) and defensive back (
Noel Ellis
,
Tavares Garner
,
Alex Sezer Jr
. and
Jonathan Wiggins
).
"There's no way to duplicate the tempo and the emotion [of a game]," Sumlin said on Tuesday. "You know what you're doing, but the pressure to perform in that environment can be very, very difficult on a young guy, and that's what experience is all about."
Offensively, the Aggies were much better off. Even though
Matt Joeckel
made his first career start at quarterback, he's a junior who has spent more than a year practicing in the offense and he had at least seen some game time. Center
Mike Matthews
, who received high praise from Sumlin on Tuesday, also played in games and traveled with the team last season.
The true freshmen who saw the field for the first time on offense were all receivers:
Ricky Seals-Jones
,
Jeremy Tabuyo
,
LaQuvionte Gonzalez
and
Ja'Quay Williams
. But because there were more experienced players surrounding them on Saturday, not to mention Heisman Trophy winner
Johnny Manziel
entered the game in the third quarter, the transition was smoother for the Aggies' offense.
In total, 21 newcomers saw the field for Texas A&M on Saturday, many in significant roles. Plenty will log significant time this Saturday against Sam Houston State, as four players received two-game suspensions and won't be back until Sept. 14 against Alabama. With a signing class of 31 players in February, there was no question the Aggies were going to need some of the newcomers to contribute. By being forced to play so many in the first game, Sumlin feels like it could be a positive later in the season.
"[It's] a real, real learning experience," Sumlin said. "I think for those guys, that's going to pay dividends for us down the road."