NCF Nation:

Jordan Pendleton
August, 29, 2011
8/29/11
9:00
AM ET
BYU could not have asked for a better way to begin its first season as an independent.
Veteran team. National television. SEC opponent.
OK, so Ole Miss is not Alabama. But there is no sugarcoating the belief that the SEC is the best league in America, top to bottom. A win in Oxford, Miss., on Saturday would go a long way toward showing the college football nation what BYU is all about.
[+] Enlarge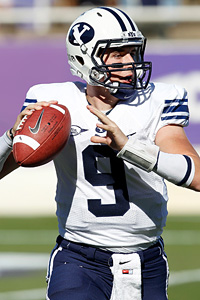 Tom Pennington/Getty ImagesBYU quarterback Jake Heaps is aware of the significance of the Cougars' opener against Ole Miss.
"It's a huge statement game for us," quarterback
Jake Heaps
said. "This game means a lot to us. This is an SEC football team, so to walk into an SEC stadium and environment and walk away with a win from a traditional powerhouse program in the SEC, that's a great thing for us. But it's going to be a hard fought battle. They're a good football team, and we're up to the challenge."
BYU opens Year 1 as an independent with a slew of "statement games." Following Ole Miss, BYU travels to play Texas, then has Utah and UCF at home. The first three are against teams from automatic qualifying conferences, and wins against all three would most certainly land the Cougars back into the national spotlight.
"Every game we play, we try to make a statement," linebacker Jordan Pendleton said. "Being independent, we get the opportunity to play against some great teams and we get an opportunity to play against an SEC team our first game on the road. That means a lot to us. It is showcase game, and we want to show we can play against anybody in the country."
That is of paramount importance for the Cougars as an independent, now that it begins a new partnership with ESPN. Mediocrity is not going to be rewarded with high television ratings. But there is much curiosity about whether or not BYU is making the right move in going independent, and that curiosity has folks interested in some of the early season games against high-profile opponents.
BYU does not have much experience against SEC teams. The Cougars are 1-3 against the conference, with their only win coming in 2001 at Mississippi State, 41-38. That game was pushed to December because of September 11. The Cougars survived the loss of running back Luke Staley, who broke his leg, and won a last-second field goal.
Current offensive coordinator Brandon Doman was the starting quarterback on that team and threw for 390 yards and three touchdowns. Doman is calling plays for the first time this season, but everybody seems comfortable with him now in charge.
Heaps said the Cougars had an excellent fall camp. So much so, they broke early and started preparing for Ole Miss. BYU returns 10 starters on offense, including a potential first-round tackle in Matt Reynolds and Heaps, now the full-time starter.
Defensively, BYU is faster and more athletic, especially at linebacker. That should help out the defensive line, which is smaller than the offensive line Ole Miss presents. Speed, of course, will be a story line going into this game because so much of it is made from an SEC perspective.
"You know going into this game we're going to face a lot of athletes. We understand that," Pendleton said. "However, I feel like this team at BYU, we're the most athletic we've ever been. In the past, that may have been a question, but his year is different. We know we can match up with anybody."
Matching up is one thing. Winning is another. This is as close to a must-win for BYU as it is going to get.
August, 5, 2011
8/05/11
9:00
AM ET
BYU opens camp Saturday. Let us take a look at three burning questions:
1. Can the Cougars be a national player?
BYU ended the season on a hot streak and brings back nearly everybody on offense. There has been a shift in philosophy with new offensive coordinator Brandon Doman. Everybody expects
Jake Heaps
to be infinitely better this season than he was last. Now BYU has the perfect opportunity to prove all that on a national stage in Year 1 as an independent. The season starts with games at Ole Miss and Texas, then home games against Utah and UCF. Plenty of opportunity to grab some headlines early.
2. Who gets the ball?
I mentioned Heaps above -- now who does he get the ball to? BYU has a wealth of riches at the skill positions. JJ DiLuigi,
Bryan Kariya
and Josh Quezada all return in the backfield;
Cody Hoffman
and
McKay Jacobson
return at receiver. Add in highly touted receiver
Ross Apo
and tight end
Devin Mahina
, and you have got plenty of options to get this offense back to what is expected with the Cougars.
3. Leaders on defense.
BYU loses six starters from its defense, but there are plenty of talented players ready to fill in. Linebacker Jordan Pendleton is back and healthy after sitting out a chunk of last season with a knee injury and has stepped into a leadership role. Tackle Romey Fuga returns from an injury as well, and safety Travis Uale is back. There are big losses, though. The top three tacklers from last season are gone. Coach Bronco Mendenhall hopes to replace Andrew Rich with Daniel Sorensen and Shane Hunter with Uona Kaveinga. Both had impressive springs and could make this unit even better.
July, 12, 2011
7/12/11
4:32
PM ET
PROVO, Utah -- I bet you can guess the hot topic of conversation during BYU media day on Tuesday.
Talk of going independent dominated sessions with coach Bronco Mendenhall, athletic director Tom Holmoe and players as well. Everyone is excited about the prospects of partnering with ESPN, having an exclusive network in BYUtv and testing the waters in an unconventional way.
Will independence work? We have to wait for the answers. But here are some notes and nuggets off a day spent visiting with a variety of BYU officials.
Scheduling:
Despite rampant speculation, there were no scheduling announcements made Tuesday. Getting games on the schedule as an independent has been a bit tricky, because other teams are tied into their conference schedules past September. Many others already have games planned through 2018, and there are those who want 2-for-1 deals instead of home-and-homes. Holmoe said he would like to take BYU all over the country, and would like to schedule games against the service academies, possibly even Northwestern or Vanderbilt. Mendenhall mentioned getting games against teams like Boston College, and playing in the Southeast, Midwest and Northwest.
The 2-for-1 deals, like the one with Texas, are not ideal. But Mendenhall said, "I'm willing to play some 2-for-1s for the sake of establishing credibility. Hopefully after that, more will want to come to Provo and view us on equal footing."
BCS:
BYU does not have an automatic berth guaranteed into the BCS. If the Cougars finish ranked in the top 12 of the BCS standings, then they would be eligible for an at-large berth. But both Mendenhall and Holmoe are confident that an undefeated BYU team with the schedule it has lined up for this year would get into the BCS -- something that has never been done before at the school. Mendenhall also seems confident that in the future, a one-loss BYU team might be given consideration if the Cougars string together multiple 11- or 12-win seasons.
Winning:
Both Holmoe and Mendenhall know there are risks with going independent. With 10 games set to be aired on ESPN, all national eyes are going to be on the Cougars. They cannot afford another 7-6 season in Year 1 of being an independent. The pressure is on. "I'm willing to take the risk," Mendenhall said. "It's intriguing. There are many fans that aren't BYU fans that can't wait to see BYU stumble with all the exposure. It's pretty clear our program is strong. We have a worldwide following, we've partnered with the worldwide leader in sports. With that, whether folks are BYU fans or not, I bet folks tune in and are anxious to see what happens."
One bit of news emerged today. Mendenhall said he signed a
three-year contract extension
that will keep him with the school through 2013.
"I would like to coach here as long as I'm wanted and as long as I feel it's where I'm supposed to be," he said. "I was invigorated and so excited by the chance to continue to move the program forward. This idea of independence, while many would have backed away from it, I'm anxious to be the coach to take it on. There's a huge amount of risk but there's also a great opportunity for reward."
A few more nuggets from media day:
Left tackle Matt Reynolds has lost 25 pounds and is down to 308. To lose the weight, he did two hours worth of cardio every day and kept to a tight schedule and watched what he ate. "I feel so much better now," Reynolds said. "I look better, too. All the weight was in my midsection and now this is going to help me move a lot better on the field.
Quarterback Jake Heaps is preparing to take more snaps from center this season as more of a pro-style offense will be featured with new coordinator Brandon Doman. "It's definitely a different feel with the drop-back," said Heaps, a spread quarterback in high school. "I have been working on that a lot this summer, and trying to get my timing down with the receivers as well."
Doman on how he feels headed into his first fall as a coordinator: "In December, I turned 34. Now I feel like I'm 44."
Linebacker Jordan Pendleton makes his return this season after missing half of 2010 with a knee injury. He wasn't quite ready to declare himself 100 percent, but said he does feel better than he has in a long time. He has spent the summer getting back into shape, taking it slowly so he would not suffer any setbacks.
October, 12, 2010
10/12/10
6:00
AM ET
Brigham Young Cougars
Record:
2-4 (1-1, MWC)

There was no question BYU had a lot to replace when the season started. Getting new talent in for veteran performers like Max Hall, Dennis Pitta and Harvey Unga is no easy task, but the Cougars have always found a way to reload. Not this season. Coach Bronco Mendenhall waffled when it came to his starting quarterbacks, alternating between
Riley Nelson
and true freshman
Jake Heaps
. Though they won the season opener against Washington, they dropped their next four, and looked totally discombobulated on offense and defense. Heaps is now the full-time starter with Nelson out for the season because of a shoulder injury. BYU ranks an uncharacteristic 91
st
in the country in total offense, and 86
th
in passing offense. The Cougars are only averaging 4.98 yards a pass attempt, third-worst in the country behind Akron and UCLA. The defense was equally as disappointing, and Mendenhall fired coordinator Jamie Hill last week and took over his duties. The team played better in a win over San Diego State last week, but the Cougars are in a fight to make it to a bowl game.
Offensive MVP, RB JJ Di Luigi:
The most consistent player on offense, Di Luigi leads the team in both rushing and receiving. He has 508 yards and four touchdowns on the ground, and 285 yards and one touchdown receiving. The fact that the leading receiver on the team has just 285 yards through six games should tell you about the few offensive highlights so far.
Defensive MVP, FS Andrew Rich:
There haven't been many standout performance. Two other nominees – DT Romney Fuga (knee) and LB Jordan Pendleton (knee) are out. Rich has provided veteran leadership and leads the team with 59 tackles and two forced fumbles. He also has three tackles for loss, and played last week despite being hurt.