NCF Nation:

Jordan Phillips
September, 15, 2014
Sep 15
5:00
PM ET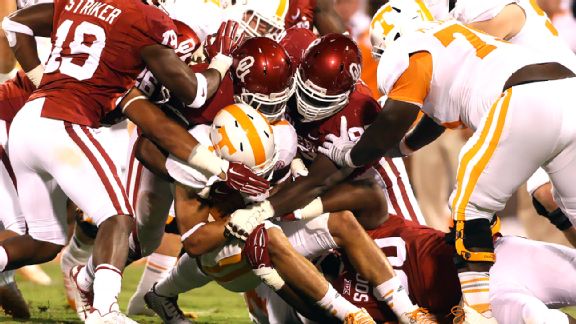 J.P. Wilson/Icon SportswireThe Oklahoma Sooners return to Morgantown with an improved defense.
NORMAN, Okla. -- The Sooners' maiden trip to Morgantown two years ago resulted in the lowest point in the history of the Oklahoma defense.
The Sooners somehow prevailed in a 50-49 shootout. But West Virginia running back Tavon Austin turned the defensive culture that Jerry Tubbs and Lee Roy Selmon and Brian Bosworth built over six decades into a punch line.
The Sooners looked slow chasing around Austin, who set a Big 12 record with 572 all-purpose yards, including 344 rushing.
The Sooners looked discombobulated, with each defensive bust leading to another play bigger than the one before it.
And, perhaps most troubling at the time, Oklahoma looked as if it had no defensive identity, an unforgivable transgression for a program with so much tradition on defense. Defensive coordinator Mike Stoops was so disgusted despite the win that he declined to glance at the box score sheet after it was handed to him during a postgame interview.
But as they prepare for a return to Morgantown this week, the Sooners are none of the things they were two years ago.
They are fast. They are focused. In Stoops' new 3-4 scheme -- whose impetus traces back to the West Virginia debacle -- Oklahoma has fashioned a new identity centered on its ability to harass opposing quarterbacks with defenders from many angles.
"Both Bob and Mike Stoops have done a great job revamping [the defense]," West Virginia coach Dana Holgorsen said Monday. "They're everywhere right now."
Just ask Tennessee quarterback
Justin Worley
, who was sacked five times Saturday while facing the most recent Oklahoma onslaught.
"We're totally different, in every aspect," said a succinct Bob Stoops, when asked Monday for the contrast between this defense and the 2012 one. "Simplest way I can put it."
This West Virginia offense, however, isn't all that different from the one that torched the Sooners for 778 total yards -- the most an Oklahoma defense had ever surrendered since the school began recording statistics.
The Mountaineers no longer possess a versatile talent like Austin, who probably still haunts Mike Stoops' nightmares. But West Virginia quarterback
Clint Trickett
is second in the nation in passing QBR and trails only Ole Miss'
Bo Wallace
by a tenth of a point for the nation's top completion percentage. Trickett also has two of the most lethal wideouts in the Big 12 at his disposal in
Mario Alford
and
Kevin White
, who is second in the country with 460 receiving yards.
"We're going to have to play a lot better than the last time we went there," Mike Stoops said. "That was a bad night for all of us. Bad game plan, bad execution, bad everything."
Plenty of good, however, came out of so much bad for the Sooners.
The defensive collapse in Morgantown spearheaded the biggest coaching shakeup of the Stoops era, which included the aggressive pursuit and hire of Michigan defensive line coach Jerry Montgomery. Since, Montgomery has whipped Oklahoma's front into one of the most disruptive and deepest in the country. Under Montgomery, end
Charles Tapper
and tackle
Jordan Phillips
have developed into All-Big 12-caliber performers. And outside linebacker
Eric Striker
has emerged into arguably the most ferocious pass-rusher at his position in the country -- even drawing comparisons in "destructiveness" from Bob Stoops on Monday to former Oklahoma 2001 All-American Roy Williams.
But the front isn't where the reconstruction effort stopped.
The Sooners have also assembled a sure-tackling, ball-hawking defensive backfield, which has matched the swagger of the Oklahoma defensive line. Saturday in the first quarter,
Quentin Hayes
blindsided Worley off a safety blitz to force and recover a fumble. Cornerbacks
Zack Sanchez
, who how has an interception in five of his last six games, and
Julian Wilson
both picked off Worley in the end zone. Wilson returned his interception 100 yards for an exclamation point touchdown.
"The secondary is playing great right now," said Wilson, who had to play middle linebacker at the West Virginia game two seasons ago because they had no better option. "But we still have room to improve."
That's a scary thought. Since last bowl season the Sooners have now produced the third-most sacks and third-most interceptions in college football. And that combination of an overwhelming front and an opportunistic secondary has given this Oklahoma defense the potential to become one of the school's all-time.
"They've got their guys, defensively, playing as good as they have," Holgorsen said, "since I've watched tape on them going back to the 2000 season."
Holgorsen has his guys playing well, too. And a game that appeared to be a cakewalk for the Sooners in the preseason now looks to be one of the toughest games on their schedule.
Just like its last visit to Morgantown, the Oklahoma defense will be severely tested. But this time -- thanks to the foundation forged out of that West Virginia trip two years ago -- the Sooners will be equipped for it.
March, 17, 2014
Mar 17
9:00
AM ET
NORMAN, Okla. -- It was a single play in a single game that signaled the imminent return of the Oklahoma defense to levels of its former glorious past.
With one minute to go in the Allstate Sugar Bowl, Sooner linebacker
Eric Striker
came barreling around the line. After beating left tackle
Cyrus Kouandjio
, who might be a first-round pick in the upcoming NFL draft, Striker leveled Alabama quarterback
AJ McCarron
and stripped the ball loose. Flying in from the other side, Sooner end
Geneo Grissom
scooped up the fumble and rumbled in for the game-clinching touchdown.
After several seasons of relative mediocrity, the Oklahoma defense finally rediscovered its swagger in that 45-31 Sugar Bowl win over the two-time defending national champs.
[+] Enlarge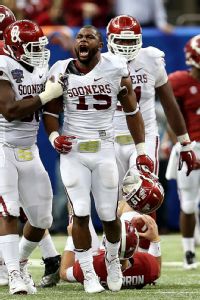 Sean Gardner/Getty ImagesEric Striker celebrated after sacking AJ McCarron in the Sugar Bowl.
And buoyed by nine returning starters, several rising stars and one giant feather in a houndstooth cap, the Sooners have carried that swagger into the spring.
"The Sugar Bowl gave us a good boost," said defensive end
Charles Tapper
, who was the only defensive underclassman to earn first-team All-Big 12 honors last year. "Knowing we kinda dominated Alabama's offensive line, that the whole defense just dominated Alabama a little bit -- just a great way to come into the 2014 season."
It wasn't long ago the swagger of the Selmon Brothers and "Superman" Roy Williams and "The Boz" seemed lost forever.
The Sooners ended the 2012 season capitulating to Heisman winner
Johnny Manziel
, who humiliated them in the Cotton Bowl while becoming just the second player ever to rush and pass for more than 200 yards in a bowl game (Vince Young in the 2006 Rose Bowl was the other). The final month that season, Oklahoma couldn't pressure the passer. Couldn't stop the run. And couldn't win without getting a half-a-hundred from its offense.
But thanks a scheme change from four to three down linemen last offseason that commanded a more blitz-oriented style, as well as a successful bid to bring Michigan defensive line coach Jerry Montgomery to Norman, the Sooners rapidly improved defensively last season despite playing several new starters.
Spurred by the emergence of underclassmen like Striker, Tapper and the Big 12 Defensive Freshman of the Year, linebacker
Dominique Alexander
, that improvement finally culminated in New Orleans.
The Sooners didn't play perfectly against Alabama. But they sacked the Heisman runner-up seven times, and forced three turnovers that all led to Oklahoma touchdowns, capped with Grissom's fumble return.
"As a team, things started to come together," said coordinator Mike Stoops, who resuscitated the Sooner defense at the turn of the millennium 14 years ago and has done it again in the present in his second stint in Norman. "I think our team came together in that last game. That let us play with more confidence and swagger in the second half. Even when things got tough, I felt like our players were in control."
With the return of almost all those players, the Sooners figure to storm into 2014 with one of the best defenses in the country.
Who knows, maybe
the
best.
Virtually the entire defensive line comes back, including Grissom and Tapper, who team up to give the Sooners a destructive duo off the edge.
Inside, Oklahoma will also welcome back
Jordan Phillips
, who was playing at an All-Big 12 level before suffering a season-ending back injury, and redshirt freshman
Charles Walker
, who has been turning heads for months during closed practices. During the winter, Walker ran the 40-yard dash in 4.67 seconds, shattering the Bob Stoops-era defensive tackle record at Oklahoma set by All-American Tommie Harris (4.80) in 2003.
"We're starting to gain quality players in our backup positions that can play a lot of different places trying to earn their way onto the field," Mike Stoops said.
That hasn't just manifested along the defensive line, either.
Oklahoma's entire linebacking corps returns, including Striker, who has become the Big 12 version of Lawrence Taylor. The secondary is brimming with young talent, too, led by cornerback
Zack Sanchez
, who intercepted McCarron in the Sugar Bowl to set up a late Oklahoma touchdown at the end of the first half and give the Sooners a 31-17 lead.
"We're so far ahead from where we were last year," Striker said. "We got chemistry with each other. We know how to play off each other."
That's a scary thought for the rest of the Big 12, and maybe all of college football.
Especially if Oklahoma can keep getting to the quarterback the way it did late last season. In their final four games, the Sooners sacked opposing quarterbacks 16 times. According to ESPN Stats & Info, South Alabama's was the only FBS defense with more during the same stretch.
"We like to get to that quarterback," Tapper said. "On third down, we let the dogs loose. Like the cops let the dogs loose to get them bad guys, we let the dogs loose on third down."
Though it wasn't a third down, that's exactly what Oklahoma did to McCarron at the end of the Sugar Bowl.
The play won the game for the Sooners. While sending a message that defensive swagger is finally back at Oklahoma.
"I feel like this is going to be a big year for us," Tapper said. "Dominating every team in the Big 12 and just all over the country."
November, 6, 2013
11/06/13
11:00
AM ET
How can No. 6 Baylor survive its first big test and improve to 8-0? What must No. 10 Oklahoma achieve in order to be the first to defeat these Bears? Here's our take on what it's going to take for either team to emerge victorious on Thursday night.
Three keys to beating Oklahoma

1. Run the ball right at the Sooners.
Texas used this blueprint to hand OU its lone loss this season as two Longhorn running backs (
Johnathan Gray
,
Malcolm Brown
) rushed for more than 100 yards. While the Sooners rank third in the Big 12 in rushing yards allowed (134.75), they've allowed 200 rushing yards or more to Kansas, Notre Dame and Texas. Baylor has the talent with
Lache Seastrunk
and depth with
Glasco Martin
and
Shock Linwood
to test the Sooners, particularly with
Jordan Phillips
and
Corey Nelson
no longer manning the middle of OU's defense.
2. Make Blake Bell uncomfortable in the pocket.
The Longhorns defense harassed Bell into mental mistakes in the Sooners' lone loss. Bell's 4.3 adjusted QBR was the 13th worst QBR by a quarterback and the worst in the Big 12 this season. The junior never looked comfortable or confident in the pocket as he completed just 46.2 percent of his passes with two interceptions. If Baylor can get similar pressure on Bell, it could force similar mistakes.
3. Make the Sooners play from behind.
Oklahoma's offense is considerably better when playing with a lead. The Sooners can remain committed to their running game while using their success on the ground to make teams pay with play action passes. Running backs
Brennan Clay
,
Damien Williams
and
Roy Finch
give the Sooners one of the deepest groups of runners in the Big 12. And Bell can make defenses pay with his legs as well. OU's passing attack has been the most inconsistent part of the squad in 2013, so if the Bears make the Sooners have to throw to get back in the game, they have to like their odds on coming out on top.
-- Brandon Chatmon
Three keys to beating Baylor

1. Put the defense to the test.
Baylor takes immense pride in the progress its defense has made in 2013. But that defense has faced just one top-50 scoring offense (Kansas State, 49th) and four that rank 92nd or worse. Maybe this Oklahoma offense (ranked 55th) isn't the great unit that finally tests just how sturdy this Bear defense really is, but it has enough firepower at running back and receiver to challenge Baylor's back seven. Baylor's defense has pitched a first-quarter shutout in five of its seven wins. If Oklahoma finds a way to get on the scoreboard early, how will its opponent respond?
2. Slow Seastrunk and the rushing attack.
Three of the five teams that beat Baylor last held the offense to less than 120 rushing yards. Kansas State, the only team to play the Bears close this year, held them to 114 rushing yards and Seastrunk to 59 on 12 carries. Baylor has the luxury of throwing the more than capable duo of Martin and Linwood in if Seastunk can't get going, but that would be a victory for OU's defense and greatly help its chances. That unit must find ways to make Bryce Petty's job more difficult and get Art Briles and playcaller Phil Montgomery out of their run-pass rhythm.
3. Take it to the fourth quarter.
Petty has attempted four passes in fourth quarters this season. Seastrunk has two rushing attempts. The average score of a Baylor game after three quarters is 55-10. These guys have not been tested. The Sooners have to prey on that and try to wear out the Bears if they get the opportunity. Maybe those run lanes start opening up more late. Maybe Petty, after 30 throws, starts losing some accuracy. OU needs an advantage in this department. But, really, the simple truth about beating Baylor is this: The Bears won't lose unless they show up flat, make mistakes and start beating themselves. Oklahoma is going to need an excellent game plan and, probably, a lot of help.
-- Max Olson
October, 27, 2013
10/27/13
4:12
AM ET
NORMAN, Okla. – Oklahoma's game plan coming out of halftime Saturday night didn't include tailback passes, onside kicks or punt-return decoys.
[+] Enlarge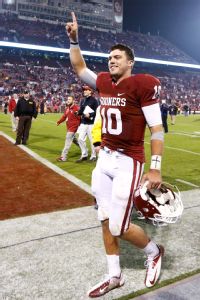 AP Photo/Sue OgrockiBlake Bell and the Sooners found an offensive identity -- less than two weeks from a showdown at Baylor.
The Sooners' scheme was sublimely simple. Get behind all-everything fullback
Trey Millard
and pound the ball between the tackles.
That wham-bam offensive style topped Kliff Kingsbury's wily bag of tricks in a 38-30 victory over Texas Tech, and it reestablished the Sooners as the biggest threat to unbeaten Baylor for the Big 12 title.
"I love our team and their attitude," Oklahoma coach Bob Stoops said. "Are we in great shape? No. Am I excited about our team and our opportunity and our willingness to fight and all of that? Yeah, I am."
The Sooners suffered yet another devastating injury, as Millard tore his ACL covering a kickoff in the fourth quarter. The Sooners had already lost their best linebacker (
Corey Nelson
) and best defensive lineman (
Jordan Phillips
) for the year. Now, they'll go to Baylor without their most valuable offensive player, too.
But even with more injury adversity, the Sooners also, for the first time in a month, looked like a team that could challenge for the Big 12 crown.
When he had to, quarterback
Blake Bell
delivered confident completions to convert third downs. The defense continued to batten down the hatches, even while having to resort to playing true freshmen
Jordan Evans
and
Dominique Alexander
at linebacker.
And the Sooners ran the ball at will.
Oklahoma racked up 277 yards on the ground, featuring the trio of
Damien Williams
(101 yards),
Roy Finch
(55 yards) and
Brennan Clay
(42 yards).
"When you're blocking it that way and running it that way," Stoops said, "you have got to keep calling it until they can stop it."
Tech couldn't stop it.
In fact, on the first possession out of halftime, Oklahoma called 10 runs and one pass and marched right down the field to take a 21-7 lead.
"That was the game plan," Finch said. "We wanted to play Oklahoma football, get our run game going, and open up shots down field."
The run did exactly that.
Early in the second quarter, after three inept weeks of offense, the Sooners rediscovered their stride offensively. In its longest drive of the season in plays, yards and time, Oklahoma ground out an effective -- if aesthetically displeasing -- 16-play, 97-yard touchdown drive covering almost eight minutes.
"I thought that drive was really good," Stoops said. "When you can run a bunch of plays, and stick it in the end zone, it makes a big difference."
On the first play of the following possession, with Tech's safeties creeping up to the line of scrimmage, Bell faked a handoff, then uncorked his best pass since the Notre Dame game over the top to
Jalen Saunders
, who coasted in for a 76-yard touchdown to give Oklahoma its first lead, 14-7.
The Red Raiders were on their heels defensively the rest of the way.
"We controlled the line of scrimmage," center
Gabe Ikard
said. "We ran power a lot. I don't know how many times we ran it, but we ran it over and over and over again. We had a lot of success with it."
Even without Millard, who has been an integral piece of the running attack, the Sooners are sure to heave the same game plan at Baylor in two weeks.
These Sooners can't outscore the Bears through the air. Who can? But as they did with Tech, they can run the ball at Baylor, control the clock and keep the Bears off the field. After all, a team far less imposing than Oklahoma almost beat the eighth-ranked Bears with that formula two weeks ago.
With little semblance of a passing game, Kansas State still racked up 327 yards on the ground, while keeping
Bryce Petty
and
Lache Seastrunk
on the sidelines. As a result, the Wildcats took a lead into the fourth quarter but couldn't make enough plays to hold on.
The Sooners made enough plays to topple one of the Big 12's last two unbeatens on Saturday. A week from Thursday, they'll see if they can do the same to the other.
"I feel good about what we're doing," Stoops said. "I'm excited.
"And we're excited."
October, 24, 2013
10/24/13
9:00
AM ET
We left dry land to secure this week's Guest Picker:
My name is Colin, and I'm an '08 Baylor alum. I work offshore on an oil-rig. My job has a lot of downtime, which I find myself using to constantly visit the Big 12 blog for any new I story I can read. I thought I could use all this down time productively and pick Big 12 games, and I would really enjoy being the Guest Picker one week. Thanks and keep up the good work.
I'm coming off an undefeated week, and I'm planning on going undefeated the rest of the season. Colin will be coming along for the ride, since he picked the same sides I did this week (which include a pair of upsets).
On Saturday, Brandon and I will be in Norman, Okla., as "Guns Up, Suns Up" meets "Boomer Sooner" in a key Big 12 matchup. Max is headed up to Fort Worth, Texas, to monitor whether TCU will actually score a first-half touchdown, and whether the Longhorns can play at a high level for more than one game.
To the Week 9 picks:
SEASON RECORD
Trotter last week:
4-0 (1.000)
Guest Picker (wedding Tyler) last week:
3-1 (.759)
Trotter overall:
37-11 (.770)
Guest Picker overall:
22-9 (.709)
Saturday


OKLAHOMA STATE at IOWA STATE
Oklahoma State 33, Iowa State 14:
In their past eight trips to Ames, the Cowboys are 2-5-1, including a stunning loss late in 2011 that knocked the Pokes out of the national championship game. But Oklahoma State might have figured out some things offensively last week, with
Clint Chelf
at QB and
Rennie Childs
at running back. Plus, the Cyclones are still on the mat after getting smoked week in Waco.
Colin's pick:
OSU's QBs and, team as a whole, have not impressed me, but the Iowa State confidence will be shot after that Baylor game. Mike Gundy reminds us all "he is a man" after reporters ask who his best QB is.
OSU, 24-17


TEXAS TECH at OKLAHOMA
Texas Tech 29, Oklahoma 28:
Nobody has played the Sooners tougher in recent years than Texas Tech. The Red Raiders have won four of the past eight in the series. And in their most recent trip to Norman, they stunned the third-ranked Sooners 41-38 to snap OU's 39-game home winning streak. This season, OU has been heading the wrong direction since losing
Corey Nelson
and
Jordan Phillips
defensively. The young Red Raiders, meanwhile, seem to be improving every week. OU has the nation's No. 1 pass defense, but that's a bit of a mirage. The Sooners have faced only one offense ranked in the top 50 nationally in passing (Texas, which is 49
th
). Like they did in '11, the Red Raiders make plays after the catch, and force
Blake Bell
into a couple of bad decisions to secure the program's biggest win since knocking off top-ranked Texas in 2008.
Colin's pick:
Texas Tech pulls out a tough road win against a top-25 team. Bell throws an INT in the last minute after seeing Kliff Kingsbury on the sidelines with his girlfriend.
Texas Tech, 35-34


WEST VIRGINIA at KANSAS STATE
Kansas State 27, West Virginia 21:
The loser of this game could be in serious trouble for qualifying a bowl game. The Mountaineers have begun to show life offensively with QB
Clint Trickett
, scoring 27 last week against Texas Tech. But Bill Snyder with two weeks to prepare is almost unfair. The return of receivers
Tyler Lockett
and
Tramaine Thompson
gives the league's best running QB,
Daniel Sams
, someone to throw to downfield, too.
Colin's pick:
Kansas State gets a much-needed home win; Dana Holgorsen tears his fragile hair out in frustration when his throw-deep-every-play offense doesn't work with Trickett.
Kansas State, 31-24


BAYLOR at KANSAS
Baylor 79, Kansas 3:
The only drama in this game is whether Baylor gets to 100. I say they don't. But I've been wrong before.
Colin's pick:
Baylor continues its 60-plus-point dominance, as
Lache Seastrunk
runs for 150-plus and QB
Bryce Petty
adds another three TDs. Kansas fans start a "basketball season" chant in the second quarter.
Baylor, 70-10


TEXAS at TCU
Texas 17, TCU 13:
At 3-4, the Horned Frogs are off to their worst start in 14 years, and in many ways this is TCU's last stand. If the Horned Frogs drop this game, they could be in for their worst season of the Gary Patterson era, and even miss out on a bowl game. The defense continues to play tough, but the offense is a catastrophe of epic proportion. Saturday, Texas generates enough offense by slugging it out in the trenches with
Johnathan Gray
and Malcolm, and the Longhorns stealthily move to 4-0 in the conference with Kansas coming to Austin next weekend.
Colin's pick:
Texas' running game gets going and once again the TCU offense looks inept. TCU's stadium has more orange than purple in it.
Texas, 31-13
October, 24, 2013
10/24/13
8:00
AM ET
Injuries have played a major role in the Big 12 through the first half of the season and they'll continue to impact the conference title race down the stretch. Baylor is the lone squad in the top half of the Big 12 that has escaped the injury bug relatively unscathed.

1. TCU:
The Horned Frogs have watched quarterback
Casey Pachall
and defensive end
Devonte Fields
, arguably their top players on each side of the ball, go down. Pachall (forearm) could return soon but Fields (foot) is lost for the season. It's easy to imagine the Horned Frogs offense, which has looked lost and has averaged just 97.4 yards in the first half in the past five games, as much improved with Pachall under center.

2. Texas:
Another team that has lost a major contributor on both sides of the ball, the Longhorns hope to get quarterback
David Ash
(head) back at some point this season and have lost defensive leader
Jordan Hicks
(Achilles) for the season. Add in nicks and bruises to playmakers
Daje Johnson
and
Mike Davis
and success has been much harder to come by for Texas.

3. Oklahoma:
The Sooners lost linebacker
Corey Nelson
(pectoral) and defensive tackle
Jordan Phillips
(back), two of their top defenders, in back-to-back weeks. Nelson's leadership is sorely missed and Phillips' strength in the middle is hard to replace. OU is still scrambling to replace the duo, which is a scary thought with Texas Tech and Baylor set to test the defense.
October, 20, 2013
10/20/13
10:00
AM ET
What we learned about the Big 12 from Week 8:
1. TCU's offense is hopeless:
Once again, the TCU defense kept the Horned Frogs in the game. Once again, it didn't matter. TCU's inept offensive attack reached a new level in Stillwater. QB
Trevone Boykin
delivered a Total QBR of 5.9 (scale of 0-100) and was benched in the second quarter. Except his backup, freshman
Tyler Matthews
, fumbled the ball away on his first snap. This was the
third
Big 12 game the Horned Frogs were held scoreless in a first half. Coach Gary Patterson became so frustrated he made co-offensive coordinator Rusty Burns the primary playcaller for the second half and brought the other offensive coordinator, Jarrett Anderson, to the sideline from the booth. The Horned Frogs moved the ball better, but not better enough. As a result, TCU is now 1-3 in the league and has become the Big 12's biggest disappointment. That's even with its defense playing big-time football. No defense, however, can overcome this drive chart: punt, punt, punt, punt, punt, interception, interception, fumble, turnover on downs, punt, field goal, interception, rushing touchdown, turnover on downs. The Horned Frogs could get QB
Casey Pachall
back from a broken forearm soon. That's really their only chance to prevent this season from turning into an all-out dumpster fire.
[+] Enlarge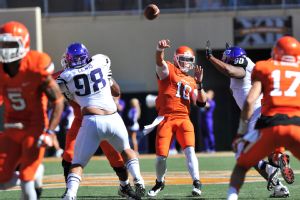 Peter G. Aiken/USA TODAY Sports Clint Chelf's numbers weren't great Saturday, but he provided a deep threat that opened up the offense.
2. Oklahoma State is better off with its backup backfield:
The Cowboys started the game with
J.W. Walsh
and
Jeremy Smith
in their backfield. They ended it with
Clint Chelf
and
Rennie Childs
. And there's no doubt which duo was more effective in the Pokes' 24-10 win over TCU. Walsh opened the game with two interceptions and finally was benched in favor of Chelf after three consecutive subpar outings. Chelf didn't exactly light TCU's secondary on fire. In fact, his Total QBR was poorer than Walsh's (28.0 versus 56.4). But the threat to throw the ball downfield opened up the offense a bit and allowed the Cowboys to finally get something going, thanks in part to Childs. Smith delivered another clunker of a game, rushing for just 14 yards on 12 carries before fumbling away possession to TCU in the third quarter. The Cowboys rode Childs at running back the rest of the way, and the true freshman ran hard. He finished with 45 rushing yards on nine carries, a 34-yard reception and a tough, 7-yard touchdown run that sealed the win in the fourth quarter. Even with Chelf and Childs, Oklahoma State has a long way to go offensively. But playing those two over Walsh and Smith seemed to be a step in the right direction.
3. Oklahoma's issues weren't a one-game thing:
The Sooners still can't pass. And they still can't stop the run. The two areas that doomed the Sooners in last week's loss to Texas resurfaced at Kansas. With the Sooners missing LB
Corey Nelson
and DT
Jordan Phillips
, the Jayhawks took a cue from the Longhorns and ran the ball right down Oklahoma's throat to take a 13-0 lead in the first half. Coach Bob Stoops took blame off the defensive line and said afterward that the linebackers and defensive backs were out of position. But cameras briefly caught defensive coordinator Mike Stoops laying into defensive line coach Jerry Montgomery. On the other side of the ball, the Sooners continued to struggle passing. In fact, the prettiest throw of the afternoon came from wide receiver
Lacoltan Bester
, who hit
Sterling Shepard
on a reverse pass that finally gave the Sooners a lead in the second quarter.
Blake Bell
played much better than last week but still threw for only 131 yards with a Total QBR of 67.3, which surely will drop once the strength of the Kansas defense is factored into the equation. Think about this: The Sooners scored a touchdown off a trick play, blocked an extra point and returned it for a two-pointer, blocked a punt for a safety and held the Jayhawks to 16 yards passing -- and Kansas still was down only one score well into the fourth quarter. The same Kansas team fell to Texas Tech on the same field two weeks ago, 54-16. That same Texas Tech team travels to Norman next weekend.
4. Baylor's defense has a chance to be special, too:
In 2011, Oklahoma State captured its first Big 12 title with one of the best offenses in conference history. That '11 Cowboys defense, however, was sneaky good, as well, and led college football with 44 forced turnovers. This Baylor defense has a chance to be sneaky good, too. The Bears' offense got back on track with a 71-point deluge against Iowa State. But Baylor's defense was almost as impressive. The Bears held Iowa State to just 174 yards of offense and only 41 yards on the ground. Baylor had a shutout going, too, until the Cyclones scored on a 27-yard touchdown pass with 47 seconds remaining. Iowa State isn't exactly Oregon (or Baylor), but the Cyclones had scored 30 or more points in three straight games. Baylor's offense alone makes the Bears the Big 12 favorite, but a sneaky good defense could elevate them into a dark-horse national title contender.
5. Kingsbury believes in his quarterbacks:
As coordinators around the Big 12 call plays reflecting a lack of confidence in their quarterbacks, Texas Tech coach Kliff Kingsbury has done the complete opposite. And when the game was on the line in Morgantown, he put the game -- and Texas Tech's season -- on the arm of true freshman
Davis Webb
, who came up with two huge throws on the final drive of the game. With Tech coddling a 30-27 lead in the final two minutes, Kingsbury called a pass on third-and-6. Three plays later, with Tech facing third-and-goal, Kingsbury called another pass. Both times, Webb delivered completions -- the latter a game-clinching touchdown strike to tight end
Jace Amaro
. Many coaches would have sat on the ball that drive. Even more would have done so with a true freshman quarterback making his first career road start. But by calling those passes, Kingsbury proved he believes in his quarterback. Quite a bit.
October, 17, 2013
10/17/13
9:00
AM ET
Last week, Tyler, the K-State fan from California who is getting married this weekend, flaked out on being the guest picker.
Or so I thought.
I assumed Tyler's bride-to-be was getting on his case about focusing on his picks instead of his wedding. Sure, getting married is a big deal. But being the guest picker? Way bigger deal.
Turned out, my correspondence kept getting dumped into his spam folder. And once this was cleared up, Tyler pleaded for another early wedding present. What can I say? I'm a romantic.
From Tyler:
So I missed out on my chance to be the guest picker last week, and Trotter let me have it in the Week 7 predictions. You'll have to excuse me for making my wedding a bigger priority than being the guest picker. As they say, a happy wife is a happy life, and as a K-State fan, I need all the happiness I can get. Fortunately, Jake gave me a second chance to get my priorities straight before I tie the knot.
When I thought Tyler was blowing off the blog, Curtis from Washington D.C., stepped in as the guest picker. It was a rough week for Curtis, whose Sooners took it on the chin in a Red River wipeout. I just hope he was stuck in that military office with no TVs so he didn't have to witness it.
This weekend, the Big 12 team will be canvassing the conference landscape. Brandon will be in Stillwater for TCU-Oklahoma State; Max will head to Waco for Iowa State-Baylor; and I will be reunited with my favorite league mascot -- "The Mountaineer" -- in Morgantown for Texas Tech-West Virginia. Have the deer jerky ready, Jon.
Congratulations, too, to Tyler and his bride, who will be honeymooning in France.
To the Week 8 picks:
SEASON RECORD
Trotter last week:
3-1 (.750)
Guest picker (Curtis in Washington D.C.) last week:
2-2 (.500)
Trotter overall:
33-11 (.750)
Guest picker overall:
19-8 (.704)
SATURDAY


Texas Tech 21, West Virginia 20:
Last season, the Mountaineers were in a spot similar to where Tech is now. And the Red Raiders thrashed West Virginia in Lubbock, sending the Mountaineers into a tailspin that lasted the rest of the season. As a result, the Red Raiders are very aware just how precarious this 1,500-mile road trip back is. Tech, however, appears to have more staying power than last season's Mountaineers, who were really just a three-man show. These Red Raiders have more defense and more depth, and sneak out of Morgantown with their biggest win of the season yet.
Tyler's pick:
Eventually, Kliff Kingsbury is going to turn Tech into a team that can consistently compete for a Big 12 championship. His youth and coaching style will be a magnet for blue-chip recruits. Unfortunately, inexperience trumps hype here.
West Virginia, 34-31


Oklahoma State 16, TCU 13:
If the Cowboys couldn't move the ball against West Virginia or Kansas State, why would anyone have confidence they'll be able to against the best defense in the Big 12? Cornerback
Jason Verrett
and Co. will have Oklahoma State's receivers on lockdown, not that QB
J.W. Walsh
has been able to get them the ball anyway lately. The problem is, TCU can't score, either.
Tyler's pick:
TCU fans can't wait to have QB
Casey Pachall
back, as the offense continues to struggle without him. TCU's defense keeps the first half close, but Oklahoma State pulls ahead with
Jeremy Smith
rushing for 100 yards and a score.
OSU, 24-17


Oklahoma 30, Kansas 17:
Bob Stoops is 14-0 the week after Texas with an average margin of victory of 27 points. Stoops, however, doesn't have Josh Heupel, Jason White, Sam Bradford or Landry Jones at quarterback this time. And Texas showed this Oklahoma defense isn't anything special without linebacker
Corey Nelson
or tackle
Jordan Phillips
, who are both out for the season. The Sooners win. But their problems on either side of the ball remain very evident as Kansas keeps this one relatively close.
Tyler's pick:
After Oklahoma takes out its frustrations, Charlie Weis calls the Jacksonville Jaguars to see if they'll be needing a new offensive coordinator.
OU, 54-3


Baylor 66, Iowa State 28:
The scariest part for the rest of the Big 12 about Baylor's win over K-State last week? The Bears were sluggish offensively -- and they still scored 35 points. Who knows if this is the best offense in Big 12 history? But it certainly is the fastest scoring. Iowa State is one of 11 teams in college football that has yet to allow a touchdown in three plays or fewer. That changes Saturday.
Tyler's pick:
As a K-State fan, I am required to comment about how amazing Bill Snyder is. Since K-State is off this week, we will add the Snyder love here. Last week, he showed the country how to beat Baylor. Unfortunately for Iowa State, Snyder doesn't coach the Cyclones. If Snyder coached the talent Texas and OU had, he'd have five national championships.
Baylor, 58-35
September, 24, 2013
9/24/13
10:00
AM ET
NORMAN, Okla. -- Oklahoma believes its defensive front and linebackers have improved after a season full of disappointing production from both groups a year ago.
The Sooners get the chance to prove it on Saturday when they travel to South Bend, Ind., for a rematch with Notre Dame. The Fighting Irish won the battle in the trenches during their 30-13 win over OU in 2012.
"If you go to the University of Oklahoma, you have a sense of pride," defensive lineman
Chuka Ndulue
said. "Last year, what happened in the fourth quarter, they flat out beat us. It's in the back of our minds, because we're prideful players."
[+] Enlarge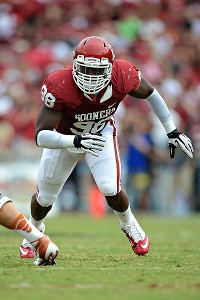 Matthew Emmons/USA TODAY SportsChuka Ndulue said last year's loss to Notre Dame has stayed with him for a couple of reasons.
After a horrible end to the 2012 season, OU's defense is off to a terrific start this season. The Sooners rank among the top 20 nationally in yards allowed (291.3), rushing yards allowed (100.67), yards per pass attempt (5.06) and third-down conversion percentage (27.3 percent). The defensive line and linebackers have looked faster, more athletic and more aggressive this season, helping OU's defense get off to a quick start.
Yet they haven't been tested like the Irish's offense can test them.
This year's Sooners defense was built with stopping Big 12 spread offenses in mind while remaining versatile enough to adapt to power running attacks if needed. Mike Stoops' vision for his defense will be put to the test by Notre Dame, which can spread defenses with multiple receivers and line up with bigger personnel to employ a power running attack.
So don't be surprised if OU debuts a four-man front for the first time in 2013. The Sooners have relied on a three-man front for the first three games, getting more speed and versatility on the field with linebacker/pass rush specialist
Eric Striker
. It makes sense for Stoops to bring Ndulue or another Sooners' defensive lineman to get bigger in those situations when Notre Dame decides to try to lean on its power running attack.
"We can get in and out of a three- or four-man front, that's not a problem for us," said Stoops, who spent the offseason talking about his desire for the Sooners' defense to become more versatile in 2013.
No matter what personnel or scheme changes the Sooners utilize, they will need better play from their defensive line and linebackers in the rematch. Better play could start with a different mindset. Asked what he learned from playing the Irish in 2012, Ndulue's answer was revealing.
"Dominate the man in front of you," Ndulue said. "You have to have the mindset that you're going to embarrass them, just be a dawg, be a D-lineman."
OU hopes to have a pack full of dawgs along its defensive front on Saturday, and defensive tackle
Jordan Phillips
could be in the spotlight. The redshirt sophomore is emerging as a quality defensive lineman and finally fulfilling the promise he showed during his first two years on campus, when teammate
Gabe Ikard
called him "the next Gerald McCoy". He has been a force in the middle of OU's defense to start the season.
"He's maturing, he knows he can be a very productive and good player," Stoops said. "Taking that next step has become more important to him. He's become a more prideful player who works harder and is becoming more consistent. You can see the light starting to go on, so we certainly hope he continues to work like he has, because he's perfect for what you're trying to do in there."
OU's linebackers entered the season with redemption on their minds after having a minimal impact on the Sooners' defense in 2012. This season, linebackers
Corey Nelson
(20) and
Frank Shannon
(19) rank 1-2 in tackles. They'll need to show their versatility and toughness against the Irish, as they'll find themselves in coverage situations on one play, then facing an offensive lineman in the running game on the next.
"I feel like they've showed that [versatility] the first three games," cornerback
Aaron Colvin
said. "Of course, this will be on a bigger stage, but I feel like they've done a great job all year, and I don't expect anything different this week."
April, 13, 2013
4/13/13
7:55
PM ET
NORMAN, Okla. -- Defensive end
Geneo Grissom
hopes the Oklahoma defensive line will ignite emotions within opponents this fall.
"I want to make sure when we step on the field, O-linemen are scared," Grissom said. "I want our D-line to invoke fear in opposing O-lines."
[+] Enlarge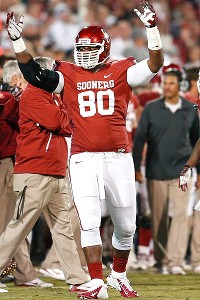 Cal Sport Media via AP ImagesSophomore Jordan Phillips is entrenched as a starter at defensive tackle for the Sooners. Can he become a star in 2013?
The Sooners' defensive line took some positive steps in that direction during in the Red-White spring game at Oklahoma Memorial Stadium on Saturday. Defensive linemen accounted for four of the five sacks in the game including two from defensive tackle
Rashod Favors
and one apiece from Grissom and defensive tackle
Jordan Phillips
.
"I thought the D-line overall did a really good job," coach Bob Stoops said. "I thought they got good pressure and for the most part, playing the run, I thought they did a pretty good job."
The Sooners' quarterbacks spent a good part of the scrimmage on the run, evading pressure, a sign the defensive line is improving. And, in a game which featured 112 total offensive plays, OU's defensive front limited the big run, with
Brennan Clay
's 35-yard scamper ranking as the longest ground-gainer.
"We did what we had to do," Grissom said. "You always feel you can get better and do better but we were completing our assignments and doing what we're being taught to do. Overall it was a good day."
The Sooners' defensive line isn't quite there yet. While OU's front was disruptive at times, it struggled to get pressure at other times and got off to a slow start in the first quarter.
"We still need to develop playmakers up front," defensive coordinator Mike Stoops said. "But I thought they got better as the game went along."
While he wasn't dominant, Phillips showed the ability to be disruptive in the backfield, finishing with three tackles and one sack. The lone returning rotation player at defensive tackle, Phillips will be counted on to be a disruptive force in the middle for OU. His progression from a player with potential to a disruptive playmaker could make a difference for OU's defense.
"He's a great player," said linebacker
Corey Nelson
, who finished with three tackles. "He played well today, very physical, got after the O-line and made our jobs easier today."
Grissom was also impressive with his speed and strength on the perimeter, showing the ability to get into the offensive backfield on passing plays. The junior appears to have finally found a permanent home at defensive end after playing some tight end in 2012.
"That's a key player we need to step up, and he has been," Nelson said. "He's probably our best pass-rusher."
Improving the play of its defensive line is high on the Sooners priority list this offseason. Stoops likes to play man-to-man defensive schemes, so having a disruptive defensive line could be the difference between stopping some of the explosive offenses in the Big 12 and having another disappointing defense this fall.
"We're starting to show signs of consistency and that's what we need," Stoops said. "We need to continue to develop playmakers in our defensive front -- that's going to be a premium moving forward."
OU took steps forward this spring but will have to get much better to become a dominating unit in 2013.
"We've gotten a lot better but we have a long way to go to get where we need to be," Grissom said. "We have guys who want to win, and that's what it takes, so we're going to get there but we're not quite there yet."
February, 3, 2011
2/03/11
11:00
AM ET

OKLAHOMA SOONERS
The class
Signees
: 17 (three enrolled early)
Top prospects
: Receiver
Trey Metoyer
and running back
Brandon Williams
are ESPNU 150 members among the best at their positions. Both could contribute early at Oklahoma.
Jordan Phillips
,
Jordan Wade
and
Nathan Hughes
add three more ESPNU 150 signees and a great haul of prospects on the defensive line.
Danzel Williams
is an athlete that Oklahoma plans to use at running back and gives the Sooners six ESPNU 150 prospects, second-most in the Big 12 behind Texas.
Needs met:
Coach Bob Stoops said it in his press conference on Wednesday, and he's right: Oklahoma wasn't depleted anywhere, and didn't have any real pressing needs. As a result, you get a very balanced, but typically strong class from the Sooners. Oklahoma's 2010 class was one of its best ever, and you never know how one will look, but none of the current recruits will be counted on for any major contributions in 2011. If they can help somewhere, they'll be welcome to. But it won't be a problem if they need a year or two before they can become high-level Big 12 talents.
Analysis:
Coming off a strong freshman class like Oklahoma had in 2010 takes a little pressure off the following year, but the Sooners cashed in another solid class near the top of the national rankings. OU ranks No. 11 overall, and players like Metoyer, Williams and the trio of defensive linemen can make the kind of immediate impact that players like Tony Jefferson had in 2010. The Sooners reign as one of the Big 12's elite teams won't be threatened, and we could see them contend for a national championship again soon after 2011, a year that looks like a promising one in Norman.
ESPN recruiting grade:
B-plus