NCF Nation:

Jordan Waiwaiole
August, 17, 2011
8/17/11
1:00
PM ET
They are fierce rivals, yes, but everybody who coaches at and plays for a service academy understands the difficulty of making a bowl game. So it should come as little shock that they applauded what happened last season -- when Army, Navy and Air Force all made bowl games for the first time in college football history.
"All three are phenomenal places. Each one has their own niche that our country badly needs," Air Force coach Troy Calhoun said. "We're fortunate to have each one of these academies. When they all have winning seasons, that's pretty cool stuff."
Now the big question -- can they do it again and again?
[+] Enlarge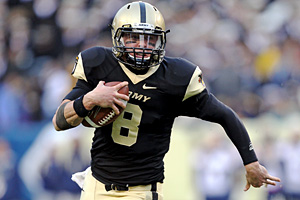 Hunter Martin/Getty ImagesLast season Trent Steelman passed for 995 yards, rushed for 721 yards and led Army to its first bowl game since 1996.
"There are no guarantees in this, but I think that's a realistic outcome when you look at who we are and our schedules and how well we're playing," Army coach Rich Ellerson said. "It's not hard to visualize that."
Navy and Air Force have been playing at high levels in recent years. The Midshipmen have been to eight straight bowl games; Air Force to four straight. It had been Army that lagged behind. But Ellerson has changed the culture at West Point, taking his Black Knights to a bowl game for the first time since 1996.
Is that enough to get the momentum going for Army? On paper, it appears that Army has the longest shot of the three service academies to make it back to a bowl game.
The defense lost six starters, including all-important nose guard Mike Gann and defensive end Josh McNary, who holds the school record for tackles for loss and sacks. The defensive line is more undersized than usual for a service academic, so the team is hoping its quickness and athleticism can make up for that. The Black Knights also lose leading tackler Stephen Anderson, who had 108 stops last season, and both starting safeties.
If you take a look at the Army schedule, you will find very few gimmes. Six of the 12 games feature bowl teams; only four of their FBS teams had losing records last season. The opening stretch is tough, starting with a game at Northern Illinois (11-3 last season), then home to San Diego State (9-4) and Northwestern (7-6). Army plays six straight games before getting a bye.
But if there is a bright spot for Army, it has to be on offense. Quarterback
Trent Steelman
and fullback
Jared Hassin
return, and they should given opposing defenses fits. Hassin ran for 1,013 yards last season and Steelman added 721 on the ground and 995 yards passing. Army does have to replace four starters on the offensive line, but Ellerson has been pleased with their progress.

Navy faces a rebuilding year as well, but the Midshipmen are a team that knows how to win and win consistently. They only return 10 starters -- and just three on defense. Navy lost its top four tacklers from a year ago -- Wyatt Middleton, Tyler Simmons, Aaron McCauley and Jerry Hauburger.
There are some bright spots returning, though. Defensive end Jabaree Tuani, their best defensive lineman, returns. Cornerback Kewsi Mitchell will anchor the defensive backfield, though just exactly where he will play remains up in the air. On the latest depth chart, he is listed as a possibility at rover, right and left cornerback.
Offensively, Ricky Dobbs is gone, but there isn't much concern about
Kriss Proctor
coming in to run the triple-option. Proctor has had extensive experience running the offense as a backup the past two seasons. Plus, he has fullback
Alexander Teich
to help him out. Teich had a breakout year in 2010, running for 863 yards and is in line to be a 1,000-yard rusher this season. Four of five starters on the offensive line return as well.

As for Air Force, the Falcons are the defending Commander-In-Chief Trophy winners after breaking the seven-year Navy streak. Air Force has to be the favorite to repeat as CIC champions because of everybody it has returning. In fact, the Falcons were picked to finish third in the Mountain West in the preseason media poll, and some have called them a darkhorse candidate to win the conference.
Air Force has the best quarterback of the service academies in
Tim Jefferson
, and the best return specalist in
Jonathan Warzeka
. The Falcons also have the most solid defense. Eight starters return on defense, including the team's top three tacklers from a year ago -- Jordan Waiwaiole, Jon Davis and Brady Amack.
All three programs need to get to six wins to be bowl eligible. If that happens again, Navy would head to the Military Bowl presented by Northrop Grumman on Dec. 28 in Washington against a team from the ACC. Army would head to the Kraft Fight Hunger Bowl in San Francisco against a Pac-12 team on Dec. 31. Air Force would go to a Mountain West tie-in.
July, 19, 2011
7/19/11
11:00
AM ET
We are closing in on media day season. The Mountain West is holding its annual media event July 26-27 in Las Vegas, and I will be there to bring you the latest. Down below you will find the student-athletes each school is bringing for interviews. But first, my most pressing questions headed into 2011:
1. How will the reconfigured Mountain West fare and what will that mean for BCS inclusion?
This is the biggest question hanging over the league, one that is certain to be asked of commissioner Craig Thompson. Even though we all want an answer, we will not get one until the season ends. Still, there is no debating that teams such as New Mexico, Wyoming and Colorado State have to be improved for there to be any real shot at becoming an AQ.
2. Along those lines, how will Boise State fare in Year 1?
The Broncos are almost certain to be the preseason favorite to win the Mountain West in their first year in the league. This, of course, is not a new position for Boise State, the preseason favorite every year in the WAC. But how does the team feel about these expectations considering it will be facing a new slate of conference games in what is a more difficult conference than the WAC?
3. How does TCU feel about being in its final MWC season?
This is a similar storyline to last season with Utah and BYU. These three teams essentially put the Mountain West on the map and all are going to be gone in 2012. But TCU was given what it believes is a raw deal, when its game against Boise State was moved to Boise in November. That one could end up determining the league title. You can bet there is nothing the Horned Frogs would enjoy more than leaving the league as champion. There most definitely is a rivalry that has formed between TCU and Boise State. It's too bad we won't see that play out every year.
4. Is Air Force really a dark horse to win the league?
One of the bigger under-the-radar teams that has gotten national attention is Air Force. Some are calling the Falcons a dark horse to win the league. Coach Troy Calhoun is going to do everything he can to avoid talking about or answering that question. But with
Tim Jefferson
,
Asher Clark
and
Jonathan Warzeka
returning on offense, and Jordan Waiwaiole, Jon Davis and Brady Amack returning on defense, the Falcons should have another strong season.
5. Is San Diego State a threat to win the league?
The top four teams in the conference should be pretty strong. That includes San Diego State, which had a breakthrough season last year and returns several of its best players, including
Ryan Lindley
,
Ronnie Hillman
, Miles Burris and Leon McFadden. But there are some questions within this question -- how do the Aztecs do without Vincent Brown and DeMarco Sampson, and can Hillman avoid a sophomore slump?
List of student-athletes attending MWC media days:
Air Force
: WR/KR Jonathan Warzeka, DL Zach Payne
Boise State
: QB
Kellen Moore
, S George Iloka
Colorado State
: OL Paul Madsen, LB Mychal Sisson
New Mexico
: LB Carmen Messina, TE
Lucas Reed
San Diego State
: QB Ryan Lindley, DL Jerome Long
TCU
: WR
Josh Boyce
, LB Tank Carder
UNLV
: TE
Anthony Vidal
, DB Quinton Pointer
Wyoming
: LB Brian Hendricks, DE Josh Biezuns
November, 2, 2010
11/02/10
12:46
PM ET
October, 12, 2010
10/12/10
9:30
AM ET
Air Force Falcons
Record:
5-1 (3-0, Mountain West)

Air Force has been on the cusp of breaking into the "Big Four" of the Mountain West Conference, but always came up just short. This is shaping up as a different season. The Falcons are 5-1 for the first time since 2003 and 3-0 in conference for the first time since 2006. They already beat BYU for the first time in seven tries, and Navy for the first time in eight tries. They are ranked at No. 23, the first time the team is ranked under Troy Calhoun.
Tim Jefferson
has the offense running as smoothly as ever. The Falcons rank first in the country in rushing offense, averaging 352.7 yards on the ground. This despite the fact they have five new starters on the offensive line. Jefferson, fullback
Jared Tew
and tailback
Asher Clark
have combined for 1,448 yards rushing and 12 touchdowns on the ground. Now comes a very critical stretch for the team: three of the next four games are on the road, with a home game sandwiched in against Utah.
Offensive MVP, QB Tim Jefferson
– Jefferson has complete command of the offense. He has seven rushing touchdowns, a career high, and is on the verge of setting a career high for rushing yards as well. He has passed the ball some this year, with 663 yards and five touchdowns. But the leadership he is displaying this season has been huge.
Defensive MVP, LB Jordan Waiwaiole --
Waiwaiole is tied for the team lead with 45 tackles, and tied for the team lead with 4.5 for a loss. He had a monster game against Navy, with 15 tackles. Coach Troy Calhoun likes what he sees, but he also wants improvements to the run defense, something has spoken with him about this week.
October, 4, 2010
10/04/10
3:01
PM ET
Here are all the non-AQ players of the week:
Conference USA
Offense:
Kyle Padron
, QB, SMU. Went 24-of-32 for 371 yards and three touchdowns with no interceptions as SMU won at Rice for the first time since 1986.
Defense:
Dezman Moses, DE, Tulane. Had six tackles and a team-high 2.5 tackles for loss and tied for a team-best 1.5 sacks for minus-8 yards in a 17-14 win against Rutgers.
Special teams:
Jonathan Ginsburgh, P, Tulane. Punted nine times for 382 yards for a 42.4 average and tied the school record for the seventh-longest punt in school history with a 73-yarder.
Mountain West
Offense:
Tim Jefferson
, QB, Air Force. Tied a career-high with two rushing touchdowns in a 14-6 win against Navy, helping the Falcons end a seven-game losing streak to the Midshipmen.
Defense:
Jordan Waiwaiole, LB, Air Force. Recorded a career and team-high 15 tackles, an interception and a sack in a 14-6 win against Navy.
Co-Special teams:
Jamil Cooks, LB, Air Force and Austin McCoy, P, Wyoming. Cooks had a blocked field goal and blocked punt in the win against Navy. Cooks is the first Falcons player to block two kicks in a game since Robert Kraay blocked two point-after attempts against Notre Dame in 2006. McCoy limited the Rockets to zero return yards on eight punts and placed two kicks inside the Toledo 10-yard line.
Sun Belt
Offense:
Chris Masson
, QB, Louisiana. Threw for a career-high 310 yards and tied his career mark with two touchdown passes in the Cajuns' road win at North Texas.
Defense:
Javon McKinnon, LB, Arkansas State. Recorded a career-high 16 tackles, including a career-best two tackles for loss, against Louisville for the most stops by a Sun Belt Conference player since the 2008 season.
Special teams:
Jermaine Rogers, DT, Louisiana. North Texas appeared to be sending the game into overtime after scoring a touchdown with 31 seconds remaining in regulation, but Rogers blocked the extra-point attempt to seal the win.
MAC
East Division
Offense:
Matt Brown
, RB, Temple. Had a career-high 226 yards on 28 carries and four touchdowns in a 42-35 win at Army.
Defense:
Khalil Mack, LB, Buffalo. Had a team-high nine tackles and a career-best four tackles for loss in a 28-26 win at Bowling Green. Mack also had two quarterback hurries, one forced fumble, one pass break-up and one sack.
Special teams:
Trevor Cook, K, Miami. Had a 36-yard field goal and 21-yarder, making him 9-of-10 on the year in a win against Kent State.
West Division
Offense:
Chandler Harnish
, QB, Northern Illinois. Went 16-of-20 for 281 yards and tied a career-high with three touchdowns in a 50-14 victory at Akron.
Defense:
Robert Eddins, DE, Ball State. Had a career-high 4.5 sacks plus had seven total tackles and one quarterback hurry in a 31-17 win at Central Michigan.
Special teams:
Ben Armer, P, Western Michigan. Had three punts of more than 50 yards, including a career long 65-yard punt in a 33-13 loss to Idaho.
WAC
Offense:
Kealoha Pilares
, WR, Hawaii. Set a school record with 18 catches in a 41-21 win against Louisiana Tech and had a career-high 217 receiving yards and two touchdowns.
Defense:
Robert Siavii, LB, Idaho. Had a team-high nine tackles in the 33-13 win at Western Michigan. Siavii added 1.5 tackles for loss, including a half sack, and also broke up two passes and had one quarterback hurry.
Special teams:
Shawn Plummer, LB, Fresno State. Blocked his first career punt in a 38-17 win against Cal Poly. The punt was recovered in the end zone.