NCF Nation:

Jordan Westerkamp
October, 8, 2014
Oct 8
11:00
AM ET
A general observation here, and maybe it's just from the people whom I heard in the wake of predicting last week – in step with our other five writers who cover the Big Ten – that Michigan State would beat Nebraska: Husker Nation was in denial.
Not in denial so much about the reality that the Spartans were a better-tested and more complete team. People didn't want to listen to talk of that, either, but they were in denial about the state of college football and Nebraska's place in it.
Despite the absence of a competent offensive line against the Spartans, the Huskers staged a thrilling comeback on Saturday. It seemed realistic at the start of the fourth quarter that Nebraska would lose by five touchdowns, but it fought to 27-22 and nearly won in fashion more unlikely than anything we saw nationally in a stunning Week 6.
This has relevance moving forward, because the more I see Nebraska in big games, the more I'm convinced many of its problems are about a mindset.
[+] Enlarge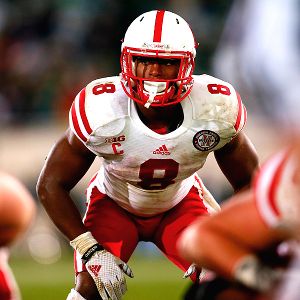 Rey Del Rio/Getty ImagesAmeer Abdullah rushed for a season-low 45 yards against Michigan State.
The Huskers looked timid offensively from the start, failing to convert into points three first-half turnovers gained in MSU territory. Later, they appeared shell-shocked, stunned that the Spartans could deliver such a punch.
It wasn't about talent as much as belief.
"I feel like we didn't really have much emotion in the first half," receiver
Jordan Westerkamp
told reporters after the game.
That's unexplainable, unless Nebraska no longer knows as a program how to respond to the big moment. To be fair, some of the struggles involved inexperience at key positions. Injuries played a big role, too.
But a lack of emotion speaks to a lack of assuredness – not to be confused with a lack of fight. Bo Pelini's teams have plenty of fight.
But before the next big game, if it's Wisconsin or Iowa next month, MSU or Ohio State in the Big Ten title game, or even resurgent Northwestern next week, the Huskers and their fans ought to try hard to get an accurate read on who they are and where they fit.
Too much of Nebraska's fan base saw only that Michigan State struggled in the second half of a loss to an Oregon team that was now struggling itself. Too many people discounted the Spartans because of the five turnovers Nebraska committed in a game last year in Lincoln that stayed close into the fourth quarter.
Too many paid little attention to Connor Cook's emergence as the Big Ten's most dangerous quarterback.
Too much of Nebraska interpreted huge offensive numbers in four of five victories this year as a sign that Big Red was back, then looked at the Big Ten's poor nonconference showing and thought, "Hey, that's not us."
This disconnect between the team's mindset and that of the fans impacts the football culture. It leads to improper expectations.
On the field in East Lansing, Michigan State played with an edge, displaying a domination for 45 minutes that simply was not indicative of the talent disparity.
At the center of the concerns, as the Huskers pick up the pieces, sits the offensive line. On Tuesday, Pelini offered little explanation for the group's woes. The Huskers rushed for 47 yards on 1.3 per carry – both lows in 88 games under the coach – and allowed five sacks.
Pelini blamed poor technique and decision making.
"There were a couple of times they gave us an obvious look that we had practiced," he said. "We were supposed to make a call; we didn't make that call, so it makes everybody look bad. But the guy who's responsible saw it and didn't make the call.
"We did some things that, at times, were hard to explain when we watched the film."
When promoted by a question on the Big Ten coaches teleconference, Pelini was left to complain about the distractive clapping of Michigan State defenders.
Whatever problems it created, they shouldn't have lasted long, even if the actions warranted a penalty. A team with the right mindset won't be knocked off course by clapping defensive linemen.
The late turn of momentum revealed a truth: Michigan State and Nebraska are more evenly matched than both teams played like they believed at the outset.
If they meet again, the Huskers might enter with an emotional edge because of a finish on Saturday – only, though, if that finish serves as a defining point for the next two months.
"Our team is going to fight," Pelini said after the game. "That's who these kids are."
There's no denying the Huskers' fight. Other denials, Nebraska can do without.
September, 22, 2014
Sep 22
3:30
PM ET
Our crew of Big Ten reporters will occasionally give their takes on a burning question facing the league. They'll have strong opinions, but not necessarily the same view. We'll let you decide which one is right.
Today's Take Two topic: Who has the best receiving tandem in the Big Ten?
[+] Enlarge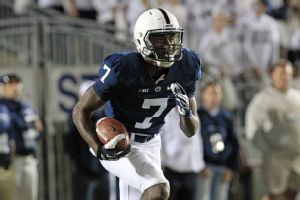 Matthew O'Haren/USA TODAY SportsPSU's Geno Lewis has the stats and intangibles to make a case for one of the Big Ten's best WRs.
Take 1: Josh Moyer
Dan, Dan, Dan -- let's not overthink this. Michigan has the Big Ten's best receiver in
Devin Funchess
, but there's really no No. 2 there.
Stefon Diggs
is an elite talent, but
Deon Long
hasn't made a huge impact this season. So, let's not get cute with this pick. The answer is really simple: Penn State's
Geno Lewis
and
DaeSean Hamilton
.
Now, before the season, I wouldn't have guessed this. Lewis was inconsistent last season, and Hamilton missed his true freshman season with an injury. But you can't argue with their production this season. Only four receivers in the Big Ten are averaging at least 100 yards a game, and Lewis and Hamilton are two of them. Lewis leads the conference in receiving yards (462) and is second in receptions (25); Hamilton leads the conference in receptions (30) and is second in receiving yards (402). How's that for complementary?
But you know what, Dan? Let's forget about the stats. You want a deep threat with great focus and athleticism? Lewis has made several highlight-worthy catches, including a
tipped ball he pulled down for a 41-yard gain
against UCF. You want consistency and a target on more underneath routes? Hamilton caught a pass in 13 of this season's first 14 quarters. You want clutch plays? Well, on PSU's game-winning drive against Rutgers, Lewis
accounted for 76 yards
on the Nittany Lions' 80-yard drive. You want a guy who has the potential to grow a lot more just this season? Hamilton was called "one of the biggest sleepers in the Big Ten" in the preseason by his receivers coach and, despite an 11-catch performance in Week 1, Hamilton said he didn't feel 100 percent.
This is a young tandem -- Hamilton is a redshirt freshman, Lewis a redshirt sophomore -- but their ability is not in doubt. We'll probably see these guys a few times on "SportsCenter"'s top 10 plays, and it certainly doesn't hurt that they have
Christian Hackenberg
throwing to them. So the answer here is an easy one: It has to be Penn State's tandem.
Take 2: Dan Murphy
[+] Enlarge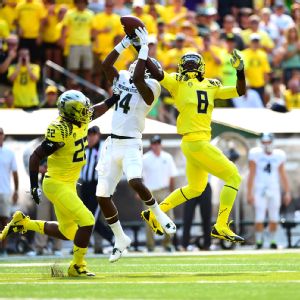 Phil Ellsworth/ESPN ImagesThrough three games this season, Spartans WR Tony Lippett has 18 receptions for 345 yards and 5 TDs.
Michigan State veteran
Tony Lippett
played less than a half
on Saturday
in Sparty's blowout
73-14 win
against Eastern Michigan, but he still had time to add to his league-leading total of five receiving touchdowns. Getting to the end zone was the main thing missing from Lippett's game in past years. Now he's on track to contend for the conference's best receiver and a shot at the Biletnikoff Award short list.
To make this list, though, he'll need a partner. That's where junior
MacGarrett Kings Jr.
comes in. The 5-foot-10 speedster has only four catches through three games this season, but he has the physical skills to complement Lippett when he reaches his potential.
Kings missed the majority of spring practice after a DUI arrest and has been playing catch up ever since. Spartans coach Mark Dantonio made Kings scrape his way back toward the top of the depth chart during fall camp. His day against Eastern Michigan was short as well, but he did flash his big-play ability with a 43-yard punt return to set up the first of many scores.
Lippett is averaging six receptions and 115 yards per outing after three games, one of which came against a talented Oregon team that boasts one of the best cornerbacks in the country in
Ifo Ekpre-Olomu
. He has reached the end zone in every game this season, more than doubling his career touchdowns after starting the year with only four to his name.
Penn State's Lewis owns the Big Ten passing play of the year so far with his 53-yard catch-and-run to help take down Rutgers two weeks, but we're only four weeks (and one league game) into the season. Lewis and Hamilton rank among the top three receivers in the conference in catches per game and yards per game, but small sample sizes make it hard to extrapolate in September.
Lippett and Kings should be able to pass Lewis and Hamilton as the conference's top receiving tandem once they get up to full speed.
The battle for wide receiver duo supremacy is likely to remain between these two programs this season for one main reason -- both pairs have the luxury of a quality quarterback. The league has other talented receivers such as Diggs, Funchess, and
Kenny Bell
and
Jordan Westerkamp
in Nebraska, but no one from that group has a proven consistent passer to feed them the ball.
September, 6, 2014
Sep 6
5:34
PM ET
LINCOLN, Neb. – It was going to overtime: Nebraska and McNeese State.
The Cowboys owned the second half on Saturday. And when the 19th-ranked Huskers took possession with 1:14 to play at their 44-yard line, tied 24-24, and blitzing safety
Dominique Hill
sacked
Tommy Armstrong Jr.
to force a fumble that bounced to right guard
Mike Moudy
, Nebraska just needed to survive and regroup.
Time ticked away. Inside of 40 seconds, Armstrong lined up in the shotgun with
Ameer Abdullah
to his right. The sophomore quarterback, amid the chaos, yelled to the star I-back and team captain.
"Be ready," he said. "Expect the ball."
And then this happened: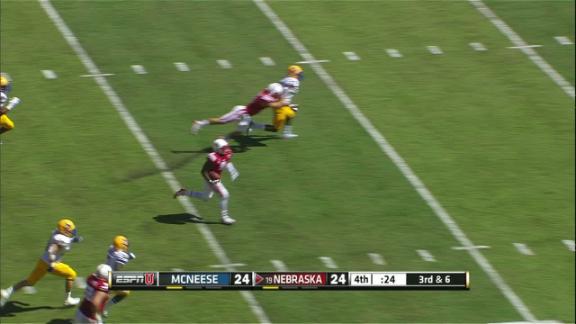 Armstrong recognized a blanket of zone coverage on the outside. He kept his eyes forward. But in his mind, the QB locked in early on Abdullah -- the fourth option on this play -- and found the senior in the flat matched against 218-pound middle linebacker
Bo Brown
.
"Adrenaline takes over in those heated moments," said Abdullah, the nation's top returning rusher from 2013.
The ball traveled 12 yards in the air and reached Abdullah at the Nebraska 44. He shook Brown as Hill collided with the linebacker.
"I was just trying to get to the end zone," Abdullah said. "It's a blur."
Cornerback
Gabe Hamner
and defensive tackle
Kevin Dorn
converged on Abdullah. They lunged at him as safety
Aaron Sam
hit the running back squarely from the front at midfield. Abdullah bounced away from all three and sprang into open space.
"I saw a special player making a great play," Nebraska coach Bo Pelini said.
Safety
Brent Spikes
had a shot near the McNeese 45, but Abdullah accelerated past him just as tight end
Cethan Carter
laid out
Wallace Scott
with a block to the linebacker's right shoulder.
"I was just trying not to get in his way," said left guard
Jake Cotton
, one of several linemen to get downfield as Abdullah navigated traffic.
Nebraska offensive coordinator Tim Beck said he figured if Abdullah got the ball in space, he could make a few guys miss.
"He made a few guys miss," Beck said.
Cornerback
Jermaine Antoine
had the final shot at Abdullah, but Nebraska receiver
Jordan Westerkamp
deterred him near the 25.
"He's our leader," Westerkamp said. "He brings it all the time. It's great to have a guy with that attitude."
Abdullah reached the end zone with 20 seconds on the clock and secured a
31-24
win -- after 58 yards and 16 seconds of excitement.
"He put the team on his back and won the game," Pelini said. "Thank God for Ameer. He showed why he is who he is."
August, 30, 2014
Aug 30
6:45
PM ET
By
Brett Edgerton
| ESPN.com
On Saturday afternoon, the Big Ten delivered perhaps the two best catches of the early season. First, Nebraska wide receiver
Jordan Westerkamp
reached behind his back to grab a pass from
Tommy Armstrong Jr.
during the Huskers' 55-7 win against Florida Atlantic.
Nebraska players and coaches were abuzz after the game. "That was the greatest catch I've ever seen in my life," defensive coordinator John Papuchis said.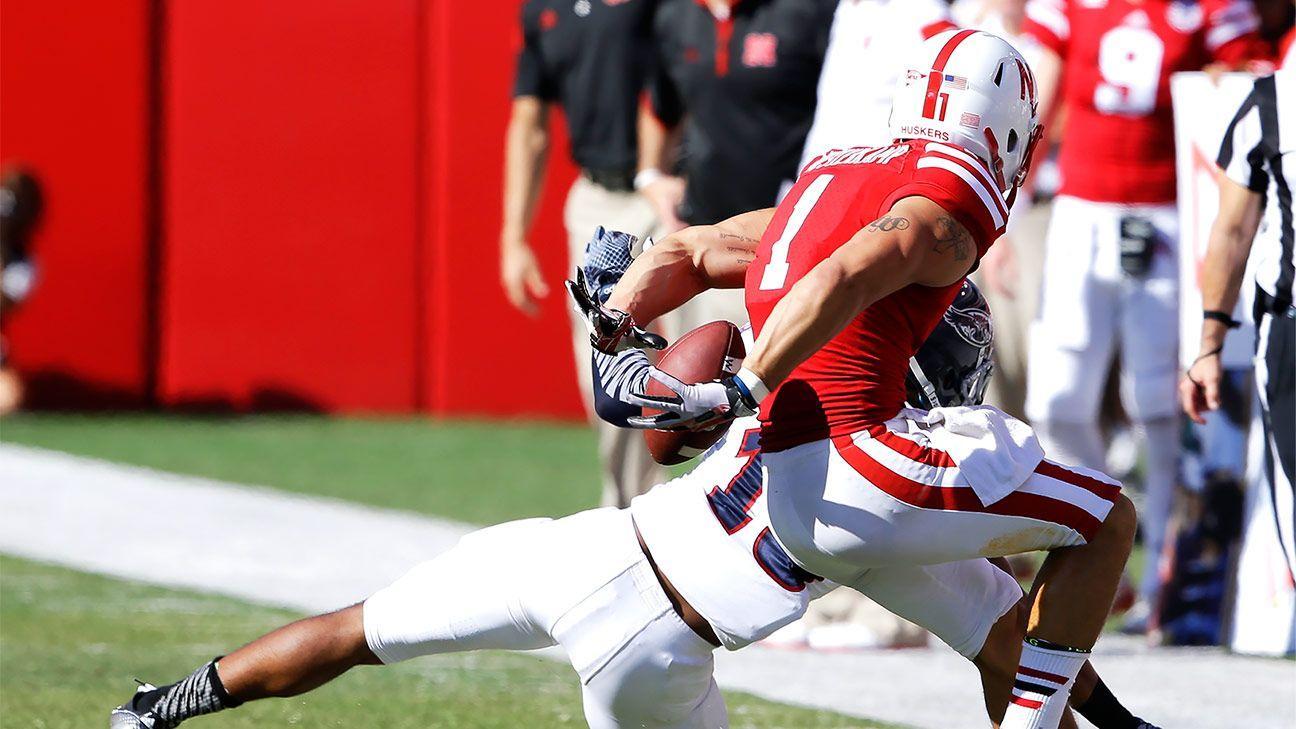 Then in Iowa, receiver
Tevaun Smith
made an amazing one-handed catch for a 6-yard touchdown in the third quarter of the Hawkeyes' 31-23 win against Northern Iowa.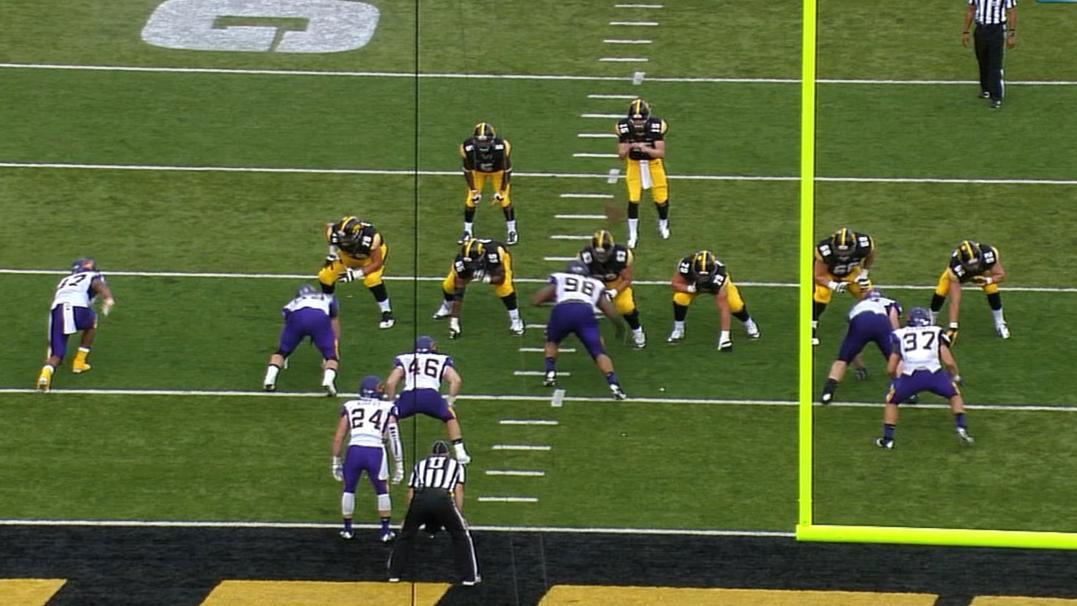 July, 28, 2014
Jul 28
12:00
PM ET
CHICAGO -- Pat Fitzgerald wants to be your friend again, Nebraska fans.
Fitzgerald, the Northwestern coach, said Monday at Big Ten media days that he made a "bad joke" this month in describing Nebraska as a "pretty boring state" while speaking to boosters at a Chicago golf outing.
As you might expect, the comments provoked a variety of responses from fans of the Huskers, including some not fit for print.
"I've learned a lot of hashtags on Twitter," Fitzgerald said.
The coach apologized and said he would "own" the mistake, but that he meant no harm by it. Fitzgerald said he was trying to compliment Nebraska fans on how well they travel. The visitors overtook a large portion of Ryan Field in 2012 as the Huskers came from behind to beat the Wildcats 29-28.
Nebraska visits Northwestern on Oct. 18.
"Our fans need to step up," Fitzgerald said.
Last year in Lincoln, Nebraska beat Northwestern 27-24 on a Hail Mary pass from Ron Kellogg III to
Jordan Westerkamp
as time expired. Asked Monday about how long it took to get over that finish, Fitzgerald quipped: "I have no idea what you're talking about."
The coach said he has spent just two days in the state of Nebraska -- not nearly enough time to form an opinion, though he said his players and staff were treated warmly on trips in 2011 and 2013. Northwestern upset Nebraska at Memorial Stadium in the Huskers' first year of Big Ten play.
Nebraska fans heartily congratulated the Wildcats after their 2011 win, according to Fitzgerald. They did the same last season, said the coach, drawing a laugh.
"It's just a great fan base," Fitzgerald said.
January, 14, 2014
Jan 14
10:00
AM ET
We're starting to wrap up the 2013 Big Ten season, which included the rise of Michigan State to elite status, more accolades for Ohio State quarterback
Braxton Miller
, Iowa's mini-renaissance, Northwestern's backslide, Jerry Kill's health-related absence and Minnesota's impressive response, up-and-down seasons from Michigan and Nebraska and much more. The league's national title drought reached its 11th year, but Michigan State brought home a Rose Bowl championship to the frosty Midwest.
To put a bow on the season, here are some Big Ten superlatives:
[+] Enlarge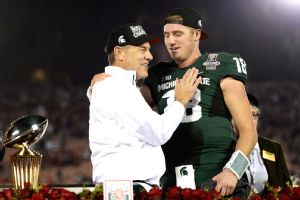 Harry How/Getty ImagesMark Dantonio made seemingly all of the right moves in 2013, including sticking with Connor Cook at QB.
Best coach:
Mark Dantonio, Michigan State. Dantonio helped the Spartans find the inches that separated them in 2012, when they lost five Big Ten games by a total of 13 points. He made the right calls on offense after a shaky start, and the Spartans ended up winning their final nine games, including their first outright Big Ten title and first Rose Bowl championship in 26 years.
Best player, offense:
Ohio State quarterback Braxton Miller. No player dominates the scouting report for opposing defenses like the Buckeyes signal-caller, who complemented premier rushing skills with a more accurate arm, despite some late struggles. He won Big Ten MVP honors and league offensive player of the year honors for the second consecutive season, had 3,162 yards of offense and 36 touchdowns (24 pass, 12 rush). Miller led Ohio State to a second straight undefeated regular season and will be back as a senior in 2014.
Best player, defense:
Michigan State cornerback
Darqueze Dennard
. The nation's No. 1 defense had several standouts, but Dennard tops the list after leading the "No Fly Zone" secondary and earning the Jim Thorpe Award as the nation's top defensive back. A first-team All-American, Dennard recorded four interceptions and 10 pass deflections, and repeatedly shut down opposing wide receivers. He was a finalist for the Nagurski Trophy.
Best moment:
Many wondered how Michigan State would fare in the Rose Bowl without star middle linebacker and co-captain
Max Bullough
, suspended a week before the game. Turns out the Spartans were just fine as
Kyler Elsworth
and
Darien Harris
filled in well. Fittingly, MSU sealed its victory on a fourth-down stop of Stanford, where Elsworth leaped over the pile to stuff
Ryan Hewitt
. The play epitomized a team that overcame every obstacle and a defense that slammed the door on the opposition all year long. Elsworth was named Rose Bowl defensive player of the game.
Best rivalry game:
Ohio State at Michigan. We haven't been able to say this very often about The Game in recent years, but the Wolverines and Buckeyes provided plenty of drama on Nov. 30 at the Big House. Neither defense had answers for the opposing offense and the teams combined for 83 points, 74 first downs and 1,129 total yards. Michigan went for the win with 32 seconds left, but its 2-point conversion attempt failed and Ohio State survived.
Best play:
Nebraska's season hung in the balance Nov. 2 as the Huskers, coming off of a road loss to Minnesota, trailed Northwestern 24-21 with four seconds left at the Wildcats' 49-yard line. Huskers quarterback
Ron Kellogg III
, the team's third-stringer entering the season, evaded the rush and launched a Hail Mary to the end zone, which freshman wide receiver
Jordan Westerkamp
caught following a deflection for the winning touchdown. It saved Nebraska's season and possibly coach Bo Pelini's job.
Best coaching decision:
Connor Cook
didn't do much in a loss to Notre Dame to separate himself from the other Spartans quarterbacks. But after going to
Andrew Maxwell
for the final drive against the Irish, Dantonio and the staff decided to stick with Cook for the Big Ten season. It
gave Cook the confidence he needed
to lead MSU's offense to a Big Ten title.
[+] Enlarge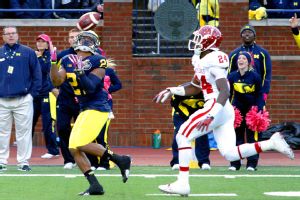 AP Photo/Lon HorwedelMichigan WR Jeremy Gallon had a game for the ages against Indiana.
Best individual performance:
Michigan wide receiver
Jeremy Gallon
against Indiana. Sure, the Hoosiers' defense has been abysmal forever, but you just don't see too many wide receivers rack up 369 receiving yards, much less in a league game. Gallon set a Big Ten record for receiving yards and recorded the second-highest total for a receiver in FBS history. He had 14 receptions, two for touchdowns. Quarterback
Devin Gardner
had a team-record 503 passing yards. Ohio State's Miller had big performances against both Penn State and Iowa,
Christian Hackenberg
lit up Wisconsin's defense, and Cook recorded his first two career 300-yard passing performances in the Big Ten title game and Rose Bowl.
Best freshman:
Penn State's Hackenberg. New Lions coach James Franklin inherits a future superstar under center, as Hackenberg backed up his recruiting hype in his first season. Hackenberg finished third in the Big Ten in passing (246.2 YPG) and threw 20 touchdown passes against 10 interceptions. He completed the season by connecting on 70 percent of his passes for 339 yards and four touchdowns against Wisconsin.
Best newcomer:
Nebraska defensive end
Randy Gregory
. The junior-college transfer excited Nebraska fans when he came to Lincoln and left them even happier after his first season. Gregory led the Big Ten with 10.5 sacks and tied for second in tackles for loss with 17. He earned first-team All-Big Ten honors and triggered Nebraska's improvement on defense down the stretch.
Best new coaching hire:
Illinois offensive coordinator Bill Cubit. The Illini improved their win total from two to four this season, but things would have been worse if not for Cubit, who helped Illinois improve from 119th in 2012 to 46th this year. Quarterback
Nathan Scheelhaase
was the Big Ten's only 3,000-yard passer. Cubit might have saved head coach Tim Beckman's job for another year, as the Illini now look for a similar jump on defense.
November, 4, 2013
11/04/13
11:00
AM ET
We had our first, full six-game conference day on Saturday, and half of those games came down to the absolute wire.
If you're not at the top end of the Big Ten (hello, Ohio State, Wisconsin and Michigan State) or the bottom (sorry, Purdue), chances are you're going to find yourself in a very tight game in November. That's why execution at the end of halves and end of games is so big, and why some of what we saw Saturday was troubling.
[+] Enlarge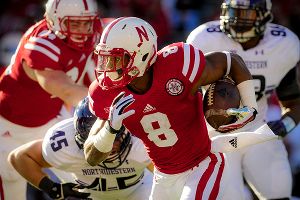 Eric Francis/Getty ImagesAmeer Abdullah rushed 24 times for 127 yards in Nebraska's thrilling win over Northwestern.
Take Illinois, for example. The Illini moved the ball almost at will at Penn State and had several chances to grab a lead. At the end of the first half, coach Tim Beckman's team displayed atrocious clock-management skills after getting a first-and-goal opportunity. Illinois would have gone to halftime with no points had Penn State not committed a personal-foul penalty with no time left that led to a field goal. The Illini would eventually lose when
Nathan Scheelhaase
threw an interception on the first play of their overtime possession.
Indiana's transgression was even worse. The Hoosiers had the ball on the Minnesota 9-yard line, trailing 42-39, in the final minute. They then called for a swing pass to running back
Tevin Coleman
that
Nate Sudfeld
appeared to deliver a little early. Coleman hadn't yet turned around for the ball and was still behind Sudfeld, making it a lateral. Coleman didn't catch the ball and didn't immediately realize it was live, while the Gophers scooped it up to save the win.
IU coach Kevin Wilson said the swing pass was "not an ideal call." Uh, yeah. It wasn't going to result in a touchdown, and the risk of a backward pass made it a curious choice. Wilson also made another questionable decision earlier, going for the two-point conversion after the Hoosiers had scored to take a 39-35 lead. He explained his reasoning later that Indiana would have a chance to remain tied by blocking a PAT in the event Minnesota scored a touchdown. But what are the odds of that? Had Wilson simply kicked the extra point for the 40-35 lead, the Hoosiers could have later kicked a short field goal for the win.
And then there was the ending of the Northwestern-Nebraska game. By now, you know what happened, with the Huskers winning on a play they call "Geronimo."
Ron Kellogg III
heaved the ball about 55 yards in the air, where it was tipped by a Northwestern defender into the waiting arms of
Jordan Westerkamp
.
A crazy fluke of a play? OK, maybe. But the Wildcats -- who say they practice against the Hail Mary every Thursday -- made the unpardonable mistake of not accounting for the deepest receiver in the end zone.
"You can never let someone get behind the pile," coach Pat Fitzgerald said. "That's pretty much it."
Northwestern could have avoided the pain of the play if, after reaching the Nebraska 1-yard line on second down in the final two minutes, it had scored a touchdown instead of settling for a field goal.
It's the little things at the end of halves and games that could decide the outcome of some more November Saturdays.
Take that and rewind it back:
Team of the week:
Michigan State. The Spartans
bullied, battered and bruised
Michigan in one of the most impressive defensive performances we've seen in a while. They should be favored in their final three games, even though the next two (at Nebraska and at Northwestern) are on the road. Michigan State fans might actually root for Michigan this week, because a Wolverines' victory over Nebraska this week would give Mark Dantonio's team a two-game lead over everybody in the Legends Division.
Worst hangover:
Michigan. This may be a literal, physical hangover for the Wolverines, who were beaten up all day in East Lansing.
Devin Gardner
looked shell-shocked as his
jersey was covered with mud
after taking so many hits. At least this week's game is at home. Brady Hoke is just 5-7 in true road games in three years.
Best play:
Nothing more needs to be said about Westerkamp's Hail Mary catch. Just
enjoy the video again
.
Biggest unsung play:
The Westerkamp catch would never have happened if not for
Ameer Abdullah
's heroics earlier on the final Nebraska drive. The Huskers faced fourth-and-15 when Kellogg scrambled and threw a dump-off pass to his running back. Abdullah caught the ball at the 34-yard line and needed to get just past the 39 for a first down. Two Northwestern defenders barreled in on him. But Abdullah shook off a tackle at the 36, got hit near the 38 and then lunged forward with the ball to just cross the first-down marker. Abdullah has left no doubt this season who Nebraska's best player is.
Big Man on Campus (Offense):
Penn State's
Bill Belton
ran for 201 yards and a touchdown on 36 carries versus Illinois. All that was nearly forgotten when he fumbled near the goal line late in the fourth quarter. But all was forgiven as the Nittany Lions came back to win in OT.
[+] Enlarge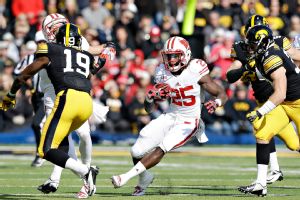 AP Photo/Charlie NeibergallRB Melvin Gordon was kept in check (17 rushes, 62 yards), but the Badgers rolled Iowa 28-9.
Big Man on Campus (Defense):
We could pick just about every Michigan State defender here. We'll single out linebacker
Denicos Allen
, who had nine tackles, two sacks and another tackle for loss. Allen is having a tremendous season and putting himself in the conversation for first-team All-Big Ten honors at the league's deepest position.
Big Men on Campus (Special teams):
Michigan State's
Michael Geiger
drilled all three of his field goal attempts in a game where offense was at a premium for three quarters, and punter
Mike Sadler
helped keep Michigan pinned in bad field position by averaging 40.8 yards on five kicks. The Wolverines started three of their drives from the 10-yard line or worse. No surprise there. Michigan State leads the country in punts downed inside the opponent 10, with 15.
A rule that needs review:
Wisconsin's
Jack Russell
appeared to make a 54-yard field goal at the end of the first half, but Iowa had called a timeout just before the snap. The Hawkeyes then proceeded to call two more timeouts in a row, and Russell would finally miss the attempt after several minutes of waiting. Credit Iowa coach Kirk Ferentz for using the ploy, since there is no sense in saving first-half timeouts. But can anyone argue this is good for the game? I don't think teams should be allowed to call more than two consecutive timeouts without a play happening. It disrupts the flow of the game and certainly doesn't embody the spirit of sportsmanship and collegiality the Big Ten claims to prioritize.
Again, that's not a criticism of Ferentz, just the rule. (And am I the only one who
thinks of this
when discussing whether to put Jack Russell in a timeout situation? Yeah, I probably am).
Fun with numbers (via ESPN Stats & Info):
After holding Michigan to minus-48 rushing yards on Saturday, Michigan State's defensive numbers have gone from outstanding to other-worldly. The Spartans are now allowing an average of just 43 rushing yards per game. The next best team in the FBS is Louisville at 82 yards per game. MSU is also giving up just 1.61 yards per rush attempt, which is a full yard lower than any other team in the country. Opponents are gaining zero or negative yardage on 36.5 percent of their attempts against the Spartans, also the highest number in the land, and only 22.7 percent of rushes versus that defense have gone for 5 yards or more. We could go on and on, but you get the point.

With its 56-0 win over Purdue following a 63-point effort versus Penn State, Ohio State registered its third back-to-back 50-plus point performance in two seasons under Urban Meyer. The program did that only four times total in the previous 122 seasons. The offense has been incredibly productive, as 38.4 percent of the Buckeyes' plays have gone for either a first down or a touchdown and 53.9 percent of those plays have gone for at least 5 yards. That latter figure is the highest in the FBS.

Do bye weeks help? Wisconsin would say yes. The Badgers have won last their past seven games following a bye week, including Saturday's win over Iowa. All of those victories have come by at least 19 points.

Penn State's Allen Robinson now ranks second in the nation in receiving yards per game, at 130.4. He trails only Oregon State's Brandin Cooks, who is averaging 149.3 yards per game. What might hurt Robinson come awards time is that he has only six touchdown catches. Cooks, by comparison, has 14. (And remember that Robinson missed half of the season opener because of a suspension).

Since October began, Michigan is averaging just 2.69 yards per rush attempt, which is 116th out of 123 teams in that span. (Purdue is dead last at 1.45 yards per attempt). In that same time period, the Wolverines have 63 rushes for zero or negative yards, more than any other FBS team.
November, 4, 2013
11/04/13
9:00
AM ET
We have true separation in the Big Ten, and not just with Ohio State at the No. 1 spot. Although the Buckeyes remain the league's kingpin, both Wisconsin and Michigan State also belong in the Big Ten's upper crust.

The big debate in these rankings concerns the No. 2 spot, which Wisconsin has occupied for several weeks. The Badgers handled Iowa on the road and delivered a salty defensive performance even without superstar linebacker
Chris Borland
. Michigan State smothered Michigan, complementing a dominant defense with timely passes from
Connor Cook
. Both teams have won at Iowa and at Illinois. Michigan State has the best win between the bunch but has played the easier schedule.
For now, we're keeping Wisconsin at No. 2. We realize we're in the minority there, but Wisconsin hasn't done much to move down since the Northwestern game. It's too bad the Badgers and Spartans can't play this season to decide the second spot.
Elsewhere, Nebraska avoids another drop thanks to its Hail Mary against sad-sack Northwestern. We debated whether to move Minnesota higher, and we will if the Gophers keep winning. Iowa falls down a few spots, and the bottom of the rankings remains unchanged.
Here's one last look at the
Week 9 rankings
.
Now, the new rundown ...
1. Ohio State (9-0, 5-0 Big Ten; last week: 1):
Ross-Ade Stadium is no longer a graveyard for the Buckeyes, who buried Purdue in a matter of minutes Saturday. Ohio State scored 28 first-quarter points and 42 in the first half, as the tight ends got involved, quarterbacks
Braxton Miller
and
Kenny Guiton
both had jump-pass touchdowns and the defense blanked Purdue. Whether style points matter, Ohio State is finally getting them. The Buckeyes are off this week before visiting Illinois on Nov. 16.
2. Wisconsin (6-2, 4-1; last week: 2):
The offense struggled and top defender Borland watched from the sideline with a hamstring injury, but Wisconsin found a way to beat Iowa.
Marcus Trotter
was fabulous filling in for Borland, as the Badgers' defense repeatedly turned Iowa away in plus territory. Running back
James White
came alive late as Wisconsin pulled away. The Badgers will need a stronger performance this week as they step out of league play against a good BYU squad.
3. Michigan State (8-1, 5-0; last week: 3):
Not only did the Spartans reclaim their superiority against in-state rival Michigan, but they looked like a worthy competitor for Ohio State in a potential Big Ten championship game matchup. If Nebraska falls this week at Michigan, MSU would have a two-game lead on the rest of the division with three weeks to go. An elite defense had its best performance under Pat Narduzzi, as end
Shilique Calhoun
and linebackers
Denicos Allen
and
Ed Davis
combined for seven sacks and 8.5 tackles for loss. Cook made some impressive throws as the Spartans pounded Michigan. They'll have some extra time to celebrate during an open week before visiting Nebraska on Nov. 16.
4. Nebraska (6-2, 3-1; last week: 7):
One play makes all the difference between another Power Rankings drop for Big Red and a three-spot gain. Nebraska had defensive problems early and turnover problems late against Northwestern, but the Huskers never gave up and won a game on a Hail Mary to
Jordan Westerkamp
for the first time in team history. Credit running back
Ameer Abdullah
for keeping a potentially splintering team together. The young defense also shut down Northwestern's offense in the second half. Nebraska must beat Michigan on the road this week to stay in the Legends Division race.
5. Michigan (6-2, 2-2; last week: 4):
That Notre Dame win feels like years ago as Michigan's warts were exposed in Saturday's loss at Michigan State. The Wolverines are either too young or simply not tough enough, as they were pushed around the field at Spartan Stadium. Michigan had a program-low rushing total (minus-48 yards) and couldn't protect quarterback
Devin Gardner
. The program's Big Ten championship drought almost certainly will reach nine years, and it's fair to question where things are really headed under third-year coach Brady Hoke. At least Michigan returns home, where it has never lost under Hoke, to face Nebraska this week.
6. Minnesota (7-2, 3-2; last week: 6):
The Minnesota mojo continues, thanks in large part to an inexcusable crunch-time blunder by Indiana. Minnesota blew a 22-point third-quarter lead but rallied behind
Philip Nelson
, who established himself as the team's offensive leader with 298 pass yards and four touchdowns. It was a rough second half for the defense, but linebacker
Aaron Hill
came up with the decisive play late as the Gophers got out of Bloomington with their third consecutive league win. Minnesota is a factor in the Legends Division race but must keep winning this week against Penn State.
7. Iowa (5-4, 2-3; last week: 5):
Sure, the Hawkeyes are improved this season, but some of the same maddening offensive traits remain, like being unable to finish drives. Iowa should have been up at halftime rather than down 7-6 to Wisconsin, and although quarterback
Jake Rudock
's injury impacted the game, the Hawkeyes' second-half struggles on offense are nothing new. The defense is good enough to get Iowa a few more wins, but can the offense start scoring? Iowa visits Purdue this week.
8. Penn State (5-3, 2-2; last week: 8):
It isn't always pretty with Penn State, but the Lions don't quit, especially on their home field. Freshman quarterback
Christian Hackenberg
once again rallied his team from a late deficit and stepped up in overtime as Penn State avoided what would have been a bad loss to Illinois.
Bill Belton
established himself as the team's top running back with 201 yards and a touchdown. The defense remains far too vulnerable to big passing plays. Penn State will need to be better on both sides of the ball this week as it visits surging Minnesota.
9. Indiana (3-5, 1-3; last week: 9):
Coach Kevin Wilson's crew doesn't quit, but the Hoosiers still don't know how to win. They were 9 yards away from completing a huge second-half comeback against Minnesota and moving a step closer to bowl eligibility. At worst, they were in position to send the game to overtime. Instead, everything fell apart on a dropped backward pass to
Tevin Coleman
, who had a big game (108 rush yards, TD). The quarterback race took another turn with
Nate Sudfeld
outplaying
Tre Roberson
, and the defense had a wildly inconsistent performance. Indiana hosts Illinois this week but will need a road win at Ohio State or Wisconsin to become bowl eligible.
10. Northwestern (4-5, 0-5; last week: 10):
The former Cardiac Cats are only giving their fans heartache at this point as they've forgotten how to perform in the clutch. Northwestern had another golden opportunity for a road win, but let it slip away when it couldn't finish off Nebraska on either side of the ball, leading to the Hail Mary touchdown to
Jordan Westerkamp
. Injuries continue to mount in a snakebitten season for the Wildcats, who likely won't make a bowl. Northwestern has an off week to regroup before hosting Michigan on Nov. 16.
11. Illinois (3-5, 0-4; last week: 11):
The Big Ten losing streak has reached 18 games, and arguably no defeat stung more than Saturday's at Penn State. Illinois wasted opportunities early, took the lead late and still couldn't hold on for a victory. Tim Beckman's team performed better than expected and can take some positives from its performance in Happy Valley, but there's still too much inconsistency on both sides of the ball, as the defense allowed 250 rush yards. Illinois visits Indiana this week.
12. Purdue (1-7, 0-4; last week: 12):
The misery continues for Darrell Hazell's crew, which is on its way to its worst season since 1993 (1-10) and might be one of the worst squads in recent Big Ten memory. Young quarterback
Danny Etling
had another rough outing as Purdue never challenged Ohio State and had no answers for the Buckeyes' offense. Purdue has been shut out in consecutive games and has scored just 17 points in four Big Ten contests. The remaining schedule is a little more favorable, but Purdue has to show something positive by season's end.
November, 3, 2013
11/03/13
10:00
AM ET
Lessons learned from a (finally) full day of conference action:
1. Mark Dantonio's Spartans own the state:
The buzz around the Big Ten during the offseason was that Ohio State and Michigan soon would separate themselves, creating a Big 2-Little 10 dynamic in the conference. While both programs are recruiting at a nationally elite level, only Ohio State is translating the talent into tangible progress. Michigan fell to Michigan State on Saturday for the fifth time in six years, and the gulf between the two programs is unmistakable.
[+] Enlarge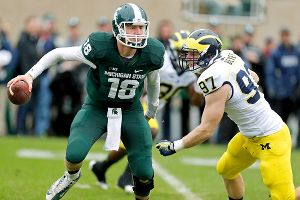 Gregory Shamus/Getty ImagesConnor Cook has stabilized the Spartans offense, making Michigan State a Big Ten title contender.
Michigan State appears on its way to a second Legends Division title in three seasons, showing that last season's struggles are the exception more than the rule under Dantonio. Much like his mentor Jim Tressel did at Ohio State, Dantonio is mastering Michigan right now. The Spartans' defense, elite for the past few years, has reached another level this season, and a dormant offense has awakened behind quarterback
Connor Cook
. Michigan State is in control of the Legends Division and appears to be on a collision course with Ohio State.
Michigan still can spoil the Buckeyes' national title hopes later this month, but the Wolverines continue to fall short of their self-imposed standard for success: a Big Ten championship.
2. Some programs just seem snake-bitten:
We don't believe in curses or anything like that, but it sure seems like some programs are the victims of voodoo. How else to explain how Illinois, Indiana and Northwestern keep finding incredible ways to lose?
The Illini shot themselves in the foot over and over again at Penn State but still had the lead and the ball after a
Bill Belton
fumble near the Illinois goal line with 3:23 left. They lost in overtime.
Indiana, after trailing Minnesota 35-13, rallied to take a 39-35 lead. The Hoosiers then trailed 42-39 in the final minute and had the ball on the Gophers' 9-yard line. They tried a pass to running back
Tevin Coleman
, which ended up being a lateral that Coleman dropped and gave up on. Minnesota scooped the ball up to survive.
And Northwestern suffered the biggest heartbreaker, giving up a 49-yard Hail Mary touchdown to
Jordan Westerkamp
on the game's final play. Remember when Northwestern thrived in the clutch? Not anymore.
Learning to win is a skill, and Indiana and Illinois -- the latter of which has lost 18 straight Big Ten games -- still haven't mastered that. We thought Northwestern had, but the Wildcats have lost five straight games now and have been hit the hardest by injuries of any league team. Makes you almost believe in curses.
[+] Enlarge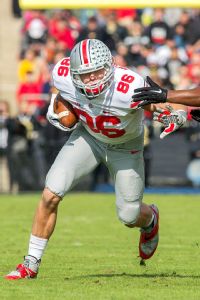 Zach Bolinger/Icon SMIJeff Heuerman had his best game of the season as Ohio State's offense dominated Purdue.
3. Ohio State is kicking things up a notch:
OK, so it was only against Purdue, which looks like one of the worst Big Ten teams we've seen in the past several years. Still, it's impossible not to notice that Ohio State seems to have found another gear in the past couple of weeks. For the second straight week, the Buckeyes scored 42 points in the first half en route to a 56-0 trouncing of the Boilermakers. Urban Meyer's team has won its last two games by a combined score of 119-14.
Much of that can be credited to the improvement of
Braxton Miller
as a passer; he has thrown seven touchdown passes with only 10 incompletions his past two games. The defense has been stifling as well. Yes, the competition hasn't been stellar, but remember that Ohio State historically has had trouble against Purdue and hadn't really dominated anybody in the Big Ten. But this team appears to be hitting its stride now and making a statement to those who doubt it belongs in the national title discussion.
4. Wisconsin can win without its stars:
When Wisconsin has had success this year, it usually has happened by riding stars like
Melvin Gordon
,
Chris Borland
and
Jared Abbrederis
. The Badgers proved they're a complete team in a 28-9 win at Iowa.
Borland didn't play because of a bum hamstring. Gordon rushed for a season-low 62 yards. Abbrederis had only 30 receiving yards and left the game after catching a third-quarter touchdown pass. Still, Wisconsin's defense held the Hawkeyes to only 289 yards and no touchdowns, while the offense chipped away until breaking free late, thanks to senior
James White
's 132 yards rushing and two touchdowns. It was a defensive slog most of the afternoon, but a team like the Badgers with BCS bowl hopes has to win some games like that along the way.
Meanwhile, Iowa just wishes it had a few offensive stars. The Hawkeyes' defense is very good, but a complete lack of explosiveness on the other side of the ball ultimately limits this team's potential.
5. Minnesota is in the thick of the Legends Division race:
We talked last week about Minnesota being a great story. The Gophers are more than that now. They've won three straight games to improve to 7-2 (3-2 conference). While they trail Michigan State by two games in the standings, they do play the Spartans in the final week of the season. Next week's home game against Penn State, which has played valiantly at home but very shaky on the road, is entirely winnable.
We're not saying Minnesota is going to Indianapolis for the Big Ten title game. The Gophers still have some issues, and the team did not handle a huge lead at Indiana very well. But the mere fact that the Gophers are even still in the discussion for the division crown is a testament to what the players and coaching staff have accomplished under difficult circumstances.
November, 3, 2013
11/03/13
9:00
AM ET
Recognizing the best and the brightest around the Big Ten in Week 10:
November, 2, 2013
11/02/13
11:10
PM ET
LINCOLN, Neb. --
Jordan Westerkamp
grew up in the western Chicago suburbs, about 25 miles from Evanston and the Northwestern campus.
Pat Fitzgerald knew all about him two years ago at Montini Catholic. Westerkamp was one of the top prospects in the state of Illinois' 2012 high school class. Fitzgerald and Northwestern recruited him, but Westerkamp, the son of a former Illinois wide receiver, picked Nebraska early in the process.
On Saturday, at last possible moment, he buried a dagger in the hearts of the Wildcats and their head coach.
"You can never let somebody get behind the pile," Fitzgerald said.
His words echoed hollow in the aftermath of this improbable, 27-24 Nebraska victory at Memorial Stadium.
With his snag of a 49-yard Hail Mary from backup quarterback
Ron Kellogg III
as time expired, Westerkamp assured Northwestern of a losing Big Ten season. And in the most unlikely of moments, his catch pumped life into an almost-deflated season at Nebraska.
Jubilance masks all kinds of trouble. As celebratory music rained down on Tom Osborne Field while thousands above screamed with joy and disbelief, the problems of Saturday and last week and the season's first half seemed momentarily insignificant to the Cornhuskers.
[+] Enlarge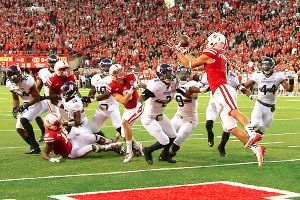 AP Photo/Nati HarnikNebraska wide receiver Jordan Westerkamp catches the game-winning touchdown, a desperation heave from quarterback Ron Kellogg III.
Can one play reverse the momentum of a football season? The Huskers hope so.
"I hope it keeps them believing," Nebraska coach Bo Pelini said, "keeps them up."
Pelini stopped to correct himself. His players would never stop believing, he said.
But the message lingered. Pelini didn't need to say it; things were beginning to look bleak in Lincoln. Without the miracle in the south end zone, Nebraska was headed to Michigan next week -- with Michigan State on tap a week later -- off two consecutive bad losses.
Pelini's critics were sharpening their knives even as the Huskers drove to near midfield before the final, fateful play.
Face it: The offense, for much of Saturday, was a mess of injuries and inefficiency. After an impressive opening drive, Nebraska sputtered throughout. Before the final play, Nebraska's only score in the second half came on
Avery Moss
' pick-six of a
Trevor Siemian
throw.
When the Huskers twice neared scoring range in the second half, they committed drive-killing penalties.
Freshman quarterback
Tommy Armstrong Jr.
threw three interceptions, including a seemingly deadly pick by
Tyler Scott
that led to a
Jeff Budzien
field goal with 80 seconds left, placing the Wildcats on top.
And these are Nebraska's cards.
Taylor Martinez
, the injured veteran quarterback who started 43 games over four seasons and set the school's all-time total-offense mark, does not look set to return soon, if at all.
Martinez watched from the press box on Saturday. Asked after the game about the senior's status, Pelini danced around the question. The coach didn't even bother to list Martinez's ailments. He was sick, too, this week, Pelini said, for whatever that's worth.
"I'm going to stick with the way it went today," Pelini said.
The defensive performance was equally confounding. The Blackshirts, shoved around a week ago in a loss at Minnesota, allowed three touchdowns on Northwestern's first four possessions. The Wildcats led 21-7.
Then, as if to throw their arms skyward in despair, Pelini and defensive coordinator John Papuchis asked the defenders what they wanted to do differently. The players voted to scrap the game plan, which called for a three-man front.
The Huskers went back to their traditional look with four linemen. They stopped Northwestern on 11 consecutive possessions before the fourth-quarter field goal, which ought to count as another stop. It came after the Wildcats reached the 1-yard line on the first down after Scott's interception return.
"We're going to need that type of energy going into Michigan," said Moss, the defensive end who tied the score at 21 with the 25-yard interception return midway through the third quarter.
Maybe it'll work. Maybe it started on the last drive. Nebraska took over at its 17-yard line with 74 seconds to play. Pelini summoned Kellogg. The senior, who hadn't played since the second quarter, said he felt "extremely nervous" before taking the field.
A former walk-on who's never started a game, Kellogg found
Ameer Abdullah
for a 16-yard gain on fourth-and-15 to the Nebraska 40 with 21 seconds left. The signal-caller completed two short throws to the sideline before an incompletion and a prayer into the end zone.
"I didn't even know I could throw it that far," Kellogg said, "but thank God for Jordan Westerkamp."
The kid snuck behind the pile, just a couple of yards deep in the end zone as Kellogg let it go toward Nebraska receiver
Quincy Enunwa
and a mess of defenders. Enunwa said he never touched the ball. It bounded off a Northwestern player and right to Westerkamp.
"I was just fortunate to be there," Westerkamp said.
Kellogg didn't see it. He got hit in the head at the line of scrimmage, he said, and lost his helmet on the field. Pelini missed it, too. He saw Westerkamp flash and heard the crowd roar. The coach wore a look of incredulity as he left the field.
Important lessons apply, he said.
"It's about attitude," Pelini said. "It's about character."
Don't give up, no matter how dire the situation.
"Whether we caught that ball or didn't catch that ball," Pelini said, "we're still the same team tomorrow."
Perhaps, but as sure as Northwestern's heartbreak after a fifth consecutive defeat, this one at the hands of a home-state kid, the Huskers got a reprieve Saturday. Another shot to show they're not done yet.
January, 9, 2012
1/09/12
5:40
PM ET
Three-star wide receiver
Jordan Westerkamp
(Lombard, Ill./Montini)
said Monday he will honor his commitment to Nebraska rather than go to Notre Dame
, ESPNChicago.com's Scott Powers reports.
"I came to the decision last night around midnight," said Westerkamp, who is the 50th ranked wide receiver in the country by ESPN. "When it came down to it, I just love Nebraska. I'm so excited about it and can't wait to get out there. I know Nebraska is the place for me. I had to see my options and put it all on the table. In the end, this is the place for me."
Westerkamp committed to the Cornhuskers in May, was offered by the Irish in December and visited Notre Dame shortly after, a trip he said he had to make to see if he felt the same way about both schools.
Westerkamp was ESPNChicago.com's Player of the Year, becoming Illinois' all-time leader in career receptions (235), yards (4,584) and touchdowns (66) this season. The 6-foot-1, 185-pounder had 12 catches for 353 yards and five touchdowns in the state title game.
"Notre Dame was respectful of it," Westerkamp said. "They respected that I gave them a chance. They told me if anything changes before signing day they would take me in a heartbeat.

"Nebraska was thrilled and excited. They were just really excited and screaming a little bit. They were happy. It was a good feeling that both programs wanted me."