February, 24, 2012
2/24/12
3:00
PM ET
We have come to the final group in the 2011 postseason position rankings: special teams. This one is all encompassing -- kickers, punters, returners, and team coverage -- which has made it quite the task to evaluate as one group. Some teams had returns that excelled and kickers that were so-so. Some had great kickers but a so-so return game.
I tried to give equal weight to all parts. In the end, I took the rankings in several special-teams categories and used an average ranking to help determine these. Special weight was given to game-changing plays as well.
1. Cincinnati.
The Bearcats ranked in the top two in four of the five statistical categories I used to evaluate special teams as a whole. The only area lacking was field goals, but I thought overall
Tony Miliano
had a decent year for a true freshman, even considering his missed kick against West Virginia. Ralph David Abernathy IV emerged as a dynamite kickoff man, and
Pat O'Donnell
was the best punter in the Big East again. Kickoff coverage was solid as well.
Preseason ranking
: 5.
2. UConn.
Nick Williams
averaged just 5.6 yards a return on punts. He was not particularly dynamic on kickoff returns, either, ranking No. 4 in the Big East after going into the season as one of the top returners in the league. UConn was one of two Big East teams without a kickoff return for a touchdown. But still, the Huskies were solid in every other category.
Dave Teggart
once again was the Big East first-team kicker, and
Cole Wagner
averaged 41.1 yards a punt.
Preseason ranking:
1.
[+] Enlarge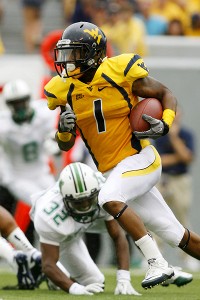 Charles LeClaire/US PresswireTavon Austin had two kickoff returns for touchdowns last season.
3. West Virginia.
Tavon Austin
was hands down the best returner in the Big East this season, and one of the best in the nation. But since this is an evaluation of special teams as a whole, everything is taken into account. West Virginia had the worst punting situation in the Big East, and ranked last in kickoff coverage. There were several critical blocked field goals as well. Special teams absolutely improved as the year went on, and some players made big plays --
Eain Smith
comes to mind. But Austin alone wasn't enough to elevate the group higher.
Preseason ranking:
7.
4. Rutgers.
Once again, the Scarlet Knights were highly effective at blocking kicks -- a staple under coach Greg Schiano.
Jeremy Deering
was solid in the kickoff return game as well. But
San San Te
had the worst field goal percentage in the Big East (64.5 percent), and kickoff coverage ranked No. 7 in the conference. Rutgers only had an opportunity to return 16 punts last season, averaging about 6 yards a return.
Preseason ranking:
6.
5. Pitt.
The Panthers lost their punter and field goal kicker from a year ago and did perhaps better than expected in special teams overall. Punter
Matt Yoklic
was second in the league in punts, though
Kevin Harper
did struggle at times with his field goals. Losing
Cameron Saddler
really hurt the punt return game as well.
Preseason ranking:
8.
6. Syracuse.
Ross Krautman
led the Big East in field goal percentage (78.9) but he only had 19 attempts on the season, second fewest in the Big East. Punt returns were essentially nonexistent -- with only 12 attempts for an average of 3.1 yards a return.
Jeremiah Kobena
was a nice addition at kickoff returner, but the Orange still ranked No. 6 in the Big East in that category and kickoff return coverage as well.
Preseason ranking:
4.
7. Louisville.
Chris Philpott
had a disappointing season, ranking No. 7 in the league in field goal percentage (66.7). He and
Josh Bleser
averaged 37.3 yards a punt. Punt returning ranked No. 7 in the Big East as well, and aside from
Adrian Bushell
's 100-yard kickoff return for a touchdown, that category was just average for the Cardinals.
Preseason ranking:
3.
8. USF.
I think the Bulls were the biggest disappointment in this category.
Lindsey Lamar
, who was the first-team Big East selection at returner last year, had zero this year and ranked No. 9 in the league in kickoff return average. His average was down some six yards from last season. When
Terrence Mitchell
got hurt and missed the second half of the season, no one was dynamic at punt returner, either.
Maikon Bonani
ranked No. 3 in field goal percentage but fairly or not is going to be remembered for missing a field goal that would have beaten Rutgers, and eventually gotten the Bulls bowl eligible.
Preseason ranking:
2.
July, 12, 2011
7/12/11
3:00
PM ET
We wrap up our look at team position rankings with special teams. There are plenty of strong kickers and returners in the league. I did not separate them, though, because those would be more like individual rankings. Those are coming soon.
[+] Enlarge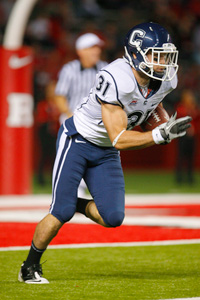 Jim O'Connor/US PresswireNick Williams led the NCAA in kickoff return average last season.
1. Connecticut.
The Huskies have one of the best kickers in the league in Dave Teggart and one of the best kickoff returners in the league in
Nick Williams
putting them in the top spot here. Williams led the NCAA in kickoff return average last season with 35.3 yards per kick. Teggart was the Big East first-team selection, making 25 of 31 field goals. They should be better this year, even with the loss of
Robbie Frey
.
2. USF.
The Bulls also have an excellent kicker-returner duo in Maikon Bonani and
Lindsey Lamar
. Bonani made 17 of 21 kicks last year, while Lamar was the first-team All-Big East selection, returning two kickoffs for touchdowns and averaging 26 yards per return. Add in punt returner Terrence Mitchell and this is one of the best units in the league.
3. Louisville.
The Cardinals have one of the best in the league in Chris Philpott, who punts and kicks. Josh Bleser is solid in splitting the punting duties with Philpott.
Victor Anderson
and
Jeremy Wright
are back as kickoff returners -- both averaged 30-plus yards per return last season. Wright's kick return helped the Cardinals win the Beef 'O' Brady's Bowl last year.
Doug Beaumont
is gone as punt returner, but he is the only loss. This unit has a chance to be No. 1 at year's end.
4. Syracuse.
The Orange have one of the best kickers in the league in Ross Krautman, who missed just one of his 19 field goal attempts last season. They do lose their top punt returner in Mike Holmes, along with punter Rob Long so there are questions at some of the most important spots on special teams. But Krautman, and the return of
Dorian Graham
and
Prince-Tyson Gulley
returning kicks puts this unit just ahead of the Bearcats.
5. Cincinnati.
This is a mixed bag for the Bearcats. They have the best punter in the league in Pat O'Donnell, who also happens to be a
physical freak in the weight room
. They should be decent in the return game with the return of
D.J. Woods
, who will compete with
Anthony McClung
, Shaq Washington and
Kenbrell Thompkins
to return kicks and punts.
Darrin Williams
is in the mix for kickoff returner, too. But kicker is a huge question mark. Jacob Rogers was solid last season. Now there is uncertainty in the competition between Tony Miliano and
Danny Milligan
. Coach Butch Jones says he won't name a starter until game week.
6. Rutgers.
The Scarlet Knights also have question marks here. Kicker San San Te returns, but he needs to be better from longer distances (2-of-7 from 40-plus yards). Punter Teddy Dellaganna is gone and so is kickoff returner Joe Lefeged. True freshman Anthony DiPaula enrolled early and takes over at punter.
Mason Robinson
is back at punt returner, and
Jeremy Deering
and
Mark Harrison
make a good combo returning kicks.
7. West Virginia.
The Mountaineers need more consistency from kicker Tyler Bitancurt, who missed his final four kicks of last season. He made just 10 of 17 attempts and looked shaky in the spring. West Virginia has a new holder and a new punter in Corey Smith, and hopes for improvement in the return game.
8. Pittsburgh.
The Panthers have to replace both kicking specialists, including Big East first-team punter Dan Hutchins. At punter, you have walk-ons Matt Yoklic and Drake Greer, neither of whom has punted in a collegiate game. Kevin Harper takes over as kicker and had a good spring game. The Panthers also replace their long-snapper, so there will be a period of adjustment for this unit when the season starts.
Cameron Saddler
is a bright spot at returner.
Previous rankings