NCF Nation:

Josh Dworaczyk
October, 13, 2012
10/13/12
7:33
PM ET
BATON ROUGE, La. -- Greetings from Tiger Stadium. We have a big one between LSU and South Carolina.


Two top-10 teams and two very, very talented defenses will be going at it under the lights Saturday in one of college football's best environments.
The Tigers are limping in after that 14-6 loss to Florida, but interesting things happen under the lights in this place, and something tells me The Hat will have a few new things in store for the Gamecocks. It will be interesting to see how South Carolina deals with not just the crowd noise but with its own emotions after last week's blowout victory over Georgia.
This is South Carolina's first real road trip and the Tigers have their backs against the wall.
It'll be interesting to watch both of these offenses tonight. The Gamecocks have been very balanced and have one of the SEC's most efficient quarterbacks in
Connor Shaw
. That fractured shoulder hasn't been much of an issue at all. The Gamecocks will face their toughest test up front, and that is a concern for offensive-line coach Shawn Elliott. His line has been shaky at times this year, and the tackle spots are key.
Corey Robinson
and
Brandon Shell
will have their hands full with
Sam Montgomery
and
Barkevious Mingo
going at them.
For LSU, the Tigers were already without top offensive lineman
Chris Faulk
and will now be without starting left tackle
Alex Hurst
, who continues to deal with personal issues.
Josh Dworaczyk
will start at left tackle, where he has really struggled.
Trai Turner
will also start for the injured
Josh Williford
at right guard, while
Vadal Alexander
will start at right tackle; both are freshmen. LSU will have three underclassmen starting on the offensive line ... with
Jadeveon Clowney
,
Devin Taylor
and
Kelcy Quarles
to battle.
Talk about a lot of pressure up front ...
October, 6, 2012
10/06/12
3:39
PM ET
GAINESVILLE, Fla. -- If you didn't already know, line play is pretty important in the SEC.
Well, you're going to find out just how important it is today when Florida and LSU square off.
For the Gators, we've certainly seen an improved and more physical offensive line, but keep an eye on the left tackle spot.
Xavier Nixon
might be penciled in as the starter, but freshman
D.J. Humphries
could get a lot of time there today with the way Nixon has been playing. He's a talented youngster, but he'll have his hands full with
Sam Montgomery
and
Barkevious Mingo
.
LSU also has its own issues at left tackle. Replacing the injured
Chris Faulk
hasn't been easy. Veteran
Josh Dworaczyk
didn't exactly get the job done when he was there, so look for Alex Hurt to get more time there. And the Gators are going to try and bring a ton of pressure his way.
If these left tackles struggle, it'll be a long day for both teams' quarterbacks.
September, 7, 2012
9/07/12
7:57
PM ET
I'm coming at you live from College Station, Texas, where the Aggies make their SEC debut on Saturday against No. 24 Florida.
While I eagerly await that historic matchup, let's empty out the SEC mailbag:
TD Carey in Ruston, La., writes:
LSU and
Chris Faulk
: Let us not forget that LSU could have had Mo Claiborne, Tyrann Mathieu and Mike Brockers. The loss of these four, especially now that Faulk is out, will make a difference, as there is no way to replace Faulk.
Chris Low:
I wouldn't go as far as to say that there's "no way." Faulk was a key part of that LSU offensive line and an excellent player, but the Tigers have some depth and experience up front. Getting
Josh Dworaczyk
back for a sixth season was huge. He's versatile and will step in Saturday at left tackle for the Tigers. He's not the only option there, either. It's a blow to lose Faulk, no question. But I'm not ready to say it was a knockout blow. This LSU team has been too resilient in the past and is still oozing with talent.
---
Brian in Richmond, Va., writes:
Hey Chris, War Eagle people seem to be really down on Auburn this year. They "almost/should have" beaten a very good ranked Clemson team that has a great chance of winning the ACC. It pains me to admit this, but Auburn has had some personnel issues since winning the 2010 national championship. How much better would Auburn be this year with Mike Dyer, Antonio Goodwin, Shaun Kitchens, Dakota Mosley and Jovon Robinson? I would include
Zeke Pike
, but he wasn't going to start this year and he's a train wreck anyway. Would they have really made that big of a difference? Obviously, Mike Dyer is a known quantity.
Chris Low:
Fans are always going to be down when you lose the opener, but this is about what I expected from this Auburn team. It's not so much that I'm down on the Tigers. I just think it's going to be tough sledding for them this season with a first-time starter at quarterback who's learning on the job and a defense that still clearly has some issues. I expect Auburn to improve on defense as the season goes on, but inexperience at quarterback and a leaky defense are a bad combination. And as far as some of the players you mentioned that are no longer there, maybe part of the problem is that there have been too many misses on the recruiting end with kids who simply had no desire to behave. Weeding out those kids might be the best thing that could have happened to this team.
---
Brian in Gadsden, Ala.:
Chris, I was just reading your prediction regarding Mississippi State and Auburn. I think you have some revisionist history. Mississippi State was not one foot short of winning at Auburn last year. They were one foot short of being behind by two points with no timeouts and a chance to tie the game with a successful two-point conversion. Last time I checked, a two-point conversion was not a 99 percent certainty like an extra point. I have no problem with a pick against Auburn, but please don't change the facts from last year.
Chris Low:
Actually, we were both wrong. What I should have written was that Mississippi State came within a foot of tying the game and sending it into overtime with an extra point or having a chance to win it with a successful two-point conversion. The final score was 41-34, so all the Bulldogs would have needed to tie the game was an extra point. A successful two-point conversion would have won it in regulation. Anyway, my apologies, and I promise there's no War Eagle conspiracy at work here.
---
Tommyboy in Atlanta writes:
1. Can you please quantify SEC speed? 2. What is the international unit of measurement of SEC speed? 3. Do SEC scoreboards have to be specially calibrated or purpose built for SEC speed? 4. Do all SEC teams have SEC speed? 5. If a team were in another conference and joined the SEC, does that team automatically get SEC speed, or is there a waiting period? If there is a waiting period, does time travel faster due to SEC speed? 6. Could ESPN please mention SEC speed more? 8. Please complete the following: George Washington, Abraham Lincoln and Gandhi are to ______ as SEC speed is to ______. The questions skip from No. 6 to No. 8 because my computer cannot keep up with my typing because my fingers have ... SEC speed.
Chris Low:
Very simply, SEC speed = six consecutive national championships. George Washington, Abraham Lincoln and Gandhi are to great men and men of vision as SEC speed is to bringing in the bling and collecting crystal footballs. I like your style, though. Good stuff. We may have to let you sit in one day for me on the SEC blog. On second thought, maybe not. You might take my job.
---
Bryan in Roswell, Ga., writes:
With South Carolina struggling against Vanderbilt, the East seems wide open this year. The Georgia-Missouri game is huge, and a Missouri win would seemingly set the stage for the Tigers to win the East on their first try. What would that scenario do for Mizzou going forward in their new home?
Chris Low:
I still say that Vanderbilt is better than a lot of people are giving the Commodores credit for. It's true that South Carolina didn't throw the ball well, but the Gamecocks didn't play that poorly. My guess is that the rest of the East would love to see Georgia go down this weekend in its first SEC game. If that happens, this East race might look a little bit like the one in 2010. Everybody's going to beat up on everybody else. Arkansas went to the SEC championship game in its fourth year in the league, so it's not outrageous to think that Missouri could make some noise this first year if the Tigers can get out of the blocks with a victory over the Bulldogs.
---
Dale in Winchester, Tenn., writes:
Chris, not trying to look ahead. But so far after seeing the N.C. State game, do you think this year's Tennessee team, if it stays healthy and some of its players like
Tyler Bray
and
Herman Lathers
continue to step up and lead, could be the one to get the Big Orange back to the powerhouse we used to be? Go Vols!
Chris Low:
The most impressive thing about the Vols in the opener was the way they finished the game and didn't flinch when Bray lost the fumble at the goal line right before halftime. I would still like to see them be better in short yardage situations on offense, and the defensive secondary still has some growing up to do. But there's no doubt that this is Derek Dooley's best team, and I expect to see the Vols in the East race come November. I'll stop there … for now.
---
Kevin in Lexington, S.C., writes:
I know it's several weeks away, but how do you think South Carolina's secondary will hold up against Missouri's spread attack after looking overwhelmed at times against Vandy?
Chris Low:
I'll have a better answer for you after watching Missouri go up against Georgia's defense Saturday night. Losing senior cornerback
Akeem Auguste
was a killer for the Gamecocks. They were already thin back there. To me, the real burden is on South Carolina's front seven now and generating even more pressure.
Jadeveon Clowney
is a freakish talent, but he can't take plays off.
---
Herrin in Boiling Springs, S.C., writes:
1. Are you contractually obligated to write "SEC speed" in each article? 2. LSU and Alabama have not had a close SEC game in some time. Does the rest of the SEC still have SEC speed? 3. Have you ever seen a team crow more about its conference -- while accomplishing less on its own -- than South Carolina? 4. Does Clemson have SEC speed? I mean, we have beaten SEC teams nine out of the last 11 years.
Chris Low:
All fair points. Now let me ask you a question: How many straight years has South Carolina beaten Clemson? I noticed you didn't bring up that topic.
---
September, 7, 2012
9/07/12
11:39
AM ET
LSU will see its resiliency and depth tested yet again.
First, it was Tyrann Mathieu, the team's most dynamic playmaker on defense and special teams and a Heisman Trophy finalist from last season. Mathieu was dismissed from the team in August for repeated violations of the school's drug-testing policy for athletes.

The latest blow came on offense. Junior left tackle
Chris Faulk
injured his knee in practice this week, and multiple reports are now surfacing that it's ligament damage and that he could miss the entire season. The New Orleans Times-Picayune
reported on Thursday
that Faulk was "likely done for the 2012 season with a major knee injury that will require surgery and long-term rehabilitation."
The 6-foot-6, 323-pound Faulk was one of the Tigers' most athletic offensive linemen and a key in being able to block the never-ending stream of explosive edge pass-rushers you see in the SEC.
In fact, had you picked three or four players at the start of training camp that the Tigers could least afford to lose, Faulk would have been in that group along with Mathieu. ESPN's Mel Kiper Jr. had Faulk rated as the No. 3 junior offensive tackle in the country.
The Tigers have a couple of different ways they can go without Faulk. It's not like they haven't recruited well in the offensive line the past few years. The plan this Saturday against Washington is to start sixth-year senior
Josh Dworaczyk
at left tackle. LSU coach Les Miles said before the season that Dworaczyk would be the Tigers' utility man up front. Plugging in Dworaczyk means nobody else has to move, although just about all of Dworaczyk's game experience has been at guard.
Moving senior
Alex Hurst
from right tackle to left tackle is also something the Tigers will consider. Like Faulk, Hurst is an NFL draft prospect. Plus, moving Hurst would get promising true freshman
Vadal Alexander
on the field at right tackle.
Sophomore
La'El Collins
moved inside to guard last season after coming to LSU as a highly rated tackle prospect. He started at left guard in the opener, but is somebody else that could move to tackle if the Tigers have more injuries.
The good thing is that they have options, and they've shown in the past under Miles that they don't easily get off track even when they do lose key players.
When we did our preseason countdown on the SEC blog of the 25 best players in the league, Faulk checked in at No. 14 and Mathieu would have been in the top five had he not been kicked off the team.
Very few teams could get away with losing two players of that caliber (at those positions) this early in the season and still be a serious contender for the national championship.
LSU is one of those teams, although the Tigers' path to Miami just got a lot harder.
August, 12, 2012
8/12/12
3:32
PM ET
This LSU team's reaction to the sudden dismissal of
Tyrann Mathieu
is equatable to ripping off a Band-Aid.
[+] Enlarge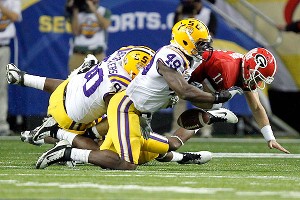 Josh D. Weiss/US PresswireBarkevious Mingo (49) said LSU won't lose any swagger because of Tyrann Mathieu's dismissal.
Early Saturday afternoon, about 24 hours after the Tigers' star cornerback was booted off the LSU roster, members of the team met with the media for the first time. But more telling than their disappointment was their acceptance and resolve in the face of the situation.
"We were all sad for him because we love him like a brother," said defensive end
Barkevious Mingo
. "But it's just one of those things that has to happen."
Mingo is a member of Les Miles' 22-man unity council, a contingent of leaders made up from every part of the Tigers' roster. The head coach's message for his leaders and for his team is the same one he delivered to reporters Friday afternoon -- they must push forward.
"There were some emotional feelings in this building, but I think they understand that they've got to go on," Miles said. "The easiest place, where the understanding of what transpired was here, because they're informed -- they got it."
Of course, there's plenty to be said about how best to replace the Honey Badger's production on the field. Miles was asked incessant questions Saturday about how best to replace Mathieu at both the cornerback and nickelback positions. But that doesn't account for the energy the undersized defensive back brought to the team. Mathieu's confidence, his all-out approach during games and his steady flow of trash talk helped contribute to his Honey Badger mystique just as much as his big plays.
March, 7, 2012
3/07/12
11:00
AM ET
The pads went on in Baton Rouge, La., as LSU's football team participated in its fourth spring practice Tuesday.
"I liked practice today," coach Les Miles said. "We are getting better. I like the improvement that some of our young offense and defensive linemen are making. I think we threw the ball extremely well today considering how early we are in spring. It was a good, physical practice. We started well and finished on a good note."

The guy throwing the ball the best this spring is new starting quarterback
Zach Mettenberger
. So far, he has really impressed his head coach with both his passing ability and his leadership skills. That's certainly a good thing, considering how much both of those areas were criticized when
Jordan Jefferson
was under center for the Tigers last season.
"He has command of the huddle and it appears that he has anticipation as to where the ball is going," Miles said. "He's throwing it pretty well."
Miles also complimented the play of sophomore offensive lineman
Elliott Porter
, who worked out at center.
"I liked the way he practiced today," Miles said. "He got better today and he continues to improve. I think he will challenge for playing time."
The Tigers return a solid, veteran line in 2012, but it never hurts to have depth up front. Depth helped LSU out in 2011 when top lineman
Josh Dworaczyk
went down with a season-ending injury last year.
T-Bob Hebert
started the season off in Dworaczyk's spot at left guard, but
Will Blackwell
eventually moved there and had an All-American season.
LSU also moved pieces around when center
P.J. Lonergan
went down with an ankle injury halfway through the season. LSU had seven different offensive linemen make starts last season.
Miles also talked about the on-going tryout at kicker, where former LSU women's soccer keeper Mo Isom stole all the headlines. Miles said there isn't a timetable on making a decision about the kicking participants, including Isom, but he won't hesitate to use her if he feels she can be a real asset for the Tigers.
"If she gave us an opportunity and an advantage, we will certainly consider that," he said. "There has to be an advantage to the team.
"The good thing about this is that she's an athlete. She's been through a team before and she understands commitment. I would have much less reservations with her than I would with any number of other people who frankly didn't know what they were getting in to."
If she makes LSU's team, she would be the first female football player in school history. However, she'd have some tough competition this fall with rising senior
Drew Alleman
returning. He is coming off the most accurate season by an LSU kicker in school history, after hitting 16-of-18 field goals and 62-of-63 extra points in 2011.
The tryouts for placekicker will continue Thursday. For more information on Isom and her tryout with the Tigers, check out what GeauxTigerNation's David Helman
wrote about her Tuesday
.
LSU will take Wednesday off before returning to practice on Thursday. The Tigers will wrap up their first full week of spring practice Saturday and are scheduled to practice three times a week for the next three weeks.
February, 9, 2012
2/09/12
9:00
AM ET
LSU offensive guard
Josh Dworaczyk
has been granted a sixth year of eligibility, the NCAA and LSU announced Wednesday.

Dworaczyk, who was arguably the Tigers' top lineman heading into last season, suffered a season-ending knee injury during training camp in August and missed all of the 2011 season.
"I'm excited to be able to get another year so that I can finish my career on the field," Dworaczyk said in a release through the school. "I felt like I had some unfinished business, so being able to get this additional year is a blessing.

"Watching from the sidelines last year wasn't always easy, because I was so used to being a contributor on the field. Getting another year means that I get to wear the Purple and Gold again, and for that I'm very thankful.

"Getting to see the game through the eyes of a coach and understanding what they are looking for from the players on the field, it helped me fully understand our offense. It also gave me a different relationship with my teammates. As a player, I was a leader on the field. Last year, I couldn't be in the huddle with my teammates so I tried to be a motivator, giving words of advice or encouragement and doing whatever I could to help from the sidelines."
Dworaczyk's return will ease the loss of All-American
Will Blackwell
, who took over at left guard halfway through his past season.
Dworaczyk has started in 26 of the 38 games (all at left guard) that he's played in, and will add to an already experienced returning line. The addition of Dworaczyk means LSU's offensive line will enter the fall with 105 combined starts -- Dworaczyk (26), center
P.J. Lonergan
(26), right tackle
Alex Hurst
(24), left tackle
Chris Faulk
(15), and right guard
Josh Williford
(14) -- and will yet again cement itself as one of the top offensive lines in the SEC.
"This is great news for our program," LSU coach Les Miles said. "You never want to see a player have his career cut short because of an injury. Josh is a tremendous representative of our program, and it's nice to see that he's going to get a chance to finish out his LSU career on the field."
November, 1, 2011
11/01/11
1:44
PM ET
BATON ROUGE, La. -- It's not every day that a 6-foot-3, 304-pound offensive lineman can freely admit that he's a certified nerd, but LSU's T-Bob Hebert has no problem doing just that.

LSU's versatile lineman uses his downtime to perfect his third-person shooter skills on his Xbox.

"This fall, I've really hurt my wallet," Hebert said.

Anyone's wallet will take a hit when grabbing video games like "Gears of War 3," "Batman: Arkham City" and "Battlefield 3" off the shelves in a span of only a couple of months.

You'd think it might be pretty hard for an LSU football player to find time for video games, but as a fifth-year senior, his class schedule is pretty light, so when he isn't taking time to look at film of opposing teams, he's kicking back in either LSU's players' lounge or at his house playing away.

He takes his game online with the likes of fellow linemen Josh Dworaczyk and Will Blackwell. Hebert says he's pretty good, but Dworaczyk is the man when it comes to video games. Hebert fancies himself as more of a third-person expert, so "Gears of War" is more his style, but Dworaczyk is more first-person, making him the "Battlefield" champ. But Dworaczyk usually dominates no matter the title.

Hebert uses these games as a release from his football life, but with Alabama looming, he admits that his video game habit has been put on the backburner ... for now.

"I haven't gotten to get in much action this week, so I probably won't be playing too much," he said.
October, 23, 2011
10/23/11
10:23
AM ET
The countdown began weeks ago, but now it's not just the media and fans talking about Alabama-LSU. The players and coaches can finally get in on all the fun.
Here's what we learned over the weekend:
1. An all-SEC national title game isn't farfetched:
With all the craziness that occurred Saturday night, our dreams of an Alabama-LSU national championship game don't seem so crazy now. Both teams proved once again that they are the best in college football, while those around them fell at the worst of times. Oklahoma was stunned 41-38 at home to Texas Tech and Wisconsin fell to Michigan State, thanks to a beautiful Hail Mary pass as time expired. Those were two losses the SEC giants needed if a rematch was going to be possible. Obviously, the SEC isn't out of the woods yet. Oklahoma State, Clemson, Stanford and Boise State all probably have to lose, and, of course, the loser of the Nov. 5 matchup has to keep it super close and win out in style afterward. It will take some more help, but today it doesn't seem as impossible as it did before Saturday's chaos.
[+] Enlarge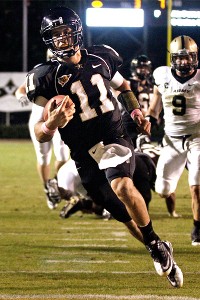 AP Photo/Mark HumphreyJordan Rodgers led Vanderbilt to a victory in his first start at quarterback.
2. LSU gets stronger and more dominant every week:
When the Tigers should look weak after losing key players, they just reload. There is no letdown on this team. When you talk about the most mentally tough squads in college football, LSU had better be at the top of your list. The Tigers began the season without starting quarterback
Jordan Jefferson
and playmaking wide receiver
Russell Shepard
and all they did was steamroll over each opponent they faced without their two starters. Not to mention arguably LSU's top offensive lineman, senior Josh Dworaczyk, has been out all year with an injury. So, when LSU was without freak cornerback Tyrann Mathieu, running back
Spencer Ware
and corner Tharold Simon for the Auburn game, we should have shaken it off, like the Tigers did. They pounded Auburn 45-10 and might have played their most complete game of the season in the process.
3. Arkansas can't afford more slow starts:
We all know that Arkansas has the talent, but the mental focus seems off sometimes with this team. Saturday, the Razorbacks were as sluggish as they could be coming out of the gate against Ole Miss and quickly fell behind 17-0. Arkansas had absolutely nothing going for it on offense in the first half, but stormed out onto the field in the third quarter and bumrushed the Rebels, outscoring them 19-0 in their eventual 29-24 win. But this one was way closer than it should have been. If Ole Miss was a stronger team, Arkansas might not have recovered from the early deficit. Rough starts against Alabama and Texas A&M were worrisome, and this one didn't make us feel great about the Hogs. You have to commend the strong second-half push, but a start like this against a team like LSU or maybe even South Carolina could result in a disappointing outcome for the Hogs.
4. Jordan Rodgers was the right pick:
Talk about Rodgers' play at Vanderbilt's camp over the summer was mostly positive, but without the entire spring to work through the playbook,
Larry Smith
kept his starting job. So Rodgers patiently waited, and after replacing Smith in consecutive games, Rodgers was given the starting nod by coach James Franklin for the Army game. With an offense struggling all season, Franklin needed to shake things up, and getting some new blood in at the quarterback position was the right move as Rodgers passed for 186 yards, rushed for 96 and had two touchdowns in the Commodores' 44-21 win. He sparked the entire offense that put up a season-high 530 yards, including 344 rushing yards. The Commodores finally found some consistency within their offense and Rodgers was a main reason for that. He took total command of the huddle and directed the Commodores efficiently all night. He's starting to get more and more comfortable out there and his numbers will start to improve going forward.

5. Tennessee has fight, but not the manpower:
For two quarters, Tennessee stood toe-to-toe with one of the mammoths of college football. We saw the most fight out of Tennessee since wide receiver
Justin Hunter
went down in the Florida game. Then, Alabama got its second wind and the game was over before the fourth quarter even began. But when you're without four key components to your team and you have depth issues across the board, a loss like that isn't a shock. Tennessee just doesn't have enough dogs for a fight like that. There is a lot of good, young talent at Tennessee, but most of it is starting. Behind it, there isn't much, thanks to poor recruiting before coach Derek Dooley got there. He's having to play a bunch of youngsters out there and that can trigger ugly outcomes in this league. If you look at special teams, the Vols can't get their best athletes out there because the coaches don't want wear them out after defensive series. This team is still a year away from being close to where Dooley wants it and that should have been expected. It was always a three-year plan with him and he's working in the right direction.
June, 17, 2011
6/17/11
9:30
AM ET
The big uglies up front on the offensive side are our focus today. There are some quality veterans out there, but teams all across the league are looking to replace some quality linemen in the trenches.
Here's how we see the league stacking up:
[+] Enlarge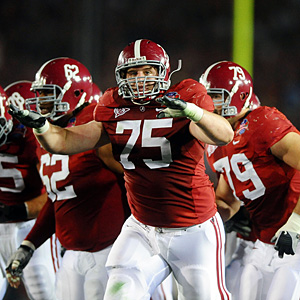 Mark J. Rebilas/US PresswireBarrett Jones has been one of the mainstays of Alabama's offensive line the past two seasons.
1. Alabama:
Four of Alabama's five linemen from a year ago return, making this one of the team's strongest units. The returners have combined for more than 70 starts at Alabama. Barrett Jones is the star of the show. The junior has been the Tide's starting right guard each of the past two seasons, but took reps at left tackle and could be asked to move. William Vlachos is back at center and could be the best at his position in the league. Fellow starters D.J. Flucker and Chance Warmack are back and took reps at left tackle this spring.
2. Ole Miss:
The Rebels' offense isn't getting much respect this offseason, but its offensive line returns All-SEC candidates in tackles Bradley Sowell and Bobby Massie. Seven of Ole Miss' linemen started two or more games each on the offensive line in 2010. Last season, the Rebels were first in the league in sacks allowed, giving up just 14. Alex Washington should stay at left guard after starting eight games there and A.J. Hawkins will likely get the nod at center after playing eight games there as well. Arkansas transfer Matt Hall will compete for time at center.
3. LSU:
Joseph Barksdale might be gone, but the Tigers have a very talented group of linemen returning. Tackle Alex Hurst seems primed to be a star in the league and senior Josh Dworaczky is arguably the Tigers' top lineman with 25 career starts. Patrick Lonergan is solid at center, while T-Bob Hebert is valuable at both center and guard. Sophomore Chris Faulk has the tough assignment of replacing Barksdale, but made quite the impression on his coaches this spring.
4. Kentucky:
The Wildcats return four starters on their line. Right guard Larry Warford headlines the group after gaining second-team All-SEC honors a year ago. Kentucky also returns two-year starter Stuart Hines at left guard and Matt Smith at center, who was solid in his first year there. Left tackle Chandler Burden missed spring practice, but is expected back by fall practice. Finding a suitable right tackle is the next step for Kentucky.
5. Tennessee:
This group could be one of the most impressive units for the Volunteers this season. It's deeper and more experienced in Derek Dooley's second year and he was very pleased with its performance this spring. Junior Dallas Thomas is solid at left tackle, and sophomore Ja'Wuan James really came on strong in his first year and is one of the top linemen in the SEC. James Stone also returns at center. The surprise of the group was true freshman Marcus Jackson, who held down the left guard spot for most of the spring.
6. Mississippi State:
The Bulldogs must replace All-American left tackle Derek Sherrod, but most of the line is somewhat on point. Center Quentin Saulsberry will anchor the line and is versatile enough to play just about every position on the line. Left guard Gabe Jackson and right tackle Addison Lawrence return and the Bulldogs will have junior Tobias Smith lining up at right guard. Blaine Clausell and James Carmon, who moved from defensive tackle, will compete at left tackle.
7. Georgia:
This was supposed to be one of the strongest offensive line units in the league, but the Bulldogs lost tackle Trinton Sturdivant to a season-ending knee injury this spring and fellow tackle A.J. Harmon transferred. Georgia's most-reliable options are Cordy Glenn, who moved from guard to left tackle and Ben Jones at center. Kenarious Gates is at left guard, but he's athletic enough to play tackle if needed. Former defensive lineman Justin Anderson will start off at right tackle. Right guard is the next area of business and the depth all around is a problem.
8. South Carolina:
The Gamecocks have questions here, but there is talent across the line. Rokevious Watkins is one of the most talented guards in the league and he'll be assisted by returning starter at center T.J. Johnson. Senior Kyle Nunn has made strides at left tackle and redshirt freshman A.J. Cann took over duties at left guard this spring. Still, the younger linemen will be counted on to contribute this fall.
9. Arkansas:
The Razorbacks must replace three starters on the offensive line. Center Travis Swanson and left guard Alvin Bailey are the only returning starters. Just a sophomore, Bailey impressed his coaches last season and will be one of the top linemen in the league this fall. After that, the Hogs will have to turn to youth for help. True freshman Brey Cook could be thrust into the starting role at right tackle, while sophomore Anthony Oden could get the job at left tackle.
10. Florida:
Florida's offensive line struggled throughout the 2010 season -- and that was with a senior-laden group. This fall, the Gators will start over with a ton of inexperience. Right guard Jon Halapio and right tackle Xavier Nixon are the only returning starters. Halapio struggled at times last season and Nixon battled injuries. Florida's line spent most of the spring in the infirmary, so little is known about the overall talent. Freshman Chaz Green left spring as the starter at left tackle, Jonotthan Harrison will battle former Notre Dame lineman Dan Wenger at center. He transferred in after spring, but has health concerns.
11. Auburn:
The Tigers will go from having one of the top offensive line groups in the country to having a major work in progress in 2011. Senior Brandon Mosley is the lone returning starter, and while he was solid on Auburn's line last season, he came from junior college as a defensive end/tight end. The good news is that tackle A.J. Greene should be fine this fall after sustaining a season-ending leg injury last year. The rest of Auburn's linemen are very young and inexperienced. Don't expect many redshirts from this group.
12. Vanderbilt:
The Commodores might return all five starters, but this unit had trouble keeping things together last year. The offense needs this group to improve mightily. Wesley Johnson is Vanderbilt's best option, despite only being a sophomore at left tackle. There will be size on the right side, with 300-plus pounders Kyle Fischer and Ryan Seymour over there. Simply put, this unit has the experience, but it requires a lot of improvement.
TOP 25 SCOREBOARD
Saturday, 12/21
Monday, 12/23
Tuesday, 12/24
Thursday, 12/26
Friday, 12/27
Saturday, 12/28
Monday, 12/30
Tuesday, 12/31
Wednesday, 1/1
Thursday, 1/2
Friday, 1/3
Saturday, 1/4
Sunday, 1/5
Monday, 1/6