July, 6, 2011
7/06/11
4:30
PM ET
We continue our team position rankings with the linebackers. This position was one of the hardest hit in the league with the number of quality players who are gone. You could probably interchange teams 2-7 in the rankings, depending on your point of view. So who is going to step up? Let's peer into the crystal ball.
[+] Enlarge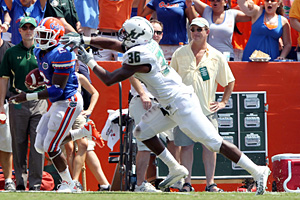 Kim Klement/US PresswireSouth Florida linebacker Sam Barrington, 36, leads the Big East's best group of linebackers.
1. South Florida.
Sam Barrington and DeDe Lattimore form the best linebacking duo in the league, helping put the Bulls into the top spot. By no means have they fully arrived -- plenty of room for improvement here. What also helps with the ranking is depth. Reshard Cliett had a nice spring, after coming into USF as a safety. Junior college transfer Mike Juene was in for spring and also has raised expectations. Mike Lanaris and Curtis Weatherspoon should be important contributors as well.
2. Connecticut.
The strength of the team is on defense, but if there is one group on this unit that has the biggest questions it is linebacker. There is no disputing Sio Moore is one of the best in the league. But the Huskies lost four-year starters Lawrence Wilson and Scott Lutrus. Jory Johnson, Jerome Williams, Mike Osiecki and Yawin Smallwood are all in the mix, but there is no question this group is much more inexperienced than a year ago. Still, Moore makes this a top-tier group.
3. Louisville.
The Cardinals lose Brandon Heath and a few other players who brought valuable experience. But
Daniel Brown
and Dexter Heyman are experienced starters who will anchor this unit. The Cardinals took a hit when Brandon Golson reportedly decided to transfer, so they are going to need to work on some depth.
4. Rutgers.
Some players moved around during the spring -- Manny Abreu moved from strongside linebacker to defensive end, and Khaseem Greene moved from safety to weakside linebacker. These moves should make the defense better. Steve Beauharnais switched back to the strong side from the middle, a move that should benefit him. Ka'Lial Glaud is now penciled in to start in the middle. Marvin Booker had a good spring as well. Depth is an issue and true freshman Quentin Gause and Kevin Snyder could play. But this group should be better.
5. West Virginia.
Najee Goode is a proven big-time player, but there were some huge losses for this unit. Anthony Leonard, JT Thomas and Pat Lazear are all gone. Junior college transfer Josh Francis and Casey Vance are competing on the weakside and Doug Rigg, Tyler Anderson and Donovan Miles on the strong side. Francis would add athleticism to the group, but first he has to win the starting job.
6. Pittsburgh.
The Panthers are transitioning to a 3-4 and experimented plenty during the spring with various combinations. They have experience, with the top seven linebackers on the team returning. Plus Brandon Lindsey is going to play more of a hybrid defensive end/linebacker role. But this was one of the worst units on the team last season. Max Gruder and Greg Williams have to be better for this unit to be ranked higher.
7. Syracuse.
The Orange lose not only two of their best players, but two of their biggest leaders in Doug Hogue and Derrell Smith. Smith led the team in tackles, and Hogue was right behind him, making linebacker one of the biggest question marks on this team heading into the season. Two other contributors, Malcolm Cater and Brice Hawkes, were kicked off the team. That leaves sophmore Marquis Spruill as the only player with significant playing time among the linebackers, and he moved to a new position in the middle. Early enrollee Dyshawn Davis, a receiver in high school, is penciled in to start so that should tell you where this group is headed into the fall.
8. Cincinnati.
JK Schaffer is one of the best in the Big East, but depth here is a concern. Walter Stewart has moved to defensive end, leaving a hole at one of the linebacker spots. True freshmen Nick Temple and Dwight Jackson were in for spring practice are expected to compete for starting jobs. This unit was not very good last year and undersized, making it the group with the most to prove in 2011.
Previous rankings
April, 11, 2011
4/11/11
1:30
PM ET
MORGANTOWN, W.Va. -- On my trip to West Virginia last week, the one year that came up about as much as 2011 or 2010 was 2008.
That, of course, was Bill Stewart's first year as the head coach of the Mountaineers. And there are several similarities to the 2008 defense when it comes to this, Stewart's final season at the controls in Morgantown.
Like 2008, this 2011 club loses seven defensive starters off a senior-laden unit that was one of the best in the country the year before. West Virginia hopes the results are a little better.
To be sure, that 2008 defense was far from a disaster. It ended up leading the Big East in points allowed (17 per game), though it finished just sixth in total defense. The biggest issue came early on, when Stewart says the team wasn't experienced enough to throw out different looks in the first month against East Carolina and Colorado, both losses.
[+] Enlarge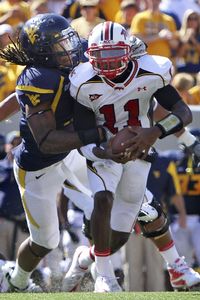 AP Photo Michael SwitzerBruce Irvin led the Big East in sacks last season with 14.
Jeff Casteel's 3-3-5 stack defense has proved to be very effective over the years, but it runs best when he has veterans who know the system in and out. Stewart talked all last preseason about how the 2010 team masked its coverages just like the 2007 Fiesta Bowl team. It did just that in producing one of the best defenses in the country.
"This year is a lot like '08," Stewart said. "You've got to be able to disguise in the 3-3-5. If you just set it, you're in trouble."
Why is the 3-3-5 so dependent on experience and movement? Stewart and Casteel have not divulged much about the specifics of the defense or how it works over the years. Unlike other successful systems, they don't share tips at coaches clinics or have other schools come in over the summer to study how they do things.
"And we don't really care to," Stewart said. "It's not advantageous for us. The system is unique in the way we run it."
Suffice it to say that the 3-3-5 can confuse opposing quarterbacks and offenses because of the different looks it presents. One of the three safeties can come from anywhere, as well as the linebackers. But that also means that everyone on the defense has to be on the same page at the same time -- "like puppets on a string," defensive end Bruce Irvin said.
"In a lot of ways, it's a benefit to us that not a lot of offenses are seeing it week in and week out," Casteel said. "Nobody really runs it. We have a belief in the way we do things."
Despite the loss of so many starters, the Mountaineers still boast a strong core to build around. There's Irvin, the Big East leader in sacks who will play a bigger role this year. There's defensive end Julian Miller, who slides over to Scooter Berry's slot to take on tight ends and down blockers. Cornerback Keith Tandy will look to continue his elevated play after grabbing six interceptions last year. Safety Terence Garvin quietly led the team in tackles last year, and Najee Goode was an underrated presence at linebacker.
Now it's about working in some of the new guys, such as junior-college transfer Josh Francis at linebacker.
"He doesn't know where he's going right now, but when he goes, he gets there awful fast," Stewart said. "I never see him not going 100 miles an hour. I hope he doesn't drive on the highway like he plays on the field, because it's full throttle. But I know one thing: when he comes off that edge, not many tackles or backs want to mess with him."
Stewart also called linebacker Doug Rigg "a rising superstar" because of his understanding of the game, which he compared to former standouts Reed Williams and Mortty Ivy.
The Mountaineers have a mountain of a challenge in replacing nose guard Chris Neild; they hope a combination of Jorge Wright, Josh Taylor and incoming junior college transfer Shaq Rowell can do the trick. And they have to find replacements for cornerback Brandon Hogan and safeties Robert Sands and Sidney Glover, two rocks in the back end of the 2010 defense.
"We have some kids who can really run back there," Casteel said. "They're just puppies right now."
How fast those puppies grow up could determine how much bite this West Virginia defense has. Or how much like 2008 it will really be.