January, 23, 2012
1/23/12
9:00
AM ET
National signing day is inching ever closer, so it is time to take a look at the biggest recruiting needs for every team in the Big East.
Cincinnati

Defensive line.
Cincinnati loses a host of seniors from this position, including Co-Defensive Player of the Year
Derek Wolfe
,
John Hughes
,
Monte Taylor
, and
Rob Trigg
. Factor in the key contributors for 2012 will be seniors in
Dan Giordano
,
Brandon Mills
and
Walter Stewart
and it is time to reload at this position.
Receiver.
There is some promising young talent on the roster, but several guys are going to be leaving in the next few years. The Bearcats really need a guy who can stretch the field and make some big plays to join
Anthony McClung
and
Alex Chisum
.
Secondary.
The Bearcats are going to take a hit at this position after 2012, losing a ton of seniors-to-be, including Cam Cheatham,
Drew Frey
,
Dominique Battle
and
Reuben Johnson
. Senior safety
Wesley Richardson
is already gone. The lone four-star commitment the Bearcats have is from a safety, Marcus Foster.
UConn

Quarterback.
This need has been addressed in this recruiting cycle, with junior college transfer Chandler Whitmer and Casey Cochran already enrolled in school.
Tight end.
With the impending departure of
Ryan Griffin
and
John Delahunt
, the Huskies could use another young player to be groomed to take over. Tight end is a critical part of the UConn offense.
Offensive line.
UConn is losing its two best linemen in
Moe Petrus
and
Mike Ryan
. Of the 16 linemen currently listed on the roster, seven are juniors or seniors. Linemen generally take a redshirt season, so it never hurts to sign more to be able to restock.
Louisville

Linebacker.
The Cardinals are losing
Dexter Heyman
and have a lot of juniors and seniors on their roster at this position. It is no surprise, then, that three of the top players coming in are linebackers -- Keith Brown and James Burgess are already enrolled; four-star recruit Nick Dawson has given a commitment.
Offensive line.
Louisville has young players here, but not much depth, as evidenced this season when several true freshmen were forced to play much earlier than anticipated. It never hurts to build depth here, and the Cardinals have gotten a huge commit from four-star guard Abraham Garcia out of Miami.
Running back.
This was an area the Cardinals struggled in this season, having to move quarterback
Dominique Brown
to the position.
Victor Anderson
is gone, and this team could really used another back to carry the load.
Pitt

Quarterback.
This one is pretty self explanatory if you watched
Tino Sunseri
play.
Mark Myers
and
Trey Anderson
are also on the roster, but the Panthers are in definite need here -- which is why so many fans are looking forward to commit Chad Voytik coming to town.
Linebacker.
This has been an area of inconsistency for the Panthers, who lose their best player in
Max Gruder
. There are some young players with talent in
Todd Thomas
and
Ejuan Price
, but this position could definitely use an upgrade.
Receiver.
The play of the offense was disappointing this season, and that includes the receivers. Pitt could use some players to stretch the field.
Ronald Jones
was a start this season. But when you consider that
Cameron Saddler
,
Mike Shanahan
and
Devin Street
will all be upperclassmen in 2012, this is a definite area of need.
Rutgers

Receiver.
Mohamed Sanu
is gone, and
Mark Harrison
is a senior to be. There is plenty of young talent, but there is a reason Rutgers has commitments from four athletes. This gives the Scarlet Knights the flexibility to try them at receiver or running back, another area of need.
Running back.
Once
Savon Huggins
got hurt this year, Rutgers had
Jawan Jamison
and
Jeremy Deering
at running back and that was about it. Depth has to be developed here.
Offensive line.
Strides have absolutely been made at this position, but coach Greg Schiano likes to reiterate that the Scarlet Knights aren't going to pull themselves out of the hole they were in overnight. They need another solid draft class at this position to keep building.
USF

Secondary.
Injuries and inconsistent play this season showed the Bulls really lacked some depth and need some immediate help in this area, which is why they signed junior college cornerbacks Fidel Montgomery and
Josh Brown
. One of their top four-star commitments is cornerback Chris Bivins.
Quarterback.
Beyond
B.J. Daniels
, a senior in 2012, the Bulls have
Bobby Eveld
and
Matt Floyd
as the two heirs to take over. Eveld has been less than impressive, and we don't know much about Floyd. The Bulls would be served to get another quarterback in as they prepare for the future.
Running back.
Darrell Scott
is gone, and the Bulls are really in need of a game breaker at this position.
Demetris Murray
is going to be a senior, and nobody else really has stepped up at the position. Depth has to be built here, because USF goes into spring practice with four running backs on the roster.
Syracuse

Defensive line.
The Orange are losing
Chandler Jones
and
Mikhail Marinovich
and could really used some difference-makers up front who can help get after the quarterback. Depth is an issue here. One of their big commitments so far has been defensive end Josh Manley out of Georgia.
Secondary.
This was one of the weakest parts of the team and now the Orange lose
Phillip Thomas
and Kevyn Scott, and there was a lack of depth when injuries hit this position in 2011. Brooklyn prep safety Wayne Morgan would be a huge get to add to this unit.
Receiver.
Alec Lemon
is a senior,
Van Chew
is gone and who knows what happens with
Marcus Sales
. The bottom line is the Orange are in major need of a game-changer to turn 15-yard passes into 40-yard receptions.
West Virginia

Quarterback.
Geno Smith
is a rising senior and after him it is crickets in the form of one player behind him in
Paul Millard
. So consider this need majorly filled with Ford Childress, ranked No. 139 on the ESPNU 150.
Offensive line.
The most inconsistent part of the team in 2011, West Virginia has a major need here. The Mountaineers struggled so badly here they started converted defensive lineman
Curtis Feigt
late in the season.
Don Barclay
is gone, and
Joe Madsen
,
Jeff Braun
and
Josh Jenkins
are all upperclassmen.
Defensive line.
Julian Miller
,
Josh Taylor
and
Bruce Irvin
are gone, and there are depth concerns here. West Virginia has four commitments from defensive linemen already.
July, 13, 2011
7/13/11
3:17
PM ET
West Virginia starting left guard Josh Jenkins is out for the season after undergoing surgery on his left knee, the school announced Wednesday.

Jenkins sprained his MCL in the spring game and underwent an extensive rehab program. But following rehab, team doctors felt his kneecap was still unstable, so he underwent surgery on July 5. Jenkins is eligible for a medical hardship waiver and should be back for his senior season in 2012.

Trainer David Kerns said in a statement the surgery was done to "help better track his patella for normal function. Jenkins will remain in a leg brace for six weeks, then will regain strength and slowly regain any residual lost motion due to the immobilization period.

"At the appropriate time, he will begin the back-to-run/play-progression, which all totaled will be six months from surgery until fully healed and strong enough to play football. He should be fully participatory for winter training and then spring football."

This is a big blow for West Virginia. Jenkins, a two-year starter, has been one of its most solid contributors and one of its most experienced players returning. But there was always uncertainty about whether he would be able to play this season. On the post-spring depth chart, coach Dana Holgorsen listed Jeff Braun at left guard. Braun moves over from right tackle, where he started every game last season. Redshirt freshman Quinton Spain would be in the No. 1 spot at right tackle.
June, 27, 2011
6/27/11
9:00
AM ET
Now by popular demand, we begin ranking the positions across the Big East. I know I am a little late to the party on this one, but better late than never, right? I asked on Twitter for suggestions on which position to start with today. There was no consensus. But I did like one suggestion: to work our way up from the line.
So first up is the offensive line. To make these rankings, I considered returning starters, accolades for returning starters, position switches and depth. The truth is, this is not an area of strength for the league as a whole. Most teams have depth concerns and questions at one or more positions.
[+] Enlarge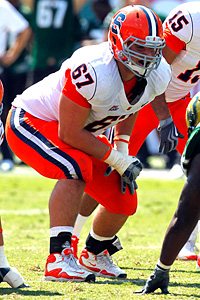 Cliff Welch/Icon SMI Justin Pugh earned all-conference honors last season as a freshman.
1. Syracuse.
The Orange have four returning starters, including two seniors. You have Justin Pugh, who made second-team All-Big East last year as a freshman. You have a more mature and experienced unit than the one last year, which had to replace four starters. There also is depth to have a nice eight-man rotation. The concern is at center, where Macky MacPherson is undersized. Actually, when you look at the entire group, it is undersized. Andrew Tiller is the only one who tips the scales at more than 300 pounds.
2. West Virginia.
The offensive line was an area of strength under Rich Rodriguez, but has struggled the past few years. It was hard to get a gauge on this unit in the spring, with both starting tackles Jeff Braun and Don Barclay out because of injuries. Starting guard Josh Jenkins also got hurt and is still not 100 percent. But the potential is there for this group to be significantly improved.
3. UConn.
The strength of this unit is at tackle and center, where the Huskies return first-team All-Big East selection Mike Ryan (20 career starts) and Adam Masters (18 career starts). Moe Petrus, a second-team all-conference pick, has 39 career starts. Their experience should help along the guards -- nobody on the roster has started a game at the position. The good news is that Gary Bardzak does have starting experience, but it came at center.
4. Pittsburgh.
The Panthers made so many position shifts during the spring that it is hard tell how this unit is going to shape up come fall. Chris Jacobson moving to center was one of the biggest moves, and Pittsburgh hopes it pays off with more stability there. Jacobson and starting tackles Jordan Gibbs and Lucas Nix have a combined 49 career starts, but Pitt has to make up for losing first-team Big East selection Jason Pinkston.
5. USF.
The Bulls are going to be young on the offensive line this season after losing first-team All-Big East center Sampson Genus, along with tackles Jamar Bass and Jake Sims (second team All-Big East). Chaz Hine and Jeremiah Warren are a solid tandem at guard, and Mark Popek at left tackle and Kevin McCaskill at center do have playing experience. But at right tackle, USF plans to go with redshirt freshman Quinterrius Eatmon. He does have loads of potential, but there will be a learning curve. Depth also is an issue, and the Bulls could have true freshmen in the rotation.
6. Cincinnati.
The Bearcats had their share of problems last season, ranking second-to-last in the Big East in sacks allowed (31). This year, they have to replace three starters on the offensive line with unproven players. Senior right tackle Alex Hoffman has taken on some leadership responsibility with the loss of Jason Kelce, but players like Austen Bujnoch, Andre Cureton, Sean Hooey and Evan Davis are going to have to step up. Depth could also be an issue here.
7. Louisville.
The Cardinals return just one starter in center Mario Benavides, who has been hampered with a knee injury. Ryan Kessling and Alex Kupper have playing experience, but most everybody else is pretty unproven, and that makes for one of the biggest question areas on the team headed into the fall.
8. Rutgers.
The Scarlet Knights own the bottom spot until the season starts and we can see how much this unit has improved. It is a well-known fact that they finished last in sacks allowed and were one of the worst rushing teams in the country last season for that reason. They suffered a blow when junior college transfer Dallas Hendrikson went down with a season-ending injury in the spring, but coach Greg Schiano said he saw plenty of improvement from this group. They certainly will have more experience, but how much better will they be?
May, 2, 2011
5/02/11
10:00
AM ET
Reviewing West Virginia's Gold-Blue spring game from Friday night, won by the offense 83-17:
Offensive MVP:
Quarterback
Geno Smith
completed 26 of 37 passes for 388 yards and four touchdowns as Dana Holgorsen's offense was fully unleashed against the Mountaineers' second-string defense. Smith's night included 44- and 67-yard touchdown passes to
Stedman Bailey
and a 38-yard scoring strike to
Tavon Austin
. Backup quarterback Paul Millard added 253 yards and two touchdowns on 18-of-30 passing. Overall, the offense racked up 838 total yards and 683 in the air on 104 plays.

Defensive MVP:
Julian Miller had two sacks and four total tackles, though this was clearly a night set up for the offense.
Costly injury?
Starting offensive guard Josh Jenkins suffered an MCL sprain and a strain of another ligament around his kneecap. Jenkins will be put in a brace and go through physical therapy for six to eight weeks to let the MCL sprain heal. The West Virginia medical staff will decide after that time whether Jenkins needs surgery on his knee cap. Not having Jenkins would be a big loss for the Mountaineers.
Running back battle:
One of the more intriguing subplots of the spring for the Mountaineers was who would claim the No. 1 tailback spot. It's a battle that probably will continue into the fall. True freshman Vernard Roberts led all rushers with 64 yards on 10 carries Friday.
Trey Johnson
had 57 yards on nine attempts and the only rushing touchdown. Johnson also had a 65-yard reception for a score.
Other notes:
The estimated crowd of 22,000 was the largest for a Big East spring game this year. ...
Ryan Nehlen
was given the Nickolich Award as the top walk-on of the spring, and he caught five passes for 79 yards in the spring game. ... Defensive lineman Will Clarke, linebacker Najee Goode and cornerback Keith Tandy received the Iron Mountaineer Award, presented to the most outstanding performers in the team's offseason strength and conditioning program.
September, 23, 2010
9/23/10
6:02
PM ET
Connecticut's
Jordan Todman
, the leading rusher in the Big East, won't play Saturday against Buffalo, according to the Huskies' official injury report.
Todman injured his arm in the Temple game, though he continued to play. The arm injury might have contributed to a key fumble that was taken in for a touchdown to give the Owls the lead for good in the fourth quarter.
Todman has rushed for 448 yards in three games for the Huskies, averaging 7.3 yards per carry.
West Virginia's injury report is also out, and as expected, offensive lineman Josh Jenkins (leg) won't play against LSU. Defensive end Julian Miller (back) is listed as questionable.
September, 21, 2010
9/21/10
3:12
PM ET
On Monday, I wrote that West Virginia coach Bill Stewart left the door open to a possible return by suspended cornerback Brandon Hogan.

Now it looks like that door has been blown off the hinges. Stewart said today that Hogan is back practicing with the team, and there's even a chance he could play Saturday at LSU.

"Brandon Hogan is in an evaluation period by me," Stewart said Tuesday. "He is going to practice and I will watch him work. Right now, he is undergoing the exact same formula that is set in stone by the student judicial affairs committee for the rest of the student body who gets in trouble.

"I am not trying to make light of it, but he is in evaluation and I don't know if he will play this weekend and I don't know if he won't play this week. If he is to play this week, he will have earned the right to play according to my standards and my standards alone. I will make that determination the day of the game. He will travel this week."

Exactly what those standards are, Stewart didn't say. Certainly, Stewart will face some criticism if he allows Hogan to play after missing just one game following his DUI arrest. And remember that Hogan has had other problems, including a citation for public urination and disorderly conduct this spring.

Hogan would certainly help the team against LSU, giving the Mountaineers an experienced corner instead of having sophomore Pat Miller make his second start.

Stewart also said that starting guard Josh Jenkins had a minor operation on his leg Tuesday morning. Jenkins got his leg rolled up on by a Maryland defender on Saturday. Stewart said he'd make a determination on Jenkins' status by Thursday, but it sounds like West Virginia will have to prepare without him.

On the plus side, linebacker Pat Lazear will try to play this week after missing the first three weeks with a bone bruise. Lazear led the team in tackles last season.

"If he wasn't as strong as he is, I don't think he could have recovered as well," Stewart said. "He is not in good shape, but we are going to try to play him this week."
September, 18, 2010
9/18/10
4:33
PM ET
MORGANTOWN, W. Va. -- There were some surprisingly anxious moments for West Virginia in the second half after the Mountaineers raced out to an 28-14 lead.
Two long passes to
Torrey Smith
allowed Maryland to cut the lead in half, and the Terrapins had the ball deep in West Virginia territory with a chance to get within seven.
In the end, though, the Mountaineers held on for
the 31-17 victory
. All in all, it was a solid performance, with a few second-half hiccups that will need to be addressed this week in practice. There's also an injury concern with starting guard Josh Jenkins standing on the sidelines in street clothes for the second half.
But West Virginia notched the first win by the Big East over a BCS auto-bid conference team this season. And with UConn going down at Temple, the Mountaineers have given the league a bright spot in an otherwise dismal first half.
September, 16, 2010
9/16/10
11:48
AM ET
What was the most impressive thing about
Geno Smith
's performance last week against Marshall?
Was it that he led West Virginia on two nearly length-of-the field drives in the final eight minutes on the road? Was it his two clutch, touch throws to the back of the end zone for the score and two-point conversion to tie matters with 12 seconds left? Was it the way he barked at offensive linemen on the sideline and asserted his command of the team?
No. The most impressive thing about Smith is that his coaches and teammates totally expected that the true sophomore could do all that in only his second college start.
[+] Enlarge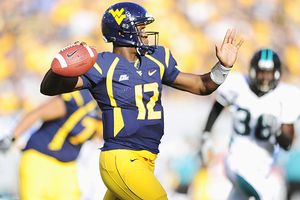 Jeanine Leech/Icon SMIGeno Smith's poise in tight situations has impressed his teammates and coaches.
"People asked me, 'Were you surprised?'" Mountaineers offensive coordinator Jeff Mullen said. "I'm surprised anybody could lead two 90-yard drives in the fourth quarter for the win, because nobody can script or expect that. But I'm not surprised how he handled himself in that situation."
West Virginia has always had faith that Smith would make a great leader because of his uncanny poise. He's a guy who started all four years in high school in an offense similar to the Mountaineers' attack, and his coach even let him call the plays his final two years.
The Mountaineers witnessed his maturity last year, when he had to make his debut on the road at Auburn late in the game, taking over for an injured Jarrett Brown. Then he had to play almost the entire game against Marshall at home after Brown got hurt in the first quarter and led the team to the win. He also played the entire second half of the Gator Bowl against Florida State.
"I've been doing this for years," Smith said. "A lot of credit goes to my high school coach for preparing me for the next level. Then I just had to learn this offense, and I've pretty much mastered it. Now, it's about attacking defenses."
Smith said he never lost his calm in the Marshall game. Well, except for the time late in the game when he demanded better effort from his offensive linemen, who were allowing all sorts of penetration by the Thundering Herd defense much of the night. He even threw his helmet down on the sideline.
"You never want to rub guys the wrong way or make them think you don't believe in them," Smith says. "But when you see guys get down on themselves or losing confidence, you have to let them know it's time to step up and play. I was just trying to get the guys riled up."
Here's another impressive thing about Smith: Despite being sacked three times, despite being hurried and hit several more and despite coughing up a fumble while being sacked in the fourth quarter, he kept his cool. He maintained his focus downfield, bought extra time in the pocket when he needed it and then took what was available on those two long drives instead of anxiously shooting for the home run. There are some senior quarterbacks who can't do all that, especially on the road in a rivalry game.
"The way he was stepping out of the pocket and stepping up and making the throws he did was just incredible for a young quarterback," guard Josh Jenkins said. "We all had a lot of confidence in him already, but seeing him do those things makes us realize how great he really can be."
While Smith is leading the Big East in passing yards and completion percentage (72.2 percent), he's still young. Mullen said there were times in the Marshall game where Smith missed a read or his feet weren't set. Maybe if he makes those plays, the big comeback isn't needed.
"The stats look good and the outcome is fantastic, but there's still a lot of room for improvement," Mullen said. "He's got a long way to go, a long way to perfect his craft."
Still, Mullen calls Smith's poise "a gift," and coach Bill Stewart says his quarterback has got "it," that special quality all of the great ones have. That's illustrated by way Smith viewed others' reactions to his breakout performance.
"It got to the point where my phone was blowing up and Facebook was exploding and everything," he said of the aftermath of last week's win. "I appreciated the love people were showing me. But at the same time, I'm staying humble. I'm just going to work and make myself better."
That may be the most impressive thing of all about Geno Smith.
April, 15, 2010
4/15/10
7:30
AM ET
MORGANTOWN, W. Va. -- Wednesday was a fun and enlightening day at West Virginia. I spent a lot of time with the always gregarious Bill Stewart and even got to see
Geno Smith
go through a quarterback meeting with offensive coordinator Jeff Mullen. And of course I watched practice. Here are some quick thoughts and observations:
The team that came out for practice No. 6 won't be the same team you see this fall. At least Stewart hopes not. Several walking wounded wore non-contact jerseys, including receiver Bradley Starks (ankle) and running back Noel Devine (quad). Smith only participates in individual and skeleton drills, no team competitions. Cornerback Brandon Hogan didn't practice as he is concentrating on his academics. And Jock Sanders missed practice because of class. So it was far from a full deck, and Stewart said he was frustrated by a number of busted assignments and broken plays. You could tell the coaching staff's frustration, because after practice several defensive players were made to do up-downs, while the offensive guys ran sprints. Some defensive players argued with each other coming off the field."You have a couple of guys in [non-contact] jerseys, and all of a sudden your leadership starts spiraling down," Stewart said in disgust. "We may be a .500 football team, that's it."
Coley White is a busy man with Smith limited. White takes every snap during the 11-on-11 and other team drills. He's had a good spring and showed off a stronger arm than I -- and even other frequent Mountaineers observers -- expected a couple of times on Wednesday, on a touchdown pass to Stedman Bailey and a long one to Starks. Smith is almost certain to be the starter, but White can win games if needed at quarterback. The only bad news is his time is so important at quarterback that he can't work on his desired transition to receiver.
Only saw a little bit of Smith, but he made some nice throws. He's much bigger than last year, too. In fact, he later told me he's put on 25 pounds since the Gator Bowl, which is amazing.
Bailey, by the way, looked pretty good and made a nice adjustment on one ball. He could be important with very little depth at receiver now that Deon Long and Logan Heastie are gone (and barring a miracle, they aren't coming back).
Former cornerback Eddie Davis continues to work at receiver, but while he looked fast on the practice field, Stewart called him out as one of many players who did not know their assignments and plays Wednesday.
I'm very high on Ryan Clarke. The big, bruising runner steamrolled defensive back Darwin Cook at one point. No surprise, since Cook was yielding about 45 pounds in that matchup.
Stewart said he's happy with the left side of his line (Don Barclay and Josh Jenkins) and center Joe Madsen. But he wants to see much more improvement from the right side, where Eric Jobe is at guard and Matt Timmerman is at tackle.
The oddest sight during practice occurred in the end zone, where a couple of players apparently being punished had to slam a giant tire with a sledgehammer repeatedly. Reminded me of something out of "The World's Strongest Man" competitions. But it provided a good drum beat for practice.
Most discombobulating sight: Starks wearing No. 5 (Pat White's old jersey number) and Devine sporting No. 10 (Steve Slaton's former digits) in their green non-contact shirts.
Knee-jerk reaction of questionable merit: Hard to make a solid judgment on this team with so many important players out. But you'd think the Mountaineers would be a little sharper just because of all the returning starters who are back. It's still early in the spring for them, and there's plenty of time to turn things up. This team is too talented and experienced not to be a major factor in the Big East race.
February, 24, 2010
2/24/10
11:00
AM ET
Spring football in the Big East kicks off March 16. Here's a breakdown of three issues facing each program heading into the spring:

CINCINNATI
Spring practice starts:
March 17
Spring game:
April 24
What to watch:
Building depth: New coach Butch Jones said this is the biggest key for the spring. The Bearcats have a lot of top-flight players with starting experience back, like Zach Collaros, Armon Binns, Isaiah Pead and JK Schaffer. But there's a lot of youth and inexperience in potential backup roles, especially at positions like offensive line, linebacker and receiver. All slates are clean with the new coaching staff, and the spring will be a time when new names can emerge in key roles.
Defensive line retooling: Jones will switch back to the 4-3 after a year in the 3-4 scheme. Both starting defensive ends from last year are gone, but the smallish line was overpowered at times near the end of the season anyway. Derek Wolfe should be a fixture inside, Dan Giordano, Brandon Mills and John Hughes step into more prominent roles. Jones will have to decide whether to make Walter Stewart a defensive end or keep him at outside linebacker. The Bearcats could use a little more strength and bulk up front against the bigger Big East offensive lines.
Vidal's arrival: USC transfer Vidal Hazelton is eligible after sitting out last year. He reputedly dominated practices last season, and now he'll get to go full time with the first string. A lot of people will be watching closely to see how he and Collaros connect during the spring. A big year by Hazelton will lessen the loss of star wideout Mardy Gilyard and could keep Cincinnati as the Big East's best offense.

CONNECTICUT
Spring practice starts:
March 16
Spring game:
April 17
What to watch:
Secondary matters: UConn returns a truckload of starters and looks rock solid in most areas. But the defensive backfield will be an area of emphasis starting in the spring. Gone are stalwarts Robert McClain and Robert Vaughn from a secondary that got picked apart much of the season by opposing passing games. Dwayne Gratz and Blidi Wreh-Wilson showed progress by the end of their redshirt freshmen seasons and should be the starting corners. The Huskies need someone to replace Vaughn at safety and overall better performance from the unit.
Frazer vs. Endres: Zach Frazer and Cody Endres have been splitting starts since the second half of the 2008 season at quarterback. Endres took over early last year and played well until he suffered a season-ending shoulder injury. Frazer picked things up late after a slow start. The competition should be back on this spring, with Frazer probably holding the edge given his late-season improvement.
Catch as catch can: Receiver was a major question for UConn going into last spring, when walk-on senior Marcus Easley surprised everybody with his giant leap forward. He became the go-to guy in 2009, but now he's gone, along with starter Brad Kanuch. So the Huskies are basically back in the same position as this time a year ago, needing to find some reliable pass catchers. Kashif Moore may be the next to break out after some good, late-year performances. And perhaps former highly-touted recruit Dwayne Difton will emerge. UConn hopes to catch lightning in a bottle again like it did with Easley.

LOUISVILLE
Spring practice starts:
March 24
Spring game:
April 16
What to watch:
Switching to Strong: The Cardinals will have their first practices under new coach Charlie Strong, who promises to bring a much different style than former coach Steve Kragthorpe. Strong is known as being an intense guy on the field, and as a former top-flight defensive coordinator, he will likely be particularly demanding of players on that side of the ball. There will be new terminology to learn, new assistants and new standards to which the Cardinals must adjust in a hurry.
The quarterback shuffle: Louisville had three quarterbacks -- Adam Froman, Justin Burke and Will Stein -- start games last year. All three will be given the chance to win the job in the spring, and mid-year enrollee Luke Woodley might see some snaps as well. Don't be surprised if this competition goes into the fall and if other newcomers like Dominique Brown get a look. Offensive coordinator Mike Sanford wants to run a Florida-style spread offense, which might favor the more mobile Froman if he chooses to go with a veteran under center.
Line play: The trenches have not been a particularly strong suit for Louisville the past couple of seasons, one of the reasons why the program has fallen out of annual postseason play. The Cardinals have gotten very little pass rush from the defensive line and not enough of a consistent push from the offensive line. Strong asked the offensive linemen to rework their bodies to prepare for the spread, and he'll need replacements for two senior defensive tackles. Junior-college imports Randy Salmon and Tyler Harrell will have a chance to impress on the defensive line. If the holdovers don't step up, we could see more newcomers in key spots by the summer.
Posted by ESPN.com's Brian Bennett
• One-third of the way through spring practice, Louisville doesn't have a quarterback favorite yet, Michael Grant writes in The Courier-Journal.
• West Virginia basically has two guys at tailback and needs Mark Rodgers to take on a
heavy load
, Mike Casazza writes in the Charleston Daily Mail.
• Mountaineers offensive lineman Josh Jenkins learned a lot in his injury-shortened freshman season, including the NCAA redshirt rules, Dave Hickman says in the Charleston Gazette.
• The Examiner's Tom Edrington suggested that Jim Leavitt run a 40-yard dash against students before the spring game, and the South Florida coach said he liked the idea.
"I might run a 5.9," Leavitt said, "but that's something I'd consider doing. You could show me running up on the JumboTron."
• The Cincinnati Enquirer's Bill Koch has a preview of the Bearcats'
spring practice
, which starts on Tuesday.
October, 29, 2008
10/29/08
12:02
PM ET
Posted by ESPN.com's Brian Bennett

Connecticut: Donald Brown's amazing season has left Andre Dixon a forgotten man this season. Dixon actually led the Huskies in rushing last season, but he's only gotten three carries this year as Brown has piled up more than 1,300 yards. Dixon was slowed by an ankle injury at the start of the year but is healthy now. UConn coach Randy Edsall says Dixon hasn't done anything wrong and is contributing on special teams; there just aren't enough handoffs to go around the way Brown is performing.

South Florida: The Bulls' comeback attempt at Louisville was hampered by injuries. Running backs Mike Ford and Jamar Taylor were limited, while starting right tackle Marc Dile (leg), tight end Trent Pupello (head) and linebacker Brouce Mompremier (head) got hurt and had to leave the game. True freshman Danous Estenor took over for Dile, who returned to practice this week. Senior guard Zach Hermann, who has been out since the opener with a broken foot, will travel to Cincinnati and may play.

Syracuse: The Orange hope to have two additions to their backfield on Saturday against Louisville. Fullback Tony Fiammetta should be good to go after missing the South Florida game with a lower leg problem, while backup tailback Delone Carter appears ready after sitting four games with a hamstring injury. Fiammetta is important as both a blocker and in the receiving game, while Carter can either give starting halfback Curtis Brinkley a breather or come in on two-back sets.

Pittsburgh: The season-ending ankle injury to center Robb Houser means that fifth-year senior Dom Williams will return to the starting lineup. Williams will play left guard, while C.J. Davis moves over to center. Williams, the team's oldest player at 24, started the first two games of 2005, including one against this week's opponent, Notre Dame. If Williams falters, Pitt will probably turn to true freshman tackle Lucas Nix.

West Virginia: The Mountaineers shredded Auburn's defense in last week's 34-17 win without one of their most effective offensive players. Backup quarterback Jarrett Brown did not play because of lingering shoulder and thigh injuries. West Virginia had been using Brown in the backfield with Pat White as a blocker/runner/decoy on short-yardage situations. Brown has practiced this week and should be ready to play at Connecticut. Freshman right guard Josh Jenkins, out since the Rutgers game with a knee injury, could return to add depth to the offensive line.