September, 22, 2014
9/22/14
4:00
PM ET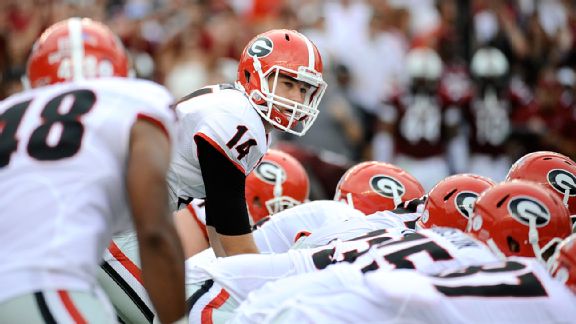 AP Photo/Rainier EhrhardtThe Volunteers' secondary will be a good test to see whether Hutson Mason can stretch the field.
Georgia's showdown with Tennessee on Saturday is the perfect test for the Bulldogs at this point in the season. The Vols (2-1, 0-0 SEC) pose the exact threat that Georgia needs in order to take the next step in its 2014 progression.
We know the 12th-ranked Bulldogs (2-1, 0-1) can run for days (they're second in the SEC averaging 304 rushing yards per game and lead the league with 7.7 yards per rush), but the jury is still out on whether quarterback
Hutson Mason
can consistently throw down field. We also need to see Georgia's secondary step up and show that it can start limiting the big plays in the passing game.
Look, the East is an absolute mess right now. There is no dominant team, but even though the Dawgs are looking up at South Carolina in the division after a head-to-head loss in Columbia, they still might have the best path to Atlanta. Having running back -- and Heisman Trophy contender --
Todd Gurley
gives Georgia a chance in any game. And did I mention that the East is a total crapshoot?
But if the Dawgs are going to avoid another loss or slogging through conference play, they have to be able to throw the ball and stop the pass.
Mason knows this offense backward and forward. No one is debating that, but what we haven't seen from him is any sort of down-field threat. The longest pass Mason has completed this year is a 36-yarder to
Isaiah McKenzie
on the first play from scrimmage for the Dawgs against South Carolina. After that, Mason was reduced to intermediate passes against a defense that
wanted
Mason to try and win the game, meaning they were more concerned with Georgia's running game.
Think about this: South Carolina's defense, which had allowed 832 passing yards in its first two games allowed Mason to throw for just 191 yards.
You have to take advantage of a defense like that, and Mason didn't.
I totally get that not having
Malcolm Mitchell
and
Justin Scott-Wesley
on the field takes away two huge big-play threats, but
Chris Conley
is a vertical monster and you can't sit there and tell me that no one else is able to run some deeper passing routes in that receiving corps. Whether there's a confidence issue there with the receivers or Mason, if Georgia's offense is going to take some heat off of Gurley, it needs to be able to spread the field more with its passing game, and Tennessee's secondary provides a nice challenge for Mason.
Tennessee cornerbacks
Cameron Sutton
and
Justin Coleman
and safety
Brian Randolph
pose the biggest threat to Georgia's passing game so far. The Vols had yet to allow 200 yards passing until Oklahoma's
Trevor Knight
threw for 308 two Saturdays ago, but with two weeks to prepare, you have to think that this secondary will be polished for the Dawgs. but here's something that should perk Mason's ears: Tennessee surrendered
five passing plays of 20-plus yards to Oklahoma.
Saturday could prove to be a real turning point for Mason, as a passer, if he performs well against Tennessee's secondary. The Vols won't make it easy, but it's a great way to boost his confidence if he can start to get into rhythm throwing down field.
As for Georgia's secondary, the combo of quarterback
Justin Worley
(721 yards, six touchdowns and three interceptions) and receiver
Marquez North
(14 catches, 173 yards and two touchdowns) is a challenge for anyone. Worely has mad some fantastic throws during the early part of the season, while North continues to show why he needs to be in the conversation with the league's top receivers.
You also can't forget about Alton "Pig" Howard or
Josh Smith
, who have combined for 23 catches this year. Smith is still nursing a high-ankle sprain, but he hasn't been ruled out of Saturday's game.
Need a dynamic weapon to take some pressure off of North, well, the Vols have one in freshman receiver
Josh Malone
, who seems to be improving each week.
Georgia's secondary looked good against Troy, but so has everyone else this year. It didn't look good against South Carolina when
Dylan Thompson
torch the Dawgs over the middle of the field and finish with 271 yards and three touchdowns.
There has been a lot of rotation in Georgia's defensive backfield, and defensive coordinator Jeremy Pruitt has made it clear that he's going to challenge his secondary and put them in more man-to-man situations.
Well, this is a great game to see how far those guys have come.
May, 9, 2014
5/09/14
1:00
PM ET
Spring football, for obvious reasons, is a chance to start fresh. But it's all a matter of degrees. Auburn, coming off a trip to the BCS National Championship Game, doesn't need a full-blow makeover with
Nick Marshall
back under center and seven other returning starters on offense. South Carolina, Mississippi State and Ole Miss, which bring back a healthy amount of experience, are all in similar boats, building upon last year's success rather than rebuilding entirely.
And then there's
Tennessee
.
[+] Enlarge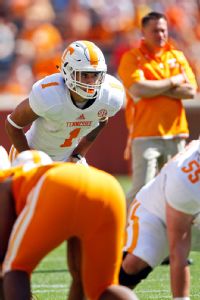 AP Photo/Wade PayneRB Jalen Hurd is one of many new faces making an impact for the Vols, and there are more on the way.
Common sense dictates that every year roughly 25 percent of any given roster turns over as the senior class departs and a new freshman class steps in. Throw in a few underclassmen leaving early for the draft and that number can swell to anywhere from 30-35 percent. But Butch Jones isn't dealing with a normal situation at Tennessee. Since taking over the Vols late in 2012, he has hit the recruiting trail hard in an effort to rework the roster in a hurry. His
first full signing class
in February featured a jaw-dropping 35 prospects, 14 of which made their way to campus early to participate in spring practice.
"Fifty percent of our players were going through spring practice for the first time," Jones said on a conference call earlier this month. "We're still dealing with the realities of building a football program in an elite conference, but I thought out players were very focused. As we continue to move forward, this summer is going to be very big for our overall development in all phases.
"I thought our program benefited from 14 newcomers. I thought they brought a whole other level of energy and competition and that competitive culture that we speak about each and every day. I thought we took tremendous strides improving as a football team and as a football program."
Tennessee will need to make improvements in leaps and bounds if it wants to stay competitive in the SEC. While the rest of the East lost its fair share of starters (
Aaron Murray
and
Jadeveon Clowney
, among others), the Vols were hit where it hurts most as a grand total of zero starters return on either the offensive or defensive lines. Without a true incumbent at quarterback, look for a real youth movement in Knoxville this season, maybe more so than we saw in Year 1 under Jones.
Jones called spring practice "extremely productive" and said that "great progress" was made in terms of developing an identity and style of play. But what had him "very excited" were all the new faces he saw for the 14 practices and spring game.
Jalen Hurd
, the No. 8 running back in the ESPN 300, and wide receiver
Josh Malone
, a fellow four-star prospect who was No. 43 overall in the ESPN 300, made a positive impression on the staff since arriving on campus, and the two were the first to score touchdowns in Tennessee's spring game. Defensive back
Emmanuel Moseley
, a candidate to start at cornerback, and linebacker
Jakob Johnson
, whom Jones called an "alpha male," also stood out. Junior college wideout
LaVon Pearson
, who is 6-foot-3 and was the No. 2 player at his position in ESPN's Junior College 50, is expected to make a contribution, along with junior college transfer
Dontavius Blair
, an offensive tackle.
All told, six of the 14 early enrollees were offensive or defensive linemen.
"I thought our older players did a great job of teaching the 14 newcomers our culture, our standard of excellence, our expectations, our mindset, really what it means to play here," Jones said. "I think it was a big, not a wake-up call, but I think it was great that for the spring game we had almost 69,000 people, and we needed that to happen because we needed to see those youngsters in that type of environment and see how they could compete individually."
Moving ahead, Tennessee should benefit substantially from a new NCAA rule that allows for more contact between players and coaches during these summer. As Jones said, "the rule change is coming at the right time for us."
It will be a balancing act, however, because whatever time coaches spend with players will be deducted from the strength and conditioning room. Not only does Jones want his guys getting physical reps, he wants "mental reps in a classroom setting."
"Being a player-led football team is critical," he said. "The leadership, and everything that goes along with it, the team chemistry, that's necessary to win. To be able to have two hours in a classroom setting will prove to be extremely beneficial to us because of the influx of newcomers that we have in our program."
Don't look now, but even more rookies are on the way. Safety
Todd Kelly Jr.
and linebacker
Dillon Bates
, both top-five prospects at their respective positions, are among the remaining signees to get to school this summer.
"Most of our signees were early enrollees," Jones said. "Now we get the infusion of the depth and competition with the 18 newcomers coming in. I believe, 16 are on the defensive side of the ball, so we should be a different defensive football team."
March, 28, 2014
3/28/14
9:00
AM ET
KNOXVILLE, Tenn. -- Butch Jones has seen enough of Team 118 this spring to know that it should be faster, more athletic and more talented next season.
For those not up on Jones' lingo, Team 118 is his pet name for the 118th football team in Tennessee's proud history and the second one that he will coach.
As Rocky Top's master brick layer, Jones' task is clearly stated: making Tennessee football whole again by building it back brick by brick.
"If you're going to do it right, that's the only way," Jones said. "There are no shortcuts."
That's easier said than done, especially with a win-starved fan base hanging on every shred of hope. The Vols have suffered through four straight losing seasons and haven't had a winning SEC record since 2007, Phillip Fulmer's next-to-last season.
That was four head coaches ago.
"We're still not where we need to be to compete at a high level in this conference, but we have taken great steps in moving forward by increasing our team speed and overall athleticism, and the exciting thing is that there are 18 more newcomers arriving in June," said Jones, who was 5-7 in his first season at Tennessee, which included a win over No. 11 South Carolina.
[+] Enlarge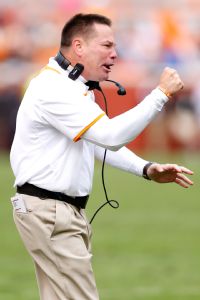 Joe Robbins/Getty ImagesButch Jones knew all along that his second season at Tennessee would be challenging.
A large chunk of a signing class, ranked No. 5 nationally, is already on campus. Including junior college signees, the Vols brought in 14 early enrollees. Many of those will play key roles next season, and a handful may start.
Junior college offensive tackle
Dontavius Blair
and junior college receiver
Von Pearson
won't have to wait long to get on the field, and the same goes for freshman running back
Jalen Hurd
, freshman receiver
Josh Malone
and freshman offensive tackle
Coleman Thomas
.
"We only have 13 seniors in the program," Jones said. "We'll be much more talented, but very youthful. It's kind of invigorating, though, because this football team has been willing and they've been eager. We've just got to teach them."
What you can't teach is experience, strength and explosiveness in the offensive and defensive lines, and that's where Jones' greatest concern lies with Team 118.
He knew when he took the job that his second season might be his most challenging after seeing what the Vols had coming back up front. All five starting offensive linemen from a year ago are gone as well as their top five tacklers in the defensive line and seven defensive linemen from their 2013 opening-day roster.
"I knew right away when I studied the roster that we were in trouble in Year 2 in terms of depth and experience," Jones said. "We had to make a commitment in recruiting. We have to get back to attracting the top-level offensive and defensive linemen to the University of Tennessee. We've had them. You look at all the great offensive and defensive linemen who played here, and now the opportunity to play early and at an institution that has that tradition in the line of scrimmage is as great as it's ever been."
The truth is that Jones won't have a good feel for what his defensive line will look like next season until the rest of the freshmen start rolling in this summer. Sophomore
Corey Vereen
has been impressive at one end this spring, and redshirt junior
Curt Maggitt
is going to move around and play a lot with his hand down. But the Vols will need freshmen
Derek Barnett
,
Dewayne Hendrix
,
Charles Mosley
and
Michael Sawyers
to come in and help right away in the defensive line.
"It still has to evolve, and right now, that's just where we are," Jones said. "We're going to have to play true freshmen. And as we know, this is an unforgiving league when it comes to the line of scrimmage. But it is what it is. We've been talking to them a lot. They have to have a great next few months at home while they're finishing up high school, and then when they get here in June, we have to get as much out of them as we can, get them bigger and stronger.
"That's just where we're at in the program. We're going to have to rely on true freshmen."
From what he has seen so far from some of the newcomers already on campus, Maggitt isn't sure that's such a bad thing.
"One of the things you see is some good competition at different positions with these new guys, and you're going to see even more when the rest of them get here this summer," Maggitt said. "I can already tell that we'll be a better team and a faster team."
And maybe the team that puts an end to the longest drought in modern Tennessee football history.
"We all have the same goal, and that's getting Tennessee back to where it's supposed to be," Maggitt said. "We've got Coach Jones' back, and he has ours."