September, 4, 2014
Sep 4
10:00
AM ET
Back in 2007 new
Stanford
coach Jim Harbaugh seemed pretty foolish when, like a bombastic Don Quixote, he trash-talked
USC
and coach Pete Carroll. For no particular reason, he volunteered to a reporter that Carroll would soon bolt for the NFL. Then, at Pac-10 media day, a smirk flickered across his face when he archly announced that USC "may be the best team in the history of college football."
When challenged about his motives, he unveiled what became a program catchphrase: "We bow to no one at Stanford" -- pretty much saying he didn't give a rat's tookus if he bothered USC, Carroll or anyone else.
[+] Enlarge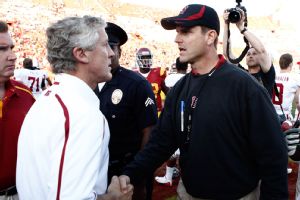 AP Photo/Matt SaylesThings started getting testy between Stanford and USC when Jim Harbaugh and Pete Carroll were at the helm.
Great fun ensued, of course. That first season, Harbaugh and Stanford shocked USC
24-23
as a 41-point underdog behind a backup QB, ending the Trojans' 35-game home winning streak. Any chance that would be viewed historically as college football's version of Halley's Comet was squelched in 2009 when Stanford drubbed USC
55-21
, aggressively running up the score in the fourth quarter, including a gratuitous attempt at a 2-point conversion.
"What's your deal?" an irritated Carroll famously asked a smug Harbaugh during a wonderfully ungenial handshake.
Nonetheless, we had no idea what the actual deal would become between USC and Stanford. Early on, Stanford's success appeared to be a curious and anomalous run, a surprising reversal of fortune that briefly thickened the Pac-10 plot but seemed certain to be only temporary. Carroll and Harbaugh would both bolt to the NFL, where their personal rivalry has remained just as spicy. USC's short-term future was burdened with NCAA sanctions. Stanford's future seemed burdened by, well, being Stanford, the most elite academic institution playing FBS football.
When David Shaw, a polished Stanford graduate, ascended from offensive coordinator to replace Harbaugh, few imagined he'd maintain a top-10 program. There was a suspicion that Harbaugh built what he did because he was crazy enough to make it happen. Shaw was way too normal.
Yet here we are, two days away from a renewal of what has become the Pac-12's most meaningful cross-division rivalry. While Stanford-Oregon mostly has decided the Pac-12 champion the past four years, there's been little drama in their actual games, with only the 2012 contest being an actual nail-biter.
Three of the past four USC-Stanford games have been decided essentially on the game's last play, twice by field goals, once in triple-overtime. Average margin of victory in those four games? Five points. National importance? Stanford may have played Florida State in the BCS National Championship last year if not for
being upset 20-17
at USC. In 2012, USC was ranked No. 2 in the nation before Stanford
exposed the Trojans 21-14
, starting a spiral from which former USC coach Lane Kiffin never recovered. QB
Andrew Luck
became Andrew Luck during thrilling Stanford wins in 2010 and 2011.
Both teams are star-laden NFL pipelines. Stanford, the two-time defending Pac-12 champ, enters this game ranked 13th, just a little annoyed at how Oregon and UCLA have grabbed the biggest preseason headlines in the conference. USC is 14th, a team with fewer than 60 available scholarship players but as gifted with its starting 22 as just about any team in the nation.
Both crushed overmatched foes last weekend and looked impressive in doing so. The Trojans added a wrinkle for this go-round by switching from their long-standing pro-style scheme to an up-tempo offense under new coach Steve Sarkisian, who notes "up-tempo" isn't a transition from a power to a finesse attack, only a means to create more touches for his talented skill players.
If the football part of football wasn't enough, if we needed to introduce some new drama and personalities at loggerheads to liven things up, it's worth noting that Shaw and Sarkisian engaged in a public war of words after last year's Stanford-Washington game. Sarkisian, then the Huskies' coach, accused Stanford of faking injuries in order to slow down his up-tempo offense, going so far as to specifically point a finger at Cardinal defensive line coach Randy Hart. Shaw wasn't happy with the accusation, and he opened that week's Pac-12 coaches teleconference with a lengthy and strongly worded statement.
"I believe it's unprofessional to call out an assistant coach on another team," Shaw said. "It's unprofessional and it's disrespectful. The only D-line coach that I know of that's ever instructed players to fake injury works at the University of Washington."
That would be controversial coach Tosh Lupoi, now working at Alabama, who was suspended in 2010 while at California for instructing players to fake injuries against Oregon. Sark, however, never backed away from his assertions.
[+] Enlarge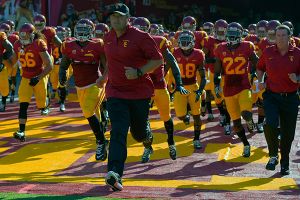 AP Photo/Mark J. TerrillSteve Sarkisian has his hands full with off-the-field drama at USC, but Saturday's game at Stanford is at the forefront of his worries this week.
While it might be fun if Sarkisian and Shaw continued to eyeball each other's throats, that doesn't seem to be the reality. It appears, rather, that they have agreed to disagree and let the issue die. Though they both admit they haven't revisited the conflict in order to make a formal peace, they also pointed out they've spoken amiably multiple times since then -- a couple of times, in fact, within range of reporters -- and they claim to respect and like each other.
"We had a disagreement in the heat of the moment; both of us have moved on," Sarkisian said.
Offered Shaw, "There is no animosity whatsoever."
Still, one suspects there are
at least some residual fumes from this squabble
, since a few Stanford players also took issue with Sarkisian's accusation.
There is another Shaw on the sidelines of this game, though figuratively: USC CB
Josh Shaw
, who last week went from heroic to notorious. Coupled with
Anthony Brown
calling Sarkisian a racist after the running back quit the team -- a charge that has been supported by absolutely no one -- USC was dealing with substantial tumult and unfavorable national headlines last week. It may have been a bit surprising that the Trojans overcame those distractions to efficiently dismantle Fresno State
52-13
, setting a Pac-12 record by running 105 plays.
An easy way for Sarkisian to change the narrative around his program and to win over Trojans fans who remain skeptical about his hiring is to beat the Cardinal on Saturday. Winning cures just about everything in college football.
In any event, even without Harbaugh and Carroll sniping at each other, we know the deal between USC and Stanford. It has endured as an annual battle imbued with drama and meaning, with the winner Saturday likely pushing into the top 10 and announcing itself as a Pac-12 and national contender.
And who knows? Maybe the postgame handshake will offer up another memorable exchange.
August, 28, 2014
Aug 28
11:00
AM ET
The 2014 Pac-12 season starts tonight, and that is unquestionably a righteous thing. The first week's slate of games? Well, it's not exactly going to awaken any echoes. Still, Confucius say he who casts a disrespectful glance at a season opener finds his beer warm and his prayers to the college football gods unanswered.
Yet with all due respect, the Pac-12 plays five games versus overmatched FCS foes and is double-digit favorites in four other games. The only underdog is California, which visits Northwestern.
Ah, but that second Saturday. That, my friends, is a biggie. Not entirely across the conference, but two games will attract beaucoup Pac-12 and national eyeballs and are decidedly meaningful in terms of setting up the first season of the College Football Playoff.
[+] Enlarge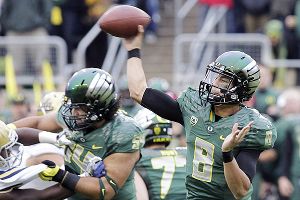 AP Photo/Don RyanMarcus Mariota and Oregon can make a significant statement with a win over Michigan State in Week 2.
Start with No. 8 Michigan State's visit to No. 3 Oregon. This might be the biggest nonconference matchup of the season, and it's even bigger after the season-ending injury to Ohio State QB
Braxton Miller
. The Spartans are now the clear favorites in the Big Ten, as the Ducks are the popular preseason pick in the Pac-12. It might look like a Rose Bowl, but it probably ends up operating like a CFP elimination game. Or validation game.
It's an intriguing matchup, too: Celebrated offense versus celebrated defense, with the Ducks, led by preseason Heisman favorite
Marcus Mariota
, facing Spartans defensive coordinator Pat Narduzzi, who might be the best in the business.
Meanwhile, No. 11 Stanford plays host to No. 15 USC. The Trojans used to feast on the Cardinal. Now this is a bitter and highly competitive rivalry. What makes this game fun is the rivalry is as much player-based as fan based. That bitterness ignited between Pete Carroll and Jim Harbaugh -- "What's your deal?" -- and has maintained its burn over the past few years, with the teams exchanging major upsets the past two seasons.
It also won't cool things down, at least in terms of perception, that new Trojans coach Steve Sarkisian and Stanford coach David Shaw were
at public loggerheads last year over the Cardinal allegedly faking injuries
in a tight victory over Sark's Washington team. While it might be responsible to note that Shaw and Sarkisian seem to get along well and chat amiably at coaching functions, that would de-sensationalize an angle the Pac-12 blog would prefer to jump up and down and point at next week.
It also has been established, though less publicly, that more than a few Stanford players were extremely unhappy with Sarkisian's accusation, most notably DE Ben Gardner, whose NFL career has already
been waylaid by the shoulder issue that hampered him against the Huskies
.
We also must add that the irreverent Stanford band surely is already clicking its collective heels over the possibilities the "
Josh Shaw
Tall Tale of Heroism
" offers for a halftime snark.
Even if you cast aside the emotions, this is a big Pac-12 game. The winner figures to establish itself as a top-10 team and national contender. While they occupy different divisions, one will end up 0-1 in conference play and the other will be 1-0. In what figure to be tight races in both divisions, that one-game swing could prove critical.
A USC victory would be a significant event in the South Division. The Trojans don't play Oregon, as UCLA does. Arizona State doesn't, either. The Bruins and the Sun Devils both play Stanford. The Sun Devils visit USC. In other words, in terms of schedule strength among the contenders, a USC win over Stanford might change the perception of the South race.
Of course, from a coach's perspective we are getting ahead of ourselves. USC plays host to Fresno State on Saturday. While the Bulldogs don't look like the formidable foe the Trojans whipped in the Las Vegas Bowl a year ago, they certainly have a pulse. Stanford plays UC Davis and Oregon plays South Dakota. Both will roll, though some Davis folks have pointed out the Aggies upset the Cardinal in 2005, one of the notable moments of Walt Harris' coaching tenure.
As you well know, sports teams play one game at a time.
"We approach this game, literally, exactly like every other one," Oregon coach Mark Helfrich said of South Dakota and, by extension, Michigan State. "To do anything else would be a conflict of our process, disrespectful to our opponent and to the game."
While Helfrich and Shaw admit that they spent plenty of time this offseason reviewing Michigan State and USC/Washington film knowing about their big dates in Week 2, the nature of football is routine, and routine dictates you prepare for each game the same way.
Dangers of looking ahead this week? Unlikely. For one, it's the first game of the season. The opportunity to play a real game in front of a crowd after a long preseason camp is a reward in itself. Don't expect players to be blasť and unfocused.
And there are stakes for players in game one, no matter how undecorated the foe is, according to Shaw.
"We have a lot of guys still competing for things, for who's going to get more playing time," he said. "I'd feel bad for the guy who shows a sign of not focusing on the task at hand. He's going to meet with a
not very happy Coach Shaw
."
August, 26, 2014
Aug 26
1:52
AM ET
Josh Shaw captured America's heart Monday when exploits of his
heroic jump from a second-floor balcony
to save his 7-year-old nephew from drowning spread across the Internet.
It was a tough pill for those at USC swallow considering the leap onto concrete below left Shaw with a pair of high ankle sprains that will sideline him indefinitely, but in no way were his actions surprising.
In May, Shaw was selected as one of the commencement speakers at USC's student-athlete graduation ceremony and his speech gave a small glimpse into the type of person he is. Athletic director Pat Haden gave a nice introduction -- Shaw went to Haiti with other USC athletes to build houses -- and the six minutes it takes to watch are well worth your time.
Among other things, Shaw reflected on his decision to transfer from Florida back to Southern California to be closer to his family in Palmdale after his grandfather became seriously ill and his father was unable to run the family landscaping business due to surgery.
Here's to a speedy recovery for Josh.
August, 14, 2014
Aug 14
10:30
AM ET
»
More team previews:
ACC
|
Big 12
|
Big Ten
|
Pac-12
|
SEC
Previewing the 2014 season for the
USC Trojans:
2013 record:
10-4, 6-3 Pac-12; beat
Fresno State 45-20
in the Las Vegas Bowl.
Final grade for 2013:
: B-minus. That might seem high for a season in which the Trojans lost to Notre Dame and UCLA and fired their head coach, but the Trojans showed mental toughness instead of imploding, winning 10 games, a bowl game and achieving a final top-25 ranking.
[+] Enlarge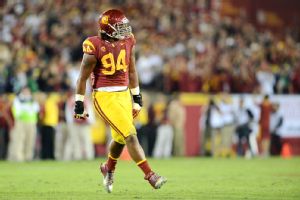 Allen Kee/ESPN ImagesCan Leonard Williams and the Trojans' defense beat ASU and Arizona in back-to-back weeks in 2014?
Key returnees:
WR
Nelson Agholor
, QB
Cody Kessler
, RB
Javorius Allen
, DT
Leonard Williams
, LB
Hayes Pullard
, CB
Josh Shaw
.
Key losses:
WR
Marqise Lee
, C
Marcus Martin
, OLB
Devon Kennard
.
Projected win percentage (ESPN.com Stats & Information):
0.711
Chances to win the conference (ESPN.com Stats & Information):
: 10.8 percent
Instant impact newcomers:
OG
Toa Lobendahn
, WR/DB
Adoree Jackson
, WR
JuJu Smith
, DT
Delvon Simmons
.
Most important game:
Nov. 22 at UCLA. The Bruins have won two in a row in the series. New coach Steve Sarkisian could endear himself to fans by ending that streak.
Biggest question mark:
Depth. If the Trojans trot out their best 22, they can play with anyone. But they are still working with substantial depth issues due to the residual effects of NCAA sanctions. Two major injuries on defense, season-enders for OLB
Jabari Ruffin
and talented DT
Kenny Bigelow
, already have put a damper on preseason camp.
Best-case scenario for 2014:
11-1
Worst-case scenario for 2014:
7-5
Over-under win total (
Bovada
):
9
Upset special:
Oct. 11 at Arizona. The Trojans are going to want a piece of Arizona State on Oct. 4, as the Sun Devils humiliated them in Tempe a year ago. That might leave them emotionally spent before a tough trip to Tucson.
They said it:
"I don't look at the stat box. I look at who won. Most of the time, if you look at who won, I can tell you how the quarterback played." -- USC QB Cody Kessler on whether he compares his numbers with the other Pac-12 QBs.
January, 9, 2014
Jan 9
9:00
AM ET
Who were the Pac-12 standouts this bowl season? Here are our picks.
OFFENSE
[+] Enlarge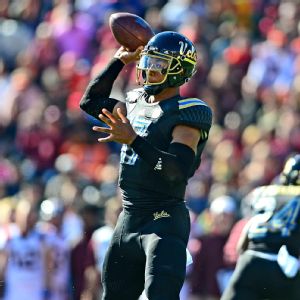 Andrew Weber/USA TODAY SportsBrett Hundley finished the season with a strong performance in the Bruins' bowl win.
QB Brett Hundley, UCLA
: Hundley accounted for four touchdowns in the Bruins' 42-12 win over Virginia Tech in the Sun Bowl. He rushed for 161 yards on 10 carries -- 16.1 yards per run -- with two touchdowns and he also completed 16 of 29 passes for 226 yards and two scores. Other QBs had nice games, but Hundley put up big numbers against an outstanding defense.
RB Ka'Deem Carey, Arizona
: In the AdvoCare V100 Bowl win over Boston College, Carey rushed for 169 yards on 27 carries and two scores, averaging 6.3 yards per rush. He decisively outplayed Boston College RB
Andre Williams
, who won the Doak Walker Award and was a Heisman Trophy finalist.
RB D.J. Foster, Arizona State:
Despite being banged up, Foster rushed for 132 yards on 20 carries -- 6.6 yards per carry -- in the Sun Devils' 37-23 loss to Texas Tech in the Holiday Bowl. He also caught five passes for 23 yards.
WR Marqise Lee, USC
: In his career finale, Lee caught seven passes for 118 yards with two touchdowns in USC's win over Fresno State in the Las Vegas Bowl.
WR Nate Phillips, Arizona
: Phillips, a true freshman, caught nine passes for 193 yards in the Wildcats' win over Boston College.
WR Josh Huff, Oregon
: Huff caught five passes for 104 yards and a touchdown in Oregon's 30-7 win over Texas in the Valero Alamo Bowl.
OL Xavier Su'a-Filo, UCLA
: Su'a-Filo led the Bruins' offensive line against a tough Virginia Tech defense. UCLA rushed for 197 yards against a top-10 rushing defense and yielded only two sacks.
OL Abe Markowitz, USC
: The sixth-year walk-on stepped in at center for an injured
Marcus Martin
-- the Trojans' best offensive lineman this season -- and played well in the 45-20 win over Fresno State. The Trojans yielded only one sack and rushed for 154 yards. He was named the "Offensive Outperformer of the Game" by his coaches.
OL Jake Fisher, Oregon
: Fisher led a strong effort from the Ducks' offensive line in the win over Texas. Oregon rushed for 216 yards and yielded only two sacks. Fisher did a good job against Texas' top defender, end
Jackson Jeffcoat
.
OL Micah Hatchie, Washington
: Hatchie, the Huskies' left tackle, was the biggest reason BYU didn't record a sack in the Fight Hunger Bowl, a 31-16 Huskies victory. Washington also rushed for 190 yards.
OL Isaac Seumalo, Oregon State
: Seumalo led perhaps the Beavers O-line's best effort of the season. Oregon State rushed for 195 yards and yielded no sacks.
K Travis Coons, Washington
: Coons made a 45-yard field goal against BYU -- the longest Pac-12 postseason field goal -- and was good on all four of his PATs.
DEFENSE
DL Scott Crichton, Oregon State
: Crichton had three tackles for a loss, a sack, a forced fumble and pass breakup in the win over Boise State.
DL Taylor Hart, Oregon
: Hart had a game-high 11 tackles, with half a sack and a forced fumble in the Ducks' win over Texas.
DL Hau'oli Kikaha, Washington
: Kikaha had nine tackles with three sacks and a forced fumble in the Huskies' win over BYU.
LB Shayne Skov, Stanford
: Skov had nine tackles, three tackles for a loss, a sack and a forced fumble in Stanford's 24-20 loss to Michigan State in the Rose Bowl.
LB Jake Fischer, Arizona
: Fischer had a game-high 14 tackles in the Wildcats' win over Boston College. He also had a sack and 1.5 tackles for a loss. Arizona held Williams to only 75 yards on 26 carries.
LB John Timu, Washington
: Timu had a game-high 14 tackles, a sack and an interception in the Huskies' win over BYU.
LB Jabral Johnson, Oregon State
: Johnson had a game-high 12 tackles, a sack and a quarterback hurry in the Beavers' win over Boise State.
DB Rashaad Reynolds, Oregon State
: Reynolds had 10 tackles and returned two fumbles for touchdowns in the Beavers' win over Boise State. The fumble returns went for 70 and 3 yards.
DB Avery Patterson, Oregon
: Patterson had nine tackles and returned an interception 37 yards for a touchdown in the win over Texas.
DB Josh Shaw, USC
: Shaw held Fresno State receiver
Davante Adams
to nine receptions for 73 yards in the Trojans' win over the Bulldogs. He finished with six tackles and had an interception in the end zone.
DB Anthony Jefferson, UCLA
: Jefferson had seven tackles, shared a tackle for a loss and had a pass breakup in the Bruins' win over Virginia Tech. The Hokies completed only 15 of 36 throws for 176 yards.
P Ben Rhyne, Stanford
: With five punts, Rhyne averaged 49.8 yards per boot in the Rose Bowl.
December, 23, 2013
12/23/13
9:00
AM ET
When you cup your hands around USC's 45-20 blowout victory over No. 20 Fresno State in the Royal Purple Las Vegas Bowl and assume singular focus on the event itself, it's impossible to not be impressed, to not think, "Now that is USC football."
Then when you put it in the context of the tumultuous season -- a maelstrom of coaching uncertainty and chaotic swings of momentum -- it seems like Trojans fans should officially declare the strangest season in program history at least a moderate success, perhaps as successful as it could have been. Well, other than losses to Notre Dame and UCLA.
[+] Enlarge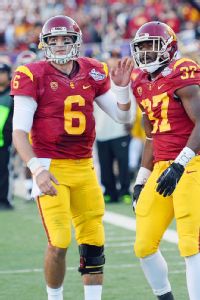 Ethan Miller/Getty ImagesThings seem to be looking up for Cody Kessler, left, Buck Allen and the Trojans.
Still, winning 10 games, including a bowl game, and ending up nationally ranked is pretty respectable when it's produced by an injury-ravaged, scholarship-reduced team that has called four different men its head coach between August and today.
Further, it shows the players have pride. A substantial handful -- both seniors and underclassmen -- are eyeballing the NFL draft, and it wouldn't have been shocking if they gave an indifferent performance against Fresno State, a team that arrived with plenty of motivation. Quarterback
Cody Kessler
told Kevin last week
that the Trojans were focused and motivated, and it proved to me more than empty, tell-the-reporter-something-pretty talk.
Said Kessler, "Getting us to 10 wins puts us in an elite group. We have a chance to finish things off right -- especially for our seniors. These guys have been through everything. Sanctions. Coaching changes. We owe it to them to give it everything we've got to get a win."
So the players who are leaving, which might include leading juniors such as receiver
Marqise Lee
, defensive end
George Uko
, linebacker
Hayes Pullard
, safety
Dion Bailey
and cornerback
Josh Shaw
, can feel good about how they finished things. If this performance was a tribute to former interim coach Ed Orgeron, then you can be sure Coach O was howling with delight somewhere while watching the game.
But what about those who are staying?
The big news coming out of the Las Vegas Bowl other than the final score was that new coach Steve Sarkisian will retain offensive coordinator Clay Helton, who served as the interim head coach for the bowl game. That's probably good news for Kessler, who blossomed once Helton took over the offense from fired coach Lane Kiffin.
Of course, Sarkisian, like Kiffin, calls his own offensive plays, so if another opportunity arises for Helton, particularly one that includes play-calling duties, he might opt to leave.
In fact, who's staying and who's going applies to both the players and coaches. We probably won't get official word on the makeup of Sarkisian's staff until after Washington, his former team, plays BYU in the Fight Hunger Bowl on Friday night. The Huskies under new coach Chris Petersen also have kept their plans quiet.
The big questions: Will Huskies defensive coordinator Justin Wilcox and quarterbacks coach Marques Tuiasosopo follow Sarkisian south? If Wilcox shortly arrives at Heritage Hall, then where does current USC defensive coordinator Clancy Pendergast end up? In one year, he transformed one of the nation's most underachieving defenses into one of its best. Hard to imagine he stays unemployed for long.
This whole blending together of USC's and Washington's -- and Washington's and Boise State's -- 2013 staffs has certainly inspired plenty of gossip among other assistant coaches.
Another question: Tosh Lupoi.
The Huskies ace recruiter and defensive line coach is being investigated by the NCAA following allegations that he paid for private tutoring for Husky football recruit Andrew Basham, with Basham's former high school track coach, Mike Davis, spilling the beans to the Los Angeles Times and Seattle Times last week.
What that means in the short term is that Lupoi won't be hired by USC, and he might be out of a job until the NCAA rules on his case. What it means in the big picture for two Pac-12 football programs in transition is hard to say, as Washington, USC and Sarkisian have significant interests in the matter.
Due to new NCAA rules, Sarkisian could be exposed, which means USC could suffer for violations that occurred in Seattle.
And, yes, feel free to question the timing of these allegations being reported and speculate on where the sour grapes originated that spawned the investigation.
An offshoot of Lupoi's troubles is the Trojans' need for a defensive line coach, which probably is why Sarkisian
told ESPNLA 710
on Sunday that he's going to make another run at Orgeron to see if he's interested in returning to USC.
That could be interesting. Or it could just be idle talk.
Once all the administrative and personnel issues are settled, then we'll start to take a measure of the Sarkisian administration and how things might stack up in 2014. Trojans fans first want to see where their team ends up on Feb. 5, national signing day. Then it's on to spring practice, where Kessler likely will have to prove himself again, though Helton staying on should provide his candidacy a boost.
USC's bowl win was impressive. It surely made Trojans feel good, inside and outside the locker room. But the reality is it was as isolated as a pleasant fan experience can be. A win in the Las Vegas Bowl and finishing in the lower half of the nation's top-25 isn't what Trojans pine for. With this next recruiting class the last one limited by NCAA sanctions, most are ready to see the program regain its footing among the Pac-12 and nation's elite.
Sarkisian officially took the keys of the program on Saturday. By Sunday, the euphoria from the bowl win probably started to waft away inside Heritage Hall.
The real business begins now.
November, 10, 2013
11/10/13
10:00
AM ET
Five things we learned in the Pac-12 this week:
1. Oregon has a Stanford problem
: Used to be the other way around. Last year it felt more like Oregon had a Stanford inconvenience, not so much a problem. This year, there is little doubt and few excuses. The Cardinal were dominant through 50 minutes and just good enough in the final 10. The extent of
Marcus Mariota
's injured knee remains a question. Still, he looked pretty spry in the fourth quarter, and there was ample opportunity along the way for the Ducks to make plays. But it was Stanford's defense that came up with the stops/turnovers and the offense that shoved its tempo right down the Oregon front seven. This was the offensive line we've been waiting to see. And let's not forget
Kevin Hogan
's mobility. He was good enough in the passing game, but his touchdown run was huge, as were his breaking three tackles on a third-down scramble. The Ducks still have national cred. They've done too much over the last four years to lose it with one game. But as long as Stanford continues to push them around, they won't be able to shake the questions about their physicality.
[+] Enlarge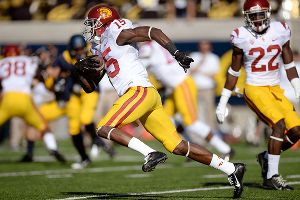 Thearon W. Henderson/Getty ImagesIt was another long day for Cal's special teams, which allowed two punt returns for TDs to USC's Nelson Agholor.
2. Cal has a special-teams problem
: We tip our cap to USC's
Nelson Agholor
for his two touchdowns on punt returns -- the first a 75-yard return in the first quarter to open scoring and the second a 93-yard return at the end of the first half. Those were, of course, contributing scores to USC's 62-28 shellacking of Cal, which is still seeking its first conference win. But this isn't the first time Cal's coverage team has had issues. Recall that it allowed two punt returns for touchdowns to Oregon's
Bralon Addison
, who ran back punts of 75 and 67 yards in the Ducks' home win in September. Adding insult to injury, the Trojans got a third "return for a touchdown" when
Josh Shaw
recovered a blocked punt.
Jared Goff
had his second interception-free performance in his last three games, so that's a positive. But there aren't many smiley faces around Cal right now. The Trojans became bowl-eligible with the win and are 4-1 since the coaching change. Their South Division hopes are still very much alive.
3. ASU almost had a problem
: First, give credit to Utah's defense, which once again came to play. And with the ASU offense struggling, it was the defense that stepped up and kept the Sun Devils in the game. Over the last four games, the Sun Devils are allowing fewer than 20 points per game. And they were clutch in the fourth quarter in the 20-19 win over Utah. The ASU defense held Utah to a three-and-out or a turnover in all five of the Utes' fourth-quarter possessions. And here's a fun note from our Stats & Info folks: According to ESPN's win probability model, Arizona State had a 7.1 percent chance of winning at the end of the third quarter. Entering this weekend, only 17 FBS teams have come back to win after having a win probability of 7.1 percent or lower. The offense finally came alive and scored 13 points in the fourth. Utah had won 49 straight games when leading at halftime.
4. No problems for the Huskies
: The Trojans weren't the only team to become bowl-eligible on Saturday. The Huskies picked up pivotal win No. 6 and are bowl-eligible for the fourth straight year after a brilliant performance from quarterback
Keith Price
, who was 22-of-29 for 312 yards with two passing touchdowns and one on the ground.
Bishop Sankey
turned in yet another solid performance with 143 yards and a score. The rebuilding Buffs have now lost 14 straight conference games. Washington has back-to-back road games at UCLA and Oregon State before closing out the year at home in the Apple Cup. The potential is there for nine or 10 wins, which would certainly assuage some of the midseason chatter about coach Steve Sarkisian.
5. Myles Jack = a problem for opposing teams
: How fun is that guy to watch? UCLA coach Jim Mora has been hinting for quite some time that we'd see the true freshman linebacker swap sides. And on Saturday we saw him tally eight tackles, recover a fumble in the end zone, and then as a running back carry the ball six times for 120 yards, including a 66-yard touchdown. That overshadowed
Ka'Deem Carey
's 149-yard rushing performance and a touchdown for Arizona -- Carey's 12th consecutive 100-yard rushing game, which is tops in college football. More importantly, the Bruins won in Tucson for the first time since 2003 and kept pace with the Sun Devils for the race in the South Division. Arizona is pushed aside, making it a three-way race among the Bruins, Trojans and Sun Devils.
April, 16, 2013
4/16/13
12:00
PM ET
Lane Kiffin and Co. have released their official post-spring two-deep depth chart. And not surprisingly, there aren't a lot of surprises.
One of the most watched quarterback competitions in the country lists
Max Wittek
OR
Cody Kessler
OR Max Browne. Leaving us with what we knew a month ago. It's going to be Wittek OR Kessler OR Browne.

Steve Bisheff of WeAreSC
makes his case
-- and a compelling one at that -- for Kessler, who clearly had the strongest spring of all three quarterbacks.
Despite Kessler's clear advantage coming into the (spring) game, Kiffin had Max Wittek starting with the first unit at the Coliseum on Saturday. And even after Kessler outplayed his main competitor, throwing for 242 yards and three touchdowns with no interceptions compared to Wittek's 145 yards, two touchdowns and two interceptions, Kiffin insisted that no quarterback had emerged as a front-runner for the position and that he won't name a starter until the fall.
Sticking with the offense, there was already an assumed pecking order at wide receiver, but it's more solidified now. Darreus Rogers and
Victor Blackwell
are behind Biletnikoff winner
Marqise Lee
.
Nelson Agholor
will start opposite Lee with
De'Von Flournoy
and
George Katrib
backing him up.
Some intrigue at running back with
Silas Redd
at the top, but the starting gig is listed as Redd or Justin Davis or
Tre Madden
. Same for the fullback, which lists
Soma Vainuku
or
Jahleel Pinner
as the starter.
So while the entire offensive backfield is a grab bag of "ors," there is at least some solidarity on the offensive line, where four of the five starters appear to be in place.
Aundrey Walker
and
Max Tuerk
make up the left side with
Marcus Martin
at center and
John Martinez
at right guard. The only spot still in doubt is at right tackle between
Kevin Graf
or
Chad Wheeler
.
The new-look 52 defensive front has
Devon Kennard
and
Morgan Breslin
at the outside linebacker spots (that's going to be a scary combination, by the way) with
Leonard Williams
and
George Uko
(also a darn good tandem) at the ends. Nose tackle is still up for grabs between
Antwaun Woods
or
Cody Temple
.
In the secondary, where there are almost as many holes as there are questions -- little has been determined. Three of the four starting spots have an "or" attached to them. Only
Anthony Brown
looks like the inked-in starter.
Torin Harris
and
Kevon Seymour
are battling for the other corner spot and
Demetrius Wright
or Leon McQuay III are battling for free safety.
Josh Shaw
and touted freshman Su'a Cravens -- who missed a significant portion of spring drills -- will head into fall battling for strong safety.