January, 23, 2012
1/23/12
9:00
AM ET
National signing day is inching ever closer, so it is time to take a look at the biggest recruiting needs for every team in the Big East.
Cincinnati

Defensive line.
Cincinnati loses a host of seniors from this position, including Co-Defensive Player of the Year
Derek Wolfe
,
John Hughes
,
Monte Taylor
, and
Rob Trigg
. Factor in the key contributors for 2012 will be seniors in
Dan Giordano
,
Brandon Mills
and
Walter Stewart
and it is time to reload at this position.
Receiver.
There is some promising young talent on the roster, but several guys are going to be leaving in the next few years. The Bearcats really need a guy who can stretch the field and make some big plays to join
Anthony McClung
and
Alex Chisum
.
Secondary.
The Bearcats are going to take a hit at this position after 2012, losing a ton of seniors-to-be, including Cam Cheatham,
Drew Frey
,
Dominique Battle
and
Reuben Johnson
. Senior safety
Wesley Richardson
is already gone. The lone four-star commitment the Bearcats have is from a safety, Marcus Foster.
UConn

Quarterback.
This need has been addressed in this recruiting cycle, with junior college transfer Chandler Whitmer and Casey Cochran already enrolled in school.
Tight end.
With the impending departure of
Ryan Griffin
and
John Delahunt
, the Huskies could use another young player to be groomed to take over. Tight end is a critical part of the UConn offense.
Offensive line.
UConn is losing its two best linemen in
Moe Petrus
and
Mike Ryan
. Of the 16 linemen currently listed on the roster, seven are juniors or seniors. Linemen generally take a redshirt season, so it never hurts to sign more to be able to restock.
Louisville

Linebacker.
The Cardinals are losing
Dexter Heyman
and have a lot of juniors and seniors on their roster at this position. It is no surprise, then, that three of the top players coming in are linebackers -- Keith Brown and James Burgess are already enrolled; four-star recruit Nick Dawson has given a commitment.
Offensive line.
Louisville has young players here, but not much depth, as evidenced this season when several true freshmen were forced to play much earlier than anticipated. It never hurts to build depth here, and the Cardinals have gotten a huge commit from four-star guard Abraham Garcia out of Miami.
Running back.
This was an area the Cardinals struggled in this season, having to move quarterback
Dominique Brown
to the position.
Victor Anderson
is gone, and this team could really used another back to carry the load.
Pitt

Quarterback.
This one is pretty self explanatory if you watched
Tino Sunseri
play.
Mark Myers
and
Trey Anderson
are also on the roster, but the Panthers are in definite need here -- which is why so many fans are looking forward to commit Chad Voytik coming to town.
Linebacker.
This has been an area of inconsistency for the Panthers, who lose their best player in
Max Gruder
. There are some young players with talent in
Todd Thomas
and
Ejuan Price
, but this position could definitely use an upgrade.
Receiver.
The play of the offense was disappointing this season, and that includes the receivers. Pitt could use some players to stretch the field.
Ronald Jones
was a start this season. But when you consider that
Cameron Saddler
,
Mike Shanahan
and
Devin Street
will all be upperclassmen in 2012, this is a definite area of need.
Rutgers

Receiver.
Mohamed Sanu
is gone, and
Mark Harrison
is a senior to be. There is plenty of young talent, but there is a reason Rutgers has commitments from four athletes. This gives the Scarlet Knights the flexibility to try them at receiver or running back, another area of need.
Running back.
Once
Savon Huggins
got hurt this year, Rutgers had
Jawan Jamison
and
Jeremy Deering
at running back and that was about it. Depth has to be developed here.
Offensive line.
Strides have absolutely been made at this position, but coach Greg Schiano likes to reiterate that the Scarlet Knights aren't going to pull themselves out of the hole they were in overnight. They need another solid draft class at this position to keep building.
USF

Secondary.
Injuries and inconsistent play this season showed the Bulls really lacked some depth and need some immediate help in this area, which is why they signed junior college cornerbacks Fidel Montgomery and
Josh Brown
. One of their top four-star commitments is cornerback Chris Bivins.
Quarterback.
Beyond
B.J. Daniels
, a senior in 2012, the Bulls have
Bobby Eveld
and
Matt Floyd
as the two heirs to take over. Eveld has been less than impressive, and we don't know much about Floyd. The Bulls would be served to get another quarterback in as they prepare for the future.
Running back.
Darrell Scott
is gone, and the Bulls are really in need of a game breaker at this position.
Demetris Murray
is going to be a senior, and nobody else really has stepped up at the position. Depth has to be built here, because USF goes into spring practice with four running backs on the roster.
Syracuse

Defensive line.
The Orange are losing
Chandler Jones
and
Mikhail Marinovich
and could really used some difference-makers up front who can help get after the quarterback. Depth is an issue here. One of their big commitments so far has been defensive end Josh Manley out of Georgia.
Secondary.
This was one of the weakest parts of the team and now the Orange lose
Phillip Thomas
and Kevyn Scott, and there was a lack of depth when injuries hit this position in 2011. Brooklyn prep safety Wayne Morgan would be a huge get to add to this unit.
Receiver.
Alec Lemon
is a senior,
Van Chew
is gone and who knows what happens with
Marcus Sales
. The bottom line is the Orange are in major need of a game-changer to turn 15-yard passes into 40-yard receptions.
West Virginia

Quarterback.
Geno Smith
is a rising senior and after him it is crickets in the form of one player behind him in
Paul Millard
. So consider this need majorly filled with Ford Childress, ranked No. 139 on the ESPNU 150.
Offensive line.
The most inconsistent part of the team in 2011, West Virginia has a major need here. The Mountaineers struggled so badly here they started converted defensive lineman
Curtis Feigt
late in the season.
Don Barclay
is gone, and
Joe Madsen
,
Jeff Braun
and
Josh Jenkins
are all upperclassmen.
Defensive line.
Julian Miller
,
Josh Taylor
and
Bruce Irvin
are gone, and there are depth concerns here. West Virginia has four commitments from defensive linemen already.
December, 21, 2011
12/21/11
6:25
PM ET

West Virginia coach Dana Holgorsen said Wednesday that starting strong safety Terence Garvin, reserve defensive tackle Josh Taylor and reserve running back
Vernard Roberts
were out for the Discover Orange Bowl against Clemson on Jan. 4.
Garvin and Taylor each have injuries; Roberts is academically ineligible.
Losing Garvin is a big blow for a defense that is going to be seeing its share of playmakers in Miami. Garvin started every game for the Mountaineers, and was third on the team with 72 tackles. Roberts had 140 yards rushing and three touchdowns as a true freshman, and Taylor provided good depth on the line.
July, 5, 2011
7/05/11
4:00
PM ET
We continue our look at team position rankings today, and start up with the defense. First up are the guys in the trenches, the defensive line. This has got to be one of the strongest positions from team to team in the Big East. Four different teams could probably make an argument for the No. 1 spot. There are lots of standout defensive ends and tackles in the league, but I also am judging experience, returning starters and depth here.
[+] Enlarge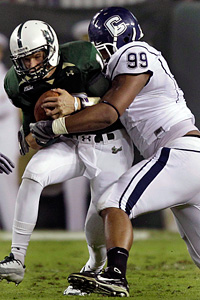 AP Photo/Chris O'MearaUConn's Kendall Reyes' had 2.5 sacks and nine tackles for loss last season.
1. Connecticut.
The Huskies have good players and depth this season, and get the nod as the top line in the league. Defensive end Jesse Joseph and defensive tackle Kendall Reyes return. Reyes turned down a shot at the NFL for one more season, and is the only first-team Big East selection on the defensive line returning to his team. Both Reyes and Joseph are defensive player of the year candidates. Five players return who started seven or more games last season, giving the Huskies plenty of experience along the line.
2. Pittsburgh.
The Panthers lose defensive player of the year Jabaal Sheard and are switching to the 3-4. But they do have another candidate for that award in Brandon Lindsey. We have to count him half here, though, because he is transitioning to the new hybrid defensive end/linebacker position. Still, the Panthers have solid players in Chas Alecxih and Myles Caragein on the line, along with depth in Aaron Donald, Tyrone Ezell, Kaynin Mosley-Smith and Bryan Murphy. Even without Sheard, this is one of the strongest lines in the league.
3. West Virginia.
You have got to love the tandem of Julian Miller and Bruce Irvin, who combined for 23 sacks last season. They are the best returning tandem in the league. But they are ranked here for a few reasons. First, how does Irvin transition from spot player to full-time starter? Will he be as effective as last season, when he led the league with 14 sacks? How does Miller transition to defensive tackle? Losing noseguard Chris Neild is a huge blow, too. Josh Taylor is penciled in to start, depending on what happens with Jorge Wright. Junior college transfer Shaq Rowell will be in the mix, too, with high expectations.
4. USF.
The Bulls might be losing three starters, including Terrell McClain and Craig Marshall, but this unit has the potential to be even better than the group in 2010. Hopes are high for Ryne Giddins to step in at defensive end and be an immediate difference-maker. Cory Grissom and Keith McCaskill are veterans inside, but if there is one question mark here it is depth at tackle. True freshman Elkino Watson could make a big impact.
5. Louisville.
Three starters return, and there is potential for this group to be very productive. Defensive end Greg Scruggs is in line for a breakout season. Eight linemen have starting experience, so there is depth, though there is youth here. Players like BJ Butler, Brandon Dunn and Roy Philon have a chance to take big-time leaps, but this unit is still relatively unproven compared the ones ranked ahead.
6. Syracuse.
No question the Orange have excellent defensive ends in Chandler Jones and Mikhail Marinovich. But the Orange lose their starters on the inside. Deon Goggins and Cory Boatman are penciled in to start at tackle but they are undersized. So are some of the other players who will rotate in. The line as a whole is pretty undersized when you think about it, and a big reason why Syracuse is ranked here.
7. Cincinnati.
The Bearcats were solid against the run last season but struggled to get a consistent pass rush. They hope to remedy that now that Walter Stewart has moved to defensive end. Last season, the Bearcats lacked depth but that is no longer the case in 2011. The top eight players in the rotation return, and there is nice size in the middle -- especially with defensive tackle Derek Wolfe returning. Still, the Bearcats have a lot to prove this season.
8. Rutgers.
Aside from nose tackle Scott Vallone, there are some questions on this defensive line, which has to show significant improvement over a unit that was so-so in 2010. Rutgers was one of the worst teams in the nation in sacks last season, with just 17. Manny Abreu moves from linebacker. How does that transition go? Justin Francis had a nice spring at end. Does that continue in 2011? Will Michigan transfer Anthony La Lota have an impact next to Vallone? There is a lot of inexperience along the entire line.
Previous rankings
April, 11, 2011
4/11/11
1:30
PM ET
MORGANTOWN, W.Va. -- On my trip to West Virginia last week, the one year that came up about as much as 2011 or 2010 was 2008.
That, of course, was Bill Stewart's first year as the head coach of the Mountaineers. And there are several similarities to the 2008 defense when it comes to this, Stewart's final season at the controls in Morgantown.
Like 2008, this 2011 club loses seven defensive starters off a senior-laden unit that was one of the best in the country the year before. West Virginia hopes the results are a little better.
To be sure, that 2008 defense was far from a disaster. It ended up leading the Big East in points allowed (17 per game), though it finished just sixth in total defense. The biggest issue came early on, when Stewart says the team wasn't experienced enough to throw out different looks in the first month against East Carolina and Colorado, both losses.
[+] Enlarge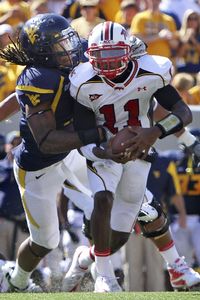 AP Photo Michael SwitzerBruce Irvin led the Big East in sacks last season with 14.
Jeff Casteel's 3-3-5 stack defense has proved to be very effective over the years, but it runs best when he has veterans who know the system in and out. Stewart talked all last preseason about how the 2010 team masked its coverages just like the 2007 Fiesta Bowl team. It did just that in producing one of the best defenses in the country.
"This year is a lot like '08," Stewart said. "You've got to be able to disguise in the 3-3-5. If you just set it, you're in trouble."
Why is the 3-3-5 so dependent on experience and movement? Stewart and Casteel have not divulged much about the specifics of the defense or how it works over the years. Unlike other successful systems, they don't share tips at coaches clinics or have other schools come in over the summer to study how they do things.
"And we don't really care to," Stewart said. "It's not advantageous for us. The system is unique in the way we run it."
Suffice it to say that the 3-3-5 can confuse opposing quarterbacks and offenses because of the different looks it presents. One of the three safeties can come from anywhere, as well as the linebackers. But that also means that everyone on the defense has to be on the same page at the same time -- "like puppets on a string," defensive end Bruce Irvin said.
"In a lot of ways, it's a benefit to us that not a lot of offenses are seeing it week in and week out," Casteel said. "Nobody really runs it. We have a belief in the way we do things."
Despite the loss of so many starters, the Mountaineers still boast a strong core to build around. There's Irvin, the Big East leader in sacks who will play a bigger role this year. There's defensive end Julian Miller, who slides over to Scooter Berry's slot to take on tight ends and down blockers. Cornerback Keith Tandy will look to continue his elevated play after grabbing six interceptions last year. Safety Terence Garvin quietly led the team in tackles last year, and Najee Goode was an underrated presence at linebacker.
Now it's about working in some of the new guys, such as junior-college transfer Josh Francis at linebacker.
"He doesn't know where he's going right now, but when he goes, he gets there awful fast," Stewart said. "I never see him not going 100 miles an hour. I hope he doesn't drive on the highway like he plays on the field, because it's full throttle. But I know one thing: when he comes off that edge, not many tackles or backs want to mess with him."
Stewart also called linebacker Doug Rigg "a rising superstar" because of his understanding of the game, which he compared to former standouts Reed Williams and Mortty Ivy.
The Mountaineers have a mountain of a challenge in replacing nose guard Chris Neild; they hope a combination of Jorge Wright, Josh Taylor and incoming junior college transfer Shaq Rowell can do the trick. And they have to find replacements for cornerback Brandon Hogan and safeties Robert Sands and Sidney Glover, two rocks in the back end of the 2010 defense.
"We have some kids who can really run back there," Casteel said. "They're just puppies right now."
How fast those puppies grow up could determine how much bite this West Virginia defense has. Or how much like 2008 it will really be.