October, 6, 2010
10/06/10
10:15
AM ET
Sometimes, mid-week games cause some consternation for college football coaches, creatures of habit who are less than thrilled about tweaking their schedules.
But UAB and UCF are just fine with playing those games if they are on national television. The two Conference USA East Division rival square off in Orlando tonight in their first conference game.
"The big thing is we've got back-to-back Wednesday games, but I think any time you can get on national TV and the exposure the conference gets and the school gets, you can't pay for that," UCF coach George O'Leary said. "It's an odd night, but it's a great opportunity for both schools to go out and show what they're about."
It's also an opportunity for both schools to put disappointing losses behind them. The Knights lost in the closing minute to Kansas State after leading for the entire game.
Carson Coffman
scored with 36 seconds left to give the Wildcats the 17-13 win. As for UAB, three of its four games have come down to the final play.
The most recent came in its last game against Tennessee, a 32-29 double overtime loss that featured five missed field goals from Josh Zahn. Coach Neil Callaway opened up his kicking competition during the bye week, but Zahn has held on to his job.
"We tried to create a lot of distraction with teammates on the field, crowd noise and harassing them," Callaway said. "He won the battle."
As for how Zahn has responded since his tough outing against the Vols, Callaway said, "Obviously, he missed five, but he made two at the end of the game in overtime, which is good. He's disappointed, but I don't think he's so rattled that he can't perform still."
UCF will see a different UAB team than it is used to seeing thanks
Bryan Ellis
, who has taken over at quarterback. Ellis is more of a pocket passer and has thrown for 360 or more yards in his two starts. Meanwhile, the Knights will start true freshman
Jeffrey Godfrey
, but O'Leary plans on playing veteran
Rob Calabrese
. Godfrey has started the last two games in place of Calabrese. But Calabrese didn't see any playing time against Kansas State, and O'Leary thought that was a mistake.
"Did you see the last game? Of course we need both," O'Leary said. "I think it's natural when we have a young, freshman quarterback that you give him a chance to get a little blow out there and see what's going on to get his head where it's at, if he is making some mistakes. If they are older kids, I think you can use a one quarterback team because they are used to the pressure and the sense of urgency at that position. When you have a young kid, you have to have two ready to play and get them both in the game plan."
September, 28, 2010
9/28/10
9:00
AM ET
Three of its games have been decided on the final play. Only one went its way. So how does a team move on from that type of heartbreak?
For UAB coach Neil Callaway, it is all about trying to accentuate the positives. His team has competed hard. It has never given up. The effort has been there. If a few plays had gone differently ... but there are no ifs in college football, of course.
So the Blazers are 1-3 heading into their bye week, before a big game at East Division rival UCF on Oct. 6.
"What we're going to do is take the high road and try to build off the positive and build off the fact that guys are playing hard," Callaway said in a phone interview. "There's some satisfaction in competing and playing hard, but there's no satisfaction coming up on the short end. If we got into a game where we didn't compete and we didn't try, that would be more troublesome."
[+] Enlarge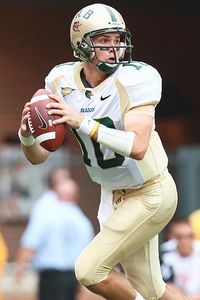 Marvin Gentry/US PresswireBryan Ellis has performed well since taking over the starting quarterback job.
The latest setback happened in Knoxville, a 32-29 double-overtime loss that featured five missed field goals from Josh Zahn. Callaway has opened up his kicking competition this week between Zahn and punter Trey Ragland. The two competed for the field goal job in fall camp, but Zahn won it.
Zahn is 3-of-9 on his field goal attempts this season. That also includes a block on a 28-yard attempt that would have won the season opener against FAU. The Owls were able to get penetration, but the kick never got up high enough.
Callaway said Zahn is doing fine, but disappointed over his misses. He pointed out that Zahn was able to make his two field goals in overtime, showing his mettle as a competitor.
Still, it has to be tough to swallow a loss in which you have a school-record 92 plays and outgain the Vols 544-287. The same could be said of the game against the Owls. UAB outgained them 424-347, had more first downs, and quarterback
David Isabelle
ran for three touchdowns and 214 yards. UAB led the entire way, until FAU scored on a 38-yard run with 2:20 left in the game.
UAB was able to pull out a 34-33 win over Troy when
Bryan Ellis
threw a 44-yard touchdown pass to
Jackie Williams
on the final play of the game to win. The 99-yard drive started with 1:09 left and UAB without timeouts.
The only game that was not close on the scoreboard was a 28-7 loss to SMU, but even then UAB had chances. Trailing 14-7 late in second quarter, UAB drove 75 yards to the SMU 1-yard line but failed to score before the half ended.
Then, UAB opened the second half and drove 74 yards. Isabelle hit
Frantrell Forrest
for an apparent 50-yard touchdown, but Forrest fumbled at the goal line and SMU recovered in the end zone for a touchback.
"It's obvious we can compete and play with anybody and we've made that statement all along," Callaway said. "For a team like us, there's not much room for margin of error. We're not better than anybody hands down, but we're good enough to compete and win every ballgame we play. If we continue to play hard, we can win a lot of ballgames."
One of the biggest positives of the first four games has been the play of Ellis, who has now taken the starting job from Isabelle. Ellis came in off the bench against Troy and threw for 360 yards and three touchdowns. He followed that up with another big game against Tennessee, and has thrown for 733 yards in two games -- earning back-to-back Conference USA Offensive Player of the Week honors.
Ellis provides a change of pace to what fans have seen out of UAB in recent years behind Joe Webb, a dual-threat quarterback. Isabelle is more in the mold of Webb, but Ellis is a pocket passer.
His story is even more impressive when you consider he did not play his first two seasons because of a shoulder injury. In his only action last season, Ellis went 1-of-4 for 14 yards but injured his hand and was limited the rest of the year.
Callaway will continue to play Isabelle to change up his offense, and likes the 1-2 punch his quarterback gives his team.
"The diversity we have with it creates problems for defenses," Callaway said.
Now it is just a matter of putting everything together and winning those close games.