November, 11, 2013
Nov 11
9:00
AM ET
We're inching closer and closer to the finish line, and our No. 1 doesn't look to be budging anytime soon:
1. Alabama (9-0, 6-0 SEC; last week: 1):
The Crimson Tide faced its biggest test since Texas A&M and passed with flying colors Saturday night with a resounding 38-17 win over LSU. Alabama didn't need a lot of yards, but the defense stood tall, holding LSU to a season-low 284 yards and 17 points. People continue to wonder if this truly is the No. 1 team in the country, but Alabama has tackled every obstacle that has come its way. Also, Phil Knight was
decked out in Alabama gear
in Tuscaloosa, so clearly the bandwagon still has room.
2. Auburn (9-1, 5-1 SEC; LW: 2):
It seems like Auburn is getting better and better each week. The Tigers weren't intimidated at all by the atmosphere inside Neyland Stadium and walked out with a commanding 55-23 win over Tennessee. The offense rolled up 444 rushing yards, and the defense is getting better and better -- just in time for this week's showdown with Georgia on the Plains.
3. Missouri (9-1, 5-1 SEC; LW: 5):
These Tigers continue to impress and had no problem handling a weary Kentucky team on the road.
Maty Mauk
is growing for the future, and
Dorial Green-Beckham
showed us all why he was the No. 1 recruit in the country last year with his school-record four touchdown catches in Mizzou's 48-17 thumping of the Wildcats. This upcoming bye week should give quarterback
James Franklin
even more time to rest his shoulder before a trip to Ole Miss.
4. Texas A&M (8-2, 4-2 SEC; LW: 3):
We all know the Aggies can score at will when
Johnny Manziel
is under center, but the defense took a few steps back (again) in A&M's 51-41 win over Mississippi State on Saturday. Right when you think that unit is getting better, it starts to lag behind, like surrendering 556 total yards to the Bulldogs. Still, the Aggies won in spite of the defense and get a bye week before taking on LSU and Mizzou on the road.
5. South Carolina (7-2, 5-2 SEC; LW: 4):
The Gamecocks were off this weekend, which should help them rest any nicks or bruises. South Carolina is approaching its final SEC game, which is big, because a win over Florida on Saturday would get the Gamecocks one step closer to Atlanta. South Carolina still needs help, but the Gamecocks will have every opportunity to take care of business against a struggling Florida team.
6. Georgia (6-3, 4-2 SEC; LW: 7):
The Bulldogs had a nice tuneup game before facing Auburn on the road. Even after a sluggish start, the Bulldogs routed Appalachian State 45-6. If Georgia wants a shot at the SEC Eastern Division title, the Bulldogs have to beat Auburn and hope for Mizzou to fall off late.
Aaron Murray
continues to rack up records, and this offense regained its form Saturday. The defense will have to be at its best against a very good Auburn running game.
7. Ole Miss (6-3, 3-3 SEC; LW: 8):
After winning just six combined games from 2010-11, the Rebels are going bowling for the second straight year. Coach Hugh Freeze has led a very impressive turnaround in Oxford. Ole Miss let things get a bit interesting in its 34-24 win over Arkansas, but the outcome never really seemed in doubt. The Rebels go for win No. 7 against Troy before hosting Missouri.
8. LSU (7-3, 3-3 SEC; LW: 6):
It really has been a season of what-ifs for the Bayou Bengals. Turnovers and mental errors have plagued this team in its three losses, and Saturday's 21-point loss to Alabama was no different. Fumbles by
J.C. Copeland
and
Zach Mettenberger
proved costly, as they created a 10-point swing that didn't go in LSU's favor. The Tigers were left scratching their heads in Tuscaloosa and get another bye week to stew over it.
9. Vanderbilt (5-4, 2-4 SEC; LW: 11):
Remember when head coach James Franklin said you'd never see the old Vanderbilt again under his watch? Well, after taking the Commodores to back-to-back bowl games for the first time in school history, Saturday's 34-17 win over Florida marked the first time the Commodores have beaten Florida in Gainesville since 1945, and the first time ever the Dores beat Florida and Georgia in the same season. Vandy's blowout win in the Swamp came thanks to four takeaways by the Commodores and only 183 yards of offense, and Vandy is a win away from making its third-straight bowl.
10. Florida (4-5, 3-4 SEC; LW: 9):
It has been a challenging season in Gainesville, and Saturday's ugly loss to Vandy (snapping a 22-game winning streak over the Dores) didn't help. The injuries have piled up, Florida has lost four straight and the Gators are in danger of missing out on a bowl game for the first time since 1990. Coach Will Muschamp said his team has a "woe is me" attitude right now, and the fans are restless. Seeing all those empty seats and hearing all those boos told you everything you need to know about the state of Florida football.
11. Tennessee (4-6, 1-5 SEC; LW: 10):
It was another long day for head coach Butch Jones and his Vols. Auburn ran up 444 rushing yards, averaging 8.4 yards per carry, and had the game well in hand before the second quarter even ended. Tennessee has to be encouraged by the growth of quarterback
Joshua Dobbs
and receiver
Marquez North
, but it's just not enough right now. Five times this year Tennessee has given up 400 yards and gained less than 350.
12. Mississippi State (4-5, 1-4 SEC; LW: 12):
Hats off to quarterback
Dak Prescott
for going out and playing Saturday just days after his mother passed away after her battle with cancer. He and his Bulldogs didn't beat Texas A&M, but they never quit. Still, this has been a trying year for Mississippi State, which has to win two of its last three games in order to keep its three-year bowl streak going.
13. Arkansas (3-7, 0-6 SEC; LW: 13):
Another weekend, another loss for the hapless Hogs. Arkansas' 34-24 loss to Ole Miss marked the seventh straight for Bret Bielema and his squad. It's the longest of Bielema's coaching career, and the Razorbacks are officially out of the bowl hunt for the second straight year. Arkansas has the SEC's No. 12 offense and a defense that ranks 11th in the league, after surrendering 531 yards to Ole Miss.
14. Kentucky (2-7, 0-5 SEC; LW: 14):
For the third straight year, the Wildcats aren't going bowling. They certainly have shown heart, but the talent on both sides of the ball just isn't there right now for Kentucky to actually compete week in and week out against its SEC foes. Kentucky has now lost 13 straight SEC games.
November, 7, 2013
Nov 7
9:00
AM ET
And just like that, the ATL Kid is back in the lead. It takes only one silly mistake to cost you in the long run in this game, and Chris' decision to go with injury-plagued Florida could come back to haunt him.
I hit a bit of a lull there, but I'm back on top after going 6-0 and correctly picking Georgia to beat Florida down in Jacksonville, Fla., last week. My record stands at an impressive 73-11 (.869), while Chris is now 72-12 (.857) after going 5-1 last week.
This last month will go a long way to determining who brings home the picking gold. I took a lot of momentum away from Chris with my one-game lead, and I know he'll be pouting even more this weekend without his buddy Oscar Pope in Tuscaloosa, Ala. Chris talked about hitting up Galettes Friday night with Oscar before the big game to discuss the finer things in life.
But Oscar is headed to Oxford, Miss., to cheer on his Rebels, leaving Chris to FaceTime with Meeko Friday night.
On to the picks:


APPALACHIAN STATE at GEORGIA
Chris Low:
With a third straight victory over Florida in its pocket, Georgia gets a tune-up against FCS foe Appalachian State this week. It should be a short work day for the Bulldogs' starters heading into next week's critical game at Auburn. …
Georgia 49, Appalachian State 14
Edward Aschoff:
For delivering an ugly win over Florida, the Bulldogs get a nice home game against Appalachian State. This isn't the same giant killer that took down Michigan a few seasons ago, so don't expect anything tricky in Athens, Ga. …
Georgia 48, Appalachian State 13


MISSOURI at KENTUCKY
Low:
Gary Pinkel isn't saying which quarterback he'll play this weekend.
James Franklin
has been practicing and could take the reins back from
Maty Mauk
. Ultimately, it won't matter because Missouri's defense will see to it that Kentucky loses its 13th straight SEC game. …
Missouri 31, Kentucky 17
Aschoff:
This is the first road game for the Tigers in almost a month. There's a chance that Franklin could go, but with Mauk playing well and Kentucky struggling on both offense and defense, Mizzou might as well let its starter rest another week. …
Missouri 38, Kentucky 13


MISSISSIPPI STATE at TEXAS A&M
Low:
Texas A&M has scored more than 40 points in every game this season. In this league, that's not supposed to happen. The problem has been the Aggies' defense, but it seems to be playing better on that side of the ball the past two weeks and will sock it to a Mississippi State team that's in the middle of a brutal three-game stretch. …
Texas A&M 45, Mississippi State 20
Aschoff:
The Bulldogs are fighting for a bowl berth, while the Aggies are looking to put a complete game together against an SEC opponent. After the way South Carolina treated the Bulldogs in Columbia, Mo., last week, Johnny Football shouldn't have much of an issue putting points up on the scoreboard. …
Texas A&M 45, Mississippi State 17


ARKANSAS at OLE MISS
Low:
Ole Miss gets a chance to close the season with a flourish. Arkansas' visit is the start of three straight home games for the Rebels. The Hogs are going in the other direction. They've lost six in a row and won't be able to slow down the Rebels enough to avoid a seventh straight defeat. …
Ole Miss 38, Arkansas 21
Aschoff:
After losing three straight in league play, the Rebels have reeled off two straight wins and are looking at possibly winning eight or nine regular-season games. With Ole Miss' offense rolling up more than 460 yards a game, the Hogs just won't be able to keep pace in Oxford. …
Ole Miss 38, Arkansas 17


VANDERBILT at FLORIDA
Low:
Given the injury spell that has descended upon Florida's football team this season, the Gators might want to wrap themselves in bubble wrap. Vanderbilt matches up pretty well with Florida and is coming off a bye week. Coach James Franklin will have the Commodores ready to play, but the Gators will make enough plays on defense to squeeze out a win. …
Florida 24, Vanderbilt 20
Aschoff:
Who would have thought that the Gators would be struggling to become bowl eligible at this point in the season? And who saw all these injuries coming? The Commodores are facing Florida at the right time, but if there was ever a must-win situation for Florida, this is it. It won't be pretty, but Florida will slip by to get to win No. 5. …
Florida 23, Vanderbilt 17


AUBURN at TENNESSEE
Low:
Tennessee has proven to be a much better team at home this season, and it will also help freshman quarterback
Joshua Dobbs
to get back in front of the home fans as he makes his second start. The Vols will keep it close but won't be able to stop the Tigers' running game. …
Auburn 34, Tennessee 24
Aschoff:
Auburn is one of the country's hottest teams, while Tennessee is trying to find its footing during the first season of the Butch Jones era. The Tigers won't be intimidated by their surroundings inside Neyland Stadium, and running back
Tre Mason
should have another big day on the ground. …
Auburn 34, Tennessee 20


LSU at ALABAMA
Low:
It's been college football's preeminent rivalry for the past several seasons. It will also be Alabama's toughest test since the third week of the season, when the Tide outlasted Texas A&M 49-42 on the road. LSU has the passing game and running game to give Alabama trouble, but the Tide will also be able to roll up points against a young LSU defense that won't be able to keep up. …
Alabama 31, LSU 20
Aschoff:
Here we are, folks. Yet again, this game has major SEC Western division and national championship implications on the line. LSU could crash Alabama's three-peat party. It has the offensive weapons to do it, but that defense will have its hands more than full against Alabama's offense. The Tigers have gone 12-9 in Tuscaloosa since 1970 and won the last time these two met here. But Alabama knows that one slip up will likely cost it a trip to Pasadena, Calif. …
Alabama 31, LSU 24
October, 31, 2013
Oct 31
9:00
AM ET
After an embarrassingly poor outing two weeks ago (we both were reprimanded and forced to watch two whole quarters of Big Ten football), Edward Aschoff and I bounced back last week with perfect records.
It wasn't an overly difficult week, but we did both correctly pick South Carolina to win at Missouri.
Thank goodness for
Connor Shaw
.
And before Mizzou fans start screaming "no respect," I want to point out that I nailed the Tigers' win over Florida two weeks ago. A certain colleague of mine did not.
As is usually the case, the month of November will decide this thing. I'm not consumed with wins and losses. Nor am I concerned with what's coming up two or three weeks from now.
Rather, I'm just grinding away and trying to get better each week and focus on the process.
Sound familiar?
So after posting 7-0 marks last week, Edward and I are still deadlocked. We're 67-11 (.859) on the season and relatively healthy as we hit the home stretch, although Edward is always complaining about some nagging injury he has sustained in his softball league.
That or staying out too late with his homeboy, Oscar, in the ATL. Come to think of it, Edward has been a little off on his picks ever since he quit wearing those GQ glasses in his videos.
Anyway, let's get to our picks in Week 10:


ALABAMA STATE at KENTUCKY
Chris Low:
After five straight losses, Kentucky needs a win in the worst way. The Wildcats would need to win their last five games to qualify for a bowl game. That's not going to happen, but they will get back into the win column Saturday with an easy win. …
Kentucky 40, Alabama State 14
Edward Aschoff:
The wins haven't come lately for the Wildcats, but we've seen small improvements here and there during their five-game losing streak. Kentucky is hobbled at quarterback, but should put it all together against the Hornets. …
Kentucky 41, Alabama State 10


UTEP at TEXAS A&M
Low:
Former Texas A&M quarterback
Jameill Showers
injured his shoulder and won't get a shot at his old team. The reality is that the Miners didn't have much of a shot anyway. Even with a bum shoulder of his own, Johnny Football is still lighting up defenses and will do so again this weekend. …
Texas A&M 52, UTEP 14
Aschoff:
We thought we'd get a homecoming for UTEP quarterback Jameill Showers, but a shoulder injury has him sidelined. With Showers out, don't expect much drama at all in this one. …
Texas A&M 56, UTEP 17


MISSISSIPPI STATE at SOUTH CAROLINA
Low:
The Gamecocks have new life in the East race after winning in double overtime at Missouri last week. They won't need any extra periods this week against a Mississippi State team that has its work cut out if the Bulldogs are going to make a fourth straight bowl appearance. …
South Carolina 37, Mississippi State 21
Aschoff:
This is the perfect time for a letdown from the Gamecocks. We've seen it before from this team after a big win, and it doesn't help that quarterback Connor Shaw is still ill. The Bulldogs will be battling for a bowl game this season, but South Carolina pulls this one out behind running back
Mike Davis
. …
South Carolina 31, Mississippi State 20


AUBURN at ARKANSAS
Low:
This game was spiced up during the offseason when Arkansas' Bret Bielema and Auburn's Gus Malzahn sparred publicly over whether players were at a higher risk for injury when hurry-up offenses tried to speed up the game and run more plays. The Hogs are coming off a bye and need to stop the bleeding after losing five in a row, but won't be able to slow down the Tigers. …
Auburn 37, Arkansas 24
Aschoff:
The relationship between Bret Bielema and Gus Malzahn is chippy at best. This summer, Bielema made sure people knew about his disdain for the hurry-up offense. Saturday, Malzahn will show everyone why Bielema dislikes it so much. …
Auburn 48, Arkansas 24


TENNESSEE at MISSOURI
Low:
Somewhere along the way,
Andrew Baggett
is going to get another chance to win it for Missouri with a late field goal. This won't be the game, though, as the Tigers will take out their frustration from a week ago on a Tennessee team that will be starting a true freshman quarterback. …
Missouri 38, Tennessee 20
Aschoff:
The Tigers are coming off a heartbreaking loss in which they surrendered a 17-0 fourth-quarter lead to South Carolina, while the Vols have a new starting quarterback in
Joshua Dobbs
. Mizzou still has the SEC Eastern Division to think about, and its talent will overwhelm the Vols. …
Missouri 34, Tennessee 17


FLORIDA vs. GEORGIA
Low:
It's the battle of the walking wounded. Both of these teams have been decimated by injuries this season. Georgia gets back star running back
Todd Gurley
this week, though, and that will help. But Florida's defense, which had its pride bruised two weeks ago at Missouri, will rise to the occasion and give Will Muschamp his first win over his alma mater as the Gators' coach. …
Florida 24, Georgia 23
Aschoff:
Both of these teams are banged up and will be without key players on both sides of the ball. The injuries piled up even more for Florida when left tackle
D.J. Humphries
(knee) was ruled out on Wednesday. Florida hasn't lost three straight to the Dawgs since the late 1980s, but Georgia's offense will get a major boost from the return of running back Todd Gurley, who will help grind out the Dawgs' third-straight win in this series. …
Georgia 24, Florida 20
October, 28, 2013
Oct 28
9:00
AM ET

The SEC has just one unbeaten team remaining, making our top selection a very easy one for this week's Power Rankings:
1. Alabama (8-0, 5-0 SEC; last week: 1):
People laugh at the comical schedule Alabama has had since that thrilling 49-42 win over Texas A&M, but the Crimson Tide can only play the teams assigned to them. And the Tide have been pretty good at it, outscoring the last six opponents 246-26. Alabama is doing exactly what it was asked and is still the No. 1 team in the country for a reason.
2. Auburn (7-1, 3-1 SEC; LW: 3):
The Tigers might have feasted on Florida Atlantic over the weekend, but this team is clearly getting better every week. Auburn, which is No. 11 in the BCS standings, ranks second in the SEC in total offense (511 yards per game), first in rushing (315.4) and fifth in scoring (37). The Tigers had a scare when quarterback
Nick Marshall
went down with a shoulder injury on Saturday, but it appears he'll be fine for this weekend's game against Arkansas.
3. Texas A&M (6-2, 3-2 SEC; LW: 4):
Well, look at that. Texas A&M found some defense against Vanderbilt over the weekend. After giving up a league-high 494 yards and 33 points per game, the Aggies held Vandy to just 329 yards and 24 points. The Commodores averaged just 4.3 yards per play (a season-low against the Aggies) and rushed for 95 yards. Oh, and
Johnny Manziel
threw for 305 yards and four touchdowns.
4. South Carolina (6-2, 4-2 SEC; LW: 6):
And just like that, the SEC Eastern Division is again all shook up, thanks to the Gamecocks' 27-24 overtime win at Missouri. South Carolina overcame a 17-point deficit in the fourth quarter with help from quarterback
Connor Shaw
, who was battling an illness and a sprained knee. I dare you to find a tougher player in the country. The Gamecocks now turn their attention to a Mississippi State team thirsty for an upset.
5. Missouri (7-1, 3-1 SEC; LW: 2):
The Tigers will be thinking about Saturday's letdown for a while. For three quarters, Mizzou was in control, but Shaw ruined the Tigers' shot at an unbeaten season. Still, the Tigers have plenty to play for. Win out, and they are headed to Atlanta for the SEC championship game. Win that, and the Tigers are headed to a BCS bowl game. It's all about regaining focus and getting ready for a scrappy Tennessee team.
6. LSU (7-2, 3-2 SEC; LW: 5):
These Tigers tried to make things interesting during the first half against Furman. But that sloppy, 20-16 halftime lead was a mere afterthought after LSU reeled off 28 consecutive points in the second half. The focus of this team wasn't there to start the game, but when the Tigers regrouped, they looked awfully scary.
Jeremy Hill
had his fifth 100-yard rushing game of the season and is second in the SEC with 922 rushing yards and has a league-high 12 touchdowns.
7. Georgia (4-3, 3-2 SEC; LW: 7):
The Bulldogs were off this week and tried to get healthier heading into this weekend's showdown with Florida. The Dawgs might have a handful of battered players, but it sounds like
Todd Gurley
should be back this weekend, which would certainly give the offense a boost. Georgia can still win the SEC East, but needs help from Missouri's opponents.
8. Ole Miss (5-3, 2-3 SEC; LW: 8):
A week after that thrilling win over LSU, the Rebels didn't miss a beat against a very overmatched Idaho team. You might have seen a Vandals defender show up Ole Miss by doing the Rebels' patented "Land Shark" celebration, but it did little to motivate Idaho, as Ole Miss thrashed the Vandals 59-14. The Rebels rolled up 572 yards of offense and head into their bye week with all sorts of momentum.
9. Florida (4-3, 3-2 SEC; LW: 9):
The Gators had the week off, which
created an Oreo dilemma
for offensive lineman
Jon Halapio
. The other dilemmas for this team include a last-place offense (336.9 yards per game) and a laundry list of injuries. Still, the Gators have a game to play in Jacksonville, Fla., against Georgia. They've dropped two in a row to the Dawgs and their slim SEC East chances would basically disappear with a loss Saturday. There's still a lot on the line for Florida.
10. Tennessee (4-4, 1-3 SEC; LW: 10):
A week after that upset win over South Carolina, the Vols fell flat against top-ranked Alabama. Now, the Vols again have quarterback issues, as
Justin Worley
is nursing a bruised throwing hand. Freshman
Joshua Dobbs
had his redshirt burned against the Tide and could take the snaps as long as Worley is out. The Vols lost their momentum on Saturday; maybe Dobbs can help bring some back.
11. Vanderbilt (4-4, 1-4 SEC; LW: 11):
The Commodores are a great example of how much can change in only a few days. After that upset win over Georgia, Vandy was run out of College Station, Texas. That 56-24 loss to the Aggies came with
Patton Robinette
replacing
Austyn Carta-Samuels
at quarterback. The offense lacked explosion in the second half and the running game averaged just 2.2 yards per carry against a defense that was allowing 6 yards per carry heading into Saturday.
12. Mississippi State (4-3, 1-2 SEC; LW: 12):
Consistency is still an issue for the Bulldogs. After taking a 21-7 lead against Kentucky in the second quarter Thursday, Mississippi State's offense fell silent as the Wildcats scored 15 of the next 22 points. The Bulldogs pulled off the 28-22 win, but in the last three games they've been outscored 50-10 in the second half. While two of those games resulted in wins, that sort of play won't cut it with the gauntlet that November brings.
13. Arkansas (3-5, 0-4 SEC; LW: 13):
The Razorbacks were on a much-needed bye this past week. After losing five in a row, the longest losing streak of coach Bret Bielema's career, the Hogs needed some time to rest and regroup before taking on a red-hot Auburn team. Arkansas' main area of concern right now is the passing game, where the Hogs are last in the SEC, averaging just 146.6 yards per game.
14. Kentucky (1-6, 0-4 SEC; LW: 14):
Give the Wildcats credit: They didn't quit after going down by 14 early to Mississippi State. But this team just doesn't have the horses to keep up right now. The development hasn't been there on offense and the defense is giving up 438.7 yards per game. The defensive performances have to be the most troubling for Mark Stoops. Outside of the 42-7 win over Miami (Ohio), this defense has given up 400-plus yards in every game.
February, 25, 2013
Feb 25
10:18
AM ET
We're taking a look at key storylines for all seven teams in the SEC Eastern Division.
Chris will take a look at the main issues in the Western Division on Tuesday.

FLORIDA GATORS
Spring start:
March 13
Spring game:
April 6
What to watch:
1. Rebuilding at linebacker: The Gators have to start figuring out the linebacker situation. Do they go with redshirt junior Michael Taylor in the middle, who's a run-stuffer but has to come off the field in passing downs? Or do they try sophomore Antonio Morrison, who played outside at 218 pounds as a freshman and has hopefully bulked up a bit? The most likely scenario is Morrison, which means UF has to find a weakside linebacker. That could be freshmen early enrollee Daniel McMillian or Alex Anzalone. The strongside starter should be, at least entering the spring, redshirt junior Neiron Ball.

2. Robinson's growth: One of the most scrutinized players this spring will be receiver Demarcus Robinson. He was the only one of UF's five receiver signees to enroll early and he'll be given every chance to win a starting spot. UF's receivers have been below average for the past three seasons and the Gators desperately need someone to become a consistent playmaker. The 6-foot-2, 195-pound Robinson, who caught 53 passes for more than 1,000 yards and scored 15 touchdowns as a senior at Fort Valley (Ga.) Peach County, is going to be under a lot of pressure to produce.

3. Driskel's confidence: Quarterback Jeff Driskel returns for his second season as a starter, and it'll be interesting to see how much he improves on his decision-making, release and accuracy. He's sure to benefit from not splitting reps 50-50 any longer. But just as important as Driskel's development is what happens behind him with redshirt junior Tyler Murphy and redshirt freshman Skyler Mornhinweg. Neither has thrown a pass in a college game. Why is that important? Because Driskel has not been able to stay healthy in his first two seasons in Gainesville. He missed starts as a freshman and sophomore because of ankle injuries. UF was lucky in 2012 to have Jacoby Brissett, who had played significantly as John Brantley's backup in 2011. With Brissett transferring to NC State, the Gators no longer have that luxury.

-- Mike DiRocco, GatorNation
GEORGIA BULLDOGS

Spring start:
March 2
Spring game:
April 6
What to watch:
1. Rebuilding the defense: Georgia begins its transition to a completely new collection of defensive talent this spring. No longer are Jarvis Jones, Alec Ogletree, Shawn Williams, Bacarri Rambo and John Jenkins on the roster. In fact, the Bulldogs must replace a total of 12 defensive players who were either full-time starters or key contributors, and at some positions, the possible replacements have little to no college experience. That makes this a pivotal time for defensive coordinator Todd Grantham to begin identifying which players will fill those roles, as the Bulldogs will have little margin for error when they open the season against Clemson's explosive offense Aug. 31. Some names to watch this spring: Josh Harvey-Clemons, Sheldon Dawson and Jonathan Taylor.

2. Developing the youngsters: The good news for Grantham and the other defensive coaches is that they brought in a number of January enrollees who should be able to help immediately. Junior college transfer Chris Mayes and John Atkins hope to fill the void left by Jenkins and Kwame Geathers at noseguard. Ryne Rankin and Reggie Carter will immediately enter the mix at linebacker. And cornerback Reggie Wilkerson and safeties Tray Matthews and Quincy Mauger can help address Georgia's depth shortage in a secondary that lost four key players. Georgia's 13 early enrollees -- more than twice as many January enrollees as Georgia coach Mark Richt has ever brought in before -- will help fill needs on both sides of the ball, but the defense is where the newcomers were most necessary.

3. Offensive line reps: For the most part, Georgia used the same starting lineup along its offensive line throughout the 2012 season and each of those starters should return this fall. But two of those starters -- right guard Chris Burnette and right tackle John Theus -- underwent surgeries during the offseason and will miss all or part of spring practice. There was a good chance that offensive line coach Will Friend was going to deploy more players in his line rotation this fall anyway, but the valuable practice reps that will be available with Burnette and Theus sidelined might make a deeper rotation even more likely. Someone still has to take advantage of the opportunity, however.

-- David Ching, DawgNation
KENTUCKY WILDCATS

Spring start:
March 18
Spring game:
April 13
What to watch:
1. Getting used to new coaches: New coaches are roaming Kentucky's football facility this spring. Mark Stoops brings a more defense-minded philosophy to Lexington, but his coaches will have to get things going on offense if the Wildcats are going to improve in 2013. There are always awkward moments when transitioning to a new staff, but now's the time to create valuable trust on both sides.

2. Finding offensive playmakers: Stoops might have a strong defensive background, but the Wildcats have to find answers on offense. Injuries were an issue last year, but for two straight years the Wildcats had real problems finding consistent playmakers on offense. Quarterback Maxwell Smith returns, but he needs more than just wide receiver La'Rod King to help him. Getting running back Josh Clemons back would be big, but expect the coaches to turn to a young group of receivers and running backs.

3. Tougher team: One thing Stoops wants from his players is a tougher identity. Stoops wants to build a stronger team from the ground up. He's taking a page from Texas A&M coach Kevin Sumlin when it comes to preparing his new team. This spring, we'll see just how much of an emphasis the coaches put on the weight room and conditioning before hitting the football side of things.
MISSOURI TIGERS

Spring start:
March 12
Spring game:
April 20
What to watch:
1. Josey's rehab: The Tigers will be keeping tabs on running back Henry Josey, who missed all of 2012 after suffering a devastating knee injury midway through the 2011 season. He was the Big 12's best running back before his injury and Mizzou needs him back. The staff has had to be patient, but this could be a crucial time in his rehab, as he looks to get his football legs back.

2. Rebuilding the front seven: Mizzou must replace a lot in its front seven. Star defensive tackle Sheldon Richardson's absence leaves a gaping hole up front, while linebackers Will Ebner and Zaviar Gooden must be replaced. Lucas Vincent will be first in line to take Richardson's spot, while Darvin Ruise, Donovan Bonner and Michael Scherer are three players to watch at linebacker.

3. Toughening up: Injuries ravaged Mizzou's offense last year, but it's clear that Mizzou wasn't in the playing shape that it would have liked to be in during its first year in the SEC. Injuries are part of the game, but gaining that toughness factor this spring will go a long way for the Tigers in 2013. The SEC is more than just a grind, and the Tigers found out the hard way that conditioning in this league is a little different than in the Big 12.
SOUTH CAROLINA GAMECOCKS

Spring start:
March 5
Spring game:
April 13
What to watch:
1. New backfield options: Marcus Lattimore and Kenny Miles are gone, so the Gamecocks will have to turn to their younger backs. Brandon Wilds missed the 2012 season with an ankle injury but should return this spring. Rising sophomore Mike Davis has all the tools to be a big-time player for the Gamecocks and could be the top option in the Gamecocks' backfield. Shifty Shon Carson also returns from a knee injury, so South Carolina will have a solid group to work with this spring.

2. QB controversy: Quarterback Connor Shaw might be tabbed as the starter, but with him out for the spring, Dylan Thompson will take the first-team reps. Thompson proved to be very valuable last year, and both will play this fall. Thompson has become one of the most vocal players on the team and is a strong leader. A good spring could bring some real controversy to the position.

3. Holes at linebacker: South Carolina will be without its two-deep at linebacker and "Spur" DeVonte Holloman is gone. That means there's a lot of work to be done when it comes to finding viable replacements. Sharrod Golightly will get the early crack at the Spur, and keep an eye on Kaiwan Lews, who was a true freshman last year and has a lot of potential to work with.
TENNESSEE VOLUNTEERS

Spring start:
March 9
Spring game:
April 20
What to watch:
1. New coaches on the block: With Butch Jones in town, the Vols have to get used to their third head coach in five springs. Jones and his staff have helped bring some much-needed energy to the program since arriving, but now it's time to develop vital on-field chemistry between the coaches and players.

2. Receiving help: The Vols' offense took at major hit at receiver. Juniors Justin Hunter and Cordarrelle Patterson made the leap to the NFL, while deep threat Zach Rogers and tight end Mychal Rivera graduated. Tennessee will now turn to a host of inexperienced receiving targets, including rising sophomore Alton Howard and early enrollee Paul Harris.

3. Quarterback battle: With Tyler Bray leaving for the NFL, Tennessee will work with rising junior Justin Worley and redshirt freshman Nathan Peterman. Worley has the edge when it comes to game experience, but with a new staff, this battle will be wide-open. They will also need to make strides before freshmen Joshua Dobbs and Riley Ferguson get on campus this summer.
VANDERBILT COMMODORES

Spring start:
March 15
Spring game:
April 13
What to watch:
1. Replacing Rodgers: Quarterback Jordan Rodgers is gone. The good news is Austyn Carta-Samuels has good experience after starting two years at Wyoming before transferring to Vandy. Redshirt freshman Patton Robinette is someone the coaches also are excited about, especially with his dual-threat ability, and should really push Carta-Samuels the whole spring.

2. Running back battles: The Commodores lost star running back Zac Stacy, so veteran Wesley Tate, who has bounced around positions, and rising sophomore Brian Kimbrow, who has the do-everything look to him at running back, will share reps. Warren Norman and Jerron Seymour also return, making for quite the talented backfield.

3. Keeping the edge: Now that another very successful season under James Franklin is over, the Dores have to continue to keep the edge that got them to where they are. It might sound like a broken record, but Vanderbilt still has to prove that it isn't the Vandy of old. People are certainly taking the Dores more seriously, but keeping that edge is important for more growth.
February, 15, 2013
Feb 15
12:45
PM ET
From the time he was hired, Tennessee's Butch Jones has spent practically every waking second recruiting.
He had 31 days to salvage what was left of the Vols' 2013 class following Derek Dooley's firing and then to add to it.
It's daunting enough in the SEC going up against the likes of Alabama, Auburn, Florida, Georgia and LSU on the recruiting trail, but Jones was out there trying to sell a program that's had just one winning season in the past five years.
Only Kentucky has won fewer SEC games over the past five years than Tennessee, which goes a long way toward explaining why it's been a revolving door lately on Rocky Top.
Jones will be the Vols' fourth head coach in the past six years.
His sales pitch to recruits has been simple: Be that group of players that returns Tennessee to prominence.
"Those days are over with," Jones said of the instability that has hounded the Vols' program ever since the end of Phillip Fulmer's Hall-of-Fame tenure. "You win with consistency and continuity, and the players walking in now do so to a very stable situation. That was our first message to recruits.
"The second was that we always talk about making an impact and building your legacy. It's easy to go to a program that's established and winning right now. We want individuals who believe in our vision and have enough confidence in themselves that they want to come to Tennessee and get this program back to its rightful place."
Jones has trumpeted Tennessee's rich tradition at every turn and is quick to point out that the last five years have only been a blip.
[+] Enlarge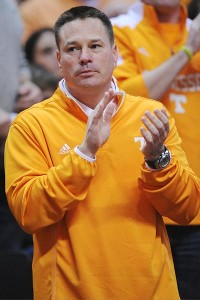 Randy Sartin/USA TODAY SportsButch Jones is relying on the Volunteers' past successes to lure recruits to the football team.
"Since 1927, we're the all-time winningest college football program in the country," he said.
Along those same lines, he's reached out to former Tennessee players and made the rounds meeting with them. Peyton Manning will speak at the Vols' coaching clinic this spring.
"They're the ones who laid the foundation for this program," Jones said. "They put the sweat in. I want our current players to embrace them and know all the great players who wore the Power T. This is a very prideful program, and it starts with our tradition."
Ultimately, Jones will be judged as a recruiter more on the 2014 class than this past one. Even so, his first class at Tennessee was ranked anywhere from 20th to 30th nationally by the analysts, which is certainly respectable given how little time he had to make inroads with recruits and their families.
But within the realm of the SEC, the Vols were ranked 10th out of 14 teams.
Obviously, recruiting rankings aren't the end-all, but they are a gauge. The talent gap right now between Tennessee and the elite teams in this league remains significant, especially in terms of depth.
But Jones is convinced that this first class helped closed that gap, and he expects to make up even more ground in the 2014 class.
"This class will really be the foundation for our program for many years to come," said Jones, who's won four conference championships in his six seasons as a head coach at both Central Michigan and Cincinnati.
Getting two quarterbacks in this class was a priority for Jones, and the Vols were able to flip
Joshua Dobbs
of Alpharetta, Ga., from Arizona State at the last minute.
Riley Ferguson
of Matthews, N.C., was also a four-star prospect.
Back when the Vols had it rolling under Fulmer, they made a living recruiting in the Carolinas.
Leonard Little, Shaun Ellis, Albert Haynesworth, Jay Graham and Robert Ayers all come to mind.
So going into Charlotte and landing heralded receiver
MarQuez North
was a huge get. The 6-4, 214-pound North was widely considered the top prospect in the state and could be an immediate contributor in 2013 when you consider that
Justin Hunter
,
Cordarrelle Patterson
and
Zach Rogers
are all gone.
The Vols were also able to hold onto Memphis defensive lineman
Jason Carr
, who was committed to the previous staff, but had interest from several other schools after Dooley was fired.
"I'm proud of those guys for believing in us and believing in our vision and the future of Tennessee football," Jones said. "We have a great brand to sell. We have a brand new $50 million facility and one of the most passionate fan bases in the country. Everything is here.
"Tennessee is a very special place, and I can promise you that we're all motivated to put a product on the field that makes everyone proud."
February, 7, 2013
Feb 7
9:00
AM ET
We're reviewing hits and misses in Pac-12 recruiting, starting with the South Divison.
ARIZONA

Needs filled
: The Wildcats have two incoming quarterbacks -- USC transfer
Jesse Scroggins
, who's already in school, and
Anu Solomon
-- who will be in competition to replace the departing
Matt Scott
. The class includes five linebackers, a need position. Don't be surprised if running back
Pierre Cormier
gets touches behind
Ka'Deem Carey
. It seems that coach Rich Rodriguez stocked up on athletes -- receivers and defensive backs.
Holes remaining
: The Wildcats' biggest weakness in 2012 was the defensive line -- they ranked last in the Pac-12 in sacks and gave up more than 200 yards rushing per game -- and this class of 23 includes just two defensive linemen. Who's going to rush the passer in 2013?
ARIZONA STATE

Needs filled
: The Sun Devils needed receivers and defensive backs. They signed five receivers and and five defensive backs -- and one athlete, who could play either. Defensive tackle
Marcus Hardison
, the nation's No. 5 junior college player, should help bolster a poor run defense.
Holes remaining
: The Sun Devils lost QB
Joshua Dobbs
to Tennessee on signing day, which means they haven't signed a quarterback in two consecutive classes. Nine JC transfers means the Sun Devils are counting on immediate impact rather than long-term development. That approach can be a gamble, though four of the juco recruits have three years of eligibility instead of two.
COLORADO

Needs filled
: The Buffs have a lot of needs, as they were last in the Pac-12 in scoring offense and scoring defense in 2012. The class includes six offensive linemen, and quarterback
Sefo Liufau
, 6-foot-4, 215-pound product of Bellarmine Prep in Tacoma, Wash., is a guy Buffs fans should be excited about. Considering the poor production at the position last season and the fact that there's a new scheme, he might get into the mix this fall.
Holes remaining
: This is a fairly balanced class but there isn't a single interior defensive lineman. The Buffs gave up 226 yards rushing per game last season. The Buffs did, however, sign nine defensive linemen last year. While Liufau is the star of the class, this crew is lacking pizzazz and will rank last in the Pac-12, which is not surprising for a 1-11 team that fired its coach.
UCLA

Needs filled
: Jim Mora said his top needs were offensive line, defensive back and linebacker. He signed seven offensive linemen, four defensive backs -- highly rated safety
Priest Willis
is still pending -- and three linebackers. As for the offensive line, two are ESPN 300 prospects and a third is a four-star lineman. Including Willis, who is expected to sign with the Bruins, two defensive backs are ESPN 150 players, a third is an ESPN 300 recruit and the fourth is rated with four stars. As for linebacker, two are ESPN 150 players.
Holes remaining
: The Bruins signed the Pac-12's top-rated class and had a great final week. There is little not to celebrate, other than defensive tackle
Eddie Vanderdoes
picking Notre Dame. The most obvious hole is running back, where there's no obvious replacement for
Johnathan Franklin
.
Craig Lee
had committed to the Bruins but hasn't signed, so there's no true RB in this class.
USC

Needs filled
: USC lost three of four starters from a secondary that underperformed last year, so signing two of the top three safeties in the nation --
Su'a Cravens
and
Leon McQuay
-- as well as the No. 11 cornerback in
Chris Hawkins
is a pretty nice haul. The Trojans also added a pair of elite running backs in
Ty Isaac
and
Justin Davis
, the nation's No. 3 DT in
Kenny Bigelow
and the No. 2 quarterback in
Max Browne
. All three spots were need areas.
Holes remaining
: The story of this class, as good as it is, is the handful of decommitments. In November, this was the No. 1 class but fell out of the top 10. Bigelow is the only defensive lineman; there are only two offensive linemen. In November, the question was how was USC going to finagle its way to just 75 scholarships, per NCAA sanctions. That's no longer an issue.
UTAH

Needs filled
: With the graduation of RB
John White
and three voids on the defensive line, those were two need spots addressed by this class of 23. The Utes signed five defensive linemen, including three defensive tackles. They also signed four running backs, including JC transfer
Devontae Booker
.
Holes remaining
: One bit of bad news for the defensive line is that DT
Lowell Lotulelei
, younger brother of Star and the Utes' highest-rated player, didn't sign because he's going on a Mormon mission right out of high school. This is a balanced class but it includes just two offensive linemen. The Utes also didn't get great linebacker play last season and this class only includes one,
Uaea Masina
.
February, 6, 2013
Feb 6
3:20
PM ET
Tennessee has announced its 2013 signing class.

New coach Butch Jones and his staff signed 21 players in their first class in Knoxville. The Vols closed out their class by signing four-star quarterback
Joshua Dobbs
(Alpharetta, Ga.), who was committed to Arizona State, four-star defensive
Jaylen Miller
(Gaffney, S.C.), and three-star defensive end
Malik Brown
(Palm Beach Gardens, Fla./Dwyer).
The Vols didn't bring in a many new players on signing day, but already had ESPN 150 wide receiver
Marquez North
(Charlotte, N.C./Mallard Creek) and ESPN 300 quarterback
Riley Ferguson
(Matthews, N.C./Butler) locked up.
You can view Tennessee's entire 2013 signing class
here
.
TOP 25 SCOREBOARD
Saturday, 12/21
Monday, 12/23
Tuesday, 12/24
Thursday, 12/26
Friday, 12/27
Saturday, 12/28
Monday, 12/30
Tuesday, 12/31
Wednesday, 1/1
Thursday, 1/2
Friday, 1/3
Saturday, 1/4
Sunday, 1/5
Monday, 1/6