April, 16, 2014
Apr 16
1:00
PM ET
EAST LANSING, Mich. -- For nearly a season and a half, Michigan State leaned hard on its defense to try to win games while the offense sputtered.
That pattern finally changed midway through last season, as
Connor Cook
settled the quarterback position,
Jeremy Langford
developed into a star at running back and the receivers started making tough catches. Heading into 2014, a new paradigm could be in play. The offense returns the vast majority of its production while the defense must replace stalwarts such as
Darqueze Dennard
,
Max Bullough
,
Denicos Allen
and
Isaiah Lewis
.
Nobody is expecting the Spartans defense to fall off a cliff, especially with Pat Narduzzi back at coordinator and plenty of fresh talent ready to step forward. But if that side needs time to find its footing early in the season, things could be OK.
"Our defense has obviously been very, very strong," offensive coordinator Dave Warner said. "But as an offense, we want to be able to carry this football team if need be. And do it right from start, rather than wait until four or five games into the season to get it figured out."
Michigan State isn't suddenly going to turn into Baylor or Oregon -- "I still think you've got to play well on defense to win championships," head coach Mark Dantonio says -- but there's reason to believe that an offense that averaged a respectable 29.8 points per game during Big Ten play could continue moving forward.
[+] Enlarge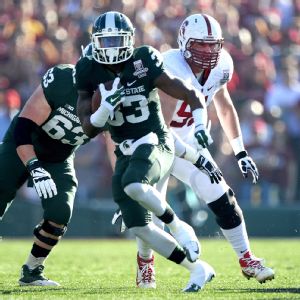 Kevork Djansezian/Getty ImagesWith Jeremy Langford and several key players returning on the Michigan State offense, the defense doesn't have to carry the Spartans anymore.
Cook is back and should ride a wave of confidence following his MVP turns in the Big Ten championship and Rose Bowl games. The Spartans did lose
Bennie Fowler
, who led all receivers with 622 yards and six touchdowns, but they return every other pass-catcher of note and expect bigger things out of guys such as
Aaron Burbridge
and
R.J. Shelton
, as well as
DeAnthony Arnett
. Langford, who ran for 1,422 yards and scored a Big Ten-best 19 total touchdowns, added about five pounds of muscle this offseason.
"I think it helps with my durability," he said. "I can take a hit and bounce off a couple tackles. I still feel fast, and I feel stronger now."
Michigan State was young at tight end last season and didn't utilize that position a lot, though
Josiah Price
made a crucial touchdown catch against Ohio State in the league title game. Tight end could become a strength this year with Price back and spring head-turner
Jamal Lyles
, a 6-foot-3, 250-pound potential difference-maker.
"We're better right now at tight end than we were at any time last year," Warner said.
Warner also wants to find ways to use tailbacks
Nick Hill
,
Gerald Holmes
and
Delton Williams
. And don't forget quarterback
Damion Terry
, whose athleticism could lead to several possibilities.
"We're experimenting a little bit right now," Cook said. "I feel like some new things will be added to our arsenal on offense."
The biggest question marks for the Spartans on offense are on the line, where they must replace three senior starters (
Blake Treadwell
,
Dan France
and
Fou Fonoti
) from what might have been the best O-line in Dantonio's tenure. The line doesn't have as much depth this spring as the coaching staff would like, but veterans
Travis Jackson
,
Jack Conklin
and
Jack Allen
provide a nice starting point.
Donavon Clark
and
Connor Kruse
have played a lot as backups, and
Kodi Kieler
is expected to make a move up the depth chart.
"We need to get that offensive line back in working order," co-offensive coordinator Jim Bollman said.
Overall, though, Michigan State feels good about the state of its offense. So good that maybe the defense can lean on it for a change, if needed.
"Last year, we got off to a horrible start and didn't really get going until Week 5," Cook said. "We don't want to have that happen ever again. With the offense we have and what we proved last year, we want to get off to a hot start and get the rock rolling early. That's what everyone on our team offensively has in mind."
December, 8, 2013
12/08/13
3:01
AM ET
INDIANAPOLIS -- How does a good team become a championship team? It starts with a message from the head coach to the defensive coordinator.
"We need you down here," Michigan State coach Mark Dantonio told Pat Narduzzi.
Narduzzi, the Spartans' defensive coordinator, spends the majority of games in the coaches' booth before joining the team on the sideline for the closing minutes. But after Ohio State scored four times on six possessions to take a 24-17 lead in Saturday night's Big Ten championship game, Dantonio needed his top assistant with the unit, pronto.
Quarterback
Braxton Miller
and the Buckeyes were piling up yards against the nation's top-ranked defense. Ohio State appeared unstoppable, wiping out a 17-0 deficit and building the narrative of a team bound for the national championship.
Instead, Michigan State changed the script. The Spartans were the ones who finished, the ones who took that final step from good to elite, the ones who handed Urban Meyer his first loss at Ohio State. The ones who, as Dantonio had proclaimed at the team banquet following a disappointing 2012 season, became The Ones.
A
34-24 win
secured Michigan State's first outright Big Ten title and its first trip to the Rose Bowl since the 1987 season.
"We just made history today," senior safety
Isaiah Lewis
said on the field afterward. "I never thought in a million years that I'd be a part of something like this. We finally did it.
[+] Enlarge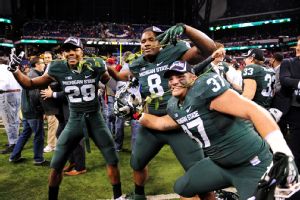 Allen Kee/ESPN ImagesMichigan State celebrated its return to the Rose Bowl after creating a "lifetime moment" Saturday.
"This is a lifetime experience."
The title game felt like a lifetime with several plot twists. Michigan State dominated the first 20 minutes, and Ohio State dominated the middle 20 minutes.
When Narduzzi made his way to the sideline with about four minutes left in the third quarter, linebacker
Denicos Allen
did a double-take.
"I'm like, 'Oh, man, it's getting real. We've gotta step up,'" Allen said.
The Spartan Dawgs finally got a stop, stuffing Miller on third-and-4. After Michigan State reclaimed the lead on a beautifully designed
Connor Cook
touchdown pass to tight end
Josiah Price
, the defense recorded a three-and-out.
But how long could Michigan State keep the nation's No. 3 scoring offense at bay? When Ohio State partially blocked a punt and took possession at the Michigan State 47, a score seemed inevitable. Three plays later, the Buckeyes faced fourth-and-2.
"G Hot Cyclone Gun," Narduzzi said of the play he called. "We had a timeout, and I switched the call right at the last second. It was Denicos coming off of one side, and
Taiwan Jones
coming off the other edge. I figured whichever [way] they came, at least we had two great linebackers coming off the edge."
Meyer sent Miller to the short side, and Allen brought him down shy of the marker. Michigan State allowed just 25 yards in the fourth quarter to a Buckeyes team that consistently had eroded its opponents with Miller's shiftiness and
Carlos Hyde
's power.
"Teams wear down when they play us," Spartans linebacker
Max Bullough
said. "Shoot, we practice faster and harder than a lot of stuff out here today, not in terms of hitting, but speed between plays."
Michigan State's course correction on defense helped secure the win, but so did an offense that completed an incredible turnaround after becoming a national punch line in September. Cook, the quarterback who wondered if the coaches had lost faith in him following the team's Sept. 21 loss at Notre Dame, claimed title-game MVP honors after passing for 304 yards and three touchdowns.
Cook consistently made plays on the move, spreading the ball to eight different receivers, as Ohio State bottled up the run before giving way late.
"I learned to never give up, to keep pushing no matter what the circumstances are," Cook said. "Score, situation, whatever stage you're on. I really didn't learn anything about our team, because this is the way we've been all year."
Perhaps the rest of us are learning that Michigan State is the next force in the Big Ten. Dantonio has guided the Spartans to 11 or more wins in three of the past four seasons. Michigan State has dominated Michigan under his watch and tormented Wisconsin, as well.
But a championship had been fleeting until Saturday night.
"My dad used to always say, 'Complete your circles,'" Dantonio said, referring to his father, Justin, who passed away days before the 2011 season. "I thought we did that. I never get too excited. I don't ever get too down. I live for my players.
"They made a lifetime moment tonight for all of us."
When it ended, players scrambled for roses to place between their teeth. As they've done after every win this season, they danced to rap songs in the locker room.
"We're doing things that haven't been done here in a while," safety
Kurtis Drummond
said. "We're trying to go down as never forgotten."
That much is certain. They'll go down as the group that took the Green and White back to Pasadena.