NCF Nation:

Ju-Ju Clayton
August, 15, 2011
8/15/11
9:00
AM ET
It was a busy weekend in the ACC. Here's a look back at the highlights from the scrimmages, according to the sports information departments of the teams that provided reports:

BOSTON COLLEGE
Coach Frank Spaziani told reporters after the 70-minute scrimmage that there were some good things, but "it's like a jigsaw puzzle with all the pieces in the box; they're not connected yet."
Offensive highlights:
Defensive highlights:
Linebacker Nick Clancy and defensive back Sean Sylvia led the team with four tackles each.
Sophomore linebacker Jake Sinkovec had one interception and one fumble recovery.

CLEMSON
Quarterback
Tajh Boyd
had an impressive performance, as he completed 10 of 12 passes for 168 yards and a touchdown to highlight the new offense in Clemson's 75-play scrimmage in Memorial Stadium on Saturday morning.
Offensive highlights:
Defensive highlights
:
The first-team defense did not allow a scoring drive.
Martin Jenkins led the team with seven tackles, including a tackle for loss.
Corico Hawkins had five tackles and a fumble recovery, while freshman defensive end Corey Crawford had five stops, including a sack.
Special teams highlights:
Clemson's three kickers, Chandler Catanzaro, Ammon Lakip and Brian Symmes were a combined 16-of-16 on the day in field goal attempts and extra points against a live rush.
Notable:
Three Tigers missed the scrimmage because they were going through graduation exercises across the street from Memorial Stadium in Littlejohn Coliseum. Starting offensive tackle Landon Walker, starting safety Rashard Hall and reserve defensive end Kourtnei Brown all graduated from Clemson on Saturday. It was especially noteworthy for Hall, who has been at Clemson just three years. He joins Nick Eason (now in the NFL with the Arizona Cardinals) as the only scholarship football players to graduate with two years of athletic eligibility remaining.
Four players missed the scrimmage due to injury. Those players were defensive back Xavier Brewer (sprained foot), defensive back Garry Peters (bruised calf), Andre Branch (head injury), DeShawn Williams (sprained ankle).

GEORGIA TECH
Georgia Tech coach Paul Johnson had mixed reviews after the Yellow Jackets' first scrimmage, which ran 90 minutes inside Bobby Dodd Stadium on Saturday morning.
"It was like a lot of first scrimmages, there were way too many balls on the ground and way too many penalties," Johnson said. "But we hit some big plays. When you play against each other there's positives and negatives on both sides. It's a starting place and we'll look at it and try to make some improvements."
Offensive highlights:
While no official statistics were kept, quarterback Tevin Washington passed for well over 100 yards, including a 63-yarder to senior A-back Roddy Jones. Redshirt freshman quarterback Synjyn Days threw the only touchdown of the day, to true freshman Jeff Greene.
Greene ran with the first unit Saturday as most of the veterans -- junior Stephen Hill, senior Tyler Melton, sophomore Jeremy Moore and junior Daniel McKayhan -- all sat out with injuries.
Washington scored the only other touchdown Saturday on a 1-yard QB keeper.
Defensive highlights:
Defensive end Emmanuel Dieke had a sack, true freshman Jamal Golden intercepted a Vad Lee pass, and Steven Sylvester and Isaiah Johnson both recovered fumbles.
Special teams highlights:
Sophomore Justin Moore booted a 45-yard field goal on his only attempt.
David Scully's 52-yard attempt was long enough, but just wide left.

MIAMI
The most important news out of Miami's first scrimmage was that quarterbacks
Jacory Harris
and
Stephen Morris
combined for five touchdown passes and only one interception. That sounds like improvement. Miami's quarterbacks combined for 407 passing yards on 38-of-52 passing for six touchdowns and only one interception.
Offensive highlights:
Receiver Tommy Streeter had the best offensive day for the Canes, catching five passes for 71 yards and three touchdowns, two of which came from Harris.
Lamar Miller had runs of 16 and 31 yards on the opening drive.
Defensive highlights:
Senior defensive back JoJo Nicolas led all defenders with eight tackles (six solo), with two tackles for loss.
Ramon Buchanan and freshman Gionni Paul and each had six total tackles, with Paul also recording a tackle for loss.
The defense totaled eight tackles behind the line of scrimmage for a total loss of 29 yards

VIRGINIA TECH
The Hokies' offense was the highlight, but what does that mean for the defense? Coach Frank Beamer pointed out that there were some long plays allowed, as the offense racked up 398 yards of total offense in the 78-play scrimmage at Lane Stadium on Saturday afternoon. The touchdowns came against Tech's second- or third-team defense, though, so the jury is still out.
"I thought it was a good first scrimmage -- better than most," Beamer said, according to the team's scrimmage report. "You take into consideration that you're trying to get everyone some work, people who don't know quite what they're doing, and that makes things a little ragged. I thought overall, though, it was a sharp scrimmage. The quarterbacks made some nice plays and Wilson got a couple of long plays against the defense, and we need to see what's going on there. Overall, the effort was good and the play was good."
Offensive highlights:
Backup quarterback Mark Leal led the quarterbacks with 116 yards passing, completing 6 of 13. He also threw an interception. Beamer said Leal is No. 2 on the depth chart behind Logan Thomas. Ju-Ju Clayton, who has dropped to No. 3 on the depth chart, completed 6 of 10 for 51 yards, while starter Thomas completed 4 of 8 for 79 yards, with an interception, in limited action.
Tailback David Wilson scored against the Hokies' second-team defense on a 22-yard run. Wilson led all rushers with 57 yards on five carries. Freshman Michael Holmes added 54 yards rushing on a game-high 11 carries.
Defensive highlights:
Freshman tackle Luther Maddy led the team with eight tackles, including two for a loss, and a sack. Freshman Michael Cole added six tackles, while Telvion Clark and Jack Tyler each finished with four.
Barquell Rivers had three tackles and an interception.
Jayron Hosley and freshman Ronny Vandyke also had interceptions. Hosley intercepted a Logan Thomas pass, while Vandyke intercepted a Trey Gresh attempt.
Special teams highlights:
The kickers connected on 5-of-6 attempts. Cody Journell hit from 35, 22 and 35 yards, while Justin Myer drilled a 52-yarder and a 28-yarder. "Cody's kicking extremely well," Beamer said. "Myer has a load of potential, and he needs to win some of the kicking contests during the week. That shows consistency, and that's where he is right now. Cody is usually winning it or right in the running at the end."
June, 16, 2011
6/16/11
9:00
AM ET
We've already taken a look at the ACC's
Dream Team
, which was comprised of the top position groups across the league. Now it's time to go a little bit deeper and rank every position group for each team. We'll start with the most difficult position -- the quarterbacks. More than half of the teams in the conference will usher in quarterbacks who are in their first season as a full-time starter, and many of the teams in the ACC are struggling with depth and experience at the position. This is
not
solely a ranking of the best quarterbacks in the ACC (stay tuned for that, it will look different), so backups are an important part of the equation.
Bottom line:
Who's got the depth and talent to make it through a full season --
and win
-- if more than one quarterback is needed?
Here's a look at who's stocked and who's not at quarterback this year:

1. Miami:
The Hurricanes have a proven albeit embattled option in
Jacory Harris
, and
Stephen Morris
also has significant starting experience. Whoever doesn't win the job will be a more than capable backup. The Canes still need to add depth to the position, but they landed transfer
Ryan Williams
from Memphis.

2. Boston College:
Starter
Chase Rettig
should be better in his second season as starter, but he's not the only one on the roster with playing experience.
Dave Shinskie
has started 13 games, and
Mike Marscovetra
should be a familiar name to BC fans by now.

3. Duke:
It's possible coach David Cutcliffe could use three quarterbacks this year. He's got one of the best in the league in starter
Sean Renfree
, backup
Brandon Connette
has seen significant playing time, and the emergence of redshirt freshman
Anthony Boone
this offseason could give the offense yet another option.

4. Wake Forest:
Tanner Price
is the undisputed starter, but
Ted Stachitas
had a better spring than coach Jim Grobe had anticipated, and
Brendan Cross
has always been in the mix to earn some playing time.

5. Florida State:
The Seminoles haven't settled yet on a backup to
EJ Manuel
, but depth isn't a problem with both
Clint Trickett
and
Will Secord
competing for the No. 2 spot. It's not like it was last year, though, when there was a Gator Bowl MVP sitting on the bench.

6. North Carolina:
Not only is
Bryn Renner
unproven, so are his backups. Renner clearly distanced himself from the rest of the competition this spring. True freshman
Marquise Williams
will continue to compete with
Braden Hanson
and
A.J. Blue
, who was injured two years ago and redshirted last season, for the No. 2 spot.

7. Virginia Tech:
Logan Thomas
had an impressive spring and drew rave reviews from those within the program, but the backup situation remains a question. Redshirt freshman
Mark Leal
really pushed
Ju-Ju Clayton
for the No. 2 job and that competition will continue this summer.

8. Georgia Tech:
It's Tevin Washington's job to lose, but
Synjyn Days
had the better spring game and made the competition a bit more interesting heading into fall camp. True freshmen
Vad Lee
and
Demontevious Smith
would have to have stellar performances in camp to make a move, but there's definitely talent in the wings.

9. Clemson:
Tajh Boyd
was the only scholarship quarterback even on the roster until the early enrollees,
Cole Stoudt
and
Tony McNeal
, joined the team. The good news for Clemson fans is that Cole Stoudt, the son of former NFL quarterback Cliff Stoudt, had a productive spring and earned the No. 2 job.

10. Virginia:
If there's one problem the Hoos don't have, it's depth at the quarterback position. Mike London has yet to name a starter, and all of them lack significant game experience.
Ross Metheny
,
Michael Rocco
,
Michael Strauss
and
David Watford
all have a shot. Since they're all preparing as starters now, they should all have a good grasp of the offense if needed.

11. Maryland:
First-year coach Randy Edsall had five quarterbacks to work with when he was hired, and now he's down to two. He's got one of the best quarterbacks in the league to work with in
Danny O'Brien
, but he's got to keep him healthy.
C.J. Brown
and walk-on Troy Jones are the only other quarterbacks on the roster.

12. NC State:
If
Mike Glennon
gets hurt, the Wolfpack is in trouble. Redshirt freshman
Tyler Brosius
has a strong arm but no experience, and he's not ready for prime time yet. The departure of
Russell Wilson
might not affect the win-loss record, but it definitely hurt the depth.
February, 15, 2011
2/15/11
10:00
AM ET
We've already looked at who and what to watch in the Atlantic Division this spring. Here's a breakdown of three issues facing each program in the Coastal Division:

DUKE
Spring practice starts:
Feb. 16
Spring game:
March 26
What to watch:
Jim Knowles taking over as defensive coordinator. After coaching the safeties last season, Knowles was promoted in late January following the departure of Marion Hobby to coach Clemson's defensive line. It's not a complete overhaul on defense, but for the third time in as many seasons, a different person will be calling the plays. Knowles has also assumed the lead role with Duke's practice scheduling and weekly preparation.
New faces at linebacker. Duke graduated its leading tackler from 2010, Abraham Kromah, and freshman All-American Kelby Brown is out while recovering from knee surgery. Those two slots will be wide open this spring and the competition will be among Austin Gamble, C.J. France, Tyree Glover and Kevin Rojas.
Offensive line shuffling. The Blue Devils return four starters up front, but they'll be missing the glue of the line in Bryan Morgan, who graduated. Brian Moore, who has started the past two seasons at right guard, will make the transition to center. John Coleman and Laken Tomlinson are expected to compete for the right guard spot.

GEORGIA TECH
Spring practice starts:
March 28 (tentative)
Spring game:
April 23
What to watch:
Starting quarterback competition. Tevin Washington enters the spring at No. 1 on the depth chart, and it's his job to lose, as he has the most experience after taking over for injured starter Joshua Nesbitt in 2010. Synjyn Days will give him legitimate competition this spring, though, and it will increase this summer with the addition of standout recruit Vad Lee to the roster. For now, though, it's between Washington and Days, as David Sims is expected to move to B-back.
Offensive line reshuffling. Georgia Tech will have to replace three starters in all-conference center Sean Bedford, right tackle Austin Barrick and left tackle Nick Claytor, who decided to leave early for the NFL draft. Phil Smith, Barrick's backup last year, is the only one with any experience at tackle. The staff will likely have to move a player or two from guard to tackle, and only it knows who those candidates might be right now.
Revamped secondary. Jerrard Tarrant's decision to leave school early and enter the NFL draft left the Jackets without any returning starters in the secondary. Junior cornerback Rod Sweeting, sophomore cornerback Louis Young, redshirt freshman cornerback Ryan Ayers and sophomore safety Fred Holton are front-runners, but they all have a lot to prove this spring. Holton and Young played sparingly as true freshmen and combined for 21 tackles. Sweeting played in all 13 games and had one fumble recovery and eight passes defended, including one interception. Senior cornerback Michael Peterson may help, and safety Jemea Thomas played as a true freshman in 2009 but redshirted last year. There's some talent, but the inexperience makes it a question mark.

MIAMI
Spring practice starts:
March 5
Spring game:
April 9 or 16
What to watch:
New staff, new schemes. Defensively, first-year coordinator Mark D'Onofrio will work with two other assistants who were with him and first-year coach Al Golden at Temple, so there is familiarity there. Linebackers coach Michael Barrow has to learn D'Onofrio's system, but the players tend to pick it up faster if the majority of the staff is already acclimated to it. Offensively, everyone will be working together for the first time. Jedd Fisch wants to run a pure pro-style offense based on matchups, and the good news is that several of the assistants, because of their respective backgrounds, are already schooled in at least a version of it.
Quarterback battle. Golden has said he would like to name a starter by the end of the spring, making these practices critical auditions for both Jacory Harris and Stephen Morris. Harris has both flourished and flopped as a starter for the Canes, and his injury last year gave Morris the opportunity he needed to win the people's choice award. Has a new era of quarterback begun, or will Harris finally have the breakout season Miami fans have waited for in his final year as a Cane?
Corner competition. Following the departures of Ryan Hill, DeMarcus Van Dyke and Brandon Harris, Brandon McGee is the only corner remaining on the roster with any significant experience. He played in 11 games, started one, and had 15 tackles. Redshirt freshman Devont'a Davis, sophomore Kacey Rodgers, and redshirt sophomore Jamal Reid will also compete for playing time. There are also several incoming freshmen who could be immediate contributors.

NORTH CAROLINA
Spring practice starts:
March 16
Spring game:
April 9
What to watch:
The rookie quarterbacks. There's no guarantee that Bryn Renner will be the Tar Heels' starter in 2011, but he enters the spring slightly ahead of the race, as he was No. 2 on the depth chart last season and was pushing T.J. Yates for the starting job at this time a year ago. The staff would also like to see what true freshman Marquise Williams, who enrolled in January, has to offer. Braden Hanson and A.J. Blue will also compete for playing time. Blue was injured two years ago and redshirted last season.
Running backs race. The Tar Heels graduated three key players from 2010: Johnny White, Anthony Elzy and Shaun Draughn. Ryan Houston is back for his fifth year after redshirting last year and is the most experienced of the returnees. Giovani Bernard was a true freshman last year and had been expected to get some playing time, but he tore his ACL on the third day of training camp. It's not clear yet how much he'll be able to participate this spring. Hunter Furr played sparingly last year and true freshman Travis Riley, who enrolled in January, are also in the mix.
Another strong defensive line. If Quinton Coples was an all-conference selection as a defensive tackle, he could be scary good at his natural position, defensive end. Coples played there as a freshman and sophomore, but switched to tackle out of necessity last season. The defensive line should once again be the strength of the team, but it will be reconfigured again, as Coples' move will leave a defensive tackle spot up for grabs. Junior college transfer Sylvester Williams, who enrolled in January, could fill that role.

VIRGINIA
Spring practice starts:
March 16
Spring game:
April 2
What to watch:
The search for a new starting quarterback. With Marc Verica graduated, the lead contenders to replace him are the ones who saw the field last year -- Michael Rocco and Ross Metheny. Neither of them started, but Rocco played in six games and Metheny five. Nobody has thrown the ball more than Rocco's 25 times. The staff will also look at Michael Strauss, who redshirted last year, Miles Gooch, and David Watford, who enrolled in January.
Competition at running back. With leading rusher Keith Payne graduated, the question becomes what can Kevin Parks do after redshirting last year? There's a lot of depth at the running back position, but Parks, the No. 56 running back in his class by ESPN.com and national prep record-setter out of the state of North Carolina, came to Charlottesville facing high expectations. With Payne gone, this could open the door for him to meet them, but returning starter Perry Jones will also be competing for carries.
Development of the receivers. In January, Jared Green Tweeted that he had decided to transfer after finishing his degree in Charlottesville this spring, according to a school spokesman. His departure, coupled with the graduation of Dontrelle Inman, leaves the Cavaliers without two of their top wideouts from 2010. With Tim Smith coming off an injury, the development of other receivers will be critical -- especially with a new starting quarterback.

VIRGINIA TECH
Spring practice starts:
March 30
Spring game:
April 23
What to watch:
Quarterback Logan Thomas. The Tyrod Taylor era is over, and Thomas is the front-runner to succeed the winningest quarterback in school history. Ju-Ju Clayton is the only other quarterback on the roster who's ever taken a snap, and he'll push Thomas this spring. It's Thomas' job to lose, but the staff is looking for him to improve his accuracy. He played quarterback in only his final two high school seasons and was projected as a tight end. He's still raw and learning the position, but physically, he's a clone of Cam Newton. If he develops some poise in the pocket, look out.
Competition on the defensive line. The Hokies have to replace starters John Graves (defensive tackle) and Steven Friday (defensive end), who both graduated. They've got Antoine Hopkins and Chris Drager back, but it's possible Drager could move back to tight end after starting 10 games at defensive end last year. Tackle Kwamaine Battle, who started the first two games before he tore his ACL and Hopkins took over, is another front-runner. Hopkins' younger brother, Derrick, will also be in the mix, along with James Gayle and J.R. Collins. Redshirt freshman defensive end Zack McCray, the cousin of Logan Thomas, has also impressed the staff so far.
Tight end auditions. The graduation of Andre Smith leaves the Hokies with only one returning tight end who's caught a pass in a game, Randall Dunn (one). Redshirt freshman Eric Martin was the second tight end when the Hokies used two-tight end sets, but he missed three games mid-season with an injury.
July, 27, 2010
7/27/10
10:30
AM ET
GREENSBORO, N.C. -- Virginia Tech quarterback
Tyrod Taylor
is at his best when his feet are part of his game. Last year, that dimension of the offense was stifled -- not because of opposing defenses, but for fear of Taylor getting injured.
Taylor rushed for 370 yards a year ago compared to 738 rushing yards in 2008. Coach Frank Beamer said that could change this fall, as the staff has grown more confident in its backup quarterbacks,
Logan Thomas
and
Ju-Ju Clayton
.
"We're much better equipped for our backup quarterback this year than we were last year at this time," Beamer said. "No. 1, Ju-Ju's had a lot of reps. No. 2, Logan's been there the whole time at spring practice. We're much more ready for a second quarterback to come in there than we were. The other side of it is you do what you do in your offense what gives you the best chance to move the chains."
The staff still has to determine its No. 2 quarterback this summer, though Thomas seemed to have the edge coming out of spring ball.
"I think going into the fall we'll try to get that determined fairly quickly," Beamer said. "I think you've got the right two people there to be quarterbacks. They're leaders, good kids, good talent. We'll clear that up."
June, 8, 2010
6/08/10
10:00
AM ET
This week, ESPN's "College Football Live" is revealing the most irreplaceable players heading into the 2010 season. These are the guys who are not only invaluable to their team, but have a question mark behind them. As good as NC State quarterback
Russell Wilson
is, he's got a capable backup behind him in
Mike Glennon
, who took all of the first-team reps this spring while Wilson was playing baseball. Same can be said at Florida State, where
E.J. Manuel
was the MVP of the Gator Bowl in
Christian Ponder
's absence. So who would they miss most?
Here's a look at who the most irreplaceable players are on each roster:
BOSTON COLLEGE: Montel Harris, RB
-- His health is of the utmost importance, as Harris IS the Eagles' running game.
Rolandan Finch
, who had mononucleosis last year, tore his ACL in mid-April. Freshman
Sterlin Phifer
is an option, but it was hard to tell how much he might be able to help from spring scrimmages because there wasn't a lot of rushing with the hopes of keeping everyone healthy. Phifer had 15 carries for 28 yards and a touchdown in the first two scrimmages.
CLEMSON: DeAndre McDaniel, CB --
Quick: name his backup. Exactly. Why would you take an All-American off the field if you didn't have to? McDaniel is the star of a defense that lost two veterans in the secondary. If McDaniel goes down, sophomore Jonathan Meeks is the next man up. He had 54 snaps last year and played on special teams.
DUKE: Sean Renfree, QB --
Even though Renfree is only entering his first season as a full-time starter for the Blue Devils, there is even less experience behind him. Renfree has at least taken a snap in a game. Freshman quarterback Brandon Connette enrolled in January and
Sean Schroeder
was running the scout team offense a year ago.
FLORIDA STATE: Rodney Hudson, OG --
He didn't allow a sack or quarterback pressure all season. Now there's a guy Ponder won't want to be missing this fall. Hudson only missed four assignments all season and had a team-high average grade of 88 over 11 starts. He missed the last two regular-season games with a knee sprain.
GEORGIA TECH: Joshua Nesbitt, QB --
The Jackets settled on
Tevin Washington
as their backup quarterback this spring, but there is still a significant gap between he and Nesbitt. Nesbitt has mastered the spread-option offense and the timing needed to perfect it. Washington has six carries and one pass attempt.
MARYLAND: Torrey Smith, WR --
He's unmatched on the roster when it comes to all-around contributions. He's a kick returner, a receiver and a team leader. He's also the most explosive player the Terps have.
MIAMI: Jacory Harris, QB --
Coach Randy Shannon has said he can win a national title with Harris as his quarterback, but in order to have any chance at doing that, the Canes obviously have to keep him healthy.
A.J. Highsmith
played in three games last year, but road trips to Pitt and Ohio State are no places for introductions.
NORTH CAROLINA: Robert Quinn, DT --
It's not easy to replace a guy who has 11 sacks and 19 tackles for losses. The players behind him are good -- Quinton Coples and Michael McAdoo -- but they have yet to start a college game and prove dependable for the number of plays the staff asks of Quinn.
NC STATE: Nate Irving, LB --
The Wolfpack saw how devastating it was to lose Irving a year ago, when he missed the whole season after injuries he sustained in a summer car accident. Some within the program say he is the best player on the roster, and the defense definitely wasn't the same without him last year.
VIRGINIA: Marc Verica, QB --
There's no shortage of quarterbacks for Mike London to choose from in his first year as head coach, but Verica is the only one who has attempted a collegiate pass.
Ross Metheny
and Michael Strauss were the only other quarterbacks available this past spring, and they were competing for the No. 2 spot.
VIRGINIA TECH: Tyrod Taylor, QB --
The Hokies will need their veteran healthy to keep their championship hopes alive this fall. The No. 2 job has yet to be solidified, but
Logan Thomas
made the strongest case this spring over
Ju-Ju Clayton
.
WAKE FOREST: Russell Nenon, C --
He has started 25 games, including the past 19, at center. Nenon is one of just two starters returning to an offensive line in need of some help. The Deacs were shorthanded up front this spring, as Nenon was injured.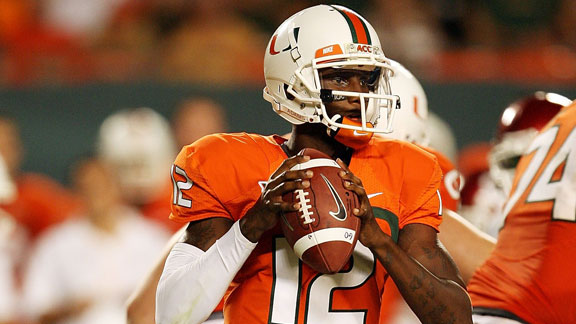 October, 2, 2009
10/02/09
10:00
AM ET

Posted by ESPN.com's Heather Dinich
It's a good thing for the ACC that backup quarterbacks weren't needed in September the way they were needed throughout the rest of the country (SEE:
Tim Tebow
,
Sam Bradford
, Robert Griffin, just to name a few). Had Miami's
Jacory Harris
or Virginia Tech's
Tyrod Taylor
gone down early against the ranked opponents each of those teams faced -- including each other -- the ACC would be in big trouble right now. (Remember the panic, Miami fans, when FSU's Greg Reid whacked Harris' funny bone in the opener?)
Here's to a healthy season in the ACC, and here's a look at which backup quarterbacks are ready to roll after one month of football:
READY TO ROLL
Sean Renfree, Duke:
He's Duke's quarterback of the future and has already been groomed as such. Renfree has appeared in 13 series, completing 29-of-43 pass attempts for 286 yards, four touchdowns and one interception.
Mike Glennon, NC State:
He played in every game except last weekend against Pittsburgh, and has completed 10 of 13 passes for 85 yards. He's a much more dependable option than the Pack had in the past.
Vic Hall, Virginia:
He was actually the starting quarterback in the season opener, and is arguably the most athletic player the Cavaliers have, but injured his hip and hasn't played since the William & Mary game. He's a veteran leader who has already proven himself in a multitude of roles. Hall,
Jameel Sewell
and
Marc Verica
could all be backups any given Saturday, and they're all experienced and ready to roll. If Sewell is the starter, Hall can play just about anywhere else.
Jaybo Shaw, Georgia Tech:
Shaw was finally cleared to play and could make his first appearance of the season this weekend at Mississippi State after breaking his collarbone this summer. He began throwing again on Sept. 7, and proved last year he's a tough player who can run and pass well.
HAS THE HYPE
E.J. Manuel, Florida State:
He's definitely gotten more hype than he has playing time this fall, as Manuel played in two games and has completed just 1-of-2 passes for four yards. Manuel, recruited by Jimbo Fisher, was an ESPNU 150 prospect and the No. 6 ranked quarterback in the class of 2008.
Willy Korn, Clemson:
Well, it's more like he HAD the hype. It's hard to believe Korn was the No. 12 quarterback in the class of 2007. Korn was relegated to the bench this summer in favor of
Kyle Parker
and has only played in two games. He's also expressed his displeasure in the fact he's only thrown two passes this year.
A.J. Highsmith, Miami:
He earned a quick promotion after Taylor Cook and
Cannon Smith
both transferred, but all Highsmith has so far is hype and pedigree. He's the son of former Miami and NFL running back Alonzo Highsmith, and was the No. 24-ranked quarterback in the class of 2009.
WHO KNOWS?
Ju-Ju Clayton, Virginia Tech
– The former scout team quarterback was in on 23 snaps against Marshall, but threw three incompletions. Clayton won the job over
Marcus Davis
this past spring, who was moved to wide receiver. If Taylor is injured, uncertainty is the only thing behind him.
Jamarr Robinson, Maryland
– The fact that
Chris Turner
has been sacked 14 times and hasn't missed a snap makes you wonder about the confidence Ralph Friedgen has in his backup. Robinson, who was promoted after Josh Portis transferred, hasn't seen the field yet.
Ryan McManus, Wake Forest
– The redshirt senior is also a holder and backup longsnapper. He played against Elon and completed 1-of-4 passes, the only four plays he was in on as quarterback.
Justin Tuggle, Boston College
– There wasn't much separation between Tuggle and
Dave Shinskie
until the Wake Forest game, as both of them started with zero experience. Both have been used in every game, but it's unclear where Tuggle's future is headed. He has 229 yards, four touchdowns and three interceptions so far.
Braden Hanson, North Carolina
– He was given a shot ahead of
Mike Paulus
this year, and was 0-for-2 with one interception in his only chance against The Citadel, but they're both listed as the backups this week. Neither has proven anything yet.
Posted by ESPN.com's Heather Dinich
Around the ACC we go ...
Former Wake Forest backup quarterback Brett Hodges will transfer to UCF and is eligible to compete for the starting job immediately. How? By using the same NCAA transfer rule Duke guard Greg Paulus will have to use if he wants to be an FBS quarterback, too.
At Virginia Tech, Marcus Davis might not have been ready to be the No. 2 quarterback, but quarterbacks coach Mike O'Cain thinks Davis is a more talented athlete than Ju-Ju Clayton.
Here are five questions Maryland still needs to answer on defense.
Bobby Bowden's spring tour has begun, and Andrew Carter of the Orlando Sentinel has the play-by-play.
And two leftovers for you ...
Thanks to one reader for providing this link on Monday: Maryland coach Ralph Friedgen wasn't shy about his feelings regarding the NCAA sanctions FSU is facing. Friedgen's take? Bowden should vacate the wins.
How much could fans tell about Virginia's new spread offense from its spring game? Not much, and that was exactly how coach Al Groh wanted it.
TOP 25 SCOREBOARD
Saturday, 12/21
Monday, 12/23
Tuesday, 12/24
Thursday, 12/26
Friday, 12/27
Saturday, 12/28
Monday, 12/30
Tuesday, 12/31
Wednesday, 1/1
Thursday, 1/2
Friday, 1/3
Saturday, 1/4
Sunday, 1/5
Monday, 1/6
TOP PERFORMERS