NCF Nation:

Julian Campenni
September, 5, 2012
9/05/12
4:00
PM ET
Only one game has been played, and it was against a program that is in its infancy on the FBS level.
But there were some excellent signs from the UConn defense last week.
[+] Enlarge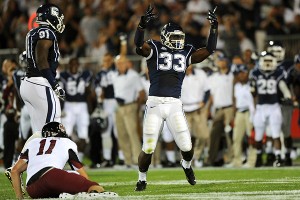 Michael Ivins/US PresswireHuskies linebacker Yawin Smallwood earned Big East Defensive Player of the Week honors after his big game against Massachusetts.
The linebacker group played very well, confirming what many thought would be the case with three returning starters.
Yawin Smallwood
was honored as Big East Defensive Player of the Week after he recorded seven tackles -- including a sack and 3.5 for loss.
The defensive line dominated up front, and the secondary looked vastly improved. And UConn was one of five schools in the entire country to post a shutout. Not only that, the Huskies are currently ranked No. 1 in the nation in total defense, having given up only 59 yards.
Yes, it is early, but it's still something for the Huskies to be proud of because clearly they have made significant strides.
"We're a little more experienced," coach Paul Pasqualoni said earlier this week. "At the safety position, we played two freshmen as the year went on [last season] and we didn't have any experience at the linebacker position. So overall, we have more returning players. We've been in the system a full year, they know the system better and they know each other better. That to me is the biggest difference."
Now having said all that, we should know a lot more about this group after a big test this weekend against NC State, which features 3,000-yard passer
Mike Glennon
.
While Glennon did not get off to the best start last week -- throwing four interceptions in a loss to Tennessee -- the Wolfpack do have a veteran offensive line with four starters returning and depth at running back. Plus, UConn is going to be without tackle
Shamar Stephen
and top reserve end Teddy Jennings, both out with injuries.
"Losing Teddy is a big deal," Pasqualoni said. "That's a huge loss for us. Somebody else is going to have to step it up.
Tim Willman
will come in; he needs to step it up.
Elijah Norris
played a little bit; he's going to have to step it up. I thought
Ryan Wirth
played a solid game for us. I think the younger guys in there,
Angelo Pruitt
and
Julian Campenni
, they've got technique to improve on. They gave effort in there and at times they looked OK. They've got to step it up as well this week."
That may very well be the key to UConn posting another impressive defensive performance.
May, 24, 2012
5/24/12
2:00
PM ET
PONTE VEDRA BEACH, Fla. -- I had a chance to catch up with UConn coach Paul Pasqualoni during the Big East spring meetings. We talked about where the quarterback race stands and some of his remaining questions heading into fall practice.
Do you have a front-runner in the race to be your starting quarterback?
PP:
Chandler Whitmer had the best production in the spring game, so I think there are members of the media, and I've been through this before, that like to choose the quarterback. If the members of the media, based on the spring game, were choosing the starting quarterback, Chandler Whitmer would be the front-runner. But I've been in this long enough to know that it's not based on one performance. It's the body of work over an extended period of time. They all did some pretty good things in the spring. Having said that, we're going to come back into preseason camp and we're going to continue the competition but I would like very, very much to make a decision as soon as I can.
[+] Enlarge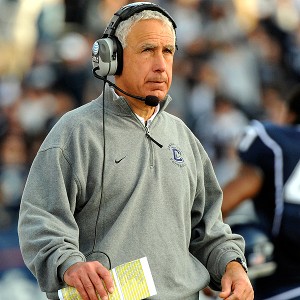 AP Photo/Tomasso DeRosaPaul Pasqualoni still has a decision to make regarding his starting quarterback.
It did drag on into the season opener last year.
PP:
I preferred for that not to happen. Years back when we had Donovan McNabb, Kevin Johnson and Keith Downing all competing, it was the same thing; we were trying to figure it out. We weren't able to do it early in preseason, so we did it in the end to get all the scrimmages in and get all the opportunities to watch and see them play and produce. If we have to, we're going to do that, but if we don't have to, we're not going to do that. I'd like to be able to say tomorrow, 'Here it is, let's go,' but I just can't do that. So we're going to grind it out. It's a big decision, obviously, and we're going to try to make the best, informed decision that we can.
How will you manage the reps with all five still competing?
PP:
We did a great job of managing the reps in the spring, so we'll go back in and we'll manage the reps the same way. They'll each get a significant number of reps. Scotty McCummings will still have the majority of the Wildcat reps, although he works on the entire game plan and we're trying to develop him as a drop-back passer as well. We'll divide them up and we'll do the best we can with it.
If Casey Cochran doesn't emerge as your starter, have you given thought to redshirting him?
PP:
We haven't discussed any of that yet. We really don't talk about redshirting anyone at this point. My policy is I want them coming in with a non-redshirt mentality when they get on campus. My fear has always been if you start to talk that redshirt mentality and they come into camp and they're not ready enough, it affects their conditioning and the way they go through practice. I want them coming in and all competing.
How about the development of your offensive line this spring. Where does that group stand?
PP:
We're anxious to get
Jimmy Bennett
back. He'll be back. He's been cleared, he'll work out full go here in early June. He was really one of our better tackles last year. The biggest issue with Jimmy is to get him ready to go but keep him healthy.
Adam Masters
got nicked up in the spring, we have to get Adam back, and over at right tackle,
Kevin Friend
has been working hard. So if Jimmy's back and Jimmy's playing tackle, it gives us flexibility to put Adam back at guard.
Alex Mateas
and
Tyler Bullock
are competing at center. There are a few freshmen I want to see practice, Tyler Samra, Rennick Bryan. I want to see where they can fit in the top 10. So those are going to be all really big things for us with the offensive line in camp.
How about the defensive line? It seemed Ryan Wirth had a good spring game.
PP:
Ryan Wirth got nicked up but then he came back for the spring game and had a very productive spring game. He's a senior, and we expect to get senior leadership out of him.
Shamar Stephen
,
Angel Pruitt
, I thought
Julian Campenni
had a productive spring until he got hurt. He cut his ear and was unable to play in spring game but he had a productive spring. We're not there yet on the defensive line, and we're not there yet on the offensive line, but we're going in the right direction. We've got the right guys on the bus. It's a matter of getting them in the right seats now.
What are your biggest questions then, aside from quarterback?
PP:
Offensive line, defensive line, and what the depth is going to be at both the tailback position and the wide receiver position.
Losing D.J. Shoemate was obviously tough.
PP:
It was. We know what
Lyle McCombs
can do. But we've got to find out who the next two guys are.
At receiver, Shakim Phillips seemed to have a good spring as well.
PP:
Shakim had a good spring,
Mike Smith
is back and he's played a lot of football for us.
Nick Williams
is back. We've got the two young guys in
Tebucky Jones
and
Geremy Davis
who have done pretty good, and then we moved
Deshon Foxx
out to wide receiver and he showed some promise. I think we know who the older guys are there. Now we have to figure out the younger rookie guys and see what kind of depth we have. I want each of them to have a role. To say that I've got all that figured out right now -- I don't.