NCF Nation:

Jurrell Casey
May, 1, 2011
5/01/11
12:26
PM ET
The Pac-12 provided 37 players to the NFL draft over the weekend, one fewer than the SEC, which led all conferences.
If the six combined picks from Colorado and Utah are taken away from the conference, the old Pac-10 provided NFL teams 3.1 draft picks per team, also just behind the SEC at 3.17.
Here's where the Pac-12 players went:
First round
No. 8
Jake Locker
, QB, Washington: Tennessee
No. 9
Tyron Smith
., OT, USC: Dallas
No. 17
Nate Solder
, OT, Colorado: New England
No. 24
Cameron Jordan
, DE, California: New Orleans
No. 27
Jimmy Smith
, CB, Colorado: Baltimore
Second round

7.
Akeem Ayers
, LB, UCLA: Tennessee
10.
Brooks Reed
, DE, Arizona: Houston
13.
Rahim Moore
, FS, UCLA: Denver
21.
Stephen Paea
, DT, Oregon State: Chicago
24.
Shane Vereen
, RB, California: New England
Third round

13.
Jurrell Casey
, DT, USC: Tennessee
20.
Mason Foster
, LB, Washington: Tampa Bay
25.
Shareece Wright
, CB, USC: San Diego
29.
Christopher Conte
, S, California: Chicago
33.
Sione Fua
, DT, Stanford: Carolina
Fourth round

5.
Jordan Cameron
, TE, USC: Cleveland
19.
Casey Matthews
, LB, Oregon: Philadelphia
21.
Jalil Brown
, CB, Colorado: Kansas City
27.
Owen Marecic
, FB, Stanford: Cleveland
Fifth round

8.
Brandon Burton
, CB, Utah: Minnesota
9.
Gabe Miller
, DE, Oregon State: Kansas City
14.
Jacquizz Rodgers
, RB, Oregon State: Atlanta
23.
Richard Sherman
, CB, Stanford: Seattle
Sixth round

2.
Ryan Whalen
, WR, Stanford: Cincinnati
14.
Caleb Schlauderaff
, OG, Utah: Green Bay
17.
Ronald Johnson
, WR, USC: San Francisco
19.
David Carter
, DT, UCLA: Arizona
22.
Allen Bradford
, RB, USC: Tampa Bay
24.
Mike Mohamed
, LB, California: Denver
32. Ricky Elmore, DE, Arizona: Green Bay
38. Zach Williams, C, Washington State: Carolina
Seventh round

12.
D'Aundre Reed
, DE, Arizona: Minnesota
24.
Scotty McKnight
, WR, Colorado:
New York Jets
30.
Lawrence Guy
, DT, Arizona State: Green Bay
37.
Stanley Havili
, FB, USC: Philadelphia
38.
David Ausberry
, WR, USC: Oakland
39.
Malcolm Smith
, LB, USC: Seattle
By Pac-12 school:

Arizona (3)
Arizona State (1)
California (4)
Colorado (4)
Oregon (1)
Oregon State (3)
Stanford (4)
UCLA (3)
USC (9)
Utah (2)
Washington (2)
Washington State (1)
The final tally by automatic qualifying conferences
:
SEC... 38
Pac-12... 37
Big Ten... 36
ACC... 35
Big East 22
Big 12...19
Nebraska was a big swing to the Big Ten from the Big 12 with seven picks. With Colorado and Nebraska, the Big 12 provided 30 selections.
This was the tally through three rounds
:
SEC: 20
ACC: 19
Pac-12: 15
Big Ten: 13
Big 12: 9
Big East: 4
December, 8, 2010
12/08/10
10:30
AM ET
We tried to emphasize consistent production this year on our All-Pac-10 team, not just NFL prospects. That's why some big names are missing.
For comparison, here is the
coaches team
, which was announced Tuesday.
We didn't include a tight end because receiver was a far deeper position. And, unlike the coaches, we didn't make a wishbone backfield just to accomodate Stanford's
Owen Marecic
. Instead, we made up a specialist position for a guy who starts at both fullback and linebacker: "STUD."
So here you go.
Offense

QB
Andrew Luck
, So., Stanford
RB
LaMichael James
, So., Oregon
RB
Jacquizz Rodgers
, Jr., Oregon State
WR
Juron Criner
, Jr., Arizona
WR
Jeff Maehl
, Sr., Oregon
WR
Jermaine Kearse
, Jr., Washington
OL Chase Beeler, Sr., Stanford
OL Colin Baxter, Sr., Arizona
OL Tyron Smith, Jr., USC
OL Bo Thran, Sr., Oregon
OL Jonathan Martin, Jr., Stanford
Defense

DL Brandon Bair, Sr., Oregon
DL Cameron Jordan, Sr., California
DL Stephen Paea, Sr., Oregon State
DL Jurrell Casey, Jr., USC
LB Chase Thomas, So., Stanford
LB Mason Foster, Sr., Washington
LB Casey Matthews, Sr., Oregon
DB Talmadge Jackson, Sr., Oregon
DB Omar Bolden, Jr., Arizona State
DB Delano Howell, Jr., Stanford
DB John Boyett, So., Oregon
Specialist
s
PK Nate Whitaker, Sr., Stanford
P Bryan Anger, Jr., California
KOR
Robert Woods
, Fr., USC
PR Cliff Harris, So., Oregon
STUD (FB-LB) Owen Marecic, Sr., Stanford
November, 30, 2010
11/30/10
12:26
PM ET
We have just gutted the 2010 USC-UCLA game. Its entrails lay before us on a sacred stone where teams have revealed their greatness in days of yore, as well as in recent years. We -- you and the Pac-10 blog, of course -- are haruspices attempting to divine meaning from the state of the two programs and what their rivalry game on Saturday means.
In truth, it's just a wet, sticky, yucky pile. But things were pretty gross even before we made a bloody mess that reveals little.


"Steak tartare?" I say. "Sushi?" you say.
The battle for LA bragging rights ain't much to look at. USC is 7-5 and has lost two in a row. UCLA is 4-7 and has lost five of six. It's the most combined defeats for the two teams entering the game since 1999.
What is fair to say: The loser will be really, really miserable this offseason. The winner? It gets to
not
be the loser.
That said, the most accurate grade for both this season might be an incomplete, for it is difficult to get an accurate, big-picture measure of the state of either program.
For one, both programs had some impressive highs this season.
USC has been in and out of the rankings throughout the year, but it appeared to be there to stay after an impressive win at Arizona on Nov. 13. At that point, it was fair to predict a 10-3 finish, a strong first season for new coach Lane Kiffin by any measure, considering the circumstances.
At that point, some prematurely
pinned a rose on Kiffin's nose
. But then USC got blown out at Oregon State 36-7 and lost to Notre Dame 20-16 at home, thereby ending a record eight-game winning streak in the storied series.
The Trojans will lose a number of quality seniors heading into 2011 (WR Ronald Johnson, C Kristofer O'Dowd, FB Stanley Havili, CB Shareece Wright), and a couple more could enter the NFL draft a year early (OT Tyron Smith, DT Jurrell Casey).
Considering how young and thin the Trojans were this season, it's hard not to see them trending down after Kiffin's first season.
As for UCLA, the Bruins looked awful in their first two games -- a loss at Kansas State and a 35-0 drubbing at home against Stanford. But a three-game winning streak followed, topped by wins over Houston and Texas, a pair of nationally ranked teams. The defense stepped up and the pistol offense appeared to be breaking through with quarterback Kevin Prince.
Then: Splat. Prince, who was struggling in the passing game, was lost for the season to a knee injury, and the Bruins lost three in a row. They briefly seemed to recover with a win over Oregon State, which reignited bowl hopes, but they then lost by 17 at Washington and 21 at Arizona State.
The defense has been bad, but the offense has been awful. The Bruins rank 116th in the nation in passing and 103rd in scoring, and that has created a offensive coordinator controversy with Norm Chow, who is highly respected -- and highly paid -- but hasn't lived up to his reputation in Westwood.
It's hard not to see the Bruins trending down after Rick Neuheisel's third season.
So there is the suggestion of a downward trend for both, but there are variables beyond wins and losses in 2010.
USC still awaits a ruling from the NCAA Appeals Committee on severe sanctions, which included a two-year bowl ban and a docking of 30 scholarships over three years. In light of recent reports and ensuing investigations launched across the Eastern Seaboard for far worse offenses involving agents and pay-for-play schemes than what the NCAA turned up after investigating the Trojans football program for four years, it seems reasonable for the Committee to give USC a break.
Don't hold your breath, Trojans fans. But if penalties were reduced, that would provide a significant jolt of positive momentum, particularly if scholarships are restored.
With USC getting trampled by the NCAA, UCLA was supposed to take advantage, particularly in recruiting. At present, however, the Trojans
rank 13th in the nation in recruiting
, while the Bruins are not ranked in the top-25. USC has
16 commitments
with four from the ESPNU 150. UCLA
nine commitments
with just one from the ESPNU 150.
But it's premature to measure recruiting classes before national signing day on Feb. 2. Recall that Neuheisel has made impressive late runs the past two years.
So, again, rain clouds hang over both programs in sunny Southern California. Neither is happy with this season. And both really, really would like to walk away from 2010 by putting a footprint on the other's forehead.
As for the big-picture trends in the rivalry? Who the heck knows?
October, 31, 2010
10/31/10
2:32
AM ET
LOS ANGELES -- The skinny, shaggy-haired receiver isn't the sort to bluster or pound his chest. He's handled being overlooked before. USC didn't even send
Jeff Maehl
a recruiting letter when he starred for Paradise (Calif.) High School. Oregon was his only scholarship offer. So, he didn't seem necessarily angry that Trojans defensive tackle Jurrell Casey had told ESPN Los Angeles that the Duck were a two-man team.
But, yes, he was aware of it. Yes, word got around the Ducks locker room that Casey said, "They have a good running back and a good quarterback. Other than that, they're really not that good."
[+] Enlarge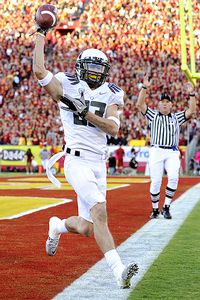 AP Photo/Mark J. Terrill Oregon's Jeff Maehl caught eight passes for 145 yards and three touchdowns against USC.
And, yes, he and other Ducks were motivated by Casey relegating them to roles as faceless extras behind running back
LaMichael James
and quarterback
Darron Thomas
. Said Maehl, "Definitely, any time you've got guys on the other team saying we're a two-man show, it's going to give guys a lot of motivation."
James was his typical fancypants self, rushing for 239 yards and three touchdowns in the No. 2 Ducks'
53-32 win
over USC, which entered the game ranked 24th in the AP poll. And Thomas threw for 288 yards and four TDs. But let's just say Maehl and the other guys were supporting actors like, say, Robert Duvall played a supporting role in "The Godfather."
You know: Like the show wouldn't have been half as good without them.
Maehl caught eight passes for 145 yards and three TDs against the Trojans, including a beautiful diving grab on a 45-yard touchdown pass in which he tipped the ball to himself and caught it as he fell into the end zone.
Of course, Maehl's description of the game's most spectacular play was mired in self-deprecation.
"I really shouldn't have even jumped," the 6-foot-1, 184-pound senior said. "Then I mistimed the jump. It hit my hands and then kind of fell into my lap."
Any of you guys see that catch happening like that?
Ducks coach Chip Kelly praised Maehl as an athlete and as a competitor and even celebrated his conduct on the basketball court. He wasn't, however, ready to say this was Maehl's "hello world" game, noting that Maehl made huge plays in the Ducks double-overtime win in 2009 at Arizona.
Said Kelly, "I'm just glad we can start rating them: 'What's the best Jeff Maehl game?' Hopefully, it's next week."
But let's not starting treating it like Oregon is now a
three
-man team, with Maehl joining the James-Thomas club. Receiver
Lavasier Tuinei
caught seven passes for 78 yards and a touchdown.
Josh Huff
had a 57-yard reception and two runs for 28 yards. The Ducks' offensive line surrendered only one sack and pushed the Trojans around for 311 yards rushing. The defense got eight tackles for a loss divided among nine players. Seven different players broke up at least one pass. Two players grabbed interceptions. Another forced a fumble. Two others recorded sacks.
The Ducks scored quick -- three of their four first-half TD "drives" took less than 30 seconds. And they scored slow -- three of four second-half scoring drives took more than four minutes. They threw downfield; they misdirected; and then they pounded. Relentlessly.
You get the point. 52 guys played for Oregon. And there was a lot of contributing going on out there.
But Maehl seems like one of the guys who merits note after you finish writing sonnets about James' Heisman Trophy candidacy and how Thomas might be starting a campaign for All-Pac-10 quarterback. Oregon has plenty of fancy, but it also has some guys who didn't look the part to recruiting powerhouses like USC.
When asked if Maehl might not impress an opposing defensive back when he walks on the field -- it's noted he's a skinny white dude with a let-it-be haircut that belongs with the Kings of Leon, not the Kings of Offense -- linebacker Casey Matthews smiled.
"He's not the prototype," he said.
Thomas, however, isn't buying the idea that anyone underestimates Maehl any longer.
"Maybe at the beginning of the season, but if they watch film on him -- he's a big-time player," he said.
Casey, apparently, didn't get that impression from Maehl or any other Ducks -- other than Thomas and James -- in the week leading up to the game. After Oregon rolled up 599 yards of offense, here's a guess his mind might change when he reviews this latest film.
October, 30, 2010
10/30/10
10:33
PM ET
Talk about a momentum shift.
USC quickly overcame a 12-point halftime deficit to jump ahead of Oregon 32-29 with a pair of TDs scored on short fields.
USC defensive tackle Jurrell Casey intercepted a pass at the line of scrimmage on the Ducks' opening possession of the third. The Trojans scored two plays later.
Then, after an Oregon three-and-out -- and a 55-yard punt return from
Ronald Johnson
-- the Trojans scored another TD, and the 2-point conversion gave USC a 32-29 lead.
Who's got the quick strike offense now?
October, 28, 2010
10/28/10
11:16
AM ET
The week started with Oregon coach Chip Kelly and USC coach Lane Kiffin praising each others' team.
One word: Yawn.
Ah, but things have gotten a little crispy since then as their Saturday matchup gets closer.
First, there was USC QB
Matt Barkley
's
tweet that compared fallen
UFC champion Brock Lesnar to Oregon and USC to new champ Cain Velasquez.
Then Kelly decided to talk recruits, pointing out how USC had all the good ones: "In their two-deep, out of their 44 players they have 12 five-star recruits and 26 four-star recruits," Kelly told
The Oregonian
. "I don't know if there is anybody in the country who has that. I keep hearing USC is down in talent. We have zero five-star recruits in our top 44 and 11 four-star recruits."
So Kiffin countered to reporters Wednesday: "I really wish that I had good enough players and we were good enough coaches that we could spend enough time counting how many four- and five-star players we have on each others' rosters. I don't have time for that, unfortunately."
Finally, USC DT Jurrell Casey
just cut to the chase
when speaking to ESPN Los Angeles: "They have a good running back and a good quarterback. Other than that, they're really not that good," he said.
Three words: Fun, fun, fun.
January, 12, 2010
1/12/10
11:45
AM ET
The Pac-10 bowl season didn't go well, but that doesn't mean you don't make an all-bowl team.
You may notice a lot of USC and UCLA players. You might remember that the LA schools posted the conference's only two wins.
OFFENSE
QB Matt Barkley, USC
: Barkley completed 27 of 37 throws for 350 yards with two touchdowns against Boston College in the Emerald Bowl. He also had two interceptions.
RB Toby Gerhart, Stanford
: Against an Oklahoma defense ganging up on him, he rushed for 133 yards and two touchdowns on 32 carries in a Sun Bowl loss.
RB Stanley Havili, USC
: He only rushed for 2 yards, but he also he caught six passes for 83 yards with two touchdowns.
WR Damian Williams, USC
: He caught 12 passes for a season-high 189 yards.
WR Damola Adeniji, Oregon State
: He caught seven passes for 102 yards and a touchdown in the Beavers' Las Vegas Bowl loss to BYU.
TE Anthony Miller, California
: He led Cal with five receptions for 55 yards in the Poinsettia Bowl loss to Utah.
OL Chris Marinelli, Stanford
: The offense was without its starting quarterback, but Gerhart gained 133 yards and the Sooners only had one sack.
OL Mike Tepper, California
: Cal's pass protection wasn't great against Utah, but running back
Shane Vereen
finished with 122 yards rushing and two touchdowns.
OL Charles Brown, USC
: The Trojans didn't run terribly well vs. Boston College, but they only yielded one sack and gave Barkley plenty of time to throw.
OL Jake Dean, UCLA
: He was thrust into the starting lineup after starting center after Kai Maiava was ruled academically ineligible, and the Bruins yielded only one sack vs. Temple.
OL Chase Beeler, Stanford
: See Marinelli.
K Kai Forbath, UCLA
: He kicked field goals of 40 and 42 yards.
DEFENSE
DE Kenny Rowe, Oregon
: He set a Rose Bowl and Oregon bowl record with three sacks in a losing effort against Ohio State.
DT Jurrell Casey, USC
: Casey had five tackles, a sack and a 22-yard return of a fumble.
DT Brian Price, UCLA
: Price started slowly vs. Temple but he dominated the second half and finished with five tackles, with one coming for a loss.
DE Tyson Alualu, California
: Alualu had five tackles, with 1.5 coming for a loss.
LB Akeem Ayers, UCLA
: Ayers led the Bruins with nine tackles, two for a loss, and his leaping interception at the Temple 2-yard line, which he returned for a TD, was the play of the Pac-10 bowl season.
LB Kyle Bosworth, UCLA
: He finished with seven tackles and 1.5 sacks.
LB Eddie Young, California
: Young had seven tackles and returned an interception 31 yards for a TD.
CB Shareece Wright, USC
: In his first game back after academic ineligibility, Wright grabbed a key interception.
CB Alterraun Verner, UCLA:
Verner had seven tackles, two for a loss, and a pass breakup.
S Rahim Moore, UCLA
: Moore had four tackles and an interception.
S Taylor Mays, USC
: Mays had five tackles for a Trojans defense that shut down Boston College in the second half.
P David Green, Stanford
: He averaged 44 yards on six punts, three of which were downed inside the Sooners' 20-yard line.
April, 24, 2009
4/24/09
2:25
PM ET
Posted by ESPN.com's Ted Miller
Happy Friday.
September, 17, 2008
9/17/08
11:15
AM ET
Posted by ESPN.com's Ted Miller
A look inside the Pac-10 this week.

Arizona State: Sun Devils fans cringing at the defensive performance against UNLV, particularly the 18-play, 88-yard drive in the fourth quarter for the game-tying field goal, will be glad to hear the defense will restock a bit with Georgia coming to town. First, middle linebacker Gerald Munns, whose physical performance against Stanford earned him conference defensive player of the week honors a week ago, returns after surgery on his pinkie finger, though he's going to sport a cast for about five weeks. Also, the Sun Devils welcomed back LB Morris Wooten and DE Jamarr Robinson, who both return from suspensions for undisclosed reasons. Wooten, a 245-pound senior, will add a physical presence behind Munns, while Robinson, a 233-pound sophomore, had three sacks in the spring game and will add another athletic threat on the perimeter.

Oregon: Forget for a second that that Oregon's QB position will be split between a pair of first-year players in JC transfer Jeremiah Masoli and true freshman Chris Harper against Boise State. Both of those guys have seen action at home and on the road. With starter Justin Roper sidelined for at least one game, their holy-cow-this-is-D-I-football jitters are mostly gone. The more interesting matchup here is the Broncos redshirt freshman QB Kellen Moore vs. the Ducks defense, which boasts one of the nation's best secondaries. Oh, and that little thing known as the chummy Autzen Stadium crowd. Moore is making his first start on the road. At Autzen. Not easy. Moreover, with four new offensive line starters, it won't be easy to rely on veteran RB Ian Johnson. Boise State only gained 340 yards at home last weekend in a 20-7 win over Bowling Green.

Arizona: After two games, Arizona QB Willie Tuitama was 11th in the nation in pass efficiency with five TDs and no INTs. But after the loss at New Mexico, his rating dropped 30 points because he threw a pair of picks and barely completed 50 percent of his passes. He also was sacked three times and fumbled twice against the Lobos. Two words: Bad night. So how will the senior bounce back at UCLA? The good news is he's getting a huge target back because TE Rob Gronkowski will play for the first time this season since he got sick (strep throat, mono). BYU QB Max Hall made the supposedly stout UCLA defense look like warm butter; can Tuitama regain his confidence and do the same?

UCLA: Remember how the media pounded home the questions about UCLA's offensive line during the preseason? Well, score one for reporters because we were right: This is a lousy O-line. Look no further than the rushing attack: Worst in the nation with 19 yards per game and 0.8 per carry. Longest run of the season? Seven yards. Yuck. Oh, and here's some more bad news. Center Micah Reed, one of two starters with significant experience, will be out two to four weeks with a partial tear of his MCL. The Bruins are scrambling for answers on offense, which includes trying a variety of combinations up front during a time when most teams are trying to create continuity with the same starting five. The visit from Arizona probably will go a long way toward answering this question: Was the Tennessee game a total fluke?

USC: So USC loses a pair of defensive linemen to the first round of the NFL draft -- Sedrick Ellis and Lawrence Jackson -- and then, nonetheless, turns in a pair of dominant performances to start the season. How do the Trojans do it? Well, depth of course. And look no further than the ledger from the 35-3 win over Ohio State. It wasn't just tackle Fili Moala and company whipping the Ohio State offensive line; it also was three true freshmen: tackle Armond Armstead, who recorded a sack, nose tackle Jurrell Casey and end Malik Jackson. That's the future D-line. The present, by the way, had five total sacks and 24 tackles against the Buckeyes.
August, 20, 2008
8/20/08
2:26
PM ET
Posted by ESPN.com's Ted Miller
| | |
| --- | --- |
| | |
| | AP Photo/Kevork Djansezian |
| | Pete Carroll and the Trojans have their sights set on a Pac-10 title. |
LOS ANGELES -- Sat down with USC coach Pete Carroll on Sunday night. He ate ice cream and answered questions.
What's your feeling on this scenario: Let's say Mitch Mustain starts at quarterback against Virginia and has a lights out game. Do you have a philosophical opinion on whether an injured starter [Mark Sanchez] always retains his job or do you go with the hot hand against Ohio State?
Pete Carroll: I would never... I can't even answer a question about that. To surmise what's going to happen with one guy and then what we're going to do with the next guy? I wouldn't even tell you what the first stage of it is let alone the second or third. So I'm not going to answer that. Too much conjecture there.
You talk about getting better and growing every year. What have you changed in the past couple of years about how you do things?
PC: Not very much. We do mostly the same stuff with just small changes. It depends on our staff continuity. This year, we've got 99 percent staff continuity so it's really easy [only staff change was the GA who works with the secondary]. We're able to do more things with that. When we're bringing new people along, we can't do that. We can't afford to go off and experiment. This year, we've done more things but it's kind of like if you have a philosophy then why would you change? The consistency is part of the philosophy -- how you recruit, where you recruit, who you recruit. The consistency of what the expectations are, the consistency of the standards for practice, the offseason programs. All of those things are the same. We get better at them. We get better versed on knowing what we want and getting more astute as we go along but we don't change much.
I know this is going to sound pretty stupid, but you're the only coach who can be asked this: Is winning the Rose Bowl ever not enough?
PC: No. You've got to understand that our mindset is to focus only on what we can control. We can only control getting to the Rose Bowl. Winning our conference and going to the Rose Bowl is what our goal is every year. Our goal isn't about national championships, because we don't have control of that -- that's in somebody else's hands. We found that out years ago [2003], when we were No. 1 but then we were No. 3. We already knew that but that just proved it. If we win our games and we're out there and they want us to go somewhere else, then we'll go. We love the Rose Bowl.
Does it ever register with you that there's such a small margin for error for USC that if you don't win the national championship then some believe it hasn't had a successful season?
PC: I know people say that but I don't care. They can say whatever they want.
Could you give me a couple of names of younger guys who have stepped up in preseason practices?
PC: A guy who's had a really good camp is Travon Patterson, a wide receiver. He's caught touchdowns on every big day, every big scrimmage we've had. He's playing fast and has made a lot of plays for us. The guys who have done a lot of good stuff are the freshmen -- [TE] Blake Ayles is a guy you might not have expected to but he's looked great. The other guy is [RB] Allen Bradford. He's had a great camp again. I really like [WR] Jordan Cameron. All four of the freshmen defensive linemen [Armond Armstead, Jurrell Casey, Wes Horton and Malik Jackson] -- they look great. These guys have a chance to play early. Uona Kaveinga has been playing second-team "Mike" linebacker. [Safety] Drew McAllister has looked really good -- he's had three or four picks in big, scrimmage-type situations and hit well. It's been a really solid freshmen class. The offensive linemen have looked good but it's going to take them some time.
Things get a little juicer in Part II, when Carroll talks about new UCLA coach Rick Neuheisel, his future and what he thinks of his legacy.