October, 11, 2012
10/11/12
1:10
PM ET
It wasn't supposed to be like this.
Missouri was supposed to be at its best with the ball in its hands. Even after moving from the offensive-packed Big 12 to the more defensive-minded SEC, this team had enough firepower and speed to challenge its new defensive counterparts.
The Tigers expected their spread offense to work, and they were supposed to be a legitimate contender in the SEC East.
But at the halfway point of the season, Missouri's offense is sputtering around and has been pushed around by SEC defenses. Missouri is 0-3 in conference play after having been outscored 91-45. The explosion we expected from the passing game has been relatively nonexistent and the Tigers are getting worn down in the second half of games.
[+] Enlarge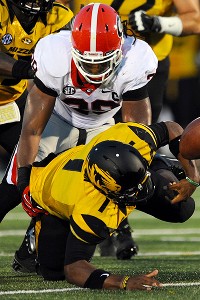 AP Photo/L.G. PattersonInjuries to quarterback James Franklin and many of the Tigers' linemen have left the once-potent Missouri offense sputtering.
Injuries to the offensive line and quarterback
James Franklin
's inability to stay healthy have certainly contributed to Missouri's struggles, but with the second half of the season approaching, the Tigers have to find answers to all their offensive problems or this team won't make it to a bowl.
"We can start making some plays," senior wide receiver
T.J. Moe
said. "We have guys who can make plays.
"How you turn it around is you start playing like [former Missouri wide receiver] Danario Alexander and when your offense struggles you throw it to a guy and he has four consecutive 200-yard games. That's how you turn it around. You don't have to fix the offense; guys just need to start making plays. We have a lot of talent, we just need to start catching better and blocking better because it's not just going to do it itself," Moe said.
From top to bottom, this offense has been uninspiring since the first half of the Georgia game. For a team that ranked 12th nationally in total offense last year, averaging 475.5 yards per game, the Tigers are currently 12th in the SEC in total offense, averaging over 100 yards less.
Only once this season has Missouri had a quarterback pass for 200 or more yards and a running back rush for 100 yards or more in the same game.
Injuries up front have obviously been a problem, as all five of Mizzou's preseason starters --
Justin Britt
,
Elvis Fisher
,
Jack Meiners
,
Mitch Morse
and
Travis Ruth
-- have suffered injuries since fall camp and backups
Taylor Chappell
and Mark Hill are out for the season. Ruth has yet to play this season, while Meiners has been in and out and just underwent knee surgery that will keep him out a few weeks. Redshirt freshman
Brad McNulty
replaces Morse at center after Morse went down with a knee injury against Vanderbilt last week.
"Being football, you're going to have your injuries here and there but you need to be able to have people, like we do, on your team that can go up there and play multiple positions on the line," quarterback
Corbin Berkstresser
said.
Fighting through injuries is part of the game, as Berkstresser is finding out. He replaces Franklin, who will be out for a few weeks with a knee injury of his own.
Players are invested in Mizzou's backups, but all of the up-and-down movement on offense is frustrating.
"I have confidence, I have confidence in our guys -- but it's hard to have confidence in a torn MCL, like half of our offensive line [has] and it's hard to have confidence in your quarterback when he's sitting on the bench," Moe said. "We've had some tough breaks and we haven't played yet to the best of our ability."
Now, Missouri gets No. 1 Alabama, which is first nationally in scoring defense and total defense and ranks in the top four in rushing and passing defense. Nothing says going backward on offense like playing against Alabama.
So, simplifying things is the next step, coach Gary Pinkel said. Pinkel is hoping less is more for the Tigers. It should help with the players' comfort level and restore some confidence. It could also help with consistency.
In the end, Mizzou has to rediscover its big-play persona. Without it, the Tigers are toast in this league. Simplifying things is a start, but execution has to be there, regardless of who's banged up.
"When you're out there, you probably have nine or 10 guys doing their job and then there are one or two who mess up and it messes it up for the whole scheme of things," Fisher said. "So you've got to be able to get everyone on the same page for the majority of the game and for everyone to do their job -- that's all you can really ask for."
April, 11, 2012
4/11/12
9:18
AM ET
COLUMBIA, Mo. -- I made it out to the
new
Columbia to check out the
new
Tigers in the SEC Tuesday. It was my first time visiting the city and school and it was the first time I had ever spoken to coach Gary Pinkel.
Immediately, I could tell that he wasn't afraid of his new surroundings. Not one bit. He's been at Missouri for 11 seasons and after some thought he'd be run out of Columbia before he even figured out where his office was he'll enter the 2012 season with 85 wins at Missouri. He's also taken the Tigers to seven straight bowl games.
[+] Enlarge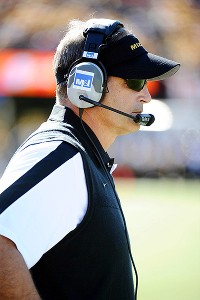 Dak DillonGary Pinkel has led the Tigers to double-digit wins in three of the past five seasons.
So when the coach with 21 years of head-coaching experience was asked about adjusting to the SEC, it was no surprise that he didn't budge much. He gives the SEC a ton of respect, but thinks his team can earn some with the move.
"It's hard to argue with anybody and say the SEC's not the best league in the country, consistently," Pinkel said. "There's no argument.
"I understand we're going into a great league this year, but we go in with some credibility and some success."
The Tigers have reached double-digit wins in three of their past five seasons, so there's no doubt this team will get some respect, but earning it means adjusting to life in a league that lives and dies by line play. That's where things might get a little tricky for the Tigers.
Missouri has to replace six linemen on the offensive and defensive side of the ball. Missouri has been without defensive linemen
Brad Madison
and
Sheldon Richardson
this spring due to injuries. It hurts because both are expected to contribute a lot this fall, but it has helped get younger players more reps, especially end
Kony Ealy
who should give Madison a real run for his spot when the senior-to-be returns.
On the offensive line, the Tigers were fortunate to get wise, old
Elvis Fisher
is back after he was granted a sixth year by the NCAA, following a devastating knee injury that end his 2011 season during fall camp. They also return a group of players that might not have started every game, but got good game experience last year.
To the coaches, the Tigers aren't exactly losing three starters on the offensive line. Offensive coordinator David Yost acknowledges that
Jayson Palmgren
,
Austin Wuebbels
and
Dan Hoch
are all gone, but he also considers guard
Jack Meiners
a starter from last year and Fisher is considered a returning starter as well. It also helps that
Justin Britt
started at left tackle last year, essentially giving Missouri two left tackles and containing the edges on this year's line. That's big because Missouri doesn't use an attached tight end much.
Speaking of tight end,
Eric Waters
, who is replacing All-American
Michael Egnew
, underwent surgery to repair a torn MCL in his knee Tuesday and Pinkel said he's out for three months. He should be ready for the season opener.
As for tweaking the offense and making sure Missouri is fit to run its true spread in the SEC, the players and coaches aren't worried. In fact, they're pretty confident in their scheme and they're not changing from being a true spread team.
"Until you play us, it's different than what other people do and how they do it," Yost said. "We have our system, and we're going to stick with it. Their challenge is to do what they do and have their stuff mesh to what we do."
The Tigers will have to have a balanced attack like they did last year.They'll have quarterback
James Franklin
back for the opener and think he'll help guide their group of unproven wide receivers. Missouri can also go four or five deep at running back, even without
Henry Josey
, who likely won't see the field this fall following that devastating knee injury.
August, 15, 2011
8/15/11
12:48
PM ET
Missouri left tackle Elvis Fisher suffered what coach Gary Pinkel called a "serious" knee injury in Monday's practice, according to multiple reports.
"He's got a very serious knee injury," Pinkel
told reporters after practice
, which was open to the media. "It's very serious. We'll know more about it … and he's probably getting an MRI as we're talking right now. But it's very significant."
From the Columbia Tribune:
Fisher, who has started every game since 2008, went down during a 1-on-1 pass-rush drill against defensive end Michael Sam and instantly clutched his left knee and screamed in pain. The co-captain was helped off the field by two trainers and taken into the team facility.
Fisher has 40 consecutive starts for the Tigers, 10 short of the school record. He was on
ESPN.com's All-Big 12 first team
and also ranked No. 18 on
our countdown of the top 25 players in the Big 12
.
Fisher was replaced by Justin Britt at left tackle after the injury.
He's the second top talent in the Big 12 to go down in as many weeks. Oklahoma linebacker Travis Lewis, an All-America-caliber talent who's led the Sooners in tackles in each of the past three seasons, suffered a broken toe last week and will miss eight weeks, but is expected to be available for Oklahoma's date with Texas on Oct. 8.