September, 25, 2013
Sep 25
10:30
AM ET
Pretty much every team plays true freshmen. But how much of an impact are those freshmen having on the game? Through four weeks, some have made immediate impacts. Others have seen some mop-up time. Across the ESPN blogosphere this morning, we're looking at the five teams in each conference who have had freshmen make the greatest impacts on their team.
[+] Enlarge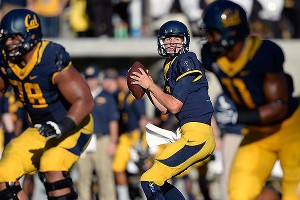 Thearon W. Henderson/Getty ImagesCal signal-caller Jared Goff is off to a big start in his career.
1. California
: The quarterback is the most important position, and anytime you have a true freshman playing quarterback, it's going to have a significant impact on the outcome of the game. So far, quarterback
Jared Goff
has risen to the occasion, even if it hasn't translated into wins for the Bears. He leads the country in total offense. He's completing 61 percent of his passes (103-of-168) and has seven touchdowns to four interceptions. Goff is one of seven true freshmen who have seen time for the Bears. Running back
Khalfani Muhammad
is tied for second on the team with 21 carries (97 yards, one touchdown).
2. UCLA
: The Bruins have played 16 true freshmen so far, which, as of last week, was second in the country only to Texas A&M. Linebacker
Myles Jack
has had the biggest impact with 14 tackles, including two for a loss and a team-high four pass breakups. They are also getting good production from
Eddie Vanderdoes
, who had two tackles for a loss against New Mexico State, and offensive lineman
Alex Redmond
has started all three games at guard.
3. USC
: The Trojans have gotten impact performances on both sides of the ball from their freshmen. Seven have seen the field for the Trojans. Safety
Su'a Cravens
has been as advertised so far with 18 tackles, half a tackle for a loss, and an interception. With
Silas Redd
out, running back
Justin Davis
has supplemented
Tre Madden
nicely. In four games, Davis has rushed for 189 yards and two touchdowns, averaging 47.2 yards per game and a team-high 5.9 yards per carry.
4. Washington State:
The Cougars have gotten quality -- not necessary quantity -- out of their true freshmen. They have only played four. But two of them are getting quality playing time and making significant contributions. Cornerback
Daquawn Brown
made his first career start against USC and posted a team high 11 tackles while breaking up two passes. He also had an interception against Southern Utah. Wide receiver
River Cracraft
is fourth on the team with 10 catches for 111 yards.
5. Colorado
: The Buffs aren't going as young as they did last year, but they are still getting production from their rookies. And they have found something special in linebacker
Addison Gillam
. Through two games he's the Buffs leading tackler with 20 stops -- including a sack, two tackles for a loss and five stops on third down. He also blocked a punt. Defensive end
Jimmie Gilbert
should also continue to see time. In 64 snaps he has three tackles and a sack.
Honorable mentions
These guys have been impactful, but chances are their teams would still have had success if they weren't on the field based on quality of competition and/or depth at a position. But their contributions shouldn't be overlooked.
September, 14, 2013
Sep 14
8:03
PM ET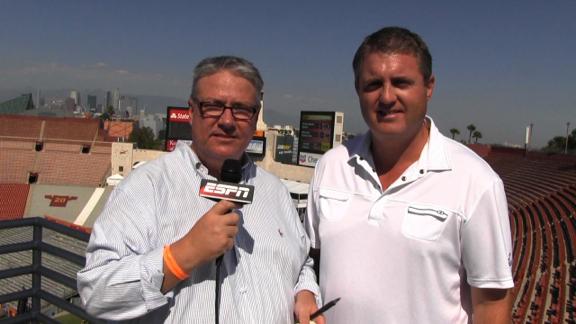 LOS ANGELES -- That was exactly what the cardinal and gold doctor ordered.
After a week filled with questions about the passing game and the definition of players-only meetings, the Trojans let their play do all the talking on Saturday with a 35-7 victory over Boston College at the Coliseum.
[+] Enlarge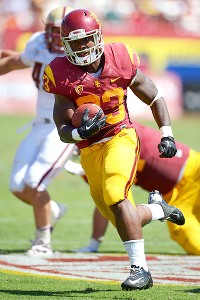 Kirby Lee/USA TODAY SportsTre Madden had a touchdown receeption to go with this 30-yard TD run.
The Trojans didn't waste any time in letting the home crowd know that this game would be different from last week as new full-time starter
Cody Kessler
let fly on the opening play with a deep pass intended for
Marqise Lee
. The pass was overthrown, but the Coliseum crowd erupted in cheers, an obvious nod to the lack of downfield throws in the loss to Washington State.
"That was [USC president] Max Nikias' play," USC coach Lane Kiffin said. "He said just throw it deep and they will cheer no matter what."
That was about all that went wrong for Kessler as he hit his next 14 passes. His first six went to six different receivers. By the time the game was over Kessler was 15 of 17 for 237 yards and two touchdowns, including an 80-yarder to Lee against one-on-one coverage from the Eagles defense, which was forced into that coverage since the Trojans were spreading the ball around.
"Coach Kiffin called a great game," Kessler said. "He put me in position to have some multiple reads, and it was great to have options like that. I'm excited about our overall play. There was whole new confidence this week and I think it showed in our play."
In addition to the success with the passing game, the Trojans also had a strong showing on the ground as
Tre Madden
went over 100 yards for the third game in a row and freshman
Justin Davis
also flashed his potential. That helped lead to 521 yards of total offense and more than 36 minutes time of possession.
Madden was the dominant performer in the first half with a short touchdown catch from Kessler to go along with 13 carries for 65 yards as the Trojans built a 14-0 lead. There were counter running plays, something that had not been a big part of the USC offense to this point, and Madden was taking advantage behind a nice performance from the offensive line.
Madden added a 30-yard touchdown run in the third quarter and finished with 16 carries for 102 yards. The majority of damage on the ground for the Trojans in the second half came courtesy of Davis, the electrifying newcomer who had 96 yards on 10 carries, including a pretty 17-yard touchdown run early in the fourth quarter. The most impressive run for Davis came on a 39-yard play where he switched the ball from his inside arm to the outside arm like a seasoned veteran.
"We finished the game on the ground and I'm proud of that," Kiffin said. "We had 43 rushing attempts and that really helped to open up the play-action passing game."
The Trojans have rushed the ball 40 times or more in each of the first three games for a total of 130 attempts compared to 79 for their opponents.
As has also been the case so far this season, the USC defense once again played well and put tremendous pressure on the Eagles offense. Boston College featured a four-year starting quarterback in
Chase Rettig
and a productive running back in
Andre Williams
, but the Trojans ended the game with eight tackles for loss and didn't allow an Eagles score until the USC reserves were in the game in the fourth quarter.
"I thought our first defense was lights out," Kiffin said. "We were worried about their running back because we hadn't played a Power I offense yet. It was all about tackling for the defense and I thought they did a great job. To give up only 184 total yards shows we did that well."
Williams finished with 38 yards on 17 carries after rushing for 318 yards in the first two games of the year.
The Trojans improve to 2-1 on the season and return home next Saturday to take on Utah State. The victory over an outmanned Boston College team doesn't mean that all of the early-season issues are gone for Kiffin and his team, but it was certainly a much-needed step in the right direction.
September, 4, 2013
Sep 4
4:00
PM ET
Lane Kiffin has come to terms with the fact that no one wants to talk about the high points of Thursday's win over Hawaii.
They don't want to discuss that his Trojans traveled to an awkward time zone and won by 17 points; or that his remodeled, remolded defense played its first game in the new scheme and tallied four interceptions, returning one for a touchdown, eight tackles for a loss and seven sacks.
[+] Enlarge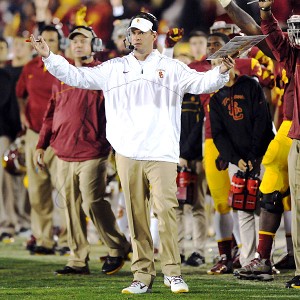 Kirby Lee/Image of Sport/US PresswireDespite the constant questions, Lane Kiffin is not going to rush his decision on the USC QBs.
After all, it's USC -- where good enough is hardly ever good enough, and criticisms come easier than kudos. Whatever criticisms the media has of Kiffin, and it's usually not shy about sharing them, Kiffin and USC are 1-0. Three other Pac-12 teams would love to be in that position -- one of which was previously ranked. In Kiffin's mind, the win is all that matters.
And he's right. Agree or disagree with the way Kiffin captains his ship, calls his plays or manages his personnel, he's right. It wasn't always pretty against Hawaii, especially offensively. But it was a win.
"I've gotten over that frustration over the years of being here," Kiffin said. "It is what it is. You sense that immediately in the postgame news conference when you come out to the media. There's not a lot of questions about the brand new freshmen making plays. Significant plays.
Justin Davis
almost going for 100 yards.
Su'a Cravens
getting an interception on the fourth play of his career. The questions are always about something negative. It is what it is."
At the root of those questions is the fact that USC's quarterback soap opera has played out very publicly since the Sun Bowl loss last season. It's certainly been a sore point with fans. That
Cody Kessler
and
Max Wittek
will likely go through the same first-half/second-half routine against Washington State after months of evaluation speaks to the divide between loyal followers and their head coach. No longer is there a Wittek camp vs. a Kessler camp. There is simply a pick-a-starter-already-camp vs. Kiffin.
But he's not going to rush it. So expect both to play.
"I don't think anything is ever certain," Kiffin said when asked if both will see the field. "We'll go in the game and see what happens and see how the game plays out. ... Our job is to win the game. Do the best that we can with the amount of players that we have and answer all of the questions and get to the next game."
USC athletic director Pat Haden has shown unwavering support for his coach, though it's widely believed that Kiffin has the hottest seat in the country and this is a make-or-break season. Finding the guy to replace Matt Barkley is a big decision -- one that could determine his future at USC. If he needs a couple extra weeks to make it, so be it. With the caveat that they are winning.
Neither Kessler nor Wittek looked particularly crisp in Week 1. Kessler was 10 of 19 for 95 yards with a touchdown and an interception. Wittek was 5 of 10 for 77 yards. The gameplan was a conservative one, to say the least. And neither got great play from an offensive line that looked more suspect than solid. As is usually the case, there is more at play than simply the quarterbacks.
So this week Kiffin will be looking for improved consistency across the board. For example, a more efficient performance in the pass attack (they combined for 51 percent); better production on third down (USC was 3 of 14) and better production in the red zone. USC was 4 of 4 inside the 20, but twice settled for field goals.
Kiffin offered this earlier in the week when asked to compare his quarterbacks: "I think they've become more similar over time because they've worked on the weaknesses in their game. There's not much different when the guys are in there."
And therein lies the problem. Kiffin doesn't need two guys who are the same. He needs one who can be good enough to consistently get the job done. Until that happens, the current line of questioning will likely continue -- even if they keep winning.
April, 16, 2013
Apr 16
12:00
PM ET
Lane Kiffin and Co. have released their official post-spring two-deep depth chart. And not surprisingly, there aren't a lot of surprises.
One of the most watched quarterback competitions in the country lists
Max Wittek
OR
Cody Kessler
OR Max Browne. Leaving us with what we knew a month ago. It's going to be Wittek OR Kessler OR Browne.

Steve Bisheff of WeAreSC
makes his case
-- and a compelling one at that -- for Kessler, who clearly had the strongest spring of all three quarterbacks.
Despite Kessler's clear advantage coming into the (spring) game, Kiffin had Max Wittek starting with the first unit at the Coliseum on Saturday. And even after Kessler outplayed his main competitor, throwing for 242 yards and three touchdowns with no interceptions compared to Wittek's 145 yards, two touchdowns and two interceptions, Kiffin insisted that no quarterback had emerged as a front-runner for the position and that he won't name a starter until the fall.
Sticking with the offense, there was already an assumed pecking order at wide receiver, but it's more solidified now. Darreus Rogers and
Victor Blackwell
are behind Biletnikoff winner
Marqise Lee
.
Nelson Agholor
will start opposite Lee with
De'Von Flournoy
and
George Katrib
backing him up.
Some intrigue at running back with
Silas Redd
at the top, but the starting gig is listed as Redd or Justin Davis or
Tre Madden
. Same for the fullback, which lists
Soma Vainuku
or
Jahleel Pinner
as the starter.
So while the entire offensive backfield is a grab bag of "ors," there is at least some solidarity on the offensive line, where four of the five starters appear to be in place.
Aundrey Walker
and
Max Tuerk
make up the left side with
Marcus Martin
at center and
John Martinez
at right guard. The only spot still in doubt is at right tackle between
Kevin Graf
or
Chad Wheeler
.
The new-look 52 defensive front has
Devon Kennard
and
Morgan Breslin
at the outside linebacker spots (that's going to be a scary combination, by the way) with
Leonard Williams
and
George Uko
(also a darn good tandem) at the ends. Nose tackle is still up for grabs between
Antwaun Woods
or
Cody Temple
.
In the secondary, where there are almost as many holes as there are questions -- little has been determined. Three of the four starting spots have an "or" attached to them. Only
Anthony Brown
looks like the inked-in starter.
Torin Harris
and
Kevon Seymour
are battling for the other corner spot and
Demetrius Wright
or Leon McQuay III are battling for free safety.
Josh Shaw
and touted freshman Su'a Cravens -- who missed a significant portion of spring drills -- will head into fall battling for strong safety.
February, 7, 2013
Feb 7
9:00
AM ET
We're reviewing hits and misses in Pac-12 recruiting, starting with the South Divison.
ARIZONA

Needs filled
: The Wildcats have two incoming quarterbacks -- USC transfer
Jesse Scroggins
, who's already in school, and
Anu Solomon
-- who will be in competition to replace the departing
Matt Scott
. The class includes five linebackers, a need position. Don't be surprised if running back
Pierre Cormier
gets touches behind
Ka'Deem Carey
. It seems that coach Rich Rodriguez stocked up on athletes -- receivers and defensive backs.
Holes remaining
: The Wildcats' biggest weakness in 2012 was the defensive line -- they ranked last in the Pac-12 in sacks and gave up more than 200 yards rushing per game -- and this class of 23 includes just two defensive linemen. Who's going to rush the passer in 2013?
ARIZONA STATE

Needs filled
: The Sun Devils needed receivers and defensive backs. They signed five receivers and and five defensive backs -- and one athlete, who could play either. Defensive tackle
Marcus Hardison
, the nation's No. 5 junior college player, should help bolster a poor run defense.
Holes remaining
: The Sun Devils lost QB
Joshua Dobbs
to Tennessee on signing day, which means they haven't signed a quarterback in two consecutive classes. Nine JC transfers means the Sun Devils are counting on immediate impact rather than long-term development. That approach can be a gamble, though four of the juco recruits have three years of eligibility instead of two.
COLORADO

Needs filled
: The Buffs have a lot of needs, as they were last in the Pac-12 in scoring offense and scoring defense in 2012. The class includes six offensive linemen, and quarterback
Sefo Liufau
, 6-foot-4, 215-pound product of Bellarmine Prep in Tacoma, Wash., is a guy Buffs fans should be excited about. Considering the poor production at the position last season and the fact that there's a new scheme, he might get into the mix this fall.
Holes remaining
: This is a fairly balanced class but there isn't a single interior defensive lineman. The Buffs gave up 226 yards rushing per game last season. The Buffs did, however, sign nine defensive linemen last year. While Liufau is the star of the class, this crew is lacking pizzazz and will rank last in the Pac-12, which is not surprising for a 1-11 team that fired its coach.
UCLA

Needs filled
: Jim Mora said his top needs were offensive line, defensive back and linebacker. He signed seven offensive linemen, four defensive backs -- highly rated safety
Priest Willis
is still pending -- and three linebackers. As for the offensive line, two are ESPN 300 prospects and a third is a four-star lineman. Including Willis, who is expected to sign with the Bruins, two defensive backs are ESPN 150 players, a third is an ESPN 300 recruit and the fourth is rated with four stars. As for linebacker, two are ESPN 150 players.
Holes remaining
: The Bruins signed the Pac-12's top-rated class and had a great final week. There is little not to celebrate, other than defensive tackle
Eddie Vanderdoes
picking Notre Dame. The most obvious hole is running back, where there's no obvious replacement for
Johnathan Franklin
.
Craig Lee
had committed to the Bruins but hasn't signed, so there's no true RB in this class.
USC

Needs filled
: USC lost three of four starters from a secondary that underperformed last year, so signing two of the top three safeties in the nation --
Su'a Cravens
and
Leon McQuay
-- as well as the No. 11 cornerback in
Chris Hawkins
is a pretty nice haul. The Trojans also added a pair of elite running backs in
Ty Isaac
and
Justin Davis
, the nation's No. 3 DT in
Kenny Bigelow
and the No. 2 quarterback in
Max Browne
. All three spots were need areas.
Holes remaining
: The story of this class, as good as it is, is the handful of decommitments. In November, this was the No. 1 class but fell out of the top 10. Bigelow is the only defensive lineman; there are only two offensive linemen. In November, the question was how was USC going to finagle its way to just 75 scholarships, per NCAA sanctions. That's no longer an issue.
UTAH

Needs filled
: With the graduation of RB
John White
and three voids on the defensive line, those were two need spots addressed by this class of 23. The Utes signed five defensive linemen, including three defensive tackles. They also signed four running backs, including JC transfer
Devontae Booker
.
Holes remaining
: One bit of bad news for the defensive line is that DT
Lowell Lotulelei
, younger brother of Star and the Utes' highest-rated player, didn't sign because he's going on a Mormon mission right out of high school. This is a balanced class but it includes just two offensive linemen. The Utes also didn't get great linebacker play last season and this class only includes one,
Uaea Masina
.
TOP 25 SCOREBOARD
Saturday, 12/7
Thursday, 12/5
Friday, 12/6
TOP PERFORMERS