NCF Nation:

Justin Francis
February, 21, 2012
2/21/12
4:00
PM ET
As we move along in our final position rankings for the 2011 season, we come to the defense. First up: defensive line. To me, this was the strongest, deepest position in the Big East; thus the toughest to rank. Trust me when I say I would not call any of these defensive fronts bad, although they each had their moments to forget. Six of the eight teams in the league in 2011 gave up more than 200 yards rushing at least once. Read on to find out the two that did not.
For these rankings, I am taking into account both rush defense, sacks, tackles for loss, personnel and my own impressions from what I saw this season.
[+] Enlarge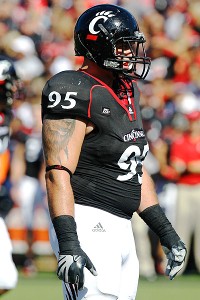 AP Photo/Al BehrmanDefensive tackle Derek Wolfe and Cincinnati led the nation in tackles for loss this past season.
1. Cincinnati.
Not only were the Bearcats the most improved group this season, they were the best up front -- No. 2 in the Big East in rush defense; No. 2 in the nation in sacks; No. 1 in the nation tackles for loss. Tackle
Derek Wolfe
won Co-Big East Defensive Player of the year. Twice, opponents were held to negative yards rushing. Yes, there was one bad game late in the season against Rutgers. But otherwise, this unit was aggressive and tenacious and the best of the bunch.
Preseason rank:
7
(Yikes!)
2. Pitt.
This is a group that got better as the season went on, and collectively had some pretty solid performances. Among the top eight players in sacks in the Big East -- three belong to the Panthers (
Aaron Donald
,
Chas Alecxih
and
Brandon Lindsey
). Their ability to get after the quarterback is a big reason why I have them here. They might have ranked No. 5 in the league in rushing defense, but they were No. 21 in the nation. Donald and Alecxih also earned spots on the Big East second team.
Preseason rank:
2.
3. USF.
The Bulls were vastly better at the end of the season than they were at the beginning, yet I still can't get that performance against Pitt out of my head (gave up more than 300 yards on the ground), probably because I was in the stadium and have not seen a worse display of run defense in a long time. Still, I give these guys credit for bouncing back. After that game, the highest run total USF yielded was 132 to Louisville. The Bulls ranked No. 2 in the nation in tackles for loss, No. 3 in the Big East for sacks and were able to develop some solid players up front.
Preseason rank:
4.
4. UConn.
The difficulty in ranking the Huskies is the fact that most teams just decided to throw on them, which probably skews the No. 1 run defense ranking a little. There were only 385 rushing attempts against them this past season -- the only Big East school with fewer than 400. Still, UConn did not allow 200 yards on the ground this season, a rare feat in the league.
Trevardo Williams
led the league in sacks with 12.5, and
Kendall Reyes
contributed 13.5 tackles for loss and has the potential to be a first-round NFL pick. Reyes was a first-team Big East selection; Williams made the second team.
Preseason rank:
1.
5. Rutgers.
Yes, the run defense was tough to watch at times (three straight games allowing more than 200 yards rushing), but the Scarlet Knights were able to get back to what they do best -- pressuring the quarterback and taking players down in the backfield. Last season, Rutgers had 17 total sacks. This past season, the Scarlet Knights ranked No. 4 in the league with 36.
Justin Francis
led the way with 6.5, and
Scott Vallone
made improvements as well.
Preseason rank:
8.
6. Louisville.
Injuries on the front really hurt the Cardinals this past season. They did rank No. 3 in the league in rushing defense, but there was never a real sense that they could produce a consistent pass rush from their linemen. Louisville ranked No. 6 in tackles for loss and No. 6 in sacks. The team leader in sacks,
Marcus Smith
, had 5.5. Only Syracuse ranks lower in that category. There is great potential here as the young players who got experience showed definite flashes.
Preseason rank:
5.
7. West Virginia.
As much as I think
Bruce Irvin
and
Julian Miller
are terrific players, this group as a whole I thought was disappointing in 2011. There were definite strides at the end of the season, but for most of the season we all wondered what was wrong with the potent pass rush? Through nine weeks, West Virginia had 10 sacks. That improved in a big way once Irvin was used in more situational downs, but the Mountaineers ranked No. 7 in the Big East in sacks (31) and No. 8 in tackles for loss, along with No. 8 in run defense. Though they never gave up 200 yards on the ground, they did give up more than 180 four times.
Preseason rank:
3.
8. Syracuse.
The Orange never really got much going along the front, and a big reason why is because they missed
Chandler Jones
so much while he was gone. The fact that he made the Big East first team in only seven games should prove how badly he was needed. Syracuse ranked No. 7 in the league in tackles for loss; No. 8 in sacks (28), and No. 6 in rushing defense. Those TFL and sack stats are pretty good nationally, but these guys are being judged against the rest of the Big East, and most games, they just fell short.
Preseason rank:
6.
November, 7, 2011
11/07/11
1:00
PM ET
Let us take one final look back at Week 10 before moving on to Week 11.
[+] Enlarge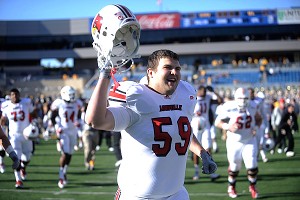 AP Photo/Jeff GentnerZach Perkins and Louisville had plenty to celebrate after beating West Virginia on Saturday afternoon.
The good:
Cincinnati moved to 3-0, but this is a team living on the edge right now. The Bearcats have faced second-half deficits of nine against Louisville, 10 against USF and 10 against Pitt in their three Big East games, but have been able to come back to win all three. I am sure coach Butch Jones would like to not have to sweat a game out, but the Bearcats are going to be in for another huge test Saturday when they play West Virginia. Both teams have high-powered offenses to be sure, but against Pitt, Cincinnati did not have a passing touchdown for the first time this season. ... Meanwhile, Louisville is on a roll, having won three straight league games for the first time since 2006. The Cardinals have been bolstered with excellent first quarters, outscoring their past five opponents 41-7 in that period. The win was particularly stunning because West Virginia has owned the series. It was the first win for Louisville since a 44-34 win at home in 2006.
Teddy Bridgewater
continued his improvement, throwing for a career-high 246 yards. He has completed more than 70 percent of his passes in back-to-back wins against Syracuse and West Virginia. ... UConn got a much-needed win against Syracuse, and relied on its ground game to get it. The Huskies had a season-high 198 yards on the ground against an FBS opponent.
Lyle McCombs
had a career-high 152 yards rushing and UConn got three rushing touchdowns after getting just one in its first seven games against FBS teams. ... Rutgers is bowl eligible for the sixth time in seven seasons after a comeback win against USF. It was the second time this season the Scarlet Knights erased a double-digit fourth-quarter deficit. They won both those games in overtime. Receiver
Mohamed Sanu
has 81 receptions for 844 yards on the season, and needs 12 catches to break Larry Fitzgerald's single-season league record of 92. ... Syracuse safety Phillip Thomas leads the Big East with six interceptions after getting two against UConn. It was his second multi-interception game of the season.
The bad:
The Bulls have lost their past four games with every breakdown imaginable. The defense faltered in losses to Pitt and Cincinnati; the offense faltered in a loss at UConn; special teams hurt bigtime in a loss to Rutgers. They have now lost four straight games for the first time in program history. Incredibly, USF has scored first in all eight of its games this season. The Bulls just cannot hang onto wins. They have had second-half leads in their past three games, but have lost all three. ... Meanwhile, West Virginia has dropped two conference games for the sixth straight season after a disappointing loss to Louisville. The Mountaineers have not finished better than 5-2 in league play since going 7-0 in 2005. It was just the third time they lost a game when scoring at least 30 points since 2000. They are now 73-3 since 2000 when scoring 30 or more points. They had a blocked field goal returned for a touchdown, the first such score against West Virginia since Virginia Tech did it in 2004. ... Syracuse forced a season-high five turnovers against Connecticut, which should be good. Except the Orange failed to turn any of them into points and lost their second straight game. It actually is the second time this season a Big East team forced five turnovers and lost (Rutgers against North Carolina). ... Pitt has had tough luck in close games, but the Panthers have themselves to blame. In four of their losses this season, they have held second-half leads. Against Iowa, Notre Dame and Cincinnati, those leads were lost in the third or fourth quarters.
Notable
Stedman Bailey
, WR, West Virginia, had a career-high eight receptions for 118 yards, his sixth 100-yard game of the season.
Justin Francis, DT, Rutgers, had a career-high 11 tackles with four tackles for loss and two sacks against USF.
Khaseem Greene, LB, Rutgers, had a career-high 17 tackles against USF.
Kevin Harper, K, Pitt, made a career-long 52-yard field goal against Cincinnati, marking the longest field goal by a collegiate player in Heinz Field history.
DeDe Lattimore, LB, USF, had a career-high 2.5 sacks against Rutgers.
Alec Lemon
, WR, Syracuse, had a career-high 157 yards receiving on nine catches against UConn, becoming the ninth player in school history with 100 career receptions.
Nick Provo
, TE, Syracuse, has 39 receptions this season, setting a single-season record for a Syracuse tight end.
Geno Smith
, QB, West Virginia, threw for 410 yards and moved into second place on the school's career passing chart with 6,197 yards. He had his third 400-yard game of the season.
Devin Street
, WR, Pitt, had a career-high eight receptions for 118 yards against Cincinnati.
Week 11
USF at Syracuse, 8 p.m., Friday, ESPN2
Pitt at Louisville, noon, Saturday, Big East Network
West Virginia at Cincinnati, noon, Saturday, ABC
Rutgers at Army, 3:30 p.m., CBS Sports Network
October, 10, 2011
10/10/11
4:30
PM ET
The two worst teams in the Big East last season are now among the two best.
How has it happened for Cincinnati and Rutgers?
Defense.
Both teams feature aggressive, opportunistic units that have made huge strides defending opponents, and that is a big reason each team has gone from 4-8 in 2010 to 4-1 at the midway point of the season. A quick check of the stats show how far both defenses have come.
Last season, Rutgers and Cincinnati were the two worst defenses in total defense, scoring defense, pass efficiency defense and sacks. Cincinnati was the worst team in the league in turnover margin.
[+] Enlarge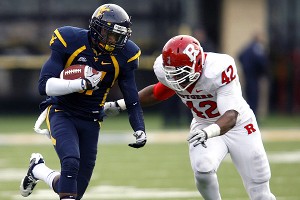 Charles LeClaire/US PresswireSteve Beauharnais has been a key part of an improved Rutgers defense.
Now? Rutgers is No. 1 in scoring defense; Cincinnati is No. 3. Rutgers is No. 2 in total defense; Cincinnati is No. 4. The Scarlet Knights lead the league with 20 sacks. Cincinnati is third with 17.
And the two teams lead the nation in turnover margin. Rutgers has 22 takeaways -- tying the total amount from 2010. Cincinnati is second with 18 takeaways -- four more than all of last season.
Rutgers has gotten so many solid performances from so many of its players, coach Greg Schiano demurred when asked for an MVP.
"The group," Schiano said. "The thing that I really enjoy most about coaching these guys is there is an unselfishness about us. That is the MVP."
There are a few big reasons Rutgers is playing well on defense. Schiano began moving players around the defense to help get more speed on the field.
Among the most significant moves -- Justin Francis to defensive tackle; Khaseem Greene to weakside linebacker; and David Rowe to safety. Greene is in contention for Big East defensive player of the year, as he averages nine tackles a game. Francis leads the league with 4.5 sacks. Rowe has two interceptions this season.
Schiano, whose background is on defense, is now calling the plays for the first time since 2008. Linebacker Steve Beauharnais said that has had a huge impact. At the beginning of training camp, Schiano showed a tape to his entire defense that essentially set the tone for what he wanted out of them.
The tape showed animals in the wild hunting for food. Specifically, Beauharnais remembers seeing lions taking down zebras as their prey. Schiano used it as an analogy for his players -- they needed to be relentless in pursuit of what they wanted. In their case, that meant going after the ball and their opponent.
"At first I was like what does this have to do with football?" Beauharnais said in a phone interview. "But when he stopped to explain it, everybody got the picture. You see us all swarming, attacking. We are real aggressive, and we are always running to the ball."
Schiano also stressed the need to play as one before every practice during training camp. He would hold his two hands far apart, then join them together in a fist. That was his way of showing his players how they needed to come together.
"We've always been friends, but I don't think we've ever been this close," Beauharnais said. "Everybody talks to everybody, and everybody hangs out with everybody. It's like a family."
The mentality has been much the same at Cincinnati. Coach Butch Jones has stressed becoming a more physical team. In fact, there are signs hanging up in the locker room that say, "Live Toughness Daily."
That has shown. The Bearcats have used an aggressive defensive front to help them set the tone in their games. Dan Giordano and Derek Wolfe have four sacks each, and Wolfe is third in the league with seven tackles for loss. In their last two outings, they have held their opponents to negative rushing yards.
What has helped has been the return of all 11 starters on defense. They have gained another year of experience, which means they are another year more mature, and another year more responsible to each other.
"The overall maturity and bond that our team has now is really starting to come into effect," Cincinnati linebacker JK Schaffer said. "Even when the offense isn't putting points up on the board sometimes, we're not saying, 'What is the offense doing? They need to put some points on the board.' No we're like, 'OK, let's go out there and play.' The whole mindset changed. Our team had to grow up. We were immature last year, a little resistant to some of the things we were doing. Now that the team's grown up, we've accepted our jobs and responsibilities. Coach Jones talks about indisputable role understanding and guys are doing that."
October, 8, 2011
10/08/11
11:50
PM ET
How about a few helmet stickers for a job well done:

Antwon Bailey, RB, Syracuse.
Bailey had 111 yards and a touchdown on 24 carries in a
37-34 win
over Tulane. But more importantly, he had a huge hand in the game-winning 12-play 66-yard final drive. Bailey was involved in eight of those plays for 45 yards, ripping off big gains to get Syracuse into position to win in regulation.
Stedman Bailey, WR, West Virginia.
Bailey had seven catches for 178 yards and two touchdowns in a
43-16 win
over UConn for his school-record fourth straight 100-yard receiving game. His 84-yard touchdown reception in the third quarter was the school's longest since Tito Gonzales' 79-yard touchdown reception from Pat White against Oklahoma in the 2008 Fiesta Bowl. It also was the fifth-longest from scrimmage in program history.
Justin Francis, DT, Rutgers.
Francis was all over the field in a
34-10 win
over Pitt, with career highs in tackles (eight) and tackles-for-loss (four). He also tied a career high with two sacks, and was credited with three quarterback hurries. Francis led a Rutgers defense that had six total sacks, six quarterback hurries, and held Pitt to a season-low with 10 points.
Geno Smith, QB, West Virginia.
Smith finished 27-of-45 for 450 yards and four touchdowns in a 43-16 win over UConn. It was his second 400-yard game of the season. His passing yards are the second-best single game total of his career and in program history, while his four touchdown passes tied a career high. Smith now has 5,231 career passing yards, moving past Major Harris (1987-89, 5,173) into sixth on the school's all-time passing yards list. He also tied Harris for sixth in career touchdowns with 41.
July, 5, 2011
7/05/11
4:00
PM ET
We continue our look at team position rankings today, and start up with the defense. First up are the guys in the trenches, the defensive line. This has got to be one of the strongest positions from team to team in the Big East. Four different teams could probably make an argument for the No. 1 spot. There are lots of standout defensive ends and tackles in the league, but I also am judging experience, returning starters and depth here.
[+] Enlarge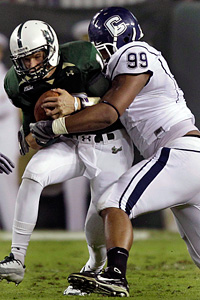 AP Photo/Chris O'MearaUConn's Kendall Reyes' had 2.5 sacks and nine tackles for loss last season.
1. Connecticut.
The Huskies have good players and depth this season, and get the nod as the top line in the league. Defensive end Jesse Joseph and defensive tackle Kendall Reyes return. Reyes turned down a shot at the NFL for one more season, and is the only first-team Big East selection on the defensive line returning to his team. Both Reyes and Joseph are defensive player of the year candidates. Five players return who started seven or more games last season, giving the Huskies plenty of experience along the line.
2. Pittsburgh.
The Panthers lose defensive player of the year Jabaal Sheard and are switching to the 3-4. But they do have another candidate for that award in Brandon Lindsey. We have to count him half here, though, because he is transitioning to the new hybrid defensive end/linebacker position. Still, the Panthers have solid players in Chas Alecxih and Myles Caragein on the line, along with depth in Aaron Donald, Tyrone Ezell, Kaynin Mosley-Smith and Bryan Murphy. Even without Sheard, this is one of the strongest lines in the league.
3. West Virginia.
You have got to love the tandem of Julian Miller and Bruce Irvin, who combined for 23 sacks last season. They are the best returning tandem in the league. But they are ranked here for a few reasons. First, how does Irvin transition from spot player to full-time starter? Will he be as effective as last season, when he led the league with 14 sacks? How does Miller transition to defensive tackle? Losing noseguard Chris Neild is a huge blow, too. Josh Taylor is penciled in to start, depending on what happens with Jorge Wright. Junior college transfer Shaq Rowell will be in the mix, too, with high expectations.
4. USF.
The Bulls might be losing three starters, including Terrell McClain and Craig Marshall, but this unit has the potential to be even better than the group in 2010. Hopes are high for Ryne Giddins to step in at defensive end and be an immediate difference-maker. Cory Grissom and Keith McCaskill are veterans inside, but if there is one question mark here it is depth at tackle. True freshman Elkino Watson could make a big impact.
5. Louisville.
Three starters return, and there is potential for this group to be very productive. Defensive end Greg Scruggs is in line for a breakout season. Eight linemen have starting experience, so there is depth, though there is youth here. Players like BJ Butler, Brandon Dunn and Roy Philon have a chance to take big-time leaps, but this unit is still relatively unproven compared the ones ranked ahead.
6. Syracuse.
No question the Orange have excellent defensive ends in Chandler Jones and Mikhail Marinovich. But the Orange lose their starters on the inside. Deon Goggins and Cory Boatman are penciled in to start at tackle but they are undersized. So are some of the other players who will rotate in. The line as a whole is pretty undersized when you think about it, and a big reason why Syracuse is ranked here.
7. Cincinnati.
The Bearcats were solid against the run last season but struggled to get a consistent pass rush. They hope to remedy that now that Walter Stewart has moved to defensive end. Last season, the Bearcats lacked depth but that is no longer the case in 2011. The top eight players in the rotation return, and there is nice size in the middle -- especially with defensive tackle Derek Wolfe returning. Still, the Bearcats have a lot to prove this season.
8. Rutgers.
Aside from nose tackle Scott Vallone, there are some questions on this defensive line, which has to show significant improvement over a unit that was so-so in 2010. Rutgers was one of the worst teams in the nation in sacks last season, with just 17. Manny Abreu moves from linebacker. How does that transition go? Justin Francis had a nice spring at end. Does that continue in 2011? Will Michigan transfer Anthony La Lota have an impact next to Vallone? There is a lot of inexperience along the entire line.
Previous rankings
March, 29, 2011
3/29/11
9:00
AM ET
Here is Part II of my conversation with Rutgers head coach Greg Schiano. You can read Part I
here
.
How has Chas Dodd been this offseason?

Greg Schiano:
Real good. He's a hard guy not to love. He's a gym rat, he's a guy who loves the game of football, and he has a great way about him. He relates to everybody -- the linemen, the running backs, the wideouts, the coaches. He's a happy kid, a fun guy to be around.
You talked last year at this time about Tom Savage's leadership skills. Does Dodd have the same attributes?

GS:
I can see it, no doubt. You could see it last year. He's a fiery sucker, now. He really loves playing the game. People kind of take his energy and use it. He's a pistol.
How about the depth at that position?

GS:
I think the freshmen will be critical -- Gary Nova and Mike Bimonte. They've been here a lot this spring already, just visiting with coaches. We practice in the morning now so they're not going to be missing school to come to spring practice. They'll be around us as much as we can get them around us.
Steve Shimko
is returning from rotator cuff surgery; I think he'll be OK, but I don't know. So those freshmen, whoever's the best will probably end up being the backup. We have a couple of walk-ons in the program who have a chance, but it definitely is lean. That's why those freshmen are critical.
You look at D.C. Jefferson, and physically he looks as good as any tight end you'll see. Where is he in his development?

[+] Enlarge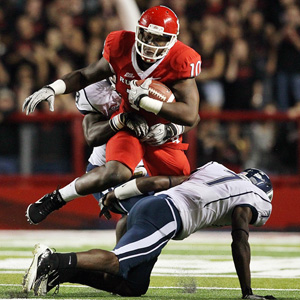 Jim McIsaac/Getty ImagesD.C. Jefferson could play an important role in Rutgers' offense this season.
GS:
You're right, physically, I don't know if there's a better physical guy in the country. Let's see what he does this spring. I think he really made some extraordinary blocks and extraordinary catches, and he missed some. He made some mistakes. It's a big year for him. He's got experience now under his belt. He and I have talked, and we really need him to become a key performer for us -- a clutch performer is probably a better way to say it -- and he's capable of it. And espcially in this offense, because the tight end is such a big part of it.
Let's move over to defensive line, where you lost three starters. Where do you see that group this spring?

GS:
We've still got Scott Vallone and Justin Francis, who have played a lot. But we're going to be young up there. Talented, maybe as talented as we've been, but young. We've got to harden them up and toughen them up this spring. Moving Manny Abreu to the defensive end will help us. He's an experienced player -- that will be a new position for him, but a lot of the things he did at [strongside] linebacker aren't very different than what we'll ask him to do at defensive end.
We're going to find out. You look at Michael Larrow, who's been in the program now for two years, he's physically exactly what you're looking for in that position. Guys like Kenneth Kirksey, Djwaney Mara, Jamil Merrell, Isaac Holmes, all those guys. It's their time. They need to step up. Vallone is there as a real leader. That's what we need, someone to take that thing and lead these guys, and I think he will.
What about linebacker, with Abreu gone from there?

GS:
Manny moves to defensive end and will be one of the better athletes up there. But at linebacker, his speed was just OK. So now you take a safety like Khaseem Greene who has very good speed and move him down to the [weakside] linebacker, and I think he's really going to bring something to the table there. Especially in our league. You know, it's interesting when you look at the schedule. You have some teams that will get into two-back and then some teams that will get into spread and then teams like Connecticut where you don't know what it's going to be. So it's going to be interesting. But I think, without a doubt, this defense is built on speed. I think we've helped ourselves by doing that, not only on the line and at linebacker, but making changes in the secondary as well.
Speaking of the secondary, you moved Jordan Thomas and Mason Robinson to cornerback. How do you see that spot shaking out?

GS:
We moved both to corner, we moved David Rowe into safety, and we moved over a guy I think is really talented in
Jawaun Wynn
-- a big, talented guy who was a wideout -- he'll be playing safety as well. We also redshirted a guy who I think was an exceptional recruit from DeMatha in Lorenzo Waters, he's got a chance to be really good. So it will be interesting to see because, again, there's great competition at this spot.
Speaking of redshirting, how tempting was it to play some of those young guys last year as the losses mounted?

GS:
You know what, last year was so weird with everything that happened here ... sometimes you'll take a shirt off a kid if you think he can really help us, but our issues were a lot more than a player. We had some serious issues. So I think that would have been foolish -- it wouldn't have made any difference.
How have the players moved past all that?

GS:
I think Eric [LeGrand's] situation was one where it's just, we're a close family here. Part of me is proud how much it affected us, because it showed how much our guys do care about each other. There wasn't a player or anything that was going to change that. Maybe if I had done a better job leading ... that's something I have thought about many times. But at the end of the day, it happened, and we're going to be there for Eric to help him, and we're going to put this thing back together and get back to playing football the way Rutgers is accustomed to playing it. I can't wait to do it. I really haven't been this excited to get back to practice in a long time.
How much will Eric be involved with you guys this spring?

GS:
He's still in Kessler [Rehab], and when he gets out, which I think is going to happen pretty soon, he'll have a busy schedule. He still has to go to rehab and do all that stuff, just now he'll have to drive up to the place all the time. But hopefully he'll be around. He took a class this semester online, and I fully expect him to come back to school here and get his degree. So, yeah, he's every bit as big a part of this family as he ever was, and I expect him to be around as much as he can possibly be around.
Looking at special teams, you have to replace your punter. Where does that stand?

GS:
We recruited Anthony DiPaula, and he started in January. One area we'll really emphasize this spring is punting and putting him under the gun, because where we stand right now, the plan is for him to be our punter. And that's a true freshman punter, so hold on to your hat, baby. With San San Te returning, we have returning long-snappers, returning holders, so I'm comfortable we'll be comfortable in all areas. And hopefully we'll get DiPaula to a point where he's comfortable. But again, until you go out and punt in front of 60,000 people, you haven't really experienced it. But he has a good way about him, so I'm confident in him.
Last year at this time, you talked about how young your roster was, and how the vast majority of your players were underclassmen. Looking at things now, do you think this is a group that can do some special things as it grows up?

GS:
I'm going to hold judgment on that. Are they over everything from last year? I hope they're not over it, but I hope they're dealing with it better. I think we're going to see where we are every step of the way. We only have 12 scholarship seniors on this team, so our bigger classes are our juniors, sophomores and freshmen. With our 12 scholarship seniors, we do have strong leaders and character guys there. But I think it's going to be a group effort. And you know what? Some of the best teams I've had kind of scratched and clawed and at the end of the day they'd look up and not be too bad. Hopefully, that will be us.