NCF Nation:

Justin Fuente
August, 19, 2013
8/19/13
10:15
AM ET
By
Isabelle Khurshudyan
| Special to ESPN.com
Today, we take a look at Memphis' 2013 campaign.
Memphis Tigers
[+] Enlarge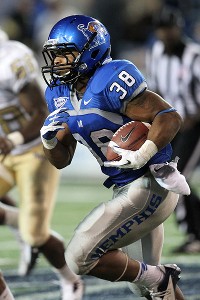 Nelson Chenault/USA TODAY SportsBrandon Hayes, who rushed for 576 yards last season, will be one of the keys to the Tigers' offense.
Coach
: Justin Fuente (4-8 overall, 4-8 at Memphis)
2012 record
: 4-8
Key losses
: WR Marcus Rucker, DB Robert Steeples
Key returnees
: RB
Brandon Hayes
, TE
Alan Cross
, QB
Jacob Karam
Newcomer to watch
: LG
Sam Thomas
Biggest games in 2013
: Duke (Sept. 7), Cincinnati (Oct. 30)
Biggest question mark heading into 2013
: Memphis ranked second-to-last nationally in rushing offense two seasons ago, but in Fuente's first season, the Tigers doubled their ground-game production, averaging 151.8 yards per game. With Memphis returning its top two running backs in Hayes (576 yards and six touchdowns in 2012) and
Jai Steib
(427 yards and six touchdowns in 2012), will the rushing attack become an even bigger part of the offense this fall? An offensive line that returns five players with starting experience could help the running backs' production, too.
Forecast
: Memphis will be at home or close to home to start the season with seven of its first eight games played in Tennessee. After doubling its win total from 2011 last season, Memphis will take any scheduling help it can get as Fuente works to continue to develop a program that now moves into a tougher conference. The Tigers open with Duke on Sept. 7.
"We know that we are obviously faced with an incredible challenge to build a football program while simultaneously taking a step up in competition," Fuente said. "But we're going into this with our eyes wide open and with full understanding of what it's going to take to get the job done. And we're looking forward to the challenges that lay ahead."
After winning its final three games of last season, Memphis returns 17 starters, including Karam. He completed a school-record 64.2 percent of his passes last season for 1,895 yards and 14 touchdowns. Though one of his top targets in Rucker is gone,
Alan Cross
returns after catching five touchdowns last season. And on defense, three of the top four tacklers return to a unit that led Conference USA in total defense in league games last fall. All four starters return to the defensive line.
Memphis was picked to finish last in the American Athletic Conference, but with the experience and momentum the Tigers carry over from finishing last season on a winning note, they may do better than expected in their first American season.
"We know where we're at and where we're going to go and what we're going to do," Fuente said. "So I don't take other people's opinions and consider that as a step backwards. We're just solely focused on ourselves. We made large strides last year. We'll make large strides this year. Where it all ends up, I don't know."
June, 21, 2013
6/21/13
9:39
AM ET
You've seen the college football future power rankings. Let's take that to another level here, using the eye test to look at how this conference is set up in the years to come.

1) Cincinnati
. With at least a share of four of the past five conference titles, and with a proven coach in Tommy Tuberville aboard, the Bearcats are the class of the conference.

2) UCF
. The most ready-made of the conference newcomers this fall, the Knights have the ideal talent, recruiting tools and coaching to compete for the conference crown year-in and year-out moving forward.

3) USF
. Like rival UCF, USF is ideally located to land top talent. The Bulls have had that talent in recent years, but the hope is that new coach Willie Taggart can make the most of it and thrive back on the recruiting trail in Tampa, Fla.

4) Tulsa
. Three straight eight-plus win seasons show that this program is on the rise, as the Golden Hurricane, much like UCF, look ready to compete with the league's elite upon their arrival.

5) UConn
. The last of the "old guard" of the old Big East is in need of a turnaround following consecutive 5-7 seasons under Paul Pasqualoni. A Fiesta Bowl appearance in 2010 and five draft picks this past April show that there is potential here.

6) SMU
. June Jones and Hal Mumme together will be a fascinating experiment to watch this year. But with their history and an always-strong nonconference slate, the Mustangs can put themselves in position to be a conference contender only if the breaks fall their way.

7) Navy
. The Midshipmen won't be aboard until 2015. But eight-plus wins in nine of the past 10 seasons against a solid independent schedule suggests the triple-option can give its new conference brethren problems upon its arrival in two years.

8) Houston
. Kevin Sumlin had a great run in 2011. Tony Levine still has some work to do, especially on the defensive side of the ball, after a down season in 2012. But landing big-name receivers like
Deontay Greenberry
and Markeith Ambles shows that there is promise for the Cougars moving forward.

9) Temple
. The Owls started off 2-0 in the Big East last season, but then received a rude awakening. New coach Matt Rhule seems perfect for the role, but the cupboard is bare as he tries to turn things around in Year 1.

10) East Carolina
. The Pirates always face their share of tough nonconference opponents, but Ruffin McNeill seems to have the program trending upward after going bowling in two of his first three seasons.

11) Memphis
. Justin Fuente won't let the Tigers get too high on themselves after a three-game winning streak to end last season. By opening up key spots -- including quarterback, where
Jacob Karam
returns -- he has shown that he is set on taking this program to another level as it enters a new conference and tries to put the Conference-USA era behind it. Still, Fuente faces an uphill battle.

12) Tulane
. The Green Wave haven't won five games in a season since 2004. They have their work cut out for them, as they move up to a better version of the C-USA they have struggled in.
April, 3, 2013
4/03/13
3:00
PM ET
Willie Taggart's youthful exuberance is palpable everywhere, from the music he blasts at South Florida practices to the declarations he
makes about his Bulls team to the media
— "come out every single day with an enthusiasm unknown to mankind."
The 36-year-old Taggart is the youngest head coach in a Big East that boasts no shortage of them. Taggart is the fifth-youngest coach in the nation in 2013, according to a list of 14 that Temple provided to the
Philadelphia Inquirer's Keith Pompey
.
Taggart is less than a month younger than the sixth-youngest coach on that list, second-year Memphis coach Justin Fuente. Two spots lower? That would be 38-year-old Temple head man Matt Rhule, giving the Big East three of the nation's eight youngest coaches.
As for the flip side of things, UCF coach George O'Leary is the elder statesman of the league, at 66 years old. O'Leary is the sixth-oldest coach in the nation in 2013.
Connecticut's Paul Pasqualoni (63) and SMU's June Jones (60) also crack the 60-and-over crowd, coming in as the ninth- and 17th-oldest active coaches, respectively.
Here is a list of Big East coaches by birth date:
Willie Taggart, USF (Aug. 27, 1976)
Justin Fuente, Memphis (July 30, 1976)
Matt Rhule, Temple (Jan. 31, 1975)
Tony Levine, Houston (Oct. 28, 1972)
Kyle Flood, Rutgers (Jan. 20, 1971)
Charlie Strong, Louisville (Aug. 2, 1960)
Tommy Tuberville, Cincinnati (Sept. 18, 1954)
June Jones, SMU (Feb. 19, 1953)
Paul Pasqualoni (Aug. 16, 1949)
George O'Leary (Aug. 17, 1946)
February, 27, 2013
2/27/13
10:30
AM ET
Memphis

Spring Start:
Feb. 28
Spring game:
April 6
What to watch:
Quarterback: Jacob Karam returns as the starter after throwing for 1,895 yards, 14 touchdowns and three interceptions. But coach Justin Fuente says Karam will be pushed during the spring and has to win the starting job all over again.
Bump up the physicality: Fuente has said repeatedly that he wants to see his team be more physical, especially now that it is joining the Big East. The spring is the perfect chance to improve in this area. "We will play some of the same teams we played last year, but they will be the bigger, more physical teams we played last year," he said. "We have to understand that we have a lot of ground to make up. That is not ground that is made up easily."
Competition at defensive back: The Tigers lose two starters from their defensive backfield -- Cannon Smith and Robert Steeples -- and Fuente is excited about the competition at this position going into the spring.
Rutgers

Spring Start:
March 26
Spring game:
April 27
What to watch:
Quarterback: Even though coach Kyle Flood says Gary Nova is his starter, you can bet there is going to be competition at this position going into the spring, especially with a new offensive coordinator in Ron Prince. That doesn't mean there will be changes, but certainly Prince is going to want to take a look at all the players he has available to evaluate what they can or cannot do.
Defensive leaders: Rutgers lost its top defensive playmakers and needs to find guys who can step in for Scott Vallone, Khaseem Greene, Steve Beauharnais and Logan Ryan, to name four. Plus, there is a new coordinator in Dave Cohen, so there might be some adjustment period.
Huggins stepping up: The time is now for the highly heralded local recruit to live up to the expectations that came with him when he arrived on campus. Jawan Jamison is gone off to the NFL, so all eyes have turned to Huggins to see if he has what it takes to be the next 1,000-yard rusher.
SMU

Spring Start:
March 25
Spring game:
April 20
What to watch:
Replacing Zach Line: The Mustangs have to replace their top runner over the past several seasons in Line, who had three straight 1,000-yard seasons. Leading the charge this spring are junior college All-American Traylon Shead and reserve back Rishaad Wimbley, who switched from defense a few seasons ago.
New defensive starters: The Mustangs lost the bulk of their playmakers on defense in Margus Hunt and linebackers Taylor Reed and Ja'Gared Davis. Finding guys to step up without them is a huge priority. Watch for Zach Wood at defensive end in place of Hunt; and Kevin Pope and Robert Seals at linebacker.
More consistency at QB: June Jones' offense runs best when the quarterback is at his best. Garrett Gilbert returns as the starter, but he is going to need to find much more consistency this spring and into the fall. Two numbers that have to be improved: accuracy (53 percent in 2012) and touchdown-to-interception ratio (15-to-15 in 2012).
USF

Spring Start:
March 20
Spring game:
April 13
What to watch:
New coaches, new style: Coach Willie Taggart has promised to ratchet up the intensity and transform his team into more of a smash-mouth group. That process begins in the spring, when he has his first opportunity to really show his players what he expects out of them. You can bet he expects a lot more physicality from his offensive and defensive lines to start.
Quarterback competition: Who will emerge as the starter? Will we even know after the spring? Matt Floyd and Bobby Eveld, the top two candidates, have plenty of work to do as they fight to win the starting job. But this competition could very well go into the fall, when freshman Mike White arrives on campus.
Defensive back improvement: This was the worst group the Bulls had a year ago and the one in most need of immediate improvement. USF registered two interceptions in 2012, tied with Auburn for the fewest among all 120 schools in the nation. And they both came in the same game -- against UConn on Nov. 3.
Temple

Spring Start:
March 22
Spring game:
April 20
What to watch:
New staff: Matt Rhule certainly has a familiarity with Temple, having served as an assistant there under both Al Golden and Steve Addazio. But anytime a new coach comes in, there is change, so the spring gives him his first chance to really start implementing his style and what he wants to get accomplished.
Quarterbacks: You can bet this competition is going to be open this spring, with Chris Coyer, Juice Granger and Kevin Newsome all returning. Coyer and Granger both started a year ago; Newsome transferred in from Penn State a few years ago. How this shakes out is one major story to watch.
Running backs: Montel Harris and Matt Brown are gone, taking with them 1,426 yards rushing and 16 of the team's 21 rushing touchdowns. Jamie Gilmore got more carries as the season went on when Brown was hurt; Kenny Harper also is back and certainly will be relied upon even more.
January, 8, 2013
1/08/13
11:00
AM ET
Time to take an early look at the new-look Big East headed into 2013. Now, a few caveats: First, these rankings are subject to change many times before the season begins. Second, I am basing them mostly on returning starters and results from 2012. Since a majority of this league is new, I have not had time to sit down and watch every single game from every program.
Third -- we still have no idea if this is what the league will look like in 2013!
So give me a little time and take these for what they are -- a first take on 2013 with much more to come. *Note: Those looking for Pitt and Syracuse, check the ACC blog.
1. Louisville.
I think we can all agree here -- the Cardinals will go into the season as the prohibitive favorite to win the Big East.
Teddy Bridgewater
returns, along with just about every starter on a team that beat Florida in the Sugar Bowl. Get ready for this team to try to make another run.
2. Cincinnati.
I know the Bearcats have had a coaching change, but I like that the core nucleus returns. Cincinnati should have the best offensive line in the league;
Brendon Kay
got his sixth year, and so did emerging middle linebacker
Greg Blair
. While there are major players who have to be replaced, Cincinnati showed this year it has players to step right in and get the job done.
3. Rutgers.
I honestly think this might be too high for the Scarlet Knights. I may just still be suffering from sitting through the entire Russell Athletic Bowl. But there are major questions that have to be answered -- is
Gary Nova
any better at quarterback? Can
Savon Huggins
step right in for
Jawan Jamison
? Who steps up on a defense that loses its biggest playmakers? Far too many unknowns.
4. UCF.
I like
Blake Bortles
, and I like
Storm Johnson
, and the Knights are coming off a 10-win season as they join the Big East. To me, they are the best looking of the newcomers. Key players on defense have to be replaced, and don't forget that this team could be serving a postseason ban.
5. San Diego State.
The Aztecs return a majority of their starters, including Mountain West Offensive Player of the Year
Adam Muema
, who ran for 1,458 yards and 16 touchdowns this year. I watched their San Diego County Credit Union Poinsettia Bowl meltdown from start to finish. My takeaway -- if this team wants to make a serious run, it needs much better play out of quarterback
Adam Dingwell
.
6. USF.
In all honesty, the Bulls could be lower, given their performance the past two years. They have no quarterback. No running back. Questions all over the place on defense. And a new coach. Willie Taggart is going to need some time to change the program, but I think there is enough talent at some of the skill positions and up front for the Bulls to be more competitive in 2013.
7. Connecticut.
Considering the best players on defense are gone, it is hard to believe the Huskies will be much improved in 2013 over 2012. The defense was the best part of this team, and now it must replace the Big East leader in sacks, (
Trevardo Williams
), along with
Sio Moore
,
Blidi Wreh-Wilson
,
Jory Johnson
and
Dwayne Gratz
. Offensively, this group needs an overhaul. Will it get one before it's too late?
8. Houston.
The Cougars had a rough first year under new coach Tony Levine, finishing 5-7 in 2012. But there are some key players returning and a new offensive coordinator who should help steady the ship. Watch out for cornerback
Trevon Stewart
, named a FWAA freshman All-American.
9. Temple.
I think the Owls have a chance to make some major leaps up this list depending on how spring practice shakes out. There is a new coach in town in Matt Rhule, who knows better than anyone what it takes to win at Temple. He needs to make a decision at quarterback and find a running back, for starters.
10. SMU.
I do not have much hope for the Mustangs in Year 1, at least not yet. This team is taking bigger losses than any Big East newcomer. Starting running back
Zach Line
is gone. So are defensive standouts
Margus Hunt
,
Ja'Gared Davis
and
Taylor Reed
.
11. Memphis.
The Tigers made marked improvement in 2012 under Justin Fuente, going 4-8 -- including a three-game winning streak to end the season. Seventeen starters return, including quarterback
Jacob Karam
, so the Tigers definitely have momentum going into Year 1 in the Big East.
February, 12, 2010
2/12/10
1:06
PM ET
TCU offensive coordinator Justin Fuente interviewed with USC and coach Lane Kiffin on Thursday for the open offensive coordinator position with the Trojans, according to a source with knowledge of the situation.

Fuente, who has been with the Horned Frogs since 2007, was one of two candidates who interviewed with USC this week.

Fuente started his career with the Horned Frogs as the running backs coach and was promoted to co-offensive coordinator in February 2009. During his first year as offensive coordinator, TCU set single-season school records with 488 points and 5,629 yards of total offense. TCU ranked third nationally in passing efficiency (162.2), fourth in total offense (469.1 yards per game) and scoring offense (40.7 points per game) and fifth in rushing (256.5 yards per game).

Fuente, who went from coaching running backs to quarterbacks in 2009, made junior Andy Dalton the Mountain West Conference Offensive Player of the Year.