June, 3, 2010
6/03/10
6:13
PM ET
At what position is the Pac-10 deep? At what position in the Pac-10 thin? Here's the third of three parts taking a look at just that.
Deep: Specialists
[+] Enlarge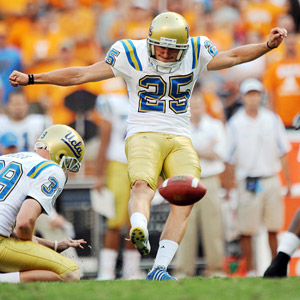 Jim Brown/US Presswire Kai Forbath of UCLA is one of two Lou Groza Award winning kickers returning to the Pac-10 this season.
Why is it deep
? Eight teams welcome back both their punter and kicker, and many of them are quite happy about that. Three conference kickers ranked among the top-20 in field goals per game, while three punters ranked in the top 21. No team is replacing both specialists. Oregon is replacing kicker Morgan Flint and USC is replacing kicker Jordan Congdon, who ranked fifth and seventh, respectively, in field goals per game in 2009.
The big names
: Start with two Lou Groza Award winning kickers: UCLA's Kai Forbath (2009) and Arizona State's Thomas Weber (2007). Then there's Oregon State's Justin Kahut, who made 22 of 27 field goals with a long of 50, and Washington's Erik Folk, who was 18 for 21 with a long of 48. As for the punters, Arizona State's Trevor Hankins ranked No. 1 in the Pac-10 and 10th in the nation in punting (44.2 yards per punt), while UCLA's Jeff Locke (43.6) was 16th in the nation and Washington State's Reid Forrest (43.2) was 21st. Oh, and California's Bryan Anger might have the biggest foot of everyone; he dropped a conference-high 24 punts inside the 20 last year.
Thin
:
Linebacker
Why is it thin
? Four of the six linebackers who made up the first and second All-Pac-10 teams are gone as are five of the 11 LBs who earned honorable mention. Only two teams -- USC and Oregon -- welcome back all of their starting LBs from 2009, and a big story this spring was the Trojans lack of depth at the position, while the Ducks moved Eddie Pleasant to safety (in large part because of depth at the position). Arizona is replacing all three starting linebackers, while Arizona State, Oregon State and UCLA only have one returning starter at the position (though the Beavers outside linebacker platoon of Dwight Roberson and Keith Pankey probably should count as more than one starter).
Fill the void
? This is not a "strength" position, but the cupboard is hardly empty: UCLA's Akeem Ayers, California's Mike Mohamed and Arizona State's Vontaze Burfict are All-American candidates, while Oregon's Casey Matthews earned second-team All-Pac-10 honors in 2009 and Washington's Mason Foster is a likely breakout player. The Ducks, in particular, are fast and deep at linebacker, while the Sun Devils aren't far behind in terms of young talent.
November, 25, 2008
11/25/08
11:14
AM ET
Posted by ESPN.com's Ted Miller
Getting deep into this week's games.


Stop the run, get the quarterback -- times two: Oregon and Oregon State play different defensive schemes but both are predicated on stopping the run first and then aggressively pressuring the quarterback. That might sound like every team's basic recipe, but the Ducks and Beavers have the numbers to back it up. They rank second (OSU) and third in the Pac-10 in run defense and second (UO) and third in quarterback sacks. The Civil War will feature four of the top seven quarterback sackers in the conference. The difference in the defenses this year is the Ducks have struggled against the pass (254 yards per game, 10th in conference) -- particularly play-action passes -- while the Beavers' defense is all-around suffocating (178 yards, fourth). Moreover, Oregon State, despite using two quarterbacks the latter third of the season, is a far better at passing -- No. 1 in the Pac-10 -- than the Ducks (7th). On the other hand, only USC has been able to stop the Ducks' run game. What do all of these numbers seem to indicate? That if it comes down the quarterbacks, Oregon State has an advantage, even though we don't know yet who will be the starter between Lyle Moevao and Sean Canfield.

A reappearance of Sanchez 07 vs. Notre Dame would work nicely: Last year, USC whipped Notre Dame 38-0, the Trojans' first shutout in South Bend and their most decisive victory in the 79-game series. Mark Sanchez, making just his second career start for the injured John David Booty, threw for 235 yards and four touchdown passes. The Trojans' offense has played it fairly close to the vest of late, with Sanchez throwing for 238 or fewer yards in each of the last four games, and twice throwing for less than 170 yards. That makes sense when the nation's best defense has your back. Maintaining that plan this week also makes sense, considering Notre Dame is far better vs. the pass -- the Irish rank 14th in the nation in pass efficiency defense and have yielded only 10 touchdown passes -- than the run. And the Trojans did rush for 227 yards in 2007. Still, with an extra week to prepare, it wouldn't be surprising if the Trojans opened things up for Sanchez in the interest of posting an impressive all-around performance, not that Pete Carroll would ever -- EVER! -- think about BCS positioning.

Kevin Craft vs. Kevin Craft (and a peeved Rick Neuheisel): UCLA quarterback Kevin Craft "leads" the Pac-10 with 16 interceptions, much to the consternation of his animated coach. He even threw three vs. Washington, which had collected just three interceptions in its previous nine games. Craft's tendency to lock on to his intended receiver and still throw into a naturally reacting coverage will be of interest to Arizona State, particularly linebacker Mike Nixon and safety Troy Nolan, who have combined for seven interceptions. The Bruins and Sun Devils own identical records, and the winner of their matchup Friday keeps their bowl hopes alive. The biggest difference between the teams is at quarterback. While Rudy Carpenter hasn't dominated this season, his 15 TD passes vs. seven picks is far better than Craft's 7 and 16, which largely accounts for the Bruins' stark minus-eight turnover margin -- vs. plus-two for ASU.

Is the Cougs' visit to Hawaii a vacation or a business trip? Escaping Eastern Washington this time of the year for a trip to Hawaii sounds like a great plan (though, honestly, it was beautiful -- crisp and mostly sunny -- last week in Pullman). Of course, there is this little matter of a football game. It is not inconceivable that if the Cougars put together an inspired effort they could win -- even as a 29 1/2-point underdog. Hawaii (6-5) did lose to 2-9 Utah State, 30-14, on Nov. 1. And this is certainly not the offensive juggernaut of the June Jones Era -- see 25 points and 344 yards per game. Still, despite the win over Washington, the Cougars are severely undermanned on both sides of the ball. Moreover, it's hard to imagine them being able to wipe away the euphoria of their double-overtime win and focus on a new game plan. But if they do, it could signal some substantial traction for first-year coach Paul Wulff as he heads into the offseason trying to sell recruits on his rebuilding project.


Special teams come to the fore in special games: Let's just say that Oregon and Oregon State both get their licks in, with the usual suspects making plays on both sides of the ball. What, then, might tip the scales? Special teams, right? In last year's game -- a 38-31 Beavers win in double overtime -- both teams missed field goals to win in regulation, and OSU kicker Alexis Serna missed two other field goals. Last week at Arizona, Beavers kicker Justin Kahut was first the goat -- missing a potential game-tying, fourth-quarter PAT -- and then the hero when he booted the game-winning field goal as time expired. Kahut actually has an edge on Ducks veteran Matt Evensen, who's only hit on 11 of 18 field goals this year. Moreover, Oregon's Jairus Byrd and Oregon State's Sammie Stroughter are two of the Pac-10's more dangerous punt returners, and the Beavers' James Rodgers is the only player in the conference to return a kickoff for a touchdown this season. Oregon has a 4-yard advantage in net punting, with Josh Syria far more consistent that Johnny Hekker. In hard-fought rivalry games, it's often miscues and play-making on special teams that swing the final margin.
October, 10, 2008
10/10/08
11:05
AM ET
Posted by ESPN.com's Ted Miller
Ten things to consider, underline or anticipate heading into the weekend.
1. USC's backfield rotation is getting simpler: With Allen Bradford suffering a hip injury that has imperiled his season, and Joe McKnight battling a sore knee -- not to mention inconsistency -- the Trojans backfield rotation likely will feature Stafon Johnson and C.J. Gable as options Nos. 1 and 2, with McKnight used as a change of pace guy who doubles as a receiver.
2. Can a freshman tackle handle an All-Pac-10 defensive end?: If UCLA's offense is going to have any success at Oregon, it's going to have to account for end Nick Reed, who was first-team All-Pac-10 in 2007 and is presently leading the conference with six sacks. That falls to freshman tackle Jeff Baca, a former teammate of Reed's at Mission Viejo High School -- and by teammate we mean Baca used to admire Reed from afar. Baca figures to need some help (sliding protection or even a tight end with a max-protection scheme), but the less he needs the better for the Bruins.
3. Welcome to opportunity, Danny Sullivan: Folks didn't give Arizona State much chance at USC even with marquee quarterback Rudy Carpenter, so it is reasonable to assume that if Carpenter can't go the Sun Devils are pretty much doomed. Well, plenty of inexperienced or unknown athletes have stepped up and turned in clutch performances, so why not Danny Sullivan? Let's remember: Stanford, a 41-point underdog a year ago at USC, was led by Tavita Pritchard, an emergency, first-time starter because T.C. Ostrander had suffered a seizure the previous week. What happened in that game?
4. Will Justin Roper retake his spot as Oregon's starting quarterback?: The latest word is that Oregon coach Mike Bellotti and offensive coordinator Chip Kelly are still cogitating over who will start at quarterback for the Ducks against UCLA -- either Jeremiah Masoli, who has started the past three games, or former starter Justin Roper, who hurt his knee at Purdue on Sept. 13. Masoli has been solid in Roper's stead, and there's a possibility he holds onto the job, but Roper should have a lot more knowledge of the offense compared to the first-year juco transfer.
5. Arizona's defense needs to show it can stop a physical running back: It's been mostly roses and rainbows for Arizona during a 4-1 start, but the face plant at New Mexico is still why some doubt the Wildcats and attribute their early success to an easy schedule. For example, Arizona ranks No. 2 in the nation in total defense, but Lobos running back Rodney Ferguson, a 6-foot, 234-pound bowling ball, bullied the Wildcats for 158 yards and two touchdowns. So there is reason to be concerned about Stanford's power running game led by 230-pound Toby Gerhart and a physical offensive line.
6. Is a true freshman the best running back in the Pac-10?: It might be premature to hail Oregon State's Jacquizz Rodgers as such but he presently leads the Pac-10 with 110 yards rushing per game, which also ranks 14th in the nation. On Saturday, he faces a Washington State run defense that yields 241 yards rushing per game. If Rodgers hangs up huge numbers to pair with his red-letter performance against USC, he'll become a front-runner to earn First-Team All-Pac-10 honors.
7. USC quarterback Mark Sanchez will announce that he's joining the X-Men this weekend: Know how the X-Man Wolverine heals really quickly? Well, so does USC quarterback Mark Sanchez, who appears ready to add a bone bruise to the dislocated knee cap as injuries that failed to keep him from starting a game. Come to think of it, has anyone ever seen Sanchez and Wolverine in the same room? Hmm.
8. Gronkowski and Thomas should run wild against Stanford's secondary: Stanford ranks 112th in the nation in pass defense after giving up 347 yards and three touchdowns to Notre Dame and quarterback Jimmy Clausen. Arizona has a better offense and a lot more weapons than Notre Dame, namely receiver Mike Thomas and tight end Rob Gronkowski. Both of those guys should post huge numbers Saturday.
9. If it comes down to a kicker, Washington State wins: Washington State has notoriously struggled with special teams over the past few years, but kicker Nico Grasu is one of the few bright spots for the Cougars. Meanwhile, Oregon State, which featured former Groza Award winner Alexis Serna for four years, is now floundering with Justin Kahut. Grasu is 5-of-7 with a long field goal of 47 yards and is perfect on his PATs. Kahut is 3-of-7 with a long of 37 and missed a critical PAT at Utah last week.
10. Is there anything else to say about Rick Neuheisel's and Mike Bellotti's relationship?: The first stories of the week were about how Oregon fans and Mike Bellotti hate Rick Neuheisel. But then it turned out that Bellotti and Neuheisel get along well, even play golf together ("Drat!" said reporters). Oregon fans, of course, do dislike Neuheisel for what he did at Colorado and Washington -- you know, compile a 4-1 record against the Ducks. UCLA should be outmanned at Oregon, but don't be surprised if a few coaching tricks keep the Bruins close.