NCF Nation:

Justin McCray
December, 31, 2013
12/31/13
11:00
AM ET
SCOTTSDALE, Ariz. -- The Sunday routine is always the same, no matter how late the previous night's game ended.
Jordan
and
Justin McCray
wake up early and head to campus. They pop in the film of the previous day's game, critiquing one another's performance. Then they rush to the coaches' offices, tracking down a graduate assistant to find out which one graded out higher for the game.
[+] Enlarge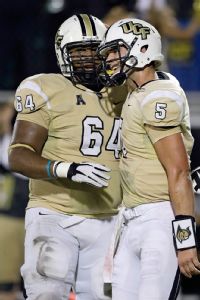 AP Photo/John RaouxBlake Bortles (5) celebrates with Justin McCray. The UCF QB can tell the twins apart, but it's taken years to figure out how.
"We're always the first ones in," Justin said. "And we're always giving each other a hard time."
The sibling rivalry between the twin brothers goes back as far as they can remember. From the time they were kids, both wanted the upper hand -- a way to distinguish himself from his brother. Riding bikes, doing push-ups, chowing down at dinner -- everything was a competition.
"I'm pretty much a little bit better in everything than Justin," Jordan joked.
Even now that both brothers are two-year starters on UCF's offensive line, both team captains and All-AAC first-teamers, both on the verge of the biggest -- and final -- game of their college careers, the competition continues.
"They argue about who runs a faster 40-yard dash," quarterback
Blake Bortles
said of his two offensive guards, "like it's even relevant."
After four years together, Bortles has found a foolproof way to tell his guards apart. Justin, the right guard, has a small freckle on his face. Jordan, the left guard, doesn't. It's not easily noticeable, but Bortles has studied them closely.
Justin is a little leaner, too. Jordan a bit thicker. Never mind that the media guide lists them both as 6-3, 310 pounds.
"I don't think it's a big difference," Bortles said, "but after four years, that's what I see."
It's tough to separate the McCray brothers, and that's by design.
They've spent their lives competing, looking for an edge on a someone who's a mirror image, but they've never wanted to be apart.
Coming out of high school, only a handful of schools offered both brothers a scholarship. A few were eager to take one and allow the other preferred walk-on status, but that was never a consideration for the McCrays.
[+] Enlarge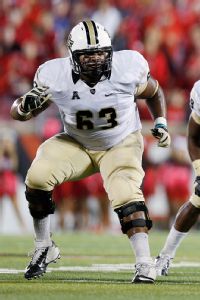 Joe Robbins/Getty ImagesJordan McCray says "Im pretty much a little bit better in everything than Justin."
"It was a package deal," Jordan said. "That's why we came here to UCF."
UCF felt like home, Justin said. Their older brother, Cliff, played there, too. But the family ties didn't mean an easy road to football success.
As freshmen, both brothers struggled to adjust. As sophomores, Jordan said he took a big step forward, while Justin lagged a bit behind. As juniors, it was Justin who progressed quickly. At each step, they measured themselves against each other.
This season, however, both have been exceptional, and they're a big reason why UCF is playing in its first BCS bowl game.
"For them to compete with each other and want to top the other one, it makes you want to keep up with them, be in the race with them," center
Joey Grant
said. "It's fun to watch, to see them fight over who's going to be better. That pushes the whole offensive line to be better as a unit."
But if Wednesday's Tostitos Fiesta Bowl is the culmination of a lifetime of competitiveness between the brothers, it's also bittersweet.
Jordan and Justin both have NFL aspirations, but they realize it's unlikely they'll both find a home at the next level on the same team. Wednesday, most likely, will be the last time they play together.
It's a weighty realization for two brothers who have never been more than a few feet apart on a football field, and they can't ignore the implications. But they also know the moment was inevitable, and if the end was going to arrive, it couldn't have been scripted any better.
"Just to be on this big stage at the Fiesta Bowl and playing a great team in Baylor," Jordan said, "I wouldn't want to go out any other way."
February, 4, 2010
2/04/10
10:00
AM ET
Of all the nonautomatic qualifying schools, Central Florida probably had one of the most surprising recruiting days.
Three players who were on UCF's wish list actually signed and made the Knights' recruiting class the best in school history.
The day started with offensive guard
Torrian Wilson
switching his commitment from Louisville to UCF. Wilson, the No. 8 offensive guard in the country, took his visit to UCF this past weekend and it was enough to sway his pledge.
"I thought we were on the hunt," coach George O'Leary said of Wilson. "I know he had committed to Louisville, but he visited last week and I thought we were in the hunt. I had a chat with him and he saw a lot of things that he liked."
Overall, the Knights signed six offensive linemen, including Miami Southridge Senior High brothers Jordan and
Justin McCray
. UCF struggled mightily last season with 2.54 sacks allowed per game and a rushing offense that ranked 82nd in the country.
"I always like to have 15 of those guys sitting around soaking," O'Leary said of his offensive linemen. "They're the toughest position to play early. So you like to get guys coming in where you have some numbers there. Hopefully, after their first year, they get a chance to come in and get some sophomore or junior work and that's about the time that they're really coming into their own from a maturity standpoint."
O'Leary said other surprises for the Knights included nabbing athlete
Jordan Akins
out of Union Grove High (Ga.), a school that's heavily recruited by Georgia. Akins was a Georgia lean.
The Knights also secured offensive lineman
Jose Jose
, who was committed to South Florida. Jose, who made a switch right before he signed, is one of five signees from Miami Central High School, state semifinalists in class 6A this season.
Maybe the quickest contributor from Miami Central will be quarterback
Jeffrey Godfrey
, who is one of two new quarterbacks already enrolled in school. Quarterback has been a dicey position for UCF the past couple seasons, and with 2009 starter Brett Hodges gone, the position will be up for grabs in the spring.