January, 13, 2012
1/13/12
11:00
AM ET
It's time to wrap up the 2011 season with the top performers from the bowl games. No, they're not all from Florida State and NC State. Although they could be …
Offense:
QB:
Mike Glennon
, NC State:
He was named the MVP of the Belk Bowl after throwing for 264 yards and three touchdowns to lead NC State past Louisville 31-24.
RB:
Preston Lyons
, Georgia Tech:
The senior fullback started in place of injured
David Sims
and rushed for 138 yards in the overtime loss to Utah. Before this, Lyons had never rushed for more than 50 yards in a game.
[+] Enlarge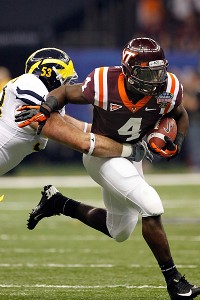 AP Photo/Dave MartinVirginia Tech running back David Wilson finished the season with 1,709 rushing yards.
RB:
David Wilson
, Virginia Tech:
He broke the school's single-season rushing record in the Allstate Sugar Bowl against Michigan with 82 yards on 24 carries. He finished the season with 1,709 yards. His 11-yard run on his second carry of the third quarter enabled him to surpass Ryan Williams' mark of 1,655 yards set in 2009.
WR:
Rashad Greene
, Florida State:
He had five catches for 99 yards and a touchdown in the 18-14 win against Notre Dame and was named the MVP of the Champs Sports Bowl. His 15-yard touchdown catch with just over 13 minutes to play gave the Noles a 15-14 lead.
WR:
T.J. Graham
, NC State:
He finished with seven catches for 116 yards and two touchdowns in the win against Louisville. He also had three kick returns for 63 yards and one punt return for two yards.
WR:
Kris Burd
, Virginia:
He had six catches, 103 yards, two touchdowns and a broken collarbone. He became only the third player in school history to score two receiving touchdowns in a bowl game.
OT:
Zebrie Sanders
, Florida State:
He was the lone senior on an offensive line that started four freshmen. He posted a career-high grade of 94 percent in his final game at left tackle.
OT:
Rob Crisp
, NC State:
Hey, no other lineman in the ACC had a reception in a bowl game. Granted, his teammates keep ribbing him for rumbling and fumbling, but Crisp played a good game, paving the way for the offense from the right tackle spot.
G:
Josue Matias
, Florida State:
As one of four true freshman starters on the Noles' line, Matias posted a grade of 82 percent from the left guard position in his first career start.
G:
Shaq Mason
, Georgia Tech:
Even with guard
Omoregie Uzzi
sitting out with an injury and suspended tackle
Phil Smith
on a bus back to Atlanta, Tech rolled up 311 rushing yards and 448 total yards against a Utah defense that was ranked among the nation's best entering the Hyundai Sun Bowl.
C:
Dalton Freeman
, Clemson:
Freeman had an 84 percent grade and four knockdowns in helping Clemson to 443 yards and 33 points against West Virginia.
Defense:
DE:
Brandon Jenkins
, Florida State:
He finished with two tackles (both solo), including one sack for minus-10 yards. His sack in the third quarter took Notre Dame out of field goal range.
DT:
Nikita Whitlock
, Wake Forest:
He finished with six tackles, 0.5 sacks, 1.5 tackles for loss and one fumble recovery in the loss to Mississippi State.
[+] Enlarge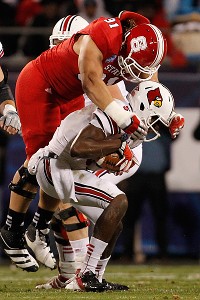 AP Photo/Bob LeveroneThe Wolfpack's Markus Kuhn lands on Louisville's Teddy Bridgewater for a sack during the Belk Bowl.
DT:
Markus Kuhn
, NC State:
He finished with three tackles, including 1.5 for a loss of seven yards. He also had one sack for a loss of six yards in the win against Louisville.
DE:
J.R. Collins
, Virginia Tech:
He finished second on the team with seven tackles and had one tackle for loss in the loss to Michigan in the Allstate Sugar Bowl.
LB:
Nigel Bradham
, Florida State:
He closed out his career with a team-high nine tackles (eight solo) against Notre Dame, finishing the season with a team-leading 86. He was the first FSU player to lead the team in tackles for three consecutive years since All-American Marvin Jones (1990-92). Bradham also added his third career interception in the win.
LB:
Tariq Edwards
, Virginia Tech:
He finished with a team-high eight tackles, one sack for a loss of seven yards and two tackles for a loss of eight yards in the loss to Michigan.
LB:
Audie Cole
, NC State:
The senior ended his career with a team-high 10 tackles, including a pair of sacks and four tackles for loss.
DB:
David Amerson
, NC State:
He had two interceptions and returned one of them 65 yards for a touchdown in the Belk Bowl win against Louisville. He became the ACC's leader in interceptions in a single season with 13. It was one shy of the Football Bowl Subdivision record set by Al Worley of Washington in 1968.
DB:
Kyle Fuller
, Virginia Tech:
He intercepted a pass by Michigan quarterback
Denard Robinson
in the first quarter. The interception marked his second of the season and the second of his career.
DB:
Merrill Noel
, Wake Forest:
He had a team-leading seven tackles and one interception for 18 yards in the 23-17 loss to Mississippi State.
DB:
Lamarcus Joyner
, Florida State:
With Notre Dame inside the 5-yard line, Joyner intercepted his team-best fourth pass of the season. His 77-yard kickoff return after Notre Dame went up 14-0 was the longest kickoff return by a Seminole this year. It was also the third-longest in FSU bowl and Champs Sports Bowl history.
Special teams:
P:
Shawn Powell
, Florida State: He punted 8 times for 378 yards and a 47.2-yard average. He had three punts of more than 50 yards and landed two inside the 20-yard line. His performance sealed his title as the nation's leader in punting.
P/K:
Justin Myer
, Virginia Tech:
Myer entered the game 0-for-2 on the season but made field goals in the Allstate Sugar Bowl of 37, 43, 36 and 25 yards, recording a field goal in every quarter and tying Georgia's Billy Bennett (2003) for the BCS bowl record. The four field goals tied for second-most in Sugar Bowl history. Myer missed on his fifth try, a 37-yard attempt in overtime. The field goals were the first in Myer's collegiate career. The Hokies made six field goals of 30 or more yards all season entering the game.
A/P:
Sammy Watkins
, Clemson:
Despite the loss, Watkins broke two school records in the Discover Orange Bowl and finished with 205 all-purpose yards, giving him 2,282 for the season -- second-most in ACC history. He had seven kick returns for 143 yards, and he had five catches for 66 yards and a touchdown.
January, 4, 2012
1/04/12
5:00
AM ET
1. The decision by Justin Wilcox and Peter Sirmon to leave Tennessee to resuscitate the Washington defense isn't necessarily a commentary on the struggles that Derek Dooley is undergoing in Knoxville. Both guys are from the Pacific Northwest, and every coach is allowed a move to go home. But there is an implicit endorsement of Husky coach Steve Sarkisian, who took the Huskies from the bottom of the Pac-10 and is stalled below the top tier of the Pac-12 North. If Washington gets a defense, watch out.

2. In the wake of that thrilling Fiesta Bowl, Oklahoma State and Stanford are faced with the task of how to sustain their newfound success. The Cowboys had the benefit of a 28-year-old quarterback and a once-in-a-generation wideout. The Cardinal rode the mind and body of their once-in-a-generation quarterback and a brutish offensive line. Coaches Mike Gundy of Oklahoma State and David Shaw of Stanford think they have capitalized on their program's success by upgrading their recruiting. We'll find out in September.

3. Go figure: Alabama, Boise State and Stanford suffer crushing losses this season because of their inability to execute a field goal. Virginia Tech suspends its regular kicker from playing in the Sugar Bowl, then sends his backup home from New Orleans for missing curfew. Third-string kicker Justin Myer comes in against Michigan and makes kicks of 37, 43, 36 and 25 yards before missing a 37-yarder in overtime. Myer not only kept the Hokies in the game, he showed why coaches don't use a scholarship on a kicker.
January, 4, 2012
1/04/12
2:30
AM ET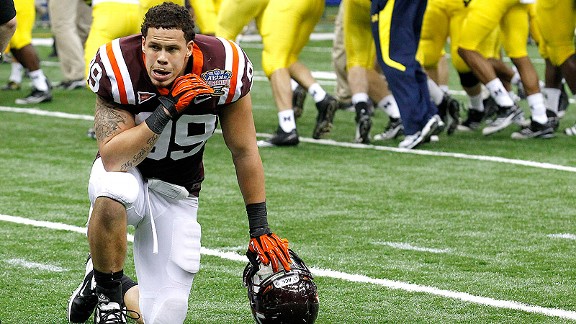 AP Photo/Bill HaberJames Gayle and the Hokies just couldn't get it done as Virginia Tech lost again on the BCS stage.
NEW ORLEANS -- This wasn't the ACC's only chance to make a statement.
This was the ACC's 14th chance, to be exact.
Following Virginia Tech's 23-20 overtime loss to Michigan on Tuesday night in the Allstate Sugar Bowl, the ACC dropped to 2-12 in its BCS games. That's 14 years of developing a reputation, over a decade of results that won't be erased with one Discover Orange Bowl win, or any other statement nonconference game for that matter. Clemson is up next on the BCS stage, but no matter what the Tigers do on Wednesday night against West Virginia, it won't change the perception of the ACC overnight, nor will it ease the frustration of Virginia Tech's narrow loss to an unimpressive Michigan team.
For those within Virginia Tech's locker room following the loss, this was obviously a heartbreaker. It wasn't a lack of effort; it was a lack of execution. You could see the devastation on receiver Danny Coale's face when his would-be touchdown reception in overtime was reviewed and called an incomplete pass. You could hear the frustration when running back
David Wilson
unabashedly singled-out the officiating as the difference in the game. Twice. And you could tell by the look on coach Frank Beamer's face as he made the long walk to the interview podium after the game that he knew they didn't get it done and he was going to have to answer for it. Again.
Beamer dropped to 1-5 in BCS games. The ACC dropped another notch with him.
Beamer's program has been the one tasked with representing the ACC the most often, and while getting to a BCS bowl is an accomplishment in itself, it's no longer enough to satisfy fans or quiet critics.
"I think everybody in Virginia Tech football put a lot into this ballgame, I can tell you," Beamer said. "And we wanted to get a win for the ACC and wanted to get a win for Virginia Tech. We haven't done as well as we want to in these BCS games."
This one might sting even more than last year's embarrassing loss to Stanford in the Orange Bowl because it was oh-so-painfully close. Buried in the big picture was a great story about a third-string kicker, Justin Myer, who made the first four field goals of his career and sent the game into overtime before his fifth and most important attempt went wide right, his lone miss of the game. No shame in that performance. There was no shame in the terrific job Bud Foster's defense did on quarterback
Denard Robinson
, who had a forgettable performance and was bailed out by receiver
Junior Hemingway
and the Wolverine's defense. Michigan was held to 184 total yards and just 56 rushing yards.
For a majority of the game, Virginia Tech looked like the better team. It had the better quarterback. It had the better defense. But it didn't have an answer for the nation's No. 5 red zone defense.
While there were some calls that could be questioned by the officials (aren't there always?) it wouldn't have come down to that had Virginia Tech scored more than one touchdown in six trips.
The Hokies' performance against Michigan was a microcosm of the ACC's story in BCS bowls: missed opportunities. It all started in the first quarter, on Virginia Tech's first offensive possession, and you could almost hear the exasperation throughout ACC country on Twitter.
On first and goal from Michigan's 4-yard line, Wilson ran for a loss of 22 yards.
Uh oh
…
On fourth-and-1 from Michigan's 4-yard line,
Logan Thomas
was held for no gain.
Here we go again
…
Michigan recovered a fumble on a kickoff that led to a field goal and a 10-6 lead.
Not again
…
Thomas intercepted in the third quarter, a play that led to a Michigan touchdown.
Again?!
After making the first four field goals of his career, Myer missed what could have been the game-winning 37-yard attempt.
Sigh, typical ACC.
It took longer than four quarters for Virginia Tech and the ACC to fall into this hole, and even with two teams in BCS bowls for the first time in league history, it's going to take more than that to dig out of it.
January, 4, 2012
1/04/12
12:10
AM ET
NEW ORLEANS -- Both Virginia Tech and Michigan faced doubts coming into this game, and both teams had their share of blunders, but in the end the Allstate Sugar Bowl delivered a thriller that went into overtime thanks to a third-string kicker who converted on all but the one field goal that mattered the most. Here's a look back at the highlights of the game as Michigan beat Virginia Tech
23-20
:


How the game was won:
Michigan's kicker made the field goal in overtime, and Virginia Tech's did not. Brendan Gibbons nailed his 37-yard attempt, while Justin Myer's 37-yard attempt sailed wide right. The Hokies weren't able to capitalize on their opportunities in the red zone during regulation and it was too little, too late. The Hokies had three turnovers and seven penalties. Myer tied the game at 20 and sent it into overtime and had made the first four field goals of his career -- 37 yards, 43, 36 and 25 -- but he missed the last and most important.
Stat of the game:
Virginia Tech was in the red zone five times in regulation and came away with just one touchdown. The Hokies were on the four-yard line twice in the first half.
Stat of the game II:
Michigan had just 56 rushing yards.
Player of the game:
Michigan receiver
Junior Hemingway
. He had two highlight-worthy touchdown catches, both in traffic, and finished with 63 yards and two touchdowns on just two receptions. His 45-yard touchdown pass in the second quarter gave the Wolverines a 7-6 lead and the momentum heading into halftime. He then out jumped Antone Exum for an 18-yard touchdown catch to give Michigan the 17-6 lead in the third.
Second guessing:
With 7:21 left in the game, Virginia Tech opted for a fake punt, a questionable move at best. The Hokies' defense was dominating, and it probably would have been best to either punt the ball or just go for it. Michigan didn't bite and Virginia Tech punter
Danny Coale
didn't stand a chance.
What Virginia Tech learned:
The Hokies' defense can't do it all. Bud Foster's group did a great job, but Virginia Tech's dependence on field goals was the difference. The good news? They learned they have a kicker. They also learned that quarterback
Logan Thomas
is good enough to be in the Heisman conversation next year, but he'll need more from the players around him and a rebuilt offensive line to get there.
What Michigan learned:
Denard Robinson
doesn't have to do it all. With a much-improved defense, the Wolverines found they can win without a spectacular performance by Robinson.
What it means:
The Big Ten got some validation, while the ACC sunk another rung deeper on the respect level.
Record performance:
Virginia Tech running back
David Wilson
surpassed former teammate Ryan Williams to set the school record for rushing yards.
January, 3, 2012
1/03/12
9:20
PM ET
NEW ORLEANS -- Virginia Tech kicker Justin Myer, the third option on the depth chart at one point, has accounted for all of the Hokies' points so far tonight.

Raise your hand if you saw THAT one coming.

With Virginia Tech's top two kickers suspended for this game, Myer was one of the biggest question marks heading into the match, but so far, he's 2-for-2 and the Hokies are up 6-0 on Michigan because of it. He was 0-for-2 entering this game.
January, 3, 2012
1/03/12
8:07
PM ET
NEW ORLEANS -- Michigan is louder. At least right now, as I'm typing this and the stadium is still nowhere near full. Both teams are out on the field warming up, and the Wolverines have their crowd roaring already. Big Ten blogger Adam Rittenberg and I are going with 60-40 Michigan at this point.

For Virginia Tech, I kept my eye on one player for the most of warmups: kicker Justin Myer. He took a lot of practice field goal attempts between the 30- and 40-yard line, and there's no question he's got a powerful leg and the distance. As for the accuracy? I'll be honest with you: it's too difficult to tell from up here. My seat is so high I can't even see "The Beard." And I've got binoculars. (One classic sign I did see was "Oops. We're a week too early." And it had the Bama and LSU logos on it.)

Keep an eye on Myer tonight. The kicking game could be the difference. Whether it's a missed field goal, or Virginia Tech forcing something that's not there on a play they normally wouldn't go for, special teams could be a game-changer.
January, 3, 2012
1/03/12
11:00
AM ET
By
Justin Myer
| ESPN.com
NEW ORLEANS — Justin Myer will start at placekicker for Virginia Tech against Michigan in the Allstate Sugar Bowl on Tuesday, coach Frank Beamer said at his final pre-game news conference before the game.

"Justin's kicked well the last couple of days," Beamer said. "We're going to dress out Conor Goulding. He's had a good week at practice also. But my plan right now is to kick Justin Myer."
The kicking game remains one of Beamer's main concerns heading into the game, but he said he's confident in Myer's abilities after a week of practice here. Myer is 0-for-2 this season in field goals, and while he has one of the strongest legs on the team, he has struggled with his accuracy. He's played in all 13 games this year and has kicked off 73 times for a 66.8 yard average with 31 touchbacks.
December, 30, 2011
12/30/11
4:04
PM ET
NEW ORLEANS, La. — Welcome to the football capital of the season, home of the Allstate Sugar Bowl, a Saints game on Sunday, and the BCS national championship. The Hokies took over the Mercedes-Benz Superdome for practice this afternoon, and several of the defensive assistants were made available to the media, along with Virginia Tech coach Frank Beamer. All of the coaches were laid-back, in good spirits, and defensive line coach Charley Wiles was particularly entertaining and engaging.


The good news: There haven't been any injuries yet that will sideline any Hokies for Tuesday's game against Michigan. The hard artificial surface is beginning to wear on some of the players, and they're getting adjusted to the indoor lights, but the controlled climate will be good for ...
The bad news: Virginia Tech is down two kickers, and Beamer said today that recent practices haven't provided any answer. And no,
Danny Coale
won't be receiving, punting, returning punts AND kicking field goals. Starter Cody Journell spent almost a week in jail after felony breaking-and-entering charges, and then one day after he was released, his backup, fifth-year senior Tyler Weiss was sent home on a Greyhound bus for breaking curfew.
Justin Myer is expected to handle the placekicking duties against Michigan, but Michael Branthover is also an option. Myer has a strong leg, but he has struggled with his accuracy. He is 0-for-2 against Virginia Tech. Prediction? If he has to make a choice — go for it or kick a field goal, Beamer might try and goferit when he usually wouldn't in some situations.
The majority of questions today were about how Virginia Tech plans to account for Michigan quarterback
Denard Robinson
, and it's the key to the game. While the Hokies' defense has spent plenty of time going against former quarterback Tyrod Taylor in practice, defensive backs coach Torrian Gray said Robinson is faster than Taylor, and that nobody on the team could simulate what Robinson does. This will be a big test for a young defense, but Beamer said linebacker Alonzo Tweedy (ankle) is close enough to 100 percent.
"I don't know that he's totally 100 percent, but I think he's close enough that he can be back to the old Tweedy," Beamer said. "We need that. I think he gives you some options back in there defensively and on our special teams."
Gray said there's been an "edginess" to the Hokies' defense in their bowl game preparations, so it sounds like the guys are ready to redeem themselves from their performance against Clemson, but this will be an even bigger challenge.
August, 15, 2011
8/15/11
9:00
AM ET
It was a busy weekend in the ACC. Here's a look back at the highlights from the scrimmages, according to the sports information departments of the teams that provided reports:

BOSTON COLLEGE
Coach Frank Spaziani told reporters after the 70-minute scrimmage that there were some good things, but "it's like a jigsaw puzzle with all the pieces in the box; they're not connected yet."
Offensive highlights:
Defensive highlights:
Linebacker Nick Clancy and defensive back Sean Sylvia led the team with four tackles each.
Sophomore linebacker Jake Sinkovec had one interception and one fumble recovery.

CLEMSON
Quarterback
Tajh Boyd
had an impressive performance, as he completed 10 of 12 passes for 168 yards and a touchdown to highlight the new offense in Clemson's 75-play scrimmage in Memorial Stadium on Saturday morning.
Offensive highlights:
Defensive highlights
:
The first-team defense did not allow a scoring drive.
Martin Jenkins led the team with seven tackles, including a tackle for loss.
Corico Hawkins had five tackles and a fumble recovery, while freshman defensive end Corey Crawford had five stops, including a sack.
Special teams highlights:
Clemson's three kickers, Chandler Catanzaro, Ammon Lakip and Brian Symmes were a combined 16-of-16 on the day in field goal attempts and extra points against a live rush.
Notable:
Three Tigers missed the scrimmage because they were going through graduation exercises across the street from Memorial Stadium in Littlejohn Coliseum. Starting offensive tackle Landon Walker, starting safety Rashard Hall and reserve defensive end Kourtnei Brown all graduated from Clemson on Saturday. It was especially noteworthy for Hall, who has been at Clemson just three years. He joins Nick Eason (now in the NFL with the Arizona Cardinals) as the only scholarship football players to graduate with two years of athletic eligibility remaining.
Four players missed the scrimmage due to injury. Those players were defensive back Xavier Brewer (sprained foot), defensive back Garry Peters (bruised calf), Andre Branch (head injury), DeShawn Williams (sprained ankle).

GEORGIA TECH
Georgia Tech coach Paul Johnson had mixed reviews after the Yellow Jackets' first scrimmage, which ran 90 minutes inside Bobby Dodd Stadium on Saturday morning.
"It was like a lot of first scrimmages, there were way too many balls on the ground and way too many penalties," Johnson said. "But we hit some big plays. When you play against each other there's positives and negatives on both sides. It's a starting place and we'll look at it and try to make some improvements."
Offensive highlights:
While no official statistics were kept, quarterback Tevin Washington passed for well over 100 yards, including a 63-yarder to senior A-back Roddy Jones. Redshirt freshman quarterback Synjyn Days threw the only touchdown of the day, to true freshman Jeff Greene.
Greene ran with the first unit Saturday as most of the veterans -- junior Stephen Hill, senior Tyler Melton, sophomore Jeremy Moore and junior Daniel McKayhan -- all sat out with injuries.
Washington scored the only other touchdown Saturday on a 1-yard QB keeper.
Defensive highlights:
Defensive end Emmanuel Dieke had a sack, true freshman Jamal Golden intercepted a Vad Lee pass, and Steven Sylvester and Isaiah Johnson both recovered fumbles.
Special teams highlights:
Sophomore Justin Moore booted a 45-yard field goal on his only attempt.
David Scully's 52-yard attempt was long enough, but just wide left.

MIAMI
The most important news out of Miami's first scrimmage was that quarterbacks
Jacory Harris
and
Stephen Morris
combined for five touchdown passes and only one interception. That sounds like improvement. Miami's quarterbacks combined for 407 passing yards on 38-of-52 passing for six touchdowns and only one interception.
Offensive highlights:
Receiver Tommy Streeter had the best offensive day for the Canes, catching five passes for 71 yards and three touchdowns, two of which came from Harris.
Lamar Miller had runs of 16 and 31 yards on the opening drive.
Defensive highlights:
Senior defensive back JoJo Nicolas led all defenders with eight tackles (six solo), with two tackles for loss.
Ramon Buchanan and freshman Gionni Paul and each had six total tackles, with Paul also recording a tackle for loss.
The defense totaled eight tackles behind the line of scrimmage for a total loss of 29 yards

VIRGINIA TECH
The Hokies' offense was the highlight, but what does that mean for the defense? Coach Frank Beamer pointed out that there were some long plays allowed, as the offense racked up 398 yards of total offense in the 78-play scrimmage at Lane Stadium on Saturday afternoon. The touchdowns came against Tech's second- or third-team defense, though, so the jury is still out.
"I thought it was a good first scrimmage -- better than most," Beamer said, according to the team's scrimmage report. "You take into consideration that you're trying to get everyone some work, people who don't know quite what they're doing, and that makes things a little ragged. I thought overall, though, it was a sharp scrimmage. The quarterbacks made some nice plays and Wilson got a couple of long plays against the defense, and we need to see what's going on there. Overall, the effort was good and the play was good."
Offensive highlights:
Backup quarterback Mark Leal led the quarterbacks with 116 yards passing, completing 6 of 13. He also threw an interception. Beamer said Leal is No. 2 on the depth chart behind Logan Thomas. Ju-Ju Clayton, who has dropped to No. 3 on the depth chart, completed 6 of 10 for 51 yards, while starter Thomas completed 4 of 8 for 79 yards, with an interception, in limited action.
Tailback David Wilson scored against the Hokies' second-team defense on a 22-yard run. Wilson led all rushers with 57 yards on five carries. Freshman Michael Holmes added 54 yards rushing on a game-high 11 carries.
Defensive highlights:
Freshman tackle Luther Maddy led the team with eight tackles, including two for a loss, and a sack. Freshman Michael Cole added six tackles, while Telvion Clark and Jack Tyler each finished with four.
Barquell Rivers had three tackles and an interception.
Jayron Hosley and freshman Ronny Vandyke also had interceptions. Hosley intercepted a Logan Thomas pass, while Vandyke intercepted a Trey Gresh attempt.
Special teams highlights:
The kickers connected on 5-of-6 attempts. Cody Journell hit from 35, 22 and 35 yards, while Justin Myer drilled a 52-yarder and a 28-yarder. "Cody's kicking extremely well," Beamer said. "Myer has a load of potential, and he needs to win some of the kicking contests during the week. That shows consistency, and that's where he is right now. Cody is usually winning it or right in the running at the end."