NCF Nation:

Justin Staples
March, 5, 2012
3/05/12
9:00
AM ET
The Tim Beckman era reaches a new phase Wednesday as Illinois players go through their first spring practice under their new coach. Beckman is a high-energy leader who wants to foster competition in every element of his program. Although two-year starter
Nathan Scheelhaase
returns at quarterback, he'll have to fend off three contenders and make an impression on the team's new coordinators, Billy Gonzales and Chris Beatty. The Illini are short on running backs and wide receivers, while the defense looks to continue the momentum it generated in 2011. Beckman takes over a team that has recorded back-to-back bowl victories but struggled to show it can take a step toward the top half of the Big Ten.
ESPN recently caught up with Beckman. Here are his thoughts.
[+] Enlarge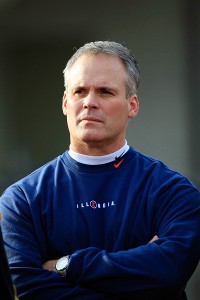 AP Photo/Marcio Jose SanchezNew Illinois coach Tim Beckman has high expectations for his team as it begins spring practices.
What are your expectations for spring practice?
Tim Beckman:
I want our players competing. I want them playing with outstanding effort in everything they do in spring ball. That competitive nature will be in every drill we do. These players will be evaluated in everything that they do. They're going to get feedback from the coaches on what we feel is championship-caliber and what we feel is not championship-caliber.
How much have you looked at tape from last season?
TB:
Definitely. I've watched and evaluated tape, and been involved with what they did last year. But that's in the past. As I told the players when I met individually with each one of them, this is the future, this is a new era and we're building this thing forward, not building from the back.
How would you describe your quarterback situation entering the spring? Will it be a full competition?
TB:
Oh, it's great. That's what life's all about. We've got the capabilities of being good at that position with four guys. Competition just makes you better. We've got one that has played [Scheelhaase] and played quite a bit and proven that he can win football games, won seven this year and won a bowl game. But we also have some backups with Reilly [O'Toole] and Miles [Osei] and [Chase] Haslett, there's three backups and a starter that are capable of winning football games.
How does Nathan fit into your vision for the offense?
TB:
Your vision for the offense is scoring points and securing the football. I'm not going to bang my fist on the table, saying, 'We've got to do it this way.' We've got personnel that's already involved here. Nobody here is anybody we've been able to go out and recruit, so we're going to fit our schemes to what we have here talent-wise. Yeah, I want to be able to say we're a spread football team, but if we don't have the personnel to be a spread football team right now, we've got to fit an offensive scheme to the player personnel we have. I know this, though. We're going to be fundamentally sound in what we do. We can secure the football on offense, and on defense, we can take the football away.
You brought in two coordinators on the offensive side, both younger guys [Gonzales and Beatty]. Are you going to be evaluating them this spring in their new roles?
TB:
Everybody gets evaluated. Heck, they're going to be evaluating me. This is a new coaching staff, so that's the life of a coach, that's the life of a Division I college football player. You are being evaluated in everything that you do. If it's at a speaking engagement or if it's lifting weights or running or whatever it might be, you're going to get evaluated. So we're going to evaluate ourselves and try to make ourselves the best we can be.
Really impressive year on the defensive side in 2011. Is it a matter of keeping it going, or do you want to do something dramatically different with coach [Tim] Banks and your vision for that group?
TB:
They did an outstanding job last year, no question about it. But there's other categories they've got to get better at. They didn't have enough takeaways [22], and the game of football is simple: you've got to have the football to score. So you've got to take it away on defense, and you need to secure it on offense. That is an avenue that this defense must get better at because it just wasn't quite as productive [at takeaways] as it was in all the other categories. That is the one thing we have to strive to do better at.
And how do you plan to emphasize that?
TB:
If you look at where we've been the past three years, we've always been very, very strong at takeaways and ball security. We practice it in everything that we do, from Period 1 to Period 24 or Period 1 to Period 18, whatever the practice entails, we'll have a ball-security and a takeaway drill. We'll have constant talk about ball awareness, so that our players understand that's the key to any football game, securing it or taking it away on defense.
You lose an outstanding player to the NFL in Whitney [Mercilus]. Who do you see emerging at the defensive end spot and filling that production?
TB:
The great thing you've seen is we were able to keep
Michael Buchanan
. Michael Buchanan's a heck of a football player. He was one of our top recruits, keeping Michael here, keeping
Terry Hawthorne
here, keeping
Akeem Spence
here on defense. That was very, very crucial for us.
Graham Pocic
also. They were all capable of being able to go out in the NFL draft and they didn't. And at this time last year, Whitney's name wasn't named very much throughout college football, so you can make tremendous strides, as Whitney did. There's a possibility of a
Justin Staples
or a
Timmy Kynard
or a
Brandon Denmark
. All of our defensive ends have had outstanding winter workouts, and now they've got to prove it on the field during spring.
At running back and wide receiver, what are you looking for from those groups? You lose a top receiver in A.J. Jenkins.
TB:
Oh my goodness. That is a major concern, the depth at both of those positions. They're going to have to grow up fast. We've only got really three running backs on scholarships. I've never been at a place where there hasn't been more than four or five on scholarship at one time. So depth is a major concern. And wide receiver, it's the same. You've got a couple names of guys that have done decent, but they need to elevate their game and then the depth of our young players to make ourselves better at those positions.
Is depth also an issue up front on the offensive line?
TB:
There are some freshmen that have done some good things and have been able to step up and play, so I think there's a little more depth on the offensive line than there is at wide receiver and running back.
How much are you looking for leadership to emerge during spring ball?
TB:
It's huge. You talk about it every day to the players. It's our leadership that can push this football team past a 7-win season. That's the challenge for the senior group and the challenge all the way down to the freshman group. Everybody's got a role on a football team and everybody's role is different. You can be a leader based on any one of your roles. I've pushed this football team to be better leaders and to be better guides for our football team to be successful. So if we do have a young man that's late for maybe a 6 o'clock weight workout, I don't blame just that man. I blame his roommate, I blame the position group and I blame the whole unit itself. That's how leaders are built.
Even with the competition that we've been doing throughout the winter workouts, by drafting teams and having an offensive lineman with a kicker or a DB with a wide receiver, all on the same team, to try and enhance the leadership roles of each one of the football players as we compete.
February, 17, 2012
2/17/12
10:00
AM ET
After taking a look at the Legends Division outlook for spring practice, it's time to turn the focus to the Leaders Division.
Away we go ...

ILLINOIS
Start of spring practice:
March 7
Spring game:
April 14
What to watch:
New faces in new roles: Tim Beckman and his assistants get their first chance to work with the players on the field. Beckman retained only one assistant (defensive line coach Keith Gilmore) from the previous staff, so it'll be important for the players and coaches to get acclimated. It's also a big spring for co-offensive coordinators Billy Gonzales and Chris Beatty, both of whom will be primary playcallers for the first time at this level.
The quarterbacks: Nathan Scheelhaase is a two-year starter, but he'll have to re-establish himself as the team's top option at quarterback. Reilly O'Toole received a decent amount of field time last season, and Illinois should have a competition under center in spring practice. Both men will have to learn a new offense and show good decision-making skills after combining to throw 12 interceptions last fall.
No Merci: All-American defensive end Whitney Mercilus is gone, and Illinois will be looking for his replacement this spring. The defensive line could once again be a strength for the Illini, especially with Gilmore back and an aggressive defensive coordinator in Tim Banks. It'll be interesting to see how the coaches use Michael Buchanan and Justin Staples, who played the "bandit" position in the previous scheme and boast speed but don't have typical defensive end size.

INDIANA
Start of spring practice:
March 3
Spring game:
April 14
What to watch:
Juco fever: Indiana needs a quick fix on defense, and it hopes an influx of junior college players can provide one. Six juco players already are enrolled and will participate in spring practice, including five on the defensive side. It will be interesting to see how players such as defensive back Tregg Waters and linebackers Justin Rayside and Jacarri Alexander perform this spring as they compete to play right away.
New direction on offense: Coach Kevin Wilson wants to be more productive in the passing game, and he hired an offensive coordinator in Seth Littrell who can help in that area. Littrell guided an Arizona offense that last season ranked third nationally in passing (370.8 ypg) and 27th in pass efficiency (145.2). He'll try to help Tre Roberson, who Wilson said he thinks can elevate his game significantly as a passer despite throwing twice as many interceptions (six) as touchdowns (three) as a freshman.
Who has grown up: Indiana played 32 freshmen (16 true, 16 redshirt) in 2011, the most in the FBS. The early experience should pay off for several players, and Indiana needs them to grow up quickly during the spring. Roberson showed a lot of promise at quarterback, and safety Mark Murphy finished second on the team with 76 tackles. Keep an eye on players such as defensive end Bobby Richardson and receiver/returner Shane Wynn.

OHIO STATE
Start of spring practice:
March 28
Spring game:
April 21
What to watch:
Urban renewal: The mood has improved around Ohio State's program from the moment Urban Meyer stepped to the podium Nov. 28. After putting together his staff, signing an elite recruiting class and ticking off some of his Big Ten coaching colleagues, Meyer finally gets a chance to work with the players on the practice field. After a lackluster final season at Florida in 2010, Meyer says he's refreshed and recharged, and it'll be interesting to see how he attacks practices.
The new offense: Ohio State fans can't wait for a new offense after suffering through a 2011 season that featured some extremely questionable play-calling. Meyer's offensive system is well-known throughout college football, but the interesting thing this spring will be how Meyer and offensive coordinator Tom Herman blend their ideas. Herman is a dynamic young coach who impressed a lot of folks at Iowa State. But Ohio State is a different animal, and expectations will be high for quarterback Braxton Miller and the unit.
Fickell back on defense: After spending last season as Ohio State's head coach, Luke Fickell returns to an assistant role on the defensive side. And for the first time, Fickell will be the Buckeyes' primary defensive playcaller. Ohio State's defense took a step back last season and will be looking to regain its traditional form. Fickell will work alongside co-defensive coordinator Everett Withers and look to identify some leaders to complement defensive lineman John Simon.

PENN STATE
Start of spring practice:
March 26
Spring game:
April 21
What to watch:
O'Brien's time: Much will be made of Penn State opening spring ball without Joe Paterno, but the real story is how critical these practices will be for new coach Bill O'Brien and his team. Penn State will be acclimating to new systems on both sides of the ball and a new coaching style from O'Brien and his assistant coaches, all but two of whom are from the outside. The learning curve will be accelerated for all involved, as Penn State needs to get a lot done in 15 workouts.
The quarterbacks: It's good that O'Brien has extensive experience coaching quarterbacks because no position needs a bigger upgrade at Penn State. The Lions struggled mightily under center last season and need a major boost beginning this spring. Can O'Brien get more out of Matthew McGloin and Rob Bolden, both of whom have seen extensive time in the Big Ten? How does Paul Jones factor into the mix? It'll be interesting to see how the signal-callers perform this spring.
Filling gaps on defense: Penn State should have one of the nation's best linebacker groups this season, but the Lions need to fill some holes on the line and in the secondary. Big Ten Defensive Player of the Year Devon Still departs, and Penn State will be leaning on Jordan Hill and others to step up. A bigger concern is the secondary, which loses two multiyear starters at safety (Drew Astorino and Nick Sukay). Penn State also has a new defensive coordinator in Ted Roof, who will be looking for better results than he had at Auburn.

PURDUE
Start of spring practice:
March 7
Spring game:
April 14
What to watch:
Another quarterback competition: Boilers coach Danny Hope loves having options at quarterback, and he'll once again get his wish during spring practice. Caleb TerBush, Robert Marve,Rob Henry and Sean Robinson all boast starting experience and will vie for the No. 1 job when workouts resume. Henry, who sizzled last spring and would have started the season if not for a torn ACL, has been cleared to participate in noncontact drills. Marve received an extra year of eligibility and will be in the mix. TerBush started every game last season.
Tisebar takes over: Purdue has a new defensive coordinator for the third consecutive season, as Tim Tisebar takes over this spring. Tisebar returns to college football after spending the past three seasons with the Canadian Football League's Montreal Alouettes. Hope hired Tisebar to help Purdue improve against the spread offense and the zone-read game. It will be interesting to see what spin Tisebar puts on the defense as the Boilers enter a pivotal season.
Offensive line depth: One of Purdue's strengths last season is a bit light on bodies following several departures. The Boilers need a left tackle to replace Dennis Kelly, and they also must increase depth on the interior line. Purdue already has moved tight end Robert Kugler to center, and Hope said earlier this month that several other tight ends could practice at offensive tackle during the spring.

WISCONSIN
Start of spring practice:
March 17
Spring game:
April 28
What to watch:
A revamped staff: Bret Bielema hired six new assistant coaches during the winter months, including offensive coordinator Matt Canada. The new coaches will have their first opportunity to work with players on the field this spring. It's important for both sides to acclimate, mainly because Wisconsin has had tremendous success the past two seasons and doesn't want the staff shakeup to throw things off course. Quarterback Russell Wilson made a seamless transition to the program last summer. Let's see if the new assistants can do the same in spring ball.
The quarterbacks: Speaking of Wilson, he departs Madison, leaving a major void under center. Jon Budmayr and Curt Phillips are coming off of major injuries, and while they're both making progress it could be tough to get a gauge on them this spring. Canada will spend much of his time working with Joel Stave and Joe Brennan, who need to get comfortable with Canada's adjustments to the offense and start establishing themselves as potential team leaders.
Reloading up front: Wisconsin will have to replace two All-American offensive linemen for the second consecutive year, and the Badgers lose three All-Big Ten selections up front (Peter Konz, Kevin Zeitler and Josh Oglesby). While the Badgers are built to reload, offensive line coach Mike Markuson has a lot of evaluating to do this spring. On the defensive line, Wisconsin loses two starters (Patrick Butrym and Louis Nzegwu) and will be looking for some difference-makers. End David Gilbert returns to the mix after missing most of last season with a broken foot.
October, 25, 2010
10/25/10
2:20
PM ET
Let's press the rewind button on Week 8 before fast-forwarding into Week 9.
[+] Enlarge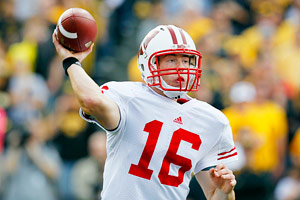 AP Photo/Charlie NeibergallWisconsin's Scott Tolzien made some clutch throws in the fourth quarter at Iowa.
Team of the Week:
Wisconsin. The Badgers get the nod for the second consecutive week after their second consecutive signature win, this time on the road against rival Iowa. Bret Bielema's squad had to overcome several key injuries -- running back
James White
, tight end
Lance Kendricks
-- and a red-hot
Ricky Stanzi
, but thanks to a gutsy fake punt call from Bielema, some clutch play by quarterback
Scott Tolzien
and the emergence of third-string back
Montee Ball
, Wisconsin rallied for a 31-30 victory. Wisconsin still needs some help to reach a BCS bowl, but it has survived the toughest part of its schedule and will be favored in its final four contests.
Best game:
I give a slight edge to
Wisconsin-Iowa
, but
Michigan State-Northwestern
also provided plenty of drama. Both games featured fake punts with fun names -- "Mousetrap" and "Chain" -- that led to come-from-behind victories by the road team. We saw tremendous quarterback play in both contests -- Michigan State's
Kirk Cousins
and Northwestern's
Dan Persa
in Evanston, Iowa's Stanzi and Wisconsin's Tolzien in Iowa City -- and surprising players stepping up in the clutch (Wisconsin's Ball, Michigan State's
Bennie Fowler
). A ton of good stuff in both games.
Biggest play:
The two fake punts are the obvious choices here, especially Wisconsin's on a fourth-and-4 from its own 26-yard line with about six minutes to play. But there were others as well. Tolzien made a huge throw to Ball for a 7-yard completion on fourth-and-5 in the closing minutes, and Michigan State receiver
B.J. Cunningham
came up huge on the game-winning touchdown, which he caught after Northwestern safety
Brian Peters
deflected the ball.
Specialist spotlight:
Michigan State punter Aaron Bates and his Wisconsin counterpart Brad Nortman have received plenty of credit, and deservedly so, for executing the fake punts Saturday. Illinois continued to shine on special teams as punter Anthony Santella averaged 45.6 yards on five punts, Derek Dimke added two more field goals and Martez Wilson and Nate Bussey both blocked Indiana punts. Penn State punter Anthony Fera was outstanding, averaging 45.2 yards a punt with four placed inside the Minnesota 20-yard line. Purdue punter Cody Webster had another big day (six punts, 46.7-yard average), and Iowa's Ryan Donahue had a 71-yard punt. Northwestern kicker Stefan Demos rebounded with two field goals against Michigan State.
Game balls:
Michigan State DE Tyler Hoover: Hoover gave Northwestern's offensive line all sorts of trouble, recording two sacks and a forced fumble and tying Greg Jones for the team lead in tackles with nine. He tied a career high in tackles and set a personal best in sacks as he continues to blossom for the unbeaten Spartans.

Wisconsin DE J.J. Watt: The junior is making a serious push for Big Ten Defensive Player of the Year honors. He followed up a dominating performance against Ohio State with five tackles, including two for loss and a sack, and a huge blocked extra-point attempt that proved to be the difference in the game.

Illinois defenders Corey Liuget, Justin Staples, Terry Hawthorne, Patrick Nixon-Youman and Jonathan Brown: They'll have to share one game ball, but I doubt they'll mind after teaming up to shut down Indiana. Liuget recorded a sack and five quarterback hurries, while Staples had two tackles for loss and a forced fumble. Nixon-Youman and Brown both recorded pick-sixes, and Hawthorne had an interception and a tackle for loss in his first game back from injury.

Penn State CB D'Anton Lynn: Lynn stepped up in a big way at Minnesota, recording a game-high 10 tackles and a 58-yard interception return that turned the momentum in the second quarter.

Northwestern QB Dan Persa: Anyone who hadn't seen Persa before Saturday gained a ton of respect for the Wildcats' junior quarterback. He repeatedly sacrificed his body and made plays when they seemingly weren't there, recording three rushing touchdowns in the game.

Wisconsin QB Scott Tolzien: Despite not having one of his top passing targets in Kendricks, Tolzien led Wisconsin to a huge road victory. He did have an ugly interception, but was otherwise brilliant, completing 20 of 26 passes for 205 yards and a touchdown.

Ohio State WRs Dane Sanzenbacher and DeVier Posey: One of the nation's top receiving tandems teamed up Saturday for eight receptions, 170 receiving yards and two touchdowns. Sanzenbacher had a 57-yard reception as he continues to improve his stock for the Biletnikoff Award.

Minnesota WR Da'Jon McKnight: The next Gophers coach will inherit a nice piece in McKnight, who continues to evolve as a go-to receiver. McKnight recorded eight receptions for 103 yards and three touchdowns against Penn State.

Iowa QB Ricky Stanzi: I put the poor clock management at the end of the game on the coaching staff, not Stanzi, who delivered another tremendous performance. The senior completed 25 of 37 passes for 258 yards and three touchdowns with no interceptions against Wisconsin.
Now let's spin it forward for a quick look at Week 9.
Purdue (4-3, 2-1 Big Ten) at Illinois (4-3, 2-2):
Purdue might have to start another new quarterback after
Rob Henry
's hand injury, and the timing doesn't favor the Boilers, as the Illinois defense is on fire. The game features two of the Big Ten's top pass-rushing groups, as Ryan Kerrigan leads Purdue, while Corey Liuget looks to keep his stellar season going. The winner moves one step closer to bowl eligibility.
Northwestern (5-2, 1-2) at Indiana (4-3, 0-3):
This matchup features two similar teams dealing with similar senses of urgency. Northwestern aims to stop a two-game slide on the road, where it has been at its best under Pat Fitzgerald. Indiana probably needs to win this one to keep its bowl hopes alive, and the Hoosiers look to bounce back from a mistake-ridden performance at Illinois. The game also pairs two excellent quarterbacks -- Dan Persa and
Ben Chappell
-- and two vulnerable pass defenses. Expect a lot of points.
No. 5 Michigan State (8-0, 4-0) at No. 18 Iowa (5-2, 2-1):
If the Spartans can get out of Iowa City with a victory, they can really start thinking about a run to the national title game. Michigan State certainly has the magic that Iowa had last year but is lacking this year after two fourth-quarter letdowns. Two outstanding quarterbacks meet in the Spartans' Kirk Cousins and the Hawkeyes' Ricky Stanzi, and the game also features defensive stars like Adrian Clayborn and Greg Jones. Iowa can't afford to lose and stay in the Big Ten race.
No. 11 Ohio State (7-1, 3-1) at Minnesota (1-7, 0-4):
This one could get ugly. Ohio State's offense has carved up weak defenses all season, and Minnesota ranks 90th nationally in yards allowed (406.4 ypg) and 100th in points allowed (31.9 ppg). Quarterback
Terrelle Pryor
is licking his chops. Minnesota will need a huge performance from quarterback
Adam Weber
to keep pace against a banged-up Buckeyes defense that rebounded last week.
Michigan (5-2, 1-2) at Penn State (4-3, 1-2):
Simply put, this is the biggest game of Rich Rodriguez's Michigan tenure. Rodriguez and the Wolverines come off of a bye week and need a win to stem talk of a 2009 redux. Penn State got the win it needed at Minnesota, but surrendered 433 yards. The Lions will be tested by
Denard Robinson
and co., while their quarterback situation remains unsettled after Rob Bolden's apparent concussion.
Bye:
No. 10 Wisconsin (7-1, 3-1)