February, 11, 2015
Feb 11
9:00
AM ET
By
Tom Van Haaren
| ESPN Insider
February, 6, 2015
Feb 6
12:15
PM ET
COLUMBUS, Ohio -- Typically Zach Smith isn't much of a sleeper on planes.
"I try, man," the Ohio State wide receivers coach said. "I just can't sleep on them."
Sometimes Smith can't help it though. And so packed into an aisle seat near the back of a Monday morning Southwest flight to Baltimore a week after helping the Buckeyes win a national championship, Smith's eyelids were getting mighty heavy even before the wheels were off the ground.
At least on this leg of his journey to Arkansas to visit coveted wide receiver
K.J. Hill
, Smith was able to find a little rest, which had been in short supply for a coaching staff that had been working overtime as it navigated the first College Football Playoff and then quickly transitioned to the recruiting trail with virtually no time to recover.
The Buckeyes weren't complaining, particularly since the collection of trophies they had acquired during the postseason was doing a lot of selling of the program for them. But after missing some chances to visit prospects thanks to the Big Ten championship, then spending as much time as possible preparing for Alabama in the Allstate Sugar Bowl and Oregon in the title game and having to hit the road just two days after returning from Dallas, Smith was understandably running on fumes.
"It was a grind, but it was fun," Smith said. "I mean, No. 1 it was different because after we won the national championship, it's really easy to wake up, go to work, walk in a high school because everybody is telling you how great you are. It wasn't hard to get motivated to do your job -- not that it ever is, but especially now.
"But it was a grind. Most of the time after a bowl game, you get at least two or three days off. We came back and landed on Tuesday, staff meeting on Wednesday to organize it and Thursday we were hitting the road."
Ohio State once again cleaned up there, finishing with the No. 6 class in the country and adding some pieces that could be useful in defending the title next fall. And all that extra time the Buckeyes were spending to win a crown also opened a few doors once they did hit the recruiting trail, perhaps most notably the one Smith was on the way to visit after Hill had largely been out of the picture earlier in the process thanks to his commitment to Arkansas.
That trip turned out to be well worth it for the Buckeyes, and not just because Smith was able to recharge his batteries for about an hour on the way.
"These guys were toast," coach Urban Meyer said. "But once again, as I always complain about, everybody forgets about our student-athletes. Yeah, the coaches are tired, but go sleep. You're not in a high-level against 30-ACT kids like our players are.
"They missed two days of class. ... My strength coach is so good, and we just have to make sure that we don't blow this thing out, because they all deserve to be taken care. I think we've done a good job monitoring [the fatigue]."
The Buckeyes shouldn't have to worry about that for a while now, though spring practice is creeping around the corner next month and Meyer has wasted no time stressing a zero-complacency policy coming off the championship.
That was obviously in place already when the coaches went back out on the road trying to close their latest class. For the most part, the foundation for 2015 had already been established prior to the postseason, but that championship still provided a lift late with guys like Hill, running back
Mike Weber
and offensive lineman
Isaiah Prince
.
But where it might really offer a jolt is with the next batch of targets. And just in case Smith happens to doze off for a minute or two in the coming weeks, there's a nice safety net that will help pitch the program even when he can't.
"I think it definitely helped this year, but right now we have a seven-month marketing campaign," Smith said. "Basically we don't have to do anything. That's all they're playing, talking about and that's all they're seeing. The class of '16 has the next seven months to hear about Ohio State and how we're the best team in the country.
"For 2015, it did help kind of spark us at the end and help us close some kids, I'm sure it did. But not like it should next year."
Maybe a dynasty, then, is sitting on the runway waiting for takeoff.
February, 5, 2015
Feb 5
4:00
PM ET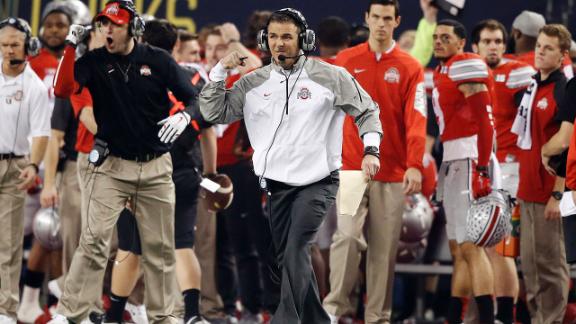 COLUMBUS, Ohio -- The reigning national champions showed no signs of slowing down on national signing day, reeling in the
No. 6 recruiting class
in the country. ESPN.com caught up with coach Urban Meyer to look back at the end of last season, success on the trail and what is next for Ohio State.
Austin Ward: One thing that you have talked a lot about recently is theory vs. testimony. How does that apply to recruiting efforts now compared to when you arrived at Ohio State?
Urban Meyer:
It means, my daughters went through recruiting, both of them were volleyball players, one went to Georgia Tech and one went to Florida Gulf Coast, and I remember as a parent sitting there listening. Some of it is a leap of faith. Who is this new staff? What are they trying to do? But any time there is a for-sure, and right now with the way we do our business at Ohio State with academics, with the way our weight room is, the Real-Life Wednesdays and then the success on the field, if you're a guy that wants to be playing for a group of assistant coaches and some teammates who are really good players and know how to win and do things right, this is a pretty good system right now.
After the title game, you mentioned that championships have a way of opening up doors. Did that apply to finishing this class or more for 2016?
Meyer:
I think there's no doubt
K.J. Hill
,
Isaiah Prince
,
[Matthew] Burrell
-- I think we might have got him anyway -- but there's no question it opened the doors. And I'm seeing it a lot for the '16s, too. It's a 30-day infomercial on Ohio State and the program, the college football playoff was.
I saw [wide receivers coach] Zach Smith about a week after the national championship and he could barely keep his eyes open. How difficult was the time crunch for you all after such a long season?
Meyer:
These guys are toast. But once again, as I always complain about, everybody forgets about our student athletes. Yeah, the coaches are tired, but go sleep. You're not in a high-level class against 30-ACT kids like our players are. They miss two days of class -- I can imagine the professor marking them absent for two days when they're out there winning the national title for Ohio State. My strength coach is so good, and we just have to make sure that we don't blow this thing out, because they deserve to be taken care of -- and I think we've done a good job monitoring our staff, but more importantly our players.
How do you recruit two more quarterbacks to come in and compete on such a talented depth chart?
Meyer:
There's a little bit more involved, but everybody has three or four quarterbacks, every school in the country. Don't penalize us because our guys played great. Same with Kenny Guiton, he played good. The guys at Florida, the guys at Utah, the guys at Bowling Green, it's because I like the way we teach them, I like the personnel around them, I think it's a quarterback-friendly offense that we try to do the things that they do well. So, don't penalize us. If there's a better place, and I actually did that with some players, I said let's look at their rosters. Everybody has three or four quarterbacks, every one of them. And if you don't, well then you're probably not very good. That's the approach that we took.
Did you feel a different intensity with Jim Harbaugh coming into the rivalry and recruiting now?
Meyer:
We felt it. They contacted all of our players, they really went after
Mike Weber
and
Josh Alabi
and
Joe Burrow
. But you expect that. I remember when I first got here people were saying things [about not recruiting committed players.] That's their job. If they don't, are you kidding me? Kids in their home state? I expect that, and I think the previous coach was a heck of a recruiter and they're always going to have great recruiters there. But we're well aware of everything they're doing.
February, 3, 2015
Feb 3
8:00
PM ET
ESPNU will have 11 hours of coverage on national signing day (Feb. 4), with analysis and live commitments from some of the top prospects in the country. A few of those recruits are considering Big Ten teams, and there are some big questions going into signing day.
For team-by-team coverage of the Big Ten, check out the conference's recruiting pages:
Illinois
Indiana
Iowa
Maryland
Michigan
Michigan State
Minnesota
Nebraska
Northwestern
Ohio State
Penn State
Purdue
Rutgers
Wisconsin
Programming schedule:
Signing Day Special (8 a.m. ET- 5 p.m. ET): ESPNU or
Watch ESPN
Here is a look at a few items to watch when all the action happens on the big day.
One storyline to watch:
Michigan is currently sitting at nine commitments and is hoping to close out strong. The Wolverines are being considered by three prospects announcing on ESPNU: defensive back
Iman Marshall
, tight end
Chris Clark
and linebacker
Roquan Smith
.
There are a few other targets still out there, including
Jarius Adams
, a Rutgers commit. This class won't make or break Michigan, but how the program closes could be impactful in the near future.
If the coaches can land one of the big three announcing on ESPNU, it would be a huge deal for the program. Marshall could be an immediate, impact-type prospect, and Clark would be a huge addition to the offense. Either of these would boost the depth and competition level on the roster and would be a huge positive for Michigan heading into spring ball.
One recruit to watch:
Torrance Gibson
is currently committed to Ohio State but has been listening to overtures from Auburn, LSU and Miami. Other than a few tweets, the five-star prospect hasn't been talking much about his commitment.
Gibson hosted coaches from Auburn, LSU and Ohio State on in-home visits, and now fans are waiting to see what he does. The opportunity to play quarterback is there at all the schools. Auburn might have the best opportunity for early playing time and be the best fit for Gibson.
He is still committed to the Buckeyes, however, and could very well stay that way. His decision hasn't gone public yet, so this is definitely something to watch as we head into signing day.
One signing day surprise:
It might not be too much of a surprise at this point, but it looks as though Ohio State will close strong. Wide receiver
K.J. Hill
and defensive back
Damon Arnette
could very well choose the Buckeyes.
It's tough to put the Buckeyes in this category because Ohio State fans aren't surprised by Urban Meyer's closing strong this late in the process, but besides Ohio State, Michigan and potentially Maryland, there might not be too many big surprises for the Big Ten.
The Terps have a chance to surprise, though, if they can pull in defensive lineman
Austrian Robinson
and ESPN 300 offensive lineman
Isaiah Prince
. It would be a big close for coach Randy Edsall and his staff, who have some positive momentum.
Running back
Mike Weber
could be on this list as well, if he doesn't announce anything until signing day. Weber is currently committed to Ohio State, but he has been listening to Michigan recently. He has kept quiet about his final decision, so there is still some intrigue with him.
January, 28, 2015
Jan 28
9:30
AM ET
Michigan and Ohio State couldn't be in more opposite situations both on the field and on the recruiting trail. The Buckeyes are coming off winning the national championship. The Wolverines had a losing season and coaching change, bringing Jim Harbaugh back to Ann Arbor.
To continue reading this article you must be an Insider
January, 19, 2015
Jan 19
11:00
PM ET
One of the biggest success stories in the 2015 recruiting class has been Arkansas with its in-state recruits. The Razorbacks were 10-for-10 on players they had offered in Arkansas, but that changed Sunday when ESPN 300 receiver
K.J. Hill
backed off his pledge.
To continue reading this article you must be an Insider
January, 7, 2015
Jan 7
11:00
PM ET
Ohio State and Oregon have different recruiting philosophies, but both have made it work on the way to an appearance in Monday's College Football Playoff National Championship presented by AT&T.
To continue reading this article you must be an Insider