April, 3, 2012
4/03/12
8:35
PM ET
Recognition is so important for an offense. Think
Andrew Luck
-- or Peyton Manning -- wildly gesticulating at the line of scrimmage.
Or, for that matter, Oregon quarterback
Darron Thomas
doing the same thing.
That was something that stuck with me after I chatted with Oregon sophomore center
Hroniss Grasu
a couple of weeks ago. We were talking about how he improved at making line calls during the 2011 season, but he went out of his way to note how good Thomas was at helping out, at identifying last-second changes a defense made that perhaps hinted at its ill intentions.
The point: Centers and quarterbacks are the brains of an offense. The center typically makes the calls at the line of scrimmage that make sure everyone is accounted for. And quarterbacks communicate to both the skill players and the line about check and audibles.
The QB and center work in tandem. They need to be in sync. And having smart, experienced signal-callers and centers is a big deal for an offense. It means an offense can go to the line with more options, and it can check into the right option more often than not. That breeds confidence, both among players and with their coaches.
So which Pac-12 teams are experienced at QB and center? Who has both back, one back or neither?
Thanks for asking.

Arizona: Center
Skinny
: While
Nick Foles
was the Wildcats' quarterback last year,
Matt Scott
has started five games, so the offense is not in inexperienced hands. Senior center
Kyle Quinn
did a solid job in 2011, earning honorable mention All-Pac-12 honors. On the downside, the Wildcats are installing a new offense with coach Rich Rodriguez, so past experience isn't as helpful.

Arizona State: Neither
Skinny:
QB
Brock Osweiler
is gone as is center
Garth Gerhart
.
Kody Koebensky
likely takes over at center, while the quarterback competition continues to be wide-open. Of course, the Sun Devils are installing a new offense under new coach Todd Graham, so being green isn't as much of an issue.

California: Both
Skinny
: QB
Zach Maynard
should be much more in control as a second-year starter. While center
Dominic Galas
is back, he's sitting out spring due to a shoulder injury, and it appears he will switch over to guard. Galas, some of you Bears fans might recall, did have some issues with shotgun snaps last year.
Chris Adcock
or
Mark Brazinski
could end up winning the job.

Colorado: Center
Skinny
:
Tyler Hansen
is almost certainly going to be replaced at quarterback by Texas transfer
Connor Wood
, a sophomore with no game experience. It should help Wood, however, to have junior
Gus Handler
back making the line calls.
Daniel Munyer
, who's slated to start at guard, also has starting experience at center.

Oregon: Center
Skinny: Center
Grasu's first start as a redshirt freshman was against LSU's beastly defensive front. That was a baptism by fire, but he consistently improved throughout the season. QB
Bryan Bennett
has some experience, including one start, but he will be challenged this spring by redshirt freshman
Marcus Mariota
.

Oregon State: QB
Skinny
:
Sean Mannion
is back at QB, but center
Grant Johnson
is gone. The frontrunner to win that job is sophomore
Roman Sapolu
. The Beavers have injury issues on the line this spring, and that likely will slow down the unit's -- and Sapolu's -- development.

Stanford: Center
Skinny
: You might have heard that Andrew Luck is gone.
Brett Nottingham
and
Josh Nunes
look like the favorites to replace him, but neither has significant experience. Senior
Sam Schwartzstein
did a fine job stepping into Chase Beeler's shoes in 2011, but life was, naturally, easier with Luck at QB. More will fall on Schwartzstein in 2012.

UCLA: QB
Skinny
: The Bruins have two quarterbacks with significant starting experience back:
Kevin Prince
and
Richard Brehaut
. But redshirt freshman
Brett Hundley
might end up winning the job. All three are learning a new offense this spring under new coach Jim Mora and offensive coordinator Noel Mazzone. Sophomore Jacob Brendel -- or perhaps junior
Greg Capella
, who mostly started at guard last year -- are the frontrunners to replace
Kai Maiava
at center.

USC: Both
Skinny
: You've maybe heard of Trojans QB
Matt Barkley
and his receivers,
Robert Woods
/
Marqise Lee
, being the best pass-catch trio in the nation. Well, Barkley and senior center Khaled Holmes are the perhaps the best QB-center combination in the nation. Holmes was second-team All-Pac-12 in 2011, and he's probably the best center in the conference.

Utah: Both
Skinny
: Junior
Jordan Wynn
, a three-year starter, only needs to stay healthy for the Utes to get at least solid QB play. Center
Tevita Stevens
is solid, but he will be breaking in a pair of new OTs.
Washington: Both


Skinny
: Junior QB
Keith Price
was a revelation last year as a first-year starter, far eclipsing the production of his celebrated predecessor, Jake Locker. Senior center
Drew Schaefer
is a 30-game starter. So this is a strong combo for the Huskies.
Washington State: Both


Skinny
:
Jeff Tuel
feels like a decided frontrunner to retain his starting job at QB, while junior
Matt Goetz
returns at center. A junior-college transfer in 2011, he started the final nine games of 2011. A year of seasoning -- and in the weight room -- should help Goetz in 2012.
September, 1, 2010
9/01/10
2:12
PM ET
UCLA coach Rick Neuheisel understands the media and more than most coaches he's willing to help.
For example: Say you wanted an update Tuesday on the status of his quarterback
Kevin Prince
, who's missed nearly all of preseason camp with a small but bothersome tear in his back muscle. Neuheisel provided a eyewitness, play-by-play to reporters during the weekly Pac-10 coaches teleconference.
[+] Enlarge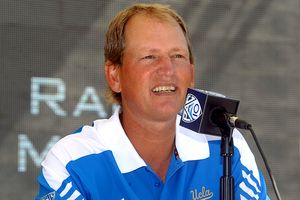 Kirby Lee/Image of Sport/US PresswireRick Neuheisel thinks his unproven offensive line will be able to handle Kansas State.
"I'm standing right here watching him practice," said Neuheisel, with the typical practice chatter clearly audible through the phone line.
"He's going to throw this ball. I'll tell you after this throw... Oh, it's perfectly thrown. It's outstanding! I think he's going to be fine."
The verdict: Prince is "rusty but healthy." He will start at Kansas State on Saturday. Probably.
Neuheisel is all about optimism. His catch-phrase upon getting hired to rebuild the Bruins in 2008 was "relentless optimism." That optimism has been tested, however, by an 11-14 record his first two years and a fairly
stunning array of injuries
.
The current challenge to Neuheisel's power of positive thinking isn't just about getting Prince to the opener in one piece. His offensive line is in pieces.
All five starters from last year were projected to return this season, including 13 of 14 players on the 2009 depth chart. Yet guard Eddie Williams is the only returning starter who will be in the lineup at Kansas State, and even he missed half of the 2009 season with a fractured ankle.
Talented left tackle Xavier Su'a-Filo, who won a starting job as a true freshman, opted to go on a two-year Mormon mission. Then the chief candidate to replace him, Nik Abele, was forced to retire because of neck problems. Center Kai Maiava fractured his ankle during preseason camp. Guard Jeff Baca is academically ineligible. Right tackle Mike Harris is suspended for the Kansas State game. Toss in guard Stanley Hasiak's academic ineligibility, and Jake Dean ending his career a year early, and you have a lot of attrition from what might have been a greatly improved line.
This probably won't surprise you a bit, but Neuheisel is undaunted: "They're terrific," he said of his new lineup.
He even spots for reporters a potential feel-good angle with his makeshift line.
"It's kind of a neat story -- hopefully it will be one that's told for years and years after because of the success they have," Neuheisel said. "We have five seniors who've gotten here in kind of a round-about sort of way. Each has their own unique road they traveled to get here."
Those five are: right guard Williams, a junior college transfer; left tackle Sean Sheller, a fifth-year senior who spent much of his injury-riddled career on the defensive line; left guard Darius Savage, who started seven games in 2008 but fell out of favor last year; center Ryan Taylor, a JC transfer who started two games at guard and one at center in 2009; and right tackle Micah Kia, who started seven games in 2008 but missed last fall with a knee injury.
Despite the questions on offense, the Bruins visit to Kansas State probably comes down to something else: How a rebuilt front seven on defense handles Wildcats running back
Daniel Thomas
, who rushed for 1,290 yards last year. Thomas will be running behind a veteran line. Combine that with a new and unproven quarterback, and you can expect the Wildcats to try to challenge the Bruins with a physical, run-first attack.
In last year's game, the Bruins dispatched K-State fairly easily, 23-9. But this will be Year Two of coach Bill Snyder's return to where he produced perhaps the greatest rebuilding jobs in college football history, which explains why his name is on the stadium: "Bill Snyder Family Stadium." The Wildcats should be a much more finely tuned team, despite just 11 returning starters.
"He's a team builder, no question about it," Neuheisel said.
By the way, the Wildcats have won 20 home openers in a row.
Of course, Neuheisel is optimistic that his quarterback will be healthy and sharp, his offensive line and defensive front-seven will be stout and that winning streak is about to end.
August, 23, 2010
8/23/10
11:02
AM ET
If you look at UCLA's offensive line depth chart from 2009, your first though is this: 13 of 14 guys, including all five starters, will be back for 2010.
Sounds great, eh? Sure, the Bruins' line has struggled in recent years, but those struggling young guys now will become salty veterans. And there will be depth.
Insert sigh from UCLA fans, players and coaches here. Things have certainly changed since the Bruins won the EagleBank Bowl.
The Bruins lost another lineman -- perhaps their best one -- early in Saturday's scrimmage when center Kia Maiava
went down with a fractured left ankle
. The junior almost certainly is done for the season.
The hit list on the line in addition to Maiava goes like this:
Talented tackle Xavier Su'a-filo opted to go on a two-year Mormon mission after starting as a true freshman.
The leading candidate to replace Su'a-filo, Nik Abele, was forced to retire because of neck problems.
Right tackle Mike Harris is suspended for the opener at Kansas State because of a violation of team rules.
Left guard Jeff Baca has been ruled academically ineligible, pending an appeal with the NCAA, and even if he wins his appeal he's nursing a stress fracture in his right leg.
Right guard Eddie Williams has missed practices due to a concussion, though he should be ready to play by the season opener.
Barring any more issues, the starting line probably will look like this at Kansas State on Sept. 4: Sean Sheller and Micah Kia at the tackles, Williams and Darius Savage at the guards and Ryan Taylor at center.
Understand: That's not a woeful lineup. Sheller, who's battled injuries and position changes, is the only one with no starting experience. Taylor replaced Maiava in the EagleBank Bowl last year, and Kia started 15 games before missing 2009 with a knee injury. And Harris will return after the opener.
Still, there isn't too much remaining margin for error if anyone else -- knock on wood -- pulls up lame.
August, 10, 2009
8/10/09
10:55
AM ET
Posted by ESPN.com's Ted Miller
What's our preseason projection for the Pac-10? Probably not many shocks here. This mirrors my vote in the Pac-10 media poll.
1. USC: The Trojans are No. 1 until somebody knocks them off the mountain. With nine starters back on offense, including what might be the nation's best offensive line, there will be plenty of help for the new quarterback. And do you really think USC's defense won't be elite again in 2009? Come on.
2. California: The Bears have 17 starters back from a team that went 9-4 in 2009, including a Heisman Trophy candidate in running back Jahvid Best. The secondary will be one of the nation's best and the defensive line is as good as any in the Pac-10. Replacing three of four linebackers doesn't seem to be causing much stress in Berkeley. The only issue is how much the passing game improves. If it improves significantly, this is a potential BCS bowl team.
3. Oregon: Quarterback Jeremiah Masoli and running back LeGarrette Blount give the Ducks a strong one-two punch on offense and an athletic corps of linebackers and cornerback Walter Thurmond and end Will Tukuafu will lead the defense. Both lines are questions that, if answered, could push the Ducks to the top of the conference.
4. Oregon State: Rebuild or reload? The Beavers have transitioned to the latter category, which is why most are overlooking a defense that needs to replace eight starters, including the entire secondary, and an offensive line that must replace three first-rate starters. There are two veteran quarterbacks in Lyle Moevao and Sean Canfield and the explosive Rodgers brothers -- James and Jacquizz -- leading the offense, while tackle Stephen Paea and linebacker Keaton Kristick lead the defense.
5. Arizona: Losing three offensive mainstays -- quarterback Willie Tuitama, receiver Mike Thomas and tackle Eben Britton --- hurts, but the Wildcats should be even better on defense in 2009, and the general feeling is the offense will be solid whether Matt Scott or Nick Foles wins the job. For one, tight end Rob Gronkowski is the best target in the Pac-10.
6. Stanford: The Cardinal have lots of guys back -- 17 -- from a team that fell just short of bowl eligibility in 2008. They also have seven home games after playing just five a year ago. The key is passing -- on offense and defense. Redshirt freshman Andrew Luck is supposed to be the answer for the offense, while an injection of young talent should improve the athleticism in the secondary.
7. UCLA: The Bruins have two big questions: quarterback and offensive line. The defense should be good, led by tackle Brian Price, linebacker Reggie Carter and cornerback Alterraun Verner -- all three are All-American candidates -- but it won't matter if the running game remains anemic. One big reasons for optimism: five offensive players are again available who would have started last year but were out for various reasons back: running back Christian Ramirez, tight end Logan Paulsen, center Kai Maiava, fullback Trevor Theriot and tackle Sean Sheller.
8. Arizona State: Not unlike UCLA, Arizona State has questions at quarterback and on the offensive line while the defense looks solid. Senior Danny Sullivan played well in the spring and looks to be the favorite at quarterback, while new faces could key dramatic improvement on the offensive line. If things fall into place, the Sun Devils could win eight or nine games, but it's hard to project that until the offensive line proves itself.
9. Washington: The good news is the Huskies could be the most-improved team in the conference. Of course, it's hard to regress from an 0-12 season. Moreover, Washington could play much better and still have little to show for it because the nonconfernce schedule features LSU and Notre Dame. Still, the return of 18 starters, as well as quarterback Jake Locker and linebacker E.J. Savannah, suggests the Huskies won't be anyone's patsy this fall.
10. Washington State: The biggest hope for the Cougars lies in a potentially improved running game that could keep a defense that is thin on talent on all three levels off the field. That didn't happen last year -- see an offense that ranked 118th in the country that surrendered 38 turnovers, tied for most in the nation. But there's experience on the offensive line and James Montgomery and Dwight Tardy give the Cougars a pair of solid backs. If either Marshall Lobbestael or Kevin Lopina provides adequate quarterback play, Washington State might surprise some folks.
July, 22, 2009
7/22/09
6:03
PM ET
Posted by ESPN.com's Ted Miller
Results of the annual Pac-10 media poll will be announced on July 30, but here's a guess at how most ballots will look:
1. USC; 2. California; 3. Oregon; 4. Oregon State... 9. Washington; 10. Washington State
And from five to eight all heck breaks loose.
Now, some -- such as Phil Steele -- think Oregon will tumble. Some have issues with Oregon State. And some think Washington will be a surprise team.
But a plurality figures to vote these six teams as they appear above and then throw the other four into the air and leave it to the college football spirits to decide.
So where do you rank Arizona, Arizona State, Stanford and UCLA?
I wouldn't be completely shocked if any of those four actually broke into the top four. I also wouldn't be astonished if any finished ninth.
I think I've written at various times that all four should end up bowl-eligible, even though eight conference teams with a .500 record or better is difficult to pencil out. (It did, however, happen in 2006 -- and Washington even finished 5-7).
I changed my own 5-8 a number of times. I won't tell you how I voted yet. My boss threatened to tear off my arm and beat me with it if I did. He's done it before so I believed him.
Why the difficulty?
For one, each of the Unfixed Four will break in a new quarterback, though Stanford and UCLA both have their starters back from 2008.
June, 25, 2009
6/25/09
12:01
PM ET
Posted by ESPN.com's Ted Miller
If you just want to cut to the chase, he's the best offensive coordinator in the history of college football.
In 33 seasons at the collegiate level, Norm Chow has been part of three national championships, guided three Heisman Trophy winners, coached eight of the NCAA's top 30 in career passing efficiency and produced six first-round NFL draft picks at quarterback.
But UCLA's offense stunk last year.
| | |
| --- | --- |
| | |
| | AP Photo/Ric Francis |
| | UCLA offensive coordinator Norm Chow is hoping to see improvement in his offense in 2009. |
It ranked 116th in the nation in rushing, 111th in total offense, 109th in scoring, 109th in passing efficiency and 110th in sacks allowed.
Bad. Very bad.
The good news for Bruins fans, however, is that it seems almost impossible to imagine things not getting better. A lot better, in fact.
It's hard to bet against Chow, 63. His head coach, Rick Neuheisel, also owns a highly respected offensive mind -- though it often appeared that mind was about to explode as TV cameras zeroed in on his reactions to the offensive foibles last fall.
The question is: What are realistic expectations in 2009?
Improving from bad to merely below average might get the Bruins enough juice to win six games, particularly with a defense that should be very good.
But going from bad to average might boost UCLA back into the top half of the Pac-10.
So we thought nothing of calling Chow during his annual Hawaiian get-away to see what he's thinking this off-season.
Taking a quick look backwards: Is there anything you'd change about how you guys ran the offense last year?
Norm Chow: No. I think we were obviously all disappointed. I'm not so sure there was much else we could have done as far as personnel went. We were down to our third quarterback. We started 10 different combinations on the offensive line. Obviously, we were disappointed we didn't do better with just what we were doing. I don't think we could have made dramatic changes. That wasn't our style. We just didn't play well enough and coach well enough.
Considering how successful you've been running offenses, how tough was it for you watching your players struggle to get much of anything going?
NC: It was hard. But it's not about me. It's about our players and their willingness to work, which they did. They played as hard as they could and they did everything we asked them to do. It just didn't work out. It's not their fault. We as coaches have to take the major part of the blame because we didn't get it done. The guys are working hard now and we're looking forward to everything. We've been together for a year now. Prior to us getting there, the quarterbacks told me that we were their fourth different offensive style of ball in four years. What we called 12, [former coach] Karl Dorrell called 92. You go through that four times and it's hard on young guys. Perhaps we should have gone a little slower. We just didn't do what we should have done.
Obviously Rick Neuheisel, a former UCLA quarterback, is an offensive guy. And he's a hands-on head coach. Did you guys ever butt heads during the season?
NC: Not at all. We have respect for each other. We're both trying to get the same things done. We have very similar ideas about offense. No, it was a joy. This past year, of all the years I've ever coached, was the first time I worked with an offensive coach, an offensive-minded head coach. I've always worked with defensive-minded head coaches, both in college and the NFL. They kind of have a tendency to leave you alone. But Rick was very good about suggestions and thoughts. All you're trying to do is get better. We got along very well. In fact, it was fun. He was a joy to work with. He's a nice guy. He's a fun guy. He's an intense guy. He's perfect for the head coaching position at UCLA.
May, 20, 2009
5/20/09
1:10
PM ET
Posted by ESPN.com's Ted Miller
Not to brag, but I know everybody.
Yes, I'm so cool that I can practically recite every Pac-10 team's starting lineup. Practically. At least by September.
[I see all of you mustering Chevy Chase's perfectly mocking, "God, I admire you," from Fletch at this moment.]
That's why Rory Cavaille caused me travail. When he appeared on Oregon's post-spring depth chart with the No. 1 offense, I, well, had no freaking idea who he was.
Ergo, today's topic: Out of nowhere.
Rory Cavaille, WR, Oregon: Cavaille moved up the pecking order when Aaron Pflugrad decided to transfer. The 6-foot-3, 207-pound senior and former walk-on has caught just six career passes. But he's smart -- he was honorable mention Pac-10 All-Academic last year -- and he has good hands. The Ducks get an influx of talent at receiver from their 2008 recruiting class, but Cavaille apparently has played his way into the mix.
D.J. Shoemate, FB, USC: Pete Carroll loves fullbacks -- just ask him about Stanley Havili sometime (if you have an extra half hour) -- and Carroll loved Shoemate, a sophomore, after spring practices, telling the Orange County Register that he was the spring's most-improved player. Shoemate isn't a complete mystery, of course. He was a marquee recruit and he started the Rose Bowl when Havili was academically ineligible, but he has moved around a bit, seeing action before at receiver and tailback.
Kai Maiava, C, UCLA: The Bruins' offensive line is loaded with questions, but Maiava is a firm answer. Barring injury, he will start at center. He sat out last season after transferring from Colorado and missed half of spring ball with an ankle injury, but he's shown enough already to solidify his standing. As for his football bloodlines, yes, he's former USC linebacker Kaluka Maiava's brother and his uncle is pro wrestler/actor "The Rock" (Dwayne Johnson).
David Pa'aluhi, LB, Oregon State: Pa'aluhi wasn't a complete unknown -- the sophomore was impressive enough to top the depth chart entering spring -- but my guess is that, outside of folks who follow the Beavers, he's going to draw a "Who?" at least until the games start. First thing to know: Don't pick a fight with him. He's a mixed martial arts guy. Second, he's fast, reportedly running the 40 under 4.5. And he's got upside, considering he started playing football his senior year of high school.
Alex Debniak, RB-LB, Stanford: Coach Jim Harbaugh gushed about Debniak this spring as a guy who could see significant action at strongside linebacker and running back. The 6-foot-2, 220-pound sophomore appeared in eight games as a true freshman and finished with four total tackles. He and Will Powers were practically an either-or at linebacker this spring.
March, 11, 2009
3/11/09
10:00
AM ET
Posted by ESPN.com's Ted Miller
Things are always interesting with Rick Neuheisel, and his first season coaching UCLA was no exception.
The Bruins opened with an overtime win over Tennessee. Then went splat, 59-zip, at BYU. And so started a decidedly inconsistent season.
With poor play at quarterback, no running game and a porous offensive line -- and that's sugarcoating things for the woeful offense -- UCLA finished 4-8 and in eighth place in the Pac-10.
| | |
| --- | --- |
| | |
| | Joe Nicholson/US Presswire |
| | Rick Neuheisel was 4-8 in his first season at UCLA. |
But Bruins fans felt a lot better after Neuheisel fetched a highly rated recruiting class, which reignited whispers that -- just maybe -- USC should start looking over its shoulder and worrying about its football, er, monopoly in Los Angeles.
Spring practices don't crank up until April 2, but it seems like a good time to check in.
Let's look back on 2008: What were you happy with and unhappy with?
Rick Neuheisel: I thought our team played hard, but we lacked the proficiency to be a good team. We never got any consistency as an offense. Defensively, we hung in there most games, but we weren't stout enough to be a three-and-out type team. Our kickoff situation put us in a field position deficit because we weren't able to kick the ball off very far. We'd end up having to go long distances with respect to field position. We've got a lot of things to get better at if we're going to be a better football team. But the influx of new, young talent, the great effort in weight room and so forth, I think is going to lead to that.
How exited are you that the whole 'Neuheisel is back' won't be the big story this year?
RN: I'm excited the focus will be on our football team. Obviously, this was a program that needed a kick start with respect to the recruiting and excitement and that stuff. We were fortunate to have a big win at the start of the season that reminded folks how fun football can be. Now it's up to us to deliver that on a more regular basis. Obviously, if we could get to a bowl game this year, that would be a step in the right direction. I think a year from now, we're going to be a team that can compete for the top prizes.
You guys got a lot of publicity about your recruiting success on signing day.
RN: Recruiting went well. Recruiting went really well. It was kind of a validation of what I thought all along: That you can recruit at UCLA. That if you do it the right way and go after the right guys you can deliver. I was pleased to see that was possible.