NCF Nation:

Ka'imi Fairbairn
January, 22, 2013
1/22/13
7:00
PM ET
For last week's Take 2, Ted and I shared
our favorite games that we covered in person
during the 2012 season. Of course, just because it was the best game in-person doesn't necessarily mean it was the best game. As I pointed out in my Take 2, the Stanford-Washington game wasn't exactly great football. Rather, it was the environment and energy in the stadium that made it my favorite of 2012.

Naturally, this prompts the next question: What was the best game of the 2012 season?
There are lots of ways that people value what makes the best game -- so narrowing the list down to five was tough (and ESPN mandate only allows five options -- so great matchups like the Territorial Cup and Oregon State-UCLA just missed the cut). Some people prefer a good offensive shootout. Others like a hard-nosed, defensive grind. Others just like an upset for the sake of an upset, so I tried to get a dusting of all of the above when picking the options for your Tuesday poll question.
So, what was the best regular season Pac-12 game of 2012?
Your options, in no particular order:
Oregon at USC:
While this Nov. 3 showdown didn't live up to the buildup in terms of team expectations (at least for USC), the game itself was a classic. The Ducks won 62-51 behind 321 rushing yards and five touchdowns from
Kenjon Barner
and four touchdown passes from
Marcus Mariota
.
Matt Barkley
threw for 321 yards and five touchdowns and
Marqise Lee
caught 12 balls for 157 yards and two scores. It kept fans glued to the TV and defensive purists reaching for sick bags.
Washington at Washington State
: Ah, the Apple Cup. Say what you want Washington fans, this was still a great game to watch. The Cougars overcame an 18-point, fourth-quarter deficit (the largest fourth-quarter comeback in the storied history of the rivalry) and
Andrew Furney
came through with one of the more clutch kicking performances of the season. He drilled a 45-yarder with less than 2 minutes left in the game to tie it at 28-28, and then he popped a 27-yarder in overtime for the win. Perhaps even more shocking? Washington State had three, count 'em, three rushing touchdowns!
Arizona at Stanford
:
Josh Nunes
took a lot of guff from Stanford fans this year. They should be grateful for his performance in the Cardinal's thrilling 54-48 win over Arizona in overtime. He accounted for five touchdowns -- three on the ground and two in the air -- while throwing for 360 yards and no interceptions. He carried the vaunted Stanford defense against an Arizona team that lit them up -- including 132 yards and three touchdowns from
Ka'Deem Carey
and 491 passing yards and three touchdowns from
Matt Scott
. The teams matched for 617 total yards of offense and the Cardinal showed they could win even when their defense gets scorched. And yes, Arizona, Scott, Carey and
Austin Hill
absolutely scorched Stanford's 'D.'
Stanford at Oregon
: This one is for the defensive purists. The only thing better than Stanford's defensive gameplan was the way the Cardinal executed it. The Cardinal kept the Ducks' explosive offense to 405 total yards (198 on the ground) and Oregon was just 4 of 17 on third downs and 0 for 2 on fourth down. Shockingly, it was
Kevin Hogan
's first road start and just the second of his career -- but he wasn't fazed by the Autzen environment. And there was plenty of high drama as
Zach Ertz
caught the controversial game-tying touchdown and
Jordan Williamson
drilled a 37-yarder in overtime for the victory. Not to mention Oregon was No. 1 at the time and this game reshaped the entire college football landscape.
UCLA at Arizona State
: Anyone watching this game got some outstanding insight into the future of quarterbacking in the league. After ASU jumped ahead 14-0, the Bruins battled back, setting up a fantastic fourth quarter that saw
Taylor Kelly
drive his team to a late touchdown drive to go ahead 43-42 with 1:33 left in the game. On the ensuing drive,
Brett Hundley
brought his team down, which set up a 33-yard
Ka'imi Fairbairn
game-winner as time expired on the 45-43 UCLA win. The outcome helped UCLA lock up the South and was one of the most thrilling games of the year.
January, 14, 2013
1/14/13
11:00
AM ET
Here's a collection of great moments/storylines from the 2012 Pac-12 season in no particular order:
Clutch catches: A couple from Arizona wide receivers come to mind. There was Austin Hill laying out in the season opener against Toledo for a 30-yard touchdown -- quite possibly the best catch in the Pac-12 this season -- and Tyler Slavin's snag in the New Mexico Bowl. Zach Ertz's haul-in against Oregon was as clutch as it gets.

[+] Enlarge

Russ Isabella/US PresswireUtah's Reggie Dunn was a threat to go the distance every time he touched the ball.

Dunn and done: It was a record-setting year for Utah's All-American kick returner Reggie Dunn. He set the NCAA single-season record with four 100-yard kickoff returns for touchdowns. He set the NCAA mark for career 100-yard kickoff returns with five, the single-game 100-yard kickoff return record with two and the kick return average in a game at 74.0. He also tied the NCAA record for kick return touchdowns in a game from any distance with two. His performance prompted one of the best quotes of the year from Utah coach Kyle Whittingham. "I can't believe they kicked to him," Whittingham said after the Colorado game.

Having their moment: Colorado is going to get mentioned a lot in this post -- mostly because of what others did to it. But in a season loaded with disappointments, it was a gritty fourth-quarter performance that stands out as a highlight for the Buffs. Trailing 31-14 in the final frame, Colorado outscored the Washington State Cougars 21-3 in the final 7:06 for their only win of the season, a 35-34 victory in Pullman, Wash.

The other side of Colorado: Feeling good after reading that, Buffs fans? Here comes the rub. Pac-12 teams exploded against Colorado this year with several record-setting performances. We've already mentioned Dunn getting one of his kickoff return TDs against the Buffs. But before that, Matt Barkley and Robert Woods had record-setting days against Colorado. Barkley threw six touchdowns and completed 95 percent of his passes (19 of 20), giving him the Pac-12 career touchdown record. Woods caught eight balls to set the USC career receptions record and he became the first USC player to have four touchdown catches in one game. A couple of weeks later, Arizona's Ka'Deem Carey ran for a league-record 366 yards and five touchdowns, averaging 14.6 yards per carry. In conference games, Colorado was outscored, on average, 49-17.

Clutch kicks: In what was a very off year for Pac-12 kickers, a few key moments stand out: Ka'imi Fairbairn's 33-yard game winner lifted the Bruins to a 45-43 win at Arizona State; Jordan Williamson's 37-yarder in overtime downed Oregon and changed the entire landscape of college football; and WSU's Andrew Furney was oh-so-money in the Apple Cup, drilling a 45-yarder to tie the game in the closing minutes and then hitting a 27-yarder in overtime.

UW shockers: For as shocking as the Apple Cup demise was for the Huskies, they also provided a couple of big shockers of their own, knocking off a pair of top-10 teams. A week after Stanford stunned USC (not as stunning as it was at the time), Washington held the No. 8 Cardinal without an offensive touchdown in a 17-13 home win. A month later -- to the day -- it snapped No. 7 Oregon State's six-game winning streak, also at the Clink.

SoCal slugfest: Before the season, we all looked to the Oregon-USC game as the first of two that would determine the conference championship. As it turned out, neither team even reached the title game. But the game itself didn't disappoint. It was a 62-51 thrill ride in which Kenjon Barner rushed for 321 yards and four touchdowns, Barkley threw for 484 yards and five scores and the two schools gained 1,345 yards of total offense between them.

Quarterback controversies: Midseason switches and turnover at the position seemed like a constant throughout the Pac-12. Only four schools -- Arizona State, Oregon, UCLA and Washington -- started the same quarterback in every game this season. Injury caused changes at Arizona, Cal, Oregon State, USC and Utah, while competitions/switches happened at Washington State, Stanford, Oregon State and Colorado. In the end, it was a good move for Stanford -- which went on to win the Pac-12 title. At Oregon State, the competition is certainly wide open after the Alamo Bowl collapse. Colorado has some things to figure out with a new coaching staff and we'll see if Connor Halliday can hold on to the job next year.

Heisman shutout: The Pac-12 didn't have a finalist for the first time since 2008 -- despite strong seasons from Marqise Lee, Barner, Carey, Johnathan Franklin, etc. Barkley was the preseason favorite, but fizzled as USC imploded. Despite having the nation's top wide receiver and three of the four consensus All-American running backs, the Pac-12 was snubbed out of a trip to New York.

Stanford's staying power: Surely, 2012 was the year Stanford would come back to earth. No Andrew Luck, no Coby Fleener, no Jonathan Martin and David DeCastro. But behind a fierce defense, the Cardinal won the league title, Kevin Hogan is 5-0 as a starter at quarterback and the Cardinal won the Rose Bowl. Not bad for a rebuilding year.

Coaches are better than ever: Jim Mora, Todd Graham and Rich Rodriguez all took their teams to bowl games in their first seasons. Mike Riley has his team back in the Top 25. David Shaw has won the coach of the year honor twice in two seasons. Chip Kelly is back. Sonny Dykes has an exciting offense. Mike MacIntyre has a history of rebuilding. The Pac-12 might have the hottest crop of coaches in the country. That's a very good thing.

2-0: There are many ways to judge the talent of a conference. BCS bowl games are the biggest litmus test. The Pac-12 went 4-4 in the bowl season, but won both of its BCS games: Stanford beating Wisconsin in the Rose Bowl and Oregon thrashing Kansas State in the Fiesta Bowl. History judges the best of the best. And there was no doubt those two teams earned everything they got this year.
December, 1, 2012
12/01/12
2:12
AM ET
PALO ALTO, Calif. -- It didn't matter to Stanford that everyone was handing the Pac-12 to either USC or Oregon in the preseason. But, of course, it did. It didn't matter to Stanford that many expected the Cardinal to take a significant step back after losing quarterback Andrew Luck, the first overall pick in the 2012 NFL draft. But, of course, it did.
That's the twin engine that drives Stanford. It's contradictory only on the surface. Stanford doesn't pay attention to what you think because that chip is already on its collective shoulder. It's part of the program's culture. It doesn't care what you think but -- just in case -- it's certain you doubt them.
Yet here the Cardinal are, headed to the Rose Bowl as the Pac-12 champions after beating UCLA
27-24
on Friday, gutting out a victory over a foe that looked a lot tougher than it did six days earlier in a 35-17 defeat. The Cardinal is headed to a third consecutive BCS bowl game with a chance to finish a third consecutive season in the final top 10.
Surely that will convince the naysayers that the most elite academic institution playing FBS football is also elite on the gridiron?
"They probably still won't give us credit," outside linebacker
Chase Thomas
said. "They never have. They just don't get it. They counted us out before the season after Andrew left. They counted us out when [coach Jim] Harbaugh left. And when [running back Toby] Gerhart left."
While you might quibble with Stanford not getting credit -- it has finished ranked fourth and seventh in the final Associated Press poll the past two seasons -- you can't quibble with the facts: The Cardinal is now 11-2 and headed to the Rose Bowl after replacing one of the great college quarterbacks of the past decade, not to mention a handful of other early-round NFL draft picks.
This program has some legs.
But this one wasn't easy. The Bruins showed up for take two. It was only decided when
Ka'imi Fairbairn
missed a 51-yard field goal attempt with 34 seconds left.
After rushing for just 73 yards and giving up seven sacks in game one, the Bruins rushed for 282 yards and yielded three sacks. They outgained the Cardinal 464 yards to 323.
Said Stanford coach David Shaw, "They just played better."
But two plays changed the game. First, with UCLA leading 14-7 and facing a second-and-16 from the Cardinal 36-yard line, quarterback
Brett Hundley
threw his only interception on the night, but it was returned 80 yards by
Ed Reynolds
to the Bruins' 1-yard line. A play later, it was 14-14, and the Cardinal quashed early UCLA momentum.
[+] Enlarge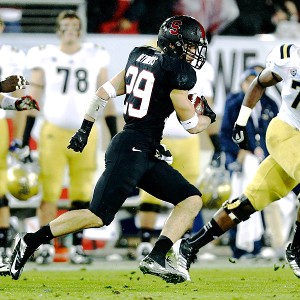 AP Photo/Marcio Jose SanchezEd Reynolds halted a UCLA drive with this 80-yard INT return, which Stanford immediately cashed in.
Then, early in the fourth quarter with UCLA leading 24-17, Stanford faced a third-and-15 from the Bruins' 26-yard line. The Cardinal sent out four vertical receivers, with tight end
Zach Ertz
cutting underneath in the middle. The safety followed Ertz. Quarterback
Kevin Hogan
saw receiver
Drew Terrell
get some space along the right sideline.
"The corner sat a little bit," Hogan said.
Hogan found Terrell for a 26-yard touchdown to tie the score.
Said UCLA coach Jim Mora, "We busted a coverage."
Hogan won game MVP honors, and Stanford's transformation can be traced to him. The redshirt freshman made his first career start Nov. 10 against Oregon State, but now he has beaten four consecutive ranked teams, including the victory at Oregon that keyed the Cardinal taking the North Division title.
"It's been a good month," Hogan said.
Hogan is already notorious for two things: poise and a desire not to talk about himself. It's better to have others talk about him, a signal-caller who can do damage with his arm and legs.
"He's an impressive kid," Mora said. "He's very poised. He's careful with the ball. He makes good decisions."
Shaw said Hogan's "ceiling is very high" and that his poise is "innate."
"You don't train a guy like that," Shaw said. "You find a guy like that."
Hogan completed 16 of 22 passes for 153 yards and rushed for 49 yards on 11 carries. But the biggest number is this: No turnovers for the Cardinal offense. On a day when UCLA was statistically superior, that might have been the difference.
"You're a freshman?" Thomas joked with Hogan on the podium during a postgame news conference, then turning back to reporters. "He sure doesn't play like one."
Stanford hasn't played in a Rose Bowl since losing to Wisconsin after the 1999 season. Shaw is the Pac-12 Coach of the Year. The Cardinal has won at least 10 games in three consecutive seasons for the first time in their history.
There are probably a few folks who don't believe they will do it a fourth time in 2013. At least, that's what they hope in the Cardinal locker room. Not that they care what you think. But they know you think that.
Remember: These guys are nerds. They know things.
Said Shaw, "We expect to be good again next year."
November, 30, 2012
11/30/12
11:51
PM ET
PALO ALTO, Calif. — Here's a quick take on Stanford's
27-24 victory
over UCLA in the Pac-12 championship game:


It was over when:
It was over only when UCLA kicker
Ka'imi Fairbairn
missed a 51-yard field goal attempt that would have tied the score with 39 seconds left.
Game ball goes to:
UCLA running back
Johnathan Franklin
, who was shut down in last week's meeting, gained 201 yards on 18 carries with two touchdowns. It was a brilliant effort.
Stat of the game
: 1-0. That was the turnover total in favor of Stanford. And UCLA's turnover was a
Brett Hundley
interception that was returned 80 yards by
Ed Reynolds
to the Bruins' 1-yard line, which set up the tying score at 14-14. It was big.
Stat of the game II:
UCLA gained 282 yards rushing after getting just 73 in last week's game. But it didn't matter.
Unsung hero of the game:
Stanford redshirt freshman quarterback
Kevin Hogan
was again unflappable. He completed 16 of 22 passes for 153 yards with a 26-yard touchdown. He also rushed for 49 yards on 11 carries with a score.
What it means:
It means Stanford is headed to the Rose Bowl for the first time since the 1999-2000 season. UCLA likely ends up in the Alamo Bowl.
October, 31, 2012
10/31/12
7:00
PM ET
So far, UCLA redshirt freshman quarterback
Brett Hundley
has shown a strong arm, fast feet, the ability to keep plays alive and accuracy.
Now we can add super-clutch to his resume. Hundley took a big step forward last week in UCLA's 45-43 win at Arizona State -- leading the Bruins on a 12-play, 60-yard drive in the final 1:33 that led to a game-clinching
Ka'imi Fairbairn
field goal. That was the cherry on his four-touchdown sundae that capped a 19-of-29 performance.
[+] Enlarge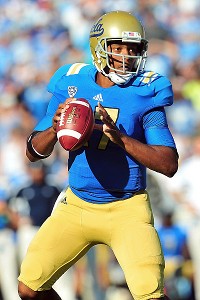 Gary A. Vasquez/US PresswireCoach Jim Mora and the Bruins are pleased with the progress of quarterback Brett Hundley.
"I think we all have a lot of confidence in Brett because of what he's showed us in practice," said UCLA head coach Jim Mora. "We haven't seen him in that situation in a game. But in practice he's very poised, and whenever we do a 2-minute drill or put him in pressure-type situation, he handles it very well. But a lot of things need to go right to have a drive like that. First off all we were playing against an outstanding defense. We had to do a good job with protection. They brought some pressure and we were able to pick it up and have some success running the ball, and Brett was able to elude the rush a little bit and our receivers found a way to get open late in the downs.
"It was a function of all of us doing a great job. But Brett is the guy handling the snap every time, and it was great to see him take that step in his career. It was a brand new situation for him at this level and he handled it well."
But it wasn't just a huge moment for Hundley. The entire Bruins' squad took a step forward in confidence and maturity with the victory. After falling behind the 14-0 early, the defense stepped up and made enough plays when it had to. And, of course, there was Fairbairn's clutch 33-yard field goal that was a dead-center game-winner.
"I think it was really good for our team at this point in our development, especially with as many young guys as we have playing on offense," Mora said. "Arizona State has a very good defense, and they were missing some guys. But still, they are a very good defense. Knowing that you've done it once gives you the confidence to believe you can do it again. But you have to continue to work at it.
"It's only significant if that bump in confidence results in improved play down the line. You can't just say 'hey, we got it, good win, we feel confident.' No. You have to continue to do the work. You've got to continue to stay focused, and you have to continue to work hard to execute."
There isn't much time for back-slapping with a sizzling-hot Arizona squad coming to the Rose Bowl on Saturday. The Wildcats, ranked 22nd, are coming off of back-to-back wins against Washington and USC, and are playing as confidently as any team in the conference. The stakes are high with both squads still very much in contention for the Pac-12 South title. And the Wildcats are going to see a UCLA team that is also brimming with confidence. Not surprising, Arizona coach Rich Rodriguez has also been impressed with Hundley.
"I remember him coming out of high school, and that's what you want them to look like. He looks like one of those tight ends we are playing against all the time -- big, strong, physical athlete. I don't know if I've ever had a quarterback that big."
"They have a system that suits him well. They have a great running back, another athletic tight end and some skill players. They play with confidence. They've always been good athletes and players, but now they're playing in a system they feel comfortable with, and they're also playing with a lot of confidence."
October, 31, 2012
10/31/12
11:00
AM ET
Arizona State and Oregon State find themselves in very similar situations this week. Both are still in contention for their respective Pac-12 division titles, but both need to bounce back from very difficult losses.
For ASU, it was a last-second field goal at home by UCLA freshman kicker
Ka'imi Fairbairn
that sunk the Sun Devils. The Beavers slogged their way through a four-turnover performance against the
Washington Huskies
, who handed Oregon State its first loss of the season.
When they meet in Corvallis, Ore., on Saturday night, both the Devils and the Beavers will be looking to clean up the errors that led to their tough losses the week before.
Yet neither coach is letting said losses linger.
"What you do is you pick yourself up off of the mat," said Arizona State coach Todd Graham, whose team fell to 5-3 (3-2 in conference). "You are in November and you are still competing for a championship. Heck, this thing's wide open. Our guys have a great spirit and a great attitude. You evaluate things at the end of the year. Right now, we have a good football team. Any team in this league and any team in the South can beat any other team. It's going to be a barn-burner. We're sitting at the top of the league and we've got a lot of things to play for."
[+] Enlarge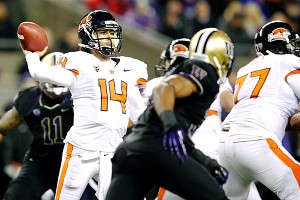 Joe Nicholson/US PresswireCody Vaz is back at starting QB as Oregon State tries to rebound from its first loss of the season.
No. 11 Oregon State (6-1, 4-1), which was off to one of the best starts in school history, saw its chances of playing for the BCS championship -- slim chances, but chances nonetheless -- dashed in a wave of turnovers and inefficiency. Head coach Mike Riley said that, so far, he's liked the way his team has responded.
"I think it's been good, but I didn't expect any different," Riley said. "This group has been good on every Monday. We played another game well into the fourth quarter and this time we lost. And there are real reasons why we lost. We turned the ball over for the first time more than the other team did and in bad situations and we gave it to them in good situations and they took it away from us in scoring situations. It's easy to see the reasons. But I think the team as far as work and getting ready for the next game has started well."
Part of that preparation is getting behind quarterback
Cody Vaz
, who will reprise his role as starter in place of the benched
Sean Mannion
. The Washington game was Mannion's first back after missing two games with minor knee surgery. And in his place, Vaz guided the Beavers to victories at BYU and home against Utah. Mannion threw four interceptions in the loss to the Huskies.
Riley said he doesn't expect the move to shake up the locker room.
"I think both quarterbacks have a lot of respect amongst the team," Riley said. "I haven't seen any really any response either way. They have faith in both of them and we have to pick one and I think they're good with it."
Arizona State is hoping to have defensive linemen
Will Sutton
and
Junior Onyeali
healthy for this game. Sutton, who was injured on the first series two weeks ago against Oregon and then missed the UCLA game, was having the best season for a defensive linemen in the conference prior to his injury. Well, one of the best. Oregon State fans will argue that
Scott Crichton
was having just as good of a year -- if not better. So if Sutton returns, a good sidebar to this meeting is which defensive line can make the stops.
"Their defensive line is a strength for them," Graham said. "It starts up front and they are very sound about what they are doing. They have stayed pretty healthy and haven't had too many guys get hurt, so they are pretty solid there. Really impressed with how well they cover in space in the secondary. They are not going to make stupid mistakes and they are very, very well coached on both sides of the football. They are very sound in what they do and as good a coached team as we've played."
October, 29, 2012
10/29/12
10:00
AM ET
Taking stock of Week 9 in the Pac-12.
Team of the week:
Three fantastic choices this week -- all with strong cases. UCLA's win over Arizona State was huge, as was Washington's win over Oregon State. But the kudos go to Arizona for taking haymakers from the best wide receiver in the country, getting back up and delivering some shots of its own and eventually upending USC. Sure, the Wildcats might have screwed over Oregon. And yes, their win was a surgical and devastating carpet bombing to the landscape of the South. So be it. Great game, great win.
Best game:
Not surprising, the three candidates above for team of the week are also in the mix for game of the week. This time the pick goes to UCLA-ASU for their back-and-forth slugfest. Anytime a game is won on the final play, it's going to get the nod.
[+] Enlarge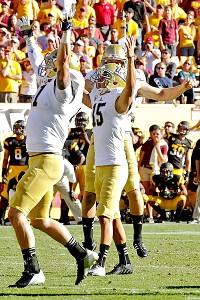 AP Photo/Matt YorkKa'imi Fairbairn's clutch field goal lifted UCLA over Arizona State.
Biggest play:
A true freshman kicked a 33-yard pitchfork dead center into the heart of the Sun Devils and lifted the Bruins to a victory on the road. Clutch, Mr.
Ka'imi Fairbairn
. Very clutch indeed.
Offensive standout:
In a losing effort,
Marqise Lee
set the new standard for Pac-12 wide receivers. Reflect on how many A-list receivers have come through this conference and you'll start to appreciate his performance in the loss to Arizona. Lee broke the Pac-12 record with 345 yards receiving on 16 catches and scored two touchdowns.
Defensive standout:
Some outstanding candidates this week, but the nod goes to Arizona linebacker
Marquis Flowers
, who had a pair of interceptions and forced a fumble in the Wildcats' home upset of USC. No game has sent more shockwaves through the conference than the Wildcats' come-from-behind win.
Special teams standout:
Not once, but twice, Utah's
Reggie Dunn
returned kickoffs for 100-yard touchdowns in the Utes' win over Cal. Tough to do once, really hard to do more than once in a season and practically unheard of to do it twice in the same game.
Special teams standout II:
De'Anthony Thomas
and his 73-yard punt return was just plain silly. You probably shouldn't field a rolling/bouncing ball with your back to the opposing end zone. But hey, it's DAT. Thomas rolled to his right (eventually decided he'd run upfield), got bottled, stopped, cut, darted and then blasted his way down the sidelines for a touchdown. DAT at his finest.
Smiley face:
Once again, half of the conference is ranked. With UCLA's and Arizona's victories, they are back in the Top 25, setting the stage for a fantastic showdown Saturday in Pasadena.
Frowney face:
Oregon State and USC collapsed on the road, and they looked bad doing it. And while it's nice that the conference now has six ranked teams, it has only one in the top 10.
Thought of the week:
Not sure if there is much of a call for an open quarterback competition at Oregon State this week after
Sean Mannion
's four-interception performance. If there is, there shouldn't be. If you checked out this week's Game Day Final, I broke down the numbers of opposing quarterbacks at The Clink this year, and Mannion isn't the only one who has struggled there. So far, four quarterbacks are completing only 50 percent of throws for an average of 167.5 yards with three passing touchdowns to seven interceptions. Mannion has earned the benefit of the doubt for more than just one shaky performance.
Random thought of the week:
Really good pie is better than really good cake.
Question of the week:
Does Cal coach Jeff Tedford make it through the end of the season? Just when it seemed as though the Bears might get a little traction after beating UCLA and Washington State, their fall the past two weeks has been swift and painful. This is typed with a heavy heart because the Pac-12 blog is a fan of Tedford the man. But it's tough to see Tedford the coach and his Oakleys walking the sideline in Berkeley next season.
October, 28, 2012
10/28/12
9:00
AM ET
Week 9 was oh-so-fine for helmet stickers. Plenty of great performances to choose from.
Marqise Lee, WR, USC: Lee broke the Pac-12 record with 345 yards receiving on 16 catches. He scored two touchdowns and had a 72-yard kickoff return that set up a late Trojans score.
Matt Scott, QB, Arizona: The Wildcats QB passed for 369 yards and three touchdowns and rushed for 100 yards and a score. He also played through a number of big hits from Trojans defenders.
Marquis Flowers, LB, Arizona: Flowers created three USC turnovers -- a forced fumble and two interceptions -- and recorded seven tackles.
Johnathan Franklin, RB, UCLA: Carried the ball 26 times for 164 yards (6.3 average) with two rushing touchdowns in the win over Arizona State. When a big play was needed, Franklin delivered.
De'Anthony Thomas, RB/WR, Oregon: Wow. I mean, seriously. Wow. His five carries for 97 yards (that would be a 19.4 average for those without calculators) and a touchdown were nice. But the punt return. I mean, wow.
Ka'imi Fairbairn, K, UCLA: Clutch. Oh, so very clutch. The true freshman nailed a 33-yard field goal as time expired to lift the Bruins over the Sun Devils in Tempe.
Sean Parker, S, Washington: The Huskies won with defense (that still feels weird to write) and Parker was everywhere for the Huskies in their upset over Oregon State. He had one of Washington's four picks, broke up three passes and was a physical presence throughout the game.
Reggie Dunn, KR, Utah: What's better than a 100-yard kickoff return? Two of them. The first was Utah's first score of the game after the Bears took a 3-0 lead. The second came in the fourth quarter when the Utes were already ahead 42-13.
October, 27, 2012
10/27/12
7:10
PM ET
UCLA true freshman
Ka'imi Fairbairn
connected on a 33-yard field goal as time expired to give the visiting Bruins a
45-43 road victory
over the
Arizona State Sun Devils
.


Taylor Kelly
connected with
D.J. Foster
with 1:33 remaining in the game to put Arizona State ahead 43-42 in a critical, back-and-forth Pac-12 South showdown.
UCLA quarterback
Brett Hundley
took over at his own 25-yard line with 1:33 to play and moved the Bruins (6-2, 3-2) down to the ASU 15-yard line. He was 4 of 7 on the final drive (two attempts were spikes) for 40 yards.
"He might be young in age, but that sucker is so mature and he's unflappable," UCLA coach Jim Mora told FX after the game. "I've been saying it since spring. Nothing bothers him. He just executed beautifully and that was wonderful."
Fairbairn, who is now 10 of 10 on field goals inside 36 yards, but is 0 for 5 outside that range, drilled the deciding kick dead center.
"Ka'imi, he's struggled a little bit, let's be serious, but we all kept confidence that he was going to knock that through," Mora said. "Man, I'm so proud of these young men."
Hundley finished 19 of 31 for 274 yards with three touchdowns. Running back
Johnathan Franklin
had a very strong game, rushing for 164 yards on 26 carries with a pair of touchdowns.
The game smacked of the 2011 match up, which UCLA won 29-28 when ASU missed a last second field goal.
It looked like it wasn't going to be a nail biter early. The Sun Devils (5-3, 3-2) jumped ahead 14-0 in the first five minutes on a touchdown pass from Kelly to
Kevin Ozier
and a touchdown run from
Marion Grice
.
But the Bruins stormed back and seized momentum at the end of the first half when Kelly threw an ill-advised ball from his end zone, which was picked off by
Dalton Hilliard
. Franklin darted in on the next play to give the Bruins a 21-17 lead at the break.
The teams went back-and-forth in the second half before ASU took the lead in the closing minutes, setting up Fairbairn's finish.
Aside from the one interception, it was a very strong game from Kelly, who completed 25 of 35 balls for 315 yards and four touchdowns. ASU's backs continued to be impactful in the receiving game with Foster catching seven balls for 107 yards and the score. Grice caught six balls for 69 yards and two touchdowns.
But ultimately it came down to the play of a redshirt freshman quarterback and a true freshman kicker.
"We needed this," Mora said. "The resilience and the resolve our young men showed, they never stopped believing."