NCF Nation:

Kalani Sitake
July, 23, 2013
7/23/13
5:30
PM ET
Utah's defense wasn't bad last year, particularly when you consider it was supported by an anemic offense. But there was a decided lack of big plays that transferred momentum to the team in red.
Here are two telling measures.
Utah forced just 22 turnovers. That ranked 10th in the conference. Six Pac-12 teams forced more than 30.

Opposing offenses scored touchdowns on 31 of 43 red zone trips -- 72 percent. The only conference team that was worse was woeful Colorado.
The loose correlation there? Playmaking. Who's going to make the play that stops a drive short of the end zone?
[+] Enlarge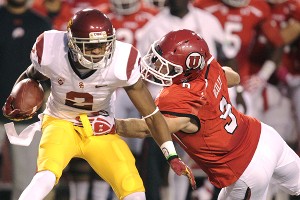 AP Photo/Rick BowmerUtah will need defensive end Trevor Reilly to be a playmaker this fall.
"We have to make those few plays that win you games," Utes defensive coordinator Kalani Sitake said. "That's the difference between an 8-4 year and a 5-7 year. We didn't make enough of those big-time plays."
Overall, the Utes were pretty middling on defense in 2012, even with massive defensive tackle Star Lotulelei gobbling up blockers. They ranked seventh in the Pac-12 in scoring defense (25.1 points per game) and fifth in total defense (363.5 yards per game). They were still strong against the run, ranking second in the conference. But the end result was lagging.
What Sitake realized is the Pac-12 had something to do with that. In their second year after making the move up from the Mountain West, the Utes saw an injury bug slow down starters and hit their depth. Banged up guys playing more plays than they should is not good anytime but particularly against up-tempo offenses.
"You can't just have just 11 starters anymore with everyone doing these uptempo offenses," Sitake said. "Your twos have to be as good as your ones because they are going to play a lot of snaps."
Utah is still catching up with the rest of the Pac-12 when it comes to top-to-bottom depth.
Further, two of Sitake's top playmakers, defensive end
Trevor Reilly
and linebacker
Brian Blechen
, didn't have the seasons they'd hoped for due to nagging injuries, not to mention Blechen's three-game suspension. Reilly hobbled around on a bum knee the entire season, though he still ended up leading the team in tackles.
The good news is both are now healthy. Blechen is back at linebacker and back to 230 pounds. Reilly will be at defensive end instead of outside linebacker.
The questions are at linebacker and cornerback, positions where fall competition should be fierce.
Replacing Star? Not possible but also not a pressing problem.
"You can't replace him," Sitake said. "But we've always had reliable, strong D-tackles. There's never been a shortage of that at Utah."
Sitake is high on JC transfer
Sese Ianu
, who likely will rotate at tackle with
LT Tuipulotu
and
Tenny Palepoi
.
Blechen will lead the linebackers, but the other two spots aren't filled, as
LT Filiaga
is listed as an "Or" behind
V.J. Fehoko
and
Jared Norris
at both middle and rover linebacker, respectively.
In the secondary, things are solid at safety, but the top three cornerbacks from 2012 need to be replaced.
Sitake is optimistic he'll find some answers this fall. But his big-picture hopes aren't focused on specific positions.
"I'd like to see our depth get better," he said. "I'd like for us to remain healthy."
And he'd like to see a few more game-changing plays.
November, 20, 2012
11/20/12
3:10
PM ET
For much of the past two seasons, as Jeff Tedford sat firmly on the proverbial hot seat, the question was whether California could afford to fire its winningest coach. There was no buyout in Tedford's contract, so it would cost nearly $7 million to dispatch him, and that didn't include paying off his coaching staff.
And, of course, there were issues of loyalty. Tedford transformed a program that went 1-10 and played in a crumbling, half-empty stadium the season before he arrived, building it into a consistent winner that could afford massive facility upgrades.
On Tuesday, Cal administrators concluded that
they couldn't afford not to fire Tedford
, who completes the longest continuous, and current, tenure in the Pac-12 with an 82-57 record in 11 seasons in Berkeley.
The reasons for the not-unexpected firing are obvious. Tedford is 15-22 overall and 9-18 in Pac-12 play since going 8-5 in 2009. The Bears went 3-9 this year, the worst record of Tedford's tenure, including a five-game losing streak to end the season. Crowds at newly remodeled Memorial Stadium were dwindling, threatening Cal's Endowment Seating Program, which was supposed to play a central role for financing the stadium renovation.
Over the past four seasons, California lost 16 games by at least 17 points, and it is riding a three-game losing streak in the Big Game to Bay Area rival Stanford, which could end up in its third consecutive BCS bowl game this January.
[+] Enlarge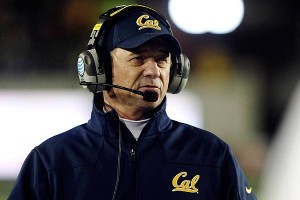 Kelley L Cox/US PresswireJeff Tedford's Bears lost their final five games to finish 3-9 -- the head coach's worst season at Cal.
The program has been in a downward trend and showed no signs this season of reversing that negative momentum. Fans were turning away just when they -- and their money -- were needed most. So, it was decided, a coaching change was critical to reverse the tide.
"This was an extraordinarily difficult decision, one that required a thorough and thoughtful analysis of a complex set of factors," Cal athletic director Sandy Barbour said in a statement. "Ultimately, I believed that we needed a change in direction to get our program back on the right track. Cal football is integral to our department and our university, and its influence can be felt well beyond the walls of Memorial Stadium."
So what's next? Well, Cal first has to decide how much it's willing to pay.
Tedford's 2012 salary is $2.3 million, which is a lot to most of us but not that much among elite coaches, particularly when you adjust for the Bay Area's cost of living. That's like making $1.6 million if you lived in Tuscaloosa, Ala. If Cal wants to pursue, say, Cincinnati's Butch Jones, they'd have to pay him $2.3 million just to match the value of Jones' current $1.6 million salary.
A front-line head coach likely will cost at least $2.5 million to $3 million. And then you have to hire his staff. Top coordinator salaries have risen to between $500,000 and $1 million. Washington is paying defensive coordinator Justin Wilcox $750,000 this year.
So this could get expensive.
Of course, the Bears also could do what they did when they hired Tedford away from Oregon: Find a hot coordinator.
Names you likely will hear: Wilcox, Oregon offensive coordinator Mark Helfrich, Stanford offensive coordinator Pep Hamilton and Stanford defensive coordinator Derek Mason.
Bears fans have been frustrated by Cal's QB play since Aaron Rodgers went to the NFL. Well, UCLA offensive coordinator Noel Mazzone rebuilt two offenses -- and two QBs -- in the past two seasons (at Arizona State and now with the Bruins).
Then you could trot out some other hot names in no particular order: Charlie Strong, Louisville; Art Briles, Baylor; Sonny Dykes, Louisiana Tech; Willie Taggart, Western Kentucky; and Gary Anderson, Utah State.
And coordinators: Kirby Smart, Alabama; Chad Morris, Clemson; Todd Monken, Oklahoma State; Brent Venables, Clemson; Lorenzo Ward, South Carolina; Kalani Sitake, Utah; Pat Narduzzi, Michigan State.
Or Cal could look to the NFL.
From the Cal statement: "Barbour said that a national search for a new head coach, which will be aided by the firm of DHR International, will begin immediately. She did not indicate a timetable for hiring a replacement, adding that Cal Athletics will have no further comment on the search until a new coach has been selected."
Tedford will land on his feet. He is plenty respected among other coaches. Don't be surprised if he lands another job in a major conference. Or the NFL.
He has proved he can build a program. As we've previously noted, in 24 seasons before he arrived in Berkeley -- 1978 to 2004 -- Cal won three or fewer games 10 times while winning seven or more games four times. Tedford suffered just two losing seasons in 11 years and has won 10 games twice and nine games once. Before he took over, Cal's last winning season came in 1993.
But football is a zero-sum game. You either win or you lose. Tedford set an early pattern of winning, but losing was the recent trend. The program seemed to plateau, then slide.
Further, Stanford's fortunes were rising, as were other Pac-12 teams with new coaches, such as UCLA, Arizona and Arizona State.
In the big business of college football, losing isn't accepted, particularly when rivals are winning.
July, 13, 2012
7/13/12
9:00
AM ET
ESPN.com's week of looking at coaches continues with the question: Which assistant coaches are ready to move up to the big office?
There are several in the Pac-12. Here are a few:

Justin Wilcox, Washington, defensive coordinator
: It seems like it's just a matter of time for Wilcox, who has been a hot assistant coach for years after building an elite defense at Boise State under Chris Petersen. He is young -- 35 -- and has been around. If he transforms the rotten Huskies defense into a top-ranked unit, he'll have his pick of jobs. By the way, Brock Huard
beat me to the punch on this one
.
Mark Helfrich, Oregon, offensive coordinator
: Word on the street was that if Chip Kelly had left for the Tampa Bay Buccaneers, Helfrich would have been promoted to replace him, a decision made behind the scenes by the same folks who identified Kelly's talent. While folks see the Ducks' high-powered offense as Kelly's baby -- and it is -- Helfrich's role is underrated. He also understands how Kelly built a culture, which is more important for a head coach than X's and O's.
Pep Hamilton, Stanford, offensive coordinator
: Hey, he is the
Andrew Luck Director of Offense
! Hamilton has been around -- both in college and the NFL -- and he has a way about him that suggests he would be a capable team CEO. He is a charismatic guy who is a good teacher and likes a smashmouth style of play. And the Cardinal offense has been a thing of beauty for three seasons.
Noel Mazzone, UCLA, offensive coordinator
: Mazzone is old, 55, and follically challenged, but if he creates a strong offense at UCLA after doing the same at Arizona State, it's hard to imagine that some smart athletic director out there won't bite. Mazzone has coached just about everywhere, and a few years ago he reinvented himself as a spread offense/quarterback guru. He is an outgoing, likable guy who is great with the media, but that shouldn't be held against him. At least no more than his haircut.
Kalani Fifita Sitake, Utah, defensive coordinator
: Sitake has a few things going for him. For one, it's become clear that he can coach the heck out of a defense. Second, he has risen through the ranks at Utah learning from Kyle Whittingham, one of the nation's best coaches. Third, some AD at some point is going to go: "If we hire a native Tongan, I wonder if that might help us recruit the thousands of Polynesian athletes who scatter across the college football nation annually?"
February, 2, 2012
2/02/12
11:53
AM ET
When Utah coach Kyle Whittingham tapped Norm Chow as his offensive coordinator last year, he got a celebrated, experienced veteran. With Chow off to the islands as Hawaii's new head coach, Whittingham is going with youth, energy and potential this go-around.
Whittingham has promoted has promoted Brian Johnson from
quarterbacks coach to offensive coordinator
.

Johnson, who will turn 25 on Feb. 16, has been the Utes quarterbacks coach for just a year. He will continue to coach quarterbacks, and it seems likely that the Utes will use more of a spread-option scheme in 2012 as they did before Chow arrived with a pro-style offense.
"After spending the past month conducting a national search for an offensive coordinator, it became very apparent that we had the best candidate for the job right here on our own staff," Whittingham said in a statement. "Brian is a leader and a special coaching talent, just as he was a special player, and he is the right person to lead our offense."
The winningest quarterback in Utah history, going 26-7 as the Utes' starter, Johnson was the MVP of the blowout victory against Alabama in the 2009 Sugar Bowl, which capped a 13-0 season.
This is a bold move for Whittingham -- if there are any 24-year-old coordinators with any other AQ team, none come immediately to mind -- and a huge career boost for Johnson. Simply put, if he's successful he will become a head coach before he turns 30.
"I am excited that Coach Whittingham has given me this opportunity and I am prepared for the challenge," Johnson said in a statement. "I'm looking forward to working with a great coaching staff and putting together a productive offense that will help us win a conference championship. I've had many good mentors as a player and a coach, including Dan Mullen, Andy Ludwig, Aaron Roderick and Norm Chow."
Whittingham also announced other staff moves. Defensive coordinator Kalani Sitake was given the title of assistant head coach. Aaron Roderick, in his eighth year coaching the receivers, will also serve as the passing game coordinator.
Sitake, 36, has become a hot defensive coordinator since being promoted from linebackers coach in 2009. Roderick was the Utes' co-offensive coordinator before Chow arrived, and he applied for the job that went to Johnson.
Dan Finn, a Utah graduate assistant from 2004-06, has been hired to coach the centers and guards. Finn spent last season as the offensive line coach at San Diego State, and the previous four years as the offensive line coach at Idaho (2007-10). Tim Davis, Utah's offensive line coach in 2011, will now concentrate on coaching the tackles and tight ends.
Jay Hill, in his eighth season as a full-time assistant, takes over the running backs for Dave Schramm, who was hired as Fresno State's offensive coordinator. Hill has served two different stints as the cornerbacks coach, most recently in 2010 and 2011, and oversaw the tight ends from 2007-09. He remains Utah's special teams coordinator.
Sharrieff Shah, a starting safety for the Utes from 1990-93 and a three-year team captain, returns to his alma mater to coach the cornerbacks. Shah, a Salt Lake City attorney since 2001, was a certified NFL agent from 1996-2002, representing players in the NFL, CFL and NFL-Europe. He received his bachelor's, master's and law degrees from the University of Utah. Shah has also served as the team's sideline reporter for ESPN 700 radio for the past 12 years.
December, 31, 2011
12/31/11
5:28
PM ET
The general feeling after the regular season ended was Washington defensive coordinator Nick Holt was safe heading into 2012, barring, perhaps, an utter disaster in the Alamo Bowl against Baylor.

Well, giving up 67 points and 777 yards was an utter disaster for the Huskies' defense, and that made the
announcement of Holt's termination
Saturday not terribly surprising.
Holt and Huskies head coach Steve Sarkisian are friends who have known each other for a long time. But sentiment wasn't enough to save Holt after his third year on the job produced one of the worst defenses in program history. It didn't help that, at $650,000 annually, he was one of the nation's highest paid coordinators.
Including Holt, Sarkisian cleaned house on defense, firing linebackers coach Mike Cox and safeties coach Jeff Mills. Toss in the departure of secondary coach Demetrius Martin, and the Huskies' defensive staff will be almost completely rebuilt in 2012. Defensive line and special teams coach Johnny Nansen is the only defensive coach who will be back next season.
What -- and who -- is next for the Huskies' defense?
Bob Condotta of the Seattle Times
pointed out
that Sarkisian previously tried to hire former USC defensive coach Rocky Seto, who is now defensive backs coach for the Seattle Seahawks under Pete Carroll.
Rocky Seto, who is now defensive backs coach with the Seahawks. Seto also worked with Sarkisian at USC and was offered the coordinator's job at UW in a period when Holt initially turned it down before later accepting. Seto last year was offered the defensive coordinator's job at UCLA.
Sarkisian also might be wise to take a look at Utah's Kalani Sitake. Sitake, a candidate for the Hawaii head coaching job that was filled by Norm Chow, might want to spread his wings, as head coach Kyle Whittingham still receives a lot of credit for the success of the Utes' defense.
But the contract Holt signed would raise a lot of eyebrows across the country. Sarkisian certainly can go after an A-list coordinator.
Condotta also pointed out the that all three now former assistants had two-year contracts, meaning Washington will be on the hook for another year of salaries at a total of $1.025 million: "Holt's official salary at UW was $650,004, Cox's was $220,008 and Mills' was $155,004."
In other words, Sarkisian decided that improving the Huskies' defense was an urgent need.
October, 7, 2010
10/07/10
11:45
AM ET
Well, look who is right back in the top 10.
None other than the original BCS busters.
Utah has skyrocketed from no ranking in the preseason AP poll to No. 10 after a few short weeks, thanks in part to a team that has quickly come together. A favorable schedule has not hurt, either.
Now the Utes face perhaps their biggest challenge of the young season -- going on the road against an Iowa State team that easily dispatched Texas Tech last week.
[+] Enlarge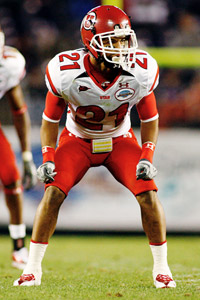 Ric Tapia/Icon SMICornerback Lamar Chapman attributes the defense's chemistry to the team being so "unified."
"We're going to be the small guys coming in trying to prove ourselves against a bigger program," defensive coordinator Kalani Sitake said in a phone interview. "We know we're going into Big 12 country, and we need to show well."
Utah is not going to be use the "small guys" talking point for much longer, since it is moving to the Pac-10 next season. But there is no question the Utes are trying to make a statement in their final year in the Mountain West.
Perhaps they are flying under the radar with No. 4 Boise State and No. 5 TCU ranked ahead of them. Perhaps there are those out there who are not quite taking them seriously just yet, not with wins over teams that are a combined 4-15 at this point in the season. Utah needed overtime to beat what is turning out to be a pretty average Pittsburgh team, and has beaten up on UNLV, winless New Mexico, and a San Jose State team that just lost to FCS UC-Davis.
There is no question the schedule is back-loaded, but there is something to say for the way Utah has performed despite the competition. The Utes came into the season needing to replace seven starters on defense, including all three starting linebackers. These four games have allowed them not only to build chemistry, but build depth because so many players have gotten into games.
That will only help when the schedule gets tougher. Starting Oct. 30, Utah must play at Air Force, home to TCU, at Notre Dame, at San Diego State and then closes out with arch rival BYU.
"Going into our fifth game, this is where we wanted to see our defense," Sitake said. "They're playing well as a unit. You don't know a lot of the names that are brand new, but in time they become guys you are used to hearing on the field making plays."
Indeed, this defense is ranked No. 7 in scoring defense and No. 7 in total defense. They rotate nearly a dozen players on the defensive line, making them one of the deepest units in college football. The new starting linebackers: former walk-ons on Chaz Walker and Matt Martinez, and a former quarterback in Chad Manis. They are the heart of the team because they help set the aggressive tone.
"Those guys are crazy. I try to stay out of their way," joked cornerback Lamar Chapman, who leads the team with 3.5 sacks. "They have bleached hair, torn shirts. Those are some nasty guys."
When asked to describe how the defense has come together so quickly, Chapman said, "The team as a whole, we're very unified. We hang out a lot. We chill on weekends. The majority of the time, we're all together. I was here during the '08 season. I feel like we're more unified."
Coach Kyle Whittingham has made similar comments. That 2008 team went undefeated and ended up beating Alabama in the Sugar Bowl.
As for the mentality of the defense, Sitake has an easy explanation:
"They are trying to be tough guys, but toughness is more than being out there and pounding your chest. It's a guy who's going to sacrifice and do things guys aren't willing to do. To me that's what defines toughness, guys that are doing the little things and not getting the credit for it. The defense has done that. They're willing to sacrifice for a win. When you have guys who do that and are not worried about their stats, then you will win a lot of games."