NCF Nation:

Kaleb Johnson
December, 22, 2014
12/22/14
11:00
AM ET
A year ago at this time
Gary Nova
did not want to talk about football.
The Rutgers quarterback and team captain, who had not played in the last two games of the 2013 regular season, had just learned he would be watching the team's appearance at the Pinstripe Bowl from the sideline as well. The night he was officially benched, his roommate, offensive lineman
Kaleb Johnson
, returned to their apartment to find Nova despondent.
Johnson knew this drill. He picked up food and rented a movie. They burrowed in, and he steered conversation toward more pleasant topics. Under no circumstance did he mention anything to do with football.
[+] Enlarge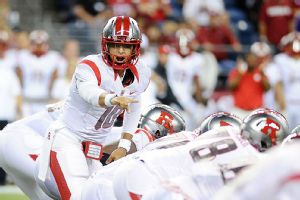 James Snook/USA TODAY SportsGary Nova holds the Rutgers record for TD passes (71) and needs 310 yards in the Quick Lane Bowl on Dec. 26 to be the program's all-time leading passer.
"He came home in tears," Johnson said. "We just tried to get his mind off of it. The next day we told him to refocus his energy on getting his spot back."
Nova didn't play in the Pinstripe Bowl, but he did win back his spot during offseason workouts. He started all 12 games for the Scarlet Knights (7-5) this year during their first Big Ten season. He set the school's career record for touchdown passes (currently 71) in late September and needs 310 yards against North Carolina in the Quick Lane Bowl on Dec. 26 to be the program's all-time leading passer. Nova has no problem talking football during this bowl season.
A year of ups and downs -- there were a few significant speed bumps even after he returned to the starting lineup -- is nothing new for Nova. He is one interception away from setting the Rutgers' career mark in that category, too. His 40 starts swing like a pendulum between emotional highs and lows, fourth-quarter comebacks mixed with scathing reviews and the occasional social media threat. It's a ride he says he would not have managed without the support of longtime teammates and his nearby family.
"It was tough when you had people booing, or you read stuff in the paper that's about yourself," Nova said. "My teammates have been a great help. ... They just tried to give me that pat on the back and say, 'Hey don't listen to that. You know what the people who really matter think.'"
Nova's first taste of the zany twists and turns of college football came before he arrived on campus. The New Jersey native originally committed to be a part of Pitt's 2011 recruiting class. He visited Rutgers, 20 miles from his home in Elmwood Park, only out of respect for former coach Greg Schiano. But when the Panthers rolled through three head coaches in less than two months that winter, Nova opted for the more stable situation close to home.
Being close to his parents and his two brothers provided a much-needed place to vent during his career. Nova drove home just about every other weekend during his first year on campus. Johnson usually tagged along to spell his own homesickness and a fill up of Daisy Nova's Dominican cooking. That duo escaped to Elmwood often enough during their time at Rutgers that the family put Johnson's photo on the refrigerator as an honorary brother. Nova still asks pesky reporters to steer clear of his family members. They are his getaway, untainted by talk of football.
The frequency of those trips picked up last December as Nova stewed on the scout team during bowl prep.
"Not getting first-team reps and then watching the game from the sideline, I let all of that emotion boil up inside of me and used it to drive me through the tough days in the summer," he said.
Johnson said Nova turned into the team's biggest leader during winter workouts. His doubled-down work ethic and the arrival of new offensive coordinator Ralph Friedgen gave Nova a fresh start.
In their first meeting, Friedgen told Nova he knew all about his reputation for inconsistency. He told the senior he didn't care, that he wanted to give him a clean slate. They started with basics, learning about defensive coverages rather than Rutgers' playbook. Friedgen preached about fundamental ways to read a defense that he assumed someone had already taught Nova. No one had, and Nova started to see the field more clearly.
When the senior threw five interceptions and was booed on his home field in Rutgers' Big Ten debut, a 13-10 loss to Penn State, Friedgen was the first to give Nova a hug and tell him that he still believed in him. The ebbs and flows that have plagued his career continued to pop up occasionally this season, but Friedgen and Nova's teammates remained firmly behind. Stay strong, they told him, all's well that ends well. And with Nova, even when things start poorly, they have a history of ending well.
Nova refused to go to school some days as a high school freshman. His parents enrolled him at Don Bosco Prep, a private all-boys school 20 minutes from home. It was a different crowd and a different culture. His grades suffered. He was miserable. Eventually, football helped him assimilate.
It was there that he met Rutgers' leading receiver Leonte Caroo, who has been his teammate for six of the past seven years and another steady crutch to lean on in bad times. They went 24-0 and won two state titles for one of the best high school teams in the nation during Nova's two years as a starter. That is when his mother started to tell him he was a natural born "overcomer."
"I didn't see the bigger picture at such a young age," Nova said. "But I'm glad I stuck with it."
The same pattern of tumult followed by triumph continues to play out for Nova in macro and micro ways. The crazy offseason at Pitt led him to stay at home where he found the support he needed. His benching last November motivated him to win a starting job.
On the field, he has engineered seven fourth-quarter comebacks during his career, which ties him for the lead among active FBS quarterbacks. His most recent addition to that list came in a 41-38 comeback against fellow Big Ten newcomer Maryland to wrap up the regular season. The Scarlet Knights trailed by 25 points late in the second quarter before three touchdown passes from Nova opened the door for the biggest comeback in the program's 145 years.
"Gary has done a lot in his career at Rutgers and he will go down as one of the all-time greats even before playing this game," head coach Kyle Flood told reporters after the victory. "Does this game add to his legacy? Of course it adds to it, but I don't think it defines Gary. I think it's a great example of what he is and what he has done for this program."
Memories of last year's bowl season still linger for Nova in the wake of that comeback win. He has one more pendulum to swing in the right direction before he leaves.
August, 21, 2014
8/21/14
9:00
AM ET
There is no official preseason all-conference team in the Big Ten (or official predicted order of finish, etc.). But we here at ESPN.com have got you covered with our preseason all-league picks on offense, defense and special teams.
And here they are:
Offense
QB: Connor Cook, Michigan State
:
Braxton Miller
's injury opened up this spot on the first team. Penn State's
Christian Hackenberg
and Indiana's
Nate Sudfeld
were potential choices here too, but Cook's Big Ten title game and Rose Bowl MVP finish earn him the nod.
RB: Melvin Gordon, Wisconsin
: Well, sure. He could lead the nation in rushing, unless ...
RB: Ameer Abdullah, Nebraska
: ... Abdullah, his good friend, beats him to it. In a league blessed with great running backs, these two stand out the most.
WR: Stefon Diggs, Maryland
: There is a lot of uncertainty in the Big Ten at receiver heading into 2014. This much is certain: If Diggs can stay healthy, he'll be one of the nation's best.
WR: Shane Wynn, Indiana
: Wynn scored more touchdowns than any other Big Ten receiver the past season, and now he steps into a more featured role.
TE: Devin Funchess, Michigan
: Funchess might play wide receiver almost exclusively, in which case this should be viewed as a third wide receiver spot on the team. The matchup nightmare looks poised for a big season.
OT: Brandon Scherff, Iowa
: He might just be the best left tackle in college football in 2014. He's definitely got NFL scouts drooling.
OT: Rob Havenstein, Wisconsin
: An enormous road grader at right tackle. Trying to shed him and catch Melvin Gordon is just not fair.
OG: Kaleb Johnson, Rutgers
: He thought about leaving for the NFL after the past season but instead gave the Scarlet Knights a boost by returning. He has started 37 straight games.
OG: Kyle Costigan, Wisconsin
: He could be the next rising star in Wisconsin's offensive lineman factory.
C: Jack Allen, Michigan State
: A second-team All-Big Ten pick the past season, the former high school wrestling champion has no let up in his game.
Defense
DE: Shilique Calhoun, Michigan State:
He's the returning Big Ten defensive lineman of the year and could become the conference's defensive player of the year in 2014, unless ...
DE: Randy Gregory, Nebraska:
... Gregory edges him out for the honor. The pass-rush specialist outpaced Calhoun in sacks (10.5) the past season, and Bo Pelini said Gregory has "
only scratched the surface
of what he's going to be down the line."
DT: Michael Bennett, Ohio State:
He anchors the best defensive line in the conference and was named to the All-Big Ten's second team last season.
DT: Carl Davis, Iowa:
He still thinks Scherff would get the best of him if they squared off, but Athlon thought highly enough of Davis to make him a fourth-team preseason All-American.
LB: Chi Chi Ariguzo, Northwestern:
The quiet Ariguzo likes to let his play do the talking, and it chatted up a storm this past season -- to the tune of 106 tackles and four interceptions.
LB: Mike Hull, Penn State:
He was a coin-flip from transferring to Pittsburgh during the sanctions, but now he's the leader of this revamped defense.
LB: Jake Ryan, Michigan:
Ryan shocked onlookers last season by taking less than seven months to go from ACL surgery to playing in a Big Ten game. Hopes are higher now for the healthy redshirt senior, as he has registered a stop in the backfield in 25 of his past 30 games.
CB: Trae Waynes, Michigan State:
He's taking over at
Darqueze Dennard
's boundary cornerback position, but he's up for the challenge. He's already on the watch lists for the Bednarik and Thorpe awards.
CB: Blake Countess, Michigan:
He tied for the Big Ten lead in interceptions (6) the past season -- despite
battling lower abdominal pain
most of the year.
S: Kurtis Drummond, Michigan State:
The blue-collar DB started 21 straight games and was a Sports Illustrated All-American the past season.
S: Ibraheim Campbell, Northwestern:
A smart and instinctive player, Campbell has been remarkably consistent for the Wildcats. He's a three-time all-academic B1G player and has eight career interceptions.
Special teams
K: Michael Geiger, Michigan State
: As a freshman in 2013, he made 15 of his 16 field-goal attempts.
P: Mike Sadler, Michigan State
: An ESPN.com All-American in 2013, Sadler combines with Geiger to give the Spartans the best 1-2 kicking tandem in the league.
KR: Kenny Bell, Nebraska
: He led the Big Ten in return yardage the past season (averaging 26.5 yards per kick) and took one 99 yards for a touchdown at Penn State.
PR: Kevonte Martin-Manley, Iowa
: He averaged 15.7 yards per return in 2013 and scored on two punt returns in the same game.
Selections by school:
Michigan State: 7
Iowa: 3
Michigan: 3
Nebraska: 3
Wisconsin: 3
Northwestern: 2
Indiana: 1
Maryland: 1
Ohio State: 1
Penn State: 1
Rutgers: 1
Illinois: 0
Minnesota: 0
Purdue: 0
May, 7, 2012
5/07/12
9:00
AM ET
PISCATAWAY, N.J. -- Any time former Rutgers coach Greg Schiano was asked about his embattled offensive line, he always had a stock answer prepared.
Rutgers did not decline overnight, he would say. And Rutgers would not emerge from the decline overnight, either.
Schiano used to point to several recruiting lapses following the 2007 season -- first-round pick
Anthony Davis
was the lone bright spot. The season after Davis' departure was the low point, as Rutgers gave up 65 sacks in 2010 and had one of the worst lines in the nation. There was a change in scheme that contributed to the slide. Plus, Rutgers always seemed to move its players all over the line.
A move back to the preferred pro-style offense last season helped the Scarlet Knights improve, though they still struggled in the run game. Schiano continued to maintain there was a long way to go, even with the development of freshman All-American
Kaleb Johnson
.
[+] Enlarge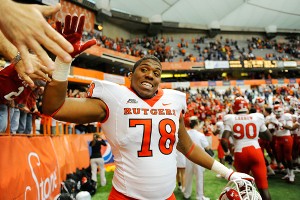 Cal Sport Media via AP ImagesOL Taj Alexander, a converted defensive lineman, won the Mark Mills Second Effort Award, given to the most improved offensive player.
Through all of this, we rarely heard from the man in charge of coaching the offensive line. The man who is now head coach at Rutgers, Kyle Flood. Schiano did not make his assistants available to the media; hence, there never was much of an opportunity to hear what Flood had to say about the struggles.
So when I visited campus last month, I asked Flood for his perspective on the decline of the offensive line, considering this was the position he had coached since 2005.
"I think that happens in programs," Flood said. "Recruiting is much more of an art than it is a science. Offensive line is the position probably where the recruiting part of it is projected more than other positions, and the game is significantly different up front. What makes you effective as a high school offensive lineman doesn't always make you effective in college. But with that being said, what we do have is some really good, young offensive linemen in our program right now. A guy like Kaleb Johnson, a guy like
Betim Bujari
.
"We've also had some success with guys who have moved over from defense. One of the things that maybe kept us from being what we wanted to be was Desmond Wynn not being healthy. Desmond Wynn was healthy finally for an entire season last year. When you lose a player like that, it's a significant loss. But I don't think we're the only one who's gone through that situation where you recruit a kid and it doesn't work out. But when you have that, and then you have an injury situation it makes it harder for sure."
Taj Alexander, a defensive tackle who switched to offensive line last season, won the most improved offensive player award this spring. He played both guard and tackle. What really hurt Rutgers was losing time with players because of injury: Johnson missed all of spring, Bujari was out for most of it with an ankle injury, and center
Matt McBride
missed a few practices with an injury as well.
There really is no set offensive line headed into the offseason. Guys like
Dallas Hendrikson
and
R.J. Dill
are going to be counted on to step up. And Rutgers did just sign one of its best offensive line classes in recent history as well.
"What I'm excited about is how many young offensive linemen we have," Flood said. "The key is where do they fit and we have to leave them there and let them grow. Any time you move a guy it stunts his progress a little bit.
"I'll know more about the line in August. Right now it's hard to gauge. To me, the biggest factor in all that is who is going to be our starting center? Is it going to be Dallas, McBride, Betim? That one is still up in the air. I've got a good feeling for what I think Betim can do in there. Now we have to see how everybody else does and go from there."
December, 16, 2011
12/16/11
9:00
AM ET
Earlier this week, I listed a few of my
top freshmen in the Big East
. Now I present my Big East All-Freshman team. True freshmen and redshirt freshmen are included. Some positions were much easier to fill than others. Here is my team:
Offense
QB:
Teddy Bridgewater
, Louisville
RB:
Lyle McCombs
, UConn
RB:
Dustin Garrison
, West Virginia
WR:
Michaelee Harris
, Louisville
WR:
Deonte Welch
, USF
WR:
DeVante Parker
, Louisville
OL: Kaleb Johnson, Rutgers
OL: Quinterrius Eatmon, USF
OL: Jake Smith, Louisville
OL: John Miller, Louisville
OL: Eric Lefeld, Cincinnati
Defense
DL: B.J. Dubose, Louisville
DL: Elkino Watson, USF
DL: Jamaine Brooks, Louisville
LB: Yawin Smallwood, UConn
LB: Dyshawn Davis, Syracuse
LB: Todd Thomas, Pitt
LB: Jewone Snow, West Virginia
DB: Ty-Meer Brown, UConn
DB: Calvin Pryor, Louisville
DB:
Andrew Johnson
, Louisville
DB:
Byron Jones
, UConn
Specialists
K: Tony Miliano, Cincinnati
P: Jonathan Fisher, Syracuse
KR:
Jeremiah Kobena
, Syracuse
The toughest choices for me were at running back and receiver. I went back and forth between Garrison and Rutgers redshirt freshman
Jawan Jamison
. Their yardage and touchdown totals are virtually identical, but Garrison has a much better yards per carry average and was a more explosive player this season. Receiver was probably the toughest because of the three freshmen receivers for Louisville. I had
Eli Rogers
on this list at various points, but went with Parker because of his six touchdown receptions.
You also see only three down linemen. There were simply not many impact freshmen defensive linemen in the league this year. The same goes for cornerback (which is why I went with three safeties) and tight end. Those were the three weakest positions for freshmen in the league. Receiver, running back and linebacker were the strongest.
December, 14, 2011
12/14/11
10:00
AM ET
Several true and redshirt freshmen made a big impact in the Big East this season. Who was the best of the best? Here are my top impact freshman, and one to watch in 2012.
Tops in 2011:
Teddy Bridgewater, QB, Louisville.
Bridgewater won the Big East Newcomer of the Year award for good reason. He took over the starting quarterback job after leading the team to a victory over Kentucky and set the school record for passing yards by a freshman with 1,855. He also ranks No. 12 on the Scouts Inc.,
top 25 freshman players list
. They say, "His ability to improvise when the play starts to break down is his greatest strength. He is able to buy time with his feet and he has the arm strength to zip the ball downfield when he rolls out."
Lyle McCombs, RB, UConn.
McCombs was expected to share carries with
D.J. Shoemate
when the year began. But after Shoemate got hurt, the rushing load fell to McCombs and he delivered. McCombs led the Big East in rushing with 1,115 yards -- the ninth-highest single-season total in school history and the second among freshmen at UConn. He was a second-team All-Big East selection, and also ranked No. 3 in the Big East in all-purpose yards. He ranks No. 24 on the Scouts Inc., list. They say, "McCombs is an undersized back with a nice combination of quickness and elusiveness as a runner. He flashes exceptional lateral agility to make defenders miss in a confined area and has the acceleration to squeeze through tight creases."
Elkino Watson, DT, USF.
Watson was part of the two-deep rotation and ended up with one sack and nine tackles for loss.
Ralph David Abernathy IV, KR, Cincinnati.
Abernathy emerged as a top special-teams player, averaging 24.7 yards on kickoff returns. His long went for 74 yards this season, and he finished with 914 total yards on kickoff returns.
Dustin Garrison, RB, West Virginia.
Garrison emerged from a trio of runners to be the top back for the Mountaineers, rushing for 742 yards and six touchdowns. His average of 5.5 yards per carry was the best among the top 10 statistical rushers in the Big East.
Dyshawn Davis, LB, Syracuse.
Davis started all 12 games, recording four sacks and 10.5 tackles for loss and a forced fumble.
Jeremiah Kobena, KR, Syracuse.
Kobena led the Big East with 1,027 yards on kickoff returns, returning 45 kicks for an average of 22.8 yards. His yardage total ranks second on the Syracuse single-season record list and third on the Big East single-season list.
Yawin Smallwood, LB, UConn.
Smallwood finished tied for No. 6 in the Big East with 94 tackles, including 1.5 sacks, two fumble recoveries and an interception.
Kaleb Johnson, RT, Rutgers.
Johnson started all 10 games he played in this season for the Scarlet Knights, helping the offensive line improve dramatically from last season.
Eli Rogers, WR, Louisville.
Rogers finished second on the team with 400 yards receiving and one touchdown, and emerged as a go-to player for Bridgewater.
One to watch in 2012:
Rushel Shell, RB.
Shell, out of Aliquippa, Pa., is committed to Pitt and would no doubt come in and compete for the starting job should
Ray Graham
not return. There is plenty of talent at this position, with
Isaac Bennett
and
Corey Davis
returning, along with
Malcolm Crockett
. But Shell is listed as the No. 24 player on the ESPNU 150 rankings, and is one of the most complete backs in the class of 2012. Todd Graham will find a place for him if he lives up to expectations.