August, 21, 2014
8/21/14
1:38
PM ET
On first glance, the announcement that backup offensive tackle
Shaq Anthony
has
decided to transfer from Clemson
may not seem like much.
But when you combine it with the news that running back
Zac Brooks
is
lost for the season
, the Clemson run game has now taken on added questions headed into the season.
The Tigers already had to replace starting All-ACC tackle Brandon Thomas, starting guard Tyler Shatley and 1,000-yard back Roderick McDowell. While Anthony was previously suspended for the opener against Georgia, there are no certainties with the offensive line nor the run game in Week 1.
Especially since Clemson struggled to produce consistency in that area last season. Especially since Clemson will need an effective run game to help take pressure off new starting quarterback
Cole Stoudt
and a new-look group of receivers against what should be an aggressive Georgia defense with familiar foe Jeremy Pruitt taking charge.
Brooks is the bigger blow in the short-term, because he would have contributed heavily against Georgia. Plus, he was the top returning rusher from a year ago and one of the veterans in the group with experience in big games.
But at least Clemson has the luxury of having
depth at the position
, a group coach Dabo Swinney and offensive coordinator Chad Morris have talked up since the spring. Conceivably, the Tigers should still be able to play four to five backs once they settle on a rotation and still be just as good as they would have been with Brooks in the mix.
That, of course, is dependent on the offensive line, too.
So in the long term, the Anthony loss could loom much larger. Clemson has little in the way of depth at tackle with Anthony gone. The Tigers will now be relying on
Joe Gore
, pretty raw at the position with just 124 snaps over the past two seasons, and
Isaiah Battle
-- who has been banged up during camp. Anthony was listed as the backup to both players.
Gore has been
one of the bright spots
this fall, and would have most likely started against Georgia with Anthony suspended. But now there is no margin for error moving forward. The hope is that Gore steps into the right tackle spot without any issues. But if either Gore or Battle gets hurt, the Tigers could be in trouble.
Kalon Davis
, projected to start at guard, has also played some tackle during the fall so he would be one potential option as a backup at the position.
It all adds a bit more intrigue to what happens with Clemson this season.
July, 14, 2014
7/14/14
9:00
AM ET
There he was, a Clemson offensive lineman strolling down the streets of Kyoto, Japan, all 6-foot-5 of him.
Before you get images of a giant surrounded by little people,
Kalon Davis
stops you like the blocker he is.
"At this point, I'm the biggest guy here, too," Davis chuckled during a phone interview after he returned to South Carolina.
So true. When was the last time you bumped into a beefy offensive lineman shopping for produce at the convenience store? Davis did get his fair share of stares -- and even a few people who stopped and asked for a cell phone picture -- but none of that felt out of the ordinary for a guy already used to being a big man on campus.
[+] Enlarge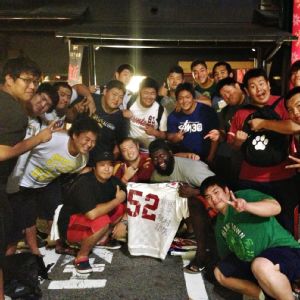 Courtesy Clemson AthleticsClemson offensive lineman Kalon Davis lifted and watched tape with the Ritsumeikan University football team while he studied in Kyoto, Japan.
In fact, not much felt out of the ordinary while he studied abroad for two months in Japan -- a requirement for his modern languages major. Not speaking only Japanese. Not taking buses and trains only. Not commuting an hour and a half to do a work out.
While his teammates lifted back home, Davis lifted with a Japanese college football team and also played club soccer, while also taking classes in Japanese language and Japanese culture.
"The environment was different, but the day-to-day living wasn't much different for me because I was still a student-athlete," Davis said.
Davis always has been fascinated with Japanese culture. He used to sit for hours watching his brother and sister play video games, either on Nintendo or Atari. Then when he got older, he started to play, too. When he arrived at Clemson, he began to study computer science so he could learn how to animate for video games. He also had a minor in Japanese.
But as his interest in Japanese grew, he switched majors. Davis started learning Japanese his sophomore year, and is now proficient. During his time in Kyoto, he stayed with a host family in a duplex. His bedroom was sparse -- a thin futon mattress on the floor surrounded by floor mats. He would leave the house at about 10 or 11 every morning, go to class at the local arts college, then take a bus and train up an hour and a half to Ritsumeikan University to work out with the football team there. Most nights, he did not get back until 10 or later.
Being immersed in the culture was a big thrill, and so was helping out the football team. He was given the coveted No. 52 jersey, an honored number. Davis helped teach the team about fundamentals and certain plays run in America. He learned certain plays specific to Japanese football. Ritsumeikan does not run a hurry-up. Instead, it is a power-heavy offensive team. So Davis spent time breaking down game tape of Stanford's offensive line against Notre Dame. He also watched most of Clemson's games from last season with the team.
"With the football team, there were a couple people who spoke really good English but I wanted to practice my Japanese with them and if I ever had to talk to the whole offensive line or offense, in a team meeting or something, I always had to speak Japanese," he said.
Spending two months away from the football program might give a coach a major bout of angina. But because Davis was able to work out every day and keep up with football, he returned to Clemson in the best shape of his life.
He also returned to three standard questions from teammates?
How was Japan?
How was the football team?
Did you bring me anything back?
Davis tried shopping for Ritsumeikan T-shirts, but could not find any in his size. He bought one, and it barely fits.
OK, so maybe Davis is a little bit bigger than the average person walking down the Kyoto streets.
April, 15, 2013
4/15/13
11:00
AM ET
Seven ACC teams held their spring games this past weekend as practice begins to slowly wind down until August.
Heather
provided her Pitt recap
earlier this morning. Here is a quick look at the headlines from the other spring games across the league:

CLEMSON
The Tigers suffered a big hit during their spring game last Saturday, when the team lost backup quarterback
Chad Kelly
to
an apparent torn ACL
. Kelly was in a heated competition with
Cole Stoudt
for the backup job, but it now appears he could be lost for the season. Coach Dabo Swinney said Kelly was hurt while making a cut at the end of a run. Starter
Tajh Boyd
was held out of the game so the Tigers could get a good look at Kelly and Stoudt. The backup last season, Stoudt set a Clemson spring game record with 304 yards passing and threw four touchdown passes, but his White team lost to the Orange team 34-26 in front of a spring-game record crowd of 30,000.
Sammy Watkins
led all receivers with seven catches for 156 yards and two scores, while
Grady Jarrett
had three sacks.
Vic Beasley
had two sacks, giving him 10 sacks in four scrimmages.
Tight end
Sam Cooper
and tackle
Kalon Davis
also sustained knee injuries in the game, but they are not believed to be as serious.

DUKE
Anthony Boone
and
Jamison Crowder
were the stars of the spring game as the Blue Devils showed a glimpse of how good they can be on offense this season. Boone went 18-of-30 for 273 yards with two touchdown passes to Crowder, and two interceptions. Crowder finished with four catches for a team-high 71 yards as the Blue team beat the White 27-12.
Blue team end
Britton Grier
had two sacks and seven tackles, including three for loss.
Lucas Fisher
,
Sam Marshall
and
Keilin Rayner
each added sacks for the Blue team.
"I like where we're headed," coach David Cutcliffe said. "We're building some depth. I think we can be a more energetic defense. The big thing is focusing on why we give up big plays, but trying to play defense, trying to force longer drives. It's going to be interesting film to study. We got a lot out of this game."

FLORIDA STATE
Coach Jimbo Fisher did not name a starting quarterback after the spring game, so the competition will go on into the offseason. But highly touted
Jameis Winston
sent jaws dropping
with his standout performance, going 12-of-15 for 205 yards with two touchdown passes before leaving the game early to play in the Noles' baseball game against Duke.
"He came in there and he took advantage of opportunities," Fisher said. "That's what you got to do. You've got to go make plays and he's done a nice job of making plays. He took the opportunity to take the day with the stage he had and I thought he played pretty well for the most part."
Winston and
Clint Trickett
split time with the first team for most of the afternoon. Trickett was just 10-of-16 for 98 yards and an interception before switching to the second team, where he was 12-of-16 for 161 yards and a touchdown.
Jacob Coker
, also competing for the starting job, went 15-of-26 for 186 yards, a touchdown and two late interceptions.

MARYLAND
Running backs
Brandon Ross
and
Albert Reid
took center stage, as both ran for over 100 yards in a 13-13 tie between the White and Red teams on Friday night.
Ross had 123 yards on 10 carries, while Reid had 138 yards on 23 carries in the game.
Wes Brown
, who missed the spring with a shoulder/ankle injury, is expected to be healthy in the fall so the competition at this position is going to be an intriguing storyline during the offseason.
"I limited what the defense could do. It was still good to see them," coach Randy Edsall said. "That is what we have seen out of Brandon and Albert all spring along with how they run. The one thing we have to be able to do is run the ball efficiently. When we do that it opens up the passing game. With the skill guys we have at wide receiver it will make us more productive and a chance to get big plays. They ran the way they have been running all spring."

MIAMI
Stephen Morris
threw for a game-high 256 yards and four first-half touchdowns to lead the Orange team to a 35-20 win over the White team. Meanwhile, ACC freshman of the year
Duke Johnson
led all rushers with 120 yards on 10 carries as the Hurricanes showed how explosive they can be on offense this season.
"We're pretty dominant," receiver
Rashawn Scott
told local reporters
. "Everyone is communicating and … no one is frustrated. If we mess up, we all talk instead of yelling at each other."
At halftime, the Canes handed out four Spring awards to
Nantambu-Akil Fentress
(305 walk-on award),
Olsen Pierre
(defensive most improved player),
Danny Isidora
(offensive most improved player) and
Herb Waters
(special teams most improved player).

NORTH CAROLINA
Bryn Renner
went 16-of-27 for 216 yards and three touchdowns to lead the Blue team to a 34-10 win over the White. The running back who took center stage in the game was not
A.J. Blue
or
Romar Morris
but true freshman Khris Francis, who ran 20 times for 101 yards to lead the White team. Blue had eight carries for 30 yards, and Morris had 15 carries for 80 yards to lead the Blue team as the Tar Heels work to replace
Giovani Bernard
. Blue added a 33-yard touchdown reception on a screen pass.
"I thought all three of our running backs played well," coach Larry Fedora said. "But Khris, for his first time out there in a game-type atmosphere, he did a good job. He hit some holes and exploded in them. One time I thought he got stood up. I said something to him and the next time he's got his shoulders down and he's running north-south. That's what he's got to do, so he did some nice things."
Defensively, end
Kareem Martin
had seven tackles, including four sacks.
Travis Hughes
added a team-high 14 tackles, including two sacks.
September, 27, 2012
9/27/12
8:32
PM ET
Clemson All-America wide receiver
Sammy Watkins
will not make the trip to Boston College
because of an abdominal virus, the school announced Thursday. Second-team offensive guard
Kalon Davis
pulled a hamstring on Thursday and also will miss the trip. It was announced earlier in the week that wide receiver
Martavis Bryant
would not travel due to a groin injury.

"Sammy has been practicing, but on Tuesday and Wednesday took himself out late in the practice because he was not feeling well," said coach Dabo Swinney, according to the school's release. "Today he was worse and after going to the doctor it was determined that he needed to stay here this weekend.
"With Sammy and Martavis out of the lineup we will bring
Germone Hopper
(freshman wide receiver who has not played this year) with us on the trip. We will only use him in case of an emergency. It is still our intention to redshirt him."
When Watkins was suspended for the first two games of the season,
Charone Peake
and
Adam Humphries
combined for 19 receptions.
September, 19, 2012
9/19/12
2:00
PM ET
Heading into this season, the offensive lines at both Florida State and Clemson were two of the biggest question marks in the ACC. The Tigers had to replace three starters up front, and the Seminoles were coming off a Champs Sports Bowl win against Notre Dame in which four true freshmen were in the starting lineup.
You'd never know it by looking at the stats so far this season, as deceptive as some could be.
As No. 10 Clemson and No. 4 Florida State prepare to face each other in Tallahassee on Saturday, both offensive lines have shown significant improvement through the first three games of the season. Florida State is No. 2 in the country in scoring offense, racking up its stats against two FCS opponents and an overmatched Wake Forest team. Clemson is No. 23 in the country in scoring offense, with its most impressive win coming against Auburn. Both Clemson and Florida State are allowing fewer than two sacks per game.
[+] Enlarge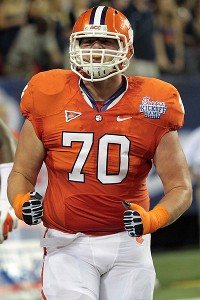 Cal Sport Media via AP ImagesGifford Timothy and Clemson's offensive line could hold the key to victory against Florida State.
Both groups, though, still have something to prove -- particularly at Clemson. The Tigers' offensive line will arguably get its biggest test of the season Saturday when it faces Florida State's defensive line. The Noles are tied for No. 10 in the country with 3.67 sacks per game. How Clemson fares up front could be the key to the entire game.
"It's going to be a tough challenge, no doubt about it," said Clemson coach Dabo Swinney. "But we're going to find out Saturday night one way or another."
Clemson's starting lineup against Auburn was
Dalton Freeman
,
David Beasley
,
Gifford Timothy
,
Brandon Thomas
and
Tyler Shatley
. Timothy was injured on the last offensive play of the game and missed the Ball State game. That opened the door for redshirt freshman
Shaq Anthony
to start and also play the first half against Furman.
Beasley was injured against Ball State, allowing
Kalon Davis
to play most of that game and all of the Furman game. Shatley was injured against Furman and missed the second half. Redshirt freshman
Ryan Norton
played the second half of that game.
Swinney said his offensive line was "pretty average" in last week's 41-7 win against Furman.
"Nothing great," he said, "just OK."
"They are a question mark; they're still a question mark," Swinney said. "I don't think that's changed. … We're a long ways away from being a great offensive line right now."
The good news for Clemson fans is that the starting lineup used against Auburn should be healthy and ready to play at Florida State. And the backups have now had some significant experience. Entering the FSU game, Clemson has eight different offensive linemen who have played at least 98 snaps.
Florida State's improved pass protection has been measurable. So far, the line has allowed three sacks in 194 snaps and 84 pass attempts. All three sacks, though, came against the best competition they've played -- a Wake Forest team that was missing one of its top defensive linemen in injured nose guard
Nikita Whitlock
.
It's still a foreshadowing of improvement since last season, when the Noles allowed 41 sacks in 820 offensive snaps, which amounts to one every 20 plays. Only eight teams in the nation yielded more sacks than FSU in 2011.
There's no question that FSU is also running the ball better. In 2011, the Seminoles produced just 112.2 rushing yards per game -- their lowest average since 2006 -- and managed 1,458 yards on the ground. Through three games the Noles are averaging 279 rushing yards.
The numbers are skewed because they've been racked up against unheralded FCS competition in Murray State and Savannah State, but FSU coach Jimbo Fisher said he likes what he has seen so far.
"I think they're very good players," Fisher said. "They're all very talented. It took a little bit of time to learn, and that's a position that's very hard to adapt to, and we loved them because of their size and athleticism. I think that's where you've got to control both lines of scrimmage -- that's where it's got to start.
"I've been very pleased with them, but I don't think we are close to where we can be," Fisher said. "I think each challenge is bigger and bigger each week."
This one, of course, might be the biggest of the season.