NCF Nation:

Karnell Hatcher
August, 31, 2011
8/31/11
9:39
AM ET
Everybody talks about Oregon's speed and explosiveness.
The Ducks are fast, and they play even faster. When a lot of teams are just trying to catch their breath at critical junctures in the second half, Oregon is trying to figure out a way to squeeze in a few more offensive plays.
"If you let them get on a roll, they're usually going to run you into the ground," LSU senior safety Brandon Taylor said.
The Tigers' defenders are confident they can match the Ducks' speed on the field. LSU defensive coordinator John Chavis thinks this might be the fastest defense he's ever coached.
[+] Enlarge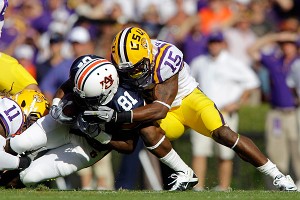 John Reed/US PresswireSlowing down Oregon's offense will be important for Brandon Taylor (15) and LSU.
It's not just in the secondary, either.
"We've got defensive ends who run like they should be playing back there with us," said Taylor, entering his third season as LSU's starting strong safety. "I think we match up with these guys in speed.
"What it's going to come down to is making sure we get our plays in and getting lined up on time."
LSU geared a portion of its offseason conditioning program to handling Oregon's blistering offensive pace and actually worked against two different scout teams. That way, the defense was always working against a fresh offense that was at the line and ready to snap the ball as soon as the last play ended.
One of the other things Taylor says this LSU defense has going for it is a keen understanding of Chavis' system, not to mention a deep bench. This is Chavis' third season in Baton Rouge, and if the preseason was any indication, Taylor said this defense will be the Tigers' most proficient yet.
"We know this defense inside and out now," Taylor said. "There's no hesitating on this defense. If you're out there hesitating and playing slow, you're going to get pulled, and the next man behind you is going to be in there.
"We've all seen what happens if you hesitate against Oregon. You better hit them before they hit you."
The Tigers have worn out the game tape from last season's BCS National Championship Game.
Oregon averaged 303.8 yards rushing in its first 12 games last season, but was held to 75 yards on the ground against Auburn in the championship game.
"Auburn's front seven did a great job of pursuing up the field and tackling the backs and quarterbacks," Taylor said. "If you don't tackle these guys, they're going to break a long one."
Nobody in college football was better last season than Oregon at scoring from long distance. Oregon tied with Auburn nationally for the most touchdown plays of 25 yards or longer (27).
The Ducks' 45 touchdown drives of two minutes or less last season were nine more than the No. 2 team nationally. Boise State had 36.
"It's an offense that commands your attention every snap," Chavis said.
One of the best things the Tigers did on defense last season was keep teams out of the end zone. They finished 11
th
nationally in scoring defense. They also led the SEC and tied for eighth nationally in forced turnovers (32).
What the Tigers didn't do as well was eliminate the big play, and it caught up with them in their two losses.
In fact, three big plays in particular might have cost them a shot at the national championship. In the Auburn game, Cam Newton scored on a 49-yard touchdown run, and
Onterio McCalebb
broke a tie game in the fourth quarter with a 70-yard touchdown run.
Then in the regular-season finale against Arkansas -- and with Taylor sidelined after injuring his leg against Alabama -- the Hogs hit the Tigers with an 80-yard touchdown pass on the final play of the first half.
If that wasn't enough, Arkansas also scored on touchdown passes of 85 and 39 yards in that contest.
Taylor's absence was a huge blow, and Chavis said the LSU defense also was never the same after end Sam Montgomery went down with a knee injury at the midway point of the season.
"We're all ready to go now, back to 100 percent," Taylor said. "I feel like I'm faster than I was last year."
The Tigers also get another shot at a spread offense after being shredded for 440 rushing yards by Auburn and Newton last season in that 24-17 loss on the Plains. It's the most rushing yards ever allowed by LSU.
"That's a game we didn't tackle well in, so we know what can happen if we don't get guys on the ground when we have a chance to make a play," Taylor said.
Chavis likes to play his "Mustang" package, which makes an already fast LSU defense even faster with six defensive backs on the field.
A former safety, Karnell Hatcher, is also playing some at middle linebacker for the Tigers.
"We've got enough depth that we're going to be able to rotate players in," Taylor said. "We know they're going to keep coming at us, but we're going to keep coming at them with a lot of fresh legs."
June, 21, 2011
6/21/11
10:40
AM ET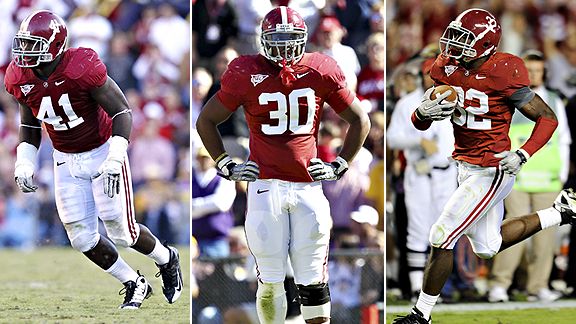 US PresswireCourtney Upshaw, Dont'a Hightower and C.J. Mosley are part of what could be the best linebacker corps in the conference.
Today we take a look at the SEC linebackers. The front sevens in this league are always good and 2011 shouldn't be any different.
Here's how the teams stacked up:
1. Alabama:
There are a lot of strengths on this Alabama team, but the linebackers should be very fun to watch this fall. Courtney Upshaw and Dont'a Hightower are back to full speed and are considered top players at their positions. With them back, the Tide should have a much more aggressive pass rush. Nico Johnson and C.J. Mosley improved even more this spring and will get time in the middle when Hightower is outside at the "Jack" position. Mosely blossomed as a freshman and could be a star in the making. Jarrell Harris seems to finally be coming around and Chris Jordan gives them another body in the front seven.
2. Florida:
This group struggled to stay consistent at times last fall, but the new coaching staff was pleased with the progress it made this spring. There is a lot talent out there and now there are two distinct leaders in Jelani Jenkins and Jon Bostic, who should occupy the middle when the Gators go to the 3-4. Both are tremendous athletes and should be a solid duo this fall. Florida also has former No. 1 high school prospect Ronald Powell playing that linebacker/defensive end hybrid spot called the Buck. He'll stand up a lot this season and should elevate himself near the top of the SEC pass-rushing list. Cal transfer Chris Martin earned a ton of praise last year on the practice squad and will be a hybrid as well. Converted safety Dee Finley will play outside and there is some good, but young, depth in the wings.
3. Arkansas:
This area of the team improved a lot during the season and this spring. It's headlined by Jerry Franklin, who has led the Razorbacks in tackles the last three seasons. He has 271, including 21.5 for loss in his career. Strongside hybrid Jerico Nelson was second on the team in tackles and has the speed to get all over the field. Nelson will occasional drop back and play safety as well. This linebacker tandem will be one of the best out there this fall. The major plus for the Razorbacks is that there is finally some really good depth at the position. Bret Harris, Jarrett Lake and Terrell Williams came on strong on the outside this spring, while Ross Rasner was making strides until he was arrested and suspended indefinitely this spring.
4. Georgia:
There is no shortage of athleticism in Georgia's linebacker corps. Alec Ogletree moved down from safety and while he's bulked up, he's still got tremendous closing speed and will make a ton of plays at middle linebacker. Next to him is defensive leader Christian Robinson, who left spring as one of Georgia's most consistent linebackers. On the outside, USC transfer Jarvis Jones will occupy the weak side and the coaches feel he might be more of a complete player than Justin Houston. On the other end, Cornelius Washington might not be getting a ton of publicity, but he's no slouch and can run with the best of them.
5. LSU:
Like most of the Tigers' positions, this one might not have a ton of in-game experience, but the athleticism is too good not to praise. LSU lost leading tackler and monster in the middle Kelvin Sheppard, but there should be enough able bodies to make this unit one of the tops in the league this fall. Ryan Baker is now the leader out there and can keep up with some of the best offensive weapons out there. He'll play on the weak side, while converted safety Karnell Hatcher moved down from safety and took reps at middle linebacker, but could find his home outside. Sophomore Kevin Minter spent his spring trying to fill Sheppard's void and has made vast improvements. Senior Stefoin Francois provides veteran depth for the Tigers on the outside, while there are a few young, able bodies ready to contribute as well.
[+] Enlarge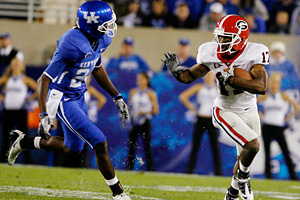 Mark Zerof/US PresswireKentucky's Danny Trevathan, left, led the league with 144 total tackles.
6. Kentucky:
Things start with one of the nation's best in Danny Trevathan. He led the SEC with 144 tackles a year ago and the word out of Lexington is that he's looking to be even better this fall and wants to move around the field a lot more. Ronnie Sneed returns as the starter in the middle, after grabbing 61 tackles a year ago. He made some nice improvements this spring. Ridge Wilson will be another hybrid on the outside, and will occasionally lineup as a rush end for the Wildcats. The talented Winston Guy, who has played just about everywhere on Kentucky's defense has finally settled into his home at linebacker and should play closer to the line of scrimmage and be a nickel linebacker.
7. South Carolina:
The Gamecocks got an immediate upgrade to this position with the return of Shaq Wilson, after he missed last year with a hamstring injury. Wilson is known as the quarterback of the defense and led South Carolina in tackles in 2009. The player that could really make noise in this unit is DeVonte Holloman, who is moving from safety to the hybrid Spur position. He'll drop back into coverage and rush from the outside to give the Gamecocks another weapon in the pass rush. Upperclassmen Reggie Bowens and Rodney Paulk will get some reps in the middle this fall, while Damario Jeffery and Quinn Smith will compete for time outside.
8. Tennessee:
The Volunteers are still trying to find out what this group is made of. Junior Herman Lathers is back and he's the most experienced player at the position. He had 75 tackles last season and will man the weak side for the Vols. Senior Daryl Vereen should get time at strong side, but he still has some developing to do. Senior Austin Johnson, a converted fullback, will get time in the middle with All-SEC freshman pick John Propst. The jury is still out on this unit and youngsters like A.J. Johnson, Curt Maggitt and Christian Harris will have to develop quickly.
9. Auburn:
The Tigers are almost back to the drawing board at linebacker. Both Josh Bynes and Craig Stevens are gone, leaving Daren Bates as the lone returning starter. Bates is a converted safety, but settled nicely into the linebacker position well last fall. Inexperience looms after that as sophomore Jake Holland is a projected starter in the middle and junior Jonathan Evans will get time at weakside. Former junior college standout Eltoro Freeman, has the potential to be a menace, but has yet to truly step up for the Tigers. They'll need that light bulb to go on this year.
10. Mississippi State:
First thing's first -- the Bulldogs must replace three starting linebackers this season. That won't be easy or fun in Starkville. But help could be on the way in Clemson transfer Brandon Maye, who was a three-year starter with the Tigers. Coach Dan Mullen said he's a player they expect to come in and take one of those openings at linebacker. Mississippi State still has senior leader Brandon Wilson, who players fed off of this spring. Chris Hughes and Cam Lawrence also made strides, but expect a lot of rotation from new defensive coordinator Chris Wilson.
11. Vanderbilt:
Chris Marve is one of the top linebackers in the nation. He's got great field instincts and matches his skill with the best of them. Just having him on the field makes this group better. But after him, the Commodores have a lot of questions. Vanderbilt must replace outside linebackers John Stokes and Nate Campbell, and though there are six candidates, they have just start among them. Coming out of spring, juniors Tristan Strong and Archibald Barnes and sophomore Chase Garnham are the leading candidates to see valuable playing time.
12. Ole Miss:
Losing D.T. Shackelford was an enormous blow to the Rebels. Not only was he Ole Miss' best defensive player but he was the emotional leader of the team. He was going to carry this team as far as he could go. Now, the Rebels have a wealth of inexperience to deal with. Things got even worse when sophomore linebacker Clarence Jackson was dismissed following his arrest for public drunkenness. The pressure is now on incoming freshman C.J. Johnson, who was the top prospect coming out of the state of Mississippi. He could jump right into Shackelford's spot. Mike Marry and Ralph Wilson worked in Shackelford's spot this spring and Joel Knight returns as a starter outside.
April, 8, 2011
4/08/11
12:50
PM ET
Spring game:
4 p.m. ET Saturday on ESPN and
ESPN3.com

Questions answered:
Senior quarterback
Jordan Jefferson
showed that he was made of the right stuff. With all eyes on heralded junior college newcomer Zach Mettenberger, Jefferson stepped up his game considerably under the tutelage of first-year offensive coordinator and quarterbacks coach Steve Kragthorpe and heads into the spring game as the clear-cut No. 1 quarterback. The Tigers also found out that they're pretty good at running back even with
Stevan Ridley
leaving early for the NFL.
Spencer Ware
and
Alfred Blue
both had big springs, and don't count out
Michael Ford
and
Jakhari Gore
, either. There's depth and big-play potential to go around in the LSU backfield.
Questions unanswered:
Defensive coordinator John Chavis knew that Kelvin Sheppard would be a big loss, but this spring only reaffirmed how much the Tigers will miss Sheppard at middle linebacker. They still have to solve that problem. Karnell Hatcher moved over from safety and got some snaps in the middle. Kevin Minter also got some first-team snaps after serving as Sheppard's backup last season. Solidifying that middle linebacker spot remains one of the biggest concerns going into the summer. The unknowns on special teams are equally unnerving. The Tigers will have a brand new place-kicker and a brand new punter. Until the lights come on and they start keeping score, you never know about those guys. Not only that, but Patrick Peterson won't be around to return kicks and strike the Heisman pose in the end zone anymore.
Spring stars:
Coming up on his junior season,
Russell Shepard
took some of his biggest steps yet toward becoming a true receiver. He's somebody who is going to run crisp routes and make something happen once he gets the football. Shepard doesn't look as much like a quarterback trying to play receiver anymore. On defense, Craig Loston emerged as the starter at free safety. He was showered with a lot of hype coming out of high school, but it was his performance that made everybody sit up and take notice this spring. Cornerback Morris Claiborne said Loston is a much more instinctive player and a lot more vocal than he was a year ago.
Of note:
The Tigers moved Chris Davenport from the defensive line to left tackle on offense. … Safety Brandon Taylor, defensive end Sam Montgomery and offensive guard Josh Dworaczyk were among the players being held out of contact this spring to fully recover from injuries. … Shepard wasn't the only LSU receiver making waves this spring. Fellow junior
Rueben Randle
has that look of an All-SEC receiver next season. … Brad Wing, a 21-year-old native of Australia, is in line to be the Tigers' punter. Wing played 15 years of Australian Rules Football before coming over to the United States. … It looks like Ron Brooks and Randle are the top two candidates to return kickoffs, while Tyrann Mathieu is at the head of the list to return punts.