NCF Nation:

Kavario Middleton
April, 12, 2010
4/12/10
11:37
AM ET
SEATTLE -- Washington defensive tackle Cameron Elisara has just introduced Jesse Callier to Pac-10 football, running through the freshman running back's pass-block attempt like a knife through soft butter, and now he's breathing into quarterback
Jake Locker
's ear hole.
[+] Enlarge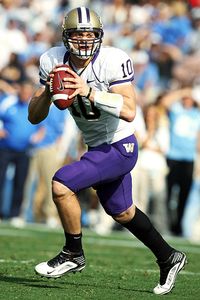 Charles Baus/Icon SMIJake Locker returned for his senior season in hopes of leading the Huskies to a bowl game.
But wait. Locker, at the last moment, scoots to his left with a move that's equal parts casual and lickity split. Then he flicks his right hand. If you performed a similar motion, your penny might fall short of the wishing well. But when Locker flicks a football, oftentimes it flies 40 yards down field, as this one does.
And there it finds receiver
Devin Aguilar
.
Even a jaded onlooker who's watched plenty football practices finds himself glancing side-to-side to confirm the appropriate reaction: "Golly."
Most quarterbacks would have been sacked. The Locker of 2007 or 2008 probably would have used his 4.4 speed to run for a short -- or perhaps not so short -- gain. But this is Locker 4.0, who bypassed an opportunity to be a top-10 NFL draft pick on April 22 and returned to the Huskies for his senior season. Once seen as just an athlete playing quarterback, now he can play well within a pro-style system while reserving the right to riff a bit of improvisation when the feeling strikes.
"A lot of times when plays break down is when you get your biggest plays," he said. "It's about a good balance of both; of understanding when it's going to be productive to get outside the pocket and try to make a play and when you need to stand in there and make a throw."
This Locker, who accounted for 28 touchdowns in 2009, is expecting to refine his considerable skills in Year 2 under coach Steve Sarkisian and lead the Huskies to their first bowl game since 2002.
"In my opinion, the real strides, the real improvement, occur from Year 1 to Year 2," Sarkisian said. "That's historically what we've seen."
That expectation is shared by more than a few folks. It's why many draft experts are projecting Locker to go No. 1 overall in 2011 -- ESPN's Mel Kiper told reporters it was "
etched in stone
."
But first things first: Locker has yet to experience a winning season or go to a bowl game in his career. He can't do it alone. What's ignited the buzz in Seattle, however, is that he won't need to. His supporting cast on offense is the match of any in the Pac-10, particularly at the skill positions.
November, 24, 2009
11/24/09
10:53
AM ET
Where have you gone, Andre DeSaussure, the Apple Cup turns its lonely eyes to you?
Before the 1998 Apple Cup, DeSaussure, a Washington receiver with a quirky personality,
announced to reporters
: "I think Pullman is a bunch of crap. But it's a place you can go and have a good time, as far as a lot of drunk people."
I've always thought it a cosmic injustice that quote predated me in Seattle by a year. For a reporter covering a rivalry game, that is spun gold.
The Apple Cup has mostly been devoid of good quality trash talk of late. Just like the good quality football.
But it appears Huskies tight end
Kavario Middleton
wants that to change -- first
the trash talk
, then, one would assume, the quality football.
Said Middleton: "We want to put up 50 points. Run the score up. Put on a show. We're just trying to make a statement that we are the real deal."
As for as trash talk ratings, that's about 12 clicks below DeSaussure's masterful effort, but it's all I got for you.
Obviously, the 3-7 Huskies are significantly improved from last year's 0-12 team, though early-season hopes for a bowl berth proved a mirage. The same could be said for the Cougars, who have been far more competitive week-to-week, despite their 1-10 record.
Still, in 2001, the Apple Cup matched teams ranked No. 16 and No. 9 in the nation. The next season, the Cougars entered the game ranked No. 3.
But since 2004, both teams have been sliding down the slippery slope of bad, the climax likely -- hopefully -- being last year's
Crapple Cup
.
Meanwhile, across the border in Oregon, the Civil War next week will be a big national show on ESPN, with the Rose Bowl being the reward for the winner. There was a time when that game was a quaint rivalry with zero national significance. Times change.
Bob Condotta
wryly noted
in his blog that Middleton won't be available to talk to reporters again this week. He wouldn't have been anyway, per media policy, but this apparently is a Steve-Sarkisian-approved double-no for his potential availability.
Still, the Pac-10 blog salutes Middleton. You poured fans a small cup of colorful with your comment. The divergent reactions it will inspire will remind fans there's a game Saturday.
Perhaps some day in the future, the stakes will be more than pride.
May, 22, 2009
5/22/09
11:32
AM ET
Posted by ESPN.com's Ted Miller
Every team enters spring practices with at least a couple of personnel questions, even those with their starting lineup returning nearly intact.
Sometimes those questions don't get answered. Other times they do.
Such as ...
Arizona: The Wildcats lost two of their three starting linebackers, but coach Mike Stoops said he believes they will be better at the position in 2009, with junior Vuna Tuihalamaka making a special impression in the middle this spring.
Arizona State: The Sun Devils lost middle linebacker Morris Wooten, but the LB position looks like it could run six-deep in 2009, particularly with the expected arrival of super-recruit Vontaze Burfict in the fall. The return of former starter Gerald Munns, who left the team for personal reasons, helps as does the emergence of young players whose speed upgrades are intriguing.
California: Not to get stuck on a linebacker theme, but most previews of the Bears will raise questions about them losing three longtime starters at linebacker. Hanging around this spring, however, you get the feeling this position will be fine. In fact, a couple of touted incoming JC transfers will make the fall competition intense. Look for Mike Mohamed and Mychal Kendricks to make a play for All-Conference honors.
Oregon: The Ducks lost three of four starting defensive linemen, including end Nick Reed, so this seemed like as big a question mark as the offensive line entering spring. Apparently not, at least according to coach Chip Kelly. Will Tukuafu should emerge from Reed's shadow as one of the conference's best ends, and tackle Brandon Bair and end Kenny Rowe stepped up. There's still competition at one tackle, but the Ducks' recruiting class included six defensive linemen, at least a couple of whom figure to see action.
Oregon State: The Beavers lost receivers Sammie Stroughter and Shane Morales, but by the end of spring that didn't seem like a problem, even with James Rodgers sitting out with a shoulder injury. Junior Darrell Catchings broke through and redshirt freshman Jordan Bishop lived up to high expectations and others flashed potential.
Stanford: The passing game -- on offense and defense -- has been a problem for Stanford. For the offense, redshirt freshman quarterback Andrew Luck was just short of spectacular this spring. For the defense, the insertion of Delano Howell at strong safety and Michael Thomas at cornerback upgrades the secondary's athleticism.
UCLA: The secondary began spring needing two new starters, but a handful of guys stepped up to complement cornerback Alterraun Verner and free safety Rahim Moore. While Aaron Hester and Glenn Love are the favorites to start at corner and strong safety, respectively, sophomores Courtney Viney and Tony Dye and redshirt freshman E.J. Woods will get extended looks in the fall.
USC: Lose three elite linebackers? Find three more. Malcolm Smith, Chris Galippo and Michael Morgan might not have the experience or pedigree of their predecessors, but they are faster and may end up being nearly as good.
Washington: A lot was made of how well quarterback Jake Locker adjusted to a pro-style offense this spring -- and rightfully so -- but that pro-style passing attack needs targets, so perhaps that part of the pass-catch equation is being undersold. D'Andre Goodwin, Jermaine Kearse and Devin Aguilar give the Huskies three respectable receivers, and tight ends Kavario Middleton and Chris Izbicki are solid.
Washington State: One area where the Cougars have quality starters and quality depth is running back, with Dwight Tardy stepping up to the challenge of California transfer James Montgomery this spring, and Logwone Mitz and 220-pound Marcus Richmond adding depth.
September, 11, 2008
9/11/08
12:30
PM ET
Posted by ESPN.com's Ted Miller
Not to be too serious, but take a moment and remember what day it is.
September, 3, 2008
9/03/08
10:20
AM ET
Posted by ESPN.com's Ted Miller
Anyone else believe the Pac-10 might be a little deeper than it was initially projected?
August, 31, 2008
8/31/08
12:05
AM ET
Posted by ESPN.com's Ted Miller
EUGENE, Ore. -- From the Autzen Stadium press box:
The Huskies are just hanging around. It feels like the Ducks are superior -- see a 252 to 133 advantage in total yards -- but the Huskies are only down 14-10.
Can the Huskies afford for QB Jake Locker to lead them in rushes with 10? It is clear his injured hamstring is fine, at least.
Two new faces made a first-half impact. For Washington, true freshman TE Kavario Middleton caught three passes for 24 yards. For Oregon, it was sophomore WR Jeff Maehl, who hauled in three passes for 23 yards.
The Huskies have a nearly six-minute advantage in time of possession.
It doesn't look like the Ducks will match last year's 465 yards rushing after going for just 107 in the first half.
August, 28, 2008
8/28/08
8:17
PM ET
Posted by ESPN.com's Ted Miller
Quick hits before Oregon State and Stanford kick off:
Finally, here's a list of the teams with the most players who already have obtained the undergraduate degrees.
10 -- ­ Boston College, Virginia Tech
8 ­ -- Auburn, Clemson, Maryland
7 ­ -- Arizona State, Memphis, Ohio State, Penn State
6 ­ -- Northwestern
5 ­ -- Baylor, Louisiana Tech, Ole Miss, UCF
4 ­ -- Kentucky, Northern Illinois, Texas Tech
3 ­ -- Georgia Tech, Louisville, Notre Dame, Virginia
2 ­ -- Colorado, FAU, Troy, Utah
1 -- ­ Wake Forest, Western Michigan