NCF Nation:

Kealoha Pilares
May, 10, 2011
5/10/11
4:00
PM ET

1. Boise State
: The Broncos have
Kellen Moore
back, and that makes them a preseason top 10 team going into the season.
Geraldo Hiwat
,
Tyler Shoemaker
and
Kirby Moore
had good springs, helping ease some questions about the receiver situation.

2. TCU
: The Horned Frogs are at the point where they don't rebuild. They reload. They move ahead of BYU based on their defense. I am still uncertain about how
Casey Pachall
will do at QB. Andy Dalton lost five games in his first year as a starter, though the TCU defense in 2007 was not as good as what is expected in 2011.

3. BYU
: The Cougars might be overhyped, but I really do think they are back to being a top 25 team this year. They return 19 starters from a team that found itself at the end of last season. The independent schedule may appear tough, but every game is winnable.

4. Tulsa
: The Golden Hurricane return 16 starters off one of the best offenses in the country. Though there is a new coach and new offensive coordinator in place, there is opportunity to pick up where they left off last season because of the continuity in hiring Bill Blankenship as the head man.

5. Houston
: With
Case Keenum
back, the Cougars jump back into the rankings. This team was lost without him last year. Now that he has returned, expect the offense to be high-powered again. If the defense improves, Houston could make some noise.

6. San Diego State
: The Aztecs lost coach Brady Hoke and their top receivers in Vincent Brown and DeMarco Sampson. But
Ronnie Hillman
,
Ryan Lindley
and Miles Burris return in the highly competitive Mountain West.

7. Air Force
: The Falcons could be a dark horse contender in the Mountain West with
Tim Jefferson
returning at quarterback.

8. UCF
: Just because the Knights ended the season ranked in the top 25 doesn't mean they will start the season there. UCF has question marks, though the return of quarterback Jeff Godfrey makes the Knights the favorite to repeat as C-USA East champs.

9. Hawaii
: The WAC is open, and though Hawaii loses a lot of starters, including Greg Salas and Kealoha Pilares, it is the only team of the top three that returns a starting quarterback.

10. Northern Illinois
: The Huskies replace Miami (Ohio) in my rankings thanks to the return of
Chandler Harnish
and the performance of the running backs in the spring game. Miami's continued quarterback derby gives me pause.
May, 10, 2011
5/10/11
11:00
AM ET
2010 overall record:
10-4
2010 conference record:
7-1 WAC (co-champs)

Returning starters
Offense 3, defense 6, punter/kicker 1
Top returners
QB
Bryant Moniz
, LB Corey Paredes, WR
Royce Pollard
Key losses
WR Greg Salas, WR Kealoha Pilares, FS Mana Silva, RB Alex Green
2010 statistical leaders
(* denotes returners)
Rushing:
Green (1,199 yards, 18 TDs)
Passing:
Moniz* (361-of-555 for 5,040 yards, 39 TDs, 15 INTs)
Receiving:
Salas (1,889 yards, 14 TDs)
Tackles:
Paredes* (151)
Sacks:
Aaron Brown*, Paipai Falemalu* (five each)
Interceptions:
Silva (eight)
Spring Answers
1. Talent at receiver.
There are plenty of candidates to help fill the big shoes of Pilares and Salas.
Jeremiah Ostrowski
and
Billy Ray Stutzmann
appear to be the front-runners to replace them with
Corey Paclebar
,
Justin Clapp
and
Donnie King Jr.
in the mix as well.
Allen Sampson
could be a playmaker at wideout, too.
2. Hadden at kicker.
Redshirt freshman Tyler Hadden emerged as the front-runner to replace Scott Enos at kicker. He is going to have to step up immediately -- Enos set the single-season school record for points by a kicker with 122 and made all 105 of his extra-point attempts.
3. New hybrid end/linebacker.
Many teams have gone with this hybrid position. Hawaii is calling it "elephant" and has someone in mind to play it on specific downs. Linebacker Art Laurel had a great spring, and appears to be the perfect fit at the hybrid spot. He had three sacks in the spring game.
Fall Questions
1. Revamped offensive line.
The Warriors lost four starters on the offensive line, including three who started every game last season and one who had 21 career starts. It's going to be important for that line to come together quickly to give Moniz time to throw.
2. Another 1,000 yard rusher?
Hawaii is known for its passing offense, but Green surpassed 1,000 yards rushing in 2011 and notched the highest total in school history. Redshirt freshmen
Joey Iosefa
and
John Lister
are the only returning running backs on scholarship, so this could be an area where a true freshman could contribute.
3. Another 5,000-yard season for Moniz?
Hawaii has some talented receivers who can step up for Pilares and Salas, but will that translate into another 5,000-yard season for Moniz? Fans have to hope the Moniz of the regular season, and not the one in the Sheraton Hawaii Bowl, is who they get for 2011.
January, 24, 2011
1/24/11
3:15
PM ET
Wanted to give you a quick rundown of the top non-AQ players in the final NCAA statistics for offense. Many of these players will be back for 2011, but many will be gone.
First let us take a look at rushing. Four non-AQ players finished in the Top 10 in yards per game:
No. 3
Bobby Rainey
, Western Kentucky (137.4)
No. 6
Lance Dunbar
, North Texas (129.4)
No. 7
Vai Taua
, Nevada (123.85)
No. 10
Ronnie Hillman
, San Diego State (117.9)
Taua is the only player who does not return next season. Hillman was a true freshman and many expect him to have an even better season. Rainey and Dunbar will both be seniors and vying once again to be the best running back in the Sun Belt. With Dunbar, it will be interesting to see how he fairs under new coach Dan McCarney, though offensive coordinator Mike Canales remains onboard. Rainey carried the ball a nation-leading 340 times last season. Can he handle another strenuous workload in 2011?
At quarterback, seven of the top 11 players in total passing yards were non-AQ players:
No. 1
Bryant Moniz
, Hawaii, 5,040 yards
No. 4.
Dominique Davis
, East Carolina, 3,967
No. 6
Kellen Moore
, Boise State, 3,845
No. 7
Ryan Lindley
, San Diego State, 3,830
No. 8
Kyle Padron
, SMU, 3,828
t. No. 9
Corey Robinson
, Troy, 3,726
No. 11.
G.J. Kinne
, Tulsa, 3,650
I stretched this list all the way to 11 to show the depth of quality quarterbacks among the non-AQs. Although big-name players like
Andy Dalton
and
Colin Kaepernick
are gone, every player on this list returns to school next season, which means non-AQ quarterbacks will definitely be ones to watch again. But what is interesting is their receiver situation. Everybody but Kinne is losing his leading receiver. In the case of Moore, he loses two in
Austin Pettis
and
Titus Young
. Moniz loses
Greg Salas
and
Kealoha Pilares,
and Lindley loses
DeMarco Sampson
and
Vincent Brown
.
At receiver, seven of the top 100 players in total yards also came from non-AQ schools:
No. 1 Salas, 1,889 yards
No. 5
Jordan White
, Western Michigan, 1,378
No. 6 Brown, 1,352
No. 7 Pilares, 1,306
No. 8
Aldrick Robinson
, SMU, 1,301
10. Sampson, 1,220
11. Young, 1,215
Ssix of these players are definitely done with their college careers. The one up in the air is White, who is petitioning the NCAA for a medical hardship waiver and sixth season of eligibility. White had serious injuries to both his knees and sat out 2006 and 2008, so it seems likely his waiver will be granted. He set the school record for receiving yards in 2010.
December, 25, 2010
12/25/10
12:02
AM ET
Tulsa beat Hawaii
62-35
in the Sheraton Hawaii Bowl on Friday night. Here is a quick instant analysis:


How the game was won:
As expected, there were plenty of points in this one, but it was not the offensive showcase Hawaii wanted. The Warriors were a turnover machine in the first half, with five interceptions and one fumble. Quarterback
Bryant Moniz
threw two interceptions on the first two drives, then injured his back on a sack. Backup
Shane Austin
came on and threw an interception that was returned for a touchdown. Moniz came back in and also threw an interception that was returned for a touchdown. In all, Moniz had four interceptions -- two to linebackers that he simply never saw when he dropped back. He had never thrown more than two in a game. He also missed one of his top targets,
Kealoha Pilares
, who hurt his knee early in the game and never returned. Tulsa scored 24 of its 27 first-half points off the turnovers despite a sluggish offensive performance. Tulsa had more takeaways (6) than first downs (5). But the Golden Hurricane offense got going in a big way, racking up 437 second-half yards to win their seventh straight game. Ultimately, those first-half mistakes proved too costly for the Warriors to overcome.
Turning point:
The third quarter proved to be the biggest turning point in the game. Twice, Hawaii cut the lead to six, but Tulsa had quick responses each time. In fact, Tulsa scored three touchdowns on six plays that covered 206 yards on its first three drives of the third quarter to put the game out of reach.
Player of the game:
The Tulsa defense has to get the nod as the collective players of the game. Curnelius Arnick had two interceptions, including one that was returned for the touchdown. John Flanders also had an interception return for a touchdown. Hawaii put up its fair share of yards and points, but those takeaways proved to be the difference. Tulsa all-purpose player
Damaris Johnson
gets a nod, too. See below.
Second-guessing:
Hawaii receiver
Royce Pollard
caught a 33-yard touchdown pass with 9:27 to go in the fourth quarter, which cut the lead to 48-35. Rather than try for an onside kick, the Warriors kicked the ball deep, hoping for a stop. Tulsa ended up scoring a touchdown five plays later to go ahead by 20 points.
What it means:
Tulsa finished the season on an incredible streak and should be ranked at the end of the season as a 10-win team. With
G.J. Kinne
, Damaris Johnson and 15 other starters returning, the Golden Hurricane should be the favorites to win Conference USA going into 2011. As for Hawaii, the Warriors return Moniz, who ended up throwing for more than 5,000 yards this season. But many of their top playmakers are gone, including
Greg Salas
, Pilares and
Alex Green
. Still, with Boise State moving on to the Mountain West and Nevada also losing its three best players in
Colin Kaepernick
,
Vai Taua
and Dontay Moch, Hawaii should be in the hunt for another WAC title.
Record performance:
Damaris Johnson added yet another NCAA record to his collection, becoming the career leader for all-purpose yards. Johnson, who already owns the NCAA record for kickoff return yards, broke the career all-purpose record of 7,764 yards set by Western Michigan's Brandon West (2006-09). Johnson had 329 all-purpose yards against Hawaii and three touchdowns. ... One other player to note: Salas had 12 catches and two touchdowns in his final game, the first 200-yard receiving game of his career.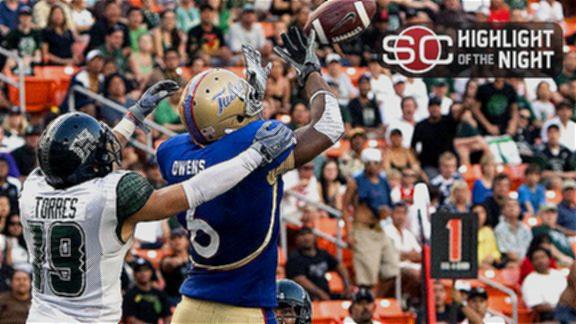 December, 23, 2010
12/23/10
10:30
AM ET


Hawaii and Tulsa are two of the most prolific offenses in the country, a big reason why the Sheraton Hawaii Bowl on Friday night is one of the most attractive of the non-BCS games. Who doesn't love offensive fireworks? Hawaii quarterback
Bryant Moniz
and Tulsa quarterback
G.J. Kinne
are sure to oblige. But there are also some big-time players on defense to keep an eye on: Hawaii middle linebacker Corey Paredes and free safety Mana Silva and Tulsa freshman safety Marco Nelson. Here is a quick preview.
WHO TO WATCH:
With so many good players in this game, it is hard to pick just one. But I am going to go with somebody off the radar, a player you will hear more about in my preview video. That is Tulsa all-purpose player
Damaris Johnson
. He led the nation in all-purpose yards for a second straight year and is set to become the NCAA career leader in all-purpose yards. He is small at 5-foot-8, but he is used in many difference places on the field, so watch for him.
WHAT TO WATCH:
Offense, silly! Moniz and Kinne are getting the attention, but some of the more intriguing battles in this game are going to come between the receivers and cornerbacks. Hawaii receivers
Greg Salas
and
Kealoha Pilares
present matchup problems for a Tulsa secondary that ranks second-to-last in passing defense. Nelson is a true freshman, but he is capable of making huge plays. For Tulsa, Johnson and H-back
Charles Clay
could have a tough time against a Hawaii secondary that has 23 interceptions this season. Silva is tied for the nation lead with eight. Paredes also plays the pass well, so the Golden Hurricane are going to have their hands full.
WHY TO WATCH:
Face it, you are probably going to still be wrapping presents on Friday night, and watching an entertaining game will certainly help pass the tedium of cutting and taping. It's not often that Hawaii is showcased during prime-time, because most of its games start when most of the East Coast has gone to sleep. But the Warriors play an exciting brand of offensive football with a version of the Run N Shoot. Plus, Moniz will be back for his senior season and should be a 2011 preseason player to watch. Kinne also returns for his senior season along with 16 starters, and that could make the Golden Hurricane a preseason favorite to win Conference USA.
PREDICTION:
I have agonized long over this one, because I think both teams can win. Ultimately, I am going with Hawaii 44, Tulsa 38 because the Warriors will be able to take advantage of a weaker Tulsa defense.
December, 7, 2010
12/07/10
11:00
AM ET
Hawaii finished just short of a bowl bid last season, but hopes were high going into 2010 with the return of quarterback
Bryant Moniz
. The junior emerged as the starter after walking onto the team and finding himself sixth on the depth chart. But he worked his way up and got into the lineup after several injuries gave the Warriors no other choice. Still, nobody could have anticipated the giant leap Moniz took this season. He threw for a nation-leading 4,629 yards and 36 touchdowns, making Hawaii one of the most prolific offenses in the country. He had help of course from
Greg Salas
and
Kealoha Pilares
, who combined for nearly 3,000 yards and 27 of those touchdown passes. Salas has caught a pass in 40 straight games en route to All-WAC first-team honors. Let's not forget the Warriors also had a 1,000-yard rusher for the first time since 1992 in
Alex Green
. Hawaii scored 40 or more points in eight games this season and topped the nation in passing.

Defensively, linebacker Corey Paredes had a monster season with 144 tackles, and safety Mana Silva was tied for the nation lead with eight interceptions. Kicker Scott Enos also ended the regular season converting a school-record 100 straight extra-point attempts. Hawaii may have gotten blown out by Boise State, but the Warriors beat Nevada and that was good enough to win a share of the WAC championship. The Warriors also won 10 games for just the sixth time in school history.
Offensive MVP: QB Bryant Moniz.
What more can you say about a guy who had to take a side job delivering pizzas when he first walked on at Hawaii? Moniz exceeded all expectations with his incredible season. His total passing yards were the second-highest total in school history, and he set the school single-game passing record with 560 yards against San Jose State.
Defensive MVP: LB Corey Paredes.
He led the team in tackles, and ranked 11
th
in the nation. Not only that, Paredes was a key member of a defense that led all FBS teams in turnovers forced with 36, including a nation-leading 23 interceptions.
Turning point:
A 27-21 win over Nevada on Oct. 16 set the stage for the Warriors to become co-WAC champs. They did an excellent job shutting down
Colin Kaepernick
and forcing him into four turnovers.
What's next:
Hawaii plays Tulsa in the Sheraton Hawaii Bowl on Dec. 24, and could be the favorite in the WAC next season with Boise State leaving for the Mountain West and Nevada losing Kaepernick,
Vai Taua
and Dontay Moch.
December, 6, 2010
12/06/10
12:55
AM ET
Hawaii Warriors (10-3) vs. Tulsa Golden Hurricane (9-3)
Dec. 24, 8 p.m. ET (ESPN)


This could be one of the most fun matchups all bowl season -- two of the most prolific offenses in the nation matching up against each other. The Golden Hurricane rank No. 5 in the country in total offense (503.5 ypg) while the Warriors rank No. 8 (496.9 ypg). Tulsa is also one of the hottest teams, having won six straight, including a momentum-changing win over Notre Dame on Oct. 30.
The Golden Hurricane lost their two Conference USA games by a combined five points, or else they would have been playing UCF in the league title game.
G.J. Kinne
has thrown for 3,307 yards with 28 touchdowns and 10 interceptions this season, while Hawaii quarterback
Bryant Moniz
has thrown for a nation-leading 4,629 yards with 36 touchdowns and 11 interceptions. The Warriors have a terrific duo in
Greg Salas
and
Kealoha Pilares
. The Golden Hurricane have a terrific trio in
Damaris Johnson
,
Charles Clay
and
Trae Johnson
.
But what separates Kinne from Moniz is his ability to run. Kinne leads the team with 557 yards on the ground and seven touchdowns. It's important to note that Hawaii was able to shut down Nevada quarterback
Colin Kaepernick
, the best dual threat quarterback they have faced this season. That was the biggest win of the year for the Warriors. Hawaii has a tremendous home-field advantage at Aloha Stadium, and has won four of its last five appearances in this game.
November, 25, 2010
11/25/10
9:00
AM ET
Happy Thanksgiving to all! Hope you get to spend today with lots of food, family and football -- it will be a great treat to see whether Texas can pull the upset and become bowl-eligible tonight against Texas A&M.
What are you thankful for today? Here is my list:
Passionate college football fans
, who are all to eager to tell you that you are either 1) The smartest person alive or 2) The dumbest person who ever lived and should be scrubbing toilets rather than talking college football. I love you all!
Boise State and TCU.
Haters can hate all they want, but we are seeing something this season that may never happen again. This is history in the making, the possibility that a non-AQ makes it into the national championship game. With Boise State and TCU set to be in the same conference in 2011, Utah leaving for the Pac-12 and the implosion of the WAC, this could very well be the last time we see two undefeated non-AQ teams jockeying for position in a national championship race.
The Pistol offense.
It's nice to see Nevada coach Chris Ault get all the pub he has gotten for his innovative offense this season. Not only have countless stories been done on him, but several teams throughout college football are now running some version of it, from UCLA to Alabama to Stanford.
Great coaching jobs.
Look across the non-AQs and you will find plenty -- TCU coach Gary Patterson and Boise State coach Chris Petersen go without saying. Here are a few others:
Miami (Ohio) coach Mike Haywood -- Took a 1-11 team to an 8-4 record and a share of the East Division title.
Ohio coach Frank Solich -- Overcame the loss of three star players to lead his team to a share of the MAC East.
Northern Illinois coach Jerry Kill -- On the verge of a 10-win season for the Huskies.
FIU coach Mario Cristobal -- Has his never-been-bowling Panthers one win away from a Sun Belt title.
UCF coach George O'Leary -- Has his team one win from the C-USA title game with a freshman quarterback and an outstanding defense.
BYU coach Bronco Mendenhall -- His team is bowl-eligible after starting the season 1-4.
Great players.
You know the headliners. Here are some of the most unheralded from the non-AQs: Western Kentucky RB
Bobby Rainey
, who has carried the ball a whopping 313 times this season and ranks No. 4 in the country in rushing, averaging 135 yards a game. North Texas back
Lance Dunbar
is right behind him in the Sun Belt.
Dominique Davis
of East Carolina,
Bryant Moniz
of Hawaii,
Alex Carder
of Western Michigan and
Corey Robinson
of Troy all rank in the top 10 in the nation in passing.
Great WR duos, too:
Titus Young
and
Austin Pettis
at Boise State;
Greg Salas
and
Kealoha Pilares
at Hawaii;
Vincent Brown
and
DeMarco Sampson
at San Diego State;
Juan Nunez
and
Jordan White
at Western Michigan.
Defensively, it's hard not to like Jamon Hughes of Memphis, Bobby Wagner of Utah State, Dwayne Woods of Bowling Green, Vinny Curry and Mario Harvey of Marshall, Archie Donald and Danny Molls of Toledo, the entire TCU and Boise State defenses, Josh McNary of Army and Wyatt Middleton of Navy. Three of the best special-teamers in the nation are from non-AQs too:
Shaky Smithson
of Utah,
Jeremy Kerley
of TCU and Darius Johnson of Tulsa.
Happy eating, everyone!
November, 19, 2010
11/19/10
9:00
AM ET
Time for a little trivia and your weekly installment of non-AQ Did you know? Thanks to the school and league sports information departments for these notes, along with ESPN Stats & Information.
San Diego State hosts Utah on Saturday. The Aztecs are 4-0 at home this season, marking the first time they have won their first four home games of a season since 1996. That season, the Aztecs posted a perfect 6-0 home record. The last time the Aztecs won four consecutive home games was during a five-game stretch from Oct. 9, 1998 to Sept. 4, 1999.
TCU has scored 454 points this season, ranking second in school history. The TCU record, set last year, is 498. The top-three point totals in TCU history have been accomplished in the past three seasons.
Colorado State's Mychal Sisson has forced six fumbles this season, and all have come in the past three games. His six forced fumbles tie the MWC single-season record and are the most by a Ram in a season since 1998 (Joey Porter, eight; Clark Haggans, seven;
Southern Miss tied a school record by clinching its 17th consecutive winning season with its victory over UCF last week, matching the mark set from 1951-67. That is the fourth-longest active streak among FBS schools behind Florida State (29), Florida (20) and Virginia Tech (18).
Tulsa has a four-game winning streak, and the Golden Hurricane have averaged 43 points and 490.5 yards of total offense during that span.
Kent State defensive tackle Roosevelt Nix is tied for seventh in the nation in forced fumbles (4), sixth in tackles for loss (17.5) and tied for 14th in sacks (8.5).
Utah State running back Derrvin Speight did not have a 100-yard rushing game in his first 31 contests, but has reached that mark in each of the past two games. The Aggies are looking for their first three-game winning streak since winning four in a row in 2001.
Nevada has won 10 straight home games. A win over New Mexico State would give the Wolf Pack their first 10-win season since it was an FCS member in 1991 (12-1). It would also be the 500th victory in program history.
Meanwhile, quarterback Colin Kaepernick needs 51 rushing yards to record his third consecutive 1,000-yard rushing season and become the first player in NCAA history with three seasons of 2,000 passing yards and 1,000 rushing yards.
Hawaii wide receiver Greg Salas needs 218 yards receiving to break Jason Rivers' career school record of 3,919. Fellow wide receiver Kealoha Pilares needs 55 receiving yards to reach 1,000 on the season.
Arkansas State quarterback Ryan Aplin broke the school records for passing touchdowns (18) and total offense (3,036) in a loss to Western Kentucky last week. He became just the fifth player in Sun Belt history to record more than 3,000 yards of total offense in a single season.
North Texas has shown improvement under interim coach Mike Canales. The Mean Green have won two of three and had more than 400 yards of total offense in all three games. They accomplished that just three times in the first seven games this season. North Texas is also plus-5 in turnover margin in those three games. In the seven games under Todd Dodge, the Mean Green was minus-6 in the turnover margin. The Mean Green have also increased their scoring average from 16.9 points a game to 30.3 points a game.
Northern Illinois has won seven straight, but the Huskies have not had a winning streak of longer than that since becoming an FBS program in 1969. The last time a Northern Illinois team won more than seven games in a row was in 1965, when Coach Howard Fletcher's Huskies put together an undefeated (9-0) regular season before losing to North Dakota in the Mineral Water Bowl.
November, 3, 2010
11/03/10
1:45
PM ET
Boise State safety George Iloka knows what people are saying: that the secondary is the weak link of the defense.
He disagrees, of course, but he realizes the big test that awaits the defensive backs Saturday against pass-happy Hawaii (7-2, 5-0) on Saturday. The Warriors have the No. 1 passing offense in the country behind
Bryant Moniz
, the only quarterback in the nation with over 3,000 yards.
Receivers
Greg Salas
and
Kealoha Pilares
are each averaging 100 yards a game, both ranking in the Top 7 nationally.
"We haven't played a receiving corps like the Hawaii team we're about to face, so here's our real challenge as a secondary," Iloka said in a telephone interview. "As a secondary, you have to want games like this against big-time receivers."
Louisiana Tech was able to make a few big plays in the passing game last week, and so were Virginia Tech and Oregon State. That has led to some alarm from fans who are concerned about the play of the secondary headed down the stretch.
But this is a unit that has remained largely untested. Hawaii may want to try to take advantage of Jamar Taylor, who has taken over at cornerback for first-round pick Kyle Wilson. But no matter who is back there starting for No. 4 Boise State (7-0, 3-0), Hawaii will keep on passing.
That is just the style the Warriors play, a version of the Run and Shoot that can give teams fits. Moniz has simply followed in the footsteps of Colt Brennan and Timmy Chang before him. He has grown more comfortable in the complicated offense, and has two great receivers to help him out.
"The more games I've played, the better I've gotten," Moniz said. "That's just chemistry and getting on the same page. Strengthening my arm has made me make throws I might not have been able to get into tight spaces last year."
Running back
Alex Green
has also emerged for Hawaii. There is no question this is a vastly different team than the one Boise State beat 54-9 last season. Moniz was making his third start in that game, but got knocked out near the end of the first quarter with a concussion.
"He's just in a really good rhythm and groove," Boise State coach Chris Petersen said. "He reminds me of all those other guys they've had. They work in the pocket well and they throw it all over the field. It's just not short it's just not deep. From hash to sideline, you have to cover them all at all times."
So what is the key to slowing down such a high-powered offense?
"You have to make sure the quarterback doesn't have time to throw," Iloka said. "If he can't throw the ball, the receivers won't get the ball. But we have to play sound football in the secondary -- keep everything in front of us, make tackles when you're supposed to. As long as you don't give up the deep ball, you're somewhat fine. But if the D-line gets back there, that would be awesome."
The Boise State front has been called one of the best in the nation. The Broncos are No. 4 in sacks, averaging 3.4 in a game with 24 total on the season. They also rank No. 3 in tackles for loss with 8.4 a game.
Hawaii has given up its fair share of sacks this season, with 21 total. No doubt Boise State will try to bring pressure to slow down Moniz. If the Warriors are going to pull the upset, then they are going to need a big day out of him.
"We all know the stakes," Moniz said. "It's a big game for us, and for our program."
October, 14, 2010
10/14/10
3:00
PM ET
What does it mean to find yourself last on the depth chart?
Apparently it meant nothing to Hawaii quarterback
Bryant Moniz
.
The prolific Warriors passer has climbed from the depth chart doldrums not once, but twice in his football career. Now, improbably, he finds himself leading the top-ranked passing offense in the country going into a huge WAC showdown with No. 19 Nevada on Saturday.
When asked how he was able to move up not once, but twice, Moniz said, "I never really thought about it that way before. Both times it just ended up working out for me."
His passion, worth ethic, dedication and arm had something to do with that -- even if those intangibles meant little to college recruiters. Moniz started playing quarterback in high school, mostly because of the arm strength he built up playing baseball.
He put up big numbers passing in high school, but he was slow and short at just 6 feet tall. He tried getting noticed, sending out video highlights, going to combines at Oregon and Oregon State, going to a camp at California. But there was no interest. Determined to continue his football career, Moniz followed a friend to Fresno City College in California.
When he arrived, he was last on the depth chart, but quickly worked his way up to becoming the starter. Moniz threw for 2,268 yards and 18 touchdowns his first year there in 2007. But his girlfriend got pregnant, and the two decided to come back home to Hawaii to raise their daughter.
Moniz refused to give up on football. He went to a community college for a time so he could be eligible to walk on at Hawaii. Moniz quickly found himself sixth on the depth chart when he arrived last January, but that was fine with him.
"I knew what my chances were," he said. "It was for the love of the game that kept me playing. It didn't matter if I was last string or first string, I just wanted to play. I was a fan on the field watching
Greg Salas
and
Kealoha Pilares
. It was just really cool to be out here with all the guys."
Salas, who ranks second nationally with 126.2 receiving yards per game, saw a spark in Moniz right away.
"Just catching balls from him, running routes, I would always compliment him on his tight spirals," Salas said. "He put it right on the money. We knew he was going to be good, but we had no idea he was going to be this good."
Since Moniz had to pay his own way at Hawaii, he took a job delivering pizzas to make money. He would essentially go to practice in the morning, go to class, do homework, go to meetings, go to work, come home, play with his daughter and go to bed. All the while, he found himself moving up the depth chart thanks to his talent, but also his ability to quickly pick up a complicated offense.
Injuries to starting quarterback Greg Alexander and backup
Brent Rausch
vaulted him to starting quarterback early last season. Moniz ended up starting eight of the final nine games, throwing for 300-plus yards in four of his last seven starts. He kept working, renting surfboards to tourists on Waikiki Beach this past summer. Moniz said he finally got on scholarship this semester.
Now, he feels as comfortable as ever leading the offense, and it shows. Hawaii leads the nation in passing offense, averaging 422 yards a game. Moniz leads the nation in passing, with an average of 374 yards a game. He has passed for over 300 yards in five straight games, and has 18 touchdown passes to just four interceptions.
His receivers have been stellar, too. In addition to Salas, Pilares is fourth in the nation in receiving yards, averaging 121 yards a game.
"They worked real hard together over the summer," Hawaii coach Greg McMackin said. "We're on the same page now. Bryant is reading their body language. He knows before their break what they're going to do by their body language and they're deep into the package. They're clicking on all cylinders."
Hawaii is traditionally a prolific passing team, so it is nothing new for Nevada to defend. The Wolf Pack have had their share of problems against the Warriors, going 2-3 in the last five meetings, and giving up an average of 375 yards passing a game.
Coach Chris Ault says, "They're doing a nice job mixing their runs with their shovel pass in there. Most important for us, we've got to play steady, good, hard-nosed football and keep things in front of us."
Limiting the big play is going to be huge, too. Hawaii has a whopping 32 plays of 25-plus yards. That obviously is a credit to Moniz and how far he has come in such a short period of time.
"When you're a walk-on, you have a whole different attitude compared to guys on scholarship," Moniz said. "You feel you have to prove something to rest of the guys and prove yourself as a player. It helped keep my fire going as far as trying to work hard. I would show everybody I could play ball."
October, 11, 2010
10/11/10
2:00
PM ET
Let's take a look at the good and the bad for the non-AQs in Week 6.
[+] Enlarge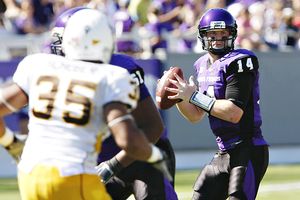 AP Photo/Jeffery WashingtonTCU quarterback Andy Dalton has been outstanding at home this season.
The good:
The elite non-AQ teams have done their jobs midway through the season. TCU put together an impressive 45-0 win. Quarterback
Andy Dalton
, who has been up and down this season, was 14-of-17 for 270 yards with three touchdowns. In three home games this season, Dalton is 50-of-61 (82 percent) for 719 yards with six touchdowns and no interceptions. … Utah trailed Iowa State 14-10, but then the second quarter started. The Utes outscored the Cyclones 31-0 and have now outscored opponents an eye-popping 101-7 in the second quarter this season. …
Bryant Moniz
continues his incredible rise. He came to Hawaii as a walk-on last season, and now is leading the country with 2,245 passing yards – the only quarterback with more than 2,000 yards so far this season. Hawaii has the top ranked passing offense in the country.
Greg Salas
leads the country in receiving yards, and teammate
Kealoha Pilares
ranks third. … UTEP quarterback
Trevor Vittatoe
set new school career records for touchdown throws (89), passing yards (11,260) and total offensive yards (11,117).
The bad:
Ball State coach Stan Parrish said his team played one of the worst games since he became head coach, in a 45-16 loss to Western Michigan. His team fumbled the opening kickoff, then had an interception returned for a touchdown on the second series. It was downhill from there, with three more turnovers erasing any chance to win. … Utah State had one of its best wins a week ago against BYU, beating its in-state rival 31-16. But the Aggies had their worst game of the season on Saturday in a 24-6 loss to Louisiana Tech. They had just 73 yards passing and 195 total yards of offense, a week after racking up 434 yards of total offense against the Cougars. Coach Gary Andersen said his team is much better at handling adversity than success.
The heartache:
FAU fought back from a 12-0 deficit to take a 20-17 lead against ULM. But a fumbled snap gave ULM the ball at its own 45 with 4:51 remaining.
Kolton Browning
led the team down the field, and
Jyruss Edwards
ran for a 5-yard touchdown with 2:43 remaining, handing the Owls their fourth straight loss. … New Mexico clung to a 14-13 lead over in-state rival New Mexico State, but
Stump Godfrey
fumbled late, setting up Tyler Stamper's 22-yard field goal to win it for the Aggies. New Mexico turned the ball over four times, and leads the nation with 20 turnovers this season. … San Jose State might have lost 35-13 to Nevada, but it was the first game all season where the Spartans didn't lose a player to a season-ending injury. Those injuries have taken a toll, but so has the brutal start to the season, with games at Alabama, Wisconsin, Utah and Nevada.
A few more helmet stickers:
Nevada defensive end Dontay Moch and running back
Vai Taua
have had excellent back-to-back games. Moch has a combined 18 tackles, eight tackles for loss, one sack and one forced fumble in the past two games, and Taua has 35 carries for 382 yards and eight total touchdowns (seven rushing, one receiving). … Air Force cornerback Reggie Rembert had a season-high seven tackles, an interception, three pass breakups and a fumble recovery in a 49-27 win against Colorado State. … In his first college game, North Texas kicker Zach Olen was perfect on all five of his kicks against Arkansas State, making 4-0f-4 field goals and his only extra-point attempt.
A few injury items to note:
Toledo quarterback
Austin Dantin
is questionable after being carted off the field in a loss to Boise State last week. Dantin took a hard hit following a run in the fourth quarter and was motionless on the field, but coach Tim Beckman said his quarterback was coherent and he was put on a stretcher as a precautionary measure.
Terrance Owens
would get the nod if Dantin can't play. … Temple offensive lineman Steve Caputo (leg) is out for the season. Ohio has lost its two best players -- receiver
LaVon Brazill
(leg) is out for the season, and linebacker Noah Keller (foot) is doubtful to return this season. North Texas quarterback
Riley Dodge
(wrist) will have a pin inserted in his broken wrist, and the team is hoping he can return as early as Oct. 30 against Western Kentucky.
Week 7 look ahead:
There are some really interesting games in the Mountain West and WAC. Nevada is at Hawaii in a matchup of contrasting offenses. The Wolf Pack love to run, the Warriors love to pass. This is going to be a very big test for Nevada, no question. Air Force plays at San Diego State to start a brutal four-game stretch. Following that game, the Falcons are at TCU, home to Utah then at Army. BYU is at TCU, and there might not be any love lost here. TCU coach Gary Patterson was critical of the Cougars' move to go independent before the season started.
October, 4, 2010
10/04/10
3:01
PM ET
Here are all the non-AQ players of the week:
Conference USA
Offense:
Kyle Padron
, QB, SMU. Went 24-of-32 for 371 yards and three touchdowns with no interceptions as SMU won at Rice for the first time since 1986.
Defense:
Dezman Moses, DE, Tulane. Had six tackles and a team-high 2.5 tackles for loss and tied for a team-best 1.5 sacks for minus-8 yards in a 17-14 win against Rutgers.
Special teams:
Jonathan Ginsburgh, P, Tulane. Punted nine times for 382 yards for a 42.4 average and tied the school record for the seventh-longest punt in school history with a 73-yarder.
Mountain West
Offense:
Tim Jefferson
, QB, Air Force. Tied a career-high with two rushing touchdowns in a 14-6 win against Navy, helping the Falcons end a seven-game losing streak to the Midshipmen.
Defense:
Jordan Waiwaiole, LB, Air Force. Recorded a career and team-high 15 tackles, an interception and a sack in a 14-6 win against Navy.
Co-Special teams:
Jamil Cooks, LB, Air Force and Austin McCoy, P, Wyoming. Cooks had a blocked field goal and blocked punt in the win against Navy. Cooks is the first Falcons player to block two kicks in a game since Robert Kraay blocked two point-after attempts against Notre Dame in 2006. McCoy limited the Rockets to zero return yards on eight punts and placed two kicks inside the Toledo 10-yard line.
Sun Belt
Offense:
Chris Masson
, QB, Louisiana. Threw for a career-high 310 yards and tied his career mark with two touchdown passes in the Cajuns' road win at North Texas.
Defense:
Javon McKinnon, LB, Arkansas State. Recorded a career-high 16 tackles, including a career-best two tackles for loss, against Louisville for the most stops by a Sun Belt Conference player since the 2008 season.
Special teams:
Jermaine Rogers, DT, Louisiana. North Texas appeared to be sending the game into overtime after scoring a touchdown with 31 seconds remaining in regulation, but Rogers blocked the extra-point attempt to seal the win.
MAC
East Division
Offense:
Matt Brown
, RB, Temple. Had a career-high 226 yards on 28 carries and four touchdowns in a 42-35 win at Army.
Defense:
Khalil Mack, LB, Buffalo. Had a team-high nine tackles and a career-best four tackles for loss in a 28-26 win at Bowling Green. Mack also had two quarterback hurries, one forced fumble, one pass break-up and one sack.
Special teams:
Trevor Cook, K, Miami. Had a 36-yard field goal and 21-yarder, making him 9-of-10 on the year in a win against Kent State.
West Division
Offense:
Chandler Harnish
, QB, Northern Illinois. Went 16-of-20 for 281 yards and tied a career-high with three touchdowns in a 50-14 victory at Akron.
Defense:
Robert Eddins, DE, Ball State. Had a career-high 4.5 sacks plus had seven total tackles and one quarterback hurry in a 31-17 win at Central Michigan.
Special teams:
Ben Armer, P, Western Michigan. Had three punts of more than 50 yards, including a career long 65-yard punt in a 33-13 loss to Idaho.
WAC
Offense:
Kealoha Pilares
, WR, Hawaii. Set a school record with 18 catches in a 41-21 win against Louisiana Tech and had a career-high 217 receiving yards and two touchdowns.
Defense:
Robert Siavii, LB, Idaho. Had a team-high nine tackles in the 33-13 win at Western Michigan. Siavii added 1.5 tackles for loss, including a half sack, and also broke up two passes and had one quarterback hurry.
Special teams:
Shawn Plummer, LB, Fresno State. Blocked his first career punt in a 38-17 win against Cal Poly. The punt was recovered in the end zone.