September, 15, 2014
Sep 15
3:00
PM ET
GAINESVILLE, Fla. -- It was 2013 all over again for the
Florida Gators
, and then suddenly it wasn't.
[+] Enlarge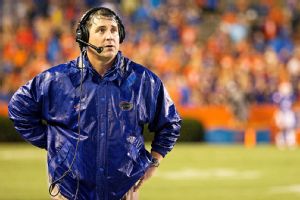 Rob Foldy/Getty ImagesWill Muschamp acknowledged that his Gators have plenty to work on following a triple overtime win over Kentucky.
Against an opponent Florida used to beat year after year, the miscues and maladies returned and a mighty streak in the Swamp was in doubt. Pass-protection gaffes, blown assignments on defense, bad penalties, key drops, and a missed field goal -- it was hard not to think about Florida's disastrous 4-8 season a year ago.
"We certainly made it interesting," said a visibly disappointed Florida coach Will Muschamp afterward.
His Gators squeaked past Kentucky,
36-30 in triple overtime
Saturday night. They were
down to their last breath
on more than one occasion. Talk of Muschamp's future at UF swirled on social media.
When it was over, stunned fans walked out of the stadium with dazed looks in their eyes, not sure of what they had just seen.
But there was one overwhelming difference -- Florida won the game.
"Never a doubt," athletic director Jeremy Foley joked.
Foley and Muschamp exited the field arm in arm after the Gators dodged what would have been a crushing upset by Kentucky.
"I don't really feel relief after games," said Muschamp, who acknowledged his team has a lot to work on. "I look at it from a technical standpoint of we've got to clean some things up in the back end.
"Our guys fought. It wasn't always pretty at times."
This time the Gators didn't give in when an inspired opponent wrestled away momentum in the third quarter. The "woe is me" mentality that Muschamp said infected his team in 2013 was not on display.
These 2014 Gators stayed together.
"It's so different," sophomore safety
Keanu Neal
said. "I think it's because we're more of a unit this year. Offensively you can tell that we're together. Defensively you can tell we're together. And as a team we're just all here for one purpose. You can see that this year versus last year."
Fortified by a much stronger belief in their offensive system, the Gators say there was no panic.
"Not at all, and that's what I think was so great about the victory," said senior left tackle
Chaz Green
. "It's good that we faced a game like this early in the season. It's good for our team, and I think it shows we're willing and ready to respond to any situation. ...
"I would say that was a big step. You could say [last year's team would have lost], but that's behind us. We just want to focus on this year."
The biggest difference in Florida one year later, according to Muschamp, is an offense that can pull its weight and keep up in a shootout.
The Gators and Wildcats combined for
nearly 1,000 total yards of offense
on Saturday night. Last year, Florida and its opponents combined to average just under 621 yards a game in 12 contests.
"We're explosive enough offensively to get in a game like that and know we can make some plays," Muschamp said. "We gave up some things on the back end secondary-wise, but we didn't blink on the side. We knew no matter if we got down one score, two scores, we're explosive enough offensively to go make some plays.
"Quite frankly, as we moved forward in the season last year we weren't. As a competitor you don't ever want to admit something like that, but it's hard not to at times when you struggle to score 10 points."
Nine months later it's easy for Muschamp to admit how badly his team struggled in 2013. It's even easier to highlight the positives on display in this new season when your team is still undefeated.
Winning has a way of brightening every mood, and the beleaguered coach was no different late Saturday night. While some folks walked away with frazzled nerves, Muschamp found humor in providing Gator fans with bonus football.
"More than anything we missed us some football in the [cancelled] Idaho game," he said. "We figured we'd give you all a little extra shot of some ball. It's paying the fans back."
August, 26, 2014
Aug 26
2:00
PM ET
GAINESVILLE, Fla. -- The true measure of any recruiting class' worth isn't fully realized until a couple of years down the road. Regardless of the hype and golden stars racked up before signing day, getting the most out of a class takes time.
[+] Enlarge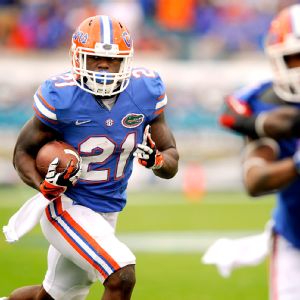 AP Photo/Stephen MortonRunning back Kelvin Taylor and the rest of the Florida Gators' underclassmen are looking to rebound from a 4-8 season in 2013.
For Florida, that time might have to be now for its 2013 class following last season's 4-8 debacle. It's a class that ESPN's RecruitingNation ranked second nationally with its 30 signees and 16 ESPN 300 members and held the nation's best high school cornerback --
Vernon Hargreaves III
-- and running back --
Kelvin Taylor
. It grabbed a potential game-changing receiver in
Demarcus Robinson
and 12 players who ranked within the top 10 at their respective positions.
The Gators will certainly need a lot from their upperclassmen, but the 2013 class could hold the key to Florida's present -- not just its future -- especially after a handful of its members were thrown into the SEC fire last season.
"We knew we wanted to come in and make an impact," said sophomore receiver
Ahmad Fulwood
, who caught 16 of his 17 passes in the final seven games of last season. "Not necessarily take someone's position or anything out of the ordinary, but we knew we had to come in and make an impact as a class and that's pretty much what we did."
For the most part, this class was mainly constructed of a group of contributors last season, with Hargreaves and Taylor being the headliners. Hargreaves was a third-team All-American member and ended up being one of the nation's best corners, leading the Gators with three interceptions and ranking third in the SEC with 14 passes defended. Taylor was a freshman All-SEC selection after rushing for 508 yards and four touchdowns.
Eleven members of the class lettered last season and collected 22 combined starts. With the majority of the class redshirting, even more is expected from this group, but players don't feel any added pressure. They don't mind the added responsibility.
"I feel like the guys who the coaches are looking at will definitely be able to step up," sophomore linebacker
Jarrad Davis
said. "They know what to do and they know they're talented."
"These guys are ready to take on that role."
And it isn't just the talent and potential this class contains that has teammates and coaches trusting it. Once players saw injuries piling up, Taylor said the freshmen realized they were going to be counted on more so they started to buckle down with their preparation.
In a year in which this group could have resisted and pushed away from the core group, it grew closer and began to see older players looking up to them. Not even a year removed from high school, and this group was being relied on to help carry the team through some very dark weeks in 2013.
"You were a freshman, but they were depending on you to win games," Taylor said.
The wins didn't come, but resiliency did, redshirt senior linebacker
Michael Taylor
said. What impressed him the most was how this group continued to work through an exhausting seven-game losing streak.
"When you face adversity that you'll see in a 4-8 season, those guys kept fighting through all of it -- through the injuries, through the losses," Taylor said. "That's what shows that they have what it takes to take ownership of the team and lead us."
Moving forward, the contributions from this class will only grow.
Keanu Neal
,
Marcell Harris
and
Nick Washington
could be staples in Florida's secondary this year. Following a suspension-filled first year, Robinson has been one of the Gators' best offensive players during the offseason, and Fulwood has been even more consistent and could be a real vertical threat for the offense this fall.
Roderick Johnson
is the next tackle in line after vets
D.J. Humphries
and
Chaz Green
, while linebacker
Alex Anzalone
has a chance to see time in Florida's linebacker rotation.
Davis was pegged as an early leader for the Gators last season and is right in the thick of a battle for a starting spot.
Joey Ivie
and
Jay-nard Bostwick
are in the early rotation along the defensive line, and
Caleb Brantley
has the chance to play his way in to as well.
This group has barely scratched the surface, but Taylor said guys are playing faster and thinking less. Last year this class was asked to learn, now, Taylor believes it will lead. Then, well, Taylor expects big things ... soon.
"Our whole mindset was that we were going to come here together and try to win a national title," he said.
"Now that we're so close, like brothers, it's going to be special in the future. We're looking forward to it."
August, 12, 2014
Aug 12
1:00
PM ET
GAINESVILLE, Fla. -- At SEC media days, coach Will Muschamp was asked when his
Florida Gators
hit rock bottom in 2013.
Naturally, it involved an injury.
[+] Enlarge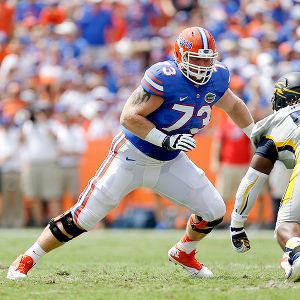 AP Photo/John RaouxThe Gators lost tackle Tyler Moore for the remainder of the 2013 season after a scooter accident Nov. 5.
"On a Tuesday night, it was about 9:30, 10 at night," he said, recalling the night of Nov. 5. "I'm in the defensive staff room preparing third down for the next day. Our trainer Paul [Silvestri] knocks on the door. I come to the door. He's usually not there at 10 at night.
"What do you want?" Muschamp asked.
"
Tyler Moore
just wrecked on his scooter and broke his elbow," Silvestri said.
The thought that burst into Muschamp's mind was, "You've got to be kidding."
"I can't tell you exactly what I said, but it wasn't good," Muschamp said. "That was at a point where it was just very frustrating."
The final tally by UF officials was 21 injured players who missed a combined 126 games during the 2013 season. There were 15 season-ending injuries, including 10 to starters.
The Gators lost starting quarterback
Jeff Driskel
, backup QB
Tyler Murphy
, starting tailback
Matt Jones
, defensive tackle Dominique Easley (their best player and most important leader), and most of the starting offensive line.
"It was rough," said right tackle
Chaz Green
, who missed the entire season with a torn labrum suffered in preseason camp. "I can only say it so many times. It was a rough year just going to practice in the training room and you see half the team in there."
Perhaps it was Moore's scooter accident, but at some point the rash of injuries smothered the team's spirit. It quelled any hopes of pulling out of the tailspin that turned into a season-ending seven-game losing streak.
"I haven't ever faced anything like that," Muschamp said.
No one had. Coaches and players just shook their heads, while Muschamp began an offseason quest for answers.
He spoke to medical experts like famed orthopedic surgeon Dr. James Andrews. He gathered UF's training staff and strength staff for a full day in his office.
"Honestly, I'm a football coach," Muschamp said. "I'm not a doctor, and I need to sit down and have someone explain to me why this happened.
"... We looked at a lot of stuff, went back and looked at film, looked at training methods. Are we doing the right thing? Absolutely. It just reaffirmed what we're doing."
One decision for fall camp was to cut down on midday practices on days after a two-a-day.
"I think we only have three or four," Muschamp said. "The midday practice was hard from the standpoint of the heat and also weather. Sometimes you get lightning.
"We're going to practice every morning. When we do have opportunities, per the rules, to have a two-a-day practice, [we'll] go later at night and a little lighter than we had been doing before, so it won't be as taxing for the players."
Just over a week into camp, Florida has avoided the big injury. But everyone seems aware of the threat.
Last Thursday, the Gators' first public practice was marred by
an injury to the team's best player
-- All-SEC cornerback Vernon Hargreaves III -- that turned out to just be a bone bruise.
"Football is a tough game and injuries happen," Muschamp said the day after Hargreaves' injury sent chills throughout his team and fan base. "We had our share last year. We've just got to move forward."
There's a balancing act going on, as players are obviously conscious of injuries but know they can't let up, either.
"[Being hesitant is] the worst thing to do because generally injuries come when some guy is pulling up," Muschamp said. "I feel like we've addressed that with our team and I feel pretty comfortable where we are."
He's also addressed the scooter issue.
"There's been many a night I've thought about trying to ban them, but I don't know if that's the right thing," Muschamp said. "Be smart. Let's be responsible. No texting and scootering at the same time. We do have that rule."
Despite his best intentions, scooters and Gators continue to not mix well.
"
Keanu Neal
got fortunate," Muschamp said. "He had a tire slip this summer. His girlfriend is a gymnast. ... Nothing happened to her. He messed his finger up. She's a lot better athlete than him. I should have recruited her.
"But no, I haven't made that rule. It's something we emphasize with our players. We tell them about it. They've got to understand being careful. But they can't live in a glass bubble. You just can't do that."