March, 22, 2011
3/22/11
4:00
PM ET
Arizona starts spring practice today, which means it can stop licking the wounds of a five-game losing streak to end 2010 and start looking forward to 2011.
[+] Enlarge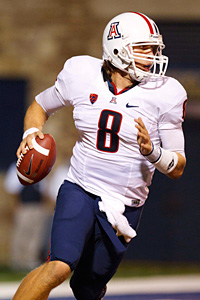 Rick Osentoski/US PresswireArizona enters the upcoming season with lofty expectations, thanks in part to returning quarterback Nick Foles.
But if taking a step forward toward 2011 is the carrot, a lingering backwards glance to 2010 is the stick. The Wildcats should be plenty motivated.
"The kids know we are close, but we need to do some things better to take that next step," coach Mike Stoops said. "We've gotten to this point. We need to go further."
On the one hand, the losing streak happened against a brutal schedule: Stanford, USC, Oregon, Arizona State and Oklahoma State combined for a 49-15 record. But the Wildcats aspire to being a team that wins those sorts of games.
"We just need to be stronger in some ways, stronger against stronger teams," Stoops said.
The Wildcats have intriguing talent coming back -- with quarterback
Nick Foles
and perhaps the Pac-12's best group of receivers leading the way -- but they also have two glaring holes: offensive line and defensive end. All the 2010 starters at those positions are gone.
Here are some notes:
Out of spring
: Just two starters will not participate in full-contact work: defensive tackle Justin Washington and cornerback Shaquille Richardson. Both had shoulder surgery. Receiver Bug Wright was given the boot for repeated team rules violations.
Offensive line questions
? All five starters are gone on the offensive line. Sophomore Mickey Baucus and redshirt freshman Fabbians Ebbelle are the front-runners at the tackles. Kyle Quinn, who started the Alamo Bowl for Colin Baxter, is the leader at center, though mid-year transfer Addison Bachman could make a challenge. Sophomores Chris Putton, Trace Biskin and Eric Bender-Ramsay are in the mix at the guards. Redshirt freshmen Trent Spurgeon and Carter Lees and junior Shane Zink also are in the mix. With a new offensive line coach -- Robert Anae -- there could be plenty of mixing and matching.
End of the line
? Senior Muhammed Usman and redshirt freshman Dan Pettinato will be with the first unit to start spring, but defensive end might be an even bigger question than offensive line. The Wildcats are deep at tackle -- Washington, Sione Tuihalamaka, Willie Mobley,
Chris Merrill
, Dominique Austin, Jowyn Ward, Aiulua Fanene, etc. -- so it's possible things might be fluid on the defensive line. One of the more athletic tackles might move outside to become a big, strongside end. And junior college transfer Lamar de Rego arrives in the fall.
Good to receive
: The Wildcats welcome back potential preseason All-American receiver
Juron Criner
, but the big news is the overflow of enthusiasm for Texas transfer
Dan Buckner
, who will give the Wildcats a second speedy, 6-foot-4 target on the outside. Said Stoops, "I think he gives us the two best outside receivers maybe in the country. Having [Buckner] and Criner on opposite sides is going to create problems for people." When you toss in Dave Roberts,
David Douglas
and
Richard Morrison
on the inside, you have a deep crew that Stoops called "the best receiving group we've ever had, without question." Oh, and don't forget:
Terrence Miller
,
Garic Wharton
,
Austin Hill
and
Tyler Slavin
. Lots of competition for touches here.
Backed by seven
: The Wildcats welcome back all three starting linebackers and a talented secondary. Sophomore Marquis Flowers and junior Adam Hall figure to offer an upgrade in the secondary -- both saw plenty of action in 2010. Robert Golden, Trevin Wade, Shaquille Richardson and Jonathan McKnight provide talent and experience at cornerback. And Stoops thinks Wade, who suffered through a notable slump last fall, is going to bounce back: "Trevin has had a much better out-of-season already. I think he learned a great deal from some of his mistakes a year ago as well as his preparation. I look for him to come back strong." He added, "This is the most athletic back-seven we've had. Best group of corners we've had."
Not special
: The Wildcats didn't get much from their kicker Alex Zendejas and punter Keenyn Crier last season. Zendejas is back, but he needs to step up. Said Stoops: "Zendejas needs to become a much better player... we need more out of him." Junior college transfer Jaimie Salazar arrives in the fall. Junior college transfer punter Kyle Dugandzic was signed to start, so he needs to come through.
Redshirt or backup for Scott
: Stoops wants to redshirt backup quarterback
Matt Scott
, which means he could return for a redshirt senior season in 2012. But that might not be doable. Said Stoops, "In a perfect world, we'd love to redshirt him. But we've got to keep him ready to play if things slide or something happens to Nick." Junior
Bryson Beirne
would make things easier on his coaches with an inspired effort this spring.
This is Foles' team
: Foles has been a good quarterback for two years. If he becomes an All-Conference or even All-American quarterback as a senior, the Wildcats could climb to the top of the Pac-12 South Division. Stoops expects a lot out of Foles. "Nick has to have total control of this team and this offense," he said. "He's a premier starter who will become, hopefully, a first-round NFL draft pick. He needs to assert himself in every way possible as a leader."
October, 10, 2010
10/10/10
10:13
AM ET
TUCSON, Ariz. -- There is only one certainty from Arizona's 29-27 loss to Oregon State: The Wildcats won't go undefeated in 2010. That puts them in the same boat with Alabama. That's one way to look at things.
Another way to look at it? There they go again.
Just when it seemed like the ninth-ranked Wildcats were ready to take a major step forward -- beating then-No. 9 Iowa, riding a high national ranking -- they take a step back.
"Tonight was a tough night in a lot of ways," coach Mike Stoops said. "When you look at the entire game, we just weren't there."
The feeling entering the game was the Wildcats were on the cusp of a potentially special season. It still might turn out special. Only not as special as it could have been. The first loss is often the hardest, but it's even harder when it comes at home to a two-loss team, and when it feels like a lot of football was played badly.
"I don't think it's a wake-up call," linebacker Paul Vassallo said. "It's disappointing with two weeks of prep."
Vassallo is a JC transfer, so he hasn't been around the program long. But it's good he's not leaning on the idea of this team needing a "wake-up call." The Arizona program is awake. It's just sometimes confounding -- see Vassallo's noting of how the Wildcats played after getting two weeks to prepare for the Beavers.
It's hard to put much blame on
Nick Foles
and the offense, which gained 541 yards, including 311 in the second half. Foles passed for 440 yards and three touchdowns and led scoring drives of 57, 66, 66 and 80 yards.
Special teams weren't special. Kicker Alex Zendejas missed a 37-yard field goal just before halftime and had a PAT blocked. Struggling punter Keenyn Crier blasted a beautiful 47-yard punt in the fourth quarter -- only he blasted it into the end zone for a touchback instead of pinning the Beavers deep in their own territory. Oregon State then drove for the decisive TD.
And that was telling -- yielding a 10-play, 80-yard, nearly five-minute drive when the screws were tightening . Ultimately, the predominant blame falls on the unit that had been so dominant this year: the defense.
The Wildcats entered the game ranked among the nation's leaders in nearly every major defensive statistical category. The Beavers had been struggling on offense. But the Wildcats gave up 486 yards, including 393 yards passing to the Beavers, who were 10-of-15 on third-down plays.
"We played sloppy tonight," end Ricky Elmore said after the game.
And, considering the Wildcats visit Washington State next weekend, it probably cost them a 7-0 start and all that might have brought -- such as a potential top-five ranking.
Of course, a top-five ranking eight weeks into the season isn't
really
all that great. It doesn't include a trophy or a bowl invitation. It's always about how you finish.
"I don't really know if we just lost our edge or took for granted what we had or what, but it's going to be a very long season," Stoops said.
That's good, because Saturday was a long and mostly unpleasant night for the Wildcats; the first time that's been the case this season.
July, 22, 2009
7/22/09
6:03
PM ET
Posted by ESPN.com's Ted Miller
Results of the annual Pac-10 media poll will be announced on July 30, but here's a guess at how most ballots will look:
1. USC; 2. California; 3. Oregon; 4. Oregon State... 9. Washington; 10. Washington State
And from five to eight all heck breaks loose.
Now, some -- such as Phil Steele -- think Oregon will tumble. Some have issues with Oregon State. And some think Washington will be a surprise team.
But a plurality figures to vote these six teams as they appear above and then throw the other four into the air and leave it to the college football spirits to decide.
So where do you rank Arizona, Arizona State, Stanford and UCLA?
I wouldn't be completely shocked if any of those four actually broke into the top four. I also wouldn't be astonished if any finished ninth.
I think I've written at various times that all four should end up bowl-eligible, even though eight conference teams with a .500 record or better is difficult to pencil out. (It did, however, happen in 2006 -- and Washington even finished 5-7).
I changed my own 5-8 a number of times. I won't tell you how I voted yet. My boss threatened to tear off my arm and beat me with it if I did. He's done it before so I believed him.
Why the difficulty?
For one, each of the Unfixed Four will break in a new quarterback, though Stanford and UCLA both have their starters back from 2008.
November, 7, 2008
11/07/08
11:52
AM ET
Posted by ESPN.com's Ted Miller
Ten things to consider, underline or anticipate heading into the weekend.
1. California's offensive line will struggle vs. USC's D-front: Every offensive line struggles with USC's defensive front. But consider that four players -- including guard Noris Malele, who is questionable -- from the Bears first unit during the preseason won't play Saturday. We harped on this before the Oregon game and the replacement line did fine. But Oregon's defense doesn't rate the same as the Trojans, unquestionably the nation's best crew.
2. Arizona is going to run. And run. And run.: Washington State ranks 118th in the nation in run defense, yielding 275 yards per game. The Cougars have surrendered 323, 362 and 344 yards on the ground in their last three games, so things are actually trending downward. So Arizona tailbacks Nic Grigsby and Keola Antolin should have a lot of fun in Pullman.
3. UCLA jinx vs. UCLA jinxed: Oregon State coach Mike Riley has never beaten UCLA. He is 0-5 vs. UCLA as Oregon State's coach and was also 0-4 while offensive coordinator at USC (1993-96). He's beaten every other Pac-10 team at least twice, including USC. But injury-riddled, struggling UCLA just suspended three players for, according to multiple reports, failing a drug test. That's not good for team morale. So which bad juju is more powerful?
4. Stanford's Tavita Pritchard vs. Oregon's Jeremiah Masoli: These two quarterbacks rank eighth and ninth in the Pac-10 in passing. Pritchard has throw more interceptions (9) than touchdowns (8), while Masoli is barely completing 50 percent of his passes. It's possible that passing will be a non-factor in this matchup between two of the conference's best running offenses. But it's also possible that the quarterback who throws better -- or less worse -- will have a significant say in the final score.
5. Will Nate Longshore rise to the moment? It's still possible that Kevin Riley, who was sidelined in the Oregon game with a concussion, will start. But if Longshore gets the call, there's the potential for a storybook ending for his tumultuous career. Longshore as a sophomore looked like a future NFL draft pick. But his tendency to throw bad interceptions at inopportune times soured Bears fans on him. He played well in relief of Riley in the big win over the Ducks, but beating USC is a whole different cup of yogurt. If he leads Cal to the upset, he'll have his legacy win that enshrine him in Golden Bears lore.
6. Good Mark Sanchez vs. Bad Mark Sanchez: The truth is most teams would take any Sanchez. He leads the Pac-10 in passing yards per game, pass efficiency and touchdown passes. It's only that when you play quarterback at USC you're expected to be spectacular just about ALL THE TIME! With a college football nation seemingly salivating over the notion of eliminating USC from the national title hunt, it would be an auspicious time for Good Sanchez to help the Trojans make a dominant statement vs. Cal. The Bears, who lead the nation with 17 interceptions, are hoping for Bad Sanchez.
7. Arizona State's offense will break out at Washington: Washington has the worst pass defense in the country, so Sun Devils quarterback Rudy Carpenter should feast on the Huskies wide-eyed secondary. But coach Dennis Erickson probably would like to see more progress in the running game, seeing that running back Shaun DeWitty just last week gave the offense its first 100-yard rushing game. Don't worry: There's plenty Huskies defense to go around. So share the bounty.
8. Can Craft find consistency? UCLA quarterback Kevin Craft is two weeks removed from his worst all-around performance of the season -- a 17 for 35, four interception effort in the Bruins loss at California. He threw four interceptions earlier this season against Tennessee, but he also led the Bruins to a shocking comeback victory. The enduring image of the Cal game is UCLA coach Rick Neuheisel going haywire each time Craft slogged to the sidelines after a turnover. If the Bruins woeful offense is going to have any chance against Oregon State, Craft's going to have to be more careful with the football.
9. Field position is boring but so, so important: Cal coach Jeff Tedford noted this week how important field position will be against USC. He probably was thinking that after watching film of USC's tight 17-10 victory over Arizona. In that game, Wildcats punter Keenyn Crier averaged 50.3 yards on seven punts, four of which were downed inside the 20-yard line. Arizona made USC play on a long field, which prevented the Trojans from mounting one of those demoralizing, explosive scoring flurries -- the game is close; now it's not! -- that they've become accustomed to. Just so happens the Bears have a good punter, too: Bryan Anger, who averages 44 yards per boot.
10. Any road warriors out there?: Pac-10 teams have been mostly terrible on the road this year -- at least when they aren't playing Washington or Washington State. Visitors in conference games are 8-19, with five of those wins coming in Seattle or Pullman. Well, Arizona is playing for bowl eligibility in Pullman, while Arizona State is trying to end a six-game losing streak in Seattle. They should be plenty motivated to notch the easy win. But what about Cal at USC, trying keep alive its Rose Bowl hopes? Same goes for Oregon State at UCLA. And Stanford could earn bowl eligibility if it upsets Oregon. In other words, there's a lot at stake for road teams this week.
August, 27, 2008
8/27/08
11:32
AM ET
Posted by ESPN.com's Ted Miller
Happy College Football Eve!